Draft law assisting SMEs not specific enough: deputies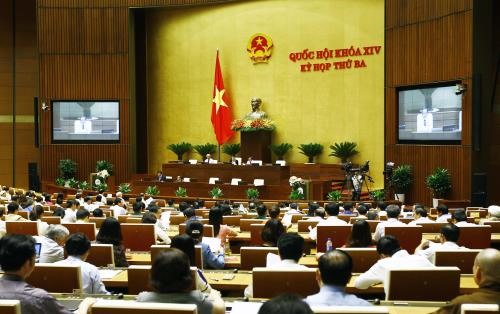 National Assembly (NA) deputies said promulgating the Law on Support for Small-and Medium-sized Enterprises (SMEs) was an urgent task during a discussion on the draft law yesterday. - VNA/VNS Photo An Đăng
HÀ NỘI - National Assembly (NA) deputies said promulgating the Law on Support for Small-and Medium-sized Enterprises (SMEs) was an urgent task during a discussion on the draft law yesterday.
During the second day of the ongoing 3rd session of the 14th NA, deputies agreed that the bill was badly needed to support SMEs for general economic growth after listening to a report presented by head of the NA Commission for Economic Affairs Vũ Hồng Thanh.
Thanh reported on adjustments to the draft law following consideration of opinions contributed by NA deputies at the previous session late last year.
The new draft law includes a criterion on revenue when defining a small-and medium-sized enterprise, with the revenue level between VNĐ200-300 billion (US$8.9 million – $13.4 million) whilst reducing the number of employees from 300 to 200 and replacing the criterion on the average number of employees with one on the number of employees with social insurance.
"The promulgation is necessary and pressing. However, the draft law falls short of specific regulations stipulating how small-and medium-sized enterprises are to be assisted," said Deputy Võ Thị Như Hòa of Đà Nẵng City.
Hòa said there should be specific regulations so once the law was issued it would help create full and synchronous policies and is applied immediately.
"The assistance must be based on the real demand of enterprises rather than what the State can support. If we have many policies but few resources, the policies will be ineffective."
The draft law stipulates many areas of assistance such as: access to credit; tax and accounting assistance;

production area;

and market expansion among others, but they are quite general.
"Support for SMEs is necessary to aid their development. Nevertheless, support contents in the draft law are still too general, without specific implementation mechanisms and procedures," said Deputy Võ Đình Tín of Đắk Nông Province.
"Some regulations mention conditions SMEs must meet to be supported, not procedures and relevant authorities who will examine and assess eligible enterprises."
"If the law is promulgated, it will be difficult for SMEs to determine what resources or preferential treatments they will enjoy," he said. "In other words, they will have to wait for guidelines."
Some deputies also said the law should specify the role of the Vietnam Chamber of Commerce and Industry and the Vietnam Association of Small and Medium Enterprises in supporting SMEs.
Deputy Nguyễn Văn Thân of Thái Bình Province said without specific regulations, it would be difficult to determine who is responsible for supporting SMEs.
During a group discussion yesterday morning on the NA's proposed supervision work in 2018, NA Vice Chairman Phùng Quốc Hiển said it was necessary to focus on overseeing the use of Official Development Assistance (ODA) capital as the oversight has been lacking,

vov.vn

reported.
In regard to supervision of the equitisation of State-owned enterprises, Hiển said it was also necessary to supervise operation of State-owned enterprises after equitisation, including wholly State-owned and privatised ones
.
Additionally, he said, the implementation of policies facilitating the development of private businesses should also be supervised.
Discussing the supervision of State-funded investment projects, Auditor General of the State Audit Office of Việt Nam, Hồ Đức Phớc noted that 12 loss-making projects had been made public but it was unclear how many more there are.
He suggested that supervision be conducted on ODA-using build-operate-transfer projects if problems were detected and commercial banks.
"Supervising projects at risk of making loss is one matter of great public concern. So it is necessary to add this to the supervision work of [the NA]," said Deputy Nguyễn Hữu Cầu of Nghệ An Province.
Deputy Vũ Thị Lưu Mai of Hà Nội said there were numerous issues in need of supervision regarding the management and use of capital from Government bonds and foreign loans in building infrastructure.
Additionally, Hanoian deputy Trần Thị Quốc Khánh said the Law on Information Technology and the Law on E-Transactions have never been overseen by the NA despite being passed more than ten years ago.
"These laws strongly facilitate administrative reform, especially in the era of the Industrial Revolution 4.0," the

vov.vn

quoted her as saying.
"Currently, ministries, sectors and localities design and invest into their own projects without linkages, which is extremely wasteful."
Today, NA deputies will discuss the draft law on revising and amending some articles of the Penal Code which took effect in July 2016.

- VNS