Binh Duong increases prevention of dengue fever
The Health Department in the southern province of Binh Duong has stepped up measures to prevent the spread of dengue fever in the locality.

Accordingly, the department required all health facilities to provide appropriate treatment for patients to minimise fatalities caused by the disease.

Besides, the provincial health sector has provided training courses on patient and insect monitoring, chemical spraying techniques to kill mosquito larvae and communication skills for preventive health workers.

It has also worked to meet the demand for medicine, commodities, chemicals and equipment to ensure efficient prevention of the disease, while spraying chemicals in all outbreaks.

According to the provincial Preventive Medicine Centre, Binh Duong has recorded 1,051 cases of dengue fever since the start of 2017. The disease occurred in all districts and towns the province, especially Thuan An, Di An, Thu Dau Mot and Ben Cat towns.

As many as 342 cases were reported in Thuan An town, an increase of 83 cases year-on-year.

Dengue fever cases have been on the rise in the paediatric department of the local general hospital, increasing from 33 cases in March to 45 in April.

Vietnam, African countries partner in youth investment

The Vietnam Union of Friendship Organisations (VUFO) and embassies of African countries in Vietnam held a seminar in Hanoi on May 22 on boosting investments in youth in Africa.

Speaking at the event, VUFO Vice President Bui Khac Son shared several successful youth business models in Vietnam, including start-ups and new-style rural development, saying that they not only improve young people's income but also generate jobs for other workers.

The VUFO and Vietnam-Africa Friendship and Cooperation Association are ready to help countries worldwide learn about start-up models and outstanding young businesspeople in Vietnam.

He expressed hope that more exchanges will be held among young people and entrepreneurs to share experience, contributing to socio-economic development.

Mozambican Ambassador to Vietnam Gamiliel S.J Munguambe said Africa is home to the youngest population with nearly 200 million aged 15-24, which is expected to double in the next three decades.

In the future, African economies will face a high unemployment rate with nearly 60 percent being young people, not to mention concern over unfair access to health care, education and social services.

Participants shared opinions about promoting cooperation initiatives between African embassies and research institutes in Vietnam.

Party official lauds Vietnam's cooperation with Japan

Chairman of the Party Central Committee's Economic Commission Nguyen Van Binh highlighted the progress in Vietnam-Japan cooperation while meeting with Japanese Minister of Economy, Trade and Industry Hiroshige Seko in Hanoi on May 22.

Binh said the strides made in bilateral partnerships in trade, investment and many other spheres have brought about practical benefits to people of both Vietnam and Japan, helping to step up the two countries' relations in a comprehensive manner.

Vietnam is integrating more deeply into regional and global economies, he said, expressing his belief in the nations' close connectivity within bilateral and multilateral trade frameworks.

For his part, Minister Hiroshige Seko spoke highly of the potential and development prospect of Vietnam's economy.

Japan attaches importance to enhancing multi-faceted cooperation with Vietnam and considers the Southeast Asian nation an important partner in ASEAN and Asia-Pacific, he noted.

He voiced his belief that the Japan-Vietnam ties will develop even more strongly for the sake of each country's interests and for peace, stability, cooperation and development in the region and the world.

Commando Arm holds anti-terrorism exercise
The Commando Arm coordinated with chemical and sapper arms, the electronic warfare force, Military Central Hospital No108 and Military Hospital No 103 to hold an exercise for anti-terrorism, hostage rescue and riot control in Hanoi on May 22.

The event was attended by Chief of the General Staff of the Vietnam People's Army and Deputy Minister of Defence Lt. Gen. Phan Van Giang.

In the exercise's scenario, hostile forces incited large numbers of people to join a demonstration and then used the crowds as the cover to seize hostages. The forces had to dissolve the demonstration, rescue the hostages and apprehend the terrorists.

The exercise aimed to help the Ministry of Defence and relevant bodies to assess performance and training quality of anti-terrorism forces of the Commando Arm and the effectiveness of coordination between authorities and local army forces in terrorism-counter operations.

Speaking at the event, Lt. Gen Giang praised the outcomes of the exercise as participating officers have demonstrated excellent proficiency in handling emergency situations and operating weapons.

He stressed that the complicated development of regional and global situations requires Vietnam's armed forces to work to improve their performance and training quality.

Festival honours Vietnamese, Czech cultures

A festival on Vietnamese and Czech cultures and cuisines was held in Jesenice town in the Czech Republic's central region on May 21, attracting hundreds of locals and Vietnamese expatriates.

The festival, initiated by authorities of Jesenice town and Vestec village, introduced Vietnamese culture to local people, said Alexdandra Kochova, Head of the Culture Desk of Jesenice Town Council, adding that it also helped the Vietnamese community gain insights into local culture.

The Vietnamese in the localities brought to the event art performances featuring Vietnamese cultures, such as Quan ho (love duet singing), among others.

Vietnamese cuisines, exhibitions on modern Vietnam, culture and charity activities of the Vietnamese in the Czech Republic were on display at the event.

Meanwhile, local culture was introduced through various folk performances by local people.

Similar activities will be held in the future to enhance the ties between locals and the Vietnamese community, said Dieu Linh, a representative of the Vietnamese Association in the Czech Republic and Head of the Vietnamese organising board.

Some 100 Vietnamese families are currently residing in Jesenice town and Vestec village, 30 kilometres away from the capital city of Prague.

Vietnam protects biodiversity for sustainable development

Biodiversity resources are the foundation for and the measurement of development of every nation around the world. Thy Hat has a story about biodiversity in Vietnam on the occasion of International Biodiversity Day, May 22.

Vietnam is internationally recognized as one of the world's most bio-diverse countries, with many types of forests, wetlands, rivers, and coral reefs which create habitats for many birds, animals, and fish. Vietnam is ranked 16th in the world in biodiversity and one of the 10 richest biodiversity centers with many endemic flora and fauna species and rich genetic resources.
Ms Hoang Thi Thanh Nhan, Deputy Head of the Department of Biodiversity Conservation of the Ministry of Natural Resources and Environment said biodiversity is the foundation of Vietnam's tourism development. With the theme "Biodiversity- sustainable tourism", International Biodiversity Day 2017 is designed to inspire the public to protect biodiversity and promote sustainable tourism growth.
"In some localities, ecological tours have greatly benefited locals while helping to conserve biodiversity. The Van Long Nature Reserves in Ninh Binh province, the Marine Conservation Center in Cu Lao Cham in Quang Nam province, and Tram Chim National Park in Dong Thap province are role models in promoting ecological tours and conserving local biodiversity", said Ms Nhan.
Vietnam has issued a Law on Biodiversity in 2008, worked out a National Strategy on Biodiversity until 2020 and a Vision until 2030, and created a Master Plan on Biodiversity Conservation until 2020 and Orientation until 2030. Ms Nhan said "To mark International Biodiversity Day, we will strengthen communications on biodiversity conservation and promote Vietnam's biodiversity values. Protecting biodiversity is the task of all sectors at all levels and of the community."

Vietnam is revising the Law on Biodiversity to better protect its natural resources and biodiversity.

US, Japan naval vessels visit Vietnam's Cam Ranh Port for PP17

One vessel of the U.S. navy and two ships of the Japanese self-defense forces arrived at Cam Ranh Port in south-central Vietnam on May 21 for activities to accelerate cooperation in the region.

The visit is part of the Pacific Partnership 2017 (PP17), a US Navy-initiated mission to enhance regional coordination in areas such as medical readiness and preparedness for man-made and natural disasters.
The US Navy's expeditionary fast transport ship USNS Fall River (T-EPF-4) and the Japan Maritime Self-Defense Force's helicopter destroyer JS Izumo 183 and Takanami-class destroyer JS Sazanami 113 arrived at Cam Ranh for a training agenda revolving around humanitarian and medical aid.

According to Captain Stanfield Chien, PP17 mission commander, this year's mission in Khanh Hoa Province would include seminars on civil construction projects, professional discussions and disaster response drills.

There would also be coordination in coastal health and marine search and rescue missions.

Naval forces of the three countries will preside over the completion of Hoa Mi and Son Ca kindergartens in Khanh Hoa, and the US Seventh Fleet Band will be performing at local parks and a secondary school as part of the agenda.

The USNS Fall River belongs to the US Military Sealift Command, measuring 103 meters in length with a beam of 28.5 meters and a draft of 3.83 meters.

The ship can reach a maximum speed of 43 nautical miles per hour and is capable of accommodating 312 crew members.

Fair introduces clean, safe food to customers

A fair featuring clean and safe food opened on May 22 at the Vietnam Trade Promotion Centre for Agriculture in Cau Giay district, Hanoi.

Various food and agricultural products from clean food firms and cooperatives across the country are being showcased at some 200 booths at the event, which runs through May 28.

The fair, organised by the Vietnam Brands and Artisans Association, aims to provide customers with information on safe food.

It also details modern quality management systems and food safety regulations issued by Vietnam and international organisations to enterprises.

Speaking at the opening ceremony, Le Ngoc Dung, Chairman of the Vietnam Brands and Artisans Association, said food safety is receiving much attention from the Party, State and people.

Good food safety control helps prevent diseases, ease burdens on hospitals and increase the country's gross domestic product, he said.

Pioneers prospering in Hà Tĩnh border land

Witnessing it now, one cannot imagine how sterile and deserted the Tây Sơn economic zone in central Hà Tĩnh Province was 14 years ago.

Lying among the greenery of rubber, tea and acacia on the Việt Nam-Lào border – some 30km from the Cầu Treo border pass – the zone is home to some 200 young households who moved here over a decade ago.

On the 82nd anniversary of the founding day of the Hồ Chí Minh Communist Youth Union – March 26, 2003 – the Hà Tĩnh Youth Union gathered and encouraged a team of provincial newly-wed couples to leave their homes to manage 3,600ha of mountainous land in Sơn Kim 2 Commune in the province's Hương Sơn District.

Upon their arrival, each household was assigned 1-3ha of agricultural land, 6-10ha of forestland, seeds of tea, rubber, acacia and fruit trees, as well as livestock and allowances to start a new life.

It was such a demanding task for the young couples, as the zone was vast and sparsely populated. It had no electricity, no roads and a scarcity of edible plants.

They held on to the land while several locals, born and bred here, left it for new promised lands.

They learned to fight off mosquitoes, leeches and malaria, assembling huts and shacks to live temporarily in the woods, and renovating forestland for agricultural practice, said team leader Hoàng Thế Lộc.
"Dried fish, jungle vegetables and bitter bamboo shoots were our main food back in those days," Lộc said.

"We stayed up all night whenever there was heavy rain, because we were afraid of being swept away by flood," he added.

Several couples gave up on the living conditions, Lộc said. The remaining ones gutted it out to grow tea, rubber and green trees.

The entire zone now enjoys 900ha of acacia, 120ha of rubber and 157ha of tea, 120ha of which produces 12 tonnes of fresh bud tea per ha.

Forty-two-year-old Nguyễn Viết Lĩnh and his wife, born and bred in the plains of Tùng Lộc Commune in the province's Can Lộc District, were among the first batch of youth to relocate to the zone.

The first few years were particularly difficult for the couple. Apart from their assigned task of growing 3ha of tea, Lĩnh says they spent all of their free time clearing paths in the woods and flattening areas of forestland.

Each time they wanted to purchase necessities, they had to go through 10km of forest to reach the downtown area, he added.

The only path that led from the National Route 8A to the zone was covered in red soil that got sticky every time it rained, he said.

But such hassle is over. Now Lĩnh and his wife have 3ha of tea farm to harvest and five mature cows that can be sold for money.

"In the last three years our team has built a tea factory that can process some 13 tonnes of tea bud per day, which can be sold at a stable price of VNĐ7,000 (US$0.3) per kilogram," Lĩnh said.

"Last year we were able to build a nice house from VNĐ100 million ($4,400) of profit from selling fresh tea buds," he added.

Several households are enjoying the fruits of their agricultural practice and livestock farming as they used new techniques to create high productivity, which also helped to provide jobs for other team members.

After 14 years, the team has founded 14 cooperatives and three pig raising groups. One of the groups invested VNĐ30 billion ($1.3 million) in raising 600 sows, earning VNĐ10 billion ($440,000) per year.

The cooperatives and the remaining two groups earn some VNĐ400 million ($17,600) per year by maintaining nine pigsties, each of them housing 600 pigs.

Their livelihoods have been steadied thanks to the pioneering spirit and endurance of youth, said Nguyễn Thế Hoàn, Secretary of the provincial Youth Union.

Allowing young families to build lives in new lands not only gives them the opportunity to grow and prosper, but it also helps to assert sovereignty and ensure border security in distant areas of the country, he added.

The spirit of youth will help them to overcome the challenges and obstacles that lie ahead, he said.

HCM City to build kid's centre
The HCM City People's Committee has approved a project to build a new children's cultural centre in District 5.

The centre will be located at 651 Trần Hưng Đạo Street, replacing the current Lao Động A-B Theatre. The theatre, built in the 1940s, is in disrepair .

City authorities hope the new building will be a new entertainment area for local children and residents, and will improve their social and cultural life.

The centre will include a 250-seat theatre, a 130-seat hall and two cinemas with a total of 480 seats, covering an area of 516 square metres.

It will cost VNĐ164 billion (US$7.2 million) and be built according to the Build – Operate – Transfer (BOT) model.

The construction is expected to begin later this year.

Hanoi 1 top national champs after four rounds

Hà Nội 1 beat HCM City 2 by a score of 2-0 in the fourth-round match of the National Women's Football Championship, yesterday in HCM City.

Nguyễn Kim Anh scored for Hà Nội just two minutes before the break, while HCM City 2's Nguyễn Thị Tuyết Mai netted an own goal in the last seconds of the game.

The win propelled Hà Nội 1 to top position in the ranking table with 10 points, replacing Phong Phú Hà Nam who enjoyed top spot for only 24 hours.

Meanwhile, this was the fourth consecutive defeat for HCM City 2, who are rooted to the bottom of the table with no points.

In a later match, Sơn La pocketed their second win of the season by beating Hà Nội 2 by a score of 1-0.

Cầm Thị Hằng scored the matches' only goal in the 87th minute.

In the next set of fixtures, Hà Nội 1 will play Sơn La, while Hà Nội 2 will meet HCM City 2 on Thursday. Defending champions HCM City 1 will face Phong Phú Hà Nam and Việt Nam Coal and Minerals will clash with TNG Thái Nguyên a day earlier.

Cars vandalised in Danang

Police in the central city of Danang are investigating complaints that several cars were damaged while being parked on a local street.

Deputy director of the city's Police Department, Tran Muu, told local media on May 22 that they were searching for a group of men who allegedly caused damage to eight cars on Sunday.

According to the police, several people living in the city's two central districts of Hai Chau and Thanh Ke reported that they found their cars damaged on early Sunday morning while being parked on Nguyen Tat Thanh Street.

"At least eight cars have been reported as heavily damaged with broken front, back and windshield glasses or lights," Muu said. "Bricks and stones were also found inside the cars."

Owner of a damaged Toyota, Dao Thi Huyen Nga, said that she came to take her car at 415-417 Nguyen Tat Thanh Street at around 3 am to find that all the glasses had been broken.

"We hope that the police will soon find and punish those who did this," Nga said. "Now we're very worried about parking."

Security cameras at a nearby shop showed that the attack was done by a group nine men riding on five motorbikes at midnight.

Double joy arrives

A 22-year-old woman Hoàng Thị Hà of the central province of Nghệ An went into labour mere hours before her wedding.

Hà and her groom Bùi Đức Dương, 24 years old, planned to marry at 10am Sunday, May 14 surrounded by their family and friends.

By 8am of the big day, the groom received an urgent call from the bride's family, letting him know she was in labour and going to hospital.

The groom and his family rushed to the hospital instead of going to Hà's house, meeting the bride and taking her home as, is tradition.

Their baby said hello to the world on the wedding day of his parents. People congratulated Dương's fortune of becoming a husband and a father on the same day.

Back at the wedding reception, some of the groom's and the bride's family stayed at home and received guests. They all enjoyed the party without the groom and the bride, or their new little bundle of joy.

Fowl thieves foul up

Police in Châu Phú District in the southern province of An Giang on Monday arrested two men alleged to have stolen 980 ducks in the district's Đào Hữu Cảnh Commune.

The foul suspects, Lê Hữu Phước and Nguyễn Văn Phương, are accused of stealing the fowl from Bùi Văn Cuôl's a duck farm. It seems to have been something of an inside job, with the accused thieves formerly working as duck breeders in the same field.

Their farm hadn't been performing well and instead of waiting for help from the State, they planned to steal and sell the beasts to give their business a boost.

However, Phước and Phương unwittingly fouled up when they sold the fowl to Cuôl's brother, who promptly turned them in.

Seems all's fair in love and war, but not in the cut-throat business of duck breeding.

More bureaucratic meaninglessness

Phạm Văn Thiều, head of the Bạc Liêu Province's Party Committee's Organisation Commission, signed an official dispatch March 22 asking for reports of any change or promotion for positions in party committees in the province.

According to the official dispatch, the reports should be submitted to him before reaching Standing Party Committees in the province for final decision.

Thiều told Vnexpress.net that the dispatch was issued so that he and lower agencies could discuss more about human resource management. In addition, any proposal on positions in party committees should be prepared well before being submitted to Standing Party Committees.

However, the public has voiced concern that Thiều signed an official dispatch that "empowered" himself to do the job of lower agencies.

Last Friday, vice secretary of Bạc Liêu Province Party Committee Lê Thị Ái Nam signed a document deactivating Thiều's official dispatch.

Binh Phuoc handles post-war bomb, ordnance leftovers

The Military High Command of the southern province of Binh Phuoc on May 22 worked with National Shooting Range Region 3 to dismantle various bombs, mines and artillery left over from wars in Loc Ninh and Bu Dang districts.

They included four bombs, six artillery cannons, 46 sub-munitions and four grenades.

Major Vo Trung Son, head of the Engineer Corp department under the provincial Military High Command, warned that as bombs can explode any time, locals must not cut unexploded landmines for scrap metal.

Thousands of bombs, landmines and explosives were dropped in the province during wars. Many are still buried in the locality.

In previous years, the province has made concerted efforts to defuse bombs and mines.

An estimated 800,000 tonnes of unexploded bombs and mines left over from wars are in more than 20 percent of Vietnam's territory. The US army used more than 15 million tonnes of bombs and mines in Vietnam during 1945-1975, four times the amount used in World War II.

Leftover bombs and mines have killed about 42,130 people and injured 62,160 others in the country. The bombs and mines have affected socio-economic development and had severe consequences on people's lives.

Kien Giang approves urban development programme until 2025

The Mekong Delta province of Kien Giang has approved a programme on urban development through 2025, aiming to meet local socio-economic development needs in the context of international integration and to improve local living standards.

Under the programme, the urbanization ratio is targeted to reach 41 percent by 2025. Some 23 urban areas are expected to be developed, including 2 urban areas Type I, one Type II, one Type III, five Type IV and 14 Type V.

Measures will be taken to mobilise resources to realise the province's goals, including using the state and local budgets and calling for domestic and foreign investment.

The province will help investors carry out urban development projects and hasten the completion of underway construction works.

Three large-scale urban projects are being developed in the province, comprising the 262-hectare Phu Cuong urban area, a sea-encroaching urban area project worth more than 3 trillion VND (132.2 million USD) in Rach Gia city and the 287-hectare Bai Dai resort worth more than 17.1 trillion VND (753.6 million USD) on Phu Quoc island.

According to Nguyen Quoc Su, Chairman of the People's Committee of Rach Gia city, together with Phu Cuong urban area, the sea-encroaching urban area will meet housing demand from local people while beautifying the city.

The move also helps Rach Gia city become an urban area Type I and a model coastal urban area in the Mekong Delta region, he added.

More than 1,300 river-sea ships join coastal transport routes
Up to 1,302 river-sea compatible ships (VR-SB) have operated on coastal transport routes by May 15, according to the Vietnam Register.

They include 32 container ships, mostly operating on Quang Ninh – Quang Binh, Quang Binh – Binh Thuan, and Binh Thuan – Kien Giang routes.

The number, which is 100 ships more than two previous months, is expected to rise as dozens of river ships are to be upgraded to VR-SBs.

Relevant bodies are building regulations on managing the boats and their routes for submission to the Ministry of Transport.

The first VR-SB transport route was launched in 2014, connecting Quang Ninh and Kien Giang provinces.

An official from the Ministry's Department of Transportation said goods are transported on the route from Quang Ninh and Hai Phong to Thanh Hoa and Ha Tinh are varied, including construction materials, machines and coal for the Nghi Son Petrochemical Refinery project.

Goods transported on the route from Nghe An, Ha Tinh to Hai Duong are mainly rock materials while cement, oil and gas, coal, and others are transported from the Nghi Son Petrochemical Refinery Factory to Quang Binh, Quang Tri and Thua Thien Hue.

Rice, fertiliser, construction materials, timber and consumable goods are the main goods transported between Ho Chi Minh City and Ba Ria-Vung Tau and Kien Giang.

Vietnam marks 30-year participation in UPU letter writing contest

Hanoi's Departments of Information and Communications, and Education and Training, and the Hanoi Post held an event in the city on May 22 to mark Vietnam's 30-years of participation in the Universal Postal Union (UPU) letter writing contest.

The annual international letter writing competition for young people has been run at the national and international levels since 1971, with millions of under-15 children from all over the world taking part in.

The contest aims to develop children's writing skills and creativity and tighten bonds among nations.

Through the themes of the contest, participants discuss important social issues.

Vietnam first launched the nation-level contest in 1987. It has been held annually from October in the previous year to February of the following year.

Over the past 30 years, the country has won two first, two second, three third and five consolation prizes at the international level.

PP Hà Nam win, top national ranking

Phong Phú Hà Nam won 1-0 and ended Việt Nam Coal and Minerals' winning streak at the National Women's Football Championship on May 22 in HCM City.
The two title favourites played an aggressive match from the start with consecutive attacks.

The first chance went to Phong Phú Hà Nam when Phạm Thị Tươi received the ball in the box in the 21st minute, but her finish went wide.

Four minutes later, Việt Nam Coal and Minerals answered with a straight shot by national team member Nguyễn Thị Vạn, who faced goalkeeper Lại Thị Tuyết in a one-two situation but could not score a goal.

Her teammates Đỗ Thị Nguyên and Trần Thị Thu also failed to score the opening goal.

Heavy rain in the second half did not stop the players from seeking a goal, but it was only in the 81st minute that Nguyễn Thị Tuyết Dung gave a perfect ball from a corner kick to Nguyễn Thị Nguyệt, who hit a strong header into the net.

Striker Tươi nearly made it 2-0 minutes later, but her finish was saved by keeper Thanh Hảo.

It was the first loss for Việt Nam Coal and Minerals following three wins in a row.

The win helped Phong Phú Hà Nam jump to top place in the ranking with 10 points while Việt Nam Coal and Minerals moved down to second position.

In the later match, defending champions HCM City 1 beat TNG Thái Nguyên 3-1.

Cao Thị Biên of Thái Nguyên scored an own goal just four minutes into the game.

Thùy Trang doubled the result for the hosts in the second half before Lương Thị Xuyến of the visiting side narrowed it with a straight shot into the far corner.

Ten minutes later Hoài Lương made it 3-1 in the 61st minute. HCM City stood third with nine points and Thái Nguyên was sixth with three.

In today's action, Hà Nội 1 play HCM City 2 and Sơn La meet Hà Nội 2 at the Thống Nhất Stadium.

Party, procuracy officials of Lang Son, Guangxi share experience

Officials from Lang Son provincial Party Committee's board for internal affairs and the political and legal affairs committee of Chongzuo city, China's Guangxi Zhuang Autonomous Region, held talks in the Vietnamese province on May 22.

The two sides shared experience in advising their respective provincial and municipal Party committees on fighting corruption and settling complaints, as well as in directing agencies like public security, border guards and the procuracy, and in security.

Head of Lang Son's internal affairs board Dao Duc Hoan expressed hope for stronger ties between the two sides, helping to solidify relations between the two Parties, States and peoples.

Lei Duorong, Secretary of the political and legal affairs committee under the Chongzuo municipal committee of the Communist Party of China, thanked the Vietnamese side for their warm welcome and said the two countries' friendship needs to be maintained.

The officials also briefed each other about their respective localities' situation and introduced the functions of Lang Son's internal affairs board and Chongzuo's political and legal affairs committee.

Also on May 22, representatives of the Lang Son People's Procuracy met with a procuracy delegation from the Guangxi Zhuang Autonomous Region.

They discussed the work of each procuracy agency and bilateral cooperation. They hoped that visits will be increased to share experience, thus stepping up collaboration in fighting crimes.

Ninh Thuan: Muslim Cham people busy preparing for Ramuwan

Thousands of Cham Bani or Muslim Cham people in the south central province of Ninh Thuan are busy preparing for Ramuwan (Ramadan), their traditional New Year festival, from May 24-26.

During their biggest festival of the year, Cham Bani families gather to pay tribute to their ancestors and parents and pray for happiness, bumper crops and peace.

Local authorities have visited the council of Cham Bani chief monks and Muslim Cham families and individuals to present gifts and congratulate them on their New Year.

They asked Cham people to promote national unity, comply with Party policies and State laws and work hard to boost economic development.

Chairman of the provincial People's Committee Luu Xuan Vinh urged local departments and authorities to provide the best conditions for Muslim Cham people to have a joyful festival.

Ninh Thuan is home to about 46,000 Cham Balamon (Hindu Cham) and 27,000 Cham Bani.

101 year old man undergoes hip replacement operation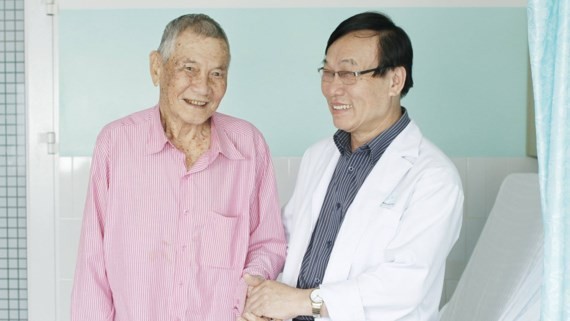 Surgeons of Gia Dinh Hospital announced to perform a successful hip replacement operation on a senior man.

101 year old Nguyen Van Thinh was discharged from the hospital yesterday after hip replacement operation.

Before on May 10, the man suffered pain in the hip and could not move because he had fell. His relatives were quick to take him to the hospital for examination where doctors concluded that his thighbone was broken; accordingly, he needs to have a hip replacement operation.

Because the senior man has pneumonia and diabetes and he is old, doctors were reluctant yet his relatives showed agreement on the operation, surgeons carried out the hip replacement operation on May 11.

After the operation, doctors provided traditional medicine and exercises to help him to recover soon.

HCMC calls for social contribution to take care of people's health

Ho Chi Minh City authority is calling for social contribution to set up more ward-level health centers in a bid to better take care of people's health.

A general health clinic has just been opened at a health center at District 3's ward 11 from social contribution as per the Ministry of Health's policies and the municipal authority's calling for investment in the health sector.

Viet Anh Medical Joint Stock Company invested VND20 billion ($881,596) to upgrade the health center to be a general health clinic with wards equipped with machines for testing, ultrasound and X-ray diagnosis of obstetrics, traditional medicine, cancer screening, hepatitis B and C and others.

Director of the Department of Health Nguyen Tan Binh said that private sector has contributed to the health sector for year with various form and the general health clinic in District 3's ward 11 is one of clinic with the contribution from private capital molibization.

Social contribution to convert health center into general health clinic gradually helps mprove medical treatment in ward-level health center.

Developing ward-level health centers is one of leading priorities of the City's Department of Health in order to help local residents get better primary healthcare services.
These general clinics will be in charge of family medicine as well as disease prevention and management of national health programs.

In addition, the city also encouraged to open more satellite in district-level general hospitals. Accordingly, Tan Phu District General Hospital has opened a satellite general health clinic at the health center in Tay Thanh Ward at 200/14 Nguyen Huu Tien Street lately.

The satellite clinic is expected to help Tan Phu District General Hospital reduce the patients overload, said Deputy Director of the city Department of Health Dr. Tang Chi Thuong. Currently, over 3,000 patients go to the hospital for health examinations and treatment every day at Tan Phu Hospital.

Documentary film about musician Tran Lap screened in HCM City

A documentary film commemorating musician Tran Lap was presented in Ho Chi Minh City on May 22.

The film titled "Yesterday story" aims to celebrate the 1st death anniversary of rocker Tran Lap and the 22nd anniversary of the establishment of the rock band, Buc Tuong (The Wall). It tells about 20-year long-term voyage of the rock band, and outstanding moments and the living of the group's members.

The 75-minute long movie is directed by Dang Linh and Hong Thang, and produced by the Viet Nam National Documentary and Scientific Film Studio.

The film made its premiere in Hanoi in March.

Famous rocker and songwriter Tran Lap died in Hanoi in March last year after a courageous 5-month battle with cancer. The iconic singer whose real name is Tran Quyet Lap was born in 1974 in the northern province of Nam Dinh.

He was founder of the Buc Tuong (The Wall) rock band that was formed in 1995. The rock band includes three members, musician Tran Lap, guitarist Tran Tuan Hung and Nguyen Hoang. The band grew up from musical movement of students. The band is regarded as a leading rock band in Vietnam.

Lap was author of many ballad rock songs, favored by generations of students over the past 20 years, such as Bong hong thuy tinh (The glass rose), Dung nhu hon da (Don't be like a stone), Nguoi dan ba hoa da (The woman turned into stone) and more.

The most popular song, Duong toi vinh quang (Road to glory) is used as a theme song for several editions of the popular "Road to Mt. Olympia's Peak" quiz show organized by national broadcaster Vietnam Television.

He was one of the four judges of The Voice of Vietnam 2012 program that was aired on VTV3.

Vietnam Festival 2017 to kick off in Tokyo in June

The Vietnam Festival 2017 will take place at Yoyogi Park in Tokyo, Japan from June 10 and 11, the Vietnam News Agency reports.

The festival would help strengthen mutual understanding between the two nations and bring Vietnamese people living in Japan closer together, said Deputy Ambassador of Vietnam to Japan Nguyen Truong Son at a press conference last week.

According to the organizers, this year's festival will also include an exhibition of over 100 booths, including 60 food booths and 40 booths offering souvenir items. The event will also feature art performances in an effort to introduce the images of Vietnam's history, culture and people to Japanese people.

Coming to the upcoming event, tourists will have the opportunity to enjoy the taste of Vietnamese delicious food, cultural programs and art performances. The event is expected to attract the participation of 150,000 visitors while last year saw the number climbing to 200,000 visitors, the highest-ever.

Apart from culinary and cultural exchange activities, the festival is expected to bring guests beautiful performances of talented artists from Japan and Vietnam. Vietnamese invited artists include singers Ho Quynh Huong, Tieu Chau Nhu Quynh and Ngo Kien Huy. In addition, shows highlighting ao dai (Vietnamese long dress) will be available at the event.

The Vietnam Festival was first held in Japan in 2008 to mark the 35th anniversary of the establishment of diplomatic ties between Vietnam and Japan.

Color Me Run makes comeback in town this week

Color Me Run, an international running competition combined with music performances, will make a comeback for the fourth edition in HCMC's District 2 from 1.30 p.m. to 8.30 p.m. on May 27, following the success of the event in the capital city of Hanoi on April 22.

Unlike normal sporting activities, Color Me Run comprises a series of events and a 5-km paint race during which runners will be showered with colored powder at checkpoints. In addition, participants also will have a chance to enjoy exciting music performances by both local and international artists at the final checkpoint.

Launched for the first time in 2014, Color Me Run is regarded as a pioneering event which gives a rich source of inspiration for local youths and helps them to build a dynamic lifestyle. This year's event themed "Summer Vibes"is expected to attract the participation of thousands of young people in the city and bring wonderful moments of a meaningful summer for participants.

Invited guests to the upcoming event include American singer Dawin from New York and local artists including Vicky Nhung, Sunny Ha Linh and Trung Quan Idol.

The event which is sponsored by mineral water producer Lavie will take place at Sala urban area in HCMC's District 2. Further information can be found at www.colormerun.vn.

First underground festival to kick off this weekend

Saigon Underground Festival 2017 (SUF 2017) will be held from 9 a.m. to 9 p.m. on two weekend days, May 20-21, at Vietopia, a venue of education, entertainment and indoor sports for children aged 3-14 in HCMC's District 7.

The two-day event will feature four activities including film screenings, art exhibitions, musical performance and handicraft flea market.

Coming to the festival, visitors will have the opportunity to watch short films around the globe to arouse the passion for arts and admire unique collection of artworks created by professionals and aspiring artists. Besides, participants are able to enjoy beautiful musical performances by artistic talents from all genres of music and visit the handicraft flea market to gain a deep insight into Vietnamese arts and crafts.

The first underground festival in Vietnam is expected to bring a wide range of entertainment activities for aspiring artists, and those seeking inspiration and creativity.

Tickets are available at ticketbox.vn at VND150,000 per person. Due to the limited seats, interested people are advised to book tickets in advance.

The Vietopia center is located at 2-4 Road No.9 in Him Lam new urban zone in District 7, HCMC.

Hanoi to build VND150-million homes for workers

The Vietnam General Confederation of Labor (VGCL) has plans to cooperate with Hanoi City and enterprises to build budget homes costing some VND150 million (about US$6,600) each, which have floor space of 30 square meters each near industrial parks, and sell them to workers.

At a meeting with representatives of workers at Hanoi's industrial parks and export processing zones last Friday, Mai Duc Chinh, vice chairman of VGCL, said each condo unit will have mezzanine, living room, bedroom and toilet, so it would be fine for a couple and their children. There will be homes for rent as well.

The first few floors of these condo buildings will be used to build supermarkets, kindergartens and there will be parks and football pitches also.

VGCL said apartments and kindergartens are indispensable for workers. Currently, boarding houses in many industrial parks only meet 5-10% of worker demand.

More than 90% of workers are living in boarding houses which do not meet basic living conditions. Many industrial parks do not have kindergartens so the workers have to send their children to private facilities that do not guarantee safety.

According to this plan, VGCL will pilot construction of 10 condo buildings for sale to workers in industrial zones nationwide in 2017 and will build four more in the 2018-2020 period.

VGCL has also worked with Hanoi City to initially pilot condo buildings for workers in one or two industrial parks. VGCL will then map out preferential policies to attract investors and enterprises to build homes for workers.

UDI Maps flood warning app launched

Users of Android devices can now download UDI Maps app on Google Play if they want to get updates about flooded areas, rain and flood tides in HCMC.

The app, developed by Urban Drainage Co Ltd (UDC), is seen as a two-way communication channel between the company and residents.

UDI Maps uses the map and driving direction features of Google to provide detailed and accurate information about flooded locations in the city and alternative routes for road users.

Users will receive latest information and emergency alerts on flooding. App users can also send information and images of flooded areas to help UDC timely deal with the actual situation and mitigate losses.

Previously, UDC coordinated with some agencies to use the Geographic Information System (GIS), the foundation of UDI Maps, to issue flood alerts. The GIS database helps agencies to check the drainage system and propose solutions to flooding.

But this GIS-based system was not well managed, making it difficult to manage and repair sewers, said the Southern Institute of Water Resources Research.

Da Nang's NA Guest House officially opens

The National Assembly Guest House in Da Nang (Nalod) was officially inaugurated and put into operation on May 19.

This will be the occasional workplace for deputies of the National Assembly, People's Councils of Central and Central Highlands provinces. At the same time, it is also used to hold seminars and conferences of the National Assembly (NA) agencies and the National Assembly's Office in Da Nang, as well as to receive international guests of the NA to the central region.

Nalod's construction was started on February 23, 2014, at 192 Vo Nguyen Giap street, Phuoc My ward, Son Tra district. The whole project covers 3,348.9 m2, but the construction area is on 1,468 m2. It is a 21-storey building with 250 4-star rooms, an outdoor swimming pool, fitness center, spa and restaurants.

The project costs VND 458 billion funded by the State Budget, was managed by the National Assembly Office, and erected by 789 Company (the Ministry of Defense).

Da Nang: French students call for environmental protection

"Do not take plastic bags to Son Tra" is the message sent by 1,000 French students and interns in collaboration with Da Nang local students to preserve the cityscape.
On May 19th at Tien Sa port, Da Nang, more than 1,000 students of the East Asia University participated in an environmental protection activity called "Do not take plastic bags to Son Tra." This meaningful program was actively joined by a group of French trainees and graduate students currently studying in Da Nang City.

The French interns and students of the East Asia University managed to clean and sort garbage into biodegradable bags. They also took part in a competition about environmental protection.

The flashmob performance of over 500 students with the impressive display of "Love a lot Son Tra" words at the end of the event was a promise to accompany the Green Sunday program at Son Tra Peninsula.

It also illustrated the hope of the French students and local students in Da Nang to contribute to spreading the action to help Son Tra reduce waste to become a friendlier place in the heart of people and tourists.

Recently, a lot of people including businesses, especially students of Da Nang City have actively promoted and participated in meaningful activities to protect the green environment of Son Tra, where exists the extreme rare primate Pygathrix nemaeus (Endangered langur) – the symbol of Da Nang City – mascot of the APEC Year 2017.

Every Saturday and Sunday, thousands of students from Da Nang universities and high schools attend the Green Sunday and join the green volunteer network in Son Tra.

First language assessment symposium opens in HCM City
Vietnam's first Language Assessment Symposium opened on May 23 in Ho Chi Minh City, bringing together the best UK and Vietnamese testing and assessment experts.

Organised by the British Council and the National Foreign Languages 2020 Project, the Vietnam Language Assessment Symposium (VLAS) is the direct result of the New Directions conference on English Language and Assessment, which attracted more than four hundred international and regional language experts to Hanoi last year. If New Directions presented international perspectives and insights, the symposium gives a stronger focus on Vietnam with presentations by speakers from ten national testing centres.

Dr Vu Thi Phuong Anh, Vice Director of the Educational Quality Training and Support Centre, Association for Vietnamese University and Colleges, presented findings of her most recent study on classroom based assessment in Vietnam. Classroom based assessment includes informal day-to-day teacher-student interactions and formal tests of students' progress.

Classroom assessment is universally viewed as a crucial part in improving students' learning; however, the research reveals that formative assessment is overlooked by many teachers due to class size and their heavy workload. Further outcomes of her study include recommendations on how to address those challenges and to better use assessment to effectively improve the quality of English teaching and learning in Vietnam.

Dr Jamie Dunlea, Senior Researcher inLanguage Assessment from the British Council talked about using test specifications to help design better classroom tasks. A test specification is a design template which makes clear the purpose of the task, and criteria for input texts and expected responses.

Specifications designed based on the socio-cognitive model, link to different levels of proficiency. Test tasks which use these specifications are useful as they facilitate the teaching and learning of abilities relevant to a level rather than teaching to the test itself.

Jamie highlights Aptis, the modern, flexible English language proficiency test designed by the British Council, as a good example of how a test can guide teachers in designing classroom activities towards two prime purposes: preparing students for an exam and, more importantly, preparing them for their real-life purposes.

Nguyen Thi Mai Huu, Director of the National Foreign Languages 2020 Project, Ministry of Education and Training of Vietnam, talked about the lack of standard procedures that can guide institutions and academics through the process of conducting assessment. She introduced a manual which was written to address the issue.

The manual includes five major assessment development stages: 1. Planning and designing, 2. Development, 3. Delivery, 4. Marking and reporting results, 5. Review and monitoring. The manual suggests procedures for quality control and assurance, and ways to solve technical issues at each stage.

Other presentations touch on various topics such as assessing primary learners, ways to assess writing performance, or utilizing teamwork to enhance ongoing assessment of productive skills.

Cherry Gough, Director, British Council Vietnam said, 'Through the Vietnam's Language Assessment Symposium, the UK reiterates its support for the Ministry of Education and Training's aims to improve learning and teaching of English in Vietnam, as well as its direct support to teachers and learners of English through the British Council.

Knowledge of English language creates opportunities for international education, better jobs, and connections with people and organisations across the world.

Tests such as Aptis and IELTS encourage teachers to teach students to use language for real-life purposes, rather than just prepare them for the test itself, and this symposium will help classroom teachers to develop their own tests and classroom activities to do the same..'

Former vice chairman of Hanoi faces mismanagement charges over ruptured water pipeline

The Ministry of Public Security's Police Investigation Agency on May 22 ratified charges against Phi Thai Binh, former vice chairman of Hanoi, for mismanagement during his time as chairman of Vinaconex Corporation's board of directors.

Vinaconex is the state-owned construction company responsible for the Song Da water pipeline, which has infamously ruptured more than a dozen times in the last few years.

Former CEO of Vinaconex Nguyen Van Tuan and five other executives also face charges for violating construction and investment regulations.

All seven have been released from custody due to old age and poor health, and having fully cooperated with investigators.

An investigation in July 2016 found that Vinaconex had hired a Chinese contractor to build the pipeline. Construction started in 2004 and the pipeline was finished and put into use in 2009.

However, between 2012 and 2015, the pipeline ruptured 14 times, costing the operating company more than VND13 billion (US$573,000) in repairs.

The ruptures caused 177,000 houses to lose access to clean water for nearly 350 hours and wasted 1.5 million cubic meters (400 million gallons) of water.

The investigation revealed that members of the corporation's board of directors, including Chairman Binh and CEO Tuan, allegedly violated construction and investment regulations by changing the construction material to low-quality, untested fiberglass composite and selecting a contractor that lacked the necessary ability and experience for the project. Low-quality fiberglass that failed to meet the design requirements was cited as the main reason behind the ruptures.

Investigators initially decided not to prosecute the executives because they were first time offenders with good personal records and had contributed to the construction industry. However, following a public backlash, they reversed the decision.

In June 2016, nine other officials were also charged with violation of construction and investment regulations, including members of the project's management team, consultants and the company that provided the fiberglass.

Last week, Hanoi's construction department warned that it will be "hard" to deliver enough tap water to four downtown districts as demand increases over the hot summer. The situation could become much worse if the notorious Song Da pipeline ruptures again.

The Song Da water pipeline, which cost US$70 million to install, has broken at least 20 times since 2009, most recently in October last year.

Vinaconex signed a contract to use pipes from another Chinese company to fix the unreliable system but backed out of the deal in August last year after the government raised concerns over quality standards.

Vietnam attends culinary charity bazaar in Egypt
Staff of the Vietnamese embassy in Egypt have participated in the international culinary charity bazaar hosted by Lady Ambassadors, Ambassadors' Spouses, Athens (LAASA).

The annual event in Athens which aims to raise funds for charity activities, has attracted many Egyptians and international visitors.

Apart from the food festival, diverse activities have been held including art performances by art troupes from different nations. This year's event attracted the participation of 34 embassies and several organizations in Egypt.

This was the fifth time the Vietnamese embassy has taken part in the event. The embassy staff introduced to visitors Vietnam's traditional dishes such as Pho ga (chicken noodle), Nem (spring rolls), and Mien Xao Thap Cam (Mixture Fried Cassava Vermicelli). A photo exhibition featuring Vietnam, its land and people was also held during the event, attracting hundreds of visitors.

Offices of Vietnam, Laos Party Central Committees reinforce cooperation

Officials from the offices of the Communist Party of Vietnam (CPV) Central Committee and the Lao People's Revolutionary Party (LPRP) Central Committee highlighted the increasingly practical cooperation during their talks in Vientiane on May 23.

The Lao side was led by deputy chief of the LPRP Central Committee Office Chanthaboun Rattanavong while his counterpart Bui Van Thach led the Vietnamese delegation, who is on a visit to Laos on the occasion of the Vietnam-Laos and Laos-Vietnam Solidarity and Friendship Year 2017.

The two sides briefed each other about their respective country's socio-economic development, review their cooperation plan in 2011-2016 and discussed another plan for 2017-2020. They also looked into coordination to prepare for an exhibition on the countries' traditional friendship and special solidarity which will be held in Hanoi and Vientiane.

The officials said both sides have paid attention to delegation exchanges to learn from each other's experience in advising and serving the two Party Central Committees. They have also regularly shared experience in making agenda; assessing, implementing and evaluating plans and resolutions of the Party Central Committees; and building the offices' apparatus, working regulations and personnel issues.

They also spoke highly of the completion and operation of a project on IT application at agencies of the LPRP Central Committee and another project on building Kaysone Phomvihane Culture Centre in Laos's Savannakhet province. Those projects are considered symbols of the close amity between the two Parties and countries.

The above-mentioned cooperation outcomes have helped improve the offices' specialised works and enhance the countries' time-honoured friendship and special solidarity, they noted.

The offices agreed to promote cooperation and support each other to fulfill important tasks, thus continuing to foster bilateral relations.

The Vietnamese delegation is scheduled to meet with Politburo member, head of the LPRP Central Committee Office Khamphan Phommathat later the same day.

Dien Bien: 8,000 employment opportunities on offer

As many as 8,000 opportunities are available for job seekers at the second job fair in the northern mountainous province of Dien Bien on May 23.

The event, held by the provincial People's Committee, drew the participation of 22 domestic businesses and more than 1,000 students and labourers.

Business activities, number of vacancies and job requirements were introduced at the fair. The recruiters also received applications and conducted interviews with job seekers.

The Dien Bien Job Placement Centre held consultations and provided jobs for labourers under contracts previously inked with enterprises. It also informed demands of the labour market and job placement plans in the coming time.

Meanwhile, vocational training establishments presented their training scale, facilities, lecturers, training quality and enrollment demands while promoting cooperation with enterprises in the field.

The job fair aimed to help students and labourers find suitable jobs while assisting enterprises in recruiting young and quality human resources to meet their development goals. In addition, it also contributed to boosting the labour market as well as reducing unemployment rate in the locality.

Vitamin A for kids, mothers on Micronutrient Day

Children between six and 36 months of age and new mothers will get free vitamin A supplements in a campaign on the occasion of Micronutrient Day (June 1 and 2).

The National Institute of Nutrition (NIN) said it has distributed around 7.6 million doses of vitamin A capsules to serve nearly five million children and 500,000 new mothers.

In addition, vitamin A capsules will also be given to 1.1 million children who are between 37 and 60 months old; while children from 24 to 60 months in 22 provinces and cities that have a high rate of stunted growth among children will be dewormed.

Speaking at a press conference in Hà Nội on Monday, NIN deputy director Trương Tuyết Mai said that preventing micronutrient deficiencies is one of the six important goals of the National Strategy on Nutrition for the period 2011-20.

"Providing micronutrient supplements to high-risk groups such as children and new mothers is a fast and timely measure to handle the situation of micronutrient deficiency," Mai said.

In addition, medium-term measures such as adding micronutrient supplements to essential foods, and long-term, sustainable measures such as adding diverse food products to daily meals are being taken to solve the problem of micronutrient deficiency in Việt Nam, Mai said. "Adding micronutrient supplements to essential foods is a simple, effective way of improving daily meals, health, and quality of life."

Communication and education will strengthen awareness about nutrition and nutritional requirements, and encourage good eating practices among people, Mai said.

People should incorporate a variety of food sources in their daily meals, especially food rich in micronutrients. New mothers are encouraged to breastfeed their newborns within the first one hour of birth, and give their babies no food or drink other than breast milk for the first six months.

Micronutrient deficiency is a persistent health problem in Việt Nam, and requires proper attention and more investment from the Government.

On Micronutrient Day, dissemination and educational activities will be held nationwide to raise public awareness about good nutrition and promote food hygiene and safety.

A 2015 NIN survey revealed that 13 per cent of the children in the country have vitamin A deficiency, and 32.8 per cent of pregnant women are anaemic. Its statistics show that the country's malnutrition rate is 14.1 per cent of children under the age of five, and 24.6 per cent of children have stunted growth.

Green One UN House awarded Platinum LOTUS Certification

Green One United Nations House (GOUNH) in Hanoi has been awarded Platinum LOTUS Certification by the Vietnam Green Building Council (VGBC), the highest level in the market-based green building ratings system.
The certification is in recognition of GOUNH as a high performance green building enhancing the efficient use of resources through smart ecological design and management.
The Platinum LOTUS certification follows the building's previous accreditation as one of the first buildings in Vietnam to be awarded a provisional Gold LOTUS Rating from the VGBC.
VCBG's Platinum Certification is currently the highest level in the LOTUS ratings system for designing and constructing Vietnam's greenest, most energy-efficient, and high performing buildings.
The LOTUS ratings system promotes the construction of environmentally-sustainable buildings with the aim of ultimately bringing about the efficient use of all forms of resources, protecting occupants' health and productivity and reducing all forms of environmental degradation.
As a key milestone in the UN Reform process in Vietnam and the Delivering as One initiative, GOUNH is testament to the UN's commitment to "Deliver Green". Being a success, the building has become a role model for sustainable green buildings in Vietnam, signifying the importance and urgency of environmental sustainability and climate change.
Advocating climate change mitigation and adaptation, the GOUNH is constructed of ecologically-friendly materials such as lead-free paint and furniture low in harmful Volatile Organic Compounds. Efficiency in heating, cooling and energy systems is maximized through photovoltaic panels harnessing solar energy and generating at least 10 per cent of the building's annual electricity consumption. Additionally, through the application of an innovative Green Office Guide, UN staff have adopted green behaviors such as the reduction of paper, plastic and energy use as well as carbon-free transportation.
Accepting the certificate on behalf of the UN, Mr. Kamal Malhotra, UN Vietnam Resident Coordinator and Chair of the GOUNH Management Board, congratulated and acknowledged the collective efforts of the Vietnamese Government, donors, UN agencies, and development partners. He reiterated the UN's readiness to reinforce partnerships, emphasizing the "critical objective to provide a model building that demonstrates the viability of innovative sustainable buildings in Vietnam."
The Green One UN House project is a joint endeavor between the Vietnamese Government, donors, and the UN Country Team. The government contributed a high value site, the existing United Nations Apartment Building at 304 Kim Ma Street in Hanoi, and support through other material sources. Alongside participating UN agencies and UNEP contributions, donors - including Australia, Finland, Ireland, New Zealand, Norway, Saudi Arabia, Spain, Switzerland and the UK - have also provided generous contributions to the renovation of the building.

Eight prosecuted for illegal sand mining

Police in northern Quảng Ninh Province have prosecuted eight people for illegal sand mining in the province.

Nguyễn Thị Hương, director of Dương Dũng Co., Ltd, and her husband Lương Văn Bình, deputy director of the company, were prosecuted for violating regulations in connection with natural resources exploitation.
The six other people are Vũ Văn Lật, Vũ Đức Loan, Nguyễn Văn Tuấn and Lương Văn Ty, as well as Nguyễn Văn Đức, and Trần Thị Nhường.
On May 12, police of the provincial Economic Police worked with police in Hoành Bồ District to catch red-handed Vũ Văn Lật, Vũ Đức Loan, Nguyễn Văn Tuấn and Lương Văn Ty while using some machines to exploit sand in a forest area owned by Lương Văn Bình.
Upon further inspection, the police discovered Nguyễn Văn Đức and Trần Thị Nhường also took part in the illegal activities.
Đức and Nhường admitted they were hired to exploit sand and were paid VNĐ13,000-16,000 per cu.m. The sand was later sold to brick factories in the province.
On average, they exploited between 1,000 and 1,400cu.m.of sand per month.
All eight failed to show required papers licensing the exploitation activities.
The police have seized all machines at the scene.
Six years ago, Bình and Hương purchased 6ha of forest from a man in Hoành Bồ District's Bằng Xăm Village for conducting illegal sand exploitation. In March, Bình was fined VNĐ4 million ($176) for illegal sand mining.
The case is under further investigation.
Hà Nội police detain 10 people carrying out illegal sand mining
On Sunday Hà Nội police also transferred 10 suspects and five vessels transporting 533cu.m of sand to Phúc Thọ District's Police Department for further investigation.
The 10 people were caught red handed on May 19 by the police while they were carrying out illegal sand exploitation in the river in Phúc Thọ District's Vân Hà Commune.
The police seized the vessels and detained the crewmembers.

Café with Google program launched in Vietnam

Google on Tuesday launched the first "Cafe with Google" program for Vietnamese parents at Tran Van On High-school in HCMC's District 1 after the successful implementation of the program in many Asian countries.

Google in collaboration with primary schools and high schools in HCMC will organize talk shows to share with parents on knowledge and skills to use technology, which is aimed at helping parents to protect their children in the digital age.

At the workshops of the program, Google experts will instruct parents how to have easier access to useful applications of Google for their effective time management, and learn about the principles of online safety and protection of personal information.

In addition, parents need to learn to exchange with online content developers for kids to gain a deep understanding on learning and entertainment needs of children in the digital age.

Ha Lam Tu Quynh, communications and PR head of Google Vietnam, said the program will give assistance to parents in using technology in daily life so as to gain easy access to their children on the social networking site. If parents are well-informed about technology and principles on online safety, they will become more confident while exchanging with their children.

Binh Phuoc fulfills universal education for five-year-olds

The southern province of Binh Phuoc has met national standards for universal preschool education for five-year-old children in 2011-2016, according to the Ministry of Education and Training.

Statistics showed that 98.38 percent of preschoolers attended school in the period, 3.38 percent higher than the required standard. Meanwhile, 99 percent of five-year-olds completed preschool education, 14 percent above requirements.

All communes and wards across 11 districts and towns of Binh Phuoc, which previously lacked schools and teachers, now have educational institutions and pre-schools.

Representatives from the ministry suggested local authorities improve the quality of the work and invest in building infrastructure facilities for pre-school education, encourage private involvement and revamp management in the field.

In recent years, the provincial Steering Committee for illiteracy elimination and education universalisation has focused on children at the age of five, especially those from low-income households, disadvantaged, remote and border areas and those from ethnic minorities.

However, Vice Chairman of the peovincial People's Committee Nguyen Tien Dung pointed out difficulties facing the locality in generalising education for five-year-olds including overloading at preschools and in encouraging children to attend school.

He said relevant sectors, especially the education and training sector, need to raise public awareness of the scheme, make it easy for enterprises to invest in private preschool development and improve the quality of teachers.

The project on universalising pre-school education for five-year-old children was approved in 2010.

The project set the goal of having the majority of five-year-old children throughout the country attend two classes a day for a full school-year in order to be fully prepared for the first grade.

Photo contest raises awareness of environment protection

A photo contest on the environment in Vietnam was launched in the northern province of Hung Yen on May 20.

The event, themed "Living in harmony with the environment" was held by the Vietnam Environment Administration (VEA) under the Ministry of Environment and Natural Development and the Vietnam Association of Photographic Artists (VAPA).

According to VAPA President Vu Quoc Khanh, as the contest aims to raise public awareness of environmental protection, entries should focus on reflecting nature's beauty, biodiversity, people living in harmony with the environment and efforts to protect the environment and respond to climate change.

The impacts of environmental pollution on people's health and actions harming the environment should be also reflected through the entries, he said.

The contest held for both Vietnamese people and foreigners who live in Vietnam. Photos should be submitted to the VEA, No.556, Nguyen Van Cu Street, Long Bien district, Hanoi or the contest's fanpage www.facebook.com/ongkinh.moitruong by October 20.

One gold, two silver and three bronze medals will be up for grabs at the contest. In addition, the organising board will present several consolation awards and other auxiliary prizes.

Ministry requires online payment of vehicle registration fee

The Ministry of Finance has required the State Treasury of Vietnam to prepare equipment for receiving online payment of registration fees for residents and businesses' motorbikes and automobiles.

According to the requirement, all district treasuries will receive the payment with credit cards instead of by cash. They have been asked to coordinate with commercial banks to open their accounts in districts for residents to make the online payment.
The Ministry of Finance has also required the General Department of Taxation and the State Treasury to build a circular on information connectivity among registration, police and tax agencies and treasuries to implement the program.

Project to give books to primary schools launched

A program to give 10,000 good books to 100 primary schools in Ho Chi Minh City will be organized by Hansae Yes24 and Youth Publishing House.

10, 000 books have been buying to schools as a part of the project " Mot van cuon sach hay- Trieu tinh yeu thuong" ( Ten thousands of good books- one million loves).

The project aims to not only inspire enthusiasm of reading books amongst kids but also cultivate students' good spirits contributing to raise Vietnamese people's knowledge.

The project will help to improve the quality of library in schools; accordingly students can read good and new books.

It planned to be carried out in five years.

Health Ministry inspects 15 importers, shops selling food for children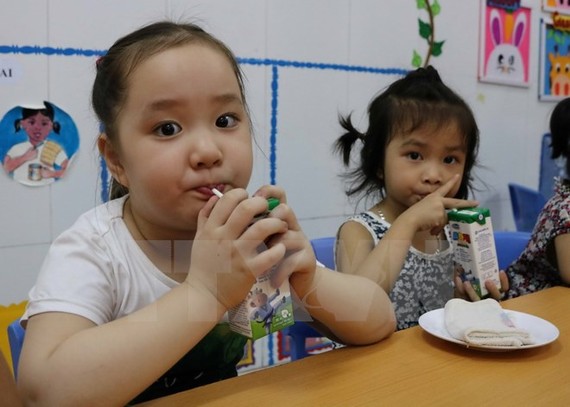 Inspectors from the Ministry of Health yesterday set up inspection teams to pay visits to importers, shops which sell food for kids in Hanoi.

Inspectors will check food safety in 15 companies and stores, which import and produce nutritional supplements for kids in Hanoi.

Companies which will be inspected include Pharmaceutical Company Vietnam, Minh Quan Importer-Exporter, Van An Commercial Company, Vita Dairy Company, Nhat Phuong Investment and Importer-Exporter, An Phu Khanh Commercial and Service Company, Bac Viet Company, Eneright Company, Dam Dang Vinh Company, Han Viet Commercial and Service, Phuc Loc Company, Nutricare Company, SNB Distributor, HP Vietnam Company and Tap Pham Importer-Exporter.

Inspectors will work on management loophole and have proposal to authorities for restructuring. Moreover, inspectors must arrive at detailed conclusion of inspection and violation if having along with verifying responsibility of organization and individuals.
Additionally, they will propose penalties as per the current law and measures in a bid to increase control over food for kids.

Heart-broken man saved in district infirmary

A hospital in Ho Chi Minh City's Thu Duc District yesterday saved a man with broken heart due to traffic accident.
l to save a 26 year old man in Binh Thanh district who had broken heart because of traffic accident.

Before, the man was rush in the hospital for emergency treatment when he had multi- injuries, shock, and his blood pressure could not be measured.

Doctors were quick to prove intensive treatment and scan in bed. Scan results showed that his heart membrane had much blood; additionally, through examination, doctors thought his heart was broke. Soon the hospital sounded the red alarm and performed a surgery after it has prepared blood supply.

After opening his heart, surgeons soon stopped bleeding in the heart and stuck up the wound in the heart. The 60 minute operation was successful; the man's blood pressure was stable. Scan showed no wound in heart.

The man was transfused four units of blood during the operation.

The man is now off the danger list yet he was treated intensively in the hospital.

VNA/VNS/VOV/SGT/SGGP/TT/TN/Dantri/VNE