NA lawmakers review works on voter input, petitions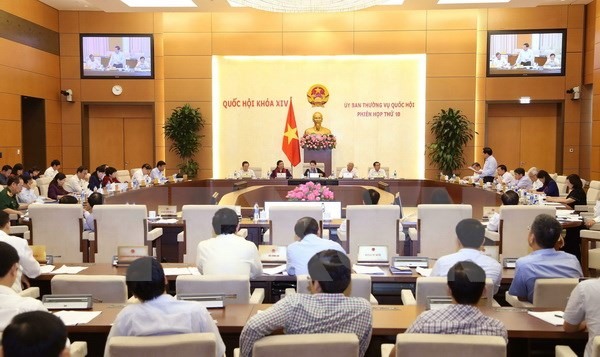 Top lawmakers urged for fuller engagement with voters' opinions yesterday, in response to a report on voters' proposals to the 14th National Assembly's second session as well as the upcoming third session. - VNA/VNS Photo Doãn Tấn
HÀ NỘI - Top lawmakers urged for fuller engagement with voters' opinions yesterday, in response to a report on voters' proposals to the 14th National Assembly's second session as well as the upcoming third session.
According to the report, presented at the second day of the 10th meeting of the National Assembly (NA) Standing Committee yesterday, more than 3,300 petitions from the people have been transferred to relevant agencies and organisations as the result of 2,073 meetings between NA deputies and voters nationwide before and after the second session of the 14th NA meeting in November last year.
Voters' petitions addressed all aspects of social and economic life - from specific issues that directly affected their daily lives to issues related to guidelines and policies of the Party and the State.
The report showed some legislative shortcomings, including the constantly-adjusted 2017 law building framework and the lack of legal document consistency.
All 3,119 petitions submitted to the Government, ministries and sectors were responded to. Ninety-four legal documents were enacted immediately between the second and third session of the 14th NA to promptly resolve issues about which voters in many localities were concerned.
Along with resolving and responding to voters' second session petitions, the ministries and sectors also reviewed and resolved 69 out of 142 outstanding petitions from previous sessions, mainly in the form of amending, supplementing or promulgating of some documents.
Chairman of the NA Committee for Ethnic Affairs, Hà Ngọc Chiến, stressed on the need to strengthen voter meeting organisation.
He proposed a report to clarify whether authority responses had come to the voters in time and in a satisfactory manner.
NA Chairwoman Nguyễn Thị Kim Ngân suggested the NA's People's Aspiration Committee analyse and further clarify the report's details on solving the outstanding petitions of voters. She proposed to clarify the 133 remaining petitions.
Meanwhile, another draft report at the meeting showed that there had been more than 2,900 citizen comments and suggestions sent to the third session of the 14th NA, which is scheduled from May 22 to June 20.
The opinions and recommendations focus on six specific contexts: production and business; resource management and environmental protection; health and food safety; education, training and vocational training; fighting corruption and waste; security and social security.
Võ Trọng Việt, Chairman of the NA's National Defence and Security Committee, proposed adding a number of constituencies around the issue of exploitation in the form of destruction of marine resources, how to ensure the aquatic and marine environment, and the problem of smuggling gasoline and cigarettes.
The NA Standing Committee will discuss the preparation of the upcoming third session of the 14th NA and a draft resolution on solving credit organisations' bad debts. - VNS