Vietnam appreciates WHO's role in building health care policies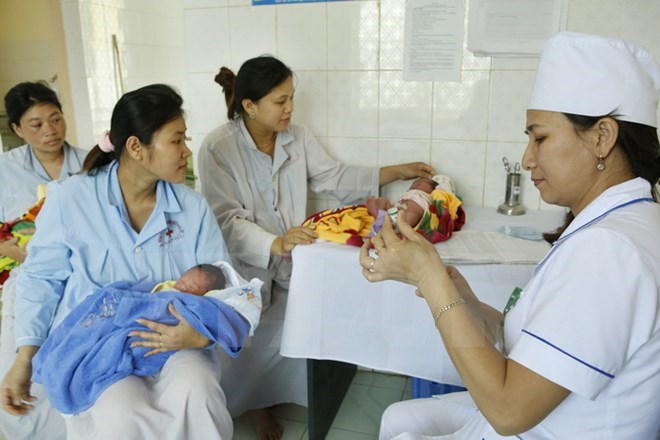 Vietnam highly appreciates the World Health Organisation (WHO)'s role in developing health care policies and strategies and technical assistance at regional and global levels, affirmed Health Minister Nguyen Thi Kim Tien.

In her speech to the 70th session of the World Health Assembly in Geneva, Switzerland on May 23, Tien said Vietnam wishes to continue receiving financial and technical assistance from the WHO and partners to build a quality, effective, fair, responsible and sustainable health care system.

With continuous support from international community, Vietnam could ensure health care and welfare programmes are successful, she said.

On health care reform, Tien underscored the goal of building an appropriate and sustainable health care system, adding that Vietnam is strengthening medical establishments, particularly community medical stations, as well as family doctor models and services in public hospitals.

Vietnam also looks to develop health insurance for the whole population, which currently covers 82 percent of the total, including government subsidies for the poor, the disabled and ethnic minorities.

The Health Ministry pays attention to medical staff training and pooling social resources to cope with infectious diseases, she said, adding that Vietnam leads the region in implementing the global health security programme in this regard.

According to her, the Vietnamese government issued a national action programme to carry out the Agenda 2030 for Sustainable Development, aiming to ensure the involvement of the government and the public for common goals.

The 70th session of the World Health Assembly gathered nearly 3,500 delegates from 194 WHO member states who considered financial policies and the 2018-2019 budget. They discussed WHO response to emergency medical cases, polio, non-communicable diseases, antibiotic resistance, access to medicines and vaccines, health of refugees and migrants, among other topics.

Participants also looked into preparations for the UN General Assembly's High-level Meeting on Non-communicable Diseases scheduled for September 2018.

On the occasion, former Ethiopian Health Minister Tedros Adhanom Ghebreyesus was elected as WHO Director General for the 2017-2022 tenure. He will take office on July 1 in place of Margaret Chan who has led the WHO for 10 years.
Indonesia releases Vietnamese boats, fishermen
Indonesian authorities have released four Vietnamese boats and most of fishermen who were detained on May 21, according to the Ministry of Agriculture and Rural Development.
The ministry said five Vietnamese fishing boats were stopped by Indonesian sea patrol while operating in waters about 18 nautical miles to the north from the delimitation line of continental shelf between Vietnam and Indonesia.
One Vietnamese boat sank during the process and Vietnamese authorised force rescued one Indonesian officer.
Vietnam is requesting Indonesia to release the remaining fishermen they seized in the incident.
The two sides are coordinating to settle the incident in line with the friendship and the strategic partnership between the two countries.

Huynh, Yến remain leaders of chess championships

There was no change to the top spots of the National Chinese Chess Championships as both leading masters won yesterday in Đà Nẵng.
No 2 seed Lại Lý Huỳnh of Bình Dương bagged his fourth win, beating Nguyễn Công Chương of Khánh Hòa in the fourth round match of the men's pool.
Nguyễn Nhật Minh Quang of HCM City jumped to second position with a win against No 3 seed Vũ Hữu Cường of Hà Nội.
Huynh will play HCM City's Diệp Khai Nguyên, who has 3.5 points and currently sits in fourth place.
Quang will face Võ Minh Nhất from Bình Phước in the next round.
On the women's side, Nguyễn Hoàng Yến of HCM City is on top with four points.
She is followed by teammates Đàm Thùy Dung and Trần Huỳnh Thiên Kim.
In the mixed doubles category, HCM City replace Bình Định as the No 1 team after four rounds. Bình Định are second and Bà Rịa-Vũng Tàu are third.

The quest to preserve 'bóng rỗi'

Bóng rỗi, a dance and singing art form performed at mother goddess worship rituals in southern Việt Nam, should be preserved, experts said at a conference on the arts held in Đồng Nai Province on May 22-23.

"Bóng rỗi plays an important role in traditional Vietnamese culture and should be honoured," said Associate Professor Huỳnh Văn Tới, head of the Đồng Nai Traditional Literature and Arts Association, at the event.

The event was organised by the association and the province's Culture, Sports and Tourism Department. Nearly 100 cultural experts and researchers from universities and cultural organisations across the country took part in the conference

Associate Professor Phan Thị Yến Tuyết of the HCM City Social Sciences and Humanities said that bóng rỗi singing and dance appeared in the southern region in the 19th century.

The art is always performed at rituals worshipping mother goddesses in southern provinces, such as Linh Sơn Thánh Mẫu (Mother Goddess of the Mountain) Festival on Bà Đen Mountain in Tây Ninh Province, and Vía Bà Ngũ Hành Festival worshipping Ngũ Hành Nương Nương (Mother Goddess of Five Elements) in Long An Province.

Bóng rỗi singing is performed at the start of the rituals. The songs invite the goddesses and ancestors to attend the festival.

A dance follows in which performers in costumes and makeup hold trays with offerings on their heads.

Nguyễn Công Hoan, a lecturer at the HCM City-based University of Finance and Marketing, said that bóng rỗi could be performed as part of a tourism activity.

"Performing bóng rỗi in front of tourists would be the best way to promote the art," he said.

Provincial tourism authorities, he said, should open tours of bóng rỗi at mother goddess temples, such as Bà Thiên Hậu Temple in Bình Dương Province and Bà Chúa Xứ Temple in Châu Đốc in An Giang Province.

Nguyễn Thị Nguyệt of the association said that it was necessary to offer teaching and training of bóng rỗi to young generations.

She suggested organising more bóng rỗi festivals and contests to offer artisans and performers more opportunities to perform on big stages.

As part of the arts promotion, the Đồng Nai Province's Culture, Sports and Tourism Department hosted a bóng rỗi festival on May 22.

The festival attracted 50 performers from eight arts troupes from HCM City and the provinces of Đồng Nai, Bình Dương, Bến Tre, Long An and Tiền Giang.

Youth union honours 10-year-old who drowned after saving four children

The Central Committee of Hồ Chí Minh Communist Youth Union on Tuesday (May 23) posthumously awarded the national Brave Youth Badge to Trần Đức Đông, 10, who drowned after saving four children in the southern province of Bình Phước.

On behalf of the Central Committee, the secretary of the province's Youth Union, Trần Quốc Duy, handed over the badge to the boy's family from Phú Riềng District's Long Tân Commune.

Trần Đức Đông was a second grader in the province's Long Tân Elementary School.

On May 1, Đông, his young brother and four neighbourhood friends were playing in the lake at Farm 9, near Thanh Tân Pagoda, about 200m from his home.

After the four friends and his brother slipped into a deep water area, Đông, the only one of the group who knew how to swim, tried to save them.

After rescuing his brother and three friends, he saw Nguyễn Thị Huyền Nhi, 9, calling for help offshore.

Although tired, he tried to swim to save her, but both of them began to sink into the lake due to exhaustion, according to authorities.

People who were nearby took the two children, who had stopped breathing, to the commune's health clinic. Doctors tried to revive them but were unsuccessful.

Representatives from the Ministry of Education and Training and the Ministry of Labour, War Invalids and Social Affairs visited and awarded a certificate of merit to Đông's family.

Northern provinces work for children in response to national campaign

The northern provinces of Hung Yen and Vinh Phuc are working to improve childcare in response to a nationwide month-long campaign to protect children.

The Hung Yen People's Committee and the provincial Fund for Vietnamese Children presented 60 scholarships to impoverished children during a ceremony held on May 23 to launch the campaign. The province also raised more than VND700 million for the children's fund from organisations and enterprises.

The Action for Children Month this year aims to promote the Child Law and to prevent violence and sexual abuse against children. It will raise public awareness of the issues and urge authorities, families and societies to create a safer environment for children.

Hung Yen is home to about 200,000 children. Last year, it recorded twelve child abuse cases, eleven of which were sexual. Four sexual abuse cases were reported in the first five months of 2017.

Meanwhile, the Department of Labour, Invalids and Social Affairs teamed up with the People's Committee of Song Lo district, Vinh Phuc province, to launch the campaign on the same day.

The province's Fund for Vietnamese Children presented 50 scholarships, worth VND700,000 each, 30 bicycles and 35 sets of stationery to poor children in the district. In addition, sponsors committed to donating more than VND1.7 billion to children from difficult backgrounds.

Song Lo is a remote district of Vinh Phuc, with hundreds of orphans and children with disabilities as well as more than 1,800 children from poor families.

The province has asked local authorities to design child welfare policies to solve problems in the district's childcare and education.

It has also urged families, schools and communities to be responsible for children and promote child rights.

Last year, the provincial Fund for Vietnamese Children raised nearly VND6 billion and provided about 30,000 local children with free heart checks and medicine. Some 32 children with cardiac diseases received free surgeries at Hanoi Heart Hospital.

VNA, Xinhua sign new cooperation agreement

The Vietnam News Agency and China's Xinhua news agency have signed a new agreement to enhance their cooperation in the digital age.

The deal was inked in Hanoi on May 24 between Nguyen Duc Loi, member of the Communist Party of Vietnam Central Committee and VNA General Director, and Cai Mingzhao, member of the Communist Party of China Central Committee and President of Xinhua, during the latter's visit to Vietnam.

This is the fourth agreement between VNA and Xinhua which aims to create a legal foundation for the two news agencies to expand collaboration in new communication areas besides maintaining traditional cooperation activities.

Earlier, Nguyen Duc Loi and Cai Mingzhao held talks to review the agencies' cooperation over the past time and set forth orientations for future links.

Welcoming the Xinhua President's visit to Vietnam from May 23-27, the VNA General Director expressed his sincere thanks to Xinhua for its support and assistance for VNA over more than half a century.

He noted that Xinhua's news is one of the important sources of international information for VNA, especially information on China and its stance regarding several regional and global issues of public concern.

He also informed his guest of the APEC Vietnam Year 2017, affirming that VNA, as the national news agency of the host country, is willing to provide information for Xinhua and assist its reporters in covering APEC events during the year.

Congratulating VNA on its achievements, President Cai thanked the Vietnamese agency for helping Xinhua's correspondents in Hanoi and asserted that the fine cooperation between the two news agencies should be fostered and developed further.

Both host and guest held that VNA and Xinhua are restructuring to take advantage of information technology advances to continue maintaining the key role of the national news agencies in the Vietnamese and Chinese press systems.

They affirmed the need to increase the sharing of experience in developing and renovating the operational model through delegation exchanges and personnel training support.

The two sides agreed that in the current context, the two news agencies should adapt to the communication environment in the digital age, expand cooperation in modern media areas and share new working methods in order to better meet requirements of press agencies and the public.

VNA and Xinhua set up ties in the early years of the 1950s. Since then, the two news agencies have seen effective cooperation in various fields such as information sharing, exchange of high-level delegations and reporters, support for each other's resident bureaus and correspondents, and coordination at regional and international press forums, among others

Exhibition brings Vietnam closer to Myanmar

An exhibition, featuring nearly 100 photos and paintings in relation to Vietnam and Myanmar, was held in Yangon, Myanmar on May 23 by the Vietnamese Embassy in Myanmar.

Addressing the opening ceremony, Vietnamese Ambassador to Myanmar Luan Thuy Duong hailed the continuing efforts of the two nations' leaders and people to strengthen their relations in economics, politics, cultural and social affairs.

Cultural diplomacy has become a crucial pillar in their external policy, helping connect the two countries people, she added.

Minister of Religious Affairs and Culture Aung Ko highly appreciated the organisation of the exhibition on the occasion of the 70th anniversary of the establishment of a Vietnamese representative office in Yangon (1947) and the 42nd anniversary of bilateral diplomatic ties (May 28, 1975).

He said that Vietnam and Myanmar are closely cooperating within the ASEAN Charter framework and the ASEAN Socio-Cultural Community (ASCC) Plan of Action.

The event, running until May 25, creates an opportunity for the two nations' artists to share experience in the fields of culture, arts and religions.

Chili pepper farmers leave farms fallow due to dropped price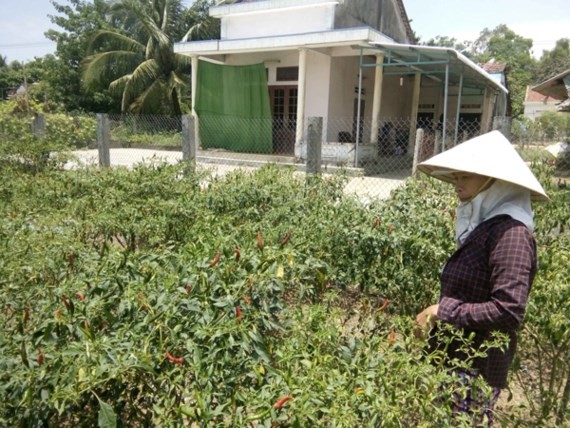 Chili pepper farmers in the central province of Quang Ngai have left their farm fallow because the price of agro-products dropped drastically.

Many chili pepper farms at Binh Khuong Commune in Binh Son District are left empty because price of chili pepper fells from VND40,000-50,000 in early crop to VND5,000-6,000 a kilogram.
Farmers have invested VND2-3 million on a 500 meter square land; as a result, they have suffered huge loss.

Farmer Nguyen Thi Hoa has two lands with 1,000 meter square for growing chili pepper but only harvest around 50 kilogram every three days.
Now, she has left the land fallow when the price went down. She spent VND5 million on the farm but got no profit. So far, traders even refuse to buy dried pepper.

Chairman of People's Committee in Binh Khuong Commune Ly van Hoang said that the commune has seven hectares for growing chili pepper yet because price was down to VND5,000-6,000 per kilogram; thus, farmers suffered big loss so they no more took care of the farm.

Landslides threaten Phú Thọ residents

Landslides continue to take place along the Thao River in Tam Nông District of Phú Thọ Province, northern Việt Nam, damaging the property of residents and endangering their lives.
Serious landslides spread over kilometres were recorded along the river section from Hương Nộn Commune to Hưng Hóa Town and from Tam Cường Commune to Cổ Tiết Commune.
Trần Thị Dung, a resident of Hương Nộn Commune, said landslides since 2015 have caused a large area of land used to grow crops and other lands of locals to be submerged.
"My house foundation and walls cracked due to a landslide and there is high risk that the whole house will collapse into the river because of landslides if no action is taken," she said.
In Hương Nha Commune, landslides are even more severe, "swallowing" many pigsties and cowsheds of residents and endangering 14 households in the commune.
Lê Văn Thành, a resident in the commune, said his house is tens of metres from the riverbank; however, his entire garden collapsed into the river due to the landslides and now his kitchen was just four metres from the riverbank.
Local authorities blame the landslides for the change in the flow of the river.
The chairman of the People's Committee of Hương Nha Commune said serious landslides have been occurring since 2009. The commune has a 2.2km-long riverbank.
In 2011 and 2013, the provincial authorities invested in building an embankment along 800m of the riverbank to prevent landslides. However, part of the embankment collapsed into the river, he said.
"We are mobilising households in landslide-prone areas to relocate but are meeting difficulties because of the lack of capital," he said.
Deputy director of the provincial Department of Agriculture and Rural Development Trần Quốc Bình said due to limited resources, the province could only prioritise landslide-hit areas where the lives of locals and safety of dams was directly threatened.
The department urged authorities of the districts and communes and locals to actively take precautions against landslides and relocate residents when landslides occurred, he said.
The provincial authorities will check all areas threatened by landslides to implement measures to tackle the issue in a timely manner, he said.

Ca Mau mobilises capital for sea embankment construction

The southernmost province of Ca Mau is mobilising capital from various sources, including the Climate Change Programme and official development assistance (ODA) loans, for the urgent construction of sea embankments on its western coast.

Nguyen Long Hoai, chief of the office of the provincial steering committee for disaster prevention, search and rescue, said about 5.5 kilometres of the province's western coastline have been eroded seriously.

Those include 3.3 kilometres from Bac Mai Huong in U Minh district to Tieu Dua in neighbouring Kien Giang province, 1.7 kilometres from Da Bac to Kinh Moi in Tran Van Thoi district and 800 metres in on the route of T29 Khanh Hoi, U Minh district.

With funding sourced from the State budget, the province urgently embarked on a project to construct 14 kilometres of underground embankments on the western coast. However, just almost 12 kilometres of the embankments were completed and the project was halted due to the shortage of capital.

Vice Director of the provincial Department of Agriculture and Rural Development To Quoc Nam said that construction of one kilometre of underground embankment costs more than 20 billion VND (881,800 USD).

The province has a 254 kilometre coastline, including 100 kilometres facing the eastern sea and 154 kilometres facing the western sea. A dyke along the western sea shore was constructed in the 1990s while the eastern sea dyke has yet to be built.

The province's coastal areas are home to 260,000 households and 130,000 hectares of farming land.

Local authorities said that the province is suffering from serious erosion and saline intrusion with seawater affecting cultivation land. Meanwhile, the destruction of protective coastal forests and the polluting of the environment have created unsafe living conditions for the locals.

Vietnam, Denmark share experience in food safety

Vietnam's Ministry of Agriculture and Rural Development and Denmark's Ministry of Environment and Food shared experience in food safety management for pork value chains at a workshop in Ho Chi Minh City on May 23.

The event aims to improve controls over food, veterinary medicine, chemicals and product origin tracing.

Deputy head of the National Agro-Forestry-Fisheries Quality Assurance Department Phung Huu Hao said Denmark has the best food safety controlling system in the world.

In 2013, the Vietnamese and Denmark ministries signed a protocol on cooperation in food safety and quality management.

Last year, the two sides secured a strategic collaboration project on food safety in pork value chains, which will be carried out between 2017 and 2018. Denmark provided more than 1 billion VND and shared experience from management agencies and experts.

The project aims to improve capacity of agencies in devising strategies to control food safety and build guidelines for livestock practice and tracing product origin.

Finn Clemmensen, senior counselor of the food and veterinary management department under Denmark's Ministry of Environment and Food, said the country inspects various stages from breeding, feeding, slaughtering to transporting on common principles in food safety in line with regulations of other European countries.

Through the fact-finding tour in Vietnam, Finn Clemmensen said Vietnam has many associations in cultivation and animal husbandry. However, the inspection of production and business activities is mainly conducted by State-run agencies.

Some pork slaughtering facilities don't seriously obey regulations on food safety, he said, adding that it is necessary to raise breeders' awareness of the importance of food safety in pork value chains.

Vietnam is home to nearly 4.5 million households raising pigs and about 29,000 small-scale slaughtering facilities.

Head of the Community Veterinary Division Huynh Thi Thanh Binh said relevant agencies will continue implementing programmes on annual inspection of food safety for products of animal origin, along with projects ensuring food safety in transporting and slaughtering of cattle and poultry in 2014-2020, and enhance international cooperation in the field.

German supports vocational training, energy & environment in Vietnam

Germany and Vietnam have agreed to further extend their cooperation in the priority areas including Vocational Training, Energy and Environment.

The German Federal Representatives in Vietnam yesterday said Germany and Vietnam agreed to further extend their cooperation in the priority areas including Vocational Training, Energy and Environment during the Government Negotiations on development cooperation, which were held on May 17 and 18 in Berlin, Germany.

As that, the German Ministry for Economic Cooperation and Development (BMZ) provided funding totaling up to 161.45 million Euro for the next two years for this purpose.

Both sides highlighted the long-standing, very good relations between the two countries and the common goals and international commitments regarding the achievement of the Sustainable Development Goals and the implementation of the Paris Agreement on Climate Change.

During a meeting of the Vietnamese Delegation with the Parliamentary State Secretary of BMZ, Mr. Hans-Joachim Fuchtel, the conversation centered on the topic of Technical and Vocational Education and Training (TVET). The Parliamentary State Secretary stressed: "Vocational Training is an investment in the most valuable resource of a country – its people." In the joint Program Reform of Technical and Vocational Education and Training, the cooperation with the business sector, the support for "Green TVET" and the development of a basic module on occupational health and safety are important priorities for future cooperation.

In the priority areas such as Energy and Environment, Germany supports projects such as Energy Efficiency in Urban Grids, Renewable Energy, the Mekong Delta Climate Resilience Program and Rehabilitation and Sustainable Management of Forest Areas in Central and Northern Vietnam.

In addition, Germany supports the Vietnamese Government in the implementation of the national Green Growth Strategy and in strengthening the legal development capacity of the Office of the Government. Vietnam is an important partner country for the German Development Cooperation. The key frame of reference for the cooperation is Vietnam's National Green Growth Strategy.

The negotiations were opened by Mr. Luu Quang Khanh, Director General of the Foreign Economic Relations Department of the Vietnamese Ministry of Planning and Investment (MPI) and Ms. Gisela Hammerschmidt, Director of the Directorate Asia of the German BMZ.

Transport sector honors good workers

A meeting was held in Hanoi on May 23 by the Ministry of Transport to honor 235 good workers in the sector.

In 2016, the sector has 1,800 initiatives to improve technique and working condition; accordingly, they helped to save VND121 billion ($5,332,598) and manufacture 410 products with high value.

The sector has launched movements calling workers to improve technique and working conditions; subsequently, 46 team and individuals were given certificates of merit and medals by the Prime Minister.

HCMC creates open mechanism for developing tourism

Deputy Chairwoman of Ho Chi Minh City People's Council Truong Thi Anh and delegation yesterday liaised with the city's Tourism Association on the sector's development.

The meeting aimed to discuss measures for developing the city's tourism.

Deputy Chairwoman of the Association Nguyen Thi Khanh petitioned city's authorities not to invest in tourism development in a staggered way but focus on promoting advertising, and attracting tourists from near countries such as South Korea, Japan and Malaysia; especially the authorities should issue the visa free travel policy to businesspersons and holiday-makers.

As per a statistic report, in the final half of last year, the city welcomed nearly 400,000 visitors from five European countries including England, France, Spain, Germany and Italy, whose citizens have enjoyed visa exemption to Vietnam, an increase of 12 percent compared to same period in 2015.

However, the visa free policy for citizens from the five countries will end in next July. Meanwhile Vietnam's neighboring nations have applied simple policies of granting visa for tourists from all corners of the world.

As a result the association petitioned the government to continue waiving visas for vacationers to June 30, 2022; and apply visa-free policy for tourists who travel to Vietnam before entering other nations and then return Vietnam.

A participant said the government should back travel agencies through package because governments in Thailand, Malaysia, and Singapore pay all expenses for promoting advertising.
Additionally, Vietnam should have a center to sell souvenirs and specialties to attract holiday-makers and encourage tourists to spend while visiting the country.

Southeastern largest wholesale market opens in Dong Nai

Dau Giay, the largest farm produce and food wholesale market in the southeastern region, came into operation in Dong Nai province on Tuesday.

The market has been built by Thong Nhat real estate company at the total cost at VND1 trillion (US$44 million). Proton one member limited company exploits and develops the market.
Dau Giay market locates in Dau Giay T-junction, Xuan Thanh commune, Thong Nhat district; linking up to Highway 20, National Highway 1A and HCMC-Long Thanh-Dau Giay Expressway.
The position is advantageous for transporting farm produce from Lam Dong, Ninh Thuan, Binh Thuan and other provinces in the Central Highlands, the Mekong Delta and the central region to Dong Nai.
In the first phase, the market concentrates on functioning and developing the 7 hectare area of vegetables and fruits.

HCMC to build multi-functional art, cultural complexes

The People's Committee of Ho Chi Minh City has approved a project of the multi-functional art and cultural complex at a total cost of VND152 billion (more than US$6 million).

The project located at 30 Tran Hung Dao Street in District 1's Pham Ngu Lao Ward will be implemented under the build-operate-transfer (BOT) format.

The 820-square-meter complex will include a 326-seat drama theater and three cinemas with a total of 378 seats. The project aims to preserve and promote the cultural values of the country.

Additionally, the municipal People's Committee of Ho Chi Minh City has also approved a project of another multi-functional art and cultural complex for children at a total cost of VND164 billion (US$6.6 million). The project placed at 651 Tran Hung Dao Street in District 5 will be implemented under the build-operate-transfer (BOT) format.

The local government has asked the Department of Planning and Investment and the Department of Culture and Sport to boost the construction process of Phan Dinh Phung Sport Center and a 50,000-seat stadium at Rach Chiec National Sports Complex in District 2's An Phu Ward.

Hung Kings temple historical site project announced

The Phu Tho provincial People's Committee on May 23 announced the Prime Minister-approved planning project to preserve and promote the value of the Hung Kings temple relic site by 2025.

Under the plan, the national historical site will cover Hy Cuong, Chu Hoa and Van Phu communes of Viet Tri city, Tien Kien commune of Lam Thao district and Phu Ninh commune of Phu Ninh district with a total area of 845 hectares, consisting of a core zone and a buffer zone.

Accordingly, the 32.2-hectare core zone will include Thuong (Upper), Trung (Middle) and Ha (Lower) temples, Gieng Temple, the Hung Kings Tombs, Thien Quang Pagoda, a house for worshipping ancestors, and a bell tower. These constructions and the surrounding primary forest will be preserved and kept intact under the plan.

The buffer zone, spread over 812.8 hectares, comprises Van and Troc mountains, Hung King tower, an area for hosting festivals and events, Hung Temple National Park, a temple commemorating legendary national father Lac Long Quan, a martyr memorial, and residential areas.

The project aims to safeguard natural landscapes and the ecological environment of the historical site while creating a space to commemorate and honour the Hung Kings and national ancestors of the same era.

It also aims to turn the Hung Kings temple into an attractive tourist destination to educate visitors on national patriotism and solidarity.

Heavy rains, landslides hit northern region

Heavy rains are forecasted for the northern region in the coming days, according to the National Centre for Hydro-Meteorological Forecasting.

The centre said that the northern region will see heavy rains and possible strong wind on May 23-25. This could cause landslides particularly in mountainous areas such as Lao Cai, Ha Giang, Thanh Hoa and Nghe An.

In Hanoi, heavy rains broke from midnight on May 23 until the early morning of May 24.

Flood warnings have been issued for May 24 and 26 on the Thao, Lo, Cau, Luc Nam, Ma, Gianh and Kien Giang rivers in the northern region.

According to the centre, central provinces from Nghe An to Thua Thien-Hue will also experience heavy rains from the afternoon of May 24 until May 27. Meanwhile, Tra Cau River in the central province of Quang Ngai is also forecasted to reach high water levels.

PM requires examination of steel fishing ships quality

Prime Minister Nguyễn Xuân Phúc has asked the Ministry of Agriculture and Rural Development to examine the building of steel fishing ships under the 2014 Government decree on policies for the development of the fisheries sector.
Under Decree 67, dated July 7, 2014, ship owners building steel or new-material ships, with total main engine capacity between 400CV and 800CV each, may borrow from commercial banks a sum not exceeding 90 per cent of the total investment in the shipbuilding at the interest rate of 7 per cent per year, of which ship owners are required to pay 2 per cent per year. The State budget subsidises 5 per cent.
PM Phúc's order comes after the media reported alleged wrongdoings in the implementation of the decree, which led to poor quality of fishing ships built under the policy. Many ships did not qualify for fishing activities offshore.
Many fishermen who received loans from commercial banks to buy steel ships built under the decree are reported to have complained about the poor quality of these ships, saying they continued to face malfunctions and repairs.
Recent examinations by authorities of the central province of Bình Định have found some ships faced frequent breakdowns and deterioration.
The Prime Minister also required the ministry to review, adjust and supplement standards and criteria relating to steel and wood-hulled fishing ships or ships built with new material to ensure their quality and safety when operating offshore.
Local authorities have been urged to increase supervision and inspection of the construction and upgrade of fishing ships under the decree in their localities.
The Ministry of Agriculture and Rural Development will report the results of these tasks to the PM before June 30.

Water park opens in Hoa Binh Reservoir

Hoa Binh Tourism Investment JSC last weekend opened a water park in Hoa Binh Reservoir as part of a community tourism project in the northern province of Hoa Binh.

The water park in Ngoi Hoa cultural and ecotourism site offers 34 games and water sports such as water-scooters, inflatable boats and fishing boats as well as local traditional sports.

In addition to the water park, the company has cooperated with local people to use seven stilt houses in Ngoi village to serve international tourists. Another eight stilt houses are expected to cater to tourists by the end of this year.

Visitors can experience the cultural traits of Muong ethnic people in Ngoi village and localities around the reservoir such as Hoa Binh, Cao Phong, Tan Lac, Da Bac and Mai Chau.

The company is building five ships capable to transport 16-18 passengers each, floating wharfs, floating swimming pools, floating inns and three-star restaurants with capacity of 200 people, planned to be put into operation next month.

HCMC urges action against cyberattacks

The HCMC government has asked city departments, agencies and enterprises to take precautionary measures against cyberattacks.

The ransomware WannaCry and other malicious worms used for encrypting files and blackmailing users of infected computers are spreading at a fast pace, according to a report from the HCMC Department of Information and Communications.

The report said the WannaCry cyberattack has yet to cause damage to the Internet network of the municipal government. However, the department stressed many businesses and agencies have still failed to take effective security measures against malicious worms.

The department added many dangerous types of malware are spreading rapidly, stealing data without computer users' knowledge. Notably, there are three variants of WannaCry.

The department has teamed up with the Vietnam Information Security Association to detect and stop five cases of spreading WannaCry from the network of organizations citywide.

The city's vice chairman Tran Vinh Tuyen said the current cyberattack is very dangerous due to its rapid spread, adding some heads of departments and agencies have underestimated the threat, so the networks of some organizations have been infected with these viruses.

Therefore, he warned if they have been still lax in taking preventive action, resulting in their computer systems being encrypted in the coming time, they would be held accountable to the city government.

He also urged the department to finalize a plan to set up an information security center to ensure information safety citywide, and respond to security incidents in a timely manner.

LG Display Vietnam proposes the building of worker hostels

LG Display Vietnam Haiphong has proposed to increase its investment from US$1.5 billion to US$1.59 billion to construct 13 hostel buildings and social welfare projects for 10,000-12,000 workers, said the company representative.

Construction work has been in progress on an area of 12.6ha from the first quarter of this year. Two hostels and some social welfare projects will be completed in the third quarter and the whole dormitory buildings will be finished by 2020.

LG Display Vietnam, covering 40 hectares at Trang Due Industrial Zone in Haiphong, produces organic light emitting diode (OLED) display products. It is expected to be operational in the third quarter of this year.

Most of the OLED display products manufactured here will be for the world market, though about 20% of the products were aimed to serve domestic consumption.

Newly-built road already a safety risk for users

A key road connecting the two southern provinces of Bình Phước and Bình Dương with the Central Highlands has been downgraded after a short time in use.

Construction on the 20-kilometre-long ĐT 741 road had been finished and it opened for traffic early this year. However, its surface has been downgraded with holes and subsidence causing difficulties for vehicles travelling on the road.

Nguyễn Văn Tiến, a resident in Đồng Phú District's Tân Lập Commune said that the road had been seriously damaged after five months in use.

He blamed Sông Bé Rubber One Member Ltd Co, the project investor, for carelessly pouring hot asphalt on the old road. Thus, the road had no adhesion and deteriorated quickly.

Phan Thị Chắc, another resident in Tân Phú Town said that she witnessed many accidents due to potholes on the road surface.

Chairman of Đồng Phú District's People's Committee Trần Văn Vinh said that the ĐT 741 was under the management of the provincial authority and invested by Sông Bé Rubber One Member Ltd Co.

He admitted that potholes with different sizes had developed recently. The reason, Vinh said, was a shortage of a water drainage system along the two sides of the road. Many parts of the road were submerged in the rain.

The committee has proposed to the provincial authority that they invest quickly in the water drainage system along the road.

The investor has been repairing the road, especially seriously-damaged parts from Tân Lập fee toll to the centre of Đồng Phú District.

The road connects Bàu Trư Hamlet of Bình Dương Province with Đồng Xoài Township in Bình Phước Province. The road was upgraded with a total investment of over VNĐ400 billion (US$17.6 million).

In the first phase, 5-centimetre-thick asphalt was poured on the old road surface at the cost of VNĐ170 billion. In the second phase, the two lanes of the road were enlarged another 3.5 metres each with 1.5 metre-pavements and water drainage systems.

The road was designed for a speed of 80 kilometres per hour under the BOT (Build-Operate-Transfer) model.

Vietnamese youngsters in Thailand learn about President Ho Chi Minh

Vietnamese youngsters in Thailand have learnt about late President Ho Chi Minh through a contest launched between March 2 and May 19.

The contest was launched by the Vietnam Embassy in Thailand, the Vietnamese Consulate General in Khon Kaen, the State Committee on Overseas Vietnamese and the Vietnamese Association in the country.

The contest, the first of its kind in Thailand occasioned President Ho Chi Minh's 127th birthday, received a large number of entries, written in Vietnamese and Thai.

The organising board presented two first prizes with a certificate of merit from Deputy Foreign Minister and head of the State Committee on Overseas Vietnamese Vu Hong Nam, and an invitation to attend a summer camp in Vietnam or join an Overseas Vietnamese children delegation in a Vietnam tour.

The contest was part of efforts to encourage youngsters to learn and follow the moral example of President Ho Chi Minh and the late leaders' teachings.

It also contributed to preserving and promoting Vietnamese cultural identity, and encouraging the teaching and learning of Vietnamese language in Thailand.

Saigon's electrical 'spider webs' to become thing of the past

Ho Chi Minh City puts as much as 400 kilometers of electrical wiring underground every year, with the goal of clearing the downtown area of its infamous wire 'spider webs' by 2020.

By 2020, the entire electrical and telecom wire network of District 1 and District 3 will be underground, while in other districts the aim is to complete between 50 and 80 percent.

Chaotically intertwined electrical wires and telecom cables, locally referred to as 'spider webs', have been a characteristic of Ho Chi Minh City for years, providing a sight that awes and terrifies visitors in equal measure.

Since 2015, an ambitious project has been implemented by the city's administration to get rid of these 'spider webs', with the citywide subterranean installment of electrical and telecom wires.

The plan, carried out by state-owned power supply firm Ho Chi Minh City Power Corporation (EVNHCMC) in cooperation with major telecom companies including Viettel, VNPT, SCTV and others, looks to install about 1,800 kilometers of the city's wires and 2,000 kilometers of cable underground by 2020.

Less than three years out from the project's deadline, many streets and alleys in Ho Chi Minh City have already been freed from the eyesore.

Hoang Oanh, a store owner on Vo Thi Sau Street in District 3, said that the bundle of telecom cables that used to exist in front of her store would sag under their own weight, obstructing the view and leaving locals living in fear of their collapse at any time.

Now that the cables had been cleared, Oanh said that the atmosphere in her neighborhood felt much less claustrophobic.

Hoang Thuong, a resident on Nguyen Dinh Chieu Street in District 3, said he had long been an admirer of the streets in District 7 and District 2, where there were no 'spider webs' compared to downtown areas.

"Many areas of the city center remain haunted by these spider webs, making the public space feel cramped and stuffy," Thuong said. "I hope they will put the electrical wires underground in other streets too."

According to Nguyen Van Hieu, an official at Saigon Power Company (SPC), a member of EVNHCMC, the electrical wire and telecom cable lines on Vo Thi Sau, Nguyen Dinh Chieu and Dien Bien Phu in District 3 are expected to be fully transferred underground by June.

SPC's deputy director Tran Van Toan said the company had already put power grids underground in over 40 streets in District 1 and District 3 since the beginning of the project.

The company expects to complete the subterranean installment of wires on over 20 downtown streets this year, including Le Thi Hong Gam, Nguyen Thai Binh, Nguyen Cong Tru, Le Cong Kieu, Pho Duc Chinh, Ky Con and Yersin.

Pham Quoc Bao, deputy director of EVNHCMC, said the corporation was looking to transfer 650 kilometers of medium-voltage power grid underground along with 1,150 kilometers of low-voltage power grid between 2016 and 2020.

This translates to 100 to 150 kilometers of medium-voltage grid and 200-250 kilometers of low-voltage grid being brought below surface every year.

The total cost is estimated to be approximately VND4.300 trillion (US$191.3 million).

As of today, over 60 percent of the goal has been met, Bao stated.

The project has not been going without criticism however, with locals voicing their concerns about the safety and esthetic of electrical enclosures that have sprung up on streets where electrical wires have been put underground.

The enclosures carry warning labels that read "Do not approach; deadly electric current," prompting locals to question whether placing such 'dangerous' objects near their homes is a good idea, not to mention the fact that they also block the pavement.

According to Pham Quoc Bao, these electrical enclosures serve to connect the underground power grid to households on the surface and are therefore an essential part of the network.

As the electrical enclosures are designed to improve safety, in the future the warning labels may be replaced with posters encouraging households to use electricity sparingly, Bao said.

According to Tran Van Toan, aside from major streets, the subterranean installment of the power grid in Ho Chi Minh City will also be extended to the city's back alleys.

Eight alleys will benefit from the change in 2017, he said, while another 29 alleys in downtown areas are expected be free from visible electrical wires in 2018.
HCM City 1 win to top national champs
Defending champions HCM City 1 proved their power with a 2-0 win over Phong Phú Hà Nam in the fifth round match of the National Women's Football Championship.
The match was played on Wednesday in HCM City.
Lê Hoài Lương opened the score in the 29th minute and Huỳnh Như scored the final goal with a straight shot in the 79th.

The win pushed HCM City to the top position for the first time this season with the maximum 12 points. Phong Phú Hà Nam dropped one step to No 3 with 10 points.

They will be the leader at least for a day. If Hà Nội 1 beat bottom-placed Sơn La today at the Thống Nhất Stadium, they will return to the top spot.

In the second match of the day, Việt Nam Coal and Minerals were tied 1-1 with TNG Thái Nguyên.

Hương Giang of Thái Nguyên netted the opener just 12 minutes into the game and Trần Thị Thu of Việt Nam Coal and Minerals equalised 26 minutes after the interval.

The draw result did not change their position as Việt Nam Coal and Minerals are at fourth while Thái Nguyên are sixth.

In other action today, HCM City 2 will play Hà Nội 2.

Bulgarian Education, Culture Day marked in Hanoi, HCM City

The Vietnam–Bulgaria Friendship Association (VBFA) hosted a ceremony to mark Bulgarian Education, Culture and Slavonic Literature Day in Hanoi on May 24.

The event was attended by Bulgarian Ambassador to Vietnam Evgheni Stoychev, his wife and VBFA President Nguyen Van Tuan, among others.

Addressing the event, Tuan congratulated the Bulgarian people on the occasion that honours the Kyril and Mephodi brothers who invented the first Slavonic letters.

Bulgaria has trained more than 2,200 Vietnamese graduates and post-graduates, and 6,200 Vietnamese apprentices. The country has also helped improve occupational skills for more than 20,000 Vietnamese workers.

For his part, the Bulgarian Ambassador said the annual event contributes to friendship and cooperation between the people of the two nations.

The same day, the Ho Chi Minh City Union of Friendship Organisations held a function, gathering Slavonic language users in the city.

It aims to promote cultural exchanges, mutual understanding and solidarity between people in Ho Chi Minh City and the Slavonic language–speaking community.

President of the VBFA's HCM City Chapter Hoang Thai Lan underlined the contributions Vietnamese people who studied Slovanic culture have made to the nation's cultural development.

The celebration of the Bulgarian Education and Culture, and Slavonic Literature Day in Ho Chi Minh City contributes to developing friendship between Vietnam and Bulgaria, Lan said.

Festival honours hundreds of southern specialities

The 2017 Southern Culinary Festival officially opened on May 24 in Ho Chi Minh City, honouring over 250 foods and 100 sweet soups and cakes from the southern provinces and cities.

The festival brought together nearly 40 units and enterprises showcasing food and beverages at 70 booths.

The specialities were divided into three unique culinary styles: the central – Central Highland cuisine, Saigon's cuisine and Southern eastern and western cuisine.

Visitors to this year's event could also taste and learn how to cook various kinds of traditional Vietnamese food as well as join in numerous talks held by culinary experts.

The highlight of the festival will be the space introducing street food in Saigon from the past and present. In addition to popular food reminiscent of the childhood of local people, numerous dishes associated with the busy and integrated life, including specialities of foreign countries, are being promoted.

A market of clean agricultural products, performances of Cham traditional arts, and folk games such as sack races, blind-man's-bluff, and tug of war, will also be held during the five-day event.

During the festival there will be a cooking contest for participating units, a fruit sculpture competition and a contest on designing the mostbeautiful and impressive booths.

Speaking at the opening ceremony, Vice Chairman of Ho Chi Minh City People's Committee Tran Vinh Tien emphasised that the annual event aims to promote the flavour of Vietnamese food, particularly the flavours found in the southern region, to both domestic and foreign visitors.
VNA/VNS/VOV/SGT/SGGP/TT/TN/Dantri/VNE