HCM City to start paper-free communications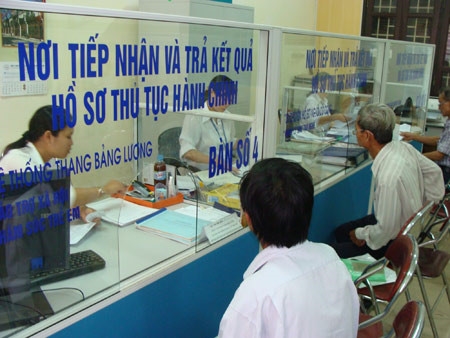 The HCM City People's Committee has instructed all city agencies and city-owned enterprises to replace communication by paper with text messages and emails.
The HCM City People's Committee has instructed all city agencies and city-owned enterprises to replace communication by paper with text messages and emails.
Tran Vinh Tuyen, deputy chairman of the committee, has signed an order instructing all city agencies to stop sending paper letters from July 20.
The move is aimed at enhancing the use of information technology and foster e-governance to make the government apparatus work more efficiently and transparently.
More than 2,200 paper letters that are sent every year would now be replaced by SMSs and emails, saving more than 390 million VND (17,500 USD) according to the People's Committee Office.
The committee also said it would no longer accept documents submitted without electronic files attached.
Five fishermen on sunk fishing boat return to land
Five fishermen on the QNg 90479 fishing boat that sank after being chased by Chinese boats arrived in Sa Ky port, the central province of Quang Ngai, on July 13 on the QNg 95001 TS fishing boat of captain Huynh Van Khanh.
The fishermen then came to the Sa Ky border gate station to report on the incident on July 9.
Captain Vo Van Luu of the QNg 90479 said when fishing at the Hoang Sa (Paracel) Islands, his boat was chased by two Chinese boats coded 46102 and 56103. At around 2pm on July 9, the Vietnamese boat crashed into submerged rocks and water began to flow in.
The Chinese boats also drove after the boat of captain Huynh Van Khanh which was fishing nearby.
Only at 6:20 PM that day, when most of the boat had gone under water except for the fore end, the fishermen were rescued by Khanh's boat.
Captain Khanh said all local fishing boats kept contact with each other at sea, and when Luu's boat was sunk, his boat immediately rushed to rescue from five nautical miles away.
Later on July 13, the Fishermen Support Fund's Quang Ngai office presented 40 million VND (1,762 USD) to the owner of the sunk boat and two million VND (88 USD) to each crew member.-
Vietnamese engineers successfully invent cold Plasma ray in medical
Vietnam Plasma Technology Joint Stock Company yesterday held a meeting to introduce Vietnamese-made cold Plasma equipment used in medical and cosmetic surgery.
The medical equipment was certified by the Ministry of Health. It will be used in hospitals across the country. The success of cold Plasma ray invention makes Vietnam to be one of the first nation to apply cold plasma ray in medical treatment and cosmetic surgery.
The equipment was made by Dr. Do Hoang Tung and Dr. Nguyen The Anh from the Vietnam Academy of Science and Technology from 2011 to 2015. Dr. Do Hoang Tung said that Cold plasma was able to inactivate the virus on the tested surfaces, suggesting that this method could be used for continuous disinfection of contaminated surfaces, and wound healing.
Additionally, low temperature plasma is exceptionally suited for treating sensitive targets, including living cells and tissues, without causing thermal damage. Specially, Plasma MED equipment has been used in the Medicine Faculty of the National University, the National Hospital of Burns, the central Hospital Hue, th Medicine University and Cho Ray Hospital in Ho Chi Minh City.
Test results are assessed the equipment to be safe and effective in treatment for wound.
Hanoi: Over $7 mln to boost prenatal screening
The capital city of Hanoi will invest over 160 billion VND, or 7.18 million USD, in an initiative to boost the early detection of birth defects in the city between 2016 and 2020.
The project will be carried out across 30 districts and 584 communes and towns of the city in an attempt to provide at least 80 percent of local expectant women with prenatal screenings and at least 85 percent of infants with newborn screenings. About half of the newborns will also receive screenings for congenital heart defects.
The screening enables the early detection and intervention of birth defects and disorders or genetic abnormalities during pregnancy and after birth in order to reduce the number of people with disabilities and improve the city's population quality.
The funding will be used to raise public awareness of the importance of prenatal and newborn screenings. The city aims to have at least 90 percent of local pregnant women access professional advices on the issue.
In addition, Hanoi will provide further training for its medical officials and staff and purchase more equipment for prenatal and newborn screenings, particularly in the Hanoi Obstetrics & Gynecology Hospital.
It will also provide hearing screenings for babies aged 0-60 months and Thalassemia tests for junior and senior high school students in disadvantaged districts.
The Nam Hai Makes Travel + Leisure's 'Top 100' for First Time
As The Nam Hai gets set to toast its 10th anniversary in December, Vietnam's premier beach resort is celebrating a first: inclusion on Travel + Leisure magazine's list of 'The 100 Best Hotels in the World.'
The sole Vietnamese property to make the list came in at No. 51 while also finishing sixth among the 'Best Resort Hotels in Asia' and second among the 'Best Resort Hotels in Southeast Asia' in the publication's annual World's Best Awards reader survey.
Only 137 Pillars House, a boutique hotel in Chiang Mai, Thailand, finished higher in the 'Best Resort Hotels in Southeast Asia' category. The margin was less than half a point (96.00 to 95.63).
This achievement speaks volumes to the kind of team we have here," said Anthony Gill, The Nam Hai's general manager since 2013. "I feel lucky to work with people that are genuinely driven to make the guest experience at The Nam Hai better each day. They are exemplary."
More than 200,000 readers of the world's highest circulating travel magazine determined the World's Best Awards rankings, the cover story of the August issue since 1996.
This year's edition hits newsstands Saturday, July 16.
Since opening in December 2006, The Nam Hai has set the benchmark by which all other resorts in Vietnam are measured.
The 100-villa property's first major award came in 2008, when Travel + Leisure's Design Awards panel tabbed it 'World's Best Resort.'
It has also been hailed by Condé Nast Traveler, CNN Travel, Luxury Travel, Cigar Aficionado and many other esteemed overseas media outlets.
Travel + Leisure's World's Best Awards rankings are based on readers' ratings for rooms/facilities, location, service, restaurants/food and value.
The 2016 survey was open at www.tlworldsbest.com from Nov. 2, 2015, to Feb. 29, 2016.
Scholarships awarded to needy students
As many as 350 scholarships have been presented to poor students with good performances in their study as part of an annual programme "Sharing the Dream."
The scholarships worth 1.4 billion VND (608,000 USD) were given to students in Ho Chi Minh City and the southern provinces of Binh Duong, Dong Nai, Binh Phuoc, Ba Ria –Vung Tau, Tay Ninh, and central coastal province of Binh Thuan.
The ceremony was held in Ho Chi Minh City by the youth unions in the southeast region and Tuoi Tre (Youth) newspaper in collaboration with Thailand's SCG group.
In the past ten years, the "Sharing the Dream" presented 3,801 scholarships worth nearly 19 billion VND (900,000 USD) to needy students nationwide.
SCG has also given scholarships each valued at 3-5 million VND (130-215 USD) to economics and engineering students who used to receive the "Sharing the dream" scholarships and passed their university examinations with distinction.
Chinese fishing boat warned for entering Vietnamese waters
A Chinese fishing boat was given warnings and chased out of Vietnamese waters after it was found operating near an island off the central province of Quang Tri, local border defense forces said on July 12.
The Border Defense Command of Quang Tri Province said that the border defense post on Con Co Island had warned and driven away a Chinese fishing vessel found operating near the island, well within Vietnam's territorial waters.
Located 27 kilometers off Vietnam's central coast, Con Co Island is one of the country's smallest island districts with a population of fewer than 1,000.
After receiving notifications from local fishermen, the border defense force of Con Co set off in pursuit of the intruding Chinese boat before catching up with the vessel an hour later at coordinates 17o10'N 107o11'E, around three nautical miles north of the island.
The Chinese fishing boat number 13177 was captained by 53-year-old Li Ka Feng, who was made to sign and have his fingerprints printed on the corresponding coordinates on the map.
The force also gave warnings and confiscated 15 compartments of fish, five fishing systems, and chased the ship out of Vietnamese waters.
Rare gibbon saved from hunters in central Vietnam
A baby gibbon from a rare species was rescued from hunters in central Vietnam on July 13 and is now in good care.
Forest rangers in Quang Ngai Province said they have received the 7-month-old gibbon of the northern white-cheeked species (Nomascus leucogenys) from a commune official, who paid for the animal to save it.
The rangers will send it to a national park in the north for proper care before releasing it back to nature.
The white-cheeked gibbon is now found only in Vietnam and Laos, living in primary evergreen forest. Its number is threatened by poaching and habitat loss.
Women's Museum - one of the best attractions in Vietnam
Vietnam Women's Museum has been awarded 'One of the best attractions in Vietnam' by the Vietnam National Tourism Administration (VNAT) at the 17th Vietnam Tourism Awards recently held in Hanoi.
This is the second time the museum has won the noble title in recognition of its constant efforts to improve the quality of services.
The museum's exhibitions were launched last year to introduce works of art as well as objects to domestic and foreign visitors.
Additionally, a complete audioguide system has been placed into operation to better serve visitors. 57 object storytelling topics in three languages- Vietnamese, English and French – provide insights into the culture and history of Vietnam.
For its renovation, the museum continued to be listed among 25 top museums in Asia by tripAdvisor.
Vietnam upbeat heading into Davis Cup with Thailand
The Vietnam squad is confident of getting the better of regional rivals Thailand at their Davis Cup Asia/Oceania Zone Group 2 clash this weekend at the National Tennis Development Centre in Muang Thong Thani.
The Vietnam team is comprised of Ly Hoang Nam, Pham Minh Tuan, Nguyen Hoang Thien and Nguyen Dac Tien while they face off with Thai players Pruchya Isarow, Kittiphong Wachiramanowong, Sonchat and Sanchai Ratiwatana.
First up, on July 15, top tennis player Hoang Nam squares off with Thai rival Wachiramanowong, currently ranked world No 933, in the men's single event. Next up teammate Hoang Thien meets world No 094 Isarow.
In the double's event, Minh Tuan/ Dac Tien play Thai twin Ratiwatana/ Ratiwatana, currently rank world No 112.
The winning team advances to compete against the winner of the match-up between the Philippines and Chinese Taipei. The two finalists also seal berths to play in Group I next year.
Fusion Suites Saigon to hold music contest
The newly-established Fusion Suites Saigon Hotel in downtown HCMC will launch a music competition to find versatile and talented artists to perform at the hotel's Zen Rooftoop bar.
The Zen Live Muzik contest is open to Vietnamese and expats in Vietnam, who are 18 to 65 years old and able to perform in a variety of genres including acoustic, jazz, R&B and rock.
Marco Van Aggele, Serenity Holding's CEO, said Zen Live Muzik would offer an opportunity for those loving modern music to freely show their talent. "While there is a lack of a music playground in Saigon, Zen Live Muzik will be a great experience for music lovers and performers."
First prize will be a one-year performance contract with Fusion Suites Saigon while runner-ups can perform at the launch event with a host of other prizes up for grabs.
Zen Live Muzik application form and competition guidelines are now available on the Fusion Suites Saigon website at www.fusionsuitessaigon.com.
Deadline for registration is 11 p.m. on July 15. The audition date is July 16. Winners of Zen Live Muzik 2016 will be announced on July 22 at the grand opening of Fusion Suites Saigon.
For further information, contact Ms. Van Trang via email van.trang@serenity-holding.com or phone 0938 753 303 - 0909 006 809.
Fusion Suites Saigon is managed by Serenity Holding and located at 3-5 Suong Nguyet Anh Street, District 1, HCMC.
New four-star hotel goes up in Hoi An
Thien Minh Group has opened the four-star EMM Hotel Hoi An in the World Heritage-listed town of Hoi An in Quang Nam Province.
The inauguration of EMM Hotel Hoi An is followed by the successful launch in late 2013 of the EMM Hotel Saigon.
The company plans to develop this hotel brand in major cities such as Hanoi and HCMC, as well as major travel destinations of Vietnam. By end-2017, the brand is expected to be present in Hue, Mai Chau and Hanoi.
Located at 187 Ly Thuong Kiet Street in the heart of the town, EMM Hotel Hoi An has 92 rooms, a restaurant, a bar and an open-air pool.
According to a statement of the hotel, "EM" in Vietnamese means mellow, calm, serene and friendly while "M" stands for Modern, which means humanity, creativity, attractiveness and freshness. On the opening occasion, the hotel offers a special price, starting from VND945,000++ per night to customers, agencies and direct booking guests.
EMM Hotel Hoi An is run by TMGH, a unit of Thien Minh Group (TMG). Founded in 1994 in Vietnam, TMG is active in three main business areas, namely travel (providing tourist services and transport through Buffalo Tours, and seaplane services with Hai Au Aviation); hospitality (owned and managed by Victoria Hotels & Resorts & EMM Hotels & Resorts ); and online travel services for Vietnamese guests with iVIVU.com.
HCM City crack down on smuggling
HCM City plans to step up enforcement against smuggling, trade fraud and counterfeit goods to better cope with the rising number of violations that have been occurring this year.
"Smuggling has risen since last year despite city authorities' efforts," Trần Vĩnh Tuyến, vice chairman of the People's Committee, said at a meeting held last week in the city.
With the increase in smuggling cases and trade fraud, Tuyến said violators engaged in smuggling, trade fraud and counterfeit goods would be strictly punished.
Tuyến said the police, customs and market management officials would work together to fight smuggling via Tân Sơn Nhất International Airport and from the southern provinces of Long An and Tây Ninh to HCM City.
Enforcement will also be strengthened against smuggling at bus stations such as Miền Đông (Eastern) Coach Station, Miền Tây (Western) Coach Station and An Sương Coach Station.
Waterways, where a number of smuggling cases have occurred, especially on Thầy Cai Canal, will be monitored as well.
Policies and regulations will be established to closely supervise imports for re-export, as well as business activities related to food safety.
Tuyến said it was vital to raise public awareness about the harmful effects of smuggling, trade fraud and counterfeit goods.
Though violations had risen this year, the city had made some achievements against illegal activities in the first six months, especially during the Tết (Lunar New Year) holiday, when complex smuggling and trade fraud cases took place due to a higher consumption level of food and other products.
In the first six months, the city uncovered more than 13,800 illegal cases involving smuggling, trade fraud and fake goods, and collected more than VNĐ2.47 trillion (US$110.78 million) for the state.
Products worth more than 20 billion ($897,000) were seized, and 49 cases were prosecuted.
Violations mainly occurred in border areas and via air and sea routes. The main smuggled goods were drugs, firecrackers, explosives, oil and gas, wild animals and their products, wine, tobacco, food, pharmaceutical products, cosmetics and electronics.
Organisations and individuals have also been found illegally using chemicals and additives in production, cultivation and animal husbandry, sparking public health concerns.
One of the most noteworthy cases was the seizure of 1.84kg of cocaine at HCM City's Tân Sơn Nhất International Airport a few months ago.
Diphtheria kills 3 in southern Bình Phước Province
An outbreak of diphtheria in the past week in the central province of Bình Phước has resulted in three deaths, a health official said.
All three patients died after being hospitalised for several days, causing great concern among local residents.
Quách Ái Đức, deputy director of the province's Health Department, said test results showed they were positive for the disease.
The deceased, aged 12, 18 and 24, had been admitted to Bình Phứoc General Hospital, presenting symptoms of high fever, cough and breathing difficulty.
Some 34 cases of diphtheria have been reported since late June in Thuận Lợi Commune's Thuận Tiến Village and Thuận Phú Commune's Thuận Phú 3 Village, Đức said.
He said the other 31 patients were receiving treatment at health facilities in Bình Phước Province and HCM City.
To prevent the disease from spreading to other areas, the General Department of Preventive Medicine has suggested the provincial Health Department should closely monitor the situation and take sample tests from those exposed to the disease and from high-risk groups to detect new cases of infection.
At the same time, the Health Department was asked to take steps to promptly manage the outbreak, ensuring that people contracting the disease were isolated and receiving treatment in order to minimise the number of infections.
The department was also ordered to investigate all cases of infection in the community and at the treatment facility, submitting daily reports on each case and the results of preventive measures.
The Preventive Medicine Department also required the provincial Health Department to work with the Pasteur Institute in Hồ Chí Minh City to organise a vaccination drive at the site of the outbreak, compiling statistics on the number of people who have not been vaccinated against diphtheria. This is necessary to ensure that all children are inoculated against the disease, especially those living in mountainous and remote areas.
The province has also been urged to strengthen advocacy activities focused on risk and prevention to ensure people become more proactive in preventing the disease.
According to the General Department of Preventive Medicine, diphtheria is an infection caused by the bacterium Corynebacterium diphtheria. It affects the mucous membranes of the throat and nose. The disease is common in children but can occur in adults with impaired immunity. Although the disease is easily transmitted from one person to another, diphtheria can be prevented through vaccination.
Previously, the disease was quite common in most provinces across the country. However, since the inclusion of the diphtheria vaccine in expanded immunisation programmes, the disease has been under control, and only a few cases have been recorded among those who were not vaccinated against the disease, usually because they lived in remote areas where immunisation rates are low.
Vietnam, RoK cooperate in labour sanitation
A Memorandum of Understanding (MoU) on labour sanitation and occupational disease prevention was signed on July 13 in Hanoi by the Ministry of Health (MoH) and the Republic of Korea (RoK)'s Occupational Safety and Health Agency (KOSHA).
Under the MoU, the KOSHA will support Vietnam's health sector in terms of technique and consultancy to strengthen the capacity of caring for and improving labourers' health.
The RoK's agency will also help improve training and consultancy on labour hygiene through delegation exchanges, as well as provide information and documents on occupational disease diagnosis and labour environment monitoring.
The MoH suggested the KOSHA helps improve the ability of the National Institute of Occupational and Environmental Health.
Speaking at the signing ceremony, Deputy Minister of Health Nguyen Thanh Long said the MoU is the first step in opening up cooperation opportunities in labour sanitation and occupational disease prevention.
The 13th National Assembly approved the Labour Safety and Sanitation Law in June, 2015. The law took effect on July 1.
Forum highlights new social insurance policies
New regulations of the revised Law on Social Insurance and international experiences in reforming social issuance policy were the focus of a dialogue forum in Hanoi on July 13.
Representatives from the Department of Social Insurance under the Ministry of Labour, Invalids and Social Affairs (MoLISA) and Vietnam Social Insurance updated information related to the e xpansion of social insurance coverage .
Accordingly, part-time staff in communes, wards and townships, and citizens that work abroad under contract will have to participate in compulsory social insurance from January 1, 2016.
From January 1, 2018, persons working under labour contracts with a term of between 1 month and 3 months; and employees who are foreigners working in Vietnam will also be required to join compulsory social insurance.
Other regulations on increasing the premium of social insurance and criminalisation of violations concerning social insurance regulations were also highlighted at the event.
Celine Peyron Bista from ILO's office in Asia-Pacific said the remarkable outcome of the expansion of social insurance coverage in Vietnam is a valuable experience for other ASEAN member nations.
She proposed several measures to create balance between the adequacy and sustainability of the pension system.
Participants shared that the changed calculation of social insurance premiums will cause difficulties for many businesses.
According to MoLISA Deputy Minister Pham Minh Huan, the ministry has directed relevant agencies to examine regulations on labour in the Criminal Code 2015, aiming to avoid criminalising enterprises who dodge social insurance participation.
Action Aid Vietnam funds sustainable livelihoods in Soc Trang
Action Aid International Vietnam has provided Long Phu district, in the southern province of Soc Trang with 18 billion VND in funding over the past decade under a development support programme.
The programme, which has been transferred back to local authorities, focuses on developing sustainable livelihood models, enhancing gender equality and women rights, improving children's learning and living conditions as well as authorities' accountability; offering training on disaster prevention and climate change, and HIV/AIDS prevention.
Under the programme, as many as 23,500 people have been trained in cultivation and breeding techniques, agriculture and livelihood models. They were also educated about issues regarding poverty and the right to have access to land and natural resources, contributing to reducing the rate of poor households.
Additionally, 11,000 people and communal officials have been given insight into the State law, grassroots democracy regulations and joined dialogues on public services and accountability to promote local socio-economic development.
Nearly 3,000 officials, especially those in the villages' disaster mitigation committees, have been able to analyse vulnerability, thereby actively designing community-based disaster mitigation and climate change adaptation schemes.
Vu Minh Duc, head of the programme's office, expressed his hope that experience and models developed over the process will continue spreading to other localities, contributing to sustainable poverty reduction.
Ca Mau keen on forest development
The southernmost province of Ca Mau is taking active efforts to plant mangrove forests on targeted land to adapt to climate change.
The locality plans to plant between 10,000 – 15,000 hectares of forests by 2020, costing an estimated 20 billion VND (900,000 USD). The figure includes 5,000 hectares of coastal preventive mangrove forests and some 9,000 – 10,000 hectares of commercial forests.
In 2016 alone, 1,000 hectares of new preventive forests will be developed.
To that end, communication work has been promoted to raise the awareness of the significance of afforestation among the community.
Afforestation quotas have been allocated to all leaders of relevant bodies while incentives have been offered to encourage local farmers' involvement in planting and managing forests.
Ca Mau has the 67,000-hectare U Minh Ha cajuput forest and 35,000 hectares of preventive forests stretching along its 254 km coastline.
However, the province loses around 100 hectares of coastal forest each year due to erosion. The loss of forest also leads to further erosion of land.
In addition, the forest coverage in Ca Mau has also decreased considerably since the 1990s as local people cut down coastal mangroves for shrimp farming.
There are more than 3,000 households living in the province's mangroves forests. Over 1,200 of them are in unsafe conditions, especially during the rainy and stormy season.
Vietnam is one of the five countries in the world most vulnerable to climate change and its rice granary, the Mekong Delta, is among the three hardest hit deltas on the globe.
Young Vietnamese show leadership potential
Most Vietnamese youth show a high level of leadership potential, according to a global potential survey conducted by the UNESCO Centre for Culture and Education.
Survey results were based on 5,400 young Vietnamese aged 16-35, who completed an online assessment which provided a score for each of four capabilities: leader, manager, professional and doer.
Thirty-six per cent of the participants were assessed as having high leadership potential, with ability to "inspire and guide others".
Around one-quarter of participants were classified as professionals "interested in research and seeking innovation in their professional fields".
Another one-quarter were found to be "doers who become directly involved and implement tasks".
However, only 14 per cent of the surveyed youth showed future potential to be managers.
The assessments were based on personal motivation, interests and behaviour.
As part of the annual competition, Today's Voice Contest, the survey aimed to help young people better understand their capabilities and choose suitable careers.
Exhibition of artworks honours miners
About 100 artworks, portraying the lives and work of miners, are on display at Exhibition House, 16 Ngô Quyền Street.
The artworks comprise paintings, statues and sketches by 38 artists from Hà Nội, the northern city of Hải Phòng and the northern coastal Quảng Ninh Province.
Different materials such as pastel, oil on canvas, acrylic and coal have been used to create the artworks.
The exhibition includes the latest works of artists from coal-mining areas such as Nam Mẫu, Hòn Gai and Mạo Khê in Quảng Ninh Province.
Paintings by veteran artists are also a highlight of the exhibition.
Nguyễn Việt Hải, 82, is displaying about 32 of his sketches.
"I met miners and befriended them. But it was difficult to convince them to model for the paintings," Hải said. He is a pioneering artist who went on field trips to Quảng Ninh Province about 50 years ago to record the daily life of miners.
He has also painted beautiful landscapes portraying the mining areas during his career.
The exhibition shows the changes and developments in Quảng Ninh, a hub of coal-mining activity in Việt Nam.
The art exhibition, which ends on July 24, is being organised by the Việt Nam Association of Fine Arts to mark the 80th traditional day of miners that falls on November 12. The display will move to Quảng Ninh Province in November.
Symposium highlights importance of diet to diabetics
Diabetics find it difficult to change their eating habits or strictly follow the diets ordered by doctor, and this detracts from the effective of treatment, according to the Việt Nam Association of Diabetes and Endocrinology.
Speaking at a symposium on structured diet plans with diabetes-specific nutrition held last Saturday by the association in co-operation with dairy company Abbott, Prof Thái Hồng Quang, the association chairman, said nutrition and exercise are the first remedy prescribed for diabetics.
Improper nutrition causes a lowering of blood sugar level, he said.
Dr Nguyễn Thị Bích Đào, the association's deputy chairwoman, said patients often prefer taking medicine to listening doctors' talks about nutrition.
According to a 2013 Nielsen Diabetes U&A report, 91 percent of people with diabetes in Việt Nam claimed that changing their eating habits was a real challenge, and only 21 percent of them took diabetes-specific nutrition.
Đào said diabetes is a modern epidemic, with the country seeing an increase of 211 per cent in incidence from 10 years ago.
Dr Osama Hamdy, a diabetician from the US, said it is crucial for people with diabetes to have a plan that includes a balanced diet, medical treatment and regular exercise.
The American Diabetes Association recommends that all people living with diabetes should make nutrition therapy a part of their treatment plan.
Bangkok underground party comes to HCM City
Giant Swing, one of Bangkok's longest-running underground party nights, will take place at The Observatory on Saturday.
The music night will feature DJ mAsa niwayama, co-founder of Giant Swing, who has played music at some of the most popular underground clubs in Japan.
It will also include his partner, DJ NKChan, who has regularly performed in Japan.
The event will start at 9pm at 5 Nguyễn Tất Thành Street in District 4. Entrance fee is free before 10pm, and VNĐ150,000 (US$7) after 10 pm.
Concert highlights dancehall music
A Dancehall Explosion concert featuring dancehall music, a genre of Jamaican popular music that originated in the late 1970s, will be held at The Cube Bar Saigon on July 15.
The event will feature DJs and artists from the event's organiser, Saigon Dub Station, including Skulz, Sonar Lee, Morgan, King Cardo and Buba.
The show will begin at 10pm at 31B Lý Tự Trọng Street in District 1. Entrance is VNĐ50,000 (US$2.2).
Plan International supports children in Quang Tri
Plan International on July 12 signed an agreement with the provincial government of Quang Tri that allows the global organization to run new programs in the province to improve the lives of needy children.
The agreement signed between Plan International Vietnam and the Quang Tri Provincial People's Committee provides for US$3.5 million of funding for programs to be given effect in the districts of Dakrong and Huong Hoa during the 2017-2021 timeframe.
"We are very proud to announce that we can now build on all the work we have done in Quang Tri so far and start implementing new programmes in the province," said Plan International representatives.
"Plan International is committed to working with government, non-governmental and civil society organisations to implement child-centred community development programmes."
Plan's programs will include child focused disaster risk reduction and early childhood care and development. The organization will also be looking at starting a water, sanitation and hygiene program in the dry zones of the province.
Plan's work will especially focus on marginalized girls and children with disabilities.
1.9 tons of stimulant leaves khat from Africa seized in HCM City
Ho Chi Minh City customs in June seized nearly 1.9 tons of plant-based drug khat disguised as tea or herbs in parcels from Africa.
Two delivery companies and more than 10 individuals are now suspected of deliberately smuggling the stimulant leaves.
The leaves were found in 129 packages from Kenya and Ethiopia either handled by the companies or with the individuals named as the recipients.
Khat is a shrub grown in East Africa and the Arabian Peninsula and its leaves are chewed for their stimulant effects, thanks to cathinone and cathine among the ingredients.
Another ton of the leaves were seized at Tan Son Nhat International Airport in the city earlier this year.
VNA/VNS/VOV/SGT/SGGP/TT/TN/Dantri/VNE