Agriculture turns out to be promising land for investors
More and more investors have injected money into agriculture, even though the sector is believed to have many latent risks.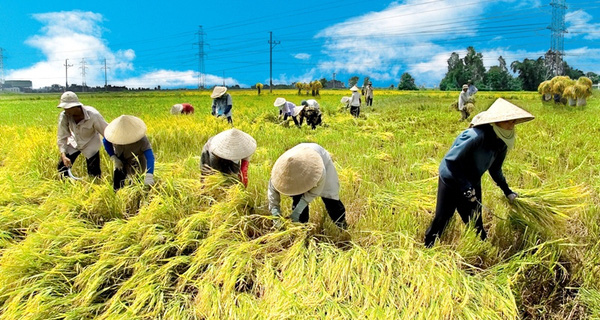 In the first half of 2017, the major segments of agriculture such as cultivation, fisheries and forestry all prospered, with a 2.6 percent growth rate, contributing 0.43 percentage points to the growth of the economy.
According to MARD, the total export turnover of the agriculture sector reached $17.1 billion, an increase of 13.1 percent over the same period last year. The export of key farm produce brought $9.1 billion, including $1.7 billion worth of vegetables and fruits, increasing by 44 percent.
The outstanding loans disbursed under the government's policies on supporting agricultural development had reached VND1.148 trillion by the end of May 2017, up by 9.9 percent over the end of 2016.
Agriculture, which is one of the five priority sectors for bank lending, now has a ceiling lending interest rate of 6.5 percent instead of 7 percent.
Agriculture, which is one of the five priority sectors for bank lending, now has a ceiling lending interest rate of 6.5 percent instead of 7 percent.
According to director of credit department Nguyen Quoc Hung, after the government released Resolution 30 on the VND100 trillion credit package for hi-tech agriculture development in March 2017, outstanding loans provided to the sector increased from VND3.7 trillion to VND32.3 trillion. As such, the loans to agriculture increased sharply by 8.7 times within half a year.
Most of the credit package has been disbursed for hi-tech agriculture projects (VND27.7 trillion), with VND4.6 trillion for clean agriculture production projects. To date, 4,125 clients have accessed the package, including 3,956 individuals and 168 institutional clients.
Vingroup, PAN Group, Hoang Anh Gia Lai, Loc Troi and NutiFood are well known as pioneering investors in hi-tech agriculture.
PAN Group's farm produce has been exported to more than 20 countries and it plans to invest VND2 trillion more in agriculture projects through M&A deals.
PAN's president Nguyen Duy Hung said PAN Farm, which focuses on exporting flowers to Japan, has successfully called for VND400 billion from IFC, SSIAM and SSI.
More recently, NutiFood poured more than VND1 trillion into an agriculture project in Da Lak through the purchase of a 25 percent stake in Phuoc An Coffee. The company has 1,400 hectares of UTZ Certified coffee area.
Loc Troi Group and Thaco, an automobile manufacturer, has cooperated to implement a VND7.8 trillion agriculture mechanization project, which runs a closed chain of production, harvesting, processing, transportation and distribution of farm produce to be cultivated on an area of 2,000 hectares in Thai Binh province.
UDC, an infrastructure development company, has received approval from shareholders to add agricultural production to its major business fields, commencing on July 14.