Vietnam imports 51,000 vehicles for $1.04 billion
Vienam spent US$1.04 billion to import some 51,000 various vehicles in the first half of this year, according to statistics of the General Department of Viet Nam Customs.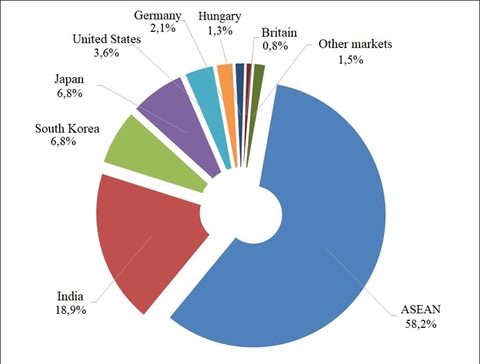 The graphic of auto exports to Viet Nam.
The figure was up 2.9 per cent in volume but down 15 per cent in value.
The number of vehicles with nine seats or less reached 26,600 units worth $449 million, marking an increase of 30.1 per cent in volume and 13.5 per cent in value year-on-year.
Indonesia ranked the top exporter of cars with nine seats or less to Viet Nam, with 8,900 units at total value of $171 million, up 66 times in volume and 103 times in value year-on-year. The average price was $19, 300 each.
It was followed by Thailand with 6,600 units worth $105 million, or $15,800 each on average, and India with 5,000 units worth $21,000, or $4,200 each on average.
Meanwhile, Viet Nam imported 338 cars with nine seats or more during the first half of this year at total value of $10 million, declining by 31 per cent in volume and 30.5 per cent in value compared with the same period last year. Japan took the lead with 190 units worth $5 million.
The country's auto part manufacturing industry also had a good opportunity to participate in the production chain in ASEAN since its rival Thailand faced a shortage of skillful workers, according to analysis of experts, quoted by online newspaper VnExpress.net.
Chris Humphrey, executive director of the EU-ASEAN Business Council based in Singapore, said Vietnamese producers had not only been reinforcing their position in the domestic market but also expanding exports, especially in its traditional market of ASEAN. The outlook for auto parts and components was therefore optimistic.
He said once the tariff barrier was lifted under the ASEAN free trade agreement in early 2018, it would allow Viet Nam to produce parts and accessories to serve the auto industry in other countries in the region, citing the example of Thailand, a country lacking skilled workers.
Kasinee Phantteeranurak, project manager at leading Asian event organiser Reed Tradex Co., Ltd., said the European Union, Japan, South Korea and the United States were potential markets for Viet Nam. However, they were high-ranking manufacturers, therefore their demand in terms of quality, stability and accuracy was very high.