Int'l workshop on culture, religions organized in HCM City

An international workshop, themed "The ASEAN Region and South Asia: A Melting Pot of Culture and Buddhism in Southeast Asia" is taking place in Ho Chi Minh City from July 9-11.

Participants at the event have an opportunity to discover the differences on religions and culture in the world.

The workshop provides 19 forums in English and other six in Vietnamese focusing on around eight issues, including philosophy, interpretation, and schools of thought; theories of religions in South and Southeast Asia; cultural heritages and national identity; mind, meditation and well-being in South and Southeast Asia, traditional practices in medicine, nature and the environment, communications, languages and literature.

Forums at the event also provide information and propose measures to address social evils.

The event, opened on July 9, is co-held by the Viet Nam Buddhist Research Institute and the South and Southeast Asian Association for the Study of Culture and Religions (SSEARS) based in India, attracting Buddhist followers and scholars from 44 countries and territories worldwide.

Unexpected inspections should increase in second half of 2017

Deputy Prime Minister Truong Hoa Binh requested that unexpected inspections should increase whilst administrative inspections should target areas with high risk of corruption in the rest of the year.

Deputy PM Binh made the statement at an online conference on July 10 reviewing the inspection sector's work in the first half of 2017 and setting plans for the second half.

According to the Deputy PM, several inspections had been conducted slowly, some inspections were low-quality and there were inefficiencies in receiving and settling people's complaints.

"Besides achievements, the State management and law enforcement in some areas remain unsatisfactory, citizens' complaints and denunciations remain complicated, corruption and wastefulness have not been pushed back and law violations are still found in many areas," said Deputy PM Binh.

"The inspection sector's task is extremely hard, especially in dealing with complaints, denunciations and inspections of and fighting against acts of corruption."

In regard to settling complaints by groups of people, Deputy PM Binh said such complaints must be dealt with justly, while the nature of cases must be precisely assessed to devise proper recommendations for higher authorities.

The work must ensure the interests of the State, people and investors, he said.

He said investors changing land use purpose after they bought it to increase its value was one reason for the slow settlement of some cases.

"We respect investors' interests. The State should hold development and people's lives in close association with land rights," said the Deputy PM.

"Therefore, any settlement must harmonise the interests of all parties involved, local people as well as investors in regard to added values."

"Planning must be made public and put forward for public opinion. On the other hand, work involving compensation, resettlement and vocational training for local people must improve their lives. Inspection officials must provide effective consultation to complete institutions and exercise social justice, besides dealing with violations."

Deputy PM Binh underscored that work to prevent corruption must be synchronised, corruption should be strictly dealt with and laws on fighting corruption should be promulgated faster.

Regarding inspections in 2018, Binh called for the Government Inspectorate to detail plans to submit to the Prime Minister for approval, which will be used to develop specific plans to tackle shortcomings in State management, and enforcement of policies and laws.

Inspections in 2018 should focus on pressing issues regarding the management of land, housing, exploitation of mineral resources, environmental protection, investment, construction, financing and banking, settlement of bad debts, market management and counterfeit goods prevention and fighting, tendering for drugs and medical equipment and privatisation of State-owned enterprises, among others.

Assistance to ethnic minority in Binh Phuoc

Thirty six needy ethnic minority households in Bu Dop district, the southern province of Binh Phuoc, have been given breeding cows, helping them improve their livelihood.

The 36 cows, worth 720 million VND (31,650 USD), are part of the programme to support poor ethnic minority people in disadvantaged areas under the Government's Decision 102/2009/QD-TTg.

These households were instructed how to take care of their cows.

In addition to cows, they were also provided with farming tools.

HCM City volunteers take action on Pink Holiday Campaign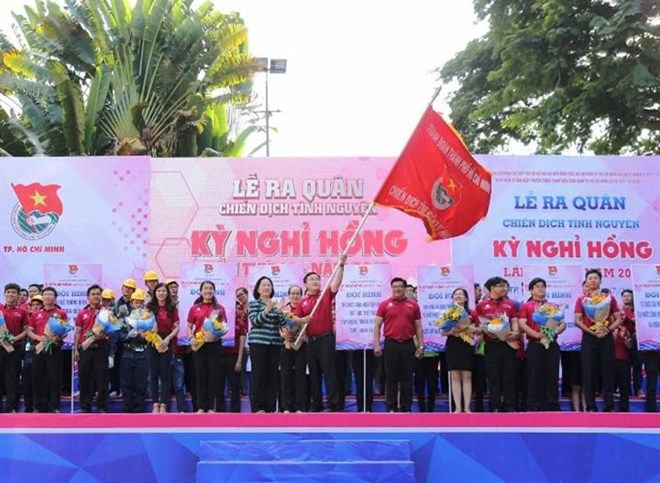 Ho Chi Minh City's Youth Union launched its 16th Ky Nghi Hong (Pink Holiday) Campaign with an estimated 3,000 participants on July 9 at Youth Culture House in District 1.

The annual campaign, which lasts until August 13, is expected to attract more than 50,000 youths and workers in the city.

Participants have been assigned to different areas in the country, including the city's suburban districts, the South, central and Central Highlands regions, and localities in Laos and Cambodia.

Its activities include improvements for rural residents; repairing and building charity houses; donating essentials to those in need; undertaking free health exams and treatments; and providing basic knowledge on agriculture and household's electric system.

On the first day of the launch, more than 1,000 people took part in blood donations.

Volunteers have already begun building houses and roads, and have handed out presents and scholarships to poor students.

Civil judgment execution shows good performance

The execution of civil judgments recorded good results in the first half of this year, with 314,000 cases being handled, up 3 percent against the same period last year, heard a teleconference on July 10.

According to Deputy Minister of Justice Phan Chi Hieu, the law making continued the leading key task in the reviewed period.

Thirteen out of 14 draft laws and resolutions were submitted to the National Assembly for approval, including those related to investment and business management, and administrative reform to facilitate businesses' activities.

The Ministry of Justice, legal organisations of ministries, sectors and local-level judicial agencies continued showing good performance in the work, contributing to improving the quality of assessment of legal documents.

Over 5,100 draft legal documents being assessed during January-June.

The Ministry of Justice drastically instructed the implementation of tasks assigned by the Government and the Prime Minister, while actively working with relevant ministries and sectors to promptly overcome difficulties in the work.

However, participant said several ministries, sectors and localities were still embarrassed in implementing new regulations of the 2015 Law on Promulgation of Legal Documents and the Government's Decree No. 34/2016/ND-CP stipulating in detail a number of provisions and measures on the implementation of the Law.

They pointed out the ministry's lack of breakthrough solutions to issues relating to civic status and nationality for children who were born to Vietnamese citizens and foreigners living in Vietnam.

In the second half, the justice sector will focus on the time and quality of draft laws to be submitted to the NA's fourth session as well as draft laws belonging to the law and ordinance building programme for 2018.

The ministry will organise the enforcement of new laws and resolutions, including those on State management, asset auction, information access, handling bad debt of credit organisations.

FPT University dean recognized for teaching excellence

Dean of the Business College at FPT University, Vo Minh Hieu, recently received a teaching excellence award from the Accreditation Council for Business Schools and Programs at its annual conference in Anaheim, California.

The conference, which took place June 23-27, was attended by an estimated 800 delegates from 60 countries. Dean Hieu was one of 10 regional recipients honoured for teaching excellence at the event.

In addition to Dean Hieu, the Vietnamese delegation attending the event included Vice Rector of FPT University Tran Ngoc Tuan and Secretary Vu Le Van.

At the conference, the delegation participated in workshops, seminars and other training to increase their proficiency on the requirements for international accreditation and developing programs to meet with international standards.

Driver, passenger not wearing helmets, crash into truck, later die

Police in Nghe An Province say a man and a female passenger who were killed on the evening of Sunday (July 9) after he crashed his motorbike into a truck were not wearing helmets.

Police say the man was en route to Vinh-Dien Chau on National Highway 1A in the commune of Dien An carrying 2 passengers at about 8pm when the man lost control of his vehicle and crashed into a truck stopped on the side of the road.

Witness at the scene told police the operator of the motorbike was driving at an extremely high rate of speed when he lost control.

Killed were the driver, Tran Cong Thuong, 23, and a female passenger, Tran Thi Thai Bao, 20. A second passenger, a female, Phan Su, 22, was transported to a local hospital suffering from multiple injuries.

It is unclear if drugs or alcohol were a factor in the crash, police said.

Fire tears through Ninh Thuan Province sugar mill

Emergency crews were called to a sugar mill in the hamlet of Phu Thuy in southern Ninh Thuan Province about 11am Sunday (July 9) after a fire broke out in the facilities main plant.

Zing online newspaper reported that police said one worker received serious injuries while most managed to self-evacuate when the fire was first discovered on an assembly line.

A fire services spokeswoman confirmed the building was well engulfed by flames when crews arrived at the scene. But she was unable to detail the extent of the damage to the 1,000-square metre facility.

The spokeswoman said the fire spread rapidly to adjacent areas of the plant and damaged is expected to be extensive.

Witnesses taking a lunch break reported seeing a welder near the vicinity where the fire started shortly before they smelled smoke, looked up and saw flames shooting every which direction.

Woman dies after being bitten by venomous octopus in central Vietnam

A woman in the central province of Thua Thien-Hue died last July 7 after being bitten by an octopus, provincial authorities said on July 9.

Van Thi Ty, 32, was fishing with her husband in the area off Phu Loc District when the octopus bit her on the leg, causing her to black out.

Ty's husband rushed her to hospital, but doctors announced her dead on arrival.

Local fishermen have killed the octopus and handed it over to authorities for tests.

In Vietnam, it is very rare for humans to die from an octopus bite, biologist Ngo Dac Chung told Thanh Nien newspaper.

He said the deadly bite could have come from a blue-ringed octopus (Hapalochlaena lunulata). The venom of this species, which has a distinctive blue color when it's alive, can paralyze the human nervous system, leading to heart failure.

US midwestern State of Iowa celebrates Asian heritage

US Congressman Rod Blum was in the midwestern State of Iowa this past Saturday (July 8) to celebrate Asian culture and serve as guest speaker during the fourth annual Asian Fest celebration, reported the Cedar Rapids Gazette.

We're obviously a nation of immigrants, and I think the Asian culture really fits in to the American culture, Blum said. We're so blessed the Asian culture is here in Cedar Rapids Iowa.

Honing a mission of cultivating, promoting and advocating Asian cultures in Eastern Iowa, Asian Fest took place throughout the day at the McGrath Amphitheatre in downtown Cedar Rapids.

It featured an array of food and community vendors with attendees able to experience a blend of Asian cultures. Booths represented nations such as Vietnam, the Philippines, Thailand, Laos, India and the ROK.

Live performances on main stage included a Republic of Korean Taekwondo demonstration, a fashion show and a performance by Gimikk — a rock band from Des Moines, Iowa.

The event was sponsored in partnership with the Iowa Asian Alliance.

Red Journey 2017 kicks off in Hà Nội today

The National Institute of Haematology and Blood Transfusion (NIHBT) expects to collect at least 45,000 blood units during Hành trình đỏ (Red Journey) 2017.

Red Journey 2017 is a blood donation communication campaign that kicked off today in Hà Nội.
During the one-month campaign, 140 outstanding volunteers, divided into two groups, will travel through 28 provinces and cities nationwide to collect blood and spread the message about the importance of donating blood.
The group started its journey from southern Cà Mau Province on July 1 and will travel through 18 southern and central provinces and cities. It has collected more than 5,600 blood units over blood donation camps in six provinces and cities of Kiên Giang, Cần Thơ, Long An and HCM City, as well as Đồng Nai and Bà Rịa-Vũng Tàu.
The other group left from Hà Nội today for Phú Thọ and nine other northern provinces. The two groups will meet in Hà Nội on July 27 to participate in a series of activities that are part of Red Journey 2017, including a blood donation festival.
They will also call upon the public to donate blood in a bid to ease the current blood shortage at hospitals and raise community awareness about thalassemia – a genetic blood disorder that can lead to heart failure and liver problems.
"Blood shortage situation has occurred in many countries, including Việt Nam. Campaigns such as Red Journey will contribute to providing enough blood to meet emergency and treatment needs of hospitals as well as to strengthen community awareness on the humanitarian blood donation movement," NIHBT director Nguyễn Anh Trí said.
Trí said Red Journey has dramatically changed the image of the humanitarian blood donation movement in Việt Nam in terms of the scale of organisation, communication and professional activities.
Red Journey is an important milestone in the development of the country's voluntarily blood donation movement, contributing to attaining the goal that all blood will be donated by voluntary donors by 2020," Trí said.
Since the first Red Journey in 2013, thousands of patients' lives have been saved due to nearly 75,000 blood units collected during the past four years. The campaign has contributed to easing blood shortage during the summer when voluntary donors, mainly students, go home for the summer vacation, according to NIHBT.
Red Journey 2017 is organised by NIHBT in collaboration with Việt Nam Red Cross and the National Assembly's TV Channel with support from BIDV, VietinBank, CP Việt Nam Corporation and IDP International Diary JSC.

Spending holiday at storm warning centre?

Is it your lifelong dream to holiday at a storm and tsunami warning centre? If the answer to this very specific question is yes, look no further than central Thanh Hóa Province.

Thanh Hóa Province is hit by storms ever year. To mitigate storm consequences, local authorities in 2011 spent VNĐ12 billion (US$533,000) upgrading the province's storm and tsunami warning centre.

The centre is in Trường Sơn Ward in the province's Sầm Sơn city – an increasingly popular tourist destination, particularly during summer, with 4 million visitors last year.

All localities have been urged to tap tourism potential ad nauseam, though maybe the leaders of Thanh Hoa have taken things too far by turning parts of this essential piece of life-saving infrastructure into guest houses for tourists.

The five-storey centre became a guesthouse with 20 rooms for rent fully equipped with televisions, beds and air conditioners in 2012.

Each room costs between VNĐ300,000-500,000 ($13.3-22.2) on weekdays and VNĐ500,000-800,000 at the weekend.

Deputy head of the provincial Department of Dyke and Storm and Flood Prevention and Control Nguyễn Văn Nhân said the centre was used as a hotel because the centre lacked essential devices and equipment to operate as a storm warning facility.

So if you're heading to Sầm Sơn be sure to check out this substandard storm warning centre which doubles at what must be an overpriced hotel!

Luckiest burglar!

When a burglar is caught red-handed by a homeowner the consequences can be deadly, for either party. Passions run high and unspeakable violence is suddenly possible, nay, probable. However, one scoundrel struck gold last week when he stole from one of Hà Nội's most generous men.

A 21-year-old man from northern Hòa Bình Province broke into a house in the captial at about 3am last week. Being discovered by the homeowner, the thief tried to escape but failed.

To the burglar's surprise, the house owner did not begin bashing his head in or dragging him to police station. Instead, he asked the thief to promise never do it again and become a good person. He then reached into his pocket, surely sending shivers up the thief's spine, and gave him VNĐ1 million ($44) to pay for his taxi home.

Seems crime does pay after all, and handsomely.

ABB helps HCMC curb water losses

In order to stay abreast of the rapid pace of urbanization and meet targets for reducing water leakage in Ho Chi Minh City to only 10 per cent by 2020, the Saigon Water Corporation (SAWACO) recently undertook a major renovation of the city's water distribution network.

Expansion of existing network capacity, integration of more isolated sections, reduction of water leakage, and real-time control and monitoring of the network conditions to prevent major disruptions are all part of the project's scope.

To meet the complex targets, a strategic ABB Ability Symphony® Plus SCADA system has been designed, which integrates a sophisticated leakage detection and management system from the water network management company TaKaDu. The project will deploy several data collection points, such as sensors and meters for flow and pressure monitoring, to the water network and allow SAWACO to digitally monitor the network conditions in "nearly real time". The utility will be able to continually detect, analyze, and manage network events, transforming that information into immediate action to reduce water losses.

ABB Ability Symphony® Plus is a distributed control system (DCS) especially tailored for the water and power industries. Part of the ABB Ability portfolio of digital offerings, this control system adds value for customers by carefully collecting, analyzing, and providing actionable insights on plant and engineering data in their systems, ultimately allowing them to lower project risk, reduce cost and throughput times, and improve asset performance and profitability.

ABB's scope of supply for this critical project includes field instrumentation and sensors that are critical components to deliver high quality data to the control system.

"Projects like Ho Chi Minh City's water network show the full potential of advanced automation for all municipalities dealing with rapid expansions or aging infrastructure," said Mr. Kevin Kosisko, Managing Director of ABB's Power Generation & Water business. "Furthermore, the smart collection of digital data from the field will offer real-time insights on the network status, allowing for increased revenues."

Thanks to the digitalization of its network, the real-time knowledge of network conditions, and the accurate detection of leaks, SAWACO will be able to increase the amount of water delivered to households and industries. In doing so, it will minimize the estimated 500,000 cu m of non-revenue water lost per day, roughly the daily capacity of a medium-sized water plant in the city.

Since its launch in 2011, ABB Ability Symphony® Plus has achieved more than 6,800 new installations, on top of the thousands of plants that have chosen to upgrade to the DCS. Symphony Plus is the DCS of choice for other projects in Vietnam, such as the original commissioning and further extension of the Vinh Tan 4 supercritical power plant, located 250 km east of Ho Chi Minh City. Upon completion, the complex will provide an additional 5,600 MW of electricity to Vietnam's national grid.

Outstanding national contributors in Hanoi honoured

A total of 300 outstanding war veterans and the family members of war martyrs, who have overcome many difficulties in life, were honoured by the city authorities at a conference in Hanoi on July 10.

The event was attended by Politburo member, Secretary of Hanoi municipal Party's Committee Hoang Trung Hai; Vice President Dang Thi Ngoc Thinh; Minister of Labour, War Invalids and Social Affairs Dao Ngoc Dung, and 950 delegates who are Vietnamese Heroic Mothers, war veterans, and family members of the war martyrs.

A total of 172 collectives and 78 individuals also received certificates of merit, from the city's leaders, in recognition of their significant contributions to realising the city's policies on caring for national contributors.

Addressing the conference, Hanoi Party leader Hoang Trung Hai expressed his deep gratitude for war veterans, war invalids, former youth volunteers and their families, for their huge contributions to the national construction and defence.

Hanoi hosts the largest number of national contributors, with 800,000 people, accounting for 10% of the total number across the whole country, he said.

He noted with pleasure that, over the past few years, the city authorities have undertaken a range of activities to care for the the material and spiritual life of national contributors and have devised policies on providing preferential treatment for them.

He asked the leaders of relevant sectors and districts across the city to take more practical actions to fully and effectively implement the policies targeting national contributors.

JICA wants to speed up water-related projects in Dong Nai

The Japan International Cooperation Agency (JICA) met with leaders of southern Dong Nai province on July 10 to work on the progress of Japan-funded water supply and drainage projects.

Phase I of the Nhon Trach water supply project, using Japan's ODA loan, became operational in 2014, generating 100,000 cu.m. of water per day.

Dong Nai is carrying out phase II of the project, funded with nearly 15 billion JPY (131.3 million USD) loaned by JICA, to raise the daily capacity to 200,000 cu.m. of water.

The provincial People's Committee said procedures are being processed for the construction of phase II. Consultation and design activities, carried out by some Japanese businesses, are expected to finish by the end of 2017. Later, the construction package deal will be put out to tender.

Shu Kitamura, a representative of the JICA Vietnam Office, said phase II of the Nhon Trach project will pilot high-quality technologies. Hence, JICA wants all steps of the project, from consultation, design, to construction must meet all requirements.

Meanwhile, the water drainage and wastewater treatment project in Bien Hoa city costs more than 45 billion JPY (393.9 million USD) in total, including 38 billion JPY (332.6 million USD) funded through Japan's ODA.

Shu Kitamura said the loan agreement for this project will be signed in late July 2017. JICA wants Dong Nai province to accelerate the selection of consultancies and design partners, as well as necessary procedures, so that the project will be carried out soon.

The management board for projects in Dong Nai said the consultancy and design partner selection for the Bien Hoa project is set to complete in mid-October.

Bien Hoa city hasn't had a wastewater treatment system. All daily wastewater is still directly released into the Dong Nai River, which is a source of water supply for some 20 million people. Flooding is also becoming more and more serious in the city.

Fifth Vietnam heritage photo contest launched

The sixth Vietnam Heritage Photo Awards contest was launched on July 10, calling for submissions from both amateur and professional photographers living in Vietnam and abroad.

The annual competition, co-organised by the Vietnam Heritage Magazine and the Canon Marketing Vietnam Limited Company, aims to honour the natural and cultural heritage values of Vietnam through photos, with the main topics of nature, tangible and intangible cultures, and market life.

Entries submitted to the contest can be either single images or photo sets. Each competitor is allowed to summit a maximum of four sets of photos and four single photos for each topic.

Photos should be sent to the organising board before September 15.

Some 100 excellent photos chosen from entries submitted to the contest will be exhibited online and introduced to people in Hanoi, Ho Chi Minh City and Da Nang city.

The winning photos will be announced in late November.

The Vietnam Heritage Photo Awards was first organised in 2012.

New VFF President meets religious dignitaries in Ho Chi Minh City

New President of the Vietnam Fatherland Front (VFF) Central Committee Tran Thanh Man met religious dignitaries in Ho Chi Minh City on July 10.

Meeting Paul Bui Van Doc, Archbishop of the Ho Chi Minh City Archdiocese and President of the Catholic Bishops' Conference of Vietnam, Man hailed the Catholic community for joining in building the great national unity and actively responding to campaigns on environment protection, national traffic safety and social welfares launched by the VFF.

He expressed his belief that the Archbishop together with religious dignitaries and followers would continue joining national patriotic emulation campaigns, contributing to national construction and development.

Doc, for his part, pledged to continue encouraging Catholic dignitaries and followers to abide by the State laws and contribute more to the nation.

The same day, Man called on Most Venerable Thich Thien Nhon, President of the Vietnam Buddhist Sangha (VBS) Executive Council.

The VFF leader lauded the Most Venerable and VBS for encouraging monks and nuns to follow the Party and State laws and policies, especially patriotic emulation campaigns regarding pre-school education, social welfares, environment protection and climate change response.

Nhon affirmed that the VBS, as a member of VFF, will actively join social activities, abide by the State laws for the sake of peace and prosperity of the nation.

Man also visited Le Duc Thinh, an outstanding Catholic follower who was honoured at the ninth National Patriotic Emulation Congress in 2015.

Thinh was the first Asian to be bestowed on the title of Knight of the Grand Cross by the Vatican. The title was initiated by Pope Gregory XVI in 1831 for Catholics making significant contributions to church activities and charity in their countries.

Vietnam takes action realising MDGs 2030

Vietnam's National Action Plan to implement the Agenda 2030 is an important milestone, affirming the country's pioneer role in realising sustainable development goals (MDGs) and implementing international commitments, an UN official has said.

Addressing a conference held by the Ministry of Planning and Investment (MoPI) in Hanoi on July 7, UN Resident Coordinator in Vietnam Kamal Malhotra affirmed that the UN's agencies will work closely with Vietnam to help the country early gain goals set in the plan.
In his speech, Deputy Prime Minister Vu Duc Dam underlined the importance to promote economic development in connection with environmental protection, and give priority to vulnerable groups.

The plan, issued in May this year, is a legal basis for Vietnam to implement its commitments to the international community, thus responsibly contributing to global joint efforts towards sustainable development, he said.

According to MoPI Deputy Minister Nguyen The Phuong, the plan features 17 general sustainable development goals and 115 targets for Vietnam. It was built in consultation with relevant agencies, and will be performed in the periods of 2017-2020 and 2021-203.

In the coming time, Vietnam will focus on perfecting institutions and policies, increasing public awareness of MDGs, enhancing high-quality human resources development, and mobilising internal and external financial sources for the scheme, he revealed.

Effective implementation of MDGs will help push strongly poverty reduction effort, ensure social welfare, protect the environment and effectively adapt to climate change, he said, adding that Vietnam needs financial assistance from the international community to fulfil the work.

Christian Berger, German Ambassador to Vietnam, said the action plan is an important tool targeting a balanced economic growth, a social harmonisation, and environmental protection in the country.

He also highlighted the strategic relations between his country and Vietnam, saying that Germany is supporting Vietnam in implementing the Agenda 2030 via the Macroeconomic Reforms/ Green Growth Programme, and the Paris Agreement on climate change.-

Belgian-funded drainage system inaugurated in Binh Thuan

A drainage system of North Cho Lau town centre, Bac Binh district, the central province of Binh Thuan, built with Belgium's financial aid, was inaugurated on July 7.

Work on the system, which has 17 pipe lines with a total length of 4,110 metres, began in June 2016. The Belgian Government provided 684,000 EUR for the project and the Vietnamese government allocated 196,000 EUR.

The system is expected to improve Cho Lau central area's drainage and solve partial flooding in the area in monsoon season, said Pham Van Nam, Vice Chairman of the provincial People's Committee at the inauguration ceremony.

He added that Binh Thuan has been facing climate change's challenges such as coastline erosion, salt water intrusion, droughts and floods which have negatively influenced locals' life, with Bac Binh one of the hardest hit localities.

Belgium's Ambassador to Vietnam Jahanne Roccas said the project will improve the living conditions for over 2,000 households in Cho Lau town.

The drainage system is a pilot construction under the project Integrated Water Resource Management and Urban Development in Relation with Climate Change in Binh Thuan province. The project, funded by Belgium's government, runs from 2013 to 2019 with a total cost of 6 million EUR.

It aims to build the capacity of the locality in terms of integrated water resources management and urban development relating to climate change while enhancing climate change management capacity of local authorities and building a comprehensive strategy on climate change.

President Tran Dai Quang meets Ho Chi Minh City constituents

President Tran Dai Quang reported on the outcomes of the third session of the 14th National Assembly and made clear issues of concern during a meeting with constituents in districts 1, 3, 4 in Ho Chi Minh City on July 7.

He stated that the Party and State always heed building a transparent and strong apparatus as well as the fight against corruption and wastefulness, citing the Central Steering Committee for Corruption Prevention and Control's regular meetings and dispatch of inspection teams to localities.

The President underscored the role of leaders in Party committees and agencies in the effort and the need to increase precautionary measures, partly by strengthening inspection and supervision.

About 12 loss-making projects by the Ministry of Industry and Trade, Quang reiterated the stance on thoroughly dealing with them and respecting the principle of self-control in businesses. He added that the State will not provide additional capital for them.

Constituent Dang Thanh Binh from district 1 and Nguyen Thi My Hanh from district 4 urged for suspending sand export because sand export prices are lower than those at home, and expressed concern over illegal exploitation of natural resources.

Agreeing with them, the State leader said the government has asked for suspending all sand export and mining contracts in order to thoroughly check illegal projects.

He reaffirmed the Party and State policy of effective exploitation of natural resources in tandem with environment protection.

The President also answered constituents' queries about child protection law, sidewalk management, pedestrian streets, traffic safety, medicine prices control, and the import of old machinery.

Combining economic, defence duties – army's long-term strategic task

Combining economic and defence activities are a long-term strategic task of the army, it was affirmed at a discussion held by Quan doi Nhan dan (People's Army) daily in Hanoi on July 6.

Maj. Gen. Pham Van Huan, Editor in chief of the newspaper, said the discussion aimed to clarify the Party's viewpoint on the "three in one" functions of the army, which require it to be ready to fight, to work and to produce.

Prof. Dr Hoang Chi Bao, former member of the Party Central Committee's Theoretical Council, said the army's important role in both combat and economic production and development was proved throughout the country's history. In the post-war period, military-run farms and businesses and workers in the defence industry helped cater for the demand of both the army and the civil life.

At present, the re-organisation of enterprises, including the equitisation of military-run businesses, aims to perfect the socialist-oriented market economy. It doesn't mean the military will no longer involve in economic activities; on the contrary it as to do them better, he stressed.

Maj. Gen. Vo Hong Thang, Director of the Defence Ministry's economic affairs department, said the engagement in economic production and development is to perform one of the three functions that the Party and the State assigned to the Vietnam People's Army.

In the past, the army conducted production activities to support the resistance wars against France and the US. When the country was reunified, it also took the lead in promoting socio-economic development, especially in rural, border and island areas. Its economic activities have made great strides in recent years, bringing about a number of important outcomes in terms of economy-society and defence-security, he noted.

Those outcomes have proved the Party and State's right policy of mobilising the army's participation in economic development, Thang affirmed.

He said the army must combine economic and defence activities so as to carry out the task of developing and protecting the nation. Its production and economic activities must be strictly managed in line with the law and not affect the army's training and combat readiness.

Echoing the view, other participants in the discussion said the army must simultaneously improve its combat strength and economic activities, thereby contributing more to Vietnam's resources and strength.

VNA/VNS/VOV/SGT/SGGP/TT/TN/Dantri/VNE