Binh Phuoc attracts 31.8 million USD in foreign investment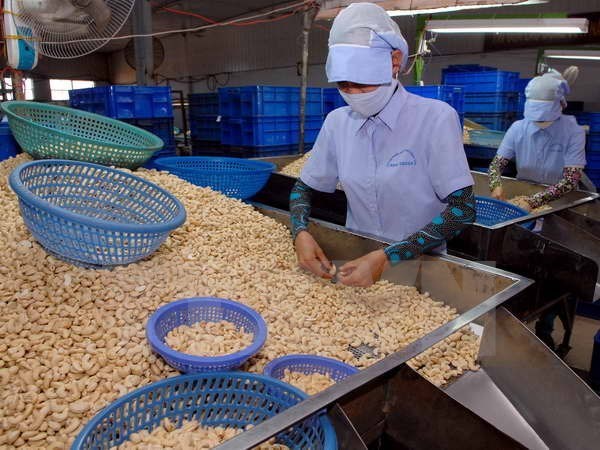 The southern province of Binh Phuoc has attracted eight foreign direct investment (FDI) projects, with a combined registered capital of 31.8 million USD in the first six months this year.
The figure is below the province's expectation, requiring local policy makers to revise a specific strategy to increase FDI attraction.
As an effort to improve business and investment climate, monthly dialogues have been conducted to help enterprises and investors operating in the Binh Phuoc, Director of the provincial Department of Planning and Investment Vo Sa said, adding that numerous measures have been taken to attract investors, particularly the construction of infrastructure facilities in industrial parks and clusters.
The construction of infrastructure facilities is underway to lure investors in big industrial parks, such as the 2,000ha Becamex – Binh Phuoc urban and industrial zone, while Dong Xoai 3 IP, Minh Hung – Sikico IP, Hoa Lu border gate economic zone are ready for investors to land in.
However, geographic location, poor transport system and limited human resources are the province's disadvantages in attracting investment, according to experts.
Tran Dinh Thien, deputy head of the Vietnam Economic Institute, suggested Binh Phuoc take advantages of its vast land and favourable climate condition to develop high-valued industrial plant material areas, such as cashew nuts, pepper, rubber, fruit trees, particularly clean vegetables to supply for Ho Chi Minh City.
The provincial People's Committee has approved a plan to develop smart and hi-tech agriculture to lure investors. Under the plan, the province has zoned off 1,000 ha for hi-tech agriculture in Loc Ninh, Hon Quan districts and Dong Xoai town.
Secretary of the provincial Party Committee Nguyen Van Loi urged sectors to call for investment in the smart agriculture production chain, particularly the regional connectivity to ensure a sustainable source of clean materials, such as cashew nuts and peppercorns.
Dozens of cooperatives have been established and joined the chain. The clean pepper growing model has proven effective and been multiplied across the province.
According to Director of the provincial Department of Agriculture and Rural Development Tran Van Loc, the province has over 134,000 hectares of cashew trees, accounting for nearly 50 percent of the nation's coverage, producing 280,000 tonnes per year.
Over 70,000 tonnes of cashew nuts are shipped abroad each year, generating 504 million USD or one third of the province's export values.
The locality also has over 270 plants and over 1,600 small facilities processing cashew nuts, creating jobs for 50,000 labourers.
Currently, the province is home to 163 FDI projects, worth nearly 1.5 billion USD.
Ha Nam attracts 194 million USD of investment
The Red River Delta province of Ha Nam has so far this year attracted 46 projects, including 10 foreign direct investment (FDI) projects, with total registered capital of nearly 194 million USD.
According to Director of the provincial Department of Planning and Investment Nguyen Van Oang, during the reviewed period, 44 operational projects were licensed to add 118 million USD.
In order to attract more investments, Ha Nam will continue designing more support policies for investors, while diversifying investment promotion methods.
At the same time, the province will also improve the quality of investment by prioritising projects in the supporting industry, processing and manufacturing sectors with high and environmentally-friendly technologies.
Meanwhile, the province will also increase inspections of the enforcement of law in investment to remove arising difficulties for investors, Oang said.
Ha Nam will also complete infrastructure in industrial parks, and provide support services for the industrial parks such as power, water supply and telecommunications services, while assisting investors with human resources and legal consultation, he added.
VPBank increases its charter capital to 14 trillion VND
VPBank has successfully increased its charter capital to around 14 trillion VND (around 616.7 million USD).
The capital hike was implemented through the dividend payout in shares and share bonus.
After the rise, the governor of the State Bank of Vietnam issued Decision 1426/QD-NHNN on July 7, revising VPBank's business licence with a change to its charter capital from 10.77 trillion VND to 14 trillion VND.
VPBank will make another charter capital hike this year, of roughly 2 trillion VND to raise its capital to 16 trillion VND through a 15 percent private placement to local and international investors. The share price will be determined by mutual consent through negotiations between the bank and its investors, but it will be higher than the book value.
The bank said it is raising more capital to meet its operational demand, and to comply with the safety ratio regulated by the central bank.
This year, VPBank has been the second bank in the country to finalise a capital hike plan, after OCB.
On June 20, OCB completed its charter capital hike procedures and raised its capital from 4 trillion VND to 5 trillion VND through dividend payout in shares and private placement.
Vietnam seeks cooperation with Russia's Sverdlovsk province
A delegation of Vietnam's Embassy, Consulate General in Yekaterinburg city and Business Association in Russia visited Sverdlovsk province from July 12-15 to seek cooperation opportunities with Russian localities.
Ambassador Nguyen Thanh Son, who led the delegation, met with Governor Evgeny Kuyvashev and Minister of International and Foreign Economic Relations Andrey Sobolev.
The ambassador told hosts that President Tran Dai Quang's visit to Russia from June 28-July 1 has opened up conditions for inter-regional cooperation between Vietnam and Russia.
Vietnamese businesses have been running a number of major projects in Russia with the most noteworthy being a dairy project invested by TH True Milk.
According to Son, Sverdlovsk has potential for cooperation, and Vietnamese businesses should put forth a specific cooperation and investment strategy in Russia to fully tap the potential.
Minister of International and Foreign Economic Relations Andrey Sobolev promised that as an industrial, logistics and cultural centre of Russia, Sverdlovsk will actively participate in activities marking the 25th anniversarty of the signing of the Treaty on Principles of Friendly Relations between Vietnam and Russia in 2019.
Apart from traditional sectors like metallurgy and machine manufacturing, the province is turning eyes towards pharmaceutical products, transportation machine and equipment manufacturing, and bio-technology, he said, noting his hope that Vietnam will be interested in such technologies and products.
He expresses his firm belief that Sverdlovsk firms will be interested in seeking investment chances in Vietnam and attracting investments from the Southeast Asian nation.
The two sides discussed in detail a range of cooperation activities, from the meeting of the inter-governmental committee scheduled for next September in Hanoi to exhibitions displaying Vietnamese products in Moscow expected to be held at the end of this year.
Governor E.Kuyvashev had instructions to set up a delegation to visit Vietnam this year.
On this occasion, the Vietnamese delegation visited pavilions of the Innoprom International Industrial Exhibition and several industrial facilities of Yekaterinburg city of Sverdlovsk province. They also met with representatives of the Vietnamese community and businesses in Sverdlovsk.
Italy-Vietnam launch footwear tech centre
The Italian Trade Agency, the National Association of Manufacturers of Footwear, Leather Goods and Tanning Technologies, and the Vietnam Leather, Footwear and Handbag Association (LEFASO) have inaugurated the Italy-Vietnam Footwear Technology Centre at the Lefaso Centre in the southern province of Binh Duong's Di An district.
With its experience in the leather industry, Italy will assist Vietnamese companies in improving product quality through collaboration and the launch of the centre, which will enable technology transfer, consultancy and training of human resource.
The centre is equipped with modern machinery and equipment imported directly from Italy and other European countries, allowing small and medium-sized enterprises in the leather-footwear industry to approach, research and develop new products.
The centre also joins hands with the Ho Chi Minh City Industry and Trade College to organise training programmes for staff in charge of production, design and product development at footwear enterprises, apprising them about leading global design and manufacturing trends.
LEFASO vice chairman Diep Thanh Kiet said "The Vietnamese footwear industry has a wonderful chance to strengthen its trade relations with Italy in particular and the European Union in general.
"Italy is the fashion centre of the world, and so expansion of trade between Vietnam and Italy in the field of footwear is very necessary. Bilateral trade has developed quite well in recent years. In 2016 Vietnam exported more than 380 million USD worth of leather-footwear products to Italy, or 8 percent of its total exports to the EU market."
The idea of establishing the centre took shape two years ago during a meeting of the Italy-Vietnam Intergovernmental Committee in Hanoi.
Replace workers with machines: experts
The Korea Institute of Industrial Technology (KITECH) and the Viet Nam Textile and Apparel Association (VITAS) on Thurday held a conference to promote smart manufacturing for Viet Nam's textile industry.
Truong Van Cam, VITAS' vice chairman, said that it was critical for Vietnamese textile firms to renovate their manufacturing systems toward smart production amid the industrial revolution 4.0.
The industrial revolution 4.0 will bring significant changes and moving towards smart manufacturing is necessary for labour-intensive industries like textiles in which labour can easily be replaced by machines, Cam said.
Cam said opportunities would be there for those who took action to move towards smart manufacturing.
Smart manufacturing would bring a number of benefits such as increasing productivity, output, reducing costs, enhancing management efficiency and improving the working environment.
At the conference, Vietnamese firms learned about smart manufacturing trends from leading Korean experts in dying, smart fabric management and 3D design, to improve competitiveness of Vietnamese firms.
According to Vu Duc Giang, VITAS' chairman, South Korea was the fourth largest garment and textile importer of Viet Nam with import revenue jumping from US$979 million in 2011 to $2.28 billion in 2016.
Rice recovery no cause for cheer
Recent gains in the volume and value of rice exports can be attributed more to low prices than to better quality or greater market penetration, experts say.
According to the Ministry of Agriculture and Rural Development (MARD), in the first six months of 2017, rice export turnover reached 2.8 million tonnes, up 6.3 per cent in quantity and 4.9 per cent in value over the same period last year.
While this marked a recovery after a somewhat quiet period, Tran Ngoc Trung, director of the Vinh Phat Investment Corporation, said the real reason behind the increase was lower prices offered by Vietnamese exporters compared to other countries' in the region. He explained that Vietnamese businesses did not have enough information regarding the international rice market to increase their own prices in time.
Looking at statistics for the past two months, at the beginning of May, the price for Vietnamese 5 per cent broken white rice was about US$350 to $354 per tonne, whereas the same type of rice from a Thai exporter was priced at $390 per tonne, $388 per tonne for Indian rice and a whopping $412 per tonne for Pakistani rice.
It is understandable why international buyers would opt for Vietnamese rice, pushing the turnover way up in June, Trung said.
This trend is further confirmed by data from the Viet Nam Food Association (VFA), in which price hikes occurred mostly in the first three months of 2017, while the average price for exported rice since April 2017 has been recorded as lower than the previous year, despite the average of six months being $13.2 per tonne higher than the same period in 2016.
Of particular note is that rice export prices dropped $20 per tonne and $11.38 per tonne in April and May 2017 respectively over the same months year.
Vietnamese rice exporters agree that for the first five months, the rice export market was quiet as businesses had to wait for the Government to finish signing contracts with traditional markets like Malaysia, Bangladesh and the Philippines.
When the contracts were finalised in June, market prices had already surpassed the prices quoted in the signed contracts.
It is estimated that the price for 5 per cent broken white rice on the open market is about $405 to $410 per tonne, while the price agreed to in the contracts is just $370 per tonne.
The VFA further said that although at the moment, the majority of Vietnamese rice for export have around the same prices as the same varieties from India, Myanmar or Pakistan, which is only $10 to $15 per tonne lower than Thailand's prices, the chief concern for Vietnamese producers was that they failed to adjust prices as demand rose, which will ultimately result in a loss.
Thailand has sold most of its stored rice, while Bangladesh is having a rice shortage after crop losses due to natural causes and the Philippines is looking to import more rice.
Lam Anh Tuan, director of the Thinh Phat Foodstuffs Company Limited in Ben Tre Province, said he saw the open market to be a better profit-making opportunity than the Government's collective contracts. He also said that another concern for Vietnamese rice producers is that production costs may exceed export prices. For example, the price of whole grain rice has increased by $44.5 per tonne to $370 per tonne, so for producers to turn it into white rice, the current export prices of $370 to $400 per tonne could result in their making a loss.
Nguyen Van Don, director of Tien Hung Company Limited in Tien Giang Province, said he also favoured the free market, saying it will be an opportunity for Vietnamese producers to increase exports of high quality rice.
The VFA gave cautious agreement, saying if individual businesses focused too much on meeting the demand in the free markets, they would fail to produce the agreed amounts for collective contracts. This means that the Vietnam Northern Food Corporation and its southern counterpart will have to compensate, as happened once in 2009. Nonetheless, increasing added value on the free rice market will be a good thing for small and medium-sized enterprises, it said.
Vietnamese businesses should always be aware of regional competition, whether it is through lower prices or better quality. It is crucial that they follow market trends to make timely adjustments and be well prepared for any change in demand and supply, said Tuan.
IDM Edu Viet Nam offers Irish digital marketing courses
IDM Edu Viet Nam has launched a professional digital marketing training programme authorized by Ireland's Digital Marketing Institute.
IDM Edu Viet Nam will provide training programmes ranging from basic to advanced, which will enable students to build a strong and flexible digital marketing platform.
Vu Van Hien, IDM Edu Viet Nam's learning director, said the curriculum would be updated every two years to match the evolving needs of the industry.
After the course, students can apply for an international certificate exam -- through the Pearson VUE International Test Centres -- which is recognised in more than 80 countries around the world, including the US, UK, France, Germany, Australia, and Canada.
Enrollment for course on certified digital marketing professional is under way.
Other courses like certified digital marketing specialist in social media and in search marketing and for professionals in certified digital and social selling will be offered in future.
Demand for human resources in digital marketing is increasing in Viet Nam, but there is a lack of qualified personnel, Hien added.
WB forecasts Việt Nam's GDP growth of 6.3%
The World Bank (WB) on Thursday released its bi-annual report on Việt Nam's economy, keeping its country GDP forecast at 6.3 per cent this year following an economic boost in the second quarter.
After a disappointing performance in the first quarter, Việt Nam's economy kicked on in the ensuing three months, with an estimated GDP of 5.7 per cent in the first half of 2017.
"Việt Nam's economy is strong, as a result of strong momentum of Việt Nam's fundamental growth drivers – domestic demand and export-oriented manufacturing," said Sebastian Eckardt, lead economist and acting country director for the WB in Việt Nam, at a press conference in Hà Nội on Thursday.
"These are good conditions to address critical structural bottlenecks to medium term growth while solidifying macroeconomic stability and rebuilding policy buffers."
Manufacturing and retail trade were the two biggest contributors to GDP growth in the first half of 2017 at 1.8 and 0.6 percentage points respectively, according to the report.
Việt Nam also demonstrated exceptional export performance, ranking higher than neighbours in the export index with far greater scores than other countries like China, Singapore, the Philippines, Malaysia and Indonesia, said the report. Those countries' exports merchandise growth in 2015 and 2016 were negative while Việt Nam's reached 7.9 and 9 per cent, respectively.
The WB projection for Việt Nam's GDP growth is significantly lower that the country's target of 6.7 per cent, while the International Monetary Fund last week also lowered the GDP outlook for Việt Nam from 6.5 to 6.3 per cent.
The WB also projected the inflation rate to hover around 4.5 per cent in 2017 and 2018.
Public debt, calculated by the Ministry of Finance, this year will likely break the red line of 65 per cent of the GDP drawn by the National Assembly, and increase to 65.4 per cent in 2018, according to the WB.
The WB suggested that the Vietnamese Government consider solidifying macroeconomic stability and rebuilding policy buffers while trying to lower the fiscal deficit and contain risks from rapid credit growth.
In the long term, sustaining rapid growth and reducing poverty will be the biggest challenges for Việt Nam, the WB said.
1Pay receives intermediary payment license
The State Bank of Viet Nam (SBV) granted a license for 1Pay Joint Stock Company's intermediary payment services on July 12.
Accordingly, the company will be allowed to expand its activities in electronic payments, collection assistance, electronic money transfer and e-wallet services.
Speaking at the ceremony, Hoang Tuyet Minh, deputy director of SBV's payment department, said that she expects that 1Pay will provide the best payment solutions to customers, boosting the development of modern non-cash payment solutions in Viet Nam, bringing the country's e-commerce to an international level.
1Pay will also launch an online payment portal service which allows end users to pay online by bank cards or bank accounts on e-commerce sites and focus on developing and launching e-wallet applications soon, so that users with bank accounts can carry out purchases or pay bills online on smartphones.
Launched in January 2013, 1Pay is an intermediary payment platform provider in Viet Nam, enabling local and international businesses to access and integrate mobile payment services simply and automatically.
1Pay, a fintech startup project of MOG Viet Nam JSC, is now one of the successful open platforms for electronic payment in Việt Nam with more than 3,000 customers from eight different countries.
Ceramic maker Viglacera's profits up 64 per cent
Ceramic manufacturer Viglacera Corporation (VGC) has posted a pre-tax profit of VND534 billion in the first half of 2017, up 64 per cent year on year.
Its net revenue was VND3.87 trillion (US$170 million), up 2.7 per cent compared to the corresponding period in 2016.
The company put up 120 million shares for sale, equivalent to 39 per cent of the total outstanding shares, on Ha Noi Stock Exchange on May 29, at a starting rate of VND12,300 per share.
After the auction, State ownership of VGC dropped from 78.8 per cent to 56.7 per cent. Foreign investors showed interest in VGC's shares, picking up 110 million, or 91.65 per cent, of the total offered shares.
The auction helped VGC increase its chartered capital from VND3.9 trillion to VND4.4 trillion.
The company plans to issue five per cent of its shares under the Employee Stock Ownership Plan (ESOP), in Q3 this year and reduce state ownership to 54 per cent. After 2020, VGC intends to reduce state ownership to 36 per cent.
The company collected nearly VND1.5 trillion from the public sale, which will be used mainly to invest in the expansion of Yen Phong Industrial Park and to develop the new ultra-white float glass manufacturing factory and sanitaryware plant in the southern province of Ba Ria-Vung Tau.
VGC currently operates two float glass factories, one in the northern province of Bac Ninh and the other in the southern province of Binh Duong, with a combined capacity of 1,000 tonnes per day, which accounts for 45 per cent of the company's capacity.
In sanitaryware, VGC is focused on the mid-end segment, and has a total capacity of 1.25 million sanitary appliances and 500,000 shower sets per year. This segment has recorded an average annual growth of 19.6 per cent from 2010 to 2015, and current production is at maximum capacity.
The company plans to build a sanitaryware factory in Vung Tau with a capacity of 750,000 products per year, which would increase its total capacity to 2 million products per year.
For its granite and ceramic requirements, VGC has three subsidiaries that have a combined capacity of 20 million sqm per year. Also, it has just acquired the My Duc ceramic factory in the southern province of Vung Tau. The plant's first production line became operational this June.
In the 2017-2020 period, the company plans to set up three more ceramic plants and increase its total capacity to 34 million sq.m, up 70 per cent.
CMC announces strategy to expand globally
Vietnamese technology corporation CMC on Wednesday announced its strategy to expand its reach in international markets with the foundation of CMC Global.
CMC Global was founded with an aim of promoting the export of software and IT products, marking a milestone in CMC's "Go Global" journey to make CMC's digital products the leader not only in Viet Nam but also reach out to the global market.
Hoang Ngoc Hung, deputy chairman of CMC, said: "CMC Global aims at providing leading IT products and services. CMC Global will establish its member companies in potential markets such as Japan, Singapore, and in the future, Europe."
Seeing the rising demand for IT outsourcing in the world coupled with the abundant IT talent in Viet Nam, CMC Global will focus on developing a talent pool and standardising software development process along with providing services.
"CMC Global will bridge other CMC members to provide integrated solutions and services to the global market," Ho Thanh Tung, CMC's deputy general director, said, adding that the technology corporation expected revenue from international markets would exceed the domestic market.
By 2020, CMC Global has targeted to have some 1,000 employees and establish branches in a number of countries.
The two first branches will be opened in Singapore and Japan this year.
Also on Wednesday, CMC appointed Kumeda Masakuni, 40, with 28 years of working experience in IT, as general director of CMC Japan.
THACO hands over 12 double-decker buses in Da Nang
The Truong Hai Auto Corporation (THACO) has handed over 12 double-decker buses to Da Nang as the central city bolsters its tourism offerings.
THACO and the Empire Group held a handover and trial run of the buses for the "Coco City Tour" in Da Nang on the afternoon of July 11. Coco City Tour is a unique and impressive travel experience and appears for the first time in Da Nang.
Double-decker buses are popular among tourists in London, Berlin, Barcelona, Hong Kong, Shanghai, and Singapore for their convenience and affordability. Visitors can easily reach famous tourists sites on their own and enjoy the scenery of the city at the same time.
Mr. Mike Norton, Director of Coco City Tour Limited Company, which is responsible for operating city tour, a world leading expert with many years of experience in city tourism, is responsible for operating the buses and has managed and operated similar services in London, Dubai, Hong Kong, and Shanghai.
"Da Nang is full of advantages to develop this model strongly and I believe the Coco City Tour will bring a whole new tourism concept to the city," he said. "While a double-decker bus tour is already a traditional tourism approach in places like London, in Da Nang we will develop Coco City Tour into a modern and interesting product for visitors to the city, contributing to the development of the tourism sector in the city in particular and in Vietnam in general."
"Coco City Tour is one of our strategies to realize the target of attracting more than 3 million visitors to Da Nang per year by 2020 and extend their holiday 'One More Day'," said Vice President of the Empire Group, Ms. Coco Tran.
In addition to assisting Da Nang with easing its traffic congestion, Coco City Tour will also create jobs. The Empire Group will continue to develop the model in leading tourist destinations in Vietnam such as Nha Trang and Phu Quoc Island.
FSMB to be charged of animal quarantine certification
The Food Safety Management Board (FSMB) will replace the Department of Animal Health to issue animal quarantine certification from July 15, as per an urgent dispatch signed by Deputy Chairman of Ho Chi Minh City People's Committee Tran Vinh Tuyen lately.
As of plan,it will still use the seal of the Department of Animal Health while waiting for the new one.
According to the regulation, owner of live animal products must have the certification when they transport these products out of cities or provinces. The batch will be considered to be illegal without certification and inspectors will destroy it.
The the management board was assigned some duties such as issuance of animal quarantine certification for processing factories, transportation companies.
However, because the Department of Animal Health and the board did not work together well before, there has been a pause in the issuance of the certification which badly affected transportation of pork and chicken products into cities and provinces to supply to restaurants, retail stores, and cater companies in industrial parks citiwide.
Capital inflows in industrial and economic zones surge in H1
New capital inflows in industrial and economic zones nationwide in the first half were higher than in the same period last year, said the Economic Zones Management Department under the Ministry of Planning and Investment.
According to a report of the department, as of June 20, industrial and economic zones had attracted 473 foreign-invested projects with total pledged capital of nearly US$7.3 billion, up by US$2.2 billion compared to the same period last year.
Many of the large projects came from South Korea. Kolon Industries, Inc., a subsidiary of Kolon Group, was licensed to invest US$220 million in a factory capable of annually manufacturing 36,000 tons of KVT-1 industrial fabric for automobile tires in Bau Bang Industrial Park, Binh Duong Province.
Chairman and CEO of Kolon Industries Park Dong Moon said the company has plans to invest US$500 million in its facilities in Bau Bang Industrial Park. "We will develop a factory to turn out 6,000 tons of industrial fabric for auto tires a month. We are also considering manufacturing auto airbags there," said Park.
Samsung Display Vietnam's project to expand its plant in Yen Phong Industrial Park, Bac Ninh Province with a total investment of US$2.5 billion was the largest foreign-invested project to gain approval in Vietnam in the first half.
There were 385 domestically invested projects newly approved and nearly 140 others expanded in industrial and economic zones, with combined capital amounting to VND114 trillion (over US$5 billion). In the same period last year, domestic investments in industrial and economic zones totaled just VND14.5 trillion in nearly 450 projects.
According to the Economic Zones Management Department, a steel mill project of Hoa Phat Group in Dung Quat Economic Zone was the largest domestic project with registered capital of VND60 trillion.
By June 2017, the country had had 325 industrial parks, with 220 of them put into operation and the rest under construction.
CBU auto imports from Thailand, Indonesia up in Jan-Jun
Vietnam imported over 29,600 completely-built-up (CBU) autos worth a total of US$531.2 million from Thailand and Indonesia in the first half of this year, according to data of the General Department of Vietnam Customs.
Vietnam purchased more than 19,000 CBU cars from Thailand with a total value of US$348 million. Indonesia came in second with around10,500 units worth a mere US$184.2 million shipped to Vietnam.
Each of South Korea and India exported more than 5,000 units to Vietnam with a respective value of around US$93 million and US$23.7 million.
Auto imports from Thailand and Indonesia made up a significant proportion of the total, as tariffs from ASEAN countries have been cut, with tax on vehicles of less than nine seats dropping to zero next year from the current 30%.
Overall, Vietnam spent over US$1 billion importing around 51,000 CBU vehicles from abroad, down 15% in value and up 2.9% in volume.
Customs officers said imports of expensive cars had been in decline, resulting in a lower import bill.
Vietnam's huge imports of CBU cars in the first half caused a trade deficit of US$2.5 billion with Thailand and US$340 million with Indonesia. The country also had a trade deficit with Singapore (US$1.3 billion) and Malaysia (US$600 million).
Despite the establishment in late 2015 of the ASEAN Economic Community (AEC), the competitiveness of Vietnamese enterprises has yet to improve much.
Vietfood & Beverage – Propack 2017 expo to run in August
The 21st VietFood, Beverage and Professional Packing Machines (VietFood & Beverage – ProPack) international exhibition will take place at the Saigon Exhibition and Convention Center in Ho Chi Minh City from August 9 to 12.
Vietnamese firms account for about half of the 500 participants this year, and their key products include tea, coffee, dried fruit and beer. Some new faces, including the trucking company Fuso Co. Ltd, Auphan Solfware and Long Hau industrial park, will introduce logistics services.
The organising board said some veteran foreign participants, including those from Chinese Taiwan, Thailand, Poland and the Republic of Korea, wish to expand their display space.
Poland will treat visitors to clean farming solutions and fresh fruit and dairy products. The Republic of Korea will occupy 70 stalls at the fair run by enterprises producing agricultural products, financial and insurance services.
The board named several newcomers from abroad, including the Czech Republic, the United Arab Emirates, Brazil and France.
Workshops will be held on the sidelines of the exhibition, with discussions covering food & beverage retail in Vietnam and management skills for businesses in the sector, among other topics.
Nhan Co alumina plant officially operational this month
Nhan Co alumina processing plant in the Central Highlands province of Dak Nong will be officially put into production this month, according to project investor Vietnam National Coal and Mineral Industries Group (Vinacomin).
An inspection team of the Ministry of Industry and Trade has visited two alumina projects, namely Nhan Co in Dak Nong Province and Tan Rai in Lam Dong Province, says a Tuoi Tre newspaper report.
Vinacomin said that during test production, the plant's products have been exported to China, South Korea and Japan and might be shipped to Malaysia and Middle Eastern countries in the coming time.
According to the investment plan, Tan Rai bauxite mining and alumina processing project would incur losses in the first four years. Vinacomin however said that in the first half of 2017, the project gained over VND60 billion (over US$2.64 million) in after-tax profit.
Meanwhile, as of July 3, 2017, Nhan Co alumina plant had produced nearly 33,000 tons of hydrate and nearly 164,000 tons of alumina.
General director of Vinacomin Dang Thanh Hai said the group will continue upgrading technology, complete an online environment monitoring system and strengthen sludge reservoirs.
Binh Loi rail bridge behind schedule
Binh Loi rail bridge over the Saigon River may be completed by May 2018, one year behind schedule, said Phan Van Duy, deputy director of the Vietnam Inland Waterways Administration.
Work on the project to rebuild the bridge of the north-south railway began in April 2015 and was planned to be complete in two years. With a total length of 1.3 kilometers, including approach roads, the bridge will have a vertical clearance of seven meters, up from the previous 1.5 meters, allowing larger ships to cross beneath.
During an inspection of the progress of the project by Minister of Transport Truong Quang Nghia yesterday, Duy said only three concrete supports on the side of Binh Thanh District and two others on the side of Thu Duc District have been completed. The remaining supports should be completed within 10 months to open the bridge to traffic in May next year.
The biggest impediment to the project is that 28 households in Binh Thanh District have not been relocated as they have not agreed on compensation rates, making it impossible to build an access road to the bridge.
Minister Nghia stressed the early completion of the bridge would help strengthen the capacity of train services, facilitate waterway transport between HCMC and neighboring Binh Phuoc, Binh Duong and Dong Nai provinces, as well as the southern key economic zone, and reduce road traffic congestion.
More Vietnamese tourists prefer hi-end hotels
The number of Vietnamese tourists choosing to stay at four and five-star hotels and resorts during their holidays and business trips has been on the rise in the last three years, according to a report of Grant Thornton Vietnam Co Ltd.
The report on hotel services shows 20.4% of domestic tourists stayed at hi-end hotels in 2016, up 3.4% versus 2014.
Higher ratios were seen at hotels in central provinces from Thanh Hoa to Binh Thuan, HCMC and southwestern provinces. Those in the northern region were lower.
Tao Van Nghe, deputy general director of Liberty Group, told the Daily that more Vietnamese tourists tend to stay at hi-end hotels.
John Gardner, general director of Chains Caravelle Hotel Joint Venture Company Ltd, said Vietnamese businessmen are among its patrons.
Tony Chisholm, general manager of Pullman Saigon Centre and area general manager for southern Vietnam at Accor, said the group is seeking to attract Vietnamese customers. Accor targets to have 40-45 hotels and resorts by 2019 and haft of them are aiming at serving the Vietnamese.
Vietnam to amend four tax laws
The Ministry of Finance is collecting opinions to amend four tax laws in a way that adjusts preferential treatment for enterprises.
The ministry will complete proposed revisions to the VAT, corporate income tax, personal income tax and special consumption tax laws by October and submit them to the National Assembly next year.
In the past, the ministry and local tax offices proposed amending the personal income tax and value added tax laws.
A tax expert told the Daily that tax offices should have solutions to ensure fairness in tax payment between large cities such as HCMC and Hanoi, and other parts of the country.
Japan aid sought for Hanoi-Vientiane expressway
The Embassy of Japan in Vietnam will look into the feasibility of the planned Hanoi-Vientiane expressway before it could ask the Japanese Government to weigh a loan for the project.
At a meeting on Tuesday with the envoy of the Japanese Embassy in Vietnam, Katsuro Nagai, Deputy Minister of Transport Le Dinh Tho said the project connecting the Vietnamese and Lao capitals would help push up bilateral trade between Vietnam and Laos.
The four to six-lane road, approved by the two governments, will start in Vientiane, pass through Pakxan of Laos, Vietnam's Thanh Thuy border gate, Nghe An and Ninh Binh Provinces, and end in Hanoi.
Deputy Minister Tho proposed Japan lend to Vietnam through organizations such as the Japan International Cooperation Agency (JICA) and the Asian Development Bank (ADB). Nagai said Japan would learn more about traffic flow and payback capacity.
Vietnam and Laos are seeking funds from foreign sources to develop the project.
Vietnam's Transportation Design Consultancy Corporation (TEDI) has done the pre-feasibility study for the 760-kilometer expressway. After it is in place, it might be extended to Thai capital Bangkok and Myanmar's Naypyidaw.
Regarding Vietnam-Laos cooperation in traffic infrastructure projects, the Ministry of Transport and the Korea International Cooperation Agency (KOICA) signed an agreement in October 2015 to do the feasibility study for a rail link between Vung Ang of Ha Tinh Province and Laos' Vientiane.
Vientiane-Hanoi expressway and Vung Ang-Vientiane railway would become important transport links with ASEAN countries and the Greater Mekong Sub-region.
Those routes would improve the transport system in the region and promote trade exchanges among ASEAN countries, particularly between Vietnam and Laos.
Tax debt rockets to VND75.5 trillion
Total tax debt had amounted to around VND75.5 trillion by May 31, a 1.9% rise against late last year, according to the General Department of Taxation under the Finance Ministry.
Collectibles account for VND48.2 trillion, and uncollectibles for the remainder.
The department said tax officers had worked hard to collect VND22.07 trillion since the end of May, accounting for 46.7% of the total debt as of late 2016.
Tax agencies at all levels conducted inspections into more than 36,600 local companies, and successfully forced them to pay around VND7.64 trillion in the first half of this year. The amount sent to the State budget totaled VND3.43 trillion.
Total value-added tax (VAT) refunds to the State Treasury were VND53.3 trillion in the six-month period.
The department is striving to collect at least 97% of the tax debt which had been incurred since early last October or before. Notably, it pledges not to make the debt exceed 5% of total tax revenue at the end of this year.
HCM City to host security, fire safety, rescue exhibition
The International Fire Safety and Rescue Technology and Equipment Exhibition and Conference, or Fire Safety and Rescue Vietnam – Secutech Vietnam 2017, will be held in HCM City in August.
The country's largest exhibition in the field of security, fire protection, safety and rescue will feature 460 booths set up by 270 exhibitors from 18 countries including the US, UK, India, Germany, South Korea, Japan, Singapore, and China.
Speaking at a press briefing in HCM City on July 13, Major General Đỗ Minh Dũng, deputy director of Việt Nam Fire and Rescue Police Department, said the expo would feature advanced technologies and products that could be used in industrial parks, transportation, banks, buildings and others, including surveillance systems, alarms, access-control systems, biometrics, and others.
Leading local and international players like Aikang, Advantech, Bosch, BVND, CBID, Dahua, Dmax, Dong A Fire tech, Draeger, EN3, Everdigm, Firex, Hải Thịnh, Hanwha Techwin will take part.
The event will offer local and international manufacturers of security and safety products the opportunity to explore opportunities provided by the increasing demand for security, including fire safety and modern rescue equipment.
The Ministry of Public Security, Việt Nam Fire and Rescue Police Department and other organisations will organise the 19th Asia Fire-protection Inspection Council Conference, seminar on fire prevention and fighting and the Global Digital Safety Forum on the sidelines of the expo.
Organised by the Việt Nam Fire and Rescue Police Department, Việt Nam Advertisement and Fair Exhibition Joint Stock Company and Messe Frankfurt New Era Business Media Ltd, the exhibition at the Saigon Exhibition and Convention Centre from August 16 to 18 is expected to receive 10,000 visitors.
VNA/VNS/VOV/SGT/SGGP/TT/TN/Dantri/VNEVET