VN-Index to extend loss on inevitable correction
The local stock market is set to experience another week of corrections but the decrease will likely slow down with divergence based on the results of second-quarter earnings, analysts said.
The benchmark VN-Index on the Ho Chi Minh Stock Exchange lost over 2 percent last week with four falling sessions and only one mid-week rising trade.
The key index closed on July 21 at 761.86 points, down 2.7 percent from the nine-year peak of 782.665 seen on July 6.
On the Hanoi Stock Exchange, the HNX-Index slumped 2.5 percent for the whole week, ending at 97.96 points on July 21.
"The market seems to be exhausted and faces risks of downward corrections. However, the speed of fall last week was quite strong and fast, negatively impacting investors' psychology," said Nguyen Huu Binh, leading analyst at Vietnam Investment Securities Co, told tinnhanhchungkhoan.vn.
But this could also be a sign that the market will soon retreat to the strong support threshold of 740-750 points, Binh said.
All shares, including large-caps, medium-caps and penny stocks, performed badly last week with a majority of stocks falling across the two exchanges' electronic boards.
The shares weighing down the market most included PV Gas (GAS), Vinamilk (VNM), big banks like Vietcombank (VCB), BIDV (BID), Vietinbank (CTG), Military Bank (MBB), Mobile World Group (MWG), steel manufacturer Hoa Phat Group (HPG), insurer Bao Viet Holdings (BVH). They were among top 30 largest shares by market value and liquidity on the HCM Stock Exchange.
However, liquidity is waning, which may indicate weaker demand and a possibility that the high selling pressure would soon stop, Binh said, predicting would increase again at the 740-750 points for the VN-Index.
Trading volume through order matching method on the HCM Stock Exchange rose 2.5 percent over the previous week, averaging 193.3 million shares per session but it was seen that the volume was declining towards the end of the week.
"A downward correction was inevitable after seven consecutive months of growth and in my opinion, this is an essential correction before the market will advance into the next growing period in the last months of the year," said Nguyen Trung Du, head of the brokerage division in the North region under HCM Securities Co.
According to analysts at BIDV Securities Co (BSC), the VN-Index is likely to remain under correction pressure in the next one to two weeks with a support threshold at 750 points. However, they added, the market will also see divergence based on second-quarter earnings results of listed companies.
Nearly 320 out of total 719 companies on the stock exchanges, accounting for 45 percent of total listed companies, have released their second-quarter earnings as of July 21. In terms of absolute value, net profits of these companies reached 10 trillion VND (439 million USD), up 10 percent over the same period of last year.
Five biggest earners were Vietcombank, Pha Lai Thermal Power, Vicostone, Kido Group and Nam Long Investment Group.
About 160 companies reported improved earnings results compared to last year's same period.
"With such results, the market will likely experience strong divergence in the coming time," BSC's stock analysts wrote in a report.
They suggested that investors refrain from investing in the companies with unstable business performance as well as those that have gained large value in the past rallies.
VCA plans support polices to spur cooperatives' development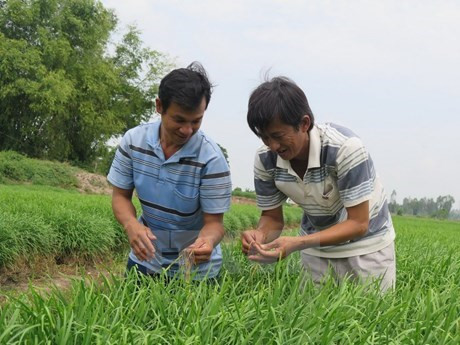 The Vietnam Cooperative Alliance (VCA) will concentrate on devising support policies in terms of capital, land, technology and market access, while building a value chain model connecting households, cooperatives and businesses, said VCA President Vo Kim Cu.
Addressing the third meeting of the fifth VCA Central Committee on July 20 in the central province of Thua Thien-Hue, Cu said the alliance will also focus on human resource training and encourage the development of people's credit funds.
According to the official, the Cooperative Law 2012 has showed a number of shortcomings that need amendments and supplements to create a more favourable legal corridor for cooperatives to operate equally with other economic components and businesses.
Participants at the two-day event discussed the collective economic situation in the country and the performance of the VCA in the first half of 2017 and its tasks for the rest of the year.
Currently, Vietnam has over 20,000 cooperatives and 15,000 cooperative groups operating in various fields including agriculture, trade-service, construction, transportation and credit.
Of the total, more than 10,000 cooperatives have reformed and registered for operation while over 3,750 others were established under the Cooperative Law 2012.
Total assets of the cooperatives exceed 12 trillion VND (around 528.6 million USD), with average revenue of more than 4.3 billion VND per year, 949 million VND higher than that in 2013. Average income of labourers in the cooperatives is 43 million VND per year, a rise of 17 million compared to that in 2013.
However, many transformed cooperatives under the Cooperative Law 2012 remain small with limited financial and infrastructure capacity and loose connection with value chains.
India firms seek to boost textile machinery exports to Vietnam
Vietnam is a potential market to which Indian businesses are seeking opportunities to boost export of textile machines and equipment, said N.D. Mhatre, Director General (Technical) of the Indian Textile Accessories and Machinery Manufacturers Association (ITAMMA).
As one of the world's leading textiles and garment exporters, Vietnam has a growing demand for machinery and equipment, thereby creating big opportunities for Indian firms, Mhatre at a Vietnam-Indian business exchange programme co-held by ITAMMA and the Consulate General of India in HCM City on July 20.
The director noted that India's export turnover of textiles-garment machinery and equipment surpassed 400 million USD in 2016, but its earnings from Vietnam reached only 400,000 USD.
Therefore, Indian enterprises wish to boost trade promotion and business networking in the garment and textiles sector in order to build up long-term cooperative ties, he added.
In addition, ITAMMA plans to set up a textiles-garment technology centre in Ho Chi Minh City to introduce machines, equipment and provide after-sale services to Vietnamese customers. It will also serve as a venue for the two countries' businesses to exchange and update on the latest technologies in the field.
Participants shared a view that Indian businesses have opportunities to supply machines and equipment with affordable prices to the Vietnamese market as machines imported from Europe have high prices.
Nguyen Thi Tuyet Mai, Vice General Secretary of the Vietnam Textile and Apparel Association (VITAS), also affirmed that India is an important trade partner of Vietnam in the field of garment-textiles and machinery, while Vietnam is a potential market for Indian businesses.
This is a convenient time for Vietnamese and Indian companies to enhance cooperation in the garment-textiles sector, she said, suggesting that Indian firms should work with Vietnamese fabric and textile factories to create material supply chains in Vietnam, bringing long-term benefits to both sides.
Experts: Domestic companies should develop strong brand names
European consumers cannot recognise brand names of almost goods imported from Vietnam since many businesses have not been fully aware of the importance of building trademarks and have not complied with EU standards for exports, said Claudio Dordi, Technical Assistance Team Leader of the EU-MUTRAP Project.
Most of Vietnam's agricultural products sold in the EU market are labelled with Chinese and Japanese brand names since Vietnam exported raw materials to these countries, Dordi told a trade policy forum held by the Vietnam Trade Promotion Agency under the Ministry of Industry and Trade and the centre for investment and trade promotion of Can Tho city on July 20.
According to the expert, up to 99 percent of coffee products imported into the EU come from Vietnam, but few consumers know that fact.
Aside from coffee, Vietnam's cocoa, tea, toys, footwear and apparel are also facing the same situation, he noted, adding that European consumers equate Vietnamese goods with Chinese products, forcing importing countries to raise more quality control barriers towards Vietnamese products.
The expert urged Vietnamese exporters to modernise their production lines and develop strong brand names for their firms. They also need to update changes in import policies of partner markets.
Dr Nguyen Phuong Mai, a specialist of the Corporate Social Responsibility (CSR) project of the UN Industrial Development Organisation (UNIDO), said enterprises should affirm their prestige through implementing the CSR Pyramid, which includes economic, legal, ethical and philanthropic domains. The top of this pyramid is the philanthropic domain, indicating that benefits produced by businesses go beyond the society's expectations.
Alain Chevalier, senior technical advisor of the programme "Decentralised Trade Support Services for Strengthening the International Competitiveness of Vietnamese Small and Medium-sized Enterprises", introduced the Standards Map of the International Trade Centre. The software helps exporters learn about main features, requirements and export-related policies.
Accordingly, Vietnamese firms exporting goods to the EU should understand that local consumers are ready to pay more for goods made in line with standards, in an environmentally friendly manner, and with social responsibility, he added.
Conference seeks to develop transport infrastructure in northwest
The Party Central Committee's Economic Commission, the Steering Committee for Northwestern Region and the Transport Ministry held a conference in Hanoi on July 20 to discuss developing transport infrastructure in the northwest.
Speaking at the event, head of the Party Central Committee's Economic Commission Nguyen Van Binh underscored the significance of the effort, saying that it will fuel socio-economic development and ensure national defence-security in the region and the country.
Deputy head of the Steering Committee for Northwestern Region Nguyen Canh Viet said road transportation plays the most important role in the region with 3,718 out of 6,730km of national highway being completed.
The highways connecting Hanoi with Yen Bai and Lao Cai, Thai Nguyen and Bac Giang have been completed and put into operation while projects on the construction of Hoa Lac – Hoa Binh and Thai Nguyen – Cho Moi roads are underway.
Meanwhile, railway, waterway and aviation transportation remain limited. With a total length of nearly 700km, the railway system is yet to meet demand.
Binh agreed with nine measures and recommendations by ministries, agencies and localities to develop regional transport infrastructure between now and 2020.
Specifically, the Transport Ministry's Party Civil Affairs Committee will work with localities to continue reviewing transport development planning and set priorities to key and urgent projects.
Binh stressed the need to accelerate the building of highways linking Hoa Lac and Hoa Binh, Thai Nguyen and Bac Kan, Bac Giang and Lang Son city in the Build-Operate-Transfer (BOT) model. The State Bank must direct commercial banks to offer more loans to Hoa Lac – Hoa Binh project.
The Transport Ministry must direct stepping up procedures to build routes linking northern mountainous provinces with Noi Bai – Lao Cai highway, accelerate negotiations on projects using official development assistance between now and 2020, including Lai Chau – Yen Bai, Yen Bai – Ha Giang and Lang Son – Cao Bang roads.
It was asked to direct ministries and agencies concerned to soon complete procedures to launch the construction of Lang Son city – Huu Nghi border gate highway.
The ministry was assigned to partner with the ministries of planning and investment, and finance to arrange funding for the upgrade of Dien Bien airport and consider building Lao Cai airport in BOT model.
Binh also agreed with a waterway upgrade plan, focusing on Viet Tri – Yen Bai route.
The Vietnam Railways Corporation was urged to renovate technology, improve services and effectively tap existing railways in the region.
Petrol prices increased by over 300 VND per litre
The ministries of industry and trade and finance decided to raise retail petrol prices as of 3 p.m on July 20.
The retail price of RON 92 increased by 357 VND to trade at a maximum of 16,426 VND (0.72 USD) per litre. The price of E5 bio-fuel rose by 333 VND to trade at the ceiling price of 16,251 VND (0.71 USD) per litre.
Diesel 0.05S will be sold at the maximum price of 13,329 VND (0.58 USD) per litre and kerosene at 11,936 VND (0.52 USD) per litre.
The average global price of RON 92 during 15 days to July 20 was 57,856 USD per barrel while that of diesel 0.05S was 59,918 USD per barrel.
Credit growth reported at 9.06 percent in six months
Vietnam posted a credit growth rate of 9.06 percent as of June 30 compared to the end of last year, which did not pressure interest rates, Governor of the State Bank of Vietnam (SBV) Le Minh Hung said on July 21.
He made the announcement at a teleconference to implement a National Assembly resolution on bad debt settlement and a plan on credit institution restructuring and bad debt settlement for 2016-2020.
Credit in the economy has increased rapidly and evenly month on month, which was not the case in previous years, he noted, adding that loans were mainly poured into production and business activities.
Hung said the central bank kept interest rates stable in the first half of 2017 despite high inflation in late 2016 and earlier this year.
[WB: Vietnamese economy sees positive changes in first half]
As inflation is under control and the SBV wants to facilitate business activities, the bank ordered credit institutions to cut interest rates for short-term loans in prioritised fields by 0.5 percent from July 10.
The prioritised fields are agricultural and rural development, exports, activities of small and medium-sized enterprises, development of support industries and high-tech companies.
Interest rates are at about 6 – 6.5 percent for short-term loans and 8 – 10 percent for medium- and long-term loans, the Governor added.
Vietnam strives to earn 250 million USD from tea exports in 2017
Vietnam's tea sector is aiming to export 150,000 tonnes and earn a turnover of 250 million USD in 2017, announced the Ministry of Agriculture and Rural Development (MARD).
The sector also targets selling about 50,000 tonnes of tea for domestic consumption, earning about 10 trillion VND (439.9 million USD).
To realise the target, the MARD advised processing firms to connect with tea growers and control the manufacturing process, while ensuring food safety and grasping technical barriers of importers.
The ministry will increase trade promotion activities and provide support for businesses to participate in domestic and international trade fairs.
In the first six months of 2017, Vietnam exported 63,000 tonnes of tea, raking in 98 million USD, up 17 percent in volume and 15 percent in value year-on-year.-
Binh Duong Water Environment JSC debuts on HCM City bourse
Binh Duong Water Environment Joint Stock Company in the southern province of Binh Duong started trading with code BWE on the Ho Chi Minh Stock Exchange (HOSE) on July 20, the 421st company on the bourse.
The HOSE decided to list the company's shares at the reference price of 14,300 VND (0.63 USD) per share, with a trading band of 20 percent for maiden listings.
At the end of July 20, BWE stock was sold at 17,150 VND (0.75 USD) per share, up 20 percent from the initial price.
Listing on the HOSE, the company is expected to improve its public reputation and draw more investment.
Equitised in August, 2016, the company currently has charter capital of 1.5 trillion VND (65.9 million USD).
BWE focuses on treating and supplying clean water for daily activities and industry in the province. By the end of the first quarter of this year, the company had total assets exceeding 8.8 trillion VND (387 million USD), total revenue of 342 billion VND (15 million USD) and profit after taxes of 53 billion VND (2.3 million USD).
HOSE is the exchange that gathers the biggest companies in Vietnam with its VN30 Index, which tracks the performance of the largest 30 firms by market capitalisation.
Vietnam becomes leading exporter of bags, suitcases
Currently, Vietnam ranks fifth among top ten exporters of bags and suitcases in the world, accounting for 5.4% the global supply, according to the Vietnam Leather, Footwear and Handbag Association (LEFASO).
Last year, backpack, bag, and suitcase exports to top ten consumer markets hit US$3.2 billion.
LEFASO President Nguyen Duc Thuan said exports have grown 10-15% annually over the last five years. Many international brands have built their manufacturing plants in Vietnam.
The LEFASO representative said, last year the US, Hong Kong and Japan were the three largest importers of backpacks, bags and suitcases while China was the biggest exporter of the products, making up 40.8% of the total global supply.
Cybersecurity firms boom in Vietnam
Internet security firms are cashing in on the increasing number of cyberattacks targeting entities in Vietnam. But all that glitters is not gold, experts have warned.
In 2015, 31,585 cybertattacks were recorded in Vietnam, causing total damages estimated at VND8.7 trillion (US$383.26 million).
In the first three months of this year, 7,700 attacks targeted Vietnamese websites while the infamous ransomware WannaCry hit 1,900 computers in the country.
According to experts, 52 percent of computers in Vietnam remain vulnerable to viruses and malware.
However, of all the cybersecurity companies in Vietnam trying to cash in by offering consumers protection from these attacks, only seven are actually licensed businesses while the rest are unlicensed operations focused on "scaring customers into using their services," according to experts.
Some of the well-known internet security firms in Vietnam are Hanoi-based Bkav, FPT, state-run VNPT, and Russia's Kaspersky Lab.
On top of its popular antivirus software, Bkav now offers such cybersecurity services as firewalls or anti-APT solutions.
APT, or advanced persistent threat, is a network attack in which an unauthorized person gains access to a network and stays undetected for a long period of time.
The intention of an APT attack is to steal data rather than cause damage to the network or organization.
"Kaspersky used to be known only as a supplier of security software to end-users, but since 2015, we have offered in-depth cybersecurity services as well as security training and consultation," Vo Duong Tu Diem, a representative of the Russian firm in Vietnam, said.
Besides these big names are startups that have gained fame from winning security competitions, such as CyRadar.
However, according to Dr. Vo Van Khang, deputy chairman of the southern chapter of the Vietnam Information Security Association, there are certain low-quality companies out there that are ripping off customers with lies about their services.
Customers, especially companies, are also concerned that some cybersecurity firms are willing to accept money from firms in exchange for launching attacks against their rivals.
"Some cybersecurity firms also attack a company with malware or viruses and then offer to help with their services," Khang said.
"This is totally possible in the 'underground world' of internet security, where the line between good and bad is thin."
One seasoned cybersecurity expert said that while the information security sector covers a wide range of aspects, "some people think that if they are good at one aspect, they are also an expert in other fields."
"So there are many incapable personnel in the cybersecurity market who cheat customers for money despite their poor knowledge," he added.
Capital city establishes four new industrial clusters
The People's Committee of Ha Noi has approved the establishment of four new industrial clusters: Ngoc Liep, Dac So, Lien Ha and Phung Xa.
Located in Quoc Oai and Hoai Duc districts, the 38ha Ngoc Liep and 6.3ha Dac So industrial complexes aim to attract projects in home appliances, wood processing, construction material construction production, machinery and engineering, chemical and cosmetics and agricultural processing.
The Lien Ha and Phung Xa industrial clusters span a total area of 7ha in Dong Anh and Thach That districts and will process wood and furniture.
The capital city plans to attract 15-20 new projects with expected total investment of US$250-300 million in industrial zones and clusters in the capital city this year, according to the municipal Management Board of Industrial and Processing Zones.
Sectors to be prioritised include the part supplies, electronics and mechanics industries.
The city-based industrial zones and clusters lured seven new projects worth more than $44 million in registered capital and expanded six existing projects worth $18.5 million over past five months of this year.
To date, they have attracted 629 projects with total registered capital of $5.9 billion. More than half of the projects were foreign-invested, worth $5.34 billion, the board said.
MoIT extends deadline for requests on anti-dumping steel import tax
The Viet Nam Competition Authority (VCA) under the Ministry of Industry and Trade (MoIT) will continue to receive requests from manufacturers, traders and others seeking to ease or lift the anti-dumping tax on imported cold-rolled stainless steel from China, Indonesia, Malaysia and Taiwan until July 31, 2017.
On September 5, 2014, the MoIT issued a decision to impose anti-dumping duties on several cold-rolled stainless steel products imported to Viet Nam from China, Indonesia, Malaysia and Taiwan. The first review was concluded on April 29, 2016.
Anti-dumping regulations enable concerned parties to request an annual review of anti-dumping duties. The request for reviews includes the scope of products being subject to duty, the applicable anti-dumping tax rates, new exporters and more.
On December 19, 2017, VCA started to get requests for a second review of the anti-dumping tax on cold-rolled stainless steel imported into Viet Nam until April 15, 2017.
In May, the MoIT issued a response to the review proposal submitted by several steel import companies and firms that sell steel to Viet Nam. The second review covers the period from May 1, 2016 to April 30, 2017.
However, during the review time, VCA continued to receive feedback from enterprises seeking to eliminate duties on some of the products subjected to tax.
Therefore, VCA informed all those involved in cold-rolled stainless steel products that they can submit their requests to VCA before August 1.
Ba Ria - Vung Tau signs deal with Dutch firm for wastewater solution
Dutch-owned company Royal HaskoningDHV on Wednesday signed a contract with the Ba Ria - Vung Tau Urban Sewerage and Development Company for a complete wastewater solution benefiting over 175,000 residents of the Phu My New Urban Area.
As part of the Facility for Infrastructure Development (ORIO programme) in developing countries financed by the Dutch Government, the 9.5 million euro (US$10.9 million) project will deliver sanitation to residents and industries whose wastewater is currently discharged untreated, resulting in severe pollution.
A sewage plant will be built using the company's bio-technology which is used in some 1,500 wastewater treatment plants around the world.
It would have a capacity of almost 30,000 cubic metres a day, the company said.
The company will also build four pumping stations, install 100km of pipels and connect 15,000 households and over 1,000 small-and medium-sized enterprises.
During the operation and maintenance phase, it will provide technical assistance and training to BUSADCO workers.
Hoang Duc Thao, chairman and general director of BUSADCO, said: "The construction of a complete wastewater collection and treatment system for Phu My New Urban Area has become an urgent issue and a priority for economic and social development of Ba Ria – Vung Tau Province."
It will be the third ORIO-funded project in Viet Nam that Royal HaskoningDHV will execute.
The project, which will improve living conditions for around 400,000 people, also adds to the company's growing number of environmental improvement schemes in Viet Nam, 10 of which are ongoing.
The project is expected to be completed by December 2019.
Various interest rates drop sharply
The lending interest rate is expected to further expand with the interest rate reducing sharply in the inter-bank, central bank bill and G-bond markets over the past 10 days.
According to a report from Maritime Bank's market research division, a sharp drop in the interest rate has been continuously seen in the G-bond market this week.
On Wednesday, the State Treasury issued VND3.6 trillion of G-bond with the interest rates falling sharply. The rates for five-year, 15-year and 20-year bonds declined by 0.21, 0.50 and 0.53 percentage points to 4.48, 5.75 and 6.02 per cent per year, respectively.
Wednesday was also the third consecutive day the State Bank of Viet Nam successfully issued bills to withdraw money. The interest rate of the bills dropped sharply to 0.79 per cent per year against 1.1 per cent in the previous session and 1.75 per cent in the same period last year.
Despite the significant withdrawal, which totalled nearly VND21 trillion (US$921 million), the interest rate on dong loans in the inter-bank market continued to slide sharply by 0.19 to 0.44 percentage points, hitting the lowest level from the beginning of this year. Specifically, overnight, one-week, two-week and one-month rates stood at 1.2 per cent, 1.36 per cent, 1.54 per cent, and 2.34 per cent, respectively.
The inter-bank market also saw the rate of dong loans sliding to a lower level than that of the dollar. The overnight rate for dollar loans stood high at 1.31 per cent per year on Wednesday.
After the central bank cut policy rates by 0.25 percentage points at the start of last week, a series of local banks reduced lending rates for priority sectors by between 0.5 and 1 percentage points per year.
VEIL inducted into FTSE 250 Index
The Vietnam Enterprise Investments Limited (VEIL) announced it has been inducted into the FTSE 250 Index under the London Stock Exchange (LSE).
"We are extremely pleased to be the first Vietnamese focused investment company to warrant inclusion into the FTSE 250," Dominic Scriven, executive chairman of Dragon Capital, said in a statement.
"Since moving on to the London Stock Exchange in July 2016, VEIL has gone from strength to strength, benefitting from the strong underlying economic fundamentals of the Vietnamese economy and a highly rigorous investment approach," he said.
"VEIL's inclusion in the FTSE 250 should help build on the progress we have made to narrow VEIL's discount to NAV as a higher profile investment company."
FTSE 250 Index includes 250 stocks that are traded on the LSE with total market capitalisation of 385.52 billion pounds (US$501 billion).
The decision on VEIL's inclusion in the FTSE 250 Index came into effect on July 18. On July 5, 2016, VEIL was admitted to the LSE – a step that was expected to raise trading liquidity and transparency for the fund certificates.
Launched in 1995, VEIL is a closed-ended, focusing on Viet Nam's listed and pre-IPO companies in the country that offer attractive growth and value metrics and strong corporate governance.
The fund started with initial value of $12 million. According to the latest announcement, at close of business on July 17, VEIL's unaudited net asset value reached $1.2 billion, or $5.49 per share.
The top 10 Vietnamese firms in VEIL's portfolio included dairy producer Vinamilk, phone and accessory distributor Mobile World Corporation (MWG), information-technology FPT Corporation and steel producer Hoa Phat Group, as well as aviation company Vietjet Air and PetroVietnam Gas Corporation.
The value of investment in Vinamilk occupies 12.5 per cent of VEIL's net asset value, followed by MWG (7.62 per cent), Military Bank (6.9 per cent) and Asia Commercial Bank (5.87 per cent). Total investment in the top 10 Vietnamese companies is equal to 58.6 per cent of the fund's net asset value.
Can Tho attracts foreign investment in logistics centre
The Mekong Delta city of Can Tho is calling for Singaporean and Japanese investment for the regional logistics centre in the city.
Nguyen Minh Toai, director of the municipal Department of Industry and Trade, said this at a meeting on attracting investment for the centre, held by the People's Committee of Can Tho on Wednesday.
The centre, spanning over 242.2ha in the Cai Rang Industrial Park, includes ports, container areas, goods uploading, distribution and services areas, Toai said.
The city plans to invite capable and experienced investors from Singapore or Japan to invest in the centre to facilitate the transportation of goods from the Mekong Delta region to countries in the region and the world.
Vice chairman of the municipal People's Committee Truong Quang Hoai Nam urged the department and relevant bodies to build the centre based on regional conditions and potential.
It is necessary to identify key products, traffic system and delivery network while planning the logistics centre, Nam said, also proposing measures to lure investors.
According to the approved nationwide logistics centre system development plan by 2020 with orientation to 2030, the Mekong Delta region will have one regional logistics centre covering at least 30ha by 2020 and over 70ha by 2030.
This logistics centre will serve Can Tho City, Tra Vinh, Hau Giang, Vinh Long and Kien Giang provinces, as well as Ca Mau, Bac Lieu, Soc Trang and An Giang provinces, and will connect with dry and river ports, airports, train and bus stations, as well as industrial parks and border gates.
Tra Vinh invites investment in Dinh An economic zone
The Mekong Delta province of Tra Vinh is calling for investment in Dinh An economic zone, focusing on technical infrastructure, oil refining, deep seaport, airports, administrative services, education, training, scientific research, cultural exchanges, tourism and entertainment.
Covering more than 39,000 hectares in Tra Cu and Duyen Hai districts, Dinh An is one of eight key marine economic areas nationwide, with conditions to develop the sea-based economy, electricity, petrochemicals, shipbuilding, navigation services and tourism.
A passageway for ships of 20,000 tonnes to enter the Hau River is expected to become operational in 2017, which will facilitate domestic and international trade.
So far, Dinh An economic zone has attracted 29 projects with total registered capital exceeding 151.3 trillion VND (6.65 billion USD) and generated nearly 2,500 jobs.
Head of the management board of Tra Vinh economic zone Pham Van Tam suggested devising more incentives apart from policies to exempt or reduce land rent, corporate income tax, personal income tax and import-export tax.
Businesses will get land clearance compensation and support to make environmental impact evaluation reports, as well as register for intellectual property protection, apply technologies to upgrade productivity and quality of products and receive assistance in vocational training.
Pou Chen awaits investment certificate for new footwear factory
IDEA Limited Company (a subsidiary of Pou Chen Group) singed a contract to rent land in Tan Tao Industrial Zone (IZ) and they are waiting for the investment certificate to invest and build a footwear factory in this IZ in Ho Chi Minh City.
On April 28, 2017, IDEA Limited Company signed a contract to rent about 20 hectares of land in Tan Tao IZ with an estimated lease fee of about VND500 billion ($20 million). The land plot will house a footwear plant. The project may be divided into several phases, but in the first phase, IDEA will lease 6.5ha only.
According to a source of VIR, the investor of this footwear factory project is actively finishing the necessary procedures, and if all goes well, the project is expected to receive the investment certificate soon.
"With the aim of stable manufacturing and sustainable development, we hope to create new footwear chain as well as enhance product quality. Thus, to reach this aim, we decided to build a new plant in Tan Tan IZ," Yeo Cheng Wu, representative of Pou Chen Group, said.
Pou Chen Group is a footwear manufacturing giant also responsible for the original equipment manufacturing (OEM) and original design manufacturing (ODM) for numerous famous footwear brands in the world, such as Nike, Adidas, Asics, and New Balance.
Pou Chen Group entered Vietnam in 1994 with the first plant located in the southern province of Dong Nai. By the end of 2016, Pou Chen Group had seven sizable plants located in five cities and provinces in Vietnam, including Ho Chi Minh City, Dong Nai, Tien Giang, Tay Ninh, and Long An. Its total investment in Vietnam has reached more than $1 billion and it has created jobs for more than 200,000 Vietnamese people.
However, in recent years, Pou Chen's Vietnamese workers have gone on strike several times. In particular, on February 27, 2016, about 17,000 workers in Pou Chen's footwear factory in Dong Nai went on strike to protest a new rule they deemed unfair and unreasonable.
Strikers said the company was bleeding them dry with the new regulation, which punishes workers who take off four days or more a year by withholding their year-end bonuses, according to a report by Lao Dong newspaper.
After three days of strike, leaders of Pou Chen's factory in Dong Nai rescinded the new regulation and agreed to pay the strikers' salary for the three days to call them back to work.
Previously, in March 2015, about 90,000 of Pou Chen' workers in Ho Chi Minh City have gone on strike to oppose a new regulation under which they would not be allowed to take a lump-sum social insurance allowance after resigning from the company.
Similarly, in 2011 and 2010, there were also strikes in different cities and provinces of Vietnam due to numerous conflicts between workers and Pou Chen, involving the benefits of both parties.
Mercedes Benz's first authorised dealer in Vietnam reports first-time loss since 2012
To compete with other automobile dealers, Haxaco Group, the first authorised dealer of Mercedes-Benz in Vietnam, had to offer various discount programmes, thus racking up a big loss in the second quarter of 2017.
Haxaco reports first-time loss since 2012
Haxaco (sticker HAX on HoSE) released its financial statement in the second quarter of 2017 with a loss of over VND7 billion ($307,930). This was its first loss since 2012. Haxaco's accumulated profit in the first half of 2017 was about VND19 billion ($835,810), a decrease of 43 per cent compared to the same period last year, as reported by Vnexpress.
As one of three authorised dealers of Mercedes-Benz in Vietnam, Haxaco's business results are a big surprise as Mercedes-Benz's sales in Vietnam significantly increased in the first half.
According to the statistics of the Vietnam Automobile Manufacturers' Association (VAMA), 3,375 units of Mercedes-Benz were sold in Vietnam in the first six months of 2017, an increase of 37 per cent compared to the corresponding period last year.
Leaders of Haxaco said that this loss was due to the growth of sales and administration expenses, as Haxaco offered a variety of promotion programmes to compete other dealers. Besides, Haxaco had to sell some C-class automobiles at a lower price because these automobiles have been in the warehouses for a very long time. This also negatively influenced Haxaco's business results during this period.
With the high sales of Mercedes-Benz in the second quarter of 2017, Haxaco generated nearly VND1.04 trillion ($45.7 million) of net revenue, a growth of 21 per cent compared to the same period last year.
In the first half of 2017, Haxaco reported more than VND1.8 trillion ($79.2 million) of revenue, an increase of 40 per cent in comparison with the corresponding period last year. While other automobile dealers simultaneously conducted discount policies in Vietnam, Haxaco had to offer a wide range of promotions to support customers.
Therefore, both sales and administration expenses doubled compared to the same period last year. These expenses were nearly VND62 billion ($2.7 million) in the first six months of 2017, against the VND30 billion ($1.3 million) last year.
Besides, the number of imported automobiles left unsold in Haxaco's warehouses sharply increased, leading to growing expenses (mostly in interest expenses). In the first six months of 2017, Haxaco took up over VND400 billion ($17.6 million) in short-term loans from commercial banks, thus, its interest expenses have been more than VND14 billion ($615,869), 3.5 times as much as in the corresponding period last year.
According to the financial statement of Haxaco, this short-term borrowing derives from the growth of Mercedes-Benz car storage due to the increasing demand. As of the second quarter of 2017, Haxaco's inventory increased to VND610 billion ($26.8 million), while it was VND390 billion ($17.1 million) at the beginning of the year.
The rising storage of Mercedes-Benz urged Haxaco to sell off the old inventory, leading to the sales of C-class cars at a lower price than usual.
US First Solar resumes long-delayed $1.2 billion project
After years of failing looking for suitable investors to take its place and carry out the $1.2-billion project in Ho Chi Minh City, First Solar (US) has decided to resume the solar panel manufacturing project.
The information has been confirmed by the Ho Chi Minh City Export Processing and Industrial Zones Management Authority (HEPZA).
Late last year, in a conference call with investors and industry analysts to discuss the firm's 2017 operations, chief executive officer Mark Widmar revealed that they could even look to use the plant in Vietnam that was built but has not yet put into operation.
The project was licensed in January 2011 and started construction two months later. At the time, the investor said the facility's $300-million first phase, with a production capacity equivalent to 250 megawatt per year, would start operations in late 2012.
According to plans, the total investment in the project would eventually reach $1.2 billion. It would be the first solar panel manufacturing facility in Vietnam employing advanced thin-membrane technology.
However, just eight months after the construction was kicked-off, the investor announced the decision to postpone the project.
In 2012, First Solar Group announced plans to sell its factory and leave Vietnam. In February 2012, the American company completed the evaluation and approved a set of initiatives, including increasing manufacturing capacity, primarily intended to adjust its previously planned expansions and global manufacturing footprint.
The US energy group reportedly appointed Cushman & Wakefield Vietnam, a real estate consultancy firm, to sell parts or the whole workshop. However, this still cannot be done due to unfinished legal procedures.
SSI's Q2 stockbroking revenue doubles
Saigon Securities Incorporation (stock code SSI) has released its business results for the second quarter and first half of the year, revealing that second-quarter stockbroking revenue doubled year-on-year.
Total revenue in the second quarter stood at VND762.1 billion ($33.52 million), an increase of 9.5 per cent year-on-year, while pre-tax profit was VND402.3 billion ($17.69 million), up 10.3 per cent.
Revenue in the first half was VND1.3 trillion ($57.18 million) and pre-tax profit VND731 billion ($32.15 million), an increase of 47.7 per cent year-on-year.
Consolidated pre-tax-profit for the first half is expected to come in at VND735 billion ($32.33 million), representing 69.5 per cent of the annual profit plan.
Securities services and investment activities again contributed most of the company's revenue.
As at June 30, SSI had total assets of VND15.9 trillion ($695.06 million) and equity of VND8.43 trillion ($370.84 million).
Its market share in the second quarter was 15.35 per cent on the Ho Chi Minh Stock Exchange (HSX) and 13.67 per cent on the Hanoi Stock Exchange (HNX), with the company continuing to be the No. 1 securities company in the country.
Revenue from securities brokerage in the quarter reached VND185.9 billion ($8.17 million), double y-o-y. Outstanding margin loans also grew, reaching an average of VND3.9 trillion ($171.56 million) and up VND270 billion ($11.87 million) compared with the previous quarter. Total revenue from securities services in the second quarter was VND316.1 billion ($13.9 million), up 52 per cent compared to the second quarter of 2016.
Stock investments contributed significantly to total revenue in the quarter, standing at VND328.5 billion ($14.45 million) and accounting for 43 per cent of total revenue.
Revenue from capital resources was VND108.8 billion ($4.78 million) in the second quarter, accounting for 14.27 per cent of total revenue and increasing 27 per cent year-on-year. Revenue from investment banking and other activities reached VND8.8 billion ($387,132).
Based on the positive results in the second quarter, SSI believes it will fulfill its business targets for 2017.
SSI led securities brokerage firms in the first quarter with a market share of 14.12 per cent on HSX and 9.87 per cent on HNX.
Coteccons' 1H revenue just 39% of annual plan
Revenue of VND10.5 trillion ($461.9 million) posted by the Coteccons Construction Joint Stock Company (stock code CTD) in the first half of this year was up 29.5 per cent but represented just 39 per cent of its 2017 plan.
Revenue in the second quarter was VND6.1 trillion ($268.34 million), up 23.6 per cent year-on-year, while after-tax-profit was VND412 billion ($18.12 million), up 16 per cent y-o-y. After-tax-profit in the first half was VND713 billion ($31.36 million), up 20 per cent year-on-year.
Construction contracts were the main source of revenue, with revenue from financial activities of VND85 billion ($3.7 million) being primarily bank interest.
Management expenses increased sharply, however, by 260 per cent, mainly due to a provision reversal while employee expenses and other expenses soared.
Its earnings per share (EPS) at the end of the first half was VND8,799 ($0.38), down sharply from the VND12,090 ($0.53) at the beginning of the year.
As at June 30, Coteccons' inventory stood at over VND1.52 trillion ($66.8 million), an increase of nearly VND300 billion ($13.19 million) since the beginning of the year.
The company also has short-term receivables from customers of VND3.5 trillion ($153.96 million) and provisions of VND249 billion ($10.95 million) for short-term receivables.
It announced revenue in the first quarter of VND4 trillion ($176.2 million), up 27 per cent year-on-year and in line with expectations, according to Deputy General Director Tran Quang Tuan.
Total contracts were valued at VND8.7 trillion ($383.4 million) in the first quarter, including in the second stage of the Ho Tram project, the Paihong factory, A&B Central Square Nha Trang, Dragonbay Ha Long, and Vinhomes Metropolis.
KIDO's 1H revenue up 200%
The KIDO Group Corporation (KDC) has released its consolidated results for the first half of this year, revealing net sales of VND2.9 trillion ($127.6 million), an increase of nearly 200 per cent year-on-year thanks to it acquiring the Vietnam Vegetable Oils Industry Corporation (Vocarimex) and the Tuong An Company (TAC).
Frozen food contributed nearly 30 per cent to total net revenue and packaged food the remaining 70 per cent. Gross profit rose 30 per cent year-on-year.
Pre-tax profit in the first half reached VND446 billion ($19.6 million), or 91 per cent of the full-year target. The main driver was financial income from a revaluation of 24 per cent of its stake in Vocarimex.
KDC completed the acquisition of an additional 27 per cent in Vocarimex in May, raising its holding to 51 per cent and taking its share of the edible oil market to over 35 per cent.
It also successfully completed a 50 per cent investment in the Dabaco Food Processing Co. in the second quarter, expanding its footprint in three key categories: fresh food, frozen food, and processed food.
Formerly the Kinh Do Corporation, KDC was established in 1993 and has grown to become one of the leading consumer product companies in Vietnam. Throughout the past 23 years of growth and development, it has expanded beyond the confectionery category to include ice cream, yogurt, desserts, frozen food, and edible oils.
Its vision is to serve the needs of Vietnamese consumers by supplying daily food products in various brands that enhance lifestyles and meet consumer needs throughout the day.
2017 will mark another key milestone, with its frozen food business expanding into new product segments. By maximizing is existing cold chain, the KIDO Frozen Food JSC (KDF) will begin selling additional products.
Tuong An Vegetable Oil's 1H pre-tax profit up 34%
One of Vietnam's leading vegetable oil producers, the Tuong An Vegetable Oil JSC (TAC), has released its business result for the first half of this year, showing net sales of VND1.97 trillion ($86.6 million), an increase of 4.7 per cent year-on-year.
Gross profit rose 25.5 per cent, largely attributable to a restructuring of its product mix. This led to an increase in its gross profit margin, from 9.1 per cent to 10.9 per cent. Pre-tax profit was VND63 billion ($2.77 million), up 34.2 per cent year-on-year.
A key factor behind the increase in profitability was changing its product strategy to focus on higher margin products. TAC also improved its inventory management by creating greater efficiencies in the sales process.
Apart from restructuring its product portfolio, TAC also reviewed its distribution network during the first half to assess growth potential in each product. This will result in better mapping of product demand and consumer tastes to achieve better sales efficiency.
TAC is to launch new oil products in the second half that are nutritious and healthy to better cater to ongoing increases in demand and needs among consumers. It will also introduce additional packaged products in the third quarter as part of its larger strategy to better utilize its distribution network.
Established in 1977, the TAC brand has been familiar with many generations of Vietnamese over the last 40 years and is one of the largest producers and distributors of edible oils in the country. November 2016 was a key milestone, when the company officially joined the KIDO Group Corporation.
Combined with best practice in management systems, effective marketing, and strong financial capacity it acquired from joining KIDO, it also significantly improved its business activities in the entire value chain, from purchasing and manufacturing to marketing, sales, and distribution.
It strategy for the upcoming period is to concentrate on developing and diversifying its portfolio in value-added products, optimizing supply chains and operational efficiencies, and adopting a business model and brand campaign to remain the leader in Vietnam's cooking oil industry.
Citi launches new debit Mastercard
Citi Vietnam will join ten key Asia-Pacific markets in issuing their customers with the new, contactless Citibank Debit Mastercard, following Citi's global success in launching Mastercard debit cards around the world.
"At Citi, our goal is to deliver best-in-class products and services and to ensure a remarkable banking experience for our clients, wherever they are," said Ms. Natasha Ansell, Vietnam Citi Country Officer. "The new Citibank Debit Mastercard is packed with features, benefits and privileges, including exclusive offers on dining, shopping, travel and lifestyle purchases."
Linked to the bank account of the customer, the Citibank Debit Mastercard performs standard functions such as cash withdrawals and purchase payments. The new card is also contactless-enabled, affording customers the convenience of paying for purchases at millions of merchants in almost 80 countries worldwide.
Debit cardholders will enjoy a suite of new features, including access to Mastercard's highly successful Priceless® Cities program, which provides exclusive travel and lifestyle experiences in more than 45 destinations around the globe.
Citi Vietnam has commenced issuing the new Debit Mastercard to their customers, with all expected to receive the new card soon.
"We have accelerated efforts to transform our model to be simpler, dramatically faster, more scalable and far more digital," said Ms. Ansell. "Mastercard is well respected for its global leadership and role in driving payments innovation, and we are very pleased to continue our work together to make payments simpler, easier, and more secure for our clients."
Citi was one of the first major bank partners of Masterpass, which allows cardholders to pay with any enrolled credit, debit anywhere online or on an app, and use any device, eliminating the need to enter payment and shipping details every time they make a purchase.
"Beyond the convenience of making cash withdrawals and point-of-sale transactions anywhere in the world Mastercard is accepted, Citi customers will have access to new functionalities on their debit cards, from making secure online transactions to contactless mobile payments and more," said Ms. Julienne Loh, Executive Vice President, Global Products and Marketing, Asia Pacific, at Mastercard.
According to Euromonitor, debit card is the fastest growing payment method in Asia-Pacific, representing 58 per cent of card payment volumes at around $6.58 trillion. In 2016, debit transactions grew at a CAGR of 21 per cent, outpacing both credit transactions (18 per cent) and cash (13 per cent). Higher growth in transactions compared to average ticket size further indicates an increasing preference for using debit cards for everyday transactions.
VNA/VNS/VOV/SGT/SGGP/TT/TN/Dantri/VNEVET