New container port helps shorten way to Europe, Americas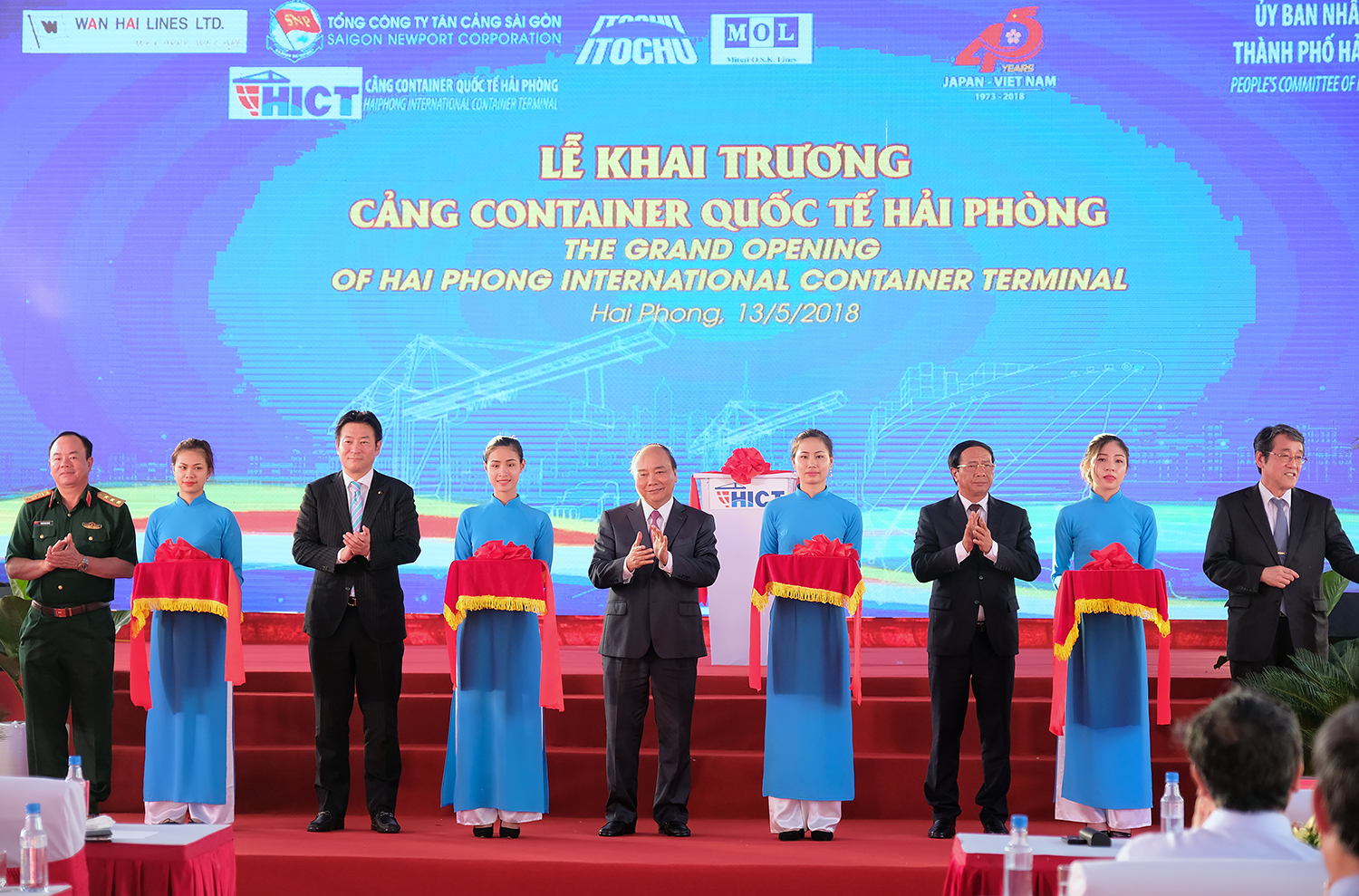 PM Nguyen Xuan Phuc on Sunday attended the grand opening of Hai Phong International Container Terminal, which allows direct shipments to Europe and the Americas.
Present at the ceremony included Japanese Ambassador to Viet Nam Umeda Kunio and representatives of the city local authorities.
The Terminal means exports from North Viet Nam will not have to be transited through other ports before reaching the above markets, thus helping reduce business costs and increase competitiveness of Vietnamese exports.
The Terminal is jointly invested by Sai Gon Newport Corporation (Viet Nam), MITSUI O.S.K Lines and Itochu (Japan) and Wan Hai Lines (Chinese Taipei), in which the Vietnamese corporation holds 51% stake.
Located in Cat Hai district, it is the first deep-water seaport in the Northern region, capable of receiving vessels up to 160,000 DWT.
Construction of the terminal began on May 12, 2016.
Vietjet Air to open Hai Phong-Busan (RoK) direct air route
The low-cost carrier Vietjet Air is finalizing procedures to launch a direct air route between Vietnam's northern port city of Hai Phong to Busan in the Republic of Korea (RoK), reported the Vietnam Investment Review.
Busan port city is one of the biggest economic centres of the RoK with many tourist destinations.
A market survey of Vietjet Air showed that the Hai Phong-Busan route potential is high, thus the opening of an air route between the two localities is necessary to meet the demand in goods transport, trade and travel of people between the two sides.
The air route is also expected to help facilitate socio-economic development of Hai Phong and the whole northeastern coastal region in general.
As one of the important commercial and industrial hub in northern Vietnam, Hai Phong is striving to make tourism a spearhead economic sector and turn itself into one of the nation's key tourism destinations.
According to the municipal People's Committee's action programme on tourism development from 2017–2020 with a vision through 2030, the city hopes to receive 8 million tourists and earn 3.5 trillion VND (154 million USD) with expected annual average growth rates of between 8.2 percent and 8.9 percent.
With a fleet of 56 aircraft, including A320s and A321s, Vietjet Air operates 385 flights each day. The airline has already transported more than 55 million passengers on a network featuring 82 routes in Vietnam and across the region to international destinations such as Thailand, Singapore, the Republic of Korea, Taiwan, Hong Kong, China, Malaysia, Indonesia, Myanmar and Cambodia.
The airline plans to operate more than 120,000 flights and serve over 24.1 million passengers by the end of 2018. Additionally, it will provide services on a total of 100 air routes, including 39 domestic and 61 international airways.
Vietjet to offer promotional tickets from zero Vietnamese dong
The low-cost carrier Vietjet will launch the biggest promotion of the year "Free up your summer with Vietjet" from May 9 to July 31, with millions of super promotional tickets priced only from VND0, during the golden hours from 12:00 to 14:00, on their website www.vietjetair.com.
During the first week of the promotional campaign, Vietjet will present 3 golden days from May 9 to 11 with 2,000,000 promotional tickets.
The promotional fares, excluding VAT, airport fees and other surcharges, will be applied on all domestic and international routes from Vietnam to Seoul, Busan, Daegu (the Republic of Korea)/ Hong Kong/ Kaohsiung, Taipei, Taichung, Tainan (Taiwan - China)/ Singapore/ Bangkok, Phuket, Chiang Mai (Thailand)/ Kuala Lumpur (Malaysia)/ Yangon (Myanmar)/ Phnom Penh, Siem Reap (Cambodia).
The tickets are valid for passengers travelling between August 20 and December 31 this year, excluding public holidays.
The promotional tickets are available during the golden hours from 12:00 to 14:00 at www.vietjetair.com (also compatible with smartphones at https://m.vietjetair.com) or at www.facebook.com/vietjetvietnam (just click the "Booking" tab).
Payment can easily be made with Visa/ MasterCard/ AMEX/ JCB/ KCP/ or any ATM card issued by 34 Vietnamese banks that have registered with internet banking.
Aiming to be a "Consumer Airline", Vietjet is continuously opening new routes, adding more aircraft, investing in modern technology and offering more added-on products and services to serve all of the demands of customers.
Vietnam, UK seek stronger partnership in customs
Director of the General Department of Vietnam Customs Nguyen Van Can and UK Ambassador to Vietnam Giles Lever have agreed to strengthen the Vietnam-UK customs partnership through the signing of a letter of intent on possibilities of cooperation, heading to a governmental-level deal in the field.
The agreement was reached at a meeting of Can and the UK diplomat as well as UK customs representatives in Asia in Hanoi in early May, according to the General Department of Vietnam Customs.
The deal is expected to focus on affiliation in facilitating trade, preventing smuggling and illegally transportation of drugs, wine, cigarette, banned goods, wild animals, as well as in developing human resources, providing technical support, and sharing information and experience.
The two sides concurred to implement a project to assist Vietnam Customs.
Steve Wood, UK customs official for Asia region, said that the project will provide Vietnam with information, experience, human resources training, as well as evaluation on world criminal trends related to land and sea borders, aviation and in Southeast Asia and Asia-Pacific region that relate to Vietnam, while introducing new measures and equipment serving the detection and fight of customs-related crimes.
At the meeting, the two sides also discussed preparations for a UK visit of the General Department of Vietnam Customs' Director in August, during which both sides will officially exchange ideas on the possibility of signing a cooperation deal.
The UK ambassador also suggested cooperation with Vietnam in implementing a UK's programme to facilitate global trade.
Licogi 16 aims for 110 million USD in consolidated revenue in 2018
Licogi 16 Joint Stock Company (Licogi 16) aims to earn 2.5 trillion VND (110 million USD) in consolidated revenue and roughly 1.96 trillion VND (86.2 million USD) in stand-alone revenue in 2018, up 65 percent and 69 percent year on year, respectively.
This year, it expects to achieve 123 billion VND (5.4 million USD) in consolidated after-tax profit and 73 billion VND (3.2 million USD) in stand-alone after-tax profit, year-on-year increases of 58 percent and 90 percent, respectively.
The company's earnings will come from construction activities in a number of projects across the country, including Bac Giang – Lang Son and Ha Long – Van Don expressways, BOO Phu Ninh water treatment plant, Can Tho water treatment plant, Binh Tien Bridge and Road project, Da Nang - Quang Ngai expressway, Hiep Thanh and Nam Anh residential buildings and several electricity projects.
In addition, it will also collect incomes from 50-hectare and 27-hectare urban area projects in Long Tan commune, Nhon Trach district of southern Dong Nai province alongside the 3.4-hectare Nam Phuong City shopping centre.
The firm will offer a cash dividend of 10 percent, up about 3 percent from 2017.
FDI firms prefer commercial dispute arbitration
As many as 40 percent of foreign direct investment (FDI) enterprises choose to use commercial arbitration in cases of disputes, rather than going to court, said Phan Trong Dat, Deputy Secretary General of the Vietnam International Arbitration Centre (VIAC).
Speaking at a seminar, entitled, "Commercial Arbitration – Increasing Confidence in Foreign Direct Investment," held in Hanoi late last week, Dat said the FDI firms chose commercial arbitration for resolving disputes because of its effectiveness, and due to its helping them save time and costs. Meanwhile, court proceedings to settle disputes failed to meet FDI requirements when many of the judgments were unfair, causing lengthy disputes and considerable expenses for enterprises.
Statistics showed that some 24 percent of disputes were resolved at VIAC and involved FDI as one of the parties. Of these, 32 percent were in the purchasing of goods, 24 percent in construction and 20 percent in leasing.
"More than a half of commercial arbitration cases at VIAC are resolved in foreign languages (mainly English)," he said, adding that the rate of disputes in the country has been on the rise in the last three years.
Vu Anh Duong, VIAC's secretary general, said Vietnam has been considered one of the countries with high and stable economic growth in the region and the world. One of the reasons for the significant momentum for this growth was FDI activities in Vietnam.
Pham Manh Dung, VIAC's arbitrator and a lawyer from Rajah and Tann LCT Lawyers Company Limited, said that by the end of 2017, Vietnam had 24,700 FDI projects with total registered capital of 318.7 billion USD, accounting for 25 percent of the total investment in the country and more than half of the nation's total industrial production value.
Dung noted that FDI has had a large impact on Vietnam's integration into the world economy.
"This has been an important factor for the country's infrastructure development and in completing legal systems to develop market mechanisms that are suitable with international norms," he said.
VIAC has striven to become a trusted address to resolve disputes, thus helping ensure the rights and benefits of investors seeking to invest in Vietnam.
Commercial arbitration in Vietnam has been increasingly developed to become a useful tool for foreign investors in the country.
Disputes in investment activities have many mechanisms for resolving conflicts, such as courts, commercial arbitration and foreign affairs. However, the courts have not been an attractive solution, while resolving disputes through foreign affair mechanisms have been used in certain cases.
Commercial arbitration and investment arbitration have been mostly preferred.
The dispute resolving mechanisms of commercial arbitration also faced challenges, said Fan Mingchao, Regional Director of Arbitration and ADR for North Asia at the International Chamber of Commerce.
He said the majority of challenges were concerning competitiveness, as the scale of disputes become larger and more complicated, resulting in prolonged time, which reduces its effectiveness.
The issues relating to security and transparency of arbitration procedures have also been a problem.
Security is a core feature of international arbitration, but transparency requirements are also increasingly high. In order to address this issue, agencies have approved and joined the transparency framework of the United Nations, he said.
The benefit has also been seen in commercial arbitration. He said that governments should build a transparent arbitration procedure to control the quality of arbitration decisions.
The seminar focused on discussing the necessity and efficiency of commercial arbitration methods as one of the most effective ways of resolving disputes related to FDI enterprises.
The seminar is divided into three sessions, with discussions on topics, such as: An update on the situation of commercial arbitration in Vietnam and around the world; Commercial Arbitration - A new element worth noting to attract foreign direct investment; Commercial arbitrage as a useful tool for controlling business risks.
The event is considered to be an important forum for lawyers and leading experts to share knowledge with enterprises and help Vietnamese enterprises to better understand and more effectively use commercial arbitration methods. Commercial arbitration is an effective tool in preserving capital inflows from legal risks in business investments.
More than 100 delegates from FDI enterprises, counterpart enterprises, potential partners with FDI enterprises, many prestigious lawyers, and representatives from State management agencies attended the seminar.
Reference exchange rate down at week's beginning
The State Bank of Vietnam set the daily reference exchange rate on May 14 at 22,550 VND/USD, down 10 VND from the last working day of previous week (May 11).
With the current trading band of +/-3 percent, the ceiling rate applied to commercial banks during the day is 23,226 VND/USD and the floor rate 21,874 VND/USD.
The opening hour rates at many commercial banks stayed unchanged from the end of last week.
Vietcombank and BIDV listed their buying rate at 22,735 VND/USD and the selling rate at 22,805 VND/USD, the same as on May 11.
Techcombank also maintained the same rates as on May 11 at 22,715 VND/USD (buying) and 22,815 VND/USD (selling).
During the week from May 7-11, the daily reference exchange rate followed a rising trend from Monday to Thursday, gaining accumulated 24 VND/USD before dropping 18 VND/USD on Friday.
However, the rates at major commercial banks remained stable with only slight fluctuations throughout the week.
Vietcombank and BIDV kept both rates unchanged at 22,735 VND/USD (buying) and 22,805 VND/USD (selling) since the beginning of the week (May 7).
Firms buy goods from distressed farmers
Korean supermarket chain Lotte Mart has bought more than 10 tonnes of pumpkins and five tonnes of watermelons from distressed farmers facing declining prices because of a bumper crop in Dak Lak and Quang Nam provinces.
Lotte Mart plans to increase the purchase volume to 50 tonnes of pumpkins.
To help farmers, the supermarket has paid them more than the price offered by traders.
Big C supermarkets have also bought pumpkins from farmers in Dak Lak District's Cu Yang Commune.
Last Friday, the supermarket began selling pumpkins bought from farmers in Cu Yang Commune at VND4,900 per kg at its stores in the south.
The supermarket is expected to buy 60 tonnes of pumpkins within a week.
Nguyen Manh Hung, chairman of the Cu Yang People's Committee, said Cu Yang commune in Eakar District was struggling the most.
Ethnic minority groups account for 42 per cent of the commune's population. Agriculture is the main source of farmers' incomes.
The commune has 3,200ha of farmland, with rice, maize, soybean and pumpkin the main crops.
This year, the farmers in the commune grew pumpkin on about 110ha, with productivity estimated at 20 tonnes per hectare.
The price fell to VND800 to VND1,500 per kg, but farmers were still unable to sell their product.
Hung attributed the situation to the shortage of companies specialising in purchasing farm produce in the area.
In Quang Nam Province, watermelon prices fell from VND8,000 per kg earlier this year to VND1,000-VND1,500 per kg, but demand plunged, leaving farmers with huge unsold stocks.
VN firms urged to tap Arab market
The affluent Middle East is a promising market for Vietnamese companies, the Viet Nam Chamber of Commerce and Industry has said.
Speaking at the Viet Nam-Middle East Business Forum held in HCM City yesterday, Nguyen The Hung, deputy director of the VCCI's HCM City office, said: "The Middle East has high demand for farm produce, seafood, garment and textile products, footwear, and wood products from Viet Nam."
Trade between Viet Nam and the Middle East had gone up sharply in recent years, doubling from 2011 to US$12.8 billion last year, he said.
According to Le Thai Hoa, deputy head of the Ministry of Industry and Trade's Asia-Africa Market Department, Viet Nam enjoys a trade surplus with the Middle East, which consists of 16 countries and has more than 300 million people.
The United Arab Emirates is Viet Nam's largest partner in the region, with their trade increasing from $4.46 billion in 2013 to $5.6 billion last year.
With a per capita GDP of over $60,000 and a large number of immigrants and tourists, the UAE has large demand for various products.
"Vietnamese goods such as seafood, garment and textile, footwear, farm produce, foodstuff and household appliances have established a firm foothold in the market," he said.
But despite the increase in trade, Viet Nam's exports to the Middle East still account for a very small portion of the region's total imports.
The forum was held to further promote economic, trade and investment ties between the two sides, Hung said.
"Viet Nam hopes to attract more investment from the Middle East in the fields of renewable energy, hospitality, infrastructure, ports, aviation, property, and agriculture."
Obaid al Dhaheri, the UAE ambassador to Viet Nam, said as the hub of the Middle East and gateway to Europe and Africa, his country could serve as an entry point to the global market for Vietnamese companies.
In turn, "Viet Nam is the gateway to Southeast Asia for UAE firms," he said.
"Thus, more opportunities to enhance co-operation between Viet Nam and UAE are available."
When doing business with the region, enterprises must always keep a close eye on its unstable political situation, Hoa warned.
They must also understand the regulations of each market and Muslim cultural factors such as not consuming alcohol and requiring food and foodstuffs to have Halal certification, he said.
"Exporters of agro-forestry and fisheries products should focus on improving hygiene and food safety because the market is increasingly adopting trade barriers."
Sharing his experience in doing business with the Middle East, Do Ha Nam, deputy chairman of the Viet Nam Coffee and Cocoa Association and chairman of Intimex Group, which has exported to Dubai for nearly 20 years, said the market had huge demand for Vietnamese pepper, cashew, coffee, and seafood.
"To penetrate the market, enterprises should participate in trade fairs in Dubai, where they will meet potential customers. Finding a right business partner is very important," he said.
Also at the forum, Relam Investment L.L.C, a partnership between Dubai-based Vault Investment L.L.C and Viet Nam's MIG Holdings, announced the establishment of Trade-Hub (T-Hub), a full-fledged trading and logistics platform, in Viet Nam to help Vietnamese firms promote their exports in Middle East and other markets.
The forum was organised by the VCCI in collaboration with MIG Holdings and Relam Investment.
Pepper output increases sharply but prices fall
Viet Nam's output and export of pepper increased sharply last year, but their prices and thus turnover from exports fell, according to the industry association
The Viet Nam Pepper Association (VPA) and industry-related authorities attended a meeting on Friday in HCM City to review last year's performance.
According to the Ministry of Agriculture and Rural Development and the General Statistic Office, Viet Nam has around 150,000 hectares under pepper and output last year was 240,000 tonnes, or 48 per cent of global production.
According to the VPA there was a decrease in the use of pesticides last year since farmers are more aware these days of better farming techniques.
Prices have been highly volatile: the price of black pepper for instance declined from VND133,000 per kilogramme in January to VND73,000 in December.
The General Department of Vietnam Customs said 215,000 tonnes of the spice were exported for US$1.1 billion, respectively up 20 per cent and down 22 per cent.
The reasons for the falling prices include climate change, a massive spike in the area under pepper, farmers' inexperience, which have contributed to rising outputs but with poor quality.
In the first quarter of this year prices were around 30 per cent lower than a year ago, the VPA said.
Viet Nam's exports this year are expected to be comparable to that of last year since the industry will continue to face all the current challenges such as climate change and diseases.
VPA plans to work more closely with farmers and businesses to help them comply with regulations and standards for pepper production and export and provide market information to help them make informed decisions.
The Western Highlands Agriculture and Forestry Science Institute said they were researching into better pepper strains capable of withstanding diseases.
Willem Scato van Walt Meijer, general director of Nedspice Processing Viet Nam Ltd., which has been operating in Binh Phuoc Province for the last five years, said quality control for exports and working closely with farmers were the keys to resolving the problems.
"We have a network of 1,600 farmers and trained them very carefully, and … do 100 per cent tracking and tracing of all our farms, which allows us to help certain farmers improve, monitor the effectiveness of each farmer, and reward outstanding farmers."
Minister of Agriculture and Rural Development Nguyen Xuan Cuong had said at a meeting in January that the rapid increase in land under pepper should be addressed quickly and the pepper farming land should be reduced.
Ben Tre seeks more investors in agriculture
Ben Tre Province plans to carry out more public information initiatives and other activities to encourage investment in agriculture, according to Nguyen Huu Lap, the deputy chairman of the province's People's Committee.
The province plans to streamline administrative procedures and provide more assistance to projects after they have received approval. Departments have also been urged to provide help with construction procedures and the purchase of certificates.
In addition, more market information will be provided to businesses to help them make decisions about entering new markets and investing in modern technologies.
Ben Tre has provided VND32.6 billion (US$1.4 million) of funds to six agricultural businesses.
Every year, around 300 provincial businesses take part in trade promotion events.
Of the 3,940 businesses in Ben Tre Province; 253 are in the agricultural sector. The province aims to have 1,500 more new companies by 2020.
Thai firms eye business opportunities
More than 210 Thai enterprises are showcasing their products and services at the Top Thai Brands expo which opened on May 10 in HCM City.
The four-day exhibition offers exceptional opportunities to explore the extensive range of internationally-recognised Thai products and services and discover the business potential in various sectors such as automobile and motorcycle parts and accessories, beauty and healthcare products, food and beverages, and fashion.
The fair also features services like education, tourism, franchise businesses, and food services.
Viet Nam has seen strong business expansion and investment by Thai firms in the last few years, Nguyen Van Nga, deputy director of the Ministry of Industry and Trade's Agency for Southern Affairs, said.
Last year Thailand was its largest trade partner among ASEAN members, she said.
Last year bilateral trade topped US$15.11 billion, accounting for 30.5 per cent of Viet Nam's trade within ASEAN.
The expo has attracted many major Thai brands and firms looking for opportunities to expand their business and franchise, she said.
Ureerat Ratanaprukse, the Thai consul general in HCM City, said Thai investment in just the last 10 months was $9.3 billion.
"This reflects the confidence of the Thai private sector in Viet Nam's vibrant economy."
According to her, the event not only creates business opportunities for the Thai private sector but also market access for Vietnamese to top quality products and services, thus benefiting both Thai and Vietnamese entrepreneurs.
Top Thai Brands 2018 is expected to contribute greatly to achieving the bilateral trade target of $20 billion by 2020 as agreed by the two countries, she added.
The fair, on at the Saigon Exhibition and Convention Centre in District 7, is being organised by the Thai Trade Centre in HCM City in collaboration with the Viet Nam National Trade Fair & Advertising Company.
SHB profit up 64 per cent in Q1
Sai Gon-Ha Noi Joint Stock Commercial Bank (SHB) reported post-tax profit of VND402 billion (US$17.6 million) in the first quarter of this year, up 64 per cent year-on-year.
However, profit margin remained modest with a return-on-equity (ROE) of 2.6 per cent. Earnings per share was approximately VND332.
The main reason for this quarter's profit growth came from a drop in provisioning expenses and a 16.1 per cent increase in net profit, which touched over VND1 trillion.
Revenue from the service activities of the bank decreased 24.6 per cent, reaching approximately VND58.4 billion, the lowest level in the past two years.
Revenue from payment activities accounted for the largest portion of total revenue, touching nearly VND42 billion.
Derivatives market records surge in transaction value
The derivatives market proved its attractiveness when the value of its transactions rose threefold in April as the stock market posted a downward trend, reported Saigon Securities Inc (SSI).
An SSI financial and monetary report this week showed that since the beginning of 2018, the stock market experienced two downward periods in February and April when the liquidity of derivatives grew strongly.
The value of transactions in the derivatives market increased three times from the average of over VND2 trillion (US$87.7 million) in the beginning of April to VND6 trillion at the end of the month. It peaked at VND7.1 trillion on May 3, approximating the total transaction value of VND7.3 trillion in the stock market.
The derivatives market attracted a considerable amount of capital from the stock market, mainly from domestic investors.
SSI said Viet Nam's securities market witnessed a series of widespread nosedives when the number of codes with declines doubled those with increases. All groups of key shares fell sharply, causing a psychological pressure on the overall market.
The benchmark VN Index surged in the first quarter of 2018 to set a record of 1,204.33 points on April 9, up by 220 points or 22.4 per cent from the end of last year and 49 per cent in six months.
However, the market reported continuous plunge since then when the VN Index dropped to 1,050.26 points in late April, losing 154 points or 12.8 per cent of the new record. The total market capitalisation in HCM Stock Exchange, Ha Noi Stock Exchange and the Unlisted Public Company Market decreased by $20 billion to combined $173 billion.
Foreign investors were net buyers last month, which was attributable to a tumble in the global stock market in February, changes in global interest rates when the administration of US President Donald Trump took drastic actions to protect US businesses, possibility of an interest rate hike by FED sooner than expected and risk of a widespread trade war.
That more large-cap stocks carried out initial public offerings and were listed in the market might have also led to foreign funds' restructuring of their investment items, according to SSI.
Southeast Asia's e-commerce platform raises new funding round
iPrice Group, Southeast Asia's product discovery and price comparison platform, raised a new round of funding from messaging app Line's venture capital arm, Line Ventures.
Its existing backers, including Cento Ventures and Venturra, also took part in this round, the company announced.
The e-commerce website refused to disclose the funding value when contacted by Việt Nam News, but it is estimated at some US$4 million, according to technology website Tech Crunch's source.
iPrice raised $4 million Series A funding in late 2016. Since then, more than 50 million online shoppers have visited its website, which has expanded its product catalogue from few dozens of millions to over 500 million SKUs (stock keeping units) across seven markets, including Malaysia, Singapore, Indonesia, the Philippines, Thailand, Việt Nam and Hong Kong.
"iPrice, which is driving the explosive growth of e-commerce in Southeast Asia, has the most promising team with the right talents, technology and operational excellence. In turn, they [iPrice] will become the first destination in the online shopping journey in Southeast Asia," said June Cha, general manager of Line Ventures.
iPrice has set up strategic B2B (business-to-business) partnerships with some large media groups and brands, such as Mediacorp, Thairath and Samsung, by offering them tailored affiliate solutions.
Last year, it introduced an insightful report on the development of e-commerce in Southeast Asia.
More than 1,000 co-operatives to join trade fair
More than 1,000 co-operatives from 63 provinces and cities nationwide will take part in a trade promotion fair for co-operatives, slated to be held at Thong Nhat Park in Ha Noi from May 18-20.
They will showcase farm produce, seafood, fishery, industrial and service goods besides fine arts and handicrafts at nearly 400 booths, organisers said at a press conference to introduce the fair last week.
The forthcoming event will also attract the participation of 40 big businesses and about 100 delegates who are clients, partners and cooperatives from many countries and territories around the world such as South Korea, Singapore and Taiwan.
Nguyen Ngoc Bao, chairman of the Viet Nam Cooperative Alliance, described the fair as a good chance for Vietnamese cooperatives to advertise their products and services to domestic consumers and exchange business opportunities with foreign cooperatives and businesses.
Oil firms pile up losses, shares take beating
The first quarter of this year saw the Petroleum Equipment Assembly & Metal Structure Joint Stock Company (PXS)'s revenues plummet to a mere VNĐ18.5 billion (US$815,000), 94.4 per cent down year-on-year.
It had been VNĐ343.6 billion in the comparable period last year.
Gross profit was down 94 per cent to VNĐ2.85 billion, and the company ended VNĐ20.1 billion in the red.
Another oil company, Petrovietnam Drilling and Well Services Joint Stock Company (PV Drilling), reported a gross loss of VNĐ201 billion.
The Drilling Mud Joint Stock Company (DMC) reported a loss of VNĐ12.8 billion.
Market observers said the huge losses run up by the companies sent the prices of their shares plunging on the stock market.
PXS has fallen by 41.1 per cent to VNĐ6,190.
PV Drilling is down 36 per cent to VNĐ14,950.
Petrovietnam –Nghệ An Investment & Trading Joint Stock Company shares have fallen by 43 per cent to current VNĐ800 as compared with the price recorded in sessions in early year.
While several other oil companies like PXT, PSE, PCR, PPY, PBP and PSD did not report losses, their profits were sharply down.
Following their huge losses many of the oil companies have been placed under the Government's special control, with some even being on the brink of having to delist their shares because their accumulated losses exceed their charter capital.
Petrovietnam –Nghệ An, for instance, saw its accumulated losses exceed its capital as of December 31 last year.
According to current legal provisions, the company would have to delist.
To improve the situation, many of the companies have outlined new plans with measures like restructuring, selling of stakes and recovery of debts.
But analysts said it would be not easy for them to improve their situation because they depend heavily on global oil prices, which show no signs of recovery.
Banks rejig deposit interest rate structure
Many banks have recently reduced deposit interest rates by 0.2-0.4 percentage points.
On March 30 VPBank cut its rates for deposits of less than six months and 12-36 months by 0.2 percentage points.
It also reduced the rates by 0.3 and 0.4 percentage points for 6-7 months and 8-11 months.
VIB cut deposit interest rates twice in March and now its rates for 1-3 month deposits are down by 0.3-0.5 percentage points and for more than six months by 0.2-0.4 percentage points.
Military Bank has reduced the rates for short-term deposits by 0.1-0.2 percentage points.
The rate cutting has been attributed to a credit slowdown and lenders' excellent liquidity.
But a closer look shows the reason lies elsewhere.
Some banks have reduced interest rates on short-term deposits but hiked the rates on long-term deposits to even up to 8.7 per cent.
This suggests that they have not cut interest rates because of plentiful liquidity but due to their rejigging of deposit terms.
The State Bank of Việt Nam had, last December, issued a circular reducing the ratio of short-term deposits used for funding medium- and long-term loans from 50 per cent to 45 per cent this year and 40 per cent next year.
Thus, to meet this requirement, banks need to increase mobilisation of long-term deposits.
Meanwhile, growth in short-term loans has been low while medium- and long-term loans are increasing quickly.
The National Financial Supervisory Committee reported that in the first quarter of this year long-term credit grew by 4.3 per cent compared to only 2.6 per cent in the case of short-terms loans.
The ratio of medium- and long-term loans to total outstanding loans increased from 52.8 per cent late last year to 53.2 per cent now.
While for obvious reasons banks desire a high ratio of long- and medium-term deposits, in reality 90 per cent of their deposits are short-term.
Meanwhile, 60-70 per cent of their loans are for long terms, especially real estate-related credit.
Analysts said though the banking sector has been making efforts to reduce the ratio of short-term deposits used for funding long- and medium-term loans following the SBV's diktat, they are not making much headway. Long- and medium-term loans still make up 53 per cent of total outstanding loans as against the 15 per cent long- and medium-term deposits they have mobilised.
Big companies raise profile of OTC market
Recently many sector-leading companies and others with excellent growth potential have seen their shares trade on the over-the-counter (OTC) exchange.
They include Techcombank, Cenland and Hải Phát Invest.
Their presence has significantly raised the profile of the OTC market.
Late last month Techcombank successfully sold more than 164 million shares to foreign institutional investors at a price of VNĐ128,000.
The deal helped raise VNĐ21 trillion (US$922 million) and valued the lender at $6.5 billion.
In the first quarter of this year Techcombank shares have been averaging between VNĐ95,000 and VNĐ100,000 at free transactions. On the OTC, they have been traded at VNĐ113,000-120,000.
Cenland is considered to be the first distributor of real estate products in Việt Nam. The company has already launched an initial public offering of its shares besides selling stakes to Dragon Capital and Vina Capital.
According to Dealstreetasia, Vinacapital paid $10 million for a 12 per cent stake while Dragon Capital owns 13 per cent of the company.
Cenland's shares are traded on the OTC at around VNĐ50,000.
Also involved in the real estate sector, the Hải Phát Invest Joint Stock Company has legal capital of VNĐ1.5 trillion and sold a 15 per cent stake to Dragon Capital last year.
Its shares are traded on the OTC at around VNĐ30,000.
Last week the OTC market became hotter after information about the listing date of Vinhome, a subsidiary of Vingroup, was released.
Many investors are eagerly awaiting the trading of Vinhomes shares on the OTC market.
Vingroup has announced that Vinhomes and another member company of the group have signed a deal with Singapore's sovereign wealth fund, GIC Private Limited.
Under the agreement, GIC will invest US$1.3 billion in two forms: buy Vinhomes shares and provide a debt instrument to Vinhomes (such as loans) to implement its projects. Credit Suisse (Singapore) Limited acted as the consultant for the deal.
Market observers pointed out that the situation on the OTC is in direct contrast to the gloom on the stock markets.
Lazada delivers a damaged-battery laptop, not support client to return or exchange
Lazada delivered a laptop with damaged battery and keyboard and has been delaying refund or exchange for a month now.
Pham Hai Binh (Giap Bat ward, Hoang Mai district, Hanoi) told VIR that he bought a Dell Latitude E6410 laptop on Lazada in early April under the order ID 200613023746147. He spent VND3.89 million ($171.4) on this item, which is VND1 million ($44) cheaper than the selling price in other stores.
However, when he received the laptop, after short use, he realised that the keyboard was stuck and cannot type while the battery has been almost completely dead. A full charge could power the laptop for only 15 minutes and the machine would be very hot throughout the time.
Binh immediately contacted the customer department of Lazada to ask for a refund or exchange, but was not supported, although the website promises to: "Return or exchange items easily within 14 days, even if you simply do not like the product."
He has tried to return the item in two ways, by contacting Lazada to send an employee to take the laptop and to send it by post. However, Lazada did not send anybody to take the item and did not send him their postal address for delivery to send it via post.
Meanwhile, Lazada's warehouse is located in Bac Ninh province, 30 kilometres from Hanoi.
"I asked for a refund or exchange nearly a month ago. I talked to them more than ten times by chatting or calling but I have only been told to "Please wait for 48 hours"—and nobody contacted me since then. Now I know this service (return/exchange services) does not work and 48-hour reply is a scam. Are there any other ways to get a refund or an exchange?"
The case is not good at a time when Lazada is celebrating its six years' anniversary in Vietnam.
Looking on the website of Lazada, it can be seen that information on numerous items is very ambiguous, as customers cannot know if they are new or used and how long the warranty period is. There are some comments at the bottom of the website, but the cheap prices draw most customers' attention.
Thus, the Vietnam Competition Authority should quickly finish its on-going investigations and announce the conclusions so that customers can be in the clear about what they face with Lazada in order to ensure fairness and transparency in online shopping.
The number of complaints making it to news should be a wake up call for Lazada to radically re-invent its business practices, as well as improve the quality of goods and services on its platform if they want to operate in Vietnam for a long time.
Japanese air-conditioning giant Daikin Industries will open its first production base in Vietnam this Friday (May 18), marking its newest step to boost presence in the country.
Located in the northern province of Hung Yen, the $100-million factory has a capacity of 500,000 units a year, which is planned to increase to one million units by 2020, to cash in on the growing demand for residential-use air conditioners in the country, which is predicted to rise to 40 per cent (market penetration) by 2020 from the current 22 per cent.
According to Ly Thi Phuong Trang, president of Daikin Air Conditioning Vietnam JSC, the Asia-Pacific region is among Daikin's most important investment destinations in the world. In Vietnam, residential-use air conditioner sales were 2.3 million units in 2015 and are forecast to climb to four million units in 2020. Residential-use air conditioners rank fifth in long-lasting consumer products in the country, just behind automobiles, TVs, refrigerators, and washing machines.
Over the past few years, Daikin has been importing air conditioners to Vietnam, mainly from its subsidiary in Thailand. The Thai production facilities have been operating at full capacity since the third quarter of 2015 due to growing demand from Vietnam and other markets. Also, supply have lately failed to keep pace with demand.
With Daikin's move in, competition in the local market is expected to heat up. Other market leaders are now Panasonic, Samsung, Gree, LG, Midea, Mitsubishi, Sharp, Toshiba, and Electrolux.
Currently, Daikin Industries has operations in Japan, China, Australia, India, Southeast Asia, Europe, North America, and South America.
Paper factory's investment certificate to be revoked
The People's Committee in central Quang Ngai Province has asked the provincial Department of Planning and Investment to revoke the investment certificate of Tan Mai Pulp and Paper Factory.
The committee has requested the department to issue a written termination of investment in accordance with the provisions of the 2014 Investment Law.
The decision was taken after the factory failed to operate in time.
Deputy director of the factory Le Quang Phuc said thousands of tonnes of machinery and equipment had been abandoned and exposed to sunlight for five years because the factory had not operated.
The factory had rented nine workers to maintain and protect the machinery and equipment, he said.
The project was granted an investment certificate in March 2009 and was scheduled for completion in 2011. Construction kicked off in July 2010 but had to be suspended in 2012.
The investor's identity has not been disclosed.
The factory, which was expected to be the largest project in Vietnam's paper sector, was designed to produce 130,000 tonnes of pulp and 200,000 tonnes of paper per year. The initial investment was VNĐ1.95 trillion (US$85.43 million), of which 30 per cent came from the investor and the remainder was from loans. After an adjustment of five times, the investment capital was increased to more than VNĐ5 trillion.
AEON MALL Haiphong Le Chan to open in 2020
AEON MALL's sixth commercial centre in Vietnam, AEON MALL Haiphong Le Chan, started construction on May 13, 2018. The facility is expected to be put into operation in 2020.
Yasutsugu Iwamura, general director of AEON MALL Vietnam, told VIR that the project is estimated to cost $190 million.This will be AEON MALL's sixth mall in Vietnam and third in the north. The company is deepening its footprint as a Life Design Developer creating a life for the future.
When put into operation, AEON MALL Haiphong Le Chan is expected to attract more than 13 million customers per year from Haiphong city and neighboring areas such as Quang Ninh, Hai Duong, and Thai Binh.
This will not only be an ideal place for shopping but also a multi-functional complex which will create an exciting environment for social and cultural exchange for customers at all ages with many integrated entertainment and educational facilities.
In addition, with the commencement of Nguyen Van Linh Overpass under the Ho Sen-Cau Rao 2 project, AEON MALL Haiphong Le Chan will play an important role in improving the infrastructure of the area, contributing to the new look of Le Chan district and catering to the city's need for comprehensive and synchronised urbanisation.
AEON MALL Haiphong Le Chan will follow the consistent design style of environment-friendly space, large parking area, and the philosophy of innovating customer shopping experience with a wide range of business categories, convenient facilities, and exciting entertainment.
Haiphong is the largest international gateway port city in North Vietnam, while it is also the economic, industrial, cultural, medical, educational, scientific, commercial, and technological center of the Northern coastal region.
Over the past years, the city has made remarkable progress in terms of infrastructure, with projects like the Hanoi-Haiphong highway, Lach Huyen International Port, as well as frequently invested and expanded industrial parks (VSIP, Trang Due, Deep C and South Dinh Vu), and as a result, the city has become the leading foreign and domestic investment attraction in Vietnam.
Le Chan district is driven by Haiphong to develop in an open direction with a series of urban renovation and development, infrastructure, and new housing projects.
Nippon Sheet Glass to restart idle thin glass float factory in Vietnam
Japanese glass producer Nippon Sheet Glass (NSG) will pump part of a $365 million investment into upgrading and restarting a currently dormant thin glass float factory in Vietnam, according to the company website.
It is part of the expansion of its production capacity of online TCO (transparent conductive oxide) coated glass to support the growing solar market. Accordingly, the remainder of the $365 million will be used to develop a new glass production facility in the US over the next three years.
According to newswire Nikkei Asian Review, the plant in Vietnam is scheduled to reopen as soon as mid-2019. Meanwhile, the operations at the new US factory will start in the second half of the 2020 fiscal year. A site has not yet been chosen, but is expected to be near major customer First Solar's new plant in the state of Ohio.
Plans call for raising capacity by about 30 per cent for a special glass coated in a transparent conductive film that forms the topmost layer of thin-film solar panels. The glass can also be used for other purposes like construction.
In order to realise this target, Nippon Sheet Glass will sign a long-term supply agreement with First Solar, the world's leading provider of comprehensive photovoltaic (PV) solar systems with holding about 5 per cent of the global solar panel market and rapidly rising output in the US and Asian countries like Malaysia. The completed panels are likely to be used for projects like massive solar power plants in the US and Asia.
Resuming the operations of Nippon Sheet Glass' plant in the southern province of Ba Ria-Vung Tau is considered a motivation for accelerating the construction of the unfinished segment of the First Solar project in Vietnam.
In January 2018, First Solar Vietnam held a career day at Binh Duong's Mira Hotel to support the recruitment of associates across the company's operations. The company will be developing local talent in roles that include manufacturing operators, quality engineers, supplier quality engineers, EHS engineers, shift managers, IT staff, and all manner of administrative and support roles—bringing First Solar's total number of associates to over 950 in the nation.
First Solar has re-affirmed its commitment to Vietnam by injecting an additional $360 million into the construction of a second 1.2GW high-tech factory at South East Industrial Zone in Ho Chi Minh City, bringing the total investment to $830 million.
"First Solar Vietnam is looking forward to gearing up and teaming up for 2018," said Chan See Chong, First Solar Vietnam's managing director.
Regarding the Nippon Sheet Glass plant, previously, in June 2014, the company took the $123-million thin glass float factory into operation. The factory was operated by wholly-owned subsidiary NSG Vietnam Glass Industries Limited (VGI) in Ba Ria-Vung Tau's My Xuan A Industrial Park.
However, two years later, the firm had to suspend the factory. According to the release posted on the company's website, this was an exit from loss-making businesses, "thus minimising losses, aiming to swiftly eliminate obstacles to a further recovery in Nippon Sheet Glass' performance."
Vietnam retail sector is undergoing a dramatic transformation and evolution
Vietnam's retail sector is undergoing a dramatic transformation and evolution, according to Mr. Troy Griffiths, Deputy Managing Director of Savills Vietnam. He made this statement at the workshop "Next Generation Retail – Embracing Design for Future Opportunities" which was held by Savills Vietnam on May 10 in Hanoi.
Mr. Troy pointed out that in the past, this type of contemporary retail was very rare.
However, a series of new products now are appearing on the market and many shopping centers that have modern designs are sprouting up. Retail is changing everyday, and this also has a big impact on consumer behavior.
"In the future, we will have the chance to witness many new retail models with modern facilities that are entertaining and creative," he added. "In addition, the e-commerce market in Vietnam is growing rapidly with the development of smart technology. All these changes and evolutions are aimed to serve consumers."
At the workshop he also said that in addition to the transformation of the traditional retail model, technology investments such as apps, smartphones, and e-commerce make the purchase of goods much easier. The recent cooperation of many traditional retailers and e-commerce platforms is also a response to the adaptation and change towards a retail paradigm that fits with the times and consumers.
Mr. Troy also affirmed that it's very unfortunate that foreign retailers who want to enter the Vietnam market don't pay attention to the market potential, the dynamics of the young population, and the habit of using a smartphone. Understanding consumers, especially consumers in Vietnam, is not easy. That's why the retail market in Vietnam is not suitable for those who just focus on the potential of a rising market. The younger generation also carries a decisive factor that affects the majority of consumer habits and behaviors.
"We have witnessed many successes and failures and the lesson is to learn thoroughly before implementing any plans," said Mr. Troy. "The Vietnamese market has many factors, including ideal timing, fast expansion, high-income consumers and diverse shopping preferences."
Also at the workshop, Mr. Trevor Vivian, Managing Director of Benoy Architecture & Master Planning said that shopping centers are changing throughout Asia partly because of the change of consumers and their habits.
The change of the Vietnam retail market is very obvious, especially in HCMC and Hanoi. The change comes from the transformation of the early economic market into an economy that can be called "delicate." It comes from the retail sector itself. Even design trends have spread to the food industry. In addition to being delicious, Vietnamese food is also extremely beautiful. "The market is changing so fast, so we need to quickly learn more," Mr. Trevor noted.
Mr. Trevor also mentioned that foreign brands entering the market is a positive sign. "This combination will bring about a change in the retail and consumer environment in Vietnam," he added.
On the other hand, Mr. Nicholas Bradstreet, Managing Director, Head of Leasing, Savills Hong Kong said that Vietnam's retail sector achieved impressive growth of about $129.6 billion in 2017, up 10.6 per cent from 2016. "Retailers as well as landlords need to be prepared to respond to new trends, such as adding more entertainment value and food for customers in addition to shopping," he added. "The pop-up store model is also a popular solution as it has a wide range of activities such as product launches, branding, and market testing."
Renewable energy in Vietnam has great potential yet poor exploitation
The renewable energy in Vietnam possesses great potential, yet exploiting it still quite poor, according to professionals in the international conference 'Integrating aquaculture and renewable energy system, a driving force for renewable energy development in Vietnam' held in Ho Chi Minh City on May 11.
When evaluating the importance of energy in aquaculture, Mr. Nhu Van Can, representative of the Directorate of Fisheries under the Ministry of Agriculture and Rural Development, said that at the moment, the energy cost for raising prawn is around VND50 – 200 million per hectare per crop (around $2,196 – 8,785) depending on the investment scale. This accounts for 10 percent of the total expense cost.
Therefore, according to Deputy Director of the Southern Power Corporation (EVN SPC) Nguyen Phuoc Duc, renewable energy is a very effective solution to reduce the pressure of energy lack.
What is more, thanks to a surplus of sunshine and wind, aquaculture farms in the south-central areas are ideal places to install and make use of solar and windy energy in production.
However, according to Mr. Tran Viet Ngai, Head of the Vietnam Energy Association, the renewable energy in Vietnam has great potential, but due to the poor exploitation, it becomes quite ineffective, especially for the task of aquaculture production.
Analyses from his association estimate that Vietnam can harness about 30GW of wind energy inland and 100GW more offshore.
Vietnam can also produce an ideal amount of solar energy thanks to the long time of sunshine and the large surface area exposed to the sun from North to South. Nevertheless, until the end of 2016, this renewable energy accounted for less than 3 percent of the total 42,341MW of the whole electricity system.
Explanation of the Vietnam Electricity reveals that the low performance of renewable energy is because it is only developed locally. In addition, it is very difficult to have a synchronous growth of the electricity grid since the locations of the building projects are still unidentified.
The unstable capacity of this kind of energy may be due to the dependence on wind force or solar radiation.
However, the most important reason is that there is a serious lack of a specific standard system, construction standard system, or an operation standard system for renewable energy.
In order to effectively exploit this kind of energy, professionals suggested that the government should encourage its development, especially solar energy installed on roofs and wind energy in the Southern area.
It is also recommended that policies and regulations be made to attract investment while local authorities create conditions for the allocation of land for renewable energy projects and introduce tax incentives for those projects.