First Vietnamese bank issues ATM card through LiveBank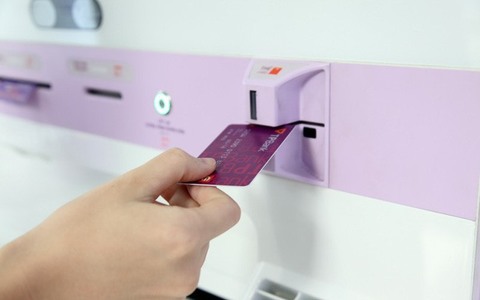 Tien Phong Joint Stock Commercial Bank (TPBank) has updated a new function of issuing ATM cards to customers through LiveBank - the first auto banking system in Viet Nam.

Nguyen Hung, TPBank's general director, said customers needed to click on the machine to connect with bank staff and provide their ID card or passport to scan on the machine as well as complete information registration. LiveBank will then automatically issue an ATM card to the customer after a review from the bank's staff. The entire process is estimated to take a maximum of six minutes instead of several days or even a week when applying for an ATM card through a bank's branch.

Hung said customers can also register for debit card at LiveBank and receive the same at its branches.

"The update is a roadmap to develop LiveBank and show TPBank's commitment in increasing digital content in its products and services," he said, adding that the function could help LiveBank become the most comprehensive auto bank in Viet Nam.

Pham Ngoc Cuong, an engineer of TPBank's digital bank project, said LiveBank could implement all of the most complicated transactions, such as opening a bank account, issuing ATM cards as well as opening and closing an online savings account any time.

The bank now has 60 LiveBank machines, which are mostly located at large centres and streets in major cities throughout the country.

The bank plans to increase LiveBank machines to 100 in 2018.

ABBank appoints new general director

An Binh Commercial Joint Stock Bank (ABBank) appointed Duong Thi Mai Hoa general director.

Hoa, who was the CEO (chief executive officer) of giant property developer Vingroup for five years, has replaced Nguyen Manh Quan.

Hoa is a renowned banker in the country. She has held key positions in many banks, including Maritime Bank and VIB. She has served as financial director of the US Oracle Group's Oracle Vietnam Pte. Ltd and as chief accountant of Credit Lyonnais Vietnam.

With many years of experience and a thorough understanding of the financial and banking systems, Hoa is expected to help ABBank make more profits from the retail market and achieve strong growth.

Rice exports bring home 1.1 billion USD in Jan-Apr

Vietnam earned 1.1 billion USD from exporting 2.16 million tonnes of rice in the first four months of 2018, up 35.7 percent in value and 21.7 percent in volume.

China remained the biggest rice importer of Vietnam with 29.1 percent of the rice market share, according to the Ministry of Agriculture and Rural Development.

The average export price for rice showed a year-on-year rise of 15 percent to touch 501 USD per tonne thanks to better quality.

High-quality rice comprised of up to 81 percent of the rice export volume, the ministry said, forecasting the world's rice market will see a decrease in supply and an increase in demand in the coming time.

In 2018, Vietnam is forecast to ship 6.5 million tonnes of rice abroad, up 700,000 tonnes compared to 2017.

According to Vietnam's Rice Market Development Strategy from 2017 to 2020 with a vision to 2030, one of the country's goals is to gradually reduce the rice export volume but increase the value of exported rice.

Vietnamese rice is now exported to over 130 markets worldwide.
M2 Vietnam Joint Stock Company (M2) expanding in Vietnam

M2 Vietnam Joint Stock Company (M2) is expanding its brand name all over Vietnam.

The clothing company recently launched their latest showroom in Cau Dien Street, Hanoi to introduce their latest collection of clothes made in Vietnam. In April, M2 also launched many branches and showrooms in other provinces such as Thanh Hoa.

Textile M2 Export Center in Thanh Hoa city has a total area of over 1,500 square meters on two floors and is the largest M2 store to date.

Using a supermarket model, M2 Fashion Export Textile Center in Thanh Hoa is the place to showcase, introduce and sell diverse and fashionable products.

Chairman and CEO of M2, Nguyen Hai Duong shared their goals of developing the market and reaching out to many areas to bring the brand closer to its consumers.

"M2 launched its first point of sale, which officially opened its showroom at 19 Le Huu Lap (Thanh Hoa city) in April 2018," said Nguyen Hai Duong. "It has a total area of over 1,500m2 on two floors. It's part of our goal of developing the business network of the company, "

M2's brand name has affirmed its position in the market of fashion apparel and clothing with its wide network of shops in many central locations in the country and abroad.

The fashion brand was launched in 2001 and has been establishing and developing itself for 18 years now. It's a pioneer fashion business model and has a number of chains in Hanoi and a number of provinces. There is even a shop in Moscow (Russian Federation).

What makes M2 stand out are its fashion products, good quality and competitive prices which are suitable for the majority of consumers in Vietnam.
Online dating app DatEat receives investments from international funds

Online dating startup DatEat recently announced it has successfully attracted capital investment from international funds.

In December last year, DatEat announced it had successfully raised $4.1 million in funds from the UK's DMG Enterprise. This is the first time a Vietnamese online dating startup has raised investment from an international fund.

In spite of the fact that the online dating market, which has been developing all over the world, has clearly been dominated by US and Europe brands, according to Ms. Kate Truong, Vietnamese Founder of DatEat, this Vietnamese startup has a lot of potential for growth.
As a young startup, DatEat has proven itself as able to catch up with technological trends by using a range of advanced technologies such as Blockchain, AI and Big Data. In recent times, the use of Blockchain has become a popular trend around the world. This technology is encouraged in all developed countries. The Industrial Revolution 4.0 has put a lot of focus on technology, and those who are able to keep up with it will be successful.

"DMG hopes that with the leading breakthrough technology DatEat has been implementing, as well as our initial financial support, this startup will go further to dominate the market, first in Asia and then in other markets worldwide," said Mr. William Knightley, Angel Investment Director of DMG Enterprise.
With its initial success, DatEat is confidently calling for capital investment of up to $23 million from investors in Asia and Europe. According to DatEat's Chief Financial Officer, the process of calling for capital investment has been launched and has received positive feedback.

DatEat helps users find their ideal partners while ensuring the security of users' personal information via advanced Blockchain technology. DatEat is not only an online dating application but also has other functions that are essential for modern society, such as a mentorship function. DatEat's Angels (experienced experts), via this function, are able to give useful advice to users in the fields of psychology, finance, sports, fitness, heaalth and beauty.

In addition, DatEat has set up the Defound Foundation to help people who are coping with difficult situations, as well as provide support for teenagers and young people in dealing with psychological issues.
"The project has taken successful steps to move towards a bright future for dating applications in Vietnam," Ms. Kate Truong said. "In August this year, DatEat plans to reach 500,000 users in this market. Afterwards, DatEat will open in other Asian countries and reach 1.2 million people by the end of 2018. In June next year, DatEat will be used by around 5 million people in the Asia-Pacific region."

At present, DatEat is headquartered in Singapore and is planning to set up offices in other locations in Asia, including Vietnam.

HCMC attracts FDI capital worth US$408 million in four months

HCM City has attracted US$408 million in foreign direct investment (FDI) in the first four months, accounting for 11.5 percent of total investment capital. The city grabbed the second position behind Hanoi that has US$498.7 million, accounting for 14 percent.

The city was followed by Binh Duong with US$364.8 million, accounting for 10.3 percent of total investment capital; Ninh Thuan attracting US$327.6 million occupying 9.2 percent; Dong Nai drawing US$273.9 million encompassing 7.7 percent; Ha Nam with US$187.7 million, accounting for 5.3 percent; Ba Ria- Vung Tau attracting US$182.7 million, accounting for 5.1 percent; and Quang Ninh with US$176.6 million, getting 5 percent.

In the first four months, the southern economic hub has granted certificates of investment registration for 883 projects with total registered capital of US$3,553 million, while another US$2,244.8 million has come through 303 existing projects.

The manufacturing and processing sector attracted the most registered capital with US$1,926.1 million, accounting for 54.2 percent of the total registered capital; followed by real estate business with US$455.5 million accounting for 12.8 percent, and other sectors with US$1,172.2 million accounting for 33 percent.

The city's largest investor is Japan with US$877.7 million accounting for 24.7 per cent of the total registered capital. It is followed by South Korea with US$830.8 million at 23.4 percent and Singapore with US$ 459.2 million at 12.9 percent.

EuroSphere exhibition to bring over 150 European brands to Vietnam

The EU-Vietnam Business Network (EVBN) has launched the second edition in Vietnam of EuroSphere, an exhibition dedicated to European Art of Living in the region.

The event is being organized by EVBN from May 18 to 20 at the White Palace Convention Center, HCMC. Over 150 European brands will exhibit their products, services, creativity, craftsmanship and knowhow to the Vietnamese and Southeast Asian markets. Exhibitors will represent all sectors related to the European Art of Living, such as gourmet food, fine beverages, fashion and accessories, perfumery, cosmetics, furniture and interior design.

EuroSphere 2018 also serves as a business facilitator between Europe, Vietnam and other ASEAN countries. Distributors, importers, retailers, hospitality decision makers, interior designers, and media in the region will have the opportunity to meet exhibitors thanks to pre-arranged B2B meetings and conferences.

Conference speakers include high-profile guests from Europe such as Donald Potard, former CEO of Jean-Paul GAULTIER Haute Couture, former CEO of Jean-Charles de Castelbajac, and currently chair of the Fashion department at Paris College of Art.

EuroSphere 2018 will start with a VIP Gala dinner at the Reverie Saigon Hotel on May 17, designed to foster exchange and networking opportunities between exhibiting companies and their potential partners in Vietnam and Southeast Asia.

The dinner will also showcase three European fashion brands, two of them being presented for the first time in the region, while benefitting from the support of one of the world's most famous Vietnamese fashion designers, Nguyen Cong Tri, who will open the show with his recent collection.

Last year, EuroSphere featured 80 European brands, held 200 B2B meetings and lured 2,500 international visitors. This year it is expecting 4,500 business visitors from Vietnam and Southeast Asian countries and more than 650 B2B meetings.

Exporters to EU to self-issue certificates of origin next year

Exporters to the European Union from Vietnam will be obliged to issue certificates of origin for their own products next year. Otherwise, they will not enjoy the Generalized System of Preferences (GSP), the Vietnam News Agency reports.

The GSP is a preferential tariff system which provides for a formal system of exemption from the more general rules of the World Trade Organization.

The responsibility for issuing certificates of origin will rest with exporting companies instead of State agencies. This means these enterprises will carry out procedures, abide by criteria for origin, and be held accountable for their accuracy, according to the Import and Export Department under the Ministry of Industry and Trade.

Besides, exporters will be asked to provide evidence of origin like receipts without the involvement of State agencies.

The GSP which has long been used in the EU for over 40 years has numerous advantages such as simplifying administrative procedures, reducing time and cost for enterprises, minimizing risks for licensing agencies, and easing pressure on customs authorities.

The department's deputy head Tran Thanh Hai said the EU will allow local enterprises to familiarize themselves with the system in six months. If they have yet to issue certificates of origin on their own, they can have such documents from State agencies during the period.

Bui Kim Thuy, deputy head of the Goods Origin Division at the department, said those exporters whose turnover reaches at least US$10 million are allowed to issue their own certificates. They are also required to have long complied with tax, customs and import-export regulations.

Data of the trade ministry shows as many as 2,700 local exporters with EU-bound shipments are enjoying incentives from the GSP.

Vietnam may offer lower rice price for Philippines

With the Philippines to reopen tenders for the procurement of 250,000 tons of rice tomorrow after rejecting the prices offered by Vietnam and Thailand, Vietnam may lower its price further this time.

This country invited tenders for supply of 250,000 tons via the government-to-government (G2G) scheme, including 200,000 tons of 25% broken rice and 50,000 tons of 15% broken rice. However, Vietnam and Thailand as the two participating countries were eliminated as their prices were above the reference prices of the Philippines.

In particular, the reference prices announced before the tender were US$483.63 per ton of 15% broken rice and US$474.18 per ton of 25% broken rice.

Meanwhile, Vietnam offered the respective prices of US$540 and US$532 per ton. As for Thailand, it did not bid for 15% broken rice, but its price offer for 25% broken rice was US$530 per ton.

A second chance was given to Vietnam and Thailand right after the first round, but the offered prices were still way higher than the reference levels despite being lowered. Specifically, Vietnam's prices were cut by US$10 and US$11 per ton respectively, whereas Thailand offered US$520 per ton for 25% broken rice.

Nguyen Dinh Bich, a rice market analyst, told the Daily that it is likely that Vietnamese rice traders could reduce the prices. How much Vietnam would lower its offers depends on Thailand, he noted.

If Thailand's price is slightly higher than that of Vietnam, the latter will lower the price further to win the bid, he said.

Nonetheless, the question is how close Vietnam's prices will be to the Philippines' reference levels, but the cuts would be small given high prices on the domestic market.

Finished IR 50404 rice, the type of rice often used for 25% broken rice contracts, is traded locally at VND9,400 per kilogram. With an exchange rate of VND22,700 per dollar, the domestic price is some US$414 per ton of IR 50404 rice and around US$450 per ton of 15% broken rice.

This means with related costs included, Vietnam' potential price cut cannot be deep.

The Philippines will apply a new reference price to the tender set for tomorrow. Such a price will be calculated based on world rice market developments.

Energy labels to be affixed to motorbikes

Newly manufactured, assembled or imported motorcycles will have energy labels as of January 1, 2020 before being put up for sale, according to a plan being worked out by the Transport Ministry.

The ministry will issue a circular on guidelines for labeling in 2018. It explained that cars and motorbikes consume some 70% of fuels in Vietnam which is regarded as a major source of emissions such as carbon dioxide and hydrocarbon, polluting the air and affecting people's health.

Therefore, using energy-saving vehicles is the most efficient method to reduce harmful emissions.

In Vietnam, following the energy labeling rule that has applied to brand-new cars since January 1, 2015, new motorcycles for sale will be subject to the same rule in January 1, 2020.

Energy labeling will help customers have further information for their choice of fuel-saving products, noted the ministry, adding that 40 million motorbikes currently in use will not be affected by the energy labeling rule.
Inundating losses may force Ha Bac Fertiliser out of business

Flooded by consecutive massive losses, Ha Bac Nitrogenous Fertiliser & Chemicals JSC (Ha Bac Fertiliser) may find it difficult to remain in operation.

According to the audited financial statement published at the annual shareholders' meeting, in 2017 Ha Bac Fertiliser suffered a loss of VND606 billion ($26.62 million), with which its accumulated losses increased to VND2.3 trillion ($101.03 million).

Besides, the firm reported decreases of VND200 billion ($8.78 million) in net assets, VND606.7 billion ($26.65 million) in equity, and the loss of 290 employees. Meanwhile, its total debts increased by VND406.6 billion ($26.64 million) to VND9.27 trillion ($407.2 million).

The bleak business results meant the leaders of the firm enjoy only a miniscule salary. Notably, the chairman of the board of directors received a salary of VND4 million ($175.72) per month, while the members of the Board of Directors received VND3 million ($131.79).

In the first quarter of this month, despite the firm's revenue increasing by 36 per cent to VND684 billion, it still reported a loss of VND168 billion ($7.38 million). Ha Bac Fertiliser estimated that the total loss for the whole year will be VND720.6 billion ($31.6 million).

On July 26, 2017, Ha Bac Fertiliser made 272.2 million shares, representing a registered capital of VND2.71 trillion ($119.2 million), officially available for trading at the initial reference unit price of VND6,800.

However, after three months of listing, there were no transactions. As of the transaction session on April 26, the firm's shares were valued at VND1,600, decreasing VND5,200 compared to the starting price.

In the framework of the shareholders' meeting, the Board of Directors proposed a number of solutions to help the firm to escape from loss.

Notably, Ha Bac Fertiliser proposed the Ministry of Industry and Trade to ask Vinacomin to extend the deadline for coal payments, while simultaneously maintain coal supplies with at a lower selling price for the firm.

Besides, the firm requested the government to revise the value-added tax (VAT) for nitrogenous fertiliser to 0-5 per cent and revise the calculation method of export tax on nitrogenous fertiliser.

A subsidiary of state-run Vietnam National Chemical Group (Vinachem), Ha Bac Fertiliser specialises in producing urea fertiliser, which makes up 80 per cent of its revenue.

However, in recent years, the domestic demand for urea fertiliser fell far short of supply, leading to extreme imbalance. Besides, the domestic fertiliser manufacturing sector also needs to compete with imported products, especially cheaper Chinese ones.

Petrol firms suggest increasing E5-RON 95 price difference

Despite increasing E5 gasoline consumption in the first quarter, gasoline enterprises still propose different retail prices for E5 and RON 95 fuel.

According to statistics of petrol companies, after over four months of deployment, E5 petrol consumption is showing positive signs and has increased significantly against late 2017 and early 2018.

Specifically, Petrolimex remains the company holding the largest market share with total sales in the first quarter exceeding one million cubic metres, equaling an average consumption of 360,000cu.m per month, including 170,000cu.m of E5 and 190,000cu.m of RON95. In April's first 15 days alone, Petrolimex's total petrol sales hit 1.25 million cu.m, including 660,000cu.m of RON 95 and 592,000cu.m of E5.

E5 petrol made up 50 per cent of its petroleum pumps over the country.

The group also cited differences in petrol consumption among the country's regions. In the first quarter, E5 petrol sales made up 60 per cent of total regional sales in northern Vietnam, 30 per cent in the south, and 43 per cent in Central Vietnam.

Similar consumption patterns were reported by PetroVietnam Oil Corporation (PVOIL). With an average E5 petrol consumption of 50,000cu.m per month, the northern and the central parts accounted for 60-63 per cent of total sales, while the south only made up 36 per cent.

Most gasoline companies agreed that the little price difference between E5 and RON 95 (about VND857 per litre) leave consumers uninterested in switching. In addition, container fees and transportation for E5 petrol are higher than RON 95, making it business more difficult for petrol dealers.

Therefore, gasoline companies proposed the Ministry of Finance (MoF) and the Ministry of Industry and Trade (MoIT) to set a reasonable, VND2,500 per litre price difference between E5 and RON 95 via the Environmental Protection Tax. They also proposed MoF to take measures to adjust the input and output special consumption taxes of E5 petrol to help increase sales.

In March, the Vietnam Petroleum Association submitted a document to MoF requesting guidance on non-deductible excise tax on petroleum products used for the production of bio-fuel.

Specifically, before 2016, the Law on Special Consumption Tax stipulated a 10 per cent tax rate for A92 petroleum processing. E5 and E10 gasoline were mixed with the corresponding rates, including A92 gasoline's 95 per cent and 90 per cent, and bio-ethanol's 5 per cent and 10 per cent, respectively. Therefore, the rate of special consumption tax on E5 and E10 gasoline was 9.5 and 9 per cent per litre, respectively.

Since 2016, aiming to encourage bio fuel usage, MoF reduced special consumption tax on E5 and E10 gasoline to 8 and 7 per cent, respectively.

However, during implementation, many enterprises have realised that value added taxes shouldered by petrol businesses are too large. Some businesses even withheld up to dozens of billions of VND per month in value added taxes. This issue is predicted to exacerbate in 2018 over rising E5 sales. Currently, MoF is working on a solution to this issue.

Bisuco factory shutdown to worry the firm's creditors

The gloomy state of Binh Dinh Sugar JSC, with its production suspension and financial troubles, may create major problems for creditors like Standard Chartered Bank, who want to recover outstanding loan payments.

Located in the central province of Binh Dinh, Binh Dinh Sugar (Bisuco), 97 per cent of which is owned by India's NIVL JSC–a subsidiary of Singapore-based Indo China Food Industries Pte., Ltd.–may not be able to meet its debt obligations to one of its biggest creditors, Standard Chartered Bank. This is a result of the sugar company being caught out for environmental violations in Binh Dinh, causing a temporary shutdown while reportedly carrying VND800 billion ($35.56 million) in unsettled accounts to creditors, local farmers, its employees, and local tax authorities.

Upon contacting the lender's Vietnam branch to inquire about the loans that Bisuco (or, ultimately, NIVL) has made from Standard Chartered Vietnam and Standard Chartered Singapore, and the possibility for the bank to recover its loans in this case, Standard Chartered said, "it is inappropriate for the bank to comment," at the current time. A couple of years ago, Standard Chartered Bank was reported by local media to have foreclosed a factory mortgaged by Bisuco, following the company's failure to keep up with its loan payments.

The order for Bisuco to temporary close down its operations was issued by Binh Dinh authorities on March 12. Bisuco was ordered to seal off its factory on March 23, until the company can finish all the environmental works requested by the Binh Dinh Department of Natural Resources and Environment (DoNRE).

In its document sent to the Binh Dinh People's Committee, however, Bisuco asked for permission to continue operations until the end of 2017-2018 sugarcane crop, which ends on June 30.

VIR has made several attempts to contact the factory in Binh Dinh for further information, yet failed to get hold of any party then.

DoNRE deputy director Huynh Van Vinh told VIR that after the call from the Binh Dinh People's Committee, the province is completing procedures for sealing off the factory, and the fine for the violation–polluting the local river–is under consideration.

"Previously, the local authorities had warned the factory to close several times over and ordered the company to resolve the consequences of the environmental impact, but we did not succeed. The pollution is getting more serious now, forcing us to seal off the factory entirely," Vinh noted.

Another subsidiary of NIVL, Hiep Hoa Sugar JSC in the southern province of Long An, was also suspended in 2016 for environmental violations and accumulated losses. It only resumed operation in early 2018.

TTC Land raises capital for Western-style management after name change

TTC Land, previously known as Sacomreal JSC, will raise capital from existing shareholders and adopt a Western-style management structure to lure in foreign investors.

At its annual general shareholders' meeting, TTC Land has outlined its plan for 2018, following the name change from Sacomreal JSC last month. The re-named real estate firm will issue 212 million new shares to current shareholders, aiming to raise its charter capital to VND5.5 trillion ($241 million). The additional capital will be used for mergers and acquisitions activities.

Each new share will be offered at VND10,000 ($0.44) and each batch of 100 current shares entitles the investor to purchase 67 newly issued shares. Investors are free to trade these shares after purchase. The issuance is expected to take place in late 2018 or early 2019 and will be subject to approval from the State Securities Commission.

Shareholders questioned the feasibility of this share sale as the market price of TTC Land's stocks have been on the downslope, hovering at only VND11,000 ($0.48) per share, and TTC Land is also organizing a parallel share sale to existing shareholders.

Chairman Pham Dien Trung expressed his optimism in TTC Land, stating that lots of foreigners are waiting to invest in the fast-growing firm.

"We believe that we will raise at least VND1 trillion ($43.8 million) from this sale. Even if we cannot collect any money from investors, we can still resort to bank loans. I am sure that the banks are willing to lend us money as we have a wide range of assets under management," said Trung.

The chairman added that TTC Land's stock price is likely to shoot up once positive news about the firm's business plans spread.

It is noteworthy that TTC Land plans to follow in the footsteps of Vinamilk and other conglomerates in Vietnam by modernising its corporate governance. In particular, the firm will abolish the inspectorate team and set up an internal auditing committee, as well as do research on international accounting standards. According to Trung, this Western-style structure will improve TTC Land's transparency and its appeal for foreign investors.

TTC Land will use the new capital to boost its stake at various industrial zones, shopping malls, and hospitality real estate. Previously, as Sacomreal JSC, the firm used to focus on the Ho Chi Minh City real estate market, but now it will expand to other areas such as Phu Quoc Island, Danang, Dong Nai, and Haiphong. The total area under management will be 1,500 hectares.

Specifically, TTC Land will buy 79 per cent of Toan Hai Van JSC, the developer of the mega-project Vinh Dam Complex in the south of Phu Quoc Island. Half of the complex, or 110 hectares, will be used for sea ports and warehousing, while the remaining half will be developed into a resort area named Ocean Lotus Island.

Another target company is Dang Huynh Industrial Zone Management JSC, in which TTC Land looks to boost its ownership to 51 per cent. Dang Huynh JSC is the operator of Tan Kim Industrial Zone in Long An province, spanning an area of 50 hectares, as well as warehousing facilities in Ho Chi Minh City, Binh Duong, and Dong Nai.

The last investee–Thanh Thanh Cong Industrial Zone JSC–currently operates the 1,020-hectare Thanh Thanh Cong Industrial Zone in Tay Ninh province.

In 2018, TTC Land plans to reach VND2 trillion ($87.7 million) of consolidated revenue, up 4 per cent year-on-year, and after-tax profit of VND248 billion ($10.8 million), up 24 per cent. The dividend payout ratio will be higher than 7 per cent.
Vietnam Medi- Pharm 2018 aiming at grassroots healthcare

The Ministry of Health and the Vietnam Advertisement & Fair Exhibition JSC (Vietfair) and related organizations held a press conference in the afternoon of May 2 about the upcoming 25th Vietnam International Exhibitions on Products, Equipment, Supplies for Pharmaceutical, Medical, Hospital and Rehabilitation (Vietnam Medi-Pharm 2018), which will take place in Hanoi from May 9-12.

According to Mr. Nguyen Dinh Anh, Director General of the Health Communication and Reward Department under the Ministry of Health, because of the theme 'Improving grassroots-level healthcare and working towards community healthcare', the display area of Vietnam Medi-Pharm 2018 will focus on the propaganda of guidelines, policies and regulations of our Party and State on healthcare activities.

On this occasion, the Ministry of Health will also introduce to the public its innovative and positive changes as well as its achievements and major missions in 2018.

In the area of 9,000m2, there will be more than 530 stalls of 450 firms from many countries and regions in the world besides Vietnam such as India, Poland, Belgium, Germany, Czech Republic, Taiwan (of China), Korea, the USA, Japan, Thailand, and Singapore. They will display and introduce their latest medical and pharmaceutical products as well as technologies.

The Vietnam Medi-Pharm 2018 is expected to create various opportunities for commercial collaborations and experience exchange between domestic medical, pharmaceutical, medical equipment businesses and international counterparts.

Purchasing power soars by 8.5%

The purchasing power in the total national retail value of goods and services until April 2018 reached nearly VND1.40 trillion ($61.4 million), the General Statistics Office (GSO) reported.

This is equivalent to a year-on-year increase of 9.8 per cent.

The increase is estimated at 8.5 per cent if the price factor is excluded, higher than the growth of 7 per cent in the first four months last year. The rise was similar to that during the Tet (Lunar New Year) holidays when the consumption demand was high.

GSO expert Vu Manh Ha attributed the surge in purchasing power in the first four months of this year to the high demand for accommodation, restaurant, services and travel in the summer season.

Of these, the revenue from retail goods, which accounts for more than 75 per cent of the total revenue, hit $46.4 million, up 10.8 per cent from the same period last year.

Food and foodstuff retail revenue increased by 12 per cent, garment retail revenue by 12.8 per cent, home appliances by 10.8 per cent, culture and education products by 9 per cent and transportation services by 8.2 per cent.

Localities with high growth in retail revenue include HCM City (12.8 per cent), Hai Phong (12.6 per cent), Da Nang (12 per cent), Binh Dinh (11 per cent), Nam Dinh (10.9 per cent) and Ha Noi (10.4 per cent).

The revenue from accommodation and restaurant services, which accounts for 12.3 per cent of the total revenue, increased by 9.4 per cent to $7.5 billion in the first four months.

The revenue from the tourism sector, which accounts for only 1 per cent of the total revenue, reached a growth of 26.1 per cent to $565.78 million in the first four months.

Tourism in HCM City recorded the highest increase in revenue (30.4 per cent), followed by Binh Dinh (28.9 per cent), Hai Phong (23.4 per cent) and Ha Noi (18.8 per cent).
VN investors seek spots at DC summit

More than 30 Vietnamese investors participated in a seminar held on Thursday in HCM City as part of the US Mission to Viet Nam's ongoing recruitment for the SelectUSA Investment Summit in Washington, DC in June.

The first "Invest in the US" seminar, co-organised by the US Consulate General and AmCham HCM City, described the benefits of investing in the US, home to the largest amount of FDI in the world.

Experts from Baker & McKenzie law firm provided Vietnamese investors with an introduction on the legal and foreign exchange requirements for outbound investment and gave presentations on best practices for establishing operations in the US.

One of the benefits of investing in the US is the variety of opportunities that exist across the country's 52 states and territories. Representatives from the US states of Idaho, Iowa, and Pennsylvania spoke about investment opportunities in their states.

Fred Burke, senior partner from Baker & McKenzie, highlighted how Viet Nam's GDP growth was fueling greater interest in investing in the US.

"It is often said that investment follows trade, and Viet Nam's trade with the US has grown enormously in recent years such that it is one of Viet Nam's top export markets. It should come as no surprise, therefore, that Vietnamese firms are looking to invest in the US to support their trade relations and take advantage of opportunities there," Burke said.

The Investment Summit promotes the US as a premier investment destination and connects qualified foreign firms with US economic development organisations to facilitate business investment and job creation.

Last year's SelectUSA Investment Summit hosted by US Secretary of Commerce Wilbur Ross drew the largest crowd yet, with over 3,000 registered participants.

With 28 delegates, Viet Nam had the 12th largest delegation at the summit and the largest delegation from Southeast Asia.

Industrial growth soars in first four months

Viet Nam's industrial production index (IPI) retained a significant 11.4 per cent growth rate in the first four months of this year, much higher than the 6.6 per cent increase in the same period last year.

The period's strong IIP rise was attributed to the fact that many industrial firms have taken advantage of the State policies in cutting off business conditions and speeding up administrative reforms to expand their operations as well as markets for their products, according to the General Statistics Office (GSO).

In the January-April period, the manufacturing and processing sector, which accounts for nearly 80 per cent of overall industrial value, saw the strongest growth with 14 per cent, compared to 9.5 per cent in last year's corresponding period, GSO said.

Meanwhile, electricity production and distribution increased 9.7 per cent, and water supply and wastewater treatment went up 5.5 per cent. The mining sector witnessed a modest decline of 1.2 per cent.

Areas posting high production growth include electronics, computers and optical products at 27 per cent, metal at 16.3 per cent, furniture production at 15 per cent and pharmaceuticals at 14 per cent. Surges were also recorded in major industrial products such as iron and steel (38.2 per cent), fabric (26.2 per cent), powdered milk (21 per cent), feed for aquaculture (19 per cent), television (18 per cent), and processed seafood products (12 per cent).

Several other areas, however, saw industrial production reduce, including crude oil (9.4 per cent), urea fertiliser (4 per cent), animal feed (2 per cent) and milk (1 per cent). The northern province of Bac Ninh led the nation with an IPI growth of 34 per cent, followed by Hai Phong (24 per cent), Vinh Phuc (14 per cent) and Thai Nguyen (12.1 per cent).

Others with positive IIP increases were Hai Duong (11 per cent), Ha Noi and Dong Nai (8.1 per cent), Da Nang (8 per cent), Binh Duong (7.9 per cent), Can Tho (7.3 per cent), Quang Ninh (6.5 per cent), and HCM City (6.1 per cent).

As of April 1, the number of workers in industrial enterprises increased 3.9 per cent compared to the same period last year. The number of workers in State-owned enterprises dropped 1.1 per cent, while those in non-State and foreign-invested businesses went up 4.3 per cent and 4.5 per cent, respectively.

The number of workers in provinces and cities with large-scale industry also saw increases, such as Can Tho (23 per cent), Hai Phong (16.3 per cent), and Bac Ninh (14 per cent), as well as Thai Nguyen (8 per cent), Binh Duong (7 per cent) and Dong Nai (5.3 per cent).
Gamuda Land wins award for environmental rehabiliation

Gamuda Land's maiden township development project, located in the south of Hanoi, clinched the World Gold Award for Environmental (Rehabilitation / Conservation) at the FIABCI (an annual international conference run by the International Real Estate Federation) World Prix d' Excellence 2018, which took place at the Jumeirah Emirates Towers in Dubai on May 1.

"We are truly honored to receive this renowned award for Gamuda City," said Mr. Ngan Chee Meng, CEO of Gamuda Land. "Receiving the award is testament to our principles in developing townships, of 'listening to what the land has to tell us'. When we work closely with nature to restore and rejuvenate the land, we create a better place for the community to call home."

The environmental rehabilitation of Yen So Park and Yen So Lake remains a remarkable turnaround story that has transformed one of Hanoi's most polluted and inhospitable areas into a thriving green lung. What was once a shunned wasteland of untreated sewage and physical rubbish in the south of Hanoi is now a picturesque parkland of scenic lakes, lush greenery, and abundant flora and fauna.

"When we first came here about ten years ago, the absence of a proper sewage system in Hanoi had resulted in the contamination of its waterways and lakes and created growing concern about public health and the need for better water management practices," Mr. Ngan said. "Backed by our credible experience and expertise in drainage and wastewater treatment projects, a proposal was made to the government of Hanoi to build the Yen So Sewage Treatment Plant (STP) as well as to rejuvenate Yen So Park in exchange for land development rights."

Today, the Yen So STP manages and treats up to 200,000 cu m of wastewater discharge daily. Since beginning operations it has brought an effective solution to the pollution problem in the Set River - Kim Nguu River in Hanoi.

Gamuda Land's rehabilitation efforts have also delivered immense socioeconomic benefits to south Hanoi, effectively addressing chronic wastewater and sewage issues and various health hazards.

The rejuvenation of Yen So Park has also repositioned south Hanoi as an attractive location vis-à-vis the north, which was historically a better-favoured location for development and dwellings. Gamuda Land's mindful planning and rejuvenation of Yen So Park has restored the land to its natural beauty, resulting in an environment conducive to further development and investment in the area.

"What is most heart-warming for us is to see thousands of Hanoians enjoying the park's facilities, especially on weekends," said Mr. Ngan. "When we listen to the land in this way, it allows us to create a place where biodiversity thrives and the community can grow up and grow old in for generations to come."

FIABCI World Prix d'Excellence recognizes projects that best embody excellence in all the real estate disciplines involved in their creation. It has bestowed awards to deserving projects and developments in 60 member countries and has undoubtedly created a great reputation. Already in its 27th year, the awards have gained recognition as the "Oscars" of the real estate industry, and according to the organizers is "more than just a beauty contest - it represents projects that are a cut above the rest."

The Environmental (Rehabilitation/Conservation) category judged contenders based on architecture, design and planning, sustainable construction methods, environmental impact, and community benefits, among other criteria.


Aquaculture output picks up 6 percent in four months

Aquaculture output in the first four months of the year hit 1 million tonnes, up 6 percent from the same time last year, according to the Directorate of Fisheries under the Ministry of Agriculture and Rural Development (MARD).

In the period, the Mekong Delta region harvested some 373,000 tonnes of tra fish, a year-on-year surge of 8 percent.

With tra fish fetching high prices, local farmers have rushed to dig ponds and breed more fish, leading to the scarcity of fish fry and increase in their prices.

In a stark contrast, farmers have been rushing off their feet to harvest shrimp for fear of price drop. Each kilogramme of white-leg shrimp is being sold at 110,000-120,000 VND (4.84- 5.28 USD), decreasing 10,000-20,000 VND (0.44-0.88 USD) per kg from the previous month.

The country earned some 2.4 billion USD from exporting aquatic products in the first four months of 2018, representing a year-on-year rise of 13 percent.

In April alone, the country raked in 650 million USD from the export of aquatic products.

The US, Japan, China and the Republic of Korea were the biggest importers in January-March, making up 52 percent of the Southeast Asian country's total aquatic product exports. The highest growth was reported in the Netherlands (55.7 percent), China (44.6 percent) and the UK (33.8 percent).

In the four-month period, Vietnam imported 536 million USD worth of aquatic products, up 27.4 percent against the same period last year. Of the figure, 130 million worth of aquatic products were imported in April.

Aquatic product exports in 2018 are expected to exceed 8.5 billion USD, up about 3 percent compared to 2017, though Vietnam's exports to the US and EU markets will continue to be affected by catfish inspection, anti-dumping and illegal, unreported and unregulated fishing (IUU), according to the VASEP.