Three fishermen rescued in Ba Ria – Vung Tau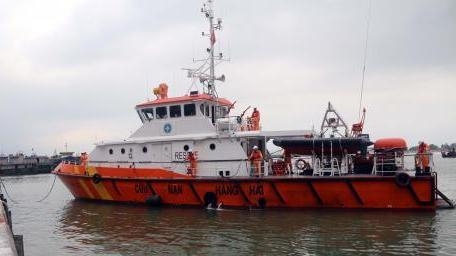 The MRCC sends its rescue ship SAR 272 to the location to deploy the rescue mission.

The Maritime Search and Rescue Coordination Centre (MRCC) of Region III rescued three fishermen from a vessel which was sinking offshore Ba Ria - Vung Tau province on May 8.

At around 21.40 on May 7, the MRCC received notification from Ba Ria - Vung Tau Coast Guard that a ship carrying three fishermen had sunk around 10 nautical miles to the southeast.

The MRCC worked with the Maritime Administration of Vung Tau to deploy its rescue ship SAR 272 to the location to carry out the rescue mission.

At 2.40am on May 8, three fishermen from Binh Chau commune, Xuyen Moc district, Ba Ria - Vung Tau province, namely Tran Van Khanh, 33, Tran Van Mua, 57, and Le Minh Hung, 36, were discovered and rescued from the sea.

They were then brought to hospital for treatment.
VN Red Cross announces 2018 disaster prevention plan
Red Cross staffs provide emergency aid to flood victims in Phú Yên Province. - Photo courtesy of Việt Nam Red Cross
Việt Nam Red Cross (VNRC) Society has preserved VNĐ102 billion (US$4.53 million), including money and goods, to prepare for the 2018 natural disaster prevention season.
The goods include daily essential tools, house tools, tents, mobile toilets, Aquatabs water purification tablets, water purification tools and water tanks.
VNRC presented its disaster prevention agenda at a pre-disaster meeting and workshop on the introduction of new models of provincial disaster response teams in Hà Nội today.
VNRC chairwoman Nguyễn Thị Xuân Thu said the organisation would deploy a safety community model and transfer the community-based natural disaster risk management model to provincial and city authorities nationwide to help localities improve disaster prevention and response activities in 2018.
VNRC will also provide instructions relating to humanitarian aid, community action for disaster response, Humanitarian Charter and Minimum Standards in Humanitarian Response, climate change, training documents on disaster management as well as response to local authorities.
According to VNRC, the organisation had provided nearly VNĐ234 billion ($10.4 million) for disaster prevention and response activities in 2017, benefiting more than 578,400 disaster victims. It also carried out 20 disaster prevention and response projects, including 10 immediate release programmes and 10 prevention and response ones, worth more than VNĐ100 billion ($4.44 million) nationwide.
In 2017 alone, the organisation had provided more than VNĐ82.2 billion ($3.65 million) to help 33,630 families affected by Damrey typhoon in the provinces of Khánh Hòa, Phú Yên, Bình Định, Quảng Nam, Quảng Ngãi, Thừa Thiên-Huế and Đắk Lắk.
Foreign and international Red Cross societies— and organisations funded projects also provided essential goods to more than 21,400 households while donating family tool boxes to 7,100 households and water purification tools to 1,500 families. Nearly 4,000 families were assisted to repair houses, and almost 1,400 received livelihood supports.
Teamwork makes dream work
What is the secret of the strong collaboration? A difficult question that has left many pondering for an age to work out the answer. But if you ask a group of burglars in Thái Bình Province, they may just give you the correct answer.
Earlier this month police in the province successfully nailed a criminal gang. Those who found themselves in cuffs were Thái Bình-based Vũ Đức Quốc and Vũ Đức Ngọc and Lê Bá Khánh from Hà Nội.
The trio was responsible for a number of break-ins of local state offices and businesses. Case report reads the gang fled with a stash worth somewhere in the region of VNĐ3 billion (US$131,000) last month along. Their haul included not just cash but also 2.4 ounces of 9999 gold of AIDI Company in Gia Lễ Industrial Zone along with some 400 lighters of Hoa Việt Company, both in Đông Hưng District.
But in what was perhaps their most daring heist, they clearly wanted to be sure just exactly how much they were taken. So they took along with them a money counting machine to calculate their ill gotten gains. And the total? VNĐ2.6 billion ($114,000) stolen and divided equally among all.
Lesson learnt? Even criminals have moral values to uphold. Unfortunately, these principals cannot secure them from being punished by the justice system. Proof if ever needed, that crime really doesn't pay.
Rain, someone once said, makes everything better. Washes away the dirt and cleans the soul. But for what I'm about to tell you, scrap that. And remember rain, I assume, can be a gentle reminder that the time has come to focus on the tasks at hand. Especially when it pours.
After an investment of VNĐ118 billion (US$5.1 million), Điện Biên Phủ-Nguyễn Tri Phương Intersecting Tunnel in Đà Nẵng City opened in November last year.
Despite the heavy capital poured into the project, the tunnel was severely flooded last week following a fresh midnight rain. The main cause, however, cannot be more surprised: a technician who was in charge of the pump… wait for it…. overslept.
And if you, dearest readers, are still wondering why the high-end tunnel was so dependent on the manual operation then, Hứa Thiện Vỹ, head of the instruction company, had the answer.
He told Người lao động (The Labourer) newspaper that from April 24, the new pump was set up. Therefore, other automatic systems including the water level indicator were removed. One technician was assigned to manually handle the system in case water-logging happened. However, as he was so deep in the sleep, a midnight rain took a change to cause a flood of up to one metre, right inside the tunnel.
Although the incident was dealt with, the sleepy technician, I think, must have acquired his own lesson that a midnight rain is not always followed by a bright sunrise.
A real man cooks, say a lot of women these days.
Embracing a chance to shine in girls' eyes, a man nicknamed BNT last week posted on a Facebook closed group a picture of delicious-looking Vietnamese meal captioned that "On my second time visiting my girlfriend's family, I cooked them this meal. Qualified enough to be a husband?"
T's post received more than 6.8 thousand likes from group members along with countless praises on his perfect performance.
A meal including Việt authentic summer dishes, from crab soup to fried tofu and stewed pork, attracted a lot of complements. People assumed that he must have successfully won the hearts of both his girlfriend and her family.
"But wait," someone said, "doesn't it look like a meal posted several months ago by another Facebook user?"
Comparing every detail, group members then surprisingly found out that the picture of the tempting meal was simply reposted. The authentic owner, however, is Thu Anh, a U40 mother living in Hà Nội who has a great passion for food and share her family's daily meals online.
"Sorry. I don't want to make you down but these dishes look so familiar," hilariously commented Huy Cường who posted Thu Anh's album of meals for a proper comparison.
Still, netizens sent T best wishes of having a wife even though it should have turned to be a challenge then as he revealed he was a poor attention seeker.
Too many pictures… spoil the broth. Or in this case, spoil the post.
Deputy PM highlights importance of salary policy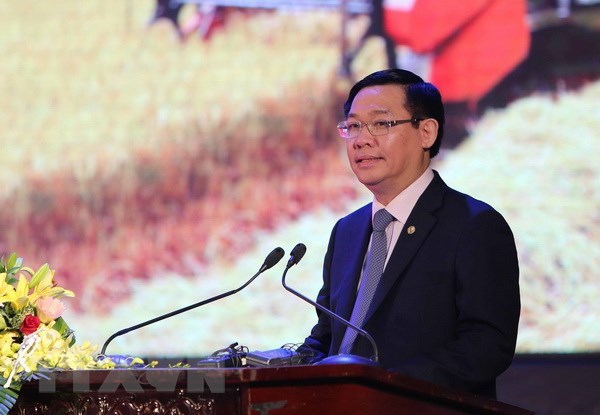 Deputy Prime Minister Vuong Dinh Hue
Deputy Prime Minister Vuong Dinh Hue has underlined the critical importance of the salary policy, which, he said, is closely related to other policies in the system of socio-economic policies.
He made the affirmation in a recent article on the plan on the salary policy reform for officials, public employees, civil servants, members of armed forces and employees in enterprises. This plan is one of the three important plans being discussed at the seventh plenary session of the 12th-tenure Party Central Committee, which opened in Hanoi on May 7.
Deputy PM Hue, who is also a Politburo member and chairman of the central steering committee for reforming the salary policy, social insurance and special treatment for national contributors, noted that the salary policy directly relates to macro-economic balances, the labour market and the lives of salary earners. Its reform will help build a streamlined, clean and efficient political system and strengthen the fight against corruption.
Regarding the targets and road map for the implementation of the salary policy reform, he said in the public sector, the basic wage has been adjusted upwards from 2018 to 2020 in line with the National Assembly's resolutions so that it is not lower than the consumer price index (CPI) and in conformity with the country's economic growth rate.
From 2021 to 2025 and with a vision to 2030, a new salary regime will be applied for officials, public employees, civil servants and members of armed forces in the whole political system from 2021.
The country targets that in 2021, the lowest wage of officials, public employees and civil servants will be equivalent to the average lowest pay level in the business sector. By 2030, it is expected to be equivalent to or higher than the lowest salary level in the region with the highest pay of the business sector.
Meanwhile, from 2018 to 2020, the region-based minimum wage in the enterprise sector is set to be raised in accordance with the socio-economic development situation, businesses' payment capacity, and workers' living standards so that the minimum wage will be able to meet basic needs of workers and their families, Deputy PM Hue noted.
From 2021 to 2025 and with a vision of 2030, the State will increase the region-based minimum wage periodically basing on recommendations of the National Wage Council. It will not directly intervene in businesses' wage policy from 2021.
By 2025, it will manage employees and salary in State-owned enterprises by assigning fixed salary costs associated with production and business tasks to enterprises. It will gradually move towards only assigning production and business tasks to companies from 2030.
In his article, Deputy PM Hue also clarified seven tasks and solutions to reform the salary policy, especially drastically carrying out financial and budgetary solutions to create resources for the salary policy reform and effectively implementing the resolutions on continued re-organising the political system and reforming the system and operation efficiency of public non-productive units, which were issued at the sixth plenary session of the 12th-tenure Party Central Committee.
The Deputy PM added that Vietnam's salary policy has been reformed four times, in 1960, 1985, 1993 and 2003.
In the public sector, the wage has been improved step by step, helping to improve living standards of salary earners. The basic salary has been raised 11 times since 2003, from 210,000 VND to 1.3 million VND per month, surging by 519 percent, which is higher than the CPI growth of 208.58 percent in the same period.
Hau Giang raises public awareness of landslide risks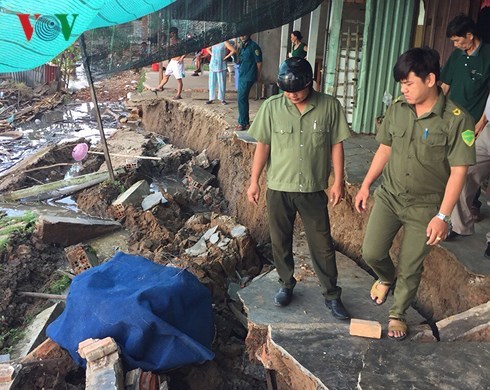 A landslide area in Phu Thanh hamlet, Mai Dam town, Chau Thanh district (Photo: VOV)
Local officials should work to raise public awareness of landslide risks and consequences, said Chairman of Hau Giang province People's Committee Le Tien Chau.
He made the statement on May 8 while inspecting a landslide area in Phu Thanh hamlet, Mai Dam town, Chau Thanh district.
Local residents should know how to protect their lives and assets in cases of natural disasters, he noted.
A temporary road will be constructed to facilitate local travel while preventing risks for the residents.
Earlier, a landslide in 28 metre length occurred in Phu Thanh hamlet affected five households with 23 and caused a loss of 150 million VND (6,600 USD).
The affected families were evacuated to safer locations and there was no human damage.
The locality has launched a landslide emergency and supported local people to recover the consequences, Chairman of Chau Thanh district People's Committee Tong Hoang Khoi said.
Hanoi works to ensure power supply during summer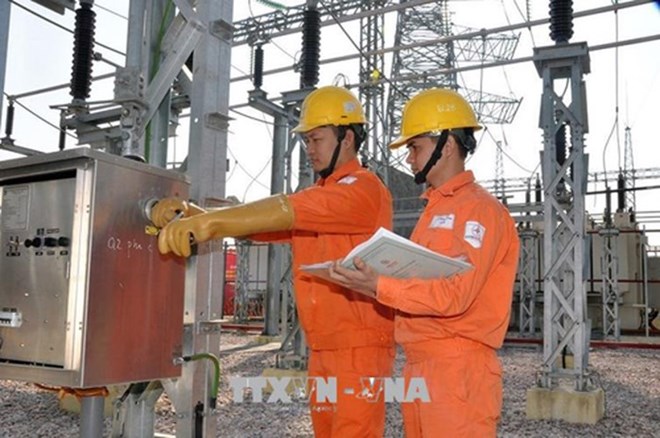 The Hanoi Electricity Corporation has set up a detailed plan to ensure sufficient power supply during this summer, said vice general director of the company Nguyen Anh Dung.
The company has channeled efforts to accelerate the operation of key power projects like 110 kV power lines between Long Bien and Dong Anh-Gia Lam-Sai Dong and 100 kV power lines connecting Quoc Oai and Chem-Phuc Tho stations.
Construction of tens of medium- and low-voltage power stations has been completed so far. Meanwhile, relevant units are rushing off their feet to set up plans for other projects to bury the medium-voltage and low-voltage electrical cables underground on 45 streets.
To date, repairs of electrical equipment have been made in line with the set plan.
However, Dung also pointed out that land clearance and compensation have hampered many power construction projects from being completed in accordance with the set timeline.
Despite the electricity sector's efforts, high power consumption during the summer will lead to overloading on the grid. Thus, local residents should join hands to save the power by turning off unnecessary electrical devices during peak hour and using air-conditioner from 26 degree Celsius, he added.
Programme prevents drowning among children
A propgramme to teach safe swimming for children aiming to prevent drowning will be held in 63 localities nationwide from May to August 2018, the organising board announced at a press conference in Hanoi on May 8.
The programme is a joint effort by the Vietnam Sports Administration under the Ministry of Culture, Sport and Tourism, and the Ministry of Education and Training. A launching ceremony will be organised in northern Ninh Binh province on May 20.
Major activities of the programme include communications on mass media on safety in swimming, a national swimming competition in July in the central city of Da Nang, and a drowning rescue contest in the Mekong Delta province of Dong Thap in August.
At the conference, Vice Director of the Vietnam Sports and Physical Training Administration Pham Van Tuan said that drowning is the leading cause of death in children and adolescents in Vietnam, especially in summer and stormy season.
He noted that an initial report showed that the ratio of children who can swim in Vietnam remains low at under 30 percent. Therefore, the teaching of swimming as well as skills of preventing drowning is vital and urgent among children.
The programme targets a sharp drop in children drowning cases compared to 2017, added Tuan.
Sweden helps HCM City build smart transportation network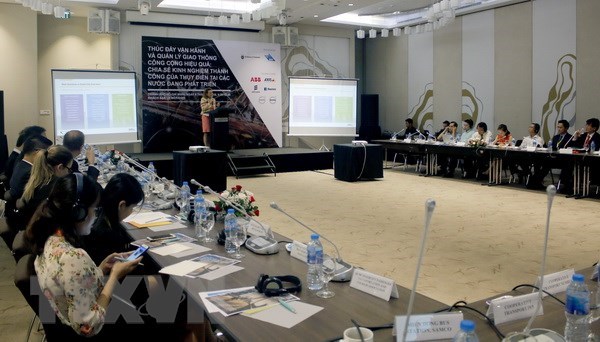 At the roundtable discusion in HCM City
Information and technology should be applied into the operation and management of public transportation to improve transport network in Ho Chi Minh City, Swedish companies recommended at a roundtable discussion held in southern hub on May 8.
At the event, which was held by the Swedish Embassy in Vietnam in collaboration with the Swedish Commercial and Investment Office, Swedish Ambassador to Vietnam Pereric Hogberg said that with considerable experience in urban planning solutions, Swedish experts and companies will help Vietnam set up plan to build sustainable urban areas with smart transportation network.
He noted that emission amount has dropped 9 percent since 1990, and gasoline dependence has tapered off 90 percent since 1970 while Sweden is among the nations that have the lowest rate of traffic accidents.
About challenges that large urban centres are encountering and HCM City's solutions, Vice Director of the municipal Department of Transport Tran Quang Lam highlighted that the city has set up planning for eight Mass Rapid Transport (MRT) systems, three tramrails or monorails and six Bus Rapid Transit (BRT) systems.
Like many Asian countries, Vietnam is experiencing rapid urbanisation. As of 2014, some 33 percent of the country's 90-million population lived in urban areas and the figure is said to increase to 50 percent by 2025.
In its strategy to develop public transport until 2020 within a vision to 2030, Vietnam sets a target of turning public transport into the top choice of people while controlling the growth of individual vehicles and improving urban transport quality.
It also strives to have 20 percent of buses and taxis using liquefied petroleum gas (LPG), compressed natural gas (CNG) or solar energy by 2020.
Cooperation potential in transportation between the two countries were on the table at the discussion.
In addition, relevant parties met to discuss Sweden's support for Vietnam to promote sustainable traffic development in urban areas, aiming to turn public transportation into a friendly and popular means of transport among the citizens.
Family planning services help improve population quality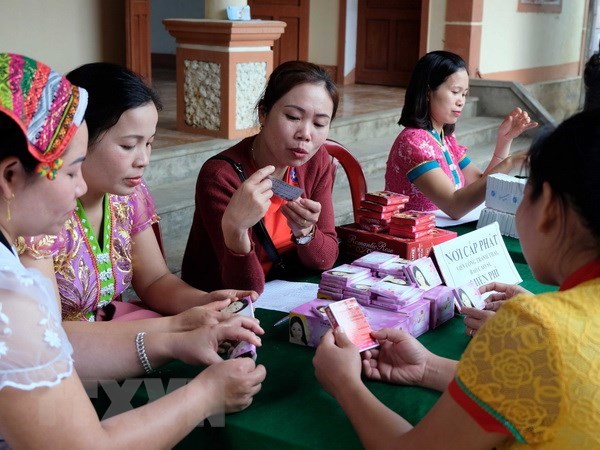 Delivering family planning consultations in Bong Khe commune, Con Cuong district of Nghe An province
The family planning work has contributed to stabilising the scale, structure and quality of the population, according to Deputy Health Minister Nguyen Viet Tien.
Tien made the statement at a workshop to announce outcomes of a survey on the quality of family planning services in Vietnam jointly held by the Heath Ministry and the UN Population Fund (UNFPA) in Hanoi on May 8.
The survey gathered responses from households and 6,000 women aged from 15-49 from Hanoi, the northern mountainous province of Yen Bai, the central province of Phu Yen, Dak Lak province in the Central Highlands, and the southern provinces of Dong Nai and An Giang in 2015-2016.
It reveals that up to 80.5 percent of married women aged from 15-49 are using a contraceptive method.
Although 64 percent of them are using modern methods of contraception, 37.8 percent did not consult medical workers before their use.
The number of women using contraceptive methods in urban areas is higher than that in rural areas, with the highest rate recorded in the southeastern region (83.4 percent) and the lowest rate seen in the Red River Delta (75.1 percent).
About 17.4 percent of the correspondents said that they had abortions, with 19.6 percent reported in urban areas and 16.5 percent in rural areas.
The report said the surveyed communal medical centres have adequate infrastructure, equipment and human resources necessary to ensure the provision of family planning services.
However, only 9.7 percent of them fulfilled all the 25 indexes set. Of note, none of them in the north central, south central coastal and Central Highlands regions meet the index of readiness.
A number of the medical centres failed to satisfy the index regarding the supply of contraceptive methods such as tablets, condoms and intrauterine contraceptive device (IUD).
Up to 93 percent of the interviewees said they are satisfied with family planning services. However, only 40 percent of them said they will introduce the services to others.
The report on the survey's results will be used as a reference for policy makers, programme managers, health experts and researcher to implement relevant programmes, helping Vietnam completing sustainable development goals (SDGs), said Deputy Minister Tien.
Vietnam, Cuba enhance publishing cooperation
The Department of Publishing, Printing and Distribution under the Ministry of Information and Communications and the Cuban Book Institute (ICL) signed a publishing cooperation minutes in Hanoi on May 8.
Deputy Minister of Information and Communications Hoang Vinh Bao and Vice President of the Cuban institute Juan Carlos Santana Molina witnessed the signing.
Addressing the event, Bao highlighted the profound relationship between the Vietnamese Ministry of Information and Communications and the Cuban Ministry of Culture, saying the two sides have inked documents on cooperation in the fields of press, telecommunication and information technology.
He noted that the Department of Publishing, Printing and Distribution and the ICL need to discuss next concrete collaboration steps and make timely adjustments to better the two nations' publishing activities.
For his part, the ICL Vice President said the signing and realisation of this publishing cooperation agreement will contribute to deepening the relationship between the two countries and help Cuban people, via publications, understand more about the culture, people and achievements of Vietnam.
At the signing ceremony, the representatives agreed that the cooperation minutes is a firm legal framework for the two sides to continue fostering their collaboration while affirming that they need to make more efforts to materialise the cooperation.
They expressed belief that both sides will share their values through books – a bridge that helps human beings to develop.
In 2019, the Cuban Book Institute will create conditions for the Vietnamese department to take part in the International Book Fair of Havana. Vietnam plans to review five years of implementing Vietnam Book Day (April 21) and hopes the Cuban Book Institute will participate in this significant event.
New development step in Vietnam-Laos educational cooperation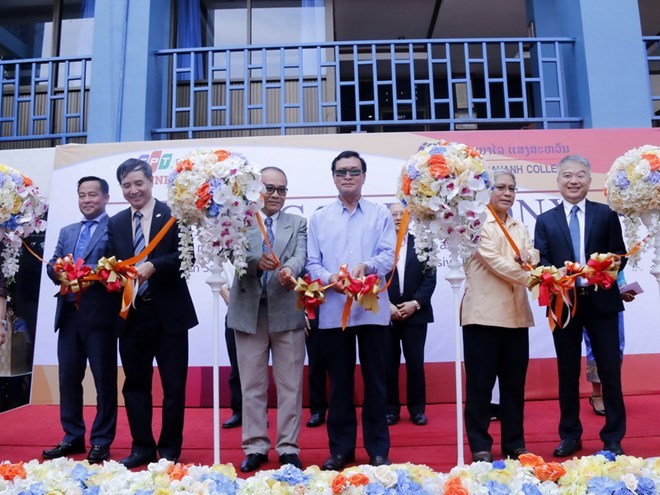 At the launching ceremony
A project on training cooperation between Vietnam's FPT University and Sengsavath College of Laos was launched in Vientiane on May 8, marking the first education cooperation scheme in the private sector between the two countries.
Under a memorandum of agreement signed on March 13, FPT University will coordinate with Sengsavath College in providing two training programmes related to software technology and business administration for Lao students.
Particularly, the Vietnamese university is responsible for sending teachers to Laos, providing teaching curricular in English, and ensuring training quality. Meanwhile, Sengsavath College has responsibility for providing facilities, introducing learning programmes to students and providing non-academic services.
Speaking at the ceremony, President of the Sengsavath Education Group Khamsen Sisavong stressed that the cooperation helps increase the prestige of Sengsavath College and provides a good chance for Lao students to learn international-standard training programmes with reasonable tuitions, as well as contributes to strengthening educational cooperation between the two countries.
FPT University President Le Truong Tung said that the partnership between the two sides will help Laos have high-quality human resources in order to better address challenges of the fourth Industrial Revolution, thus contributing to the nation building, development and safeguarding cause.
It is also part of a strategy to open branches abroad of FPT University, he added.
In their speeches, representative of the Vietnamese Embassy in Laos Nguyen Thanh Tung and Lao Deputy Minister of Education and Sports Kongsy Sengmany appreciated the linkage.
The cooperation between the two private educational establishments becomes a new model of cooperation helping train Lao students in information technology and attract students in other ASEAN nations to Laos in the time ahead, they stated.
Signing ceremony for food-safety supply chain between HCM City, Sóc Trăng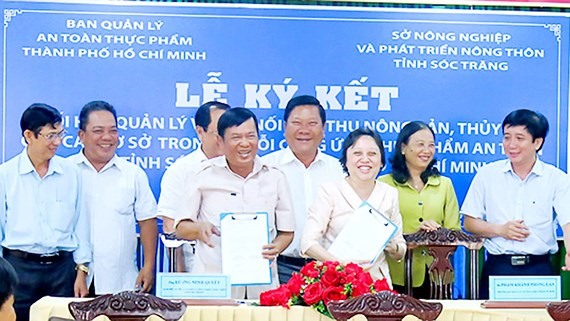 The quality of Sóc Trăng Province's agricultural and aquatic products in HCM City will be better managed via a food-safety supply chain. Photo: sggp.org.vn.
HCM City's Department of Food Safety Management and Sóc Trăng Province's Department of Agriculture and Rural Development held a signing ceremony recently to sell the latter's agricultural and aquatic products to those involved in a food-safety supply chain to ensure food safety.
The quality of products would be ensured from the first stage (cultivation, husbandry, gathering and exploiting) to the final stage (slaughtering, processing and trading).
By the end of 2019, they expect all agricultural and aquatic products from Sóc Trăng Province sold in HCM City to be controlled via such food-safety chains.
Phạm Khánh Phong Lan, head of the city's Food Safety Management, said the department had encouraged enterprises to join the city's food-safety supply chain.
The department will also help enterprises advertise their products and access the city's market through distribution systems.
Northern region to become cooler
Rain is forecast in Hanoi and some northern localities on late Tuesday. - Photo for illustrative purposes only
The northern region is likely to get rainfall on Tuesday afternoon, cooling some areas that have been suffering from a harsh early summer since the past week.
A cold snap affecting the mountainous northern localities is expected to bring down temperatures in the northern delta provinces to 31-34 degrees Celsius on an average, according to the National Centre for Hydrometeorological Forecasting.
Moderate to heavy rainfall is expected throughout the northern region by Tuesday night, with whirlwinds, sleet and wind gusts in some locations.
The centre has predicted showers and thunderstorms in Hà Nội on Tuesday night, which are likely to continue on Wednesday morning.
On Wednesday, temperatures in the capital city will peak at 27 degree Celsius by day and will dip to 23 degree Celsius by night.
Thunderstorms are also predicted on Wednesday in central provinces from Thanh Hóa to Phú Yên.
The early summer heat in the northern and north-central regions reached its peak on Monday, with the average temperature between 34-37 degrees Celsius. It reached 38-39 degrees Celsius in some districts in Hòa Bình and Hà Nội and in the provinces of Thanh Hóa, Nghệ An and Hà Tĩnh, causing people discomfort and exhaustion.