Issues discussed by Party Central Committee draw public concern
Officials, Party members and citizens have paid attention to issues being discussed at the seventh plenary meeting of the 12th tenure Communist Party of Vietnam Central Committee, which takes place from May 7-12.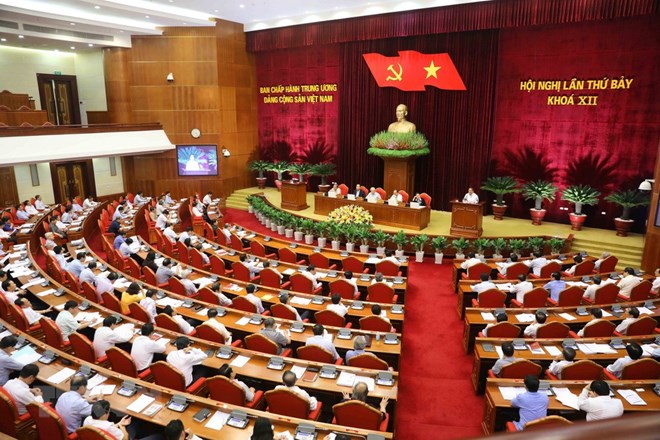 The seventh plenary meeting of the 12th tenure Communist Party of Vietnam Central Committee takes place from May 7-12.
The committee is mulling personnel work at all levels, especially the strategic level; salary reforms for officials, public servants, the armed forces, and workers; and social insurance policy reform, among other issues.
Regarding social insurance policy reform, Phan Van Men, Director of the Ho Chi Minh City Social Security, said about 224,000 labourers at 20,000 micro-and small businesses in the city have yet to join social insurance.
However, social insurance agencies struggle to access businesses which have ghost addresses, he said, describing the amended Law on Social Insurance, which took effect on January 1, 2018, as a useful tool to manage social insurance in each locality.
Men said the 9,678 voluntary social insurance participants in HCM City remains limited compared with the potential of the country's most populous city. Given this, he suggested changing voluntary social insurance policies to attract more participants.
Nguyen Thi Minh Thu, an official of Hung Thang ward, Ha Long city, the northern province of Quang Ninh, emphasised the need to complete sanctions against units and enterprises deliberately delaying social insurance payment for their labourers.
Thu's view was echoed by Dam Luc Si, Director of the Social Security of the southern province of Soc Trang, who said the social insurance policy should prescribe suitable regulations to reduce one-time social insurance benefit.
Besides, voluntary social insurance participants should receive more support from the State budget, and be facilitated in transferring to compulsory social insurance, he said.
Asked about salary policy, Truong Hong Son, Chief of the Office of the HCM City Labour Federation, suggested bonuses for initiatives and creativity at work, explaining that the present salary level has failed for create a momentum for officials and public servants to improve working efficiency.
Son expressed his hope that the Party and the State will roll out breakthrough policies regarding this issue.
Ma Chi Thanh, Deputy Director of the Department of Labour, Invalids and Social Affairs of Soc Trang province, said that salary reform is urgent to help labourers cover their daily needs, while encouraging them to work hard.
On personnel work, Nguyen Thi Dung, former lecturer of the HCM City College of Industry and Trade, said this is a hot issue which has sparked public concern recently.
To develop a quality contingent of officials at all levels, especially the strategic level, personnel work should be publicised and transparent, she said, adding that stricter sanctions against wrongdoings are needed.
Meanwhile, Vi Van Vuong, Chief of the Office of the People's Council and the People's Committee of Binh Lieu district, Quang Ninh province, said it is a must to revamp the assessment of officials, combine the planning of the management and leadership posts with the planning of professional officials, especially young, female and ethnic minority ones.
Attention should be paid to training personnel, reforming recruitment methods and promoting nomination and self-nomination rights in personnel work, he said.