Social News In Brief 10/5
Percentage of both parents working in Vietnam highest in Southeast Asia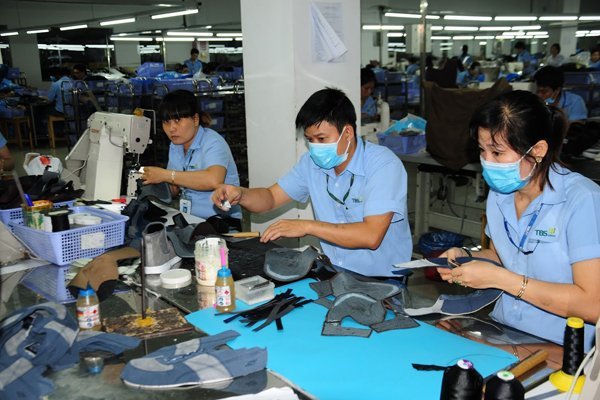 Male and female employees are at work at a footwear factory in Vietnam. Vietnam has the highest percentage of both husbands and wives working in Southeast Asia
Vietnam has the highest percentage of both husbands and wives working in Southeast Asia, according to a latest survey released on May 4 by the Hakuhodo Institute of Life and Living ASEAN (HILL ASEAN).
The survey puts the Vietnam figure at 97% compared to the region's average of 80%.
At the ASEAN Sei-katsu-sha Forum 2018 held in HCMC, themed New perspectives of Gender Equality at home: Who rules the house?, results of the survey show that four other Southeast Asian countries – Thailand, Singapore, Malaysia and Indonesia – also have high percentages of households where both parents go out for work, at 91%, 80%, 80% and 74% respectively.
In these households, the ratio of husbands earning more money than wives in Vietnam is the highest, 55%, followed by Indonesia with 54% and Thailand with 53%. Meanwhile, Malaysia and Singapore have the same percentage of 49%. The figures prove the proportion of Vietnamese wives earning more money than husbands is the smallest, 6%. The ratio of wives in Thailand paid more than husbands is 11%, Singapore 12% and Malaysia 10%.
The survey also indicates Vietnam takes the lead in the region in terms of both parents enjoying equal pay, at around 37%, compared to 28% in Thailand, 20% in Singapore, 21% in Malaysia and 14% in Indonesia.
Over 1,200 people with disabilities to be granted artificial limbs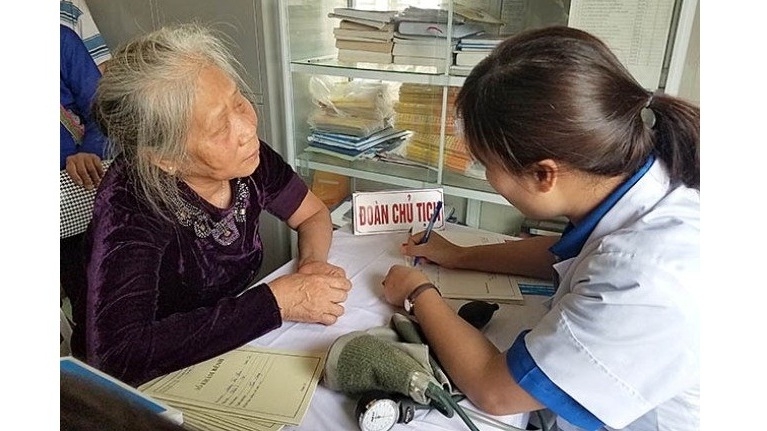 Medical staff offer free medical examination for local people in the northern province of Yen Bai.
As many as 1,200 people with disabilities will be offered free screenings in order to grant artificial limbs during the 9th Young Doctors' Festival 2018, announced the organisers.
At a press brief on Monday to introduce the agenda for the festival, the Organising Committee said that, as part of the programme, people with disabilities will be presented with artificial limbs.
The festival, themed "Young voluntary doctors for public healthcare," will take place from May 12 to 19 across the country, with the key event to be held in Tay Son district, Binh Dinh province on May 19.
This year's festival, co-hosted by the Vietnam Youth Federation and the Association of Vietnam's Young Doctors, has attracted the participation of over 6,000 young physicians to offer free medical examinations and distribute drugs for 100,000 people.
Free eye surgeries will also be provided to 500 elderly people, while first aid training will be granted to 5,000 teachers from 700 pre and primary schools nationwide.
The festival also targets mobilising young people to donate 13,000 units of blood and guiding 50,000 children to participate in a festival featuring hand washing with soap to prevent diseases.
Within the framework of the festival, localities across the nation will launch counselling centres to promote organ donations among the community, as well as implementing counselling on non-communicable diseases.
Quang Binh holds reburial service for remains of martyrs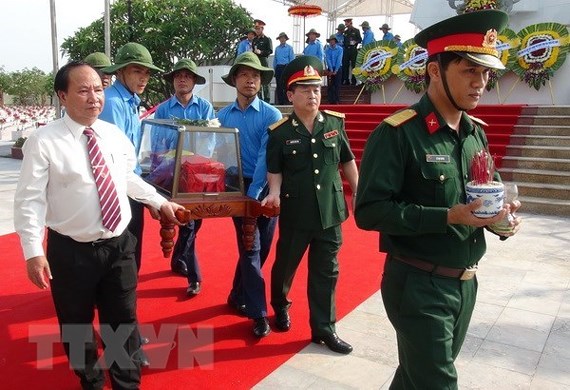 The People's Committee of the central province of Quang Binh held a memorial and reburial ceremony on May 9 for 18 set of remains of Vietnamese voluntary soldiers and experts who laid down their lives in battlefields in Laos during wartime.
The ceremony drew representatives of the Special Working Committees of the Lao Government and Khammoane province, Laos' Ministry of Labour and Social Welfare, and leaders of the Military Zone 4 and Quang Binh province of Vietnam, among others.
The sets of remains were searched and gathered by Team 589 under the Military Headquarters of Quang Binh province with the support from Khammoane province's Labour and Social Welfare Department and Military Headquarters and Lao people.
They were sent home in the first repatriation of this year during the 2017-2018 dry season.
Participants at the ceremony offered flowers and incense to the martyrs, showing gratitude to the martyrs who sacrificed their live for the liberation of Laos.
The remains were buried in Ba Doc Martyrs' Cemetery in Dong Hoi city of Quang Binh.
In May last year, Quang Binh also held a reburial ceremony for 26 sets of remains of Vietnamese soldiers and experts who died in Laos. They were unearthed during the 2016-2017 dry season.
VND2.9 trillion project to help provinces in adapting to natural disasters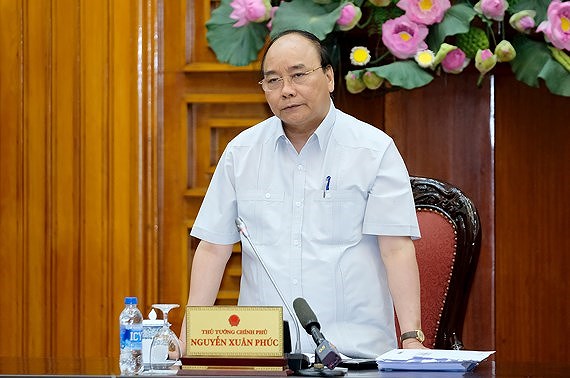 Prime Minister Nguyen Xuan Phuc at a working session with northwestern localities (Photo: VGP)
Prime Minister Nguyen Xuan Phuc had a working session on developing rural areas adaptable to natural disasters with leaders of northwestern provinces of Lao Cai, Ha Giang, Yen Bai, Dien Bien, Lai Chau and Son La, at Government Office in Hanoi on May 7.
The project investing in irrigation, river and dyke and transport has a total capital of VND2,900 billion (US$129.4 million), including the funds coming from JICA loans of about VND2,365 billion.
After completing, the project will bring benefit to nearly 420,000 households in agricultural production, approaching the market, increasing productivity of crops and livestock farming, adapting to a changing climate.
PM Phuc asked the northwestern provinces to carry out investment activities in accordance with the provisions of the regulations, and the Ministry of Finance and the Ministry of Agriculture and Rural Development to inspect and boost the implementation and effective development of the project.
Public concerned about chronic inundation in rainy season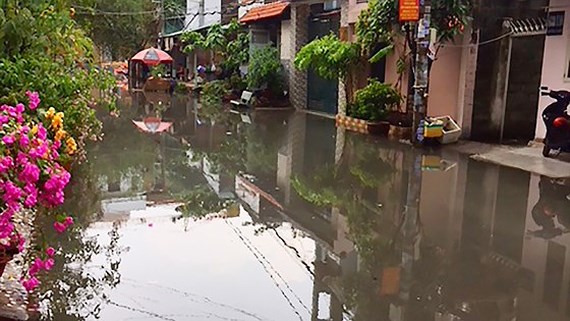 Flooded street Le Duc Tho in Go Vap District (Photo: SGGP)
Flooding was seen everywhere in Ho Chi Minh City after the downpours yesterday, city dwellers worried that inundation would get worse during this year's rainy season as the VND10 trillion (US$438.5 million) project on flood management measures has been halted indefinitely to wait for completion of related paper formalities.
Though 75 percent of the project had been carried out, the project investor - Trungnam group – decided to halt it from April 27. Explaining the reason for the project halting, the company said that the Bank for Investment and Development of Vietnam (BIDV) stopped disbursement for the project because the city People's Committee has not signed the project disbursement report for recapitalization procedure.
The investor will start the project just after the bank and city authorities finish paper formalities of disbursement.
The VND10 trillion anti-flood project was begun in June, 2016, comprising of six big sewers Ben Nghe, Tan Thuan, Phu Xuan, Muong Chuoi, Cay Kho and Phu Dinh. Additionally, it has an embankment along Sai Gon river with the length of 7.8 kilometer to protect major areas.
With the aim of preventing floods for the area of 570 square kilometers, it is scheduled to finish on April 30 this year but it failed to finish on time because districts are late in land reclamation.
Streets To Ngoc Van and Pham Van Dong in Thu Duc District remained more than 30 cm submerged after yesterday heavy rain causing difficulties for vehicle drivers meanwhile their peers in Le Van Viet in district 9 were struggling to run.
Numerous people had to wade through flooded street La Xuan Oai in the same district on their way home, as a rainfall kept pouring down for hours in the late afternoon.
In a bid to reduce flooding in the rainy season, the city anti-flooding center are striving to finish projects to tackle inundation including Me Coc in district 8, Luu Huu Phuoc and Luong Dinh Cua in district 2, Ton That Hiep, Ho Van Tu in district 11, Truong Vinh Ky in Tan Phu district, An Duong Vuong in district 6 and Huynh tan Phat in district 7.
The center has also conducted maintenance and dredging of canals and rivers in the city.
Moreover, it has piloted to lease the pump with a capacity of 27,000 to 96,000 cubic meters per hour to work in Nguyen Huu Canh Street in Binh Thanh District, which is often susceptible to flooding due to rain and high tides.
Chairman of the municipal People's Committee Nguyen Thanh Phong has ordered related agencies to take heed to fight flooding in rainy season.
Travel promotion fair aims to boost Vietnam-India tourism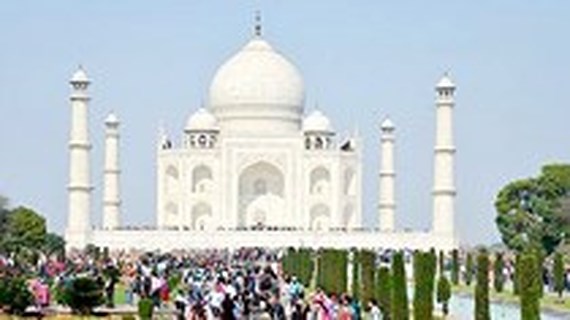 India is a potential market for Ho Chi Minh City particularly and Vietnam generally
A travel promotion fair was held yesterday in Ho Chi Minh City to boost Vietnam-India tourist, comprising of a promotional mix of activities.
A report of the city's Department of Tourist said that the city welcomed around 57,000 Indian travelers in 2017, up by 10 percent compared to 2016, listing India in the top of 15 nations with most visitors to the city.
India was in the top 15 largest foreign markets of the city with 57,000 visitors travelling the city in 2017.
According to India Tourist Agency, around 85,000 Indian holiday-makers arrived in Vietnam last year. The quantity of tourists is not satisfactory; accordingly, India will beef up promotion in Vietnam in order to connect travel companies and aviation agents to promote India tourism in Vietnam.
6,000 voluntary doctors to participate in annual community healthcare program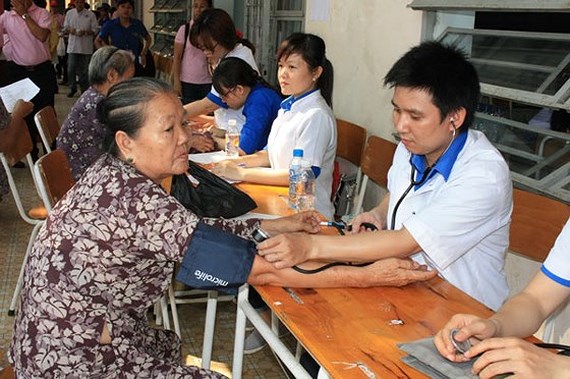 Young doctors provide free health check-ups to elderly. (Photo: Sggp)
The Vietnam Youth Federation and the Association of Vietnam's Young Doctors on May 7 announced the annual festival of young doctors with the participation of 6,000 physicians.
This year's event themed "Voluntary young doctors for community health" will give free medical check-up, drugs for 10,000 people; offer free eye surgeries for 500 elderly; provide first-aid training to 5,000 teachers in 700 primary schools and kindergartens; collect 13,000 units of blood; fund 20 water filters in primary schools and kindergartens; provide free health check-ups to 1,200 disabled people.
Young doctors will also organize consulting activities on family planning and reproductive health care; present gifts to workers in industrial zones and export processing zones.
The festival will take place in 63 provinces and cities throughout the country from May 12-19.
Tra Vinh province strives to reduce dropout rate
Chairman of People's Committee in the Mekong delta province of Tra Vinh Dong Van Lam directed all sectors and agencies to adopt measures to reduce dropout rate so that the situation will not take place in the 2018-2019 school year.
Though the academic year 2017-2018 is coming to end, dropping out in schools in the province seemed to happen.
Relevant agencies and sectors must curb the student dropout rate, he said.
Students dropped out because of their families' poor economic condition, parent associations, the Studying Encouragement Association and other unions should provide timely support and encourage their parents to send their children back to schools in the next year, he added.
Local administrators should take heeds to call for benefactors to contribute to a fund for poor kids' education.
The Department of Education and Training must liaise with school managers to keep an eye on students' economic condition to give assistance to students who have highest risk of quitting schools.
Moreover, school managers have to organize fresh courses for weak students to reduce the dropout rate to the minimum. Localities should take advantage of poverty reduction policies and projects as well as employment offering programs to near-poor and poor families with the aim to curb student dropout.
According to the provincial Department of Education and Training, from the beginning of the year, over 1,000 students left schools; of whom, 127 are primary students, 590 are junior high school students, 160 senior high school students and 156 of them are from continuous studying centers.
The findings revealed that family's poor income, parents' awareness of schooling's benefit have direct influence over dropout rates. Many students even travelled from here to there with their parents to be employed to do seasonal jobs.
VN, France issue joint statement on development of GEMMES Program
The Ministry of Natural Resources and Environment and the French Development Agency (AFD) on May 8 released a joint statement on development of GEMMES Program (Generalized Monetary Macroeconomics for the Ecological Shift).
Accordingly, Viet Nam has become the first nation in Asia to benefit from the program.
Through the GEMMES, the French Government has affirmed concerns and supports for Viet Nam in launching long-term strategies in response to climate change.
Based on macroeconomic model for each region of Viet Nam, the objective of the program is to provide prediction about impacts of climate change on socio-economic activities in Viet Nam.
The program will integrate and evaluate sectoral and/or local adaptation options, manifesting Viet Nam's determinations in the Paris Agreement.
GEMMES Viet Nam will carry out three main tasks including studying different aspects of damages caused by climate change in Viet Nam and evaluating its adaptive strategies.
The program heads to apply updated research methods on climate change's effects on the economy, thus releasing evaluations on damages and adaption of Viet Nam, said AFD Director Fabrice Richy, adding that evaluations from the program will be used for identifying Viet Nam's status in negotiations on climate and optimizing adaption investment for localities.
The GEMMES research, initiated in 2015, has been carried out in Brazil, Ivory Coast, Tunisia and Colombia.
Earlier on March 27, 2018, a memorandum of understanding on implementation of the Paris Agreement in Viet Nam was inked by Minister of Natural Resources and the Environment Tran Hong Ha and Director General of the AFD Remy Gioux in Paris under the witness of President of France Emmanuel Macron and Party General Secretary Nguyen Phu Trong on the occasion of the Vietnamese Party chief's official visit to France in recent March.
NASA helps improve land use status, change, impacts in VN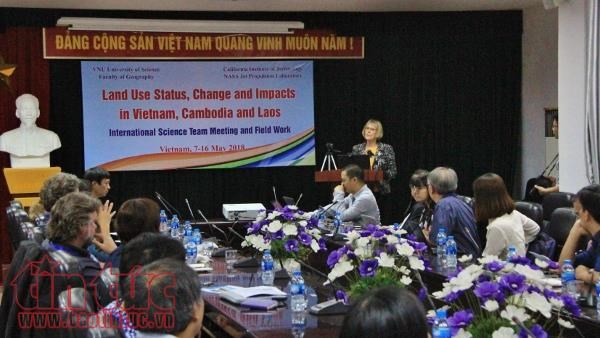 The U.S. National Aeronautics and Space Administration (NASA) has officially launched a project on Land use status, change and impacts in Viet Nam, Cambodia and Laos from May 7-16.

An international science team meeting and fields work on the project was organized on May 7 with the participation of more than 60 international and domestic scientists.

The project is aimed at measuring the status, coverage and use of land and setting maps on changes related to population change and demographics in Southeast Asia including Viet Nam, Cambodia and Laos.

The cooperation with NASA will help domestic scientists to get access to modern technology in space technology and exploring, thus tackling issues on urban management, land use and response to climate change.
SMS campaign launched to help poor fishermen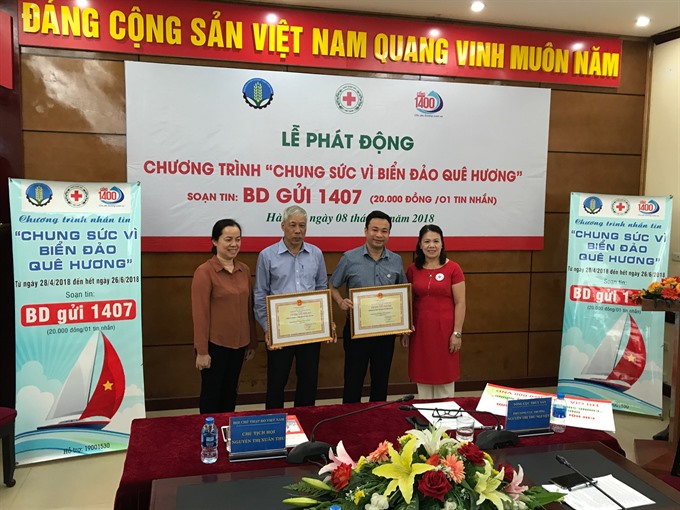 The Hà Nội Red Cross Society donates VNĐ1 billion and the Mecom Marine Equipment JSC. also donates 10 aqua products exploitation recorders to the Việt Nam Red Cross's campaign.
A humanitarian campaign was launched on May 8 to help poor fishermen in economic development and support them to maintain their fishing as well as protect the country's sea and island sovereignty.
The campaign, entitled Together for the sea and islands, was launched by the Việt Nam Red Cross (VNRC) in collaboration with the Ministry of Agriculture and Rural Development and the National Humanitarian Portal 1400.
People can support the programme by texting BD to 1407 to June 26, 2018. Each mobile text message will contribute VNĐ20,000 (85US cents) to the fund.
"We expect to mobilise at least 100,000 text messages or VNĐ2 billion (US$88,500) from local and international donors," said VNRC President NguyễnThị Xuân Thu.
Thu said that all collected money and goods will be used to provide a medicine box, training course on first aid and provide free health check-up and medicine to poor fishermen in coastal provinces of the country.
The campaign will also donate communication equipment to help fishermen following weather information and alerts as well as to provide livelihood loans to help poor fishermen in production shift and economy development, according to Thu.
At the event, the Hà Nội Red Cross Society donated VNĐ1 billion and the Mecom Marine Equipment JSC. also donated 10 aqua products exploitation recorders to the campaign.
Nguyen Huu Canh flooded despite massive water pump
Nguyen Huu Canh Street in downtown HCMC was still submerged under water after heavy rain on May 7 although the HCMC government earlier signed an agreement to hire a massive water pump to prevent the street from floods, Nguoi Lao Dong newspaper reports.
Some sections of the street crossing Ward 22, Binh Thanh District were flooded after the rain while others from District 1 to Saigon Bridge were about 30 centimeters under water, causing many motorcycles to break down.
The area near Saigon Bridge was most flooded, striking a large number of motorbikes and forcing people to wade through the flooded street.
On April 19, the HCMC government clinched a deal to hire an industrial water pump from Quang Trung Industry Group Joint Stock Company to drain floodwater on Nguyen Huu Canh Street. The agreement says that if the street is about 15 centimeters under water, the pump cannot ensure efficient operation. Prior to the signing, the pump was deployed 13 times to drain floodwater from the road, of which only one time the anti-flooding effort failed.
VRN launches Dialogue with Rivers photo contest

The Vietnam River Network (VRN) has launched the 2018 Doi Thoai Voi Dong Song (Dialogue with Rivers) photo contest which is aimed at raising public awareness of water resource protection and calling for people's practical actions for sustainable development in the region.

With the theme "The Mekong Delta – Water and Women", the fourth edition of the contest emphasizes images of women in the Mekong Delta who are facing environmental issues like water pollution, water shortage, saltwater intrusion and climate change.

Lasting from May 1 to August 31, 2018, the contest will present monthly prizes, grand prizes and extra titles for entries selected by professional and experienced photographers and environment experts.

Winning entries will be updated on the contest's Facebook of VRN-Doi Thoai Voi Dong Song, and the best photos will be exhibited at the prize presentation ceremony.

According to VRN, climate change, upstream Mekong River projects, and people's activities of daily living and production have seriously threatened water resource security in the Mekong Delta over the past nearly decade. Besides, shorter rainy seasons and rising sea levels have worsened water pollution, freshwater shortage and saltwater intrusion in the delta.
Ha Giang plans new administration center

The northern province of Ha Giang has asked the Prime Minister for approval to construct a new provincial administration center in the build-transfer-lease (BTL) format at a total cost of around VND693 billion, news website Dan Tri reports.

A report of the Ha Giang government shows that the project consists of two 12-storey blocks and that of the VND693 billion cost, loan interest would account for some VND127 billion.

With the BTL format, Ha Giang would have to reimburse the investment capital plus interest in 11 years and recoup the capital in another nine years.

Explaining the need for a new administration center, the provincial government said the current local government offices built in 1990 and 1991 are deteriorating and scattered on different roads, making it inconvenient for citizens and enterprises to work with State agencies.

The southern province of Binh Duong became the first in the country to build a new provincial administration center, followed by the central coast city of Danang and others. However, in November 2015, the Prime Minister ordered a stop to this practice due to concerns about public overspending and murky sales of old provincial government buildings.

Ha Giang is currently categorized as a poverty-stricken province with 74,313 poor households accounting for 43.65% of the total in 2016 and 38.75% this year.
BOT Long An tollgate yet to be opened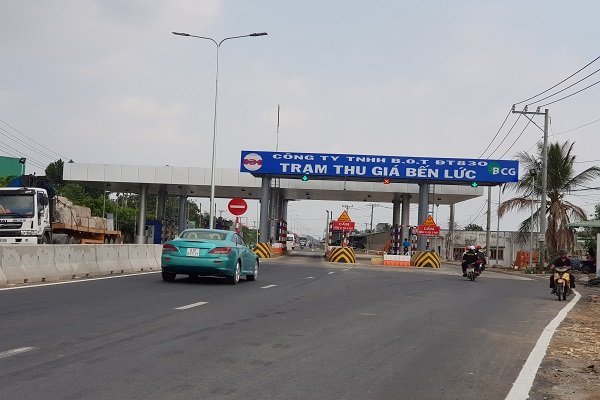 A view of BOT DT 830 tollgate, which has yet to be operational due to undecided toll rates

BOT tollgate on Provincial Road DT 830 in Long An Province has yet to be operational on May 3 as scheduled for test toll collection, said Nguyen Van Hoc, director of the Transport Department of Long An.

Hoc told the Daily that tolling time has yet been determined by the Long An government as more discussion on toll rates is needed.

Test toll collection was originally slated to begin on May 3 and official collection on May 15.

At a meeting on April 26 between the Long An government, relevant agencies and the developer of DT 830 project, May 18 was chosen to put the tollgate into operation with toll rates ranging from VND30,000 to VND165,000 per time, from VND900,000 to VND4.95 million per month and from VND2.43 million to VND13.365 million per quarter.

Regarding container trucks, tolls depend on their load and drivers who go through two tollgates of DT 830 in the same direction are required to pay once a day.

Hoc said the above rates were previously suggested by the developer and lender banks.

DT 830 running from Highway 1 to Ben Luc and Duc Hoa districts in Long An Province helps facilitate goods transport to industrial parks in Long An. The project jointly invested by Bang Duong Investment-Construction-Trading Co Ltd and Bamboo Capital Group with total investment capital of some VND1,079 billion.
Hanoi hosts procession to commemorate Russia's Great Patriotic War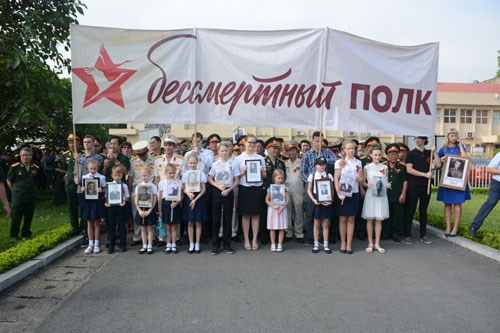 Participants of the Immortal Regiment procession in Hanoi on May 8 (Photo:hanoimoi.com.vn)
Close to 1,000 people joined the so-called Immortal Regiment procession in Hanoi on May 8 on the occasion of the 73rd anniversary of the victory of Russia's Great Patriotic War (May 9, 1945-2017).
The event, held by the Russian Embassy in Hanoi, also marked the 43rd anniversary of southern liberation and national reunification (April 30, 1975-2018) and the 64th anniversary of Dien Bien Phu Victory (May 7, 1954-2018).
Participants included Vietnamese war veterans and students along with representatives from embassies of Commonwealth of Independent States countries. Many held pictures of their late families' members, who once fought in the Great Patriotic War and Vietnam's past struggles for independence..
Speaking at the event, Russian Ambassador to Vietnam Konstantin Vnukov said the term "Immortal Regiment" was coined in a similar procession in Russia's Tomsk city in 2012. The procession since then was held annually in many parts of the world, he added.
The diplomat said he expects the activity to become an annual event that spreads through localities of Vietnam.
The Immortal Regiment walk first took place in Vietnam last year.
Tra Vinh to relocate 700 erosion-affected households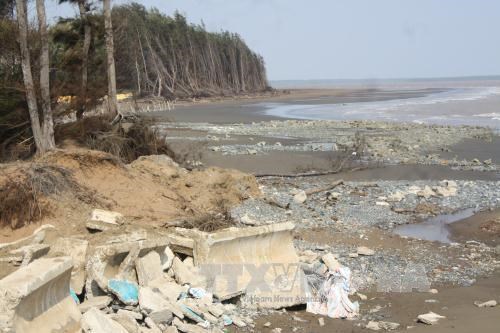 A sea dyke in the Mekong Delta province of Tra Vinh is affected by erosion.
The Mekong Delta province of Tra Vinh will need about 280 billion VND (12.32 million USD) to move approximately 700 households from erosion-prone areas to safe places from 2018 – 2020.
Of the amount, over 247 billion VND (10.86 million USD) will be spent on six new resettlement projects, accommodating over 450 affected families in Hoa Minh commune (Chau Thanh district), Long Vinh commune (Duyen Hai district), My Long Bac and Vinh Kim communes (Cau Ngang district), Duc My commune (Cang Long district) and Dinh An commune, Tra Cu district, according to the provincial Department of Agriculture and Rural Development.
The province is seeking to relocate 42 households in high-risk areas in Vam Ben Tranh village, Dinh An commune as soon as possible.
The remaining fund will be budgeted for three existing projects in Duyen Hai, Chau Thanh and Cang Long districts.
The complexity of extreme weather and climate change has put coastal areas and lands on the banks of rivers and canals in Tra Vinh at high risk of erosion, said Deputy Director of the provincial Department of Agriculture and Rural Development Huynh Kip No.
The department has proposed the provincial People's Committee to consider additional public investment for urgent resettlement projects from now to 2020.
The erosion of land along coasts and rivers has occurred in many parts of the Mekong Delta, including Tra Vinh, for many years. It has affected cultivation and the lives of millions of residents living in the province's erosion-prone areas.
Erosion and sea water intrusion are expected to become more severe. Experts forecast that the delta would lose 39 percent of its area to the sea if the sea level rises by 100cm by 2100.
Since 2012, Tra Vinh has invested more than 107 billion VND (4.7 million USD) to support over 2,000 people living in high-risk areas, mostly by helping them move to safe places, receive vocational training and shift to new plants and animals that are more adaptive to local conditions.