People at high risk of contracting HIV provided with PrEP
A conference is held in Ho Chi Minh City on May 29 to review the implementation of a trial project on PrEP.
A total of 1,200 people who are at high risk of contracting HIV have been provided with Pre-exposure Prophylaxis (PrEP), which can reduce the risk of infecting HIV if taken consistently.
The information was released at a conference held in Ho Chi Minh City on May 29 to review the implementation of a trial project on PrEP after one year.
The project was jointly implemented by the Vietnam Administration for HIV/AIDS Control (VAAC), the United States Agency for International Development (USAID) and the World Health Organisation.
Mei Mei Peng, a representative of USAID, said the project has been carried out in Vietnam since March 2017, with the focus on high-risk groups, including men who have sex with men (MSM), transgender women and partners of HIV-infected people.
The drug has been provided in Hanoi and Ho Chi Minh City through public clinics, private healthcare centres and community organizations.
In 2015, WHO recommended using PrEP as part of a comprehensive HIV preventive strategy for high-risk people.
VAAC Director Associate Prof. Dr. Nguyen Hoang Loang stressed that together with antiretroviral treatment for HIV people, PrEP is expected to help Vietnam eliminate the HIV/AIDS epidemic by 2030.
With this result, Vietnam will expand the provision of PrEP, firstly in 11 provinces and cities with the aim of providing PrEP for 5,610 people at high risk by 2019 and about 7,300 people by 2020, Long said.
Almost 536 tonnes of rice offered to northern Ha Giang province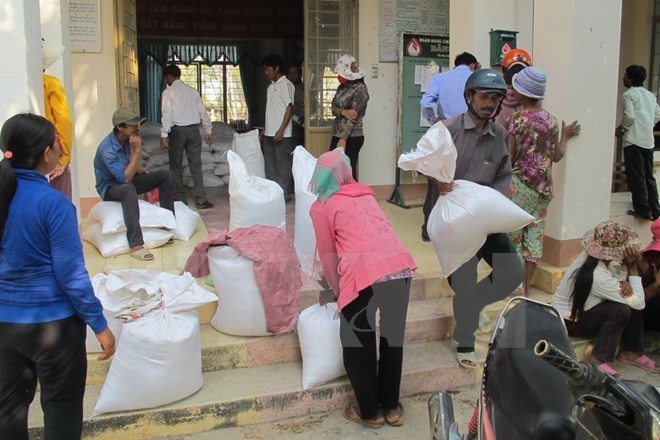 Prime Minister Nguyen Xuan Phuc has decided to provide nearly 536 tonnes of rice as aid to the northern mountainous province of Ha Giang during the between-crop period of 2018.
The rice, sourced from the national rice reserve, aims to support local residents in Ha Giang and ensure no one suffers from hunger during the period.
The PM assigned the Ministry of Finance to allocate the rice to Ha Giang, while asking the provincial authorities to ensure timely delivery to appropriate beneficiaries in line with regulations.
In February, the PM also decided to provide over 5,504 tonnes of rice from the national reserve as food aid to seven localities – Quang Ngai, Quang Binh, Binh Dinh, Dak Nong, Dak Lak, Soc Trang and Kon Tum - on the occasion of the Lunar New Year (Tet) holiday.
Another package of more than 4,432 tonnes of rice aid was offered to eight provinces to ease hunger during the between-crop period. Beneficiaries include Cao Bang, Lai Chau, Lang Son, Quang Ngai, and Binh Dinh.
About 74 tonnes of rice aid was also be given to the northern mountainous province of Bac Kan to help it alleviate crop damage caused by diseases on rice, while the Central Highlands province of Gia Lai received over 1,173 tonnes to cope with hunger during Tet and the between-crop time.
Lord Buddha's birthday celebrated abroad
A ceremony was held at Phat Tich Pagoda in the Lao capital city of Vientiane on May 29 to mark the 2,562nd birth anniversary of Lord Buddha.
Vietnamese Buddhist monks, nuns and followers gathered at Phat Tich Pagoda in the Lao capital city of Vientiane on May 29 to mark the 2,562nd birth anniversary of Lord Buddha.
Addressing the ceremony, Most Venerable Thich Minh Quang, head of the Phat Tich Pagoda, conveyed the message of Supreme Patriarch of the Vietnam Buddhist Sangha (VBS) Most Venerable Thich Pho Tue on the occasion of Lord Buddha's birthday.
The Supreme Patriarch called on all Vietnamese Buddhists to make unceasing efforts to help Buddhism continue playing an important role in the great national unity bloc and the process of national development and protection.
At the ceremony, the Buddhist dignitaries, monks and nuns conducted traditional rituals to pray for peace and happiness.
The same day, a similar event was held at Budhha Vihara Pagoda in Delhi, India, during which Buddhist followers heard the messages of Supreme Patriarch Most Venerable Thich Pho Tue and Chairman of the VBS's Executive Council Most Venerable Thich Thien Nhon.
The Buddhist followers conducted traditional rituals and expressed their solidarity with and love for the homeland.
On May 27 night, the Association of Vietnamese Buddhists in the Czech Republic also held an event to celebrate the Lord Buddha's birthday, with the participation of 500 Buddhist followers from many cities and provinces of the country.
Established in 2007, the association has 13 branches with 3,000 core members. Buddhist monks, nuns and followers contributed to building five pagodas and eight worshipping places in the country.
Tien Giang province breeds more tra fish on alluvial areas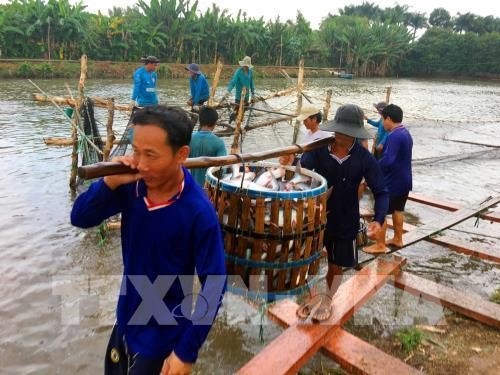 The Mekong Delta province of Tien Giang is developing intensive tra fish farming in alluvial areas along rivers to produce high quality fish for export.
The province is using more than 120ha of ground area along rivers to breed fish, mostly tra fish, according to the provincial Department of Agriculture and Rural Development.
Tan Phong commune, which is an islet in the Tien river, is one of the major areas for breeding tra fish in alluvial ground areas in the province.
The commune has more than 60ha of alluvial ground areas used to farm tra fish, accounting for 50 percent of the province total's tra fish breeding area, according to Kieu Manh Quan, Secretary of Tan Phong commune's Party Committee.
Cao Van Hoa, Deputy Director of the Department of Agriculture and Rural Development, said to develop tra fish breeding in alluvial ground areas, the province has paid attention to zoning farming areas and transferring farming techniques for farmers.
The province will also create favourable conditions for tra fish breeders to participate in the delta's three-tier cooperation plan for production of high-quality tra fish breeds in the delta.
The cooperation plan, which was approved by the Ministry of Agriculture and Rural Development in March, aims to establish three-tier tra fish breed production chains that produce about 50 percent of the region's demand of 2.2 – 2.5 billion fries a year by 2020.
The department has encouraged farmers to breed tra fish under Good Agricultural Practices (GAP) standards.
The province has 51.4ha of tra fish bred under GAP standards, including 6.4ha under global GAP standards and 45ha under Vietnamese GAP standards. It also has 15.8ha bred under Aquaculture Stewardship Council (ASC) standards.
In Tien Giang, main tra fish breeding areas are in islets and alluvial ground areas along the Tien river in Cai Lay and Cai Be districts.
The province plans to have about 180ha of tra fish with an annual output of 67,000 tonnes by 2020.
Located downstream of the Tien River, a tributary of the Mekong River, Tien Giang has a dense network of rivers and canals which have advantages for aquaculture development.
Conference spotlights Japanese farming technologies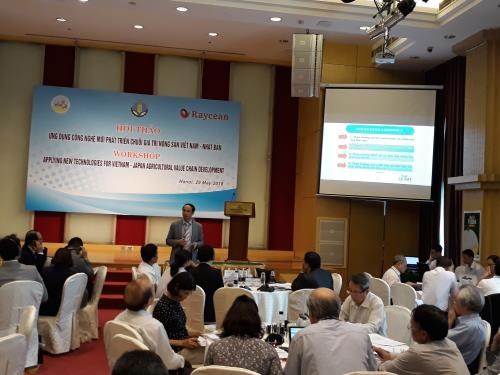 The workshop on "Applying new technologies for Vietnam - Japan agricultural value chain development" is held in Hanoi on May 29.
Benefits of applying Japanese agricultural technologies in Vietnam were discussed at a workshop in Hanoi on May 29.
Nguyen Hong Son, Head of the Vietnam Academy of Agricultural Sciences, said Vietnam's agriculture is shifting its focus from quantity to quality, stressing science and technology are key to the process.
Advanced technologies ought to be applied throughout the production chain from field to market, he added.
Japan's agricultural technologies are suitable to Vietnam and will help boost bilateral trade, as Vietnamese farm produce exported to Japan must meet quality demand from the market, Son noted.
"The quality of a product is based largely on its production technology," he said.
Participating Japanese businesses introduced a number of new technology features, including bio-products, aquaponics, organic fertilizers and insecticides, and heat-control materials.
Koichiro Abe, CEO of Raycean Inc., said high-tech farm produce is sold at high prices in Japan.
Technologies and marketing strategies could multiply the value of agricultural products, he said.
Vietnam-Japan trade is on the rise in recent years, particularly concerning fruits and vegetables.
Japan is now the second biggest importers of Vietnamese fruits and vegetables, after China.
Dak Lak: UXO victims receive financial aid to improve livelihoods
Twenty aid packages, worth 10 million VND each, are presented to victims of war-era unexploded ordnances (UXOs) in the Central Highlands province of Dak Lak on May 29. (Photo: Dai Doan Ket)
The Vietnam Association for Supporting UXO/Mine Action efforts (VNASMA) presented 20 aid packages, worth 10 million VND each, to victims of war-era unexploded ordnances (UXOs) in the Central Highlands province of Dak Lak on May 29.
The donations were given to UXO/Mine victims from difficult backgrounds in an event in the provincial capital of Buon Ma Thuot to support their livelihoods.
The financial aid is expected to help the victims develop their business and escape from poverty, said Lt. Gen. Pham Ngoc Khoa, VNASMA Vice President.
He noted that the VNASMA will continue educating people on the consequences of war-era UXOs and how to prevent related accidents and injuries. The association will ramp up activities to support the victims' livelihoods and give them access to medical treatment, orthopedic and rehabilitation services.
Furthermore, people living in UXO-contaminated land will be supported to move to safer places while more funds will be mobilized from donators both at home and overseas to assist the victims and mine clearance efforts.
Some 18 charity events of this kind have been held by the VNASMA since 2015 to support the livelihoods of UXO/Mine victims in 17 cities and provinces.
The Central Highlands province of Dak Lak has more than 152,000 hectares of land contaminated by mines and UXOs. Since 2010, four UXO/Mine accidents have occurred in the province, killing three people and injuring seven others. Over 6,400 bombs and mines alongside thousands kilogrammes of ammunition have been discovered so far.
According to a report of the Ministry of Labour, Invalids and Social Affairs last year, Vietnam is one of the most UXO-contaminated countries in the world. It is estimated that about 800,000 tonnes of UXOs were left across the country after the war ended, mostly in the central region.
Some 6.13 million hectares of land are polluted with or suspected of being polluted with UXOs, accounting for 18.82 percent of the country's total area.
Since 1975, UXO incidents have killed more than 40,000 people and injured 60,000 others, most of whom were breadwinners of their families or children.
Hundreds of drivers travelling through the Thủ Thiêm Tunnel that crosses the Sài Gòn River in HCM City were surprised to see traffic officers handing out free raincoats during recent downpours.
The giveaway is set to run until November, as a part of a project by Sài Gòn River Tunnel Management Centre to curb traffic jams during heavy rain.
A common sight during downpours is drivers stopping under bridges or in tunnels to avoid getting wet. The stopped vehicles can worsen congestion for road users and present a hazard for other vehicles at key junctions or intersections.
A foreign resident told the writer he was surprised to see how much Vietnamese drivers were afraid of getting wet in the rain.
And, of course, sheltering under bridges is not a good solution, at least in the view of traffic officers.
A group of tourists from Hà Nội were enraged at having to pay an extra VNĐ500,000 to use 10 seats on Đồ Sơn Beach in the northern port city of Hải Phòng last Friday after having seafood at a restaurant.
The tourists publicised a video about the unreasonable charge online, calling for a boycott on Đồ Sơn tourism. One of the tourists said the restaurant served seafood and was obligated to offer seats for their customers.
"Should tourists buy the crabs and eat them while they are standing?" she said.
Vice chairman of Đồ Sơn District's People's Committee Hoàng Trung Hiếu on May 28 said that putting chairs on the beach for business was banned and it was illegal for businessmen to force tourists to pay for seats on the beach, Người lao động (The Labourer) newspaper reported.
The restaurant was fined VNĐ2 million for forcing tourists to buy tourism services/goods.
Logic would dictate the VNĐ500,000 would return to the tourists, right?
Wrong, authorities demanded it be given to the State budget.
Something certainly smells fishy here, and it's not the crabs.
A man with two valid marriage certificates
Vietnamese laws don't allow a man to have two lawful wives at the same time but a 60-year-old man in central province of Hà Tĩnh has found himself in that very situation with two marriage certificates at the same time.
Online newspaper baodatviet.vn on May 28 reported that a teacher in Hương Vĩnh Commune, Hương Khê District early last year, submitted divorce proceedings to Hưng Khê District People's Court as he and his first wife wanted to divorce.
The court sought measures for conciliation in order to help the couple clearly realise their responsibilities towards their children. Conciliation is not only a legal procedure, but also reflects the Vietnamese people's morals. After the conciliation, the wife changed her decision but the court, on January 24, still permitted the divorce without considering the wife's change of heart.
Meanwhile, 15 days after the divorce decision took effect, the man registered to get married to another woman at Hương Vĩnh Commune People's Committee. The second wife signed in a lawful marriage certificate and the couple are living happily.
The case is dealt with by the superior People's Court in Hà Nội as the first wife asked for cassation - the review of a legally valid judgment or decision which is protested against because of serious law violations detected in the handling of the case.
When courts are confused to address the violation, the communal People's Committee has called on the male teacher and his second wife to get a divorce. Is it so unfair to the second woman?
Phạm Duy Hưng, 32, of the northern province of Hà Nam's fell into deep distress when he learned he'd been cuckolded last Friday, as he learned his girlfriend was having a sexual relationship with another man.
Hưng was so angry that he grabbed a shotgun, a scimitar and then drove his car to the hotel his girlfriend was staying in with her new partner to punish the man and win his lover back.
Luckily, fortune doesn't always favour the bold or potentially murderous.
Hưng was arrested on the way to go to the hotel by local police for illegal possession of weapons.
Losing your lover and liberty on the same day has to be a bitter pill to swallow!
SCG brings International Children's Day to disabled children
SCG, one of the leading conglomerates in ASEAN, recently organized its annual International Children's Day celebrations for 257 students at the School for Disabled Children in Ba Ria Vung Tau. The event, which has taken place for the eight consecutive years in the southern province, aims to support the development of disabled children by offering them various life experiences.
This year, under the theme "Passion for Better Education", SCG also donated educational equipment to the school.
"SCG has a passion to lift the quality of life in communities where we operate," said Mr. Booneuame Noiaim, Deputy General Director of the Long Son Petrochemical Complex. "With our strong belief that a better education will facilitate a better life, in Ba Ria Vung Tau, the home of our flagship project Long Son Petrochemicals, SCG is delighted to cooperate with the School for Disabled Children in Ba Ria Vung Tau to provide necessary education for the special children here. With our continuous effort over the past eight years, we are glad to watch many children grow and become helping hands for their families."
SCG has shared its passion for better education with the school and local families, which opens the door to a better future. On the occasion of International Children's Day, SCG, together with the school and local families, hosted various activities, including educational games and stage performances, and presented gifts to the children. It will also provide incentive scholarships to 50 students at the school and donate a screen projector and other school equipment.
"Students at our school have made clear progress in development over the past few years thanks to SCG's continuous support to improve the school's facilities," said Headmaster Mr. Nguyen Huu Dung. "This valuable support gives more opportunities to our children, especially their right to study and live equally regardless of their limited abilities. For us, it is a meaningful gift, especially for International Children's Day."
In 2009, SCG began to make efforts to renovate the school and install teaching equipment. Since 2011, it has organized International Children's Day activities for the school on an annual basis, together with making regular donations to improve the school's teaching and learning environment.
SCG has also supported the local community in Ba Ria Vung Tau in various other social projects, such as building playgrounds for schools and presenting scholarships to local students.
In late February, it held a breaking ground ceremony to kick off the Long Son Petrochemical Complex. It recently signed an agreement to be the main sponsor of the Ba Ria Vung Tau Football Club, with its commitment to supporting the province develop a better football team and enter the V-League, the national competition.
Laos presents Labour Order to Viettel joint venture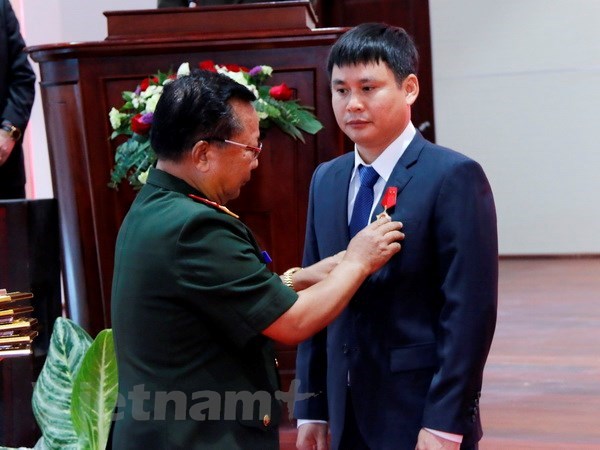 Lao Defence Minister Senior Lieutenant General Chansamone Chanyalath presents the Labour Order to Unitel Director Cao Anh Son
The telecommunication company Star Telecom (Unitel), a joint venture between Lao Asia Telecom and Viettel Global, received the Labour Order and a certificate of merit from the Lao State on the occasion of its 10th founding anniversary (April 1, 2008) in Vientiane on May 29.
Lao Defence Minister Senior Lieutenant General Chansamone Chanyalath presented the second-class Labour Order to Unitel in recognition of its significant contributions to the socio-economic development in Laos.
He described the company's achievements as active contributions to nurturing and enhancing the traditional friendship, special solidarity and comprehensive cooperation between the two countries' Parties, Governments and peoples.
On the occasion, the Lao Ministry of Defence also honoured Unitel's outstanding individuals.
Unitel has helped the telecom industry in Laos develop faster over the past 10 years, not only serving the Lao State and Government but also the local social services.
Director of Unitel Cao Anh Son said Unitel is now the biggest telecom provider in Laos with over 1,500 Vietnamese and Lao employees and 2.9 million mobile subscribers, making up 52 percent of the market shares.
The company's accumulative revenues have reached 1.3 billion USD, contributing over 350 million USD to the Lao State budget.
Unitel boasts over 6,000 stations in charge of 95 percent of 2G/3G/4G network coverage across Laos.
The company is a symbol of successful cooperation between the two armies in particular and the two countries in general.
It has actively sponsored a lot of programmes worth up to 13 million USD including the internet development project for Lao schools.
Son thanked the Lao Party and State for their recognition and pledged to develop Unitel into a leading business in promoting cooperation between the Vietnamese and Lao governments.
Province cracks down on illegal sand mining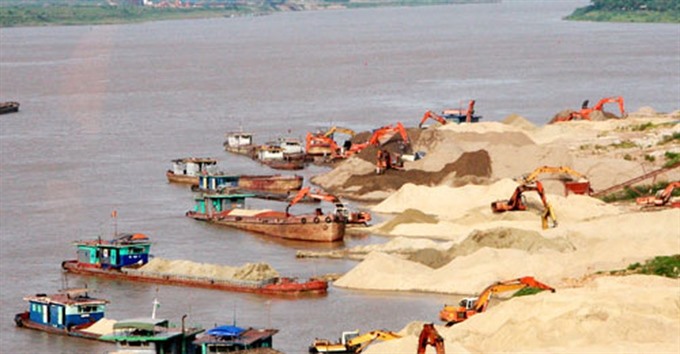 Bình Thuận Province cracks down on illegal sand mining.
The People's Committee of Bình Thuận Province has asked local authorities to monitor and detect violations of illegal sand mining.
If the authorities do not handle or prevent such acts, they will be severely punished, according to the committee.
A report from the provincial police found that illegal sand mining occurs frequently in Tuy Phong, Hàm Tân, Bắc Bình, Đức Linh, Tánh Linh, Hàm Thuận Nam and Hàm Thuận Tân districts.
Sand is being illegally exploited in all 10 communes in Hàm Tân District.
Recently, Deputy Prime Minister Trương Hoà Bình ordered the people committees of provinces and cities, including Bình Thuận Province, to strictly handle violations committed by organisations and individuals.
In addition, the deputy prime minister has required authorities of provinces and cities to develop solutions to prevent illegal sand mining and submit a report to the Prime Minister before May 31.
Children and mothers to receive Vitamin A supplements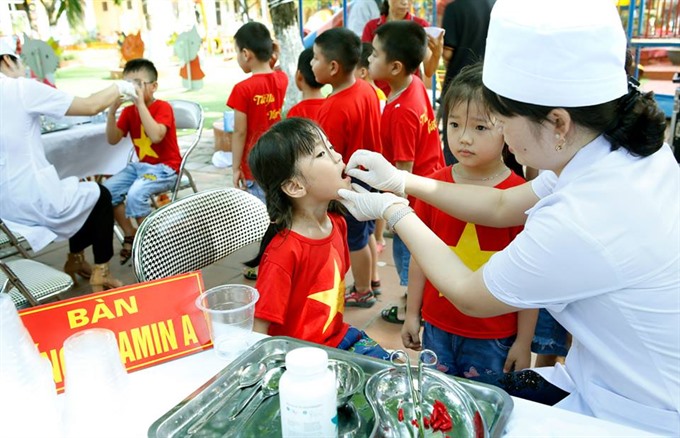 Children will get Vitamin A supplement in Ninh Bình Province as part of the Micronutrient Day which falls on June 1 and 2. — Photo courtesy of the National Institute of Nutrition
Children and new mothers will receive Vitamin A supplements as part of Micronutrient Day celebrations, the National Institute of Nutrition said.
The supplements will be provided to children between six and 60 months of age in 22 provinces with high stunting rate as well as children aged between 6-36 months old in the remaining 41 provinces and cities on Micronutrient Day, which falls on June 1 and 2.
The institute's director Lê Danh Tuyên said Vitamin A supplements will also be given to new mothers and children under high malnutrition risk, such as those with severe malnutrition, prolonged diarrhea, acute respiratory infection, and measles.
In addition, children from 24 to 60 months in 22 provinces and cities that have a high rate of stunted growth will be dewormed. Communication and education efforts will strengthen awareness about nutrition and nutritional requirements, and encourage good eating practices among people, Tuyên said.
"Việt Nam has made remarkable strides in addressing the malnutrition problem, especially among children under 5," he said. "Low weight and malnutrition have gone down rapidly and sustainably from 30.1 per cent in 2000 to 14.1 per cent in 2015 and 13.8 per cent in 2016."
However, Tuyên said Việt Nam still faced many challenges, such as the stunted growth rate of children under the age of five, which remained high at 24.3 per cent in 2016. The number of malnourished children differs across the country, with high rates of malnutrition being recorded in the Central Highlands and northern mountainous areas. Meanwhile, obesity is on the rise in urban areas.
Micronutrient deficiency prevention is one of the six important tasks of the National Nutrition Strategy for the 2010-20 period, which puts focus on comprehensive measures, including providing micronutrients for high-risk groups as immediate solution, adding micronutrients in food as a medium-term solution, and diversification of daily meals as a way to reduce micronutrient deficiency in a sustainable and long-term way.
Foundation honouring late writer forced to close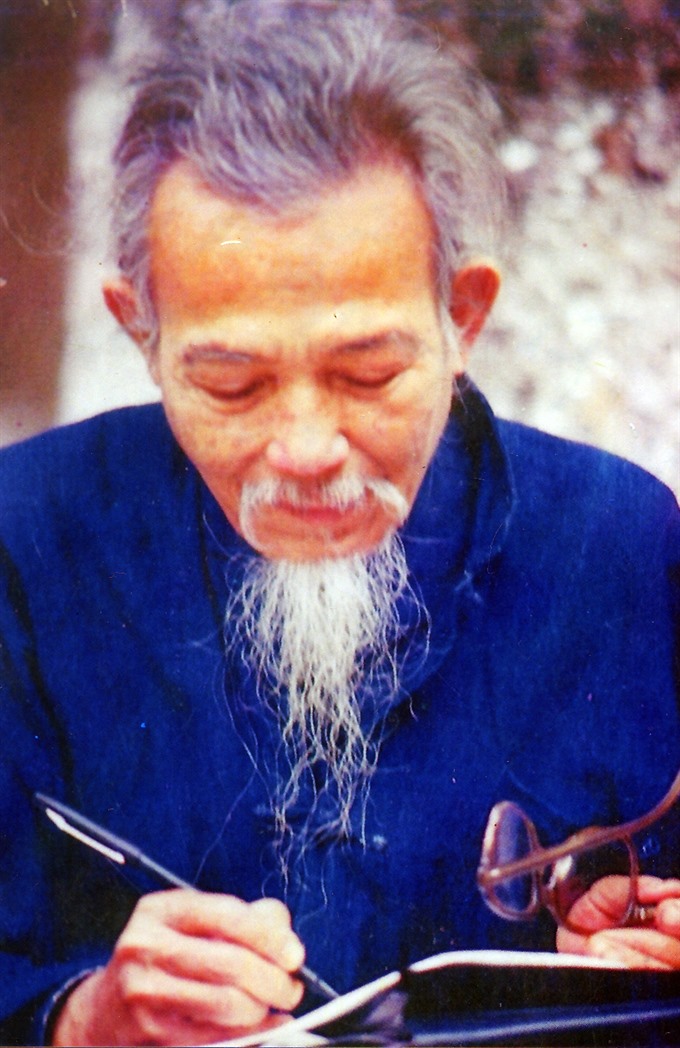 Late writer and poet Phùng Quán. A foundation which was founded in his memory has closed due to a shortage of funds. — Photo vnweblogs.com
The Phùng Quán Foundation, founded in memory of the late famous writer and poet Phùng Quán, has been forced to close due to a shortage of funds.
Poet Ngô Minh, founder and manager of the foundation, announced the closing of foundation because of its financial complete exhaustion.
Founded in 2011, the foundation aims to encourage excellent pupils from the writer Quán's hometown in Thủy Dương Ward, Hương Thủy Town, Thừa Thiên-Huế Province. It also aims to praise outstanding works of literature by Huế authors. The foundation has been run with more than VNĐ100 million (about US$4,400), which is the remains of donations from kind-hearted people to build the tomb for writer Quán and his wife. The foundation has also received small contributions from two other sponsors.
Born in 1932 in Thủy Dương Commune, Hương Thủy District in Thừa Thiên-Huế Province, Phùng Quán in 1945 joined the Vệ Quốc Quân force, which is the predecessor of the Việt Nam People's Army.
His debut literary work, Vượt Côn Đảo (Escape from Côn Đảo Island Prison) rose to fame, receiving the Việt Nam Writers' Association Prize in 1955.
In 1988, he published his novel Tuổi Thơ Dữ Dội (The Fierce Childhood) and received the Children's Literature Prize of the Việt Nam Writers' Association in 1990.
Alongside novels, Quán also composed several famous poems including Hoa Sen (Lotus), Hôn (Kiss) and Đêm Nghi Tàm Đọc Đỗ Phủ Cho Vợ Nghe (Reading Poems by Đỗ Phủ for my Wife in the Night in Nghi Tàm). His wife is Vũ Thị Bội Trâm, a teacher at the Chu Văn An High School in Hà Nội.
Quán passed away on January 22, 1995 in Hà Nội. Five years later, his wife also died. Obeying his wishes when he was alive, his family and friends brought his remains and those of his wife to be buried at his birthplace in Hương Thủy Town.
In 2007, Phùng Quán was granted the National Award for Literature and the Arts by the State of Việt Nam.
Việt Nam Coal and Mineral whip Sơn La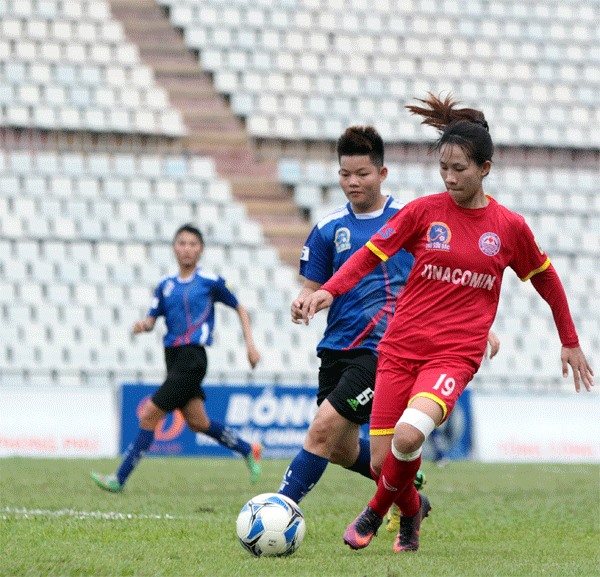 Việt Nam Coal and Mineral vs Sơn La in the third round of the National Women's Football Championship - Thái Sơn Bắc Cup on May 28. — Photo vff.org.vn
Việt Nam Coal and Mineral easily crushed Sơn La 6-0 in the third round of the National Women's Football Championship — Thái Sơn Bắc Cup.
Việt Nam Coal and Mineral were in clear control from the opening minutes of the game, which was held in the northern province of Hà Nam on Monday.
Thúy Hằng gave Việt Nam Coal and Mineral the lead in the 16th minute, scoring off a pass from one of her teammates.
Six minutes later, Phạm Thị Hằng doubled the score for Coal and Mineral.
Nguyễn Thị Vạn raised the score to 3-0 before the end of the first half.
After the break, Sơn La fought back strongly to try to narrow the gap but failed to score any goals.
Meanwhile, Coal and Mineral proved their mettle by scoring three more goals.
Earlier, Phong Phú Hà Nam beat HCM City 2, 5-0, while Hà Nội bested defending champion 1, 2-1.
Hà Nội is the provisional leader in the rankings with nine points, followed by Việt Nam Coal and Mineral with six points, and Phong Phú Hà Nam with four.
Teams have a day off on Tuesday to prepare for the event's next round.
Healthcare programme to mark International Children's Day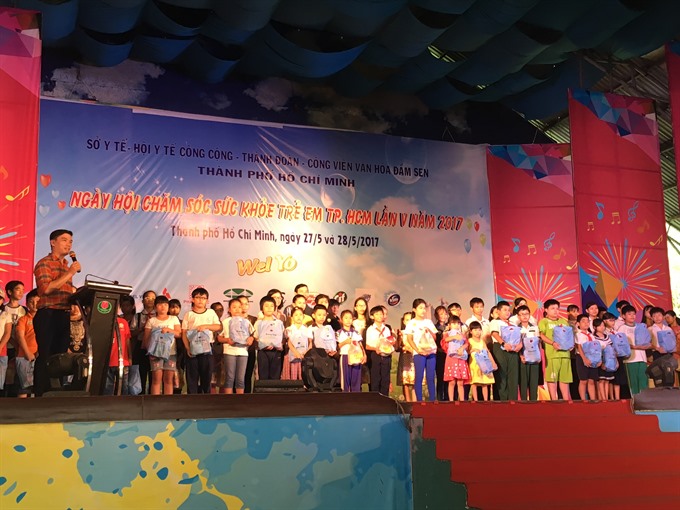 Children receive gifts at a children's healthcare programme organised last year by the HCM City Public Health Association.
A programme on children's healthcare will be held at HCM City's Đầm Sen Park on June 2-3 to mark International Children's Day (June 1)
Parents and children will be taught about healthcare, prevention of diseases, proper nutrition and food safety.
Children will be examined and given medicine if they are found with some illness.
There will also be gifts and games for them.
The annual programme is organised by the city Public Health Association together with the Department of Health, Hồ Chí Minh Communist Youth Union and the amusement park.
It is expected to attract around 10,000 kindergarten and primary school children.
Birthday of Lord Buddha celebration in HCM City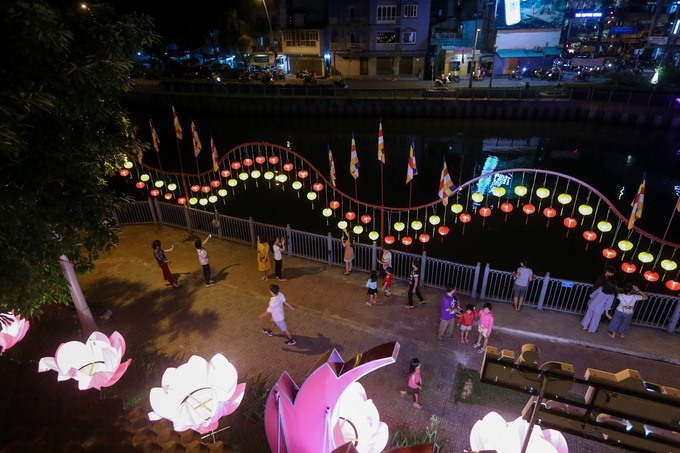 Lanterns along Nhiêu Lộc – Thị Nghè canal near Pháp Hoa Pagoda in HCM City attract local residents during the week-long celebration of the Lord Buddha's birthday. Photo vnexpress.net
The significant contributions made to the cause of religious freedom and national liberation by Vietnamese Buddhists were remembered yesterday in HCM City on the occasion of the 2,562th birthday of Lord Buddha.
A grand ceremony was held at the Việt Nam Quốc Tự Pagoda in District 10, which was attended by the Supreme Patriarch Council of Việt Nam Buddhist Sangha (VBS), Executive Council of VBS, and thousands of nuns, monks and Buddhist followers and local authorities.
At the ceremony, the Most Venerable Thích Trí Quảng, deputy head of the Supreme Patriarch Council of VBS, read a message from the Most Venerable Thích Phổ Tuệ, supreme patriarch of VBS, which said that Buddhists should continue to contribute to the country's prosperity.
"Over the past 26 centuries, the Lord Buddha has enlightened our life, bringing happiness, peace and prosperity to humanity across the planet, keeping away inequality, war, conflict and poverty," the message from the supreme patriarch said.
The Most Venerable Thích Phổ Tuệ called on Buddhist followers and members of VBS to support the spirit of "Wisdom - Ethics - Integration – Development", which is essential for the national unity bloc, as well as build and defend the motherland of Việt Nam.
On behalf of HCM City authorities, Tô Thị Bích Châu, president of the HCM City Fatherland Front, praised the outstanding contributions and services of Buddhist dignitaries and followers to national construction and defence.
Châu said the Việt Nam Fatherland Front and other city agencies would create favourable conditions to promote the good values
​​
of religions as well as ensure the Party and State's consistent policies in facilitation of freedom of religion.
Religious dignitaries and religious followers are encouraged to actively participate in patriotic emulation movements and campaigns launched by the Government and the Fatherland Front at all levels, she added.
The celebration of Lord Buddha's birthday this year took place when Buddhists nationwide marked the 55th anniversary of the self-immolation of Bodhisattva Thích Quảng Đức for the cause of national independence and protection of Buddhist traditions and Vietnamese culture.
Ceremonial activities at the pagoda included incense offering and releasing of pigeons to pray for peace and happiness.
HCM City, Dutch Lady organise contest on food safety for schools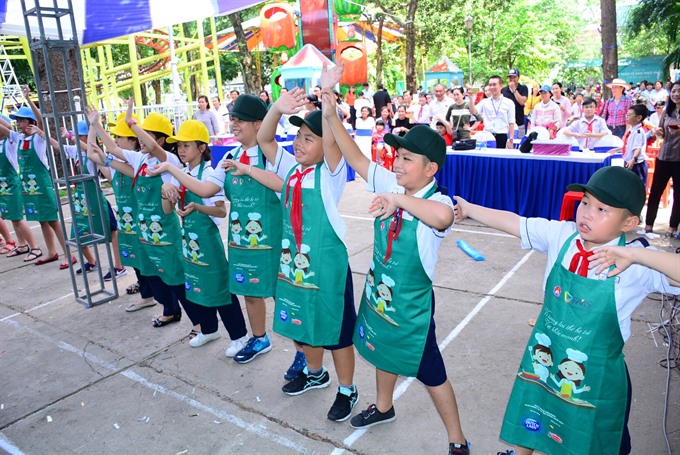 A contest was held by the HCM City Department of Education and Training for schools to improve knowledge of food safety. —Photo Courtesy of FrieslandCampina Việt Nam
Students of Lê Văn Sỹ Primary School in HCM City's Tân Bình District have won the first prize in this year's Food Safety and Hygiene Contest for students.
The month-long contest also included another category - for cooks – and attracted more than 250 primary schools in the city that make lunch for their students.
It was aimed at improving knowledge of food safety and hygiene and reducing the danger of food poisoning.
Contestants had to take online tests, fill questionnaires on food safety and hygiene and cook.
In the category for cooks, Nguyễn An Ninh Primary School in Hóc Môn District won the first prize.
The contest was organised by the city Department of Education and Training in co-operation with FrieslandCampina Việt Nam's Dutch Lady brand.
The rate of obesity among children aged below five in HCM City has increased by three times over the last 10 years while in the case of high school students it has doubled, according to a press release from FrieslandCampina.