18 reportedly die of rabies in January-April
A woman got vaccinated at Diseases Control Centre in northern province of Thái Nguyên after being bitten by a dog.
At least 18 people died of rabies in the last four months, mostly because of ignorance about rabies control and prevention, reported the Preventive Medicines Department under the health ministry.
According to the department, most of the victims were not vaccinated against rabies and lived in rural areas where unvaccinated dogs roamed freely.
The department also warned that May-August was usually a peak time for rabies cases.
The Drug Administration of Việt Nam, under the health ministry, has confirmed that there are enough rabies vaccines to meet the increased demand during summer.
The demand for rabies vaccines reportedly increased since the beginning of this year amidst rumours of a shortage of the vaccine.
However, the Drug Administration of Việt Nam said reports of vaccine importers showed sufficient supply of the vaccine.
Currently, four kinds of rabies vaccines are allowed in Việt Nam.
In the northern province of Lào Cai, at least three people, including a 30-year-old man and two children aged six and and nine, reportedly died last week after being bitten by dogs. They were not vaccinated against rabies.
Last month, the province's Diseases Control Centre declared a rabies outbreak in Bảo Thắng District. Since then, 1,020 people have visited health centres for vaccination, double the number from last year.
The health ministry advised those who got bitten by dogs/cats to first wash their wounds carefully with soap and clean water and then get vaccinated.
The ministry also warned people against using unknown medicines or asking for treatment from quacks.
Two die, 14 injured in bus collision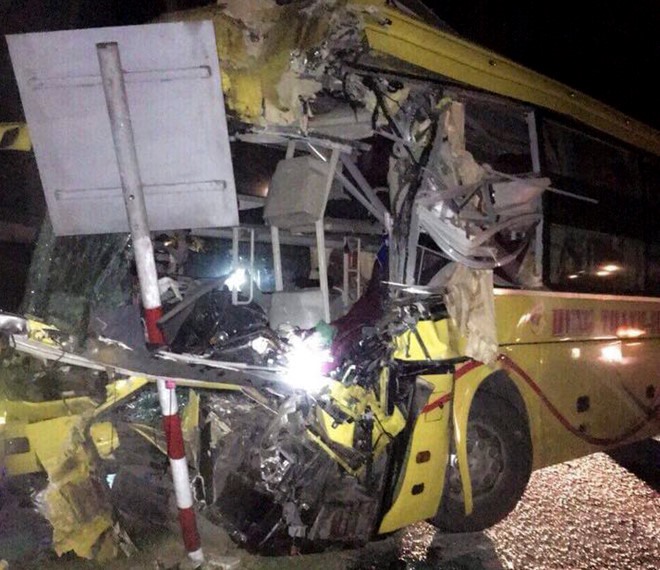 The damaged bus after the accident on Sunday evening. - Photo zing.vn
Two died and 14 others were injured when a sleeper bus slammed into a lorry in the central province of Hà Tĩnh late Sunday evening.
According to the local police, the bus was travelling from Thừa Thiên- Huế towards Hà Nội on National Highway 1A's section in the province's Kỳ Anh District when it suddenly collided head-on with a lorry commuting ahead.
The collision damaged the bus head heavily and left 16 people in the bus injured. Two died on the way to the hospital, including the bus driver, a resident of Thừa Thiên-Huế, and a 56-year-old woman passenger, a resident of the neighbouring Quảng Bình Province.
The police said at the time of the accident, the bus had 20 passengers on board. The police did not reveal the cause of the accident, but said the bus skidded for a short distance before hitting the lane separator and stopping.
The 14 victims are being treated at Hà Tĩnh Polyclinic, including two French and two Danish nationals. The French are Rimajol Bejamin, 34 and Belriard Aurellie, 32. The Danish are Ramus Lolck Rosenbcek, 29 and Emma Soffia Elkjcer Emil Sdottir, 20.
The bus was a Hưng Thành Bus Carrier, a popular bus for tourists running daily between Huế and Hà Nội.
A report by Vietnam News Agency in Hà Tĩnh said some of the injured victims from the accident had recovered and one of them was fit enough to leave the hospital.
Flood barrier project unfinished as rainy season nears
HCM City's VND10trn (USD440m) tidal drainage has stalled even though the rainy season is approaching.
The system is supposed to control tidal flooding and minimise the effect of climate change for the 570-square-kilometre area with 6.5 million population. The construction started in June 2016 and was expected to be completed in June 2019. The HCM City People's Committee then brought the deadline forward to April 30, 2018, which the investors promised to meet.
However, it is still unfinished and many workers stopped working.
A resident in District 7, Nguyen Van Phuong, said last year, the tides overflew the embankment and flooded the area around Tran Xuan Soan Street. Some places were under half a metre of water. The locals were disappointed that the tidal drainage project is not completed.
Another resident, Nguyen Thi Nam said Huynh Tan Phat Street in Nha Be District was easily flooded. She raised the house's floor to one metre to no avail.
"Vehicles running on this road often got their engines flooded. I was hoping that my house won't be flooded this year," she said.
The project's investor, Trung Nam Group, said 70% of the project had been completed but they had submitted the announcement to halt the project because the city people's committee hasn't approved to disburse the fund.
Aside from slow disbursement, the ground clearance and compensation tasks haven't completed. Nguyen Tam Tien, head of Trung Nam Group said the locals were very supportive. If the ground clearance task had been completed on time, they could have had a test run on April 30 or in May.
"This is a complicated project that has construction in six districts. So I understand that ground clearance can't be done quickly," Tien said.
UNDP provides Quang Ngai residents with safe homes
Country Director of UNDP Vietnam, Caitlin Wiesen (right) hands over a house to a family in Quang Ngai Province on May 5
Forty safe houses have just been built for residents in the central coastal province of Quang Ngai's Binh Chanh Commune to support them cope with climate changes.
The houses, which were handed over to low-income people in the area on Saturday, were part of a joint Ministry of Agriculture and Rural Development and UN Development Programme (UNDP) project on improving the resilience of vulnerable coastal communities to the impact of climate change-related in Vietnam.
The project worth more than UDD29 million is funded by the Green Climate Fund (GCF) through the UNDP and is being carried out during the 2017-2022 period. It aims at raising climate change resilience through building safe homes, increasing the coverage of mangrove forests, and providing trustworthy information about climate risks.
The project is expected to benefit 28 coastal localities, with the focus on northern Nam Dinh province, central Quang Binh, Thua Thien-Hue, Quang Nam and Quang Ngai provinces, and southern Ca Mau province.
In Quang Ngai, it has been carrying out in Quang Ngai city and the districts of Mo Duc, Duc Pho, Binh Son, and Tu Nghia.
According to Country Director of UNDP Vietnam, Caitlin Wiesen, 77 safe houses have been completed and handed over to residents in Quang Ngai so far.
"302 flood-resistant houses for coastal residents will be built this year in the province and another 329 next year," she said, adding that the project targets to build 4,000 such houses."
Deputy director of C50 found dead in office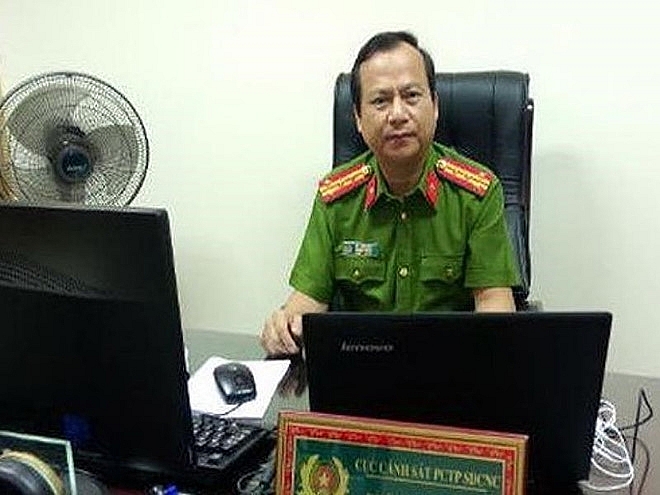 The body of Vo Tuan Dung (55), deputy director of the Ministry of Public Security (MPS)'s High-Technology Department (C50), was discovered at the ministry headquarters last Friday.
The Criminal Police Department (C45) has blocked off Vo Tuan Dung's office at the ninth floor of the MPS building at 47 Pham Van Dong street, Bac Tu Liem district for investigation. The cause of Dung's death has yet to be announced.
An insider told Vnexpress that while investigating the multi-million-dollar online gambling ring, Phu Tho's public security agency has held working sessions with Vo Tuan Dung on several occasions to clarify his involvement and any wrongdoings. Before the prosecution of the Rikvip gambling ring, Dung and other suspects were asked to report to MPS.
Doan Minh Huong, director of the Phu Tho provincial People's Procuracy, said that the provincial investigation agency and the procuracy have only arrived to Hanoi yesterday to work with Vo Tuan Dung.
After nearly one year of investigating this online gambling ring, Phu Tho's public security agency has prosecuted approximately 90 people, including two higher-ups of Dung named Phan Van Vinh, former director general of the General Department of Police, and Nguyen Thanh Hoa, former director of the High-Technology Department (C50).
These two senior officials have been arrested and prosecuted on the charge of "abusing positions and/or powers while performing official duties" (Article 281 of the Penal Code 1999) and "organising gambling or running gambling-dens" (Article 322 of the Criminal Code 2015).
This online gambling ring is the largest ever discovered in Vietnam with 43 million registered accounts, 14 million users, and over VND9.54 trillion ($420 million) in circulation. The case also involved telecommunications networks and game publishers in Vietnam.
Art programme marks 64th anniversary of Dien Bien Phu Victory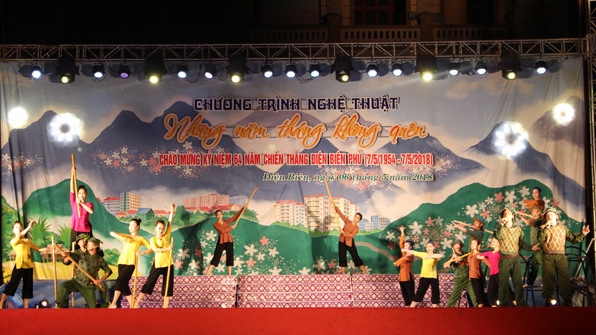 The gala performance to mark the 64th anniversary of Dien Bien Phu Victory (Source: Bao Dien Bien Phu)
An art programme entitled "Unforgettable Days" was held in the northern province of Dien Bien, where the battle of Dien Bien Phu took place 64 years ago, to celebrate the victory that ousted the French from Vietnam.
Songs and dances were performed to celebrate the previous generations' heroic struggles and sacrifices to secure a triumph which was described as having resonated across the five continents and shook the world.
With the participation of nearly 100 singers and dancers, the gala night brought the audience back to a historic period of the nation.
Earlier at the A1 Cemetery for Fallen Soldiers, a candlelit vigil was held to pay tribute to those who have died for national independence.
The cemetery was built in 1958 roughly 100 metres south of the A1 Hill, where the battle took place.
On May 7, 1954, Vietnam secured a final victory over the French at Dien Bien Phu, forcing them to sign the Geneva Accords on restoring peace in Vietnam and ending nearly 100 years of French colonial rule in Vietnam.
Information on martyrs and martyrs cemetery digitalised
The VPC has directed its branches in 63 cities and provinces nationwide to collect information, data and images at nearly 3,000 martyrs' cemeteries across the country.
The Vietnam Post Corporation (VPC) launched a project on the building of a portal on martyrs, graves and martyr cemeteries at the Tam Nong Martyr Cemetery in the northern province of Phu Tho on May 6.
The portal aims to digitalise the information on martyrs and provide images of martyrs' graves and cemeteries across the country.
Currently, approximately 200,000 remains of martyrs have not yet been reburied and roughly 300,000 have been buried at cemeteries but still lack information.
The portal is expected to provide information on the fallen soldiers in a more accurate manner, as well as help their relatives in their journey to find the remains.
In order to complete the goal of the first phase and open the portal in July 2018, the VPC has directed its branches in 63 cities and provinces nationwide to collect information, data and images at nearly 3,000 martyrs' cemeteries across the country.
Farmers in central province succeed in growing safe seedless watermelon
Farmers in Quang Ngai Province are harvesting their first organic seedless watermelons.
For the very first time, farmers in Binh Son district in the central province of Quang Ngai harvested their first organic seedless watermelon crop.
Farmers piloted to grow seedless watermelon in three hectare with productivity of 20 tons per hectare. Their produce is welcomed in the market so farmers are very happy.
Early May, farmers ran off their feet to harvest the crop.
This year, farmer Nguyen Thi Bich in Binh Thanh Tay Commune planted the new melon in 3,000 square meter. She started growing in February and it took 20 days to fertilize and watering as per instruction.
"The watermelon tree rarely catches disease; therefore, we didn't use pesticide but just biological fertilizer to increase its resistance." , said Mrs. Bich. Seedless watermelon each weighs 7-8 kilogram. She harvested five tons while a kilogram of melon was being sold at VND7,000-8,000. She earned nearly VND40 million ($1,756) a crop.
Farmer Nguyen The Cuong in the same commune who 1,000 square meter seedless melon harvested nearly two tons of the fruit. He netted VND10 million.
Growing seedless watermelon model was piloted in Binh Son District with the participation of six households.
Head of the Department of Agriculture and Rural Development in Binh Son District Pham Hong Nguyen said participant farmers are supported seed, bio-fertilizer, organic fertilizer, and the devices. Their produce will be displayed in supermarkets and retail stores in the province.
21 groups of medicine added in subsidy program
Ho Chi Minh City People's Committee last week decided to add 21 more groups of medicine in the list of the medicine subsidy program comprising of 176 ingredients and 383 drugs.
The municipal Department of Health said that right after the decision was issued, it liaised with the Department of Industry and Trade and participant enterprises to implement the program.
The Department of health also instructed in writing document to grass-root medical clinics and infirmaries to run the program with different ways. Moreover, it sent officials to the sub-departments to work with them about the program.
For hospitals, the Department often reminds them to carry out the program, asking hospital managers to director medical workers in prescription including subsidized medicines.
So far, hospital pharmacies have added cheap medicine. Accordingly, subsidized drug revenue remained stable with VND71 billion ($3.1 million) in 2017. Over 531 drugs are added in the program to meet demand of patients.
For enterprises, subsidized medicine rose by 30 percent, helping local-made drug to surge too. The rate of local-made drugs in subsidy program accounted for over 30 percent in big hospital and 40 percent in district clinics.
As per the decision, subsidy program of essential drug in the city takes effect from April 1, 2018 to March 31, 2019 with the aim to balance the supply and demand and for security care.
Moreover, it follows the campaign Vietnamese use Vietnamese goods launched by the Ministry of Health.
All medicines in the program are made at GMP-WHO factories. Prices of subsidized items are 5-10 percent lower than prices of non-subsidized items in pharmacy stores.
Ethnic culture village celebrates President Ho Chi Minh's birthday
At the Vietnamese Ethnic Culture-Tourism Village
A series of events themed "Uncle Ho with Central Highlands, Central Highlands with Uncle Ho" will take place at the Vietnamese Ethnic Culture-Tourism Village on the outskirts of Hanoi from May 2-31 to celebrate the 128th birth anniversary of President Ho Chi Minh (May 19).
According to the Ministry of Culture, Sports and Tourism, the activities also follow the theme of Tay Nguyen (Central Highlands) of Quarter 2.
A display of photos, artifacts, literary works and articles featuring Uncle Ho with ethnic minorities will be held from May 12-31 at the Ede ethnic village.
An exhibition "Lotus in Vietnamese cultural life", slated for May 19-20, will feature lotus in photos and lotus-made food such as tea, jam and porridge, along with music performances on Uncle Ho and his sentiment to Vietnamese ethnic communities.
During May, a number of traditional festivals of ethnic groups will be held in the village such as wedding ceremony of Rag Lai group from the central province of Ninh Thuan, new house warming ceremony by Cham group from Ninh Thuan, music and dance performances in Ede and Gia Rai villages.
On May 27, a ceremony celebrating the Buddha's birth anniversary will take place at Khmer pagoda complex in the village.
Northwestern localities' disaster adaptation to be improved
PM Nguyen Xuan Phuc speaks at the working session.
Prime Minister Nguyen Xuan Phuc has emphasised the need to implement a project on developing rural areas adaptable to natural disasters in six northwestern provinces.

He had a working session on the project with representatives of the targeted northwestern localities, comprising Lao Cai, Ha Giang, Yen Bai, Dien Bien, Lai Chau and Son La, in Hanoi on May 7.

With a total investment of 2.9 trillion VND (roughly 129.4 million USD), the project aims to develop small-scale infrastructure facilities in rural areas in order to raise productivity and agricultural production value sustainably, contributing to comprehensive rural development in the region.

Such facilities are expected to be adaptable to climate change, helping mitigate adverse possible impacts caused by natural disasters in rural areas of these provinces.

Focusing on such areas as irrigation, river and dyke management, and transport, the project will benefit about 420,000 local households.

The project has been developed following the suggestion of the Japan International Cooperation Agency, which launched the project on technical cooperation in a number of Vietnamese provinces.

At the working session, PM Phuc said the northwestern provinces still have to face a range of difficulties such as high poverty rate and huge consequences of natural disasters.

He asked relevant ministries and agencies to closely coordinate with the localities to ensure the efficiency of the project.

The Lao Cai province People's Committee has been assigned as the coordinator of the large-scale project.

Changes in Muong Phang revolutionary base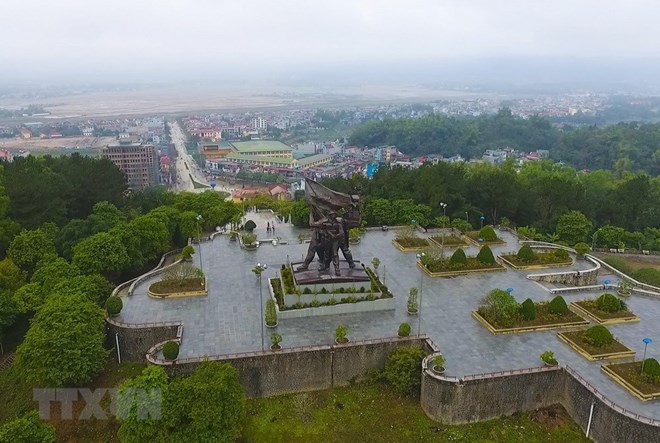 Dien Bien Phu Victory Monument
Located over 30km from Dien Bien Phu city, Muong Phang commune used to be an important base for the Dien Bien Phu Campaign in 1954.

At that time, the commune was selected to house the headquarters of the campaign's command, which nestled in forest at the foot of Pu Don mountain.

The nerve-centre agency of the Vietnamese army was stationed there from January 31 to May 15 in 1954.

At this place, General Vo Nguyen Giap made important decisions which led to the historic Dien Bien Phu victory.

The highest peak of Pu Don mountain range was the place where 64 years ago the Vietnamese army built a watchtower to monitor the situation in Muong Thanh hollow.

The area attracted large numbers of tourists each year, especially around the anniversary of the Dien Bien Phu victory (May 7).

The Dien Bien Phu victory played a decisive role in ending Vietnam's resistance war against the French and bringing a new momentum to the country's revolution and the struggle for peace, national independence and socialism.

The battle occurred in Dien Bien between March and May, 1954 under the command of General Vo Nguyen Giap. The victory led to the signing of the 1954 Geneva Accord in which France agreed to withdraw its forces from the colonies in Indochina

The landscape in Muong Phang has changed a lot since then.

Vice Chairman of the commune's People's Committee Mua A Kenh said Muong Phang has over 1,130 households with 5,250 people of the ethnic groups of Kinh, Thai and Mong.

The local living standards have improved greatly over the past years, he said, noting that the ratio of poor households dropped to below 20 percent at present from 43 percent in 2011.

The commune has adopted effective agricultural models to bring high and stable incomes for locals, with 500 hectares of rice and nearly 300 ha of other crops. Local farmers also raise fish in over 63 ha of water surface.

Muong Phang market is always busy with sellers and buyers. Roads to villages have been concretized, facilitating travelling and trade.

Muong Phang is expected to become a new rural area in late 2018 as it has fulfilled 16 out of the 19 criteria under the national programme on new rural area development.

Mua A Kenh, Vice Chairman of the commune's People's Committee said the locality aims to rely on tourism to boost local socio-economic development.

Training course on high blood pressure, diabetes management opens
The Vietnam National Administration of Medical Services and the World Health Organisation (WHO) in Vietnam opened a training course in Hanoi on May 7 for lecturers major in high blood pressure and diabetes management in communal medical stations.

Speaking at the event, Deputy Health Minister Assoc. Prof Pham Le Tuan said under Resolution No.20-NQ/TW dated October 25, 2017 by the Party Central Committee on the protection, care and improvement of public health in the new situation, 95 percent of medical stations in wards, communes and townships will prevent, manage and treat several non-communicable diseases by 2025 and the rate will reach 100 percent by 2030.

Earlier, the Prime Minister approved Decision No.376/QD-TTg dated March 20, 2015 on the national strategy on preventing non-communicable diseases for the 2015-2025 period and Decision No.2348/QD-TTg dated December 5, 2016 on strengthening health care at the grassroots level.

WHO chief representative in Vietnam Kidong Park said high blood pressure and diabetes, which could be easily diagnosed and treated at grassroots medical stations, are the most important risks of cardiovascular and non-communicable diseases in Vietnam and the world.

Participants discussed early diagnosis, treatment and management of high blood pressure and diabetes, nutrition and physical activities in the field, family medicine principles in management, common guidelines on prevention and management of non-communicable diseases at grassroots medical stations, among others.

Statistics in 2015 showed that only 43.1 percent of high blood pressure patients were diagnosed and 13.6 percent were treated in medical stations. Meanwhile, 31.1 percent of diabetes patients and 28.9 percent were diagnosed and treated, respectively.

Court delays trial on medical incident at Hoa Binh General Hospital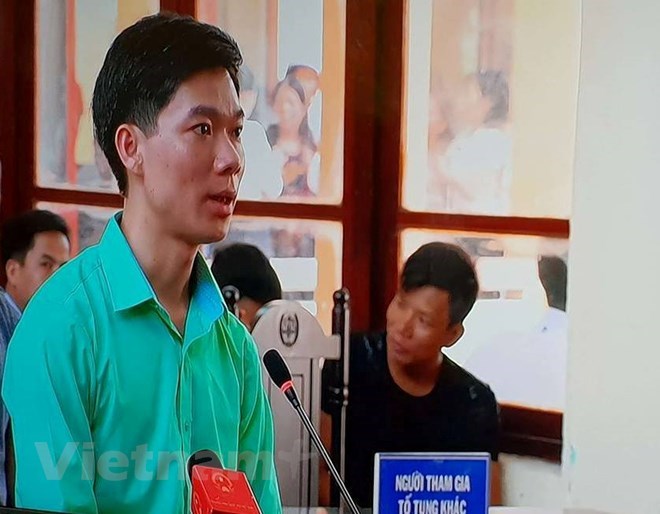 Defendant Hoang Cong Luong at the trial
The People's Court of Hoa Binh city, the northern province of Hoa Binh, on May 7 delayed the first-instance trial on a medical incident causing eight deaths at the kidney dialysis division of the Hoa Binh General Hospital in May last year.

The defendants are Bui Manh Quoc (born in 1986, Director of the Tram Anh Water Treatment Co. Ltd), who was prosecuted for "unintentionally causing deaths", and Tran Van Son (born in 1990, employee of the medical material and equipment division of the Hoa Binh General Hospital) and Hoang Cong Luong (born in 1986, doctor in the Department of Intensive Care of the Hoa Binh General Hospital), both prosecuted for "lacking responsibility causing serious consequences."

Thirteen lawyers registered to take part in the trial, but only three of them were present. Former Director of the hospital Truong Quy Duong was also absent from the trial.

After collecting opinions of the People's Procuracy, the participating lawyers and defendants, the judging council decided to delay the trial and re-open it on May 15.

On May 29, 2017, 18 patients suffered from symptoms of anaphylactic shock like breathing difficulty, sudden blood pressure fall, stomach ache and vomiting while receiving kidney dialysis at the kidney dialysis division of the Hoa Binh General Hospital's Department of Intensive Care. Eight of the patients died in this incident.

According to authorised agencies, unqualified water for kidney dialysis and equipment maintained and operated not in line with the regulated process were the causes of the incident.

On April 20, doctor Hoang Cong Luong sent a letter to the Party, State and Government leaders, expressing his hope that the case will be judged in an open and fair manner.

'One commune one product' scheme helps boost rural economic development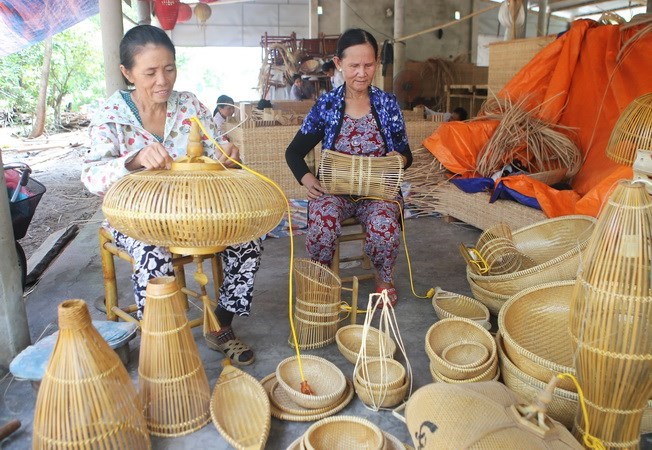 The "One Commune One Product" (OCOP) programme is being carried out in all localities across the country for 2018-2020, aiming to promote rural economic development toward increasing internal strengths and values.

Under Decision No. 490/QD-TTg signed recently by Deputy Prime Minister and head of the Steering Committee for National Target Programmes Vuong Dinh Hue on approving the programme, the scheme is part of measures to promote the implementation of the National Target Programme on New Rural Building.

It will focus on developing high potential agricultural and non-agricultural products, and services in each locality based on the value chain, which will be carried out by private and collective economic sectors.

OCOP products and services should be locally sourced or localised, especially regional specialties. They will be rated in five levels, with the 5-star is the best, meeting international quality standards.

Groups of goods and services defined in the programme include food (fresh and processed farm produce); beverages (alcoholic and non-alcoholic drinking); medicinal herbs (products made from herbal plants); fabric and textiles (products made from cotton and yarn); souvenirs - furniture - decorations (products made from wood, fiber, rattan, metal and ceramics); and rural tourism services and sales (services for sightseeing, tourism, study, research).

The State will play the role of promulgating the legal frameworks and policies to implement the programme; managing the quality of products; supporting the training, application of technologies, trademark building, trade promotion, product introduction, and technical and credit assistance provision.

The overall objective of the programme is to develop forms of production organisation and business (with the priority will be given to developing cooperatives and small and medium-sized enterprises (SMEs), towards producing traditional products and developing services with high competitiveness in the domestic and international markets, thus promoting rural economy and the national agriculture industrialisation and moderlisation.

It is also hoped to help accelerate the shift of rural labour structure, protect the environment, and preserve the traditional values in rural areas.

A comprehensive management system will be built for coordinating the programme at all levels, while a set of criteria to value and rank products; and specific policies related to the proggrame will be devised.

By 2020, the programme will standardise at least 50 percent of existing products or about 2,400 products.

It will also consolidate and improve production in the form of linking production households with cooperatives and enterprises; develop between 8-10 models of tourism culture villages; and establish about 500 new SMEs, and cooperatives joining the OCOP programme.

The programme will be implemented at an estimated cost of 45 trillion VND, which is mainly mobilised from the society such as enterprises, cooperatives, production households as well as loans from credit institutions, investment funds, SMEs development funds, funds for developing cooperatives; and international organisations' funding.

Kuwait Fund supports poor communes in Ha Giang province
Vietnam's Ministry of Finance and the Kuwait Fund have signed a loan agreement worth over 13.3 million USD for a multi-target development project for ethnic minority-inhabited areas in poor communes of Xin Man district, northern mountainous Ha Giang province.

Speaking at the signing ceremony in Hanoi on May 7, Deputy Minister of Finance Tran Xuan Ha said the project is expected to improve living standards of local ethnic minority people in Ha Giang's Xin Man district and the northern mountainous region in general.

Ha also expressed his hope that the Kuwait Fund will provide more preferential loans for Vietnam, especially for disadvantaged localities.

Deputy Director General of the Kuwait Fund Hesham Al-Waqayan said this is an important and meaningful project to help Ha Giang's ethnic minority inhabitants better their lives.

The fund is willing to give more support for Vietnam to carry out similar projects in the future, he promised.

The Kuwait Fund has so far provided loans worth over 182 million USD for Vietnam to carry out 15 projects, focusing on building infrastructure in rural areas and small irrigation works in disadvantaged provinces.
Việt Nam beat Philippines at AFF U16 event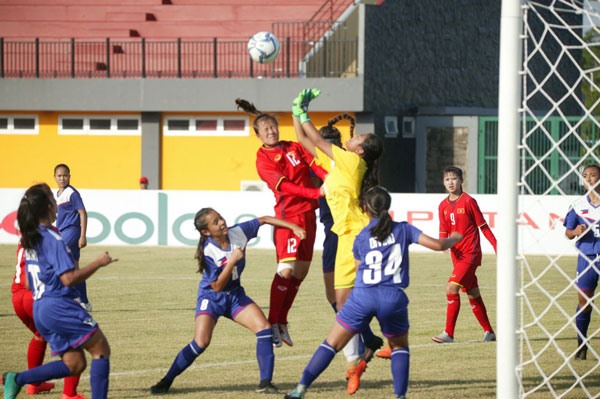 Việt Nam vs the Philippines in the third match of Group A of the AFF U16 Girls' Championships yesterday. – Photo vff.org.vn
Việt Nam beat the Philippines 3-0 in the third match of Group A of the AFF U16 Girls' Championships yesterday in Palembang City, Indonesia.
Both sides were determined to get three points so they played very aggressively after the referee blew her whistle. However, no goals were scored in the first half.
After the break, Vietnamese coach Nguyễn Thị Mai Lan changed her tactics and footballers to seek goals.
In the 46th minute, captain Vũ Thị Hoa defeated goalie Isabelle Mapanao to open the score for Việt Nam.
Just two minutes later, striker Đặng Thanh Thảo doubled the score for the Vietnamese side.
After going two down, the Philippines fought back strongly to narrow the gap. They created several dangerous chances to equalise.
In the 76th minute, Thảo tripled the score after receiving a spectacular pass from her teammate Trần Thị Hạnh.
Việt Nam will meet Malaysia in the last group match on Wednesday.
Trans-Việt Nam junior cyclists event starts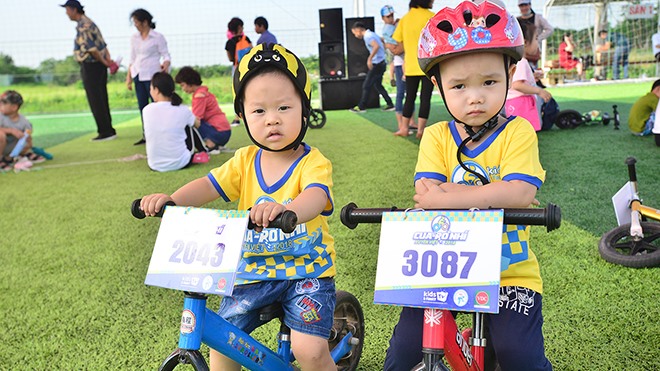 The Trans-Việt Nam Small Cyclists Tournament started in Yên Sở Park in Hà Nội on May 6. - Photo thethaovanhoa.vn
The Trans-Việt Nam Junior Cyclists Tournament started in Yên Sở Park in Hà Nội on May 6.
More than 500 kids aged 1-6 took part in the event which was co-organised by Kids & Family TV Channel and Việt Nam Cycling and Motor Sport Federation.
The event aimed to enhance the mobilization ablity, strength training and life skills for kids.
The Trans-Việt Nam Junior Cyclists Tournament's other events will be held in HCM City on May 20 and Đà Nẵng on May 27.
As planned, the event will be held annually in provincies and cities nationwide. It will also connect with international bike events for Vietnamese kids to have a chance to exchange.