Enterprises advised to know global trade policy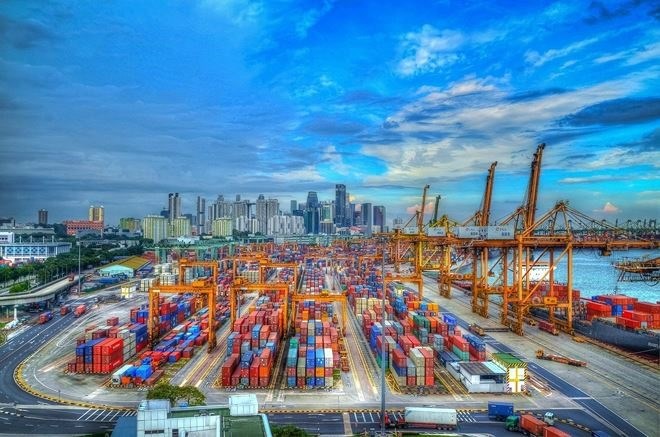 Firms are potentially missing out on key opportunities available beyond their immediate borders by focusing on trade policy developments on a regional scale, and showing lack of awareness when it comes to the broader global trade policy environment, according to an HSBC report.
According to the report, a majority of businesses appear to be ignoring or undermining the impact of important policies on their operations.
For companies in Vietnam, only 31 percent said the EU policy environment has had a positive impact on their business, while 66 percent saw no impact.
The data was similar for the US policy environment (31 percent for the EU and 60 percent for the US), the two major markets for Vietnam's exporters.
Similarly, 74 percent of respondents said the North-American Free Trade Agreement (NAFTA) has had no impact on their business.
A broad lack of awareness from businesses that have major trade and policy initiatives has put them at risk of missing out on significant international growth opportunities, according to the report.
Although many firms, especially in the services sector, would consider expanding to new markets to grow their business, many could end up losing their competitive advantage if they do not recognise how trade policy is re-shaping the world's supply chains, and where the best opportunities lie for them in the next few years, according to the HSBC report.
The positive impact of initiatives that are 'closer to home', however, were more broadly recognised by the survey's respondents.
China's Belt and Road Initiative and ASEAN 2025 policies received the greatest vote of confidence from business leaders, 59 percent and 56 percent, respectively, in the Asia-Pacific region.
Seventy-four percent of companies in Vietnam said that ASEAN 2025 would have a positive impact on their business and 26 percent saw no impact.
In addition, 50 percent of survey participants in Vietnam said the Comprehensive and Progressive Agreement for Trans-Pacific Partnership (CPTPP) was relevant to their business.
Sixty-three percent of Vietnamese companies cited CPTPP as having a positive impact on their business, while 35 percent said there had been no impact.
Meanwhile, 46 percent of firms in Asia-Pacific said the CPTPP trade deal was relevant for them and 48 percent expected it to have a positive impact on their business.
Vu Tien Loc, Chairman of the Vietnam Chamber of Commerce and Industry (VCCI), said at a recent meeting that the CPTPP would be the backbone of international economic and trade commitments for Vietnamese businesses, despite some changes from its predecessor, the now-defunct Trans-Pacific Partnership (TPP) agreement.
The CPTPP is considered a better option for Vietnam and 10 other partner countries, after the US departure from the TPP, he noted.
Conducted by HSBC Commercial Banking, the report examined sentiment and expectations towards international trade in 26 countries and territories, including Vietnam, China, Hong Kong, India, the UAE, the UK and the US, among others.
Vietinbank to issue 400,000 bonds in 2018
Viet Nam Bank for Industry and Trade (VietinBank) plans to issue 400,000 bonds worth VND10 million each to raise its capital by VND4 trillion (US$174.7 million).
These will be non-convertible bonds unsecured by property.
The scheduled date for issuance is June 28, and the deadline for registration and payment is from June 5 to 25.
VietinBank plans to issue bonds to the public for a term of 10 years. After five years, VietinBank can exercise the right to buy back all the above bonds, as it is not allowed to buy a part of the bonds.
The bond interest rate is floating and is determined by the reference interest rate (the 12-month saving deposit rate of Agribank, Vietcombank, BIDV and VietinBank) plus 0.8 per cent. This bonus interest rate is lower than the previous bond issuance (1.2 per cent).
The proceeds are expected to supplement VietinBank's operational capital and improve its financial capacity.
Specifically, VND1.232 trillion will be used for medium- and long-term loans to enterprises operating in the field of electricity, VND893 billion for the electricity sector, VND591 billion for the water sector, VND475 billion for steel and VND220 billion for the wood industry. The remaining VND579 billion will be used for other businesses.
Last year, VietinBank had two issuance bonds, which earned the bank VND4.2 trillion.
MSMEs need Gov't support to benefit from FTAs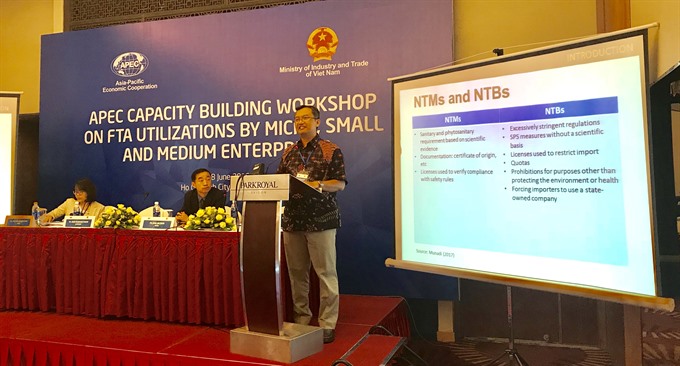 Trade facilitation, partnerships and capacity-building activities are needed for Micro, Small and Medium Enterprises (MSMEs) in APEC-member economies so they can take advantage of Free Trade Agreements (FTAs), speakers said at a workshop held on June 7 in HCM City.
Pham Quynh Mai, deputy general director of the Ministry of Industry and Trade's Multilateral Trade Policy Department, said MSMEs were the engines of growth and innovation in the APEC region.
MSMEs account for over 97 per cent of all enterprises and employ over half of the workforce across APEC economies, she said.
They contribute significantly to economic growth, with MSMEs' share of GDP ranging from 20 per cent to 50 per cent in most APEC economies.
However, only a limited percentage of MSMEs engage in overseas activities due to limited awareness of how to take advantage of FTAs and join regional and global supply chains, she added.
In that context, one of the key pillars under an APEC initiative is improving knowledge sharing about trade facilitation, business support, partnerships, and capacity-building activities for MSMEs, according to Mai.
MSMEs need to study inclusive business models, examples of successful export MSMEs, and lessons extracted from successful experiences in internationalisation and cooperation among economies.
Viet Nam can benefit from its strategic geographical location in a dynamic Asia-Pacific region and its proximity to global manufacturing value chains, speakers said.
Sixty-five per cent of the country's population is under 35 years old, and there are also affordable labour costs as well as an emerging middle class.
However, experts also warned that costs and risks of international integration could be significant for Vietnamese MSMEs, and as such, improving the overall business environment continues to be key.
Viet Nam has committed to further institutional and structural reforms to help MSMEs, Mai said.
Dr Rajan Sudesh Ratna, economic affairs officer at the UN's Economic and Social Commission for Asia and the Pacific, said FTAs provided MSMEs with access to markets, creating value chains, bringing in FDI inflow and technologies, reducing trade costs, and enhancing linkages among industries.
"FTAs also provide technical assistance, capacity building and assist FTA member economies in improving their overall capacity to benefit from trade, harmonising procedures and rules of different agreements among common economies," he said.
Regarding the Rule of Origin (ROO) in FTAs, Naoya Sumimoto, customs specialist at the Tokyo Kyoto Accounting Office, said the ROO identifies where the exported goods originated.
"ROO is crucial to determine whether or not the exported goods are qualified for preferential tariffs under specific FTAs or Economic Partnership Agreements," he said.
The workshop also discussed trade in services, including issues such as market access, schedules of commitments, and most favoured nation (MFN) treatment in addition to intellectual property and competition.
On June 8, the workshop will continue with a discussion about successful uses of FTAs by APEC member economies.
The outcomes of the workshop will be reported to the APEC SME Working Group for consideration and will serve as input for the working group to develop action plans to facilitate MSMEs' integration in global value chains.
Last year, leaders of 21 APEC-member economies met in Da Nang to discuss ways to promote regional trade agreements and move towards the realisation of a Free Trade Area in the Asia-Pacific region.
Protrade to make second share auction before shareholders'meeting
Binh Duong Production and Trading Goods Corporation (Protrade) will make the second share sale prior to its first shareholders' meeting expected in July, the company announced.
Protrade will auction 32.9 million shares at the minimum bidding price of VND18,000 (US$0.79) per share, a 50 per cent higher than its starting price of VND12,000 per share in the initial public offering (IPO) on March 28.
This is the number of shares that strategic investors refused to buy and not being sold out in the IPO.
Under its equitisation plan, Protrade with a charter capital of VND3 trillion ($131.6 million), equivalent to 300 million shares, sold 30 million shares, a 10-per-cent stake, to the public in the IPO while selling 119.7 million shares, a 39.91 per cent capital, to strategic investors.
However, the number of shares sold to strategic investors was 87 million shares while 200,000 shares were not sold out in the IPO.
On May 7, Protrade put 29.8 million shares on trading on the Unlisted Public Company Market (UPCoM) at the initial price of VND17,400 per share.
Protrade will hold its first annual shareholders' meeting in July after the company completed the second share sale.
Its share price rose after the announcement to VND17,500 per share on June 7 from VND16,900 apiece in the previous session.
Protrade, formerly Song Be Rubber Enterprise 3-2, was established in 1982. At present, the corporation has expanded to nine subsidiaries and 10 associated companies, operating mainly in the sectors of rubber planting, wood processing, aquaculture, golf courses, industrial park infrastructure, garment and hospital.
In its prospectus prior to IPO, Protrade reported total revenue of VND1.09 trillion in 2016, down 5 per cent year-on-year, and net profit of VND226 billion, up 6 per cent year-on-year. Its nine-month figures in 2017 were VND470.7 billion in revenue and VND317 billion in after-tax profit.
Viettel links Myanmar with fast 4G
Situated along National Highway No 1, on the left bank of the Ayeyarwaddy River, Thadon is a poor and underdeveloped village.
But it has changed rapidly since the US lifted its embargo on Myanmar in late 2016, especially in terms of telecom links, with most of its residents using smartphones now.
Yet if they wanted to access the internet on their phone, they had to travel 10km.
Before Viettel Group began telecom operations in Myanmar, Thadon residents had used their smartphones only for calls and texts.
There were three mobile phone service providers: the State-owned MPT, which has a 42 per cent share of the market, Telenor (Norway), which has 35 per cent, and Ooredoo (Qatar), which has 23 per cent.
They have been trying to provide 3G services in recent years, but the quality is very poor due to their limited number of base transceiver stations.
Everything has changed after Mytel (Viettel's Myanmar company) appeared on the scene recently, and Thadon villagers no longer have to go to Thaton town 10km away to browse the net.
Mytel is a joint venture between Viettel Global and two local partners, Star High Public Company and Myanmar National Telecom Holding Public.
Holding a 4G mobile phone sim in his hand, Ar Kar Maung, a resident of Thadon, said it was brought to his house by Mytel staff.
High technology, low prices and many promotions mean Maung and other Thadon villagers like the new brand.
Maung said: "Mytel subscribers calling each other only pay half the rate charged by other networks. Mytel also offers more promotions if a new sim is bought, including 300 minutes of free calling within Mytel and 1.5 Gb valid for three months."
Considered Southeast Asia's last frontier, Myanmar's huge potential has attracted many leading regional and global investors. The International Monetary Fund (IMF) said Myanmar could quadruple its economy to US$200 billion by 2030.
From having the second lowest mobile phone penetration rate in the world of 10 per cent, ahead of only North Korea, Myanmar has seen a stunning expansion to 90 per cent in just two years.
To achieve a competitve advantage after becoming the latest entrant to the mobile telephony sector, Viettel has decided to deploy the most modern technologies.
In its first year, Mytel plans to invest in infrastructure, setting up more than 7,000 4G base transceiver stations and over 30,000km of fibre-optic cable.
When it formally launches operations on June 9, Mytel will be the only mobile network in Myanmar to provide 4G services nation-wide.
Its 30,000km of fibre-optic cable means the company has twice the length as its closest competitor.
Myanmar used to mostly depend on copper cables and supershort wave, with fibre-optic cables accounting for a small proportion of less than 1,000km per million population.
This is a sustainable competitive advantage in the context of the strong development of new broadband mobile platforms.
Besides technology, Viettel has also brought to Myanmar its unique sales philosophy: Mytel does not only have agents in cities and towns but also a mobile sales team which can travel to every household even in remote and mountainous areas. It is the only operator with this capability.
Even before, its formal start of operations, thousands of Mytel staff have fanned out across the country taking sim cards and services to people living in every remote and mountainous hamlet.
The company has said it targets signing up two to three million 4G customers this year.
HCM City to host Mekong Beauty Show
More than 200 Vietnamese and foreign cosmetics firms will showcase their new technologies and innovations at the 2nd Mekong Beauty Show in HCM City from June 14 to 16.
The annual business-to-business beauty exhibition has established a platform for industry players in the entire supply chain covering beauty and cosmetics, hair and nails, herbal and health, and OEM and packaging, Joy Zou, international marketing manager of Informa Exhibitions, the organiser, said.
The South Korean beauty industry would be the most important driver of the event, with 110 firms from that country exhibiting more than 400 brands, Zou told a press meeting on June 7.
More than 150 buyers from Viet Nam, Cambodia, Laos and Myanmar are expected to visit the event to source products and seek new partnerships, she said.
The three-day expo at the Saigon Exhibition & Convention Centre is expected to attract more than 12,000 visitors.
Tran Quang Thang, director of the HCM City Institute of Economics and Management, said Viet Nam's cosmetics industry with annual growth of 30 per cent offers enormous potential for foreign and local firms.
The country's middle class is set to become 33 million strong by 2020, and is looking for healthier and higher quality brands, he said.
Seeing the huge potential of the beauty market, most premium foreign brands have entered the market and now dominate all categories of the industry, he said.
But counterfeit beauty products have also flooded the market, with more than 50 per cent of products sold online being substandard or fake, he added.
Bart Verheyen, commercial director of beauty, health and wellbeing retail chain MEDiCARE, said its number of stores would be expanded to 100 by the end of this year from the current 72 to meet the rising demand.
The chain enjoyed growth of 30 per cent last year, he said.
Lifting the foreign ownership limit (FOL) to 100 per cent in Hau Giang Pharmaceutical JSC (DHG) will open the doors for old and new investors to increase holdings in Vietnam's biggest publicly-traded drug maker.
According to information from the Ho Chi Minh City Stock Exchange (HSX), on June 7 DHG officially submitted the dossiers related to lifting its FOL to the State Securities Commission.
Previously, DHG's extraordinary annual general shareholders' meeting held in late July 2017 approved the motion to remove the FOL.
On June 6, Taisho Group completed the purchase of 650,000 shares, or 0.5 per cent of the charter capital, to increase its holding in DHG to 24.95 per cent, equaling 32.606 million shares.
After the deal, Taisho is the biggest foreign shareholder, followed by FTIF Templeton Frontier Markets Fund. State Capital Investment Corporation (SCIC) is the biggest stakeholder with 43.3 per cent.
DHG will be the second Vietnamese pharmaceutical to remove the FOL, following the third-biggest listed domestic drug maker Domesco (DMC) in 2017.
Foreign pharmaceutical groups see the FOL removal as a positive signal. A clear path in converting partnerships into majority ownership would provide companies with much stronger grounds to convince their global headquarters to invest in Vietnam.
Right after DMC scrapped its FOL, US-based Abbott Laboratories increased its stake in the company to 51.7 per cent, boosting its footprint in the local pharmaceuticals market.
SonKim Land joins development team of Metropole Thu Thiem
Leading real estate developer SonKim Land Corporation, Quoc Loc Phat JSC (Quoc Loc Phat), and Joint Stock Commercial Bank for Foreign Trade of Vietnam (Vietcombank) have signed a strategic cooperation agreement and officially kicked off The Metropole Thu Thiem project in Thu Thiem New Urban Area (District 2, Ho Chi Minh City).
This strategic cooperation agreement will contribute to maximising the strength of each party in implementing and developing the project.
Notably, the project owner Quoc Loc Phat has the financial strength as well as investment capital from foreign shareholders. The authorities have approved all legal procedures, land allocation, project investment and Quoc Loc Phat has fulfilled all financial obligations for the land lots in the project.
SonKim Land, with its experience in developing high-end real estate projects in Vietnam, is confident to successfully develop the project in accordance with the standards of a smart and high-class urban area.
The Metropole Thu Thiem project consists of four land plots with a combined area of 7.6 hectares. The design of the project is inspired by the quintessential designs of Barangaroo (Sydney) and East Circular Quay (Sydney), integrated to suit the Vietnamese context and culture.
Sales will be opened after finishing all necessary procedures.
SonKim Land is a successful and reputable real estate developer in Vietnam, focusing on high-class and luxury projects such as Gateway Thao Dien, Serenity Sky Villas, and The Nassim.
Seeking out strategic partnerships with global industry leaders like HongKong Land, Hamon Developments, and Bankinvest, SonKim Landaims to become a leading real estate investment and development company in Ho Chi Minh City.
Bac Giang's greater efforts to better business climate
The northern province of Bac Giang will further its efforts to boost the local business environment.
The northern province of Bac Giang will further its efforts to boost the local business environment by accelerating administrative reform and improving competitive capacity, said Chairman of the provincial People's Committee Nguyen Van Linh.
He said the goal is to enhance the province's competitive capacity so it can enter the top 15 of the Provincial Competitiveness Index (PCI) by 2020.
To facilitate local business, the province will hold regular meetings with enterprises to tackle their issues.
The People's Committees at district and city levels should prioritise land clearance to carry out important projects like Bac Giang-Lang Son expressway, Hanoi's fourth ring road running through Bac Giang province and a road connecting provincial Road No 293 and My An port.
Together with land clearance at Hoa Phu industrial park, the province has urged infrastructure developers at industrial zones to hasten the construction of technical infrastructure, particularly waste treatment systems.
It will also work with FLC Group to study, survey and establish industrial parks in Yen Son and Bac Lung communes in Luc Nam district.
Procedures required for local authority's approval of Build-Transfer (BT) projects will be devised while key investment projects such as the inpatient treatment facility and medical gas pipeline system at Bac Giang General Hospital, a provincial gymnasium and the upgrade of Dong Son bridge and its approaching roads will be hastened.
From January 1-May 10, the province approved 51 domestic investment projects with total registered capital of more than 695 billion VND (30.58 million USD), including 27 foreign direct investment (FDI) projects valued at 84 million USD. Compared to the same time last year, the number of domestic projects surged 37.8 percent and that of FDI projects increased 35 percent.
Bac Giang is home to more than 1,420 operating projects, including 1,074 domestic projects and 348 FDI projects.
More than 30 trillion VND (1.32 billion USD) in investment capital has been disbursed since 2016. As of the end of May, there were nearly 7,500 Vietnamese businesses with total registered capital of more than 48.6 trillion VND (2.14 billion USD) and 336 foreign-invested firms with total registered capital exceeding 3.1 billion USD in the province.
Last year, the province's PCI moved three steps to rank 30th out of 63 cities and provinces nationwide.
MINISO to continue expanding

The Vietnamese subsidiary of lifestyle and household item retailer MINISO has opened nearly 40 stores in Vietnam and plans to open a further 50 by the end of this year, according to a company statement.

Mr. Ted Lan, General Manager of MINISO Vietnam, said there are currently 17 MINISO stores in Ho Chi Minh City, 19 in Hanoi, and four in other cities and provinces, all of which are performing handsomely.

MINISO has adopted a strategy of developing around "north-south" key cities, centering on Ho Chi Minh City in the south and Hanoi in the north. With high quality and affordable prices as well as exquisite designs, most MINISO products are priced between VND43,000 ($1.90) and VND500,000 ($22) and have won favor from customers, most of whom are aged between 18 and 35. Within this age group, however, tastes and behaviors vary in different regions.

Its largest consumer group is young women, Mr. Lan went on. Regardless of gender, however, most customers earn incomes in the medium to high bracket. They are keen shoppers, which is one of the major reasons Vietnam's retail market has such great potential.

With an influx of foreign investment and a rise in the number of shopping malls as well as local consumption habits changing from traditional street shopping to shopping malls, MINISO, keenly aware of these trends, has adjusted its expansion strategy in the country, moving from crowded neighborhoods to shopping malls and shopping centers.

Last October, it reached a cooperative agreement with Vincom, Vietnam's largest commercial real estate group, that paves the way for the brand's future development in Vietnam's major shopping malls. MINISO opened two stores last year, in AEON Long Bien and Vincom Times City, where sales have been very good.

For its future development, MINISO has not only worked with Vincom but also with Vietnamese superstar Son Tung M-TP, as its brand spokesman. Son Tung M-TP is a well-known singer in Vietnam, with fans from 16 to 30 years old, which fits MINISO's target group. His Facebook page has over 10 million fans, making him highly influential. The cooperation aims to build a positive brand image for MINISO among local consumers and broaden their awareness of the brand.

Vietnam's retail industry has major potential and there are new brands being introduced almost every day. Support from government policies, the rapid rise of the middle class, and the country's relatively young demographics are among the factors contributing to the rapid growth of the retail market. The competitiveness of domestic retail brands, however, is relatively poor. There are many large-scale enterprises with large market shares in Vietnam's retail market, such as Co.Op Mart, Vinmart, Fivimart, and SaigonCoop, but there are few brands similar to MINISO. Compared with these domestic brands, MINISO Vietnam's advantages are clear.

MINISO has a strong supply chain to support its operations. A 10,000 sq m sorting warehouse in Ho Chi Minh City is scheduled to be put into use in the middle of this year, which will provide strong support for digital operations and analysis as well as the logistics supply chain. MINISO also has its unique branded products, meeting the consumption habits of local consumers and catering to the taste of the masses. At the same time, it does its best so that consumers love and rely on its products.

MINOSO's development in the global market over recent years has been eye-catching. It has opened more than 2,600 stores worldwide, in 62 countries and territories, including the US, Australia, Canada, South Korea, Japan, China, and Indonesia. Turnover in 2017 reached $1.8 billion; double the figure in 2015.

With high growth, MINISO opens 80-100 stores around the world every month. It is expected to have 10,000 worldwide by 2022, of which 400 will be in Vietnam.
What does HSC expect from loss-making Vinasun?
While GIC Private Limited cut its losses in Vinasun last week, Ho Chi Minh City Securities Corporation (HSC) spends around VND100 billion ($4.4 million) becoming the third largest shareholder of Vinasun.
HSC has just announced buying 7.2 million shares of Vietnam Sun Corporation (Vinasun, code: VNS), equalling 10.61 per cent. It held only 8 VNS shares before.
The transaction took place on May 25, when GIC Private Limited sold a total of 5.4 million VNS shares on the Ho Chi Minh City Stock Exchange (HSX). This Singaporean investment fund fully divested Vinasun at only 40 per cent of the original purchasing price, losing approximately VND120 billion ($5.3 million) in four years.
At the average price of VND14,000 apiece, HSC is estimated to spend over VND100 billion ($4.4 million) becoming a large shareholder of Vinasun.
After this "low-cost" transaction, HSC became the third largest shareholder of Vinasun, behind chairman Dang Phuoc Thanh and his family (35 per cent) and Singaporean investment fund TAEL Two Partners Ltd. (18.3 per cent).
As a securities corporation, HSC's investment may be based on the expectation of recovering VNS after it hits rock bottom. However, HSC may be an intermediate unit of another investor.
HSC's investment came as the taxi firm slipped into the red and its stock fell sharply. From the VND36,000 height in 2014, VNS has dropped to around VND14,000, losing 60 per cent of its share value.
In 2018, Vinasun approved lower business targets for the fourth consecutive year, with VND2.16 trillion ($95.2 million) in revenue, down VND1.07 trillion ($47 million) compared to the actual revenue from last year. Net revenue from taxi services and franchising is expected at VND2 trillion ($88 million), and the remaining revenue will come from the liquidation of assets.
The sharply reduced targets are due to the competition with ride-hailing services, in light of which Vinasun also forecast after-tax profit to halve against last year, falling to VND95 billion ($4.2 million), the lowest over the last nine years.
HCM City ranks first in FDI attraction in five months
Ho Chi Minh City was the most attractive destination in FDI attraction in the first five months of this year, with 2.39 billion USD, or 24.2 percent of total investment in the period, according to the Foreign Investment Agency under the Ministry of Planning and Investment.
The northern port city of Hai Phong ranked second with 1.07 billion USD, accounting for 10.8 percent and followed by Hanoi with 835.3 million USD, or 8.4 percent.
The agency reported that in the first five months of this year, 53 cities and provinces in the country attracted 9.9 billion USD of FDI, equivalent to 81.6 percent of that in the same period last year.
Of which, the processing and manufacturing industry lured 5.18 billion USD, or 52.3 percent, while real estate enjoyed 1.07 billion USD, and retail and wholesale sector attracted 1.02 billion USD.
Notably, LG Innotek added 501 million USD to its factory in Hai Phong, raising total investment in the project to 1.05 billion USD, while Regina Miracle International Vietnam injected an additional 260 million USD to its sportswear factory.
Economists said that the increase of investment in projects in equipment and garment will bring more opportunities for domestic enterprises to learn from FDI firms and take advantage of their strengths. This is also what Vietnamese businesses need to do to enhance their competitiveness and engage deeper into global supply chains.
So far this year, 86 countries and territories have invested in Vietnam, led by the Republic of Korea with 2.63 billion USD, accounting for 26.5 percent of total FDI, followed by Japan with 1.52 billion USD and Singapore with 1.11 billion USD.
Vietnam's exports to Japan exceed US$5.7 billion in 4 months
Total trade between Vietnam and Japan hit US$11.41 billion in the first four months of this year, a -year-on-year rise of 13.2%, including US$5.75 billion from Vietnam's exports to Japan (up 14.5%) and US$5.66 billion from its imports (up 11.9%).
According to the General Department of Vietnam Customs, Japan has been in top four of more than 200 trading partners of Vietnam over the years.
In 2017, two-way trade turnover increased 13.8% to US$33.84 billion against the previous year with Vietnam's exports of US$16.86 billion, making up 7.8% of the country's total exports. Key export products to Japan include garment, means of transport, machines, equipment, tools and spare parts, seafood, wood and timber products.
Meanwhile, Japanese businesses shipped US$16.98 billion worth of products to Vietnam (up 12.7%), accounting for 8% of Vietnam's total imports last year.
US – major export market of southern Dong Nai province
The US is the largest export market for the southern province of Dong Nai, accounting for nearly 30% of the province's total export value, according to the provincial Department of Industry and Trade.
Businesses in the southern province of Dong Nai have exported more than US$1.5 billion worth of products to the US since early this year, a year-on-year rise of 10%, with key products such as wood, bags, suitcases, hats, steel, coffee, pepper and seafood. Products with huge export values like footwear and garments grew by 4-10% against the same period last year.
However, the Ministry of Industry and Trade says the US legal system imposes many strict regulations on imported goods. In addition to common criteria, each state has its own regulations. Therefore, if Vietnamese businesses want to ship their products to the US, they must research the laws and regulations of individual states as well as the country.
Besides, the US will continue to protect its domestic goods by issuing new regulations on the quality and origin of products, particularly for agroforestry and seafood products, which causes a number of difficulties for goods exported from Dong Nai and for the whole country as well.
To avoid an overdependence on certain big markets, businesses in Dong Nai province are finding ways to expand to new markets, especially the countries Vietnam has signed free trade agreements with, to improve their competitiveness.
Duong Minh Dung, director of the provincial Department of Industry and Trade, says the province helps businesses keep traditional markets and supports them in market expansion to reduce risks due to an overdependence on certain markets.
Dong Nai has exported goods to 171 countries and territories around the world, including big markets such as the US, the Republic of Korea, Japan, China and Europe.
Mekong Beauty Show attracts numerous South Korean enterprises

An international beauty and cosmetics expo named Mekong Beauty Show 2018 will kick off on June 14 at Saigon Exhibition and Convention Center (SECC) in HCMC's District 7, luring the participation of over 200 companies, with more than half being South Korean enterprises.

The three-day event was announced at a press meeting on June 7 in the city by the organizers comprising Vietnam National Trade Fair and Advertising Company (VINEXAD), Informa Exhibitions, and the Korea Exhibition Center (Kintex).

Dominic Oh, general director of South Korean firm Kintex, said that more than 110 South Korean beauty and cosmetics firms would participate in the show in search of potential importers and business opportunities in the Vietnamese market, adding that 400 brands will be featured at K-Beauty pavilion.

Oh stated that Vietnam is considered as one of the key markets for Korean beauty and cosmetics operators, and many South Korean companies highly evaluated Vietnam as a thriving market on their business trips to this country last year. Notably, Vietnamese youth has increasing demand for purchasing South Korean cosmetics.

Besides, many corporations from such countries as Italy, Russia, Malaysia, and Thailand have put their names down for the beauty show for the first time, while others from Japan, Taiwan, and mainland China among others would also revisit the event to further tap the country's high-potential beauty industry. A wide range of latest advanced technologies in the beauty sector, spa equipment, and healthcare products will be displayed at around 250 booths at the event.

Import-export turnover of the local cosmetics sector last year reached nearly US$6 billion, or twice bigger than that a year earlier, but exports attained only some US$500 million, said Nguyen Van Minh, vice chairman of Vietnam Essential Oil Association. Moreover, surging demand for high-end cosmetics items has paved the way for foreign operators to join the local market.
Long An BOT road toll collection set to start in mid-June

Toll collection on Provincial Road DT 830 in Long An Province, the first build-operate-transfer (BOT) infrastructure project in the Mekong Delta province, will begin in mid-June, said Pham Van Cuong, director of Bang Duong Investment-Construction-Trading Co Ltd.

Cuong said at a press conference held in Long An Province on June 7 that the date for kicking off toll collection remained undecided.

Long An Province Department of Transport director Nguyen Van Hoc said toll fees would range from VND25,000 to VND165,000 per time, from VND750,000 to VND4.95 million per month and from VND2.02 million to VND13.36 million per quarter.

A toll exemption will be extended to certain road users in accordance with Clause 3 of Article 1 in the province's Decision 13/2018/QD-UBND dated April 1, 2018, Hoc said.

The developers of the project have added residents and enterprises in An Thanh, Luong Hoa, Luong Binh and Tan Hoa communes in Ben Luc District, and in Huu Thanh Commune in Duc Hoa District to the list of those enjoying toll exemption or reduction.

Particularly, vehicles of companies headquartered in areas between Ben Luc and Duc Hoa toll stations will get a 20% discount on monthly or quarterly tickets while public vehicles like commuter buses will pay VND25,000 per trip, VND375,000 per month or VND1.012 per quarter.

Meanwhile, passenger vehicles of below 31 seats owned by local residents will be exempted from tolls.

Toll collection is slated to last 19 years.

DT 830 BOT project is jointly developed by Bang Duong Investment-Construction-Trading Co Ltd and Bamboo Capital Group at a total cost of more than VND1 trillion.