VEAM to debut on UPCoM in July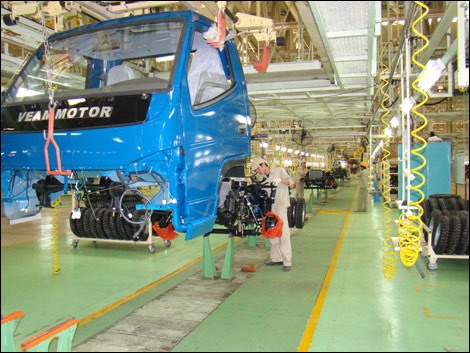 The Vietnam Engine and Agricultural Machinery Corporation (VEAM) will trade 1.33 billion shares on the Unlisted Public Company Market (UPCoM) on July 2.
VEAM's code is VEA and it will debut at VND27,600 (US$1.22) per share, the Ha Noi Stock Exchange said in a statement on Tuesday.
At that price level, the value of the firm is estimated at VND36.6 trillion ($1.5 billion). The company has a charter capital of VND13.3 trillion.
It plans to move to the HCM Stock Exchange in the third quarter of this year.
VEAM used to be a State-owned enterprise and was equitised on January 21, 2017. Current shareholders include the Ministry of Industry and Trade (holding 88.47 per cent of capital), Hoa An Trade and Investment Co. Ltd (six per cent) and foreign investors (3.05 per cent).
VEAM posted VND6.56 trillion in total revenue in 2017, a yearly increase of four per cent. Its post-tax profit in 2017 rose by 13 per cent year-on-year to VND5.1 trillion.
The company targets VND3.54 trillion in total revenue and VND4.9 trillion in post-tax profit in 2018. It expects to pay 28 per cent dividend, almost nine times the 3.7 per cent dividend payout rate in 2017.
In the first quarter of this year, VEAM recorded VND1 trillion in post-tax profit, an annual increase of 27 per cent.
Hanoi sees 12,100 new enterprises in six months
Up to 12,100 new enterprises were established in the capital city of Hanoi in the first six months of 2018, with total registered capital of 124 trillion VND (around 5.46 billion USD), reported the municipal People's Committee.
The figures represent a reduction of 3 percent in the number of businesses but an increase of 31 percent in the amount of capital compared to the same period last year.
During the period, nearly 1,950 firms resumed their operations, down by 1.5 percent year-on-year, while more than 4,300 stopped operations, surging by 51 percent over the same period last year.
Hanoi also saw 720 firms completing dissolution procedures in the first half of the year, 32 percent higher than last year's corresponding period, the report said, adding that as of June, the city is home to some 251,500 enterprises.
From January to June, the city's total social investment capital reached an estimated 128.9 trillion VND (5.67 billion USD), up by 10 percent year-on-year.
The registered capital of investment projects outside the State budget hit 80 trillion VND (3.52 billion USD), up 19 percent year-on-year, while foreign investment stood at 1.2 billion USD, up by 9.5 percent compared to the same period last year.
To date, the city has 4,325 valid foreign direct investment (FDI) projects, capitalised at 27.94 billion USD, of which 15.4 billion USD has been disbursed.
Gia Lai shifts to planting fruit trees with high economic value
The Central Highlands province of Gia Lai has worked to replace traditional key farm produce like rubber, coffee and pepper with fruit trees, which generate more income.
The province is home to more than 7,200ha of fruit trees, up nearly 1,200ha against 2016. The area is mainly to grow banana (1,700ha), mango (more than 1,000ha), durian (560ha) and dragon fruit (350ha), among others.
It aims to have 10,000ha under fruit trees by 2020, focusing on fruits with geographical indication tags.
In addition, Gia Lai will promote high-tech agriculture and processing of farm produce, along with clean and renewable energy and tourism, said Chairman of the provincial People's Committee Vo Ngoc Thanh.
The province will support businesses as well as seek domestic and foreign partners to achieve sustainable economic growth, he added.
Duc Co border district is among localities with the strongest efforts to restructure agricultural production, with more than 350ha of fruit trees at present. Durian, the district's staple, is grown on 200ha of land along with rubber and coffee gardens. The district's durian output hits between 8-12 tonnes per hectare annually, raking in high income for growers.
Similarly, KBang district has replaced coffee with fruit trees in more than 500ha of land. Tran Thi Lan, a farmer in the district's Son Lang commune, earns more than 200 million VND (8,700 USD) in profit a year by growing organic oranges.
Major businesses have also started to invest in Gia Lai's fruit sector. Notably, Hoang Anh Gia Lai Joint Stock Company planted more than 900ha of fruit trees in the province using a banana variety from South America, Thai durian, avocado and passion fruit.
In 2017, the company shipped nearly 700 tonnes of fruit to China and Thailand, with total export revenue exceeding 430,000 USD.
A project to build one of the nation's most modern fruit and vegetable processing factories in the province is set to be completed in July 2018. Invested by the Dong Giao Foodstuff Export JSC (DOVECO) to the tune of 300 billion VND, it is expected to yield 40,000 tonnes of products per year and generate jobs for thousands of local labourers.
Once operational, the factory is estimated to rake in 2 trillion VND (87.3 million USD) of revenue, including 80-90 million USD from exports, per year.
Universal Robots introduces two new tech platforms
Universal Robots, the pioneer in collaborative robots (cobots), is setting a new standard for collaborative automation platforms in Vietnam with the introduction of its new flagship e-Series cobots. The firm plans to begin shipping units to customers from the beginning of August.
The new range follows Universal Robot's co-founder, Mr. Esben Østergaard, being awarded the 2018 Engleberger Award, the "Nobel Prize" of robotics.
Demand for automation and robotics continues to grow in Vietnam, particularly in the automotive, electronics, textile, footwear and food processing industries.
Electronics is the largest export sector in the country, contributing $71 billion in 2017, and is a high adopter of cobots. The Vietnamese Government has unveiled the 2011-2020 Strategy for Science and Technology Development to enhance economic competitiveness and speed up industrialization, prioritizing the importance of industrial robots and hi-tech automation.
"Cobot demand is growing in Vietnam as automation is increasingly becoming a necessity for businesses to achieve greater production efficiencies amid rising operational costs, labor shortages, and increasing competition," said Ms. Shermine Gotfredsen, General Manager, Southeast Asia and Oceania, at Universal Robots. "With the e-Series and G3 product lines, we now offer customers two distinct technology platforms, catering to a wider range of business needs."
The new e-Series cobot platform includes technological advances that enable faster development for a wider variety of applications. Improvements include the ability to economically address even more applications, thanks to greater precision and sensitivity provided by a built-in, tool-centric Force/Torque sensor.
Like other Universal Robots offerings, the new e-Series offers unparalleled convenience. It takes just one hour to unpack the cobot, mount it and program the first task. A wrist-join-tool communication interface reduces production line integration time and complexity. Meanwhile, from a service standpoint, all joints can be replaced in two to six minutes.
A re-designed intuitive and responsive-touch user interface expedites program development by simplifying programming to a few clicks on a new lightweight, wide-screen Teach Pendant.
Looking at the big picture, e-Series users can expect a fast return on investment with a cobot system ready for any future application and with long-term productivity gains.
"Our e-Series platform is leveraging our years of experience as the market leader within collaborative robots," said Mr. Jürgen von Hollen, President of Universal Robots. "The 'e' in e-Series underpins our key vision and overall product philosophy, specifically Empowering people and making it Easy for Everyone."
With the e-Series launch, Universal Robots now provides two different technology platforms. For customers interested in cobot capacity expansion for proven applications, the G3 is an ideal choice. The e-Series benefits businesses with advanced applications and diverse or uncertain future needs.
Forum connects Vietnamese startups at home and abroad
The forum "Connecting Vietnamese startups at home and abroad" was kicked off in Ho Chi Minh City on June 26, bringing together about 400 startup experts, local and foreign investors, innovation and startup support providers and students.
In his opening remarks, Secretary of the municipal Party's Committee Nguyen Thien Nhan said he expected that through the forum, experts will help the city and tackle problems that hinder its development, one of which is the lack of connectivity between the scientist circle and businesses.
To address the weak point, the city must foster the development of the local technology market in a bid to give firms better access to technological products, he said, adding that technology and business must go together when a new enterprise is formed.
Nhan moved on to say that after the recent visits to the US and Israel, the city's leaders believed that it is very important to bring together Vietnamese people at home and overseas as experience sharing from such connectivity will support a business from the start, from market research, personnel recruitment to developing a business plan and making the product available on the market.
To grow faster, the city must rely on people, especially Vietnamese people overseas, the official stressed.
The forum, co-held by the Ministry of Foreign Affairs and the city's People's Committee on June 26 - 27, aims to share entrepreneurship advice and startup experience, connect entrepreneurs at home and abroad and introduce them to potential investors and investment funds.
It is also an opportunity for the startups to discuss with local policymakers their challenges and needs for support.
Greater connectivity urged between domestic, FDI firms in electronics
Very few domestic firms in support industries supply parts for FDI enterprises in the electronics industry, according to Nguyen Mai, President of the Vietnam Association of Foreign Invested Enterprises (VAFIE).
Though FDI in Vietnam has almost reached 190 billion USD to date, accounting for more than one fourth of the country's total investment, its spillover effects on local companies have yet to expand as expected.
"FDI firms themselves want Vietnamese small- and medium-sized enterprises (SMEs) to be their local suppliers in order to help them reduce cost and improve competitiveness. But many problems have remained to hamper the effective connectivity among them," Mai said.
Electronics has become one of the economy's key sectors, making Vietnam among the world's 12 leading electronic workshops and the third largest one in ASEAN, said President of the Vietnam Chamber of Commerce and Industry (VCCI) Vu Tien Loc.
The electronics led all industries in export turnover in 2017, earning the country more than 70 billion USD, 2.5 times higher than the textile-garment industry and nearly 5 times higher than the footwear, Loc noted.
The number of electronic firms in Vietnam doubled over the past five years. The workforce in the sector also tripled, from nearly 239,000 workers in 2011 to 611,500 at the end of last year, he cited, adding that the electronics has maintained a big magnet for FDI into Vietnam.
Despite such success, the VCCI chairman voiced concern over the fact that there is only one Vietnamese company among every 100 large firms in the electronics industry. Some 99 others are FDI enterprises, he said. These 99 firms contributed to 95 percent of the sector's export turnover and 70 percent of sale revenue of electronic products in the local market.
"Most of FDI firms in the electronics sector are just assembling workshops in Vietnam," Loc explained, stressing the need to improve connectivity between the domestic and FDI firms.
The Ministry of Industry and Trade's Industrial Policy and Strategy Institute (IPSI) conducted a survey last year, interviewing 194 domestic manufacturers of mental, electrical, electronic, plastic and rubbery parts. The findings show that there were very few of them supplying parts for FDI producers in the fields of manufacturing, automobile, electronics, industrial machine and others.
To solve this problem, the Vietnam Electronic Industries Association (VEIA) has been coordinating with the VCCI and the Government of Japan to carry out several projects to increase the number and the quality of employment in the electronics sector and foster cooperation between FDI firms and local SMEs. These projects have benefited 127 companies through a series of training events and policy dialogues.
It could be the start of an era with improved connectivity between domestic and FDI firms towards the formation of a better electronic supply chain in Vietnam.
Vietnam firms advised to penetrate into Middle East market
Besides traditional markets such as the US, EU and Japan, Vietnamese enterprises should make inroads into the Middle East market, according to experts.
The Middle East is a market with more than 400 million people and 16 countries. This region imports some 40 billion USD worth of food per year, which is projected to hit 70 billion USD by 2035.
Over the past few years, trade between the Middle East and Vietnam has grown to reach 8.06 billion USD in 2016 and 12 billion USD in 2017, with Vietnam exporting 9 billion USD and importing 3 billion USD worth of goods.
Vietnam mainly exported mobile phones, footwear, garment-textile, rice, pepper, wood and timber products, cashew nuts, fruits and vegetable and coffee.
According to the Ministry of Industry and Trade, Middle Eastern nations have big purchasing power with annual average gross domestic product per capita of 60,000 – 127,000 USD.
Consumption products and farm produce are the two main import products in the region.
Moreover, the Middle East is an entrepot to other markets in North Africa and Central Asia.
President of Intimex Group and Vice Chairman of the Vietnam Coffee and Cacao Association Do Ha Nam said the Middle East has big demand for rice, coffee, pepper and aquatic products.
He advised businesses to penetrate the market through Dubai because this is one of the most open economies and the gateway of goods to the region.
Businesses should participate in trade fairs in Dubai to meet with partners from the Middle East and neighbouring regions.
The Ministry of Industry and Trade suggested Vietnamese exporters study business customs as well as regulations and certificates to export to the Middle East.
Deputy head of the ministry's Asia-Africa Market Department Le Thai Hoa said the Middle East is known as a potential market with high import demand without strict quality requirements.
To enable domestic firms to boost exports to the region, the Vietnamese Government will simplify administrative procedures on tax and reduce time for customs at international ports, he said.
Recently, the Ministry of Industry and Trade abolished thousands of unnecessary administrative procedures to aid local exporters, he added.
Deputy Director of the Vietnam Chamber of Commerce and Industry (VCCI) branch in Ho Chi Minh City Nguyen The Hung said the agency has held a number of exchange programmes and survey tours for Vietnamese businesses to explore foreign markets.
To increase connectivity between Middle East and Vietnamese enterprises, the United Arab Emirates's Relam Investment and Vietnam's MIG Holdings signed a cooperation agreement to launch Trade Hub in Vietnam – a platform operating in many countries to connect online trade.
The Trade Hub is set to go into operation in July 2018, connecting manufacturers, services suppliers, financial organisations and investors.
IMF helps with public investment management assessment
A training conference on Public Investment Management Assessment (PIMA), which was developed by the International Monetary Fund (IMF), took place in Hanoi on June 26.
The Party Central Committee's Economic Commission and IMF co-organised the conference, where an IMF expert introduced the PIMA tool and fielded participants' questions on the tool and its applications in real-life situations.
According to the IMF, the PIMA evaluates 15 institutions that shape public investment decision-making at the three key stages – planning sustainable development across the public sector; allocating investment to the right sector and projects; and implementing projects on time and on budget.
Speaking at the conference, vice chairman of the commission Ngo Van Tuan highlighted the importance of the event, expecting public personnel using PIMA to work closely with IMF experts in making assessment and recommendations.
Jonathan Dunn, IMF Resident Representative in Vietnam and Laos, said this is an efficient tool to study public investment.
Ensuring the optimisation of public investment is needed in order to improve fiscal health, he noted.
Dunn said he wants to help the Vietnamese Government identify priorities for the upcoming period and looks for further cooperation with Vietnam.
The same day, the Party Central Committee's Economic Commission convened a meeting of its steering committee for compiling PIMA reports.
Workshop seeks to optimise agri-silviculture
More than 100 delegates from Southeast Asian countries gathered at a workshop in the central city of Da Nang on June 26 to seek measures for harnessing the potential of agro-forestry for a prosperous and resilient ASEAN.
Participants discussed the role and contributions of the agri-silviculture, or the combination of growing of agricultural crops with simultaneously raised and protected forest crops, in ASEAN member countries' strategy.
They highlighted a number of issues, including the agri-silviculture in association with restoring and protecting of river basins, and agro-forestry combination in managing disasters and restoring capacity.
Dr. Nguyen Phu Hung, head of the Department of the Science-Technology and International Cooperation under the Vietnam Administration of Forestry, said that the workshop aims to raise awareness of the role of agri-silviculture in ensuring food security and enhancing the recovery capacity amidst climate change, natural disasters and other extreme weather conditions in Southeast Asian countries.
The event also created opportunities for speeding up cooperation among regional countries, organisations and sponsors in boosting agro-forestry development.
Recently, agri-silviculture has proved great benefit in economy, society and environment.
Currently, the application of model with a purpose to ensure food security and climate change adaption in Southeast Asia has been modest due to a lack of adequate policies for agri-silviculture development.
Therefore, the building of guidelines on developing agri-silviculture in the Southeast Asian region is considered a priority and most practical activity in the context of climate change, disasters and extreme climate conditions.
VPBank to buy back 73 million shares
The Vietnam Prosperity Joint Stock Commercial Bank (VPBank) will buy back more than 73.2 million shares as treasury shares.
The shares were issued by the bank as preferred bonus shares on July 8, 2015.
VPBank will buy the shares at nearly VND34,000 (US$1.5) per share, it said in a filing to the HCM Stock Exchange.
The total value of the deal is estimated to be nearly VND2.5 trillion ($111 million). The transactions will be carried out between July 9 and 20.
VPBank has some 2.4 billion outstanding shares at the moment, of which more than 1.3 billion shares are listed on the HCM Stock Exchange under code VPB.
VPB fell 1.1 per cent to close Tuesday at VND32,550 per share.
VPBank recently announced the bank would finalise the list of shareholders who will receive 20 per cent cash dividend on Friday. The value of the dividend is estimated to be VND146 billion.
VPBank was approved by the State Bank of Viet Nam in late May to increase its charter capital to nearly VND25.3 trillion from the current VND15.7 trillion via five share issuances.
The bank earned VND2.6 trillion in pre-tax profit in the first quarter of 2018, a yearly increase of 36 per cent.
VinFast partners with global auto part suppliers
VinFast Manufacturing and Trading Company, a member of property developer Vingroup, recently organised a successful workshop in Frankfurt, Germany, with the participation of automobile part suppliers.
The event brought together more than 300 prestigious suppliers from around the world and proved the attractiveness of VinFast's large-scale automobile production project, affirming the company's commitment to roll out auto lines of international standards.
To produce high-quality cars that meet international standards, VinFast has paid great attention to seeking capable partners supplying spare parts and components.
At the workshop, the company talked about the potential of the car market in Viet Nam, the objectives and visions of VinFast as well as the scale and progress of the project.
Viet Nam today is emerging as one of the most potential consumer markets in the world, although the car ownership rate of the Vietnamese people is quite low---only 23 vehicles per 1,000 people, while the equivalent in Thailand is 204 vehicles per 1,000 people, and the minimum in developed countries is 400 vehicles per 1,000 people.
However, with rising incomes, estimated at more than US$3,000 per head by 2021, combined with increasingly improved infrastructure and attractive demographic characteristics, it will be the premise for the Vietnamese automobile market's purchasing power, which is expected to grow strongly in future.
But Viet Nam does not have a Vietnamese car brand, and the domestic automobile industry still stands at the import and assembly stage.
Based on research findings and after waiting for the appropriate time, Vingroup decided to invest in the project of producing automobiles and electric motorbikes with an aim to build a Vietnamese automobile brand meeting international standards. It also plans to contribute to the development of a leading auto industry in Viet Nam.
As a Vietnamese automotive brand with international vision, VinFast has set a large production target, with an expected capacity of 250,000 cars in the first phase and 500,000 cars in the next phase, becoming the leading car manufacturer in Southeast Asia.
The product portfolio of the company is also extremely rich, including gasoline types (sedan, SUV, hatchback), small electric vehicles and electric buses. VinFast has partnered with many prestigious corporations all over the world, including BMW, Magna Steyr, AVL, EDAG, Pininfarina, ItalDesign, Bosch and Siemens. It has built a team of experienced leaders from the world's leading companies in automobile production.
VinFast is a leading company in Viet Nam with the cooperation of partners in the supporting industry. The company has allocated 70ha of land to Phase 1 of the project in the northern city of Hai Phong for part supplies and supports maximum efforts in infrastructure and implementation procedures.
According to VinFast, these are the parameters that prove the company will have a large demand for components and spare parts and establish long-term international partnerships.
"VinFast is not only important for Vingroup, but also for Viet Nam, so we are working hard together with our partners for the successful implementation of this project," said James DeLuca, general director of VinFast Production and Trading Company Limited.
"We also recognise the indispensable role played by suppliers in this unique project and believe that the essential foundation for the two sides to go further is based on the relationship and cooperation. Therefore, we hope to further strengthen the relationship between the two parties and hopefully after the seminar in Germany, the suppliers will become part of the VinFast family," he added.
At the workshop, international suppliers expressed great interest in the Vietnamese automobile market, particularly in the VinFast project, and appreciated the scale of production as well as the historical mission of the project.
According to industry representatives, with the vision of large-scale production and international standards, VinFast will have many potential customers. Some suppliers have expressed their desire for a long-term cooperation with VinFast through setting up of component factories in the project complex in Hai Phong.
Vietjet to pay additional 20% dividend

Vietjet Air plans to pay an additional 2017 dividend of 20 per cent of charter capital, according to its latest report.

The registration date is July 2, corresponding to an ex-rights date of June 29.

After this payment, Vietjet will then pay the previously-approved 2017 dividend to shareholders of 60 per cent, of which 40 per cent is in cash.

Vietjet has regularly paid high dividends over the years, at time at more than 100 per cent. It has approved a 2018 dividend of 50 per cent.

The Petro Trading JSC (Petechim) recently registered to buy 100,000 Vietjet shares after buying all 150,000 shares registered in the session previous.

Vietjet's high growth continued in the first quarter of 2018. Revenue stood at VND12.56 trillion ($558 million), an increase of 146 per cent year-on-year, thanks to growth in passenger air transport, ancillary services, and sales and leaseback revenue.

After-tax profit of the parent company's shareholders reached VND1.366 trillion ($60.7 million), a 263 per cent increase year-on-year. Pre-tax profit was $358 million, or 25.5 per cent of the annual target.

Earnings per share in the quarter were VND3,026 ($0.13); among the highest on Vietnam's stock market.

Vietjet currently operates 55 A320 and A321 aircraft with more than 385 flights daily, carrying more than 55 million passengers to date on 82 routes covering destinations in Vietnam as well as international destinations such as Hong Kong, Singapore, South Korea, Taiwan, China, Thailand, Indonesia, Myanmar, Malaysia, and Cambodia.

It plans to expand its network across the Asia-Pacific region and is continuing to expand its regional network. It has recently signed contracts to purchase new aircraft from the world's leading aircraft manufacturers.

For the second consecutive year it was honored in Nhip cau Dau tu magazine's "Vietnam's 50 Best-Performing Companies 2017" awards and is a member of the "Billion-Dollar Club" of companies that have market capitalization in excess of $1 billion.
Technical transfer programme brings together Vietnamese, RoK businesses
Representatives from businesses and universities of the Republic of Korea introduced cutting-edge technologies in various fields at a B2B matching programme in Ho Chi Minh City on June 26.
The programme was jointly held by the Saigon Innovation Hub (Sihub), the Busan United Management of Technology Centre and the overseas Korean business association. It aims to connect Vietnamese businesses with RoK firms and universities in terms of technical transfer and supply-demand connectivity.
One of the spotlights of the programme is the B2B Match event, which featured more than 50 meetings between Vietnamese and RoK enterprises who came to seek business opportunities.
Huynh Kim Tuoc, Sihub CEO, described the RoK as an important partner among 100 partner countries of Sihub as the RoK is one of the leading nations in applying technologies in innovations.
Within the framework of the programme, Sihub signed a cooperation agreement on technological development with the Busan United Management of Technology Centre. The agreement is expected to create a commercial bridge between Vietnamese and RoK firms.
The event forms part of Sihub's cooperation activities with RoK partners, aiming to expand its reach globally in 2020.
So far Sihub has inked cooperation agreements with many RoK partners, including Shinhan Futures' Lab and the overseas Korean business association.
WHO backs Vietnam's new tax proposal on sugary drinks
World Health Organization (WHO) experts have expressed strong support for a new tax on sugary drinks proposed by the Ministry of Finance.
The proposal, which will go into effect in 2019 if passed, will impose a 10% special consumption tax on different type of beverages, including sweetened drinks.
While the tax aims to prompt a shift from unhealthy consumption habits, it has been criticized by business representatives and experts who say the industry is already taxed heavily.
The tax proposal comes in the wake of Vietnam being put on high alert over its consumption of sugary drinks, which has skyrocketed over the last 15 years.
The WHO noted that a fourth of Vietnam's population was already obese or overweight.
Guilermo Paraje, a WHO consultant, said the 10% special consumption tax will increase the average price of sweetened drinks in the Vietnamese market by 5%, and provide a VND4 trillion (US$173.9 million) boost to the state budget.
He further suggested three tax proposals that would increase the tax contribution to VND12 trillion - one liter of sweetened beverages will be taxed VND3,500; VND35 per gram of sugar in every 100 milliliters of a drink; or a 40% tax on factory price. All three options will increase average soda prices by 20%.
"People will substitute sugary drinks with water or other products, leading to alternative jobs. The industry has also experienced industrialization so there are not many job opportunities in this sector," Paraje said.
Dr. Jun Nakagawa, WHO representative in Vietnam, said excessive consumption of sugar was the leading cause of overweight and obesity, which are linked to many health risks such as diabetes, heart disease and gout.
Vietnam has added sugary drinks to the list of items to be placed under stricter control and tax regulations, along with cigarettes and alcohol.
The government has banned the sale of soft drinks in all school canteens across Vietnam.
Truong Tuyet Mai, deputy director of the National Institute of Nutrition, said that Vietnamese people are forecast to consume over 5 billion liters of sweetened drinks in 2018, nine times more than in 2000, and the figure is estimated to reach 11 billion by 2025.
The new 10% special consumption tax would also accrue to other beverages, including carbonated or non-carbonated soft drinks, juices, flavored water, energy drinks, instant tea, pre-packed coffee and flavored milk.
US newspaper calls for recognition of Vietnam's market economy
The Washington Times has recently posted an article calling on the US government to recognize Vietnam's market economy, and it said that Vietnam has become the US's comprehensive partner and relations between the two countries have expanded.
The Vietnam-US Bilateral Trade Agreement (BTA) signed in 2001 sent a positive signal to investors, but the US has not yet formally recognized Vietnam's market economy. Policy experts are optimistic about Vietnam's progress toward meeting the standards of a market economy, it said.
The paper quoted Professor Carl Thayer of New South Wales University, who said if Vietnam is recognized as a market economy, it will enjoy lower US tariffs. Vietnam has implemented the Doi Moi (renewal) policy since 1986, bringing prosperity to many people and expanding the middle class. Vietnam's broadband service allows people to access multiple sources of information internationally, facilitating Vietnam's integration into the global economy. It also boosts Vietnam's leadership in ASEAN.
The article said the US should recognize Vietnam's market economy to improve Vietnam-US relations, strengthen maritime safety and security through joint naval exercises, and deploy regular maritime patrols in the East Sea.
Vietnamese farm produce shines at Rungis International Market
More than 30 Vietnamese agricultural businesses are running fruit and spice stalls as part of a Vietnam farm produce week starting June 26 at the Rungis International Market in Paris.
It took the Ministries of Industry and Trade, Agriculture and Rural Development, and Hanoi Promotion Agency one year of preparation for the event to take place, marking the first large-scale introduction of Vietnamese agricultural products to French importers.
Speaking at the opening ceremony of the event, Stéphane Layani, President and Director General of the Rungis International Market, praised the quality of Vietnamese farm produce, particularly lychees, dragon fruit and coconuts.
He said he believes the products will be a hit in France and also Europe and other parts of the world.
Vietnam can be considered an agricultural power but it lacks a large wholesale market to distribute products, he said, noting that Rungis is a trustworthy location for Vietnamese farm produce to reach European consumers.
Layani said Rungis is willing to cooperate with Hanoi to build a wholesale market meeting European standards.
Chairman of the Hanoi People's Committee Nguyen Duc Chung said the model of the Rungis market, which spans over 230 hectares, records 9 billion EUR in annual revenue and offers top quality farm produce, can be applied in Vietnam, particularly Hanoi.
He stated Hanoi wants to work with Semmaris, the company that manages the Rungis International Market, to study the feasibility of investing in a wholesale market in Hanoi following the Rungis model.
The event, featuring a space of Vietnamese culinary delights cooked by French chef Didier Corlou, received a warm welcome from visitors.
Vietnam's fruit, vegetables and seafood are now available across 180 countries and territories. Earning US$36 billion from agro-forestry-fishery exports in 2017, Vietnam was ranked among 15 biggest exporters of the products in the world.
HCM City seeks investment for container depot
HCM City is calling for investment in a new inland container depot (ICD) project with total costs of VNĐ5.8 trillion (US$ 250 million) in Long Bình Ward in District 9.
The city's People's Committee asked the District 9 People's Committee soon to outline a 1/2000 zoning plan which includes the ICD construction project, and then submit it to authorised agencies for approval.
If the zoning plan is approved, the city's Department of Planning and Investment will select investors for the ICD project.
SHB wins Business Excellence Award 2018

The Saigon Hanoi Commercial Joint Stock Bank (SHB) has been selected by the World Confederation of Business (Worldcob) as the only representative in Vietnam to receive the Bizz – Business Excellence Award 2018.

The Bizz honours outstanding businesses and entrepreneurs in 120 countries around the world.

To win the award, businesses must meet a number of strict requirements pertaining to leadership, management systems, quality in products and services, innovation and creativity, corporate social responsibility, and results obtained.

The annual award ceremony is held in European, Asian and American cities.

In 2018, Worldcob conducted a survey of Vietnamese enterprises and selected SHB as the only business to be awarded.

SHB General Director Nguyen Van Le said the Bizz award recognised the bank's efforts over the past years to bring the best products and services to customers, partners and shareholders.

At the same time, it affirms the firm position of SHB in Vietnam's financial market and reach further in the global arena, he added.

Established in 1993, SHB is one of the five largest private banks in Vietnam.

In the first quarter of 2018, its total assets exceeded 286.9 trillion VND (12.6 billion USD), including more than 12 trillion VND (527.4 million USD) of charter capital and 18.8 trillion VND (826.2 million USD) of equity capital.

The bank mobilised 264 trillion VND (11.6 billion USD) of capital in January-April.

The loan outstanding balance reached 202.5 trillion VND (8.9 billion USD), a year-on-year rise of 2 percent.

SHB posted a pre-tax profit of more than 500 billion VND (21.9 million USD), up 63.5 percent against the same period last year.

Over the years, SHB has won a number of prestigious domestic and international awards including Home Loan Product of the Year, Auto Loan Product of the Year, and Credit Card Initiative of the Year by the Asian Banking & Finance magazine.

Most recently, SHB has won the Best Bank award in Vietnam 2018 from the US Global Finance magazine. The annual award was evaluated based on the growth of financial indicators such as total assets and profit, quality of products and customer services and technological development.
New ideas crucial for retail success
Maximising the shopping experience with the help of digital in-store solutions is key for future success in the consumer goods sector, delegates said at a seminar held in HCM City on June 27.
Ho Mai Ho, General Manager of the FMCG (fast-moving consumer goods) sector at DKSH Vietnam, said joint research by DKSH and Smollan revealed that while the Vietnamese retail sector had healthy growth, the proliferation of retail channels made end-consumer reach more challenging.
In an ever-growing market, the retail sector had undergone changes, with a broader array of shopping channels available than just a decade ago, he said.
Retail sales in Vietnam would continue to expand, he noted.
While traditional trade accounts for about three-fourths of total sales, modern trade channels have been growing in recent years and will continue to expand.
With the average household size shrinking, consumption demand had changed and families tended to buy less at a time, Ho said, adding that Vietnamese shoppers were increasingly buying from modern trade channels.
Bjorn Kruizenga, business development manager for Southeast Asia at DKSH Smollan Field Marketing, said that up to 70 percent of shopper decisions globally were made in-store, and 20 percent of shoppers made impulse and unplanned purchases.
For 28 percent of products, the choice of brand to buy is usually made before reaching the store. In addition, about 25 percent of consumers notice that the category they impulsively bought was featured in a display.
Finally, one in 10 shoppers would switch to another brand inside the store, he said.
Maximising the shopping experience in-store was therefore key for a successful retail execution, he added.
Ho said the company's digital in-store solutions helped maximise the shopping experience and ensure shelf availability to consumer brands by providing them with smart data to track their key performance indicators.
Field marketing in the last "mile" of the value chain had become an integral component for DKSH over the years, because it converted shoppers into buyers and helps drive sales for its clients, he said.
To increase market share, FMCG brands could choose to launch new products or expand to more outlets or online channels, he said.
"However, this requires significant R&D and marketing investments, while space on supermarket shelves is often limited."
"Despite the growing popularity of e-commerce platforms, most FMCG sales are still transacted at physical points-of-sale."
Thus, it was critical to optimise the supply of existing products in the retail space and maximize the retail availability and visibility at every opportunity, Ho said.
Field marketing teams play a crucial role in being the enabler between FMCG brands and retailers to help both parties drive an optimal end-to-end supply of products to shoppers.
Ho said that e-commerce in Vietnam, despite accounting for just 0.3 percent of total retail sales in the country in 2016, would develop strongly in the coming time.
Enterprises need to invest and conduct research about e-commerce to map out appropriate plans for the future, he said.