Deputy PM pushes CPI measures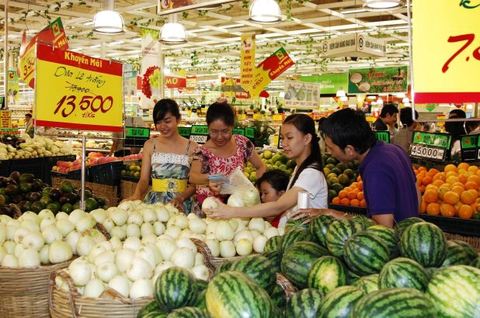 Deputy Prime Minister Vuong Dinh Hue has urged the Government's Steering Committee for Price Management to keep consumer price index (CPI) growth below 4 per cent in 2018.
This could be done by minimising external impacts on domestic prices, he said.
Speaking at a meeting of the committee in Ha Noi on Tuesday, Deputy PM Hue, who also heads the committee, said CPI growth in the first four months of this year was in line with the scenario set by the group thanks to a coordination in price management efforts between ministries.
However, he said higher prices of oil, gas, pork and food, plus complex developments in the global market over the past two months have put huge pressures on price management efforts.
Nguyen Anh Tuan, director of the Finance Ministry's Price Management Department, said CPI expanded by 3.01 per cent in the first five months of 2018.
The ministry forecast that factors such as floods, the adjustment of prices of health care and education services, along with an increase in the basic salary and environmental tax on fuels, would put more pressure on CPI.
This pressure would eventually ease, however, thanks to stable demand for fresh food in the summer, a decrease of 10-15 per cent in medicine prices under the centralised bidding programme for drugs, and stable interest rates, among others.
Deputy Minister of Industry and Trade Do Thang Hai said his ministry has instructed the Electricity of Viet Nam (EVN) to save production costs to maintain current retail power prices, while closely coordinating with the Ministry of Finance to effectively and harmoniously use the oil and gas stabilisation fund.
Deputy Minister of Transport Le Dinh Tho said Build-Operate-Transfer (BOT) toll stations have adjusted road fees in line with the Government's instructions and stabilised prices of seaport and airport services.
Concluding the working session, Deputy PM Hue said it is possible to keep CPI growth below 4 per cent in 2018.
He asked the ministries to maintain the prices of goods managed by the State and continue with review work to accelerate the decrease in prices of products such as drugs and medical equipment.
The Ministry of Agriculture and Rural Development and other relevant ministries were asked to maintain the rice export structure, control the number of pig farms, and actively negotiate with China to ship more Vietnamese fruits there.
The Deputy PM also urged the Health Ministry to push the centralised bidding of drugs and the bidding of medical equipment, while promptly issuing a circular to replace Circular No 37. The new circular should come into force on July 15, 2018 and stipulate a decrease in the process of 80 kinds of medical services.
CPI increases 0.55 percent in May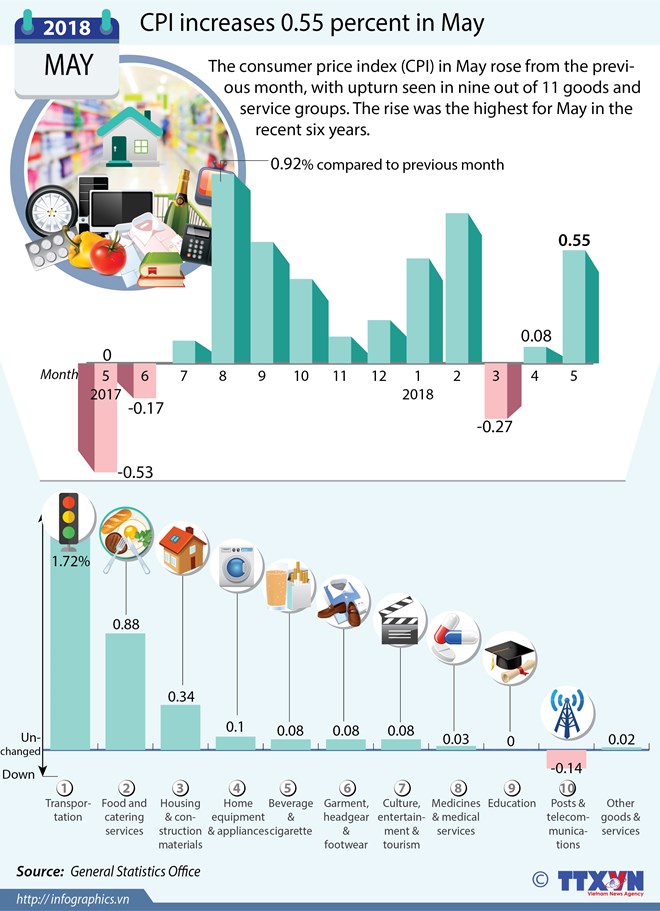 Can Tho posts high export growth
The Mekong Delta city of Can Tho earned an estimated 618.5 million USD from exports in the first five months of this year, up 20 percent year on year.
Director of the city's Planning and Investment Department Nguyen Van Hong reported to the regular meeting of the municipal People's Committee on May 30 that the figure was equal to 43.9 percent of the yearly export value target.
Most staple goods posted good growth compared to the same period last year, such as rice with increases of 26.5 percent in volume (316,050 tonnes) and 24.2 percent in value (nearly 134 million USD). Aquatic products brought home 226.4 million USD, up 18.56 percent with shipment volume rising nearly 33 percent to 63,484 tonnes.
Some other minor exports also enjoyed high increases in value, such as fine art and handicraft up 31.2 percent, garment 41.3 percent, and steel products 147.4 percent.
The good performance of export is attributable to efforts of relevant agencies and enterprises in the city in seeking new markets and improving product quality.
In 2017, trade promotion activities helped Can Tho lure investment and increase export revenue.
The city earned nearly 1.8 billion USD from export and service revenue, 5.9 percent above its goal and 13.9 percent higher than the figure in 2016.
Can Tho is the only city in the Mekong Delta and a development driving force of the Southwest region.
Vietnam owns special advantages for fintech development: ADB economist
Vietnam owns special advantages, especially in the IT sector, which can be a basis for the development of financial technology (fintech) towards financial inclusion, according to Dominic Mellor, senior economist of the Asian Development Bank (ADB).
He made the remark at the Fintech Vietnam Forum 2018 in Hanoi on May 30, noting that the ADB is always ready to assist the SBV in both encouraging fintech development and perfecting legal framework in the field.
At the event, participants shared fintech development trends in the time ahead and management measures in this field in some countries.
Governor of the State Bank of Vietnam (SBV) Le Minh Hung said fintech and banking can contribute to financial inclusion, poverty reduction, social equality and sustainable economic development. Over the past years, the central bank has actively held dialogues with fintech businesses to remove obstacles in a timely manner and help them enter the market.
Since 2008, the SBV has permitted many companies to provide payment services on a trial basis to meet market demand. After setting up a relatively clear legal framework, it has officially licensed 27 intermediary payment service providers.
A steering committee on fintech was also established by the SBV in March 2017 to devise solutions to facilitate the development of fintech enterprises in Vietnam, he noted, adding that many banks have cooperated with fintech companies to provide relevant services, which has been a growing cooperation trend in recent years.
The development of fintech and cooperation between fintech firms and banks are considered prerequisites for promoting Vietnamese users' access to financial and banking services.
SBV Deputy Governor Nguyen Kim Anh, head of the steering committee on fintech, noted the central bank will ask for the Prime Minister's permission to build a regulatory sandbox framework for fintech businesses and start-ups to test their new products and services under the SBV's supervision, thus minimising risks for clients and relevant sides.
Through the Mekong Business Initiative, the Fintech Vietnam Forum was co-organised by the ADB, the Australian Government, and the SBV.
Five-month import-export value hits 182.8 billion USD
Vietnam's total import-export value was estimated at 182.8 billion USD in the first five months of this year, up 11.9 percent annually, said the General Department of Customs on May 30.
Of the figure, export earnings hit 93.1 billion USD, up 15.8 percent while import value rose 8.2 percent to 89.7 billion USD.
Shipment of mobile phones and accessories soared 19.8 percent annually to 19.48 billion USD. Apparel export reached 10.68 billion USD, up 13.3 percent while computers, electronics and spare parts brought home 10.9 billion USD, up 14.2 percent year-on-year.
Aquatic products earned 3.15 billion USD from export, up 11.1 percent annually.
In May alone, the country's total foreign trade hit 38.9 billion USD, up 9.4 percent month-on-month. Of which, 19.2 billion USD was export revenue, marking a 4.5 percent rise and the remaining was import value, surging 14.5 percent.
Vietnam spent 6.14 billion USD on importing computers, electronics and accessories in five months, up 14.1 percent. Another 13 billion USD was used to buy machinery, equipment, and tools while 5.18 billion USD was spent on mobile phones and accessories, up 1.3 percent.
Fabric import hit 5.1 billion USD, up 13 percent annually.
The country ran a trade deficit of 500 million USD, but a trade surplus of 3.4 billion USD for the January-May period.
Vietnamese firms contribute to Cambodia's development: Ambassador
Vietnamese businesspeople in Cambodia serve as an important bridge to foster the traditional friendship between the two countries, making contributions to the development of the host nation.
Vietnamese Ambassador to Cambodia Vu Quang Minh made the remark at a gathering of Vietnamese businesses in Cambodia on May 30. The event, organised by the Vietnamese Embassy in Cambodia, aimed to help Vietnamese entrepreneurs share their experience in doing business in the country.
He said the event affords participants a chance to raise ideas to build support policy and facilitate their effective operations in the near future.
Vietnamese Commercial Counsellor in Cambodia Le Bien Cuong said the Vietnamese Party, State and people always encourage the development of Vietnamese firms in Cambodia.
Vietnam ranks sixth among countries investing in Cambodia, mostly in agriculture, services, banking, insurance and consumer goods.
Participants shared advantages and disadvantages in doing business in the country and wished that their difficulties would be removed by the two countries' ministries and agencies.
Concluding the event, Ambassador Minh vowed to gather businesses' feedback to submit to Vietnamese and Cambodian authorities, thus facilitating their operations.
HCM City has eyes on India as potential tourism market
Ho Chi Minh City's Tourism Department is launching plans to attract more visitors from India, which is considered a market of great potential.
At the May meeting on socio-economic issues of the municipal People's Committee on May 30, Director of the department Bui Ta Hoang Vu said his agency is working with several airlines to promote Vietnam to India. He noted that while 1.6 million Indians travelled to Thailand in 2017, only 170,000 visited Vietnam.
The low-cost airline Vietjet Air is scheduled to open direct flights between HCM City and India this September.
The Tourism Department has developed products designed for this market and held some tourism promotion activities in the country.
Vu added that the department has also asked local restaurants to design dishes specifically for Indian guests.
It was reported at the meeting that an estimated 566,390 foreign tourists arrived in the city in May, up 37 percent year on year. Revenues from tourism came to around 9.3 trillion VND (over 406 million USD), up 3.03 percent.
For the January-May period, the total number of foreign arrivals was 3.18 million, a 32 percent increase, while tourism revenues were estimated at 51.65 trillion VND, up 14.8 percent.
A recent survey jointly conducted by the Tourism Department and the municipal Statistics Office showed tourists both domestic and foreign stay for an average 5 days in the city and spend around 145 USD a day, which showed a reduction in stay duration compared to a survey of the Vietnam National Tourism Administration in 2013 but the spending stays the same.
Chairman of the People's Committee Nguyen Thanh Phong stressed that tourism has been defined as a spearhead economic sector of the city. He urged the sector to study ways to keep visitors stay longer.
Russia's Republic of Bashkortostan eyes stronger ties with Vietnam
The Republic of Bashkortostan of Russia wants to promote trade cooperation with Vietnamese localities in many fields, especially in producing oil and gas, and agriculture, said President of Bashkortostan Rustem Khamitov.
Rustem made the statement during a meeting with Ambassador of Vietnam to Russia Ngo Duc Manh, who was on a working visit to Bashkortostan's Ufa capital city from May 28-30.
While highlighting potential and strengths of Bashkortostan, he said the authority welcomes Vietnam's TH True Milk Group's project to breed dairy cows and process milk in Bashkortostan.
Over 3,000 ha of land are ready for the project, and the authority will create favourable conditions for the Vietnamese firm to successfully implement the project, he added.
He revealed that officials from the southern province of Ba Ria-Vung Tau of Vietnam would visit Bashkortostan to bolster cooperation between the twinned localities.
For his part, Ambassador Manh pledged to do his utmost to further promote the traditional friendship and comprehensive strategic partnership between Vietnam and Russia, including connection among the two countries' localities, especially in economic, trade and investment link, and in training experts working in the oil and gas industry.
During his stay, Manh met with representatives from the State Committee for Foreign Economic Relations, the Bashkortostan Development Agency, and those from the Vietnamese community in the locality. He also visited Ufa State Petroleum Technological University (USPTU), and the petrochemical research institute Birintex.
Telefilm expo 2018 attracts 150 exhibitors
The latest equipment and technologies used in the film and television industry will be showcased at the sixth Vietnam International Exhibition on Film and Television Technology (Telefilm) organised at the Saigon Exhibition and Convention Centre in Ho Chi Minh City from June 7-9.
As many as 150 exhibitors from 15 countries and territories worldwide, including India, Japan, Taiwan (China), Thailand, and the Republic of Korea, will display their products at more than 200 booths at the event.
Organised by Vietnam Television and the ADPEX Joint Stock Company, the Telefilm will offer investors and visitors opportunity to meet potential partners and access to up-to-date international film and television trends.
Several seminars will be held on the sidelines of the event, focusing on current television trends amid rapid digitalisation in the TV industry globally and in Vietnam specifically.
Festival promotes consumption of Thanh Ha litchi
The first-ever Thanh Ha litchi festival will be organised in the northern province of Hai Duong on June 10 to promote consumption of the local specialty fruit, the organising board said at a press conference on May 30.
The festival is designed to create opportunities for local farmers to connect with supermarkets, and processing and export firms while facilitating the signing of contracts, memorandum of understanding on the consumption of litchi and other agricultural products.
An array of activities will be held during the festival, including tours to the ancient litchi tree in Thuy Lam village, Thanh Son commune, Thanh Ha district; visits to VietGAP litchi gardens; and boat tours to visit litchi orchard along Huong river, among others. Visitors can also try their hand at picking litchi in gardens in Thanh Ha district and Chi Linh town.
Hai Duong litchi received the geographical indication from the Ministry of Science and Technology National Office of Intellectual Property in 2007. The local fruit was in Top 10 quality products in 2013 and 2014 and received the Gold Brand prize in 2015.
The Vietnam Association of Food Science and Technology granted a "trustful and safe food brand" certificate for Thanh Ha litchi in 2016. The same year, the ancient litchi tree in Thuy Lam village was recognised as the oldest of its kind in Vietnam.
According to Nguyen Thi Ha, Vice Director of the provincial Department of Industry and Trade, the province has 10,500 hectares of litchi, which are expected to yield 55,000-60,000 tonnes of fruit this year. The harvest time is from May 15 to the end of June.
Currently, 131.68 hectares of local litchi cultivation are qualified for exports to the US, EU and Australia. The province is also home to 334 hectares of litchi grown in accordance with VietGAP standards.
Besides domestic market, Thanh Ha litchi has increased its presence outside the country. The fruit has been sold in Australia, Canada, China, France, Malaysia, the Philippines, Singapore, Sweden, Thailand, the United Arab Emirates and the US.
HCM City customs revenues drop in first half
Revenue from the customs sector in HCM City fell in the first five months of the year due to a decline in import tax rates agreed to under several trade agreements that took effect earlier this year, according to the city's Customs Department.
The information was released at a meeting held on May 30 to review the city's socio-economic development in the first five months of the year.
Customs revenue reached VNĐ39.500 trillion (US$1.72 billion) in the first five months, accounting for nearly 37 per cent of the plan, a drop of more than 6 per cent over the same period last year.
The Customs Department was asked to target VNĐ108 trillion in collections for the city's budget this year, VNĐ1 trillion lower than the target set last year.
But because customs revenue is expected to fall by about VNĐ11 trillion in 2018, it will be difficult for the department to achieve the target.
The meeting also discussed problems related to overloaded infrastructure at seaports.
Cát Lái Port in District 2 remains overloaded, with the surrounding area suffering from traffic congestion most of the time, while the other ports are operating at a much lower capacity (30 per cent).
Cái Mép Port is also operating at a much lower capacity, because some container trucks want to avoid Highway 51, which is not in good condition.
In the first five months, the city's total revenue reached VNĐ155.217 trillion ($6.78 billion), with many kinds of taxes increasing over the same period, such as corporate income tax,VAT, personal income tax and registration tax.
The city's total retail sales of goods and services increased over the same period, contributing significantly to overall economic growth.
Retail activities of the city have been focused on quality and good performance, ensuring supply of goods for people's daily needs.
Speaking at the meeting, Nguyễn Thành Phong, chairman of the municipal People's Committee, said the city's economy, however, was facing many challenges.
Phong asked the Department of Industry and Trade to continue developing a list of key products that would create high added value.
He urged the HCM City Investment Trade Promotion Centre to prepare for the coming major events, including a conference on co-operation in trade and investment promotion in the southern region and investment promotion conferences in the city and in the Central Highlands province of Gia Lai.
The centre has also been asked to improve investment and trade and promotion activities with other countries.
In addition, Phong asked that the Department of Culture, Sports and Tourism to continue improving the quality of tourism products and services, focusing on water tourism.
Da Lat vegetable prices plunge
Prices of vegetables have fallen in Da Lat, itself a vegetable growing hub, due to imports from China, traders said.
Nguoi Lao Dong (The Labourer) newspaper reported that many traders in the districts of Lac Duong, Don Duong and Duc Trong recently imported large volumes of cheap Chinese vegetables.
As a result, prices of local produce have plummeted, and farmers and traders have been unable to sell their stocks despite cutting prices, it said.
The prices of some vegetables have fallen by 50 per cent.
Potato costs only VND7,000 per kilogramme, half the price a year ago, onion costs around VND3,000 and carrot, VND2,000-3,000. Last year all of them were selling at above VND10,000.
Tran Thanh Nha, a farmer in Don Duong District, has planted vegetables on 1.5ha.
In previous years two traders would regularly come to his farm to buy his vegetables, but this year they deposited VND50 million (US$2,100) and had not returned, he said.
He called them many times but they did not reply, he said.
Nguyen Thi Phuong Binh of Da Lat has grown onions but cannot sell them now.
"Traders bargain for under VND5,000 per kilogramme. At this price, I lose since the wages for harvesting is around VND250,000 per day," she told the newspaper.
Nguyen The Hien of the Da Lat market management board said not only farmers but also traders at the market face difficulties due to the low prices.
Many traders who have been doing business at the market for a long time have closed their shops since they are unable to sell Da Lat vegetables, something he had never seen happen before, he said.
Not only individuals but also large companies have been hit.
Nguyen Thi Anh Tuyet, deputy director of Anh Dao Agriculture Service Co-operative, said while her co-operative has not been affected by the competition from Chinese products, it has been hit by the low prices.
Local farmers blame the situation on the cheap imports from China, admitting that vegetables and fruits from China look good and are cheap. Even local specialities like cherries are unable to compete with the Chinese products, they lamented.
Many people have been warning for a long time about the threat from Chinese vegetable imports but little has been done to local production.
Le Thi Huong of Don Duong District said some companies imported vegetables from China and then attached Da Lat labels.
Tran Thanh Vu, head of Tan Duong District's economic and infrastructure department, said a large quantity Chinese imports is not sold locally meaning authorities are unable to prevent fake labelling and other dubious activities.
There is no prohibition against import of Chinese products, he said.
Nguyen Van Son, director of the Lam Dong Province Department of Agriculture, told The Labourer that the province has adopted many methods to ensure the quality and origin of products.
Farmers and traders do co-operate with each other to protect the Da Lat trademark, but it would take more time to achieve critical mass, he said.
Viet Nam, Indonesia boost cooperation in construction, property
Viet Nam and Indonesia sought to boost cooperation in construction and property at a business forum in Ha Noi on Wednesday.
The event was organised by the Embassy of the Republic of Indonesia and the Viet Nam Federation of Civil Engineering Association.
"The forum aims to improve cooperation between Indonesia and Viet Nam in construction and property businesses in an effort to promote wide opportunities and achieve the target of bilateral trade worth US$10 billion by 2020," said Ibnu Hadi, Indonesian ambassador to Viet Nam.
According to him, bilateral trade between the two countries in 2017 saw an increase of 16.36 per cent to reach $6.50 million from $5.58 million in 2016. This two-way trade comprised $3.63 million worth of Indonesian exports to Viet Nam (an increase of 22.51 per cent), while Indonesian imports amounted to $2.61 million (an increase of 9.37 per cent).
With populations of more than 260 million and 96 million in 2017, respectively, Indonesia and Viet Nam are among the fastest growing economies in the world. With a gross domestic product rate of 5.17 per cent and 6.81 per cent, Indonesia's and Viet Nam's per capita income in 2017 were $3,859 and $2,385, respectively, Hadi said.
According to the embassy, Indonesia's investment in Việt Nam during 2017 was valued at $45.84 million, taking the total number of projects in Việt Nam to 69 worth $477.02 million. Last year, Indonesia ranked 30th among investor countries in Viet Nam. Meanwhile, Viet Nam has invested in eight projects in Indonesia in mining, media and manufacture processing industry worth $51 million.
For Indonesia, the growth of the real estate sector is dependent on infrastructure, which is predicted to grow at 5.9 per cent every year between 2017 and 2026, outperforming the overall construction industry's projected annual growth rate of 3.9 per cent. Both residential and non-residential sectors will benefit from Indonesia's strong demographics and a high urbanisation rate of 53 per cent.
"Although the investment cooperation between the two countries is still relatively not as huge as with South Korea, Japan and Singapore, the inflow of Indonesian investment to Viet Nam continues to increase. Indonesian investors are starting to capitalise on the potential and market opportunities offered by Viet Nam," Hadi said.
High return from share sale
The Asia Commercial Joint Stock Bank (ACB) may earn between VND1.3 trillion (US$57.8 million) and VND1.5 trillion from selling treasury shares, according to HCM City Securities Corp (HSC).
ACB is holding more than 41.4 million treasury shares out of its 1.12 billion listed on the Ha Noi Stock Exchange, equal to 4.03 per cent of the total shares.
The bank bought those treasury shares back from investors in January 2015, May 2014 and July 2013 for an average price level of VND16,080 (71.5 US cents) per share.
HSC said in a recent report there has been no news about of the bank selling its treasury, however, it could be a good way to increase its charter capital.
If ACB decides to sell at the current market price, it could generate VND1.3 trillion to VND1.5 trillion in profit that could be added into the bank's share premium.
ACB shares closed Wednesday at VND38,400 per share, nearly 2.4 times the average price the bank paid.
ACB has some VND3 trillion worth of guarantees related to various loans, including stocks and some real estate projects. The bank is forecast to sell entire or a part of those assets in the next few years, HSC said.
HSC also forecast that ACB would record VND6 trillion in pre-tax profit, a yearly increase of 127 per cent.
Total lending and raised deposit would rise 18 per cent each to VND234 trillion and VND284 trillion at the end of the year, HSC said, adding that the bank's net interest margin (NIM) rate would increase to 3.55 per cent from 3.48 per cent in 2017.
ACB would be able to reduce its provision set aside to pay for anticipated future losses by 81 per cent as it would clear entire VAMC bonds and loans to eight companies involved in the prosecution of the bank's former chairman Nguyen Duc Kien, HSC said. The bank's non-performing ratio is also estimated at 0.8 per cent this year.
CapitaLand runaway leader as PropertyGuru awards nominees announced
The shortlist of nominees for the 2018 PropertyGuru Vietnam Property Awards have been announced after they were chosen by an independent panel of judges.
A total of 25 companies have made it to the list in the competition categories. The fourth annual awards have 43 categories, including new awards in the categories of building communities, design and construction, customer care, and public facilities.
The competition is welcoming returning and new entrants amid the launch of many world-class projects across the country.
Leading the shortlist is CapitaLand Vietnam with 16 nominations. It had been chosen best developer last year.
The second-most nominated developer is Alpha King, whose luxury condo project Alpha City has been shortlisted in six categories across development and design.
Tied in third place are Gamuda Land and KIEN A Corporation with eight appearances each on the list, including for Best Mid End Condo Development and Best Affordable Condo Development, respectively.
KIEN A Corporation's founding chairman Huynh Ba Lan has been named Vietnam Real Estate Personality of the Year, an award not selected by the jury but by editors of PropertyGuru Property Report magazine.
Lan was chosen for leading an organisation that prioritises developing quality projects for lower-income consumers and building schools to international standards.
The exclusive gala dinner on June 22 at the InterContinental Saigon Hotel ballroom is the award's biggest edition yet.
Organisers expect the black-tie ceremony to be attended by nearly 500 guests and members of the media.
Terry Blackburn, founder and managing director of the PropertyGuru Asia Property Awards, said: "Viet Nam real estate is fast becoming a major draw for investors in the Asia-Pacific because of its acclaimed offerings in the condominium, hotel, resort and mixed-use segments.
"Whilst HCM City and Ha Noi continue to be the main engines of the industry, it is encouraging that a provincial location such as Khanh Hoa now has a strong domestic market that developers there can be recognised on an internationally-known platform like the PropertyGuru Vietnam Property Awards."
Tracodi targets over $50m revenue this year
Transport and Industry Development Investment Joint Stock Company (Tracodi) has targeted a revenue of VND1.15 trillion (US$50.44 million) and an after-tax profit of VND77.1 billion in 2018.
The year-on-year increase would be five per cent and three per cent, respectively, revealed the company's report preparing for the upcoming annual shareholders' meeting on June 15, 2018.
In the revenue structure of 2018, the commercial segment is expected to account for the largest share, contributing some VND450 billion, followed by infrastructure and real estate projects with VND390 billion. The stone exploitation project with the joint venture Antraco is expected to contribute VND300 billion, the remaining will come from the labour export and training projects.
This year, Tracodi plans to invest in a high-rise apartment complex at No.89 Cach Mang Thang Tam, District 1, HCM City, which is also the headquarters of the company. The project has an area of 1,048sq.m with total investment capital of VND850 billion. Currently, Tracodi is carrying out procedures for investment approval.
The company's board of directors also plans to pay dividends in 2017 at the rate of 10 per cent in shares, through the issuance of 3.4 million shares.
Tracodi has 28 years of operating history in many fields such as infrastructure construction, taxi transportation, quarrying and labor export.
In May 2017, the company listed 32.48 million shares on the HCM Stock Exchange at a reference price of VND16,000 a share.
Bamboo Capital is currently the parent company owning Tracodi's 50.61 per cent stake.
Customers can use QR code to buy petrol
Individual customers will be able to pay for petrol using the QR code technology in petrol stations of the PetroVietnam Oil Corporation (PV Oil).
This was announced by Cao Hoai Duong, general director of PV Oil, at the meeting of shareholders and investors.
Duong said the "PVOIL Easy" programme managed the purchase of gasoline using QR code (quick response code, also known as bar code matrix on mobile devices) for PVOIL members.
Every QR code issued to a driver contains complete personal information, including the driver's name, licence number and gasoline purchase limit. When drivers buy gasoline at PV Oil's petrol station, they will only need to use their personal phones containing QR codes to make payment.
At the same time, all transaction information, including the location where drivers buy gasoline and the amount and type of gasoline purchased, will be sent to the drivers and owners of the vehicles as well as be stored on PVOIL's system.
With the QR technology, both drivers and owners of transport service companies will not have to spend a lot of time to compare the amount of gasoline traded daily, Duong said.
Thanks to its advantages, the PVOIL Easy programme has been positively received by many transportation companies, such as Viettel Post, as well as other private transportation companies, after nearly four months of implementation.
PVOIL is the first petroleum business unit to use QR code technology. According to Duong, PVOIL plans to apply this programme to individual customers to make the QR code utility available to more customers in near future.
Mercedes-Benz VN recalls 284 cars over faulty airbags
Mercedes-Benz Viet Nam is recalling 284 vehicles over a wiring defect that could unexpectedly trigger faulty airbags.
According to the German car maker, the recalled vehicles include the GLA 200, GLA 250 4MATIC, AMG GLA 45 4MATIC, and the CLA 200. Others included in the recall list are the CLA 250, CLA 250 4MATIC, AMG CLA 45 4MATIC, and A 200, as well as the 9: A 250 and AMG A 45 4MATIC models. The recalled units were manufactured between November 2011 and July 2017.
Owners of the affected models have been told to contact their dealer immediately when the red airbag warning light appears on their dashboard. The cars, however, are safe to drive under normal conditions, Mercedes said.
The process of checking and repairing airbags is expected to take 60 minutes for each car.
The recall programme begins on May 28, 2018, and will end on December 31, 2022.
In April, Mercedes-Benz Viet Nam recalled 3,624 vehicles which it said were at risk of catching fire due to a potentially faulty fuse.
That recall, which runs until December 31, 2022, applies to its C200, C250, C300, and E200 models, as well as GLC 250 4MATIC and GLC 300 4MATIC units, which were manufactured between September 2015 and February 2017.
Fruit, vegetable exports hit 1.62 billion USD in five months

Vietnam earned 1.62 billion USD from exporting fruits and vegetables in the first five months of 2018, a year-on-year rise of 16.54 percent.

In May alone, the country grossed 303.1 million USD from selling fruits and vegetables abroad, up 10 percent against the same month last year, according to Vietnam Customs.

Fruit-vegetable was the second biggest foreign currency earner in the agricultural sector, after aquatic products.

Vietnamese fruits and vegetables have been sold across 60 countries and territories, including four main markets namely China, the US, Japan and the Republic of Korea.

In January-April, fruit-vegetable exports to most markets registered growth with China importing nearly 989 million USD worth of products, a year-on-year increase of 30.3 percent and 75 percent of fruit-vegetable export turnover.

The US came second with 39 million USD (up 12.3 percent), followed by Japan at 36.55 million USD (up 15.9 percent) and the Republic of Korea 34.78 million USD (up 13.28 percent).

Southeast Asian countries imported 56.39 million USD worth of fruits and vegetables, an annual rise of 19.4 percent and 4.3 percent of the fruit-vegetable export turnover.

Strong growth was also seen in markets such as France (up 41.3 percent) and Australia (up 34.9 percent).

Notably, Vietnamese fruits and vegetables were also exported to Thailand and Indonesia, which have strengths in agriculture.

In the period, Vietnam imported 575 million USD worth of fruits and vegetables, up 15.3 percent over the same period last year, according to the Ministry of Agriculture and Rural Development.

The country mainly purchased fruits and vegetables from Thailand, China and the US.

With the positive outcomes in 2017 and the first quarter of 2018, Vietnam is expected to gross 10 billion USD from exporting fruits and vegetables in the near future.

The country earned a record 3.45 billion USD from fruit and vegetable exports in 2017, a year-on-year rise of 40.5 percent, much higher than traditional staples like rice, crude oil and coffee.

Japan set to invest more multi-billion-USD projects in Vietnam

Japan, the second biggest investor in Vietnam, is continuing to pour billions of USD into new projects in the Southeast Asian nation, an investment partnership expected to grow stronger after a State visit to Japan by President Tran Dai Quang.

New Japanese investment projects have appeared in Vietnam since the beginning of 2018.

Notably, Sumitomo and Mitsubishi have agreed to cooperate with Vietnam's BRG Group to invest in the Nhat Tan – Noi Bai smart city project.

This is the biggest-ever Japanese project in Vietnam with total investment of 4.2 billion USD and promises to gather technologies being used in the most modern urban areas in Japan.

In mid-May, the Japanese-invested AEON Mall Vietnam started the construction of a mall in Le Chan district of northern Hai Phong city. This is the second shopping centre this firm began to build in 2018 after the one in Ha Dong district of Hanoi, raising the total number of AEON malls in Vietnam to six.

The inflow of major projects has consolidated Japan's second position among 116 countries and territories investing in the ASEAN country.

According to the Vietnamese Ministry of Foreign Affairs, as of the end of March 2018, Japan had 3,693 projects with total capital of 49.84 billion USD in Vietnam. In 2017, its direct investment hit a record of 9.11 billion USD, ranking first among foreign investors.

Japan is expected to continue choosing Vietnam as the destination for its multi-billion-USD projects, particularly after a big investment conference is held in Tokyo during a State visit to Japan by Vietnamese President Tran Dai Quang from May 29 to June 2. Many economic cooperation projects are expected to be revealed at this event.

In a recent interview given to Japanese media, President Quang said to better capitalise on each other's strengths, the two sides should further promote economic links through enhancing ties in trade, investment and the implementation of the Vietnam-Japan Economic Partnership Agreement.

He voiced his belief that with joint efforts, consensus and sound policies, the two countries will continue to develop bilateral relations and lift their Extensive Strategic Partnership for Peace and Prosperity in Asia to a new height.

HCM City enjoys robust economic achievements

Ho Chi Minh City recorded key economic achievements in the first five months of the year, heard the municipal People's Committee's meeting on May 30.

According to report from the municipal Department of Planning and Investment, total revenue from retail trade and services reached nearly 84.5 trillion VND (3.72 billion USD) in May, bringing total earnings for January-May to 421.9 trillion VND (18.56 billion USD), or 11.9 percent higher than the same time last year.

Total budget collection was estimated at more than 154.3 trillion VND (6.79 billion USD), 41 percent of the annual target.

The city raked in 14.5 billion USD from exports, a year-on-year rise of 5.5 percent. Strong export growth was recorded in Hong Kong (China) with 17 percent, Taiwan (China) with more than 60 percent and Indonesia with more than 78 percent. Meanwhile, shipments to the US, the Philippines, Singapore, Malaysia and Germany were stagnant in the period.

It spent in excess of 18 billion USD on imports of equipment and material for production like machines, tools and spare parts.

HCM City licensed the establishment of 16,493 domestic firms with total registered capital of 185.5 trillion VND (8.16 billion USD). Meanwhile, the city secured 1.85 billion USD in foreign investments from January-May, up 34.7 percent compared to last year's same period.

Aquatic exports rise by 10 percent in five months

Vietnam recorded a year-on-year rise of 9.7 percent in aquatic exports to 3.12 billion USD in the first five months of 2018, according to the Ministry of Agriculture and Rural Development (MARD).

Fishery exports in May alone were estimated at 671 million USD.

The US, Japan, China and the Republic of Korea were the four biggest importers of Vietnamese aquatic products between January and April, making up 52.7 percent of total fishery exports in the period.

Meanwhile, markets with strong growth in aquatic imports from Vietnam were the Netherlands (60.2 percent), China (28.8 percent), the UK (27.4 percent) and Germany (27 percent).

Also in May, the country imported about 165 million USD worth of fishery products, raising the five-month aquatic import value to 698 million USD, up 33.5 percent from a year earlier.

The MARD added in the first five months, while total export value of agro-forestry-fishery products reached 15.6 billion USD, about 12.29 billion USD was spent on importing these products, respectively up 9.9 percent and 10.6 percent from the same period last year.

Direct Swiss-Vietnam flights

Switzerland's leisure airlines Edelweiss, an affiliate of the Swiss International Airlines, has announced direct flights to HCM City.

This will be the first direct air route between Switzerland and Vietnam.

According to the plan, the air route will be launched in November with two flights per week.

At present, some air ticket agents have received the booking from customers, while the carrier is about to sell tickets online.

Bernd Bauer, managing general director of Edelweiss, said that the airline hopes to carry about 10,500 passengers to HCM City a year, raking in USD32 million.

Besides bringing tourists from Switzerland and Europe to Vietnam, the new air route is expected to create favourable conditions for passengers to travel from HCM City to other places in Europe, with various destinations in the Swiss International Airlines' network.

Edelweiss has worked with Vietnam's big travel firms to build tours between the two countries. The carrier expects to see the annual passenger of around 10% in the next three-four years.

Edelweiss currently offers flights to 68 destinations in 33 countries.

National Assembly deputy questions SOE investments abroad

A National Assembly (NA) deputy in Kien Giang Province have asked the government to provide more detailed information about the failure of overseas state-owned enterprise (SOE) investment projects.

According to the government's report on capital management by SOEs in the 2011-2016 period, 18 wholly-owned SOEs invested USD12.6 billion in 110 projects, mostly focused on post and telecommunications, petroleum, rubber plantations and mining.

Among those, PetroVietnam topped the list with USD6.7 billion, followed by Viettel with USD2.1 billion, Vietnam Rubber Industry Corporation with USD1.4 billion.

By the end of 2016, USD7 billion of USD12.6 billion in registered capital had been disbursed, including USD3.4 billion from PetroVietnam, USD1.1 billion from Viettel and USD729 million from the Vietnam Rubber Industry Corporation.

However, just four of 18 enterprises were able to recover their estimated USD1.5 billion investment.

The reported indicated that up to 25.5% of the projects faced losses in 2016 and 29% of them saw accumulated losses by late 2016.

The Ministry of Finance said that many projects have encountered problems related to legal produces, while others have proved slow in investing.

NA deputy Nguyen Minh Son from the southern province of Tien Giang said the report needed to provide more detailed information about SOE investment abroad. It was important to specify the condition of specific projects and the reasons for their loss.

The government needs to have measures for the situation. The government needs to consider selling or handing over loss-making projects in some cases, Son proposed.
Seminar held to collect feedback on export-import inspection

A seminar was held in Ha Noi on Thursday to collect feedback on the draft decree on a national one-stop shop mechanism and specialised inspection of exports-imports.

Co-organised by the United States Agency for International Development (USAID) and the finance ministry's General Department of Vietnam Customs, the seminar attracted over 100 delegates from ministries, agencies, local customs and businesses.

Speaking at the event, deputy director general of Vietnam Customs Nguyen Cong Binh said administrative reform on exports-imports had been the top priority of the Government in recent years, adding that Decree No 19 on improving the business climate and national competitiveness stipulates a reduction in the rate of goods under specialised inspection during customs clearance to below 10 per cent from the current 25-27 per cent.

Despite achievements in administrative reform, World Bank's Doing Business Index pointed out that Vietnamese enterprises still faced difficulties in abiding by regulations on specialised inspection of exports-imports, he said.

Pham Thanh Binh, advisory expert for USAID's GIG project, said regulations on specialised inspection of exports-imports are set in laws, decrees and circulars of ministries and agencies, leading to overlapping in management.

Launched in November 2014, the national one-stop shop mechanism has so far connected with 11 out of 14 ministries and departments and 47 out of 284 administrative procedures on specialised inspection. However, many procedures on specialised inspection are yet to be conducted online.

The draft decree will help simplify customs clearance procedures and establish an inter-sectoral mechanism to ensure effective coordination among units via the national one-stop shop.

The Vietnamese Government is also working with USAID via the Governance for Inclusive Growth programme to facilitate sustainable and inclusive economic growth in the country.

Cuba new investment destination for Vietnamese firms

Cuba has emerged as the third-largest investment destination for Vietnamese enterprises after Laos and Cambodia.

According to the Foreign Investment Agency (FIA) under the Ministry of Planning and Investment, Vietnamese firms registered to invest US$19.9 million in Cuba in the first four months of 2018 despite geographical distance.

This is expected to open numerous business opportunities for the two countries.

FIA revealed some investment projects of Viet Nam in the new market, including an oil and gas exploration project of PetroVietnam Exploration Production Corporation and diaper and washing powder production projects at Mariel Special Economic Development Zone of Thai Binh Company.

Several years ago, Cuba was predicted to emerge as a promising market for Viet Nam after Laos, Cambodia and Myanmar. There is plenty of room in this market, and the Cuban government has repeatedly called on Vietnamese enterprises to invest in the country.

The opportunities have become more obvious after the visit of Secretary General of the Communist Party of Viet Nam Central Committee Nguyen Phu Trong to Cuba in March 2018, where he signed a number of cooperation agreements.

Viet Nam's Ministry of Industry and Trade and Cuba's Ministry of Foreign Trade and Investment signed a deal concluding the official negotiation between the two countries on a new bilateral free trade agreement (FTA).

The two sides committed to conduct legal revisions to bring the FTA into force as soon as possible to support trade growth and attract investment.

Trade experts said these moves were important to boost Viet Nam-Cuba trade and investment relations.

According to FIA, Vietnamese firms invested $153.6 million abroad in the first four months of 2018. This included nearly $129 million in newly registered capital and $24.6 million in existing project expansion.

Viet Nam invested $80.12 million in Laos, making up 52.2 per cent of the total investment capital, and $25.9 million in Cambodia from January to April this year.

VN farm products export to Thailand

Wholesale supermarket MM Mega Market Vietnam has exported more than 100 tonnes of Vietnamese agricultural products to Thailand for selling through 700 Big C malls, where the two retailers share a parent.

Its first batch of farm exports comprise yellow sweet potato, purple sweet potato, dragon fruit, dried fruits, and rice paper.

It follows joint efforts by the supermarket and farmers in provinces of Lam Dong and Binh Thuan and other places to meet the quality requirements of business partners.

Phidsanu Pongwatana, managing director of MM Mega Market Vietnam, said: "As soon as we got the export licence, we moved quickly to understand the needs of our business partners in Thailand and look for domestic goods with a competitive edge that we can supply.

"This does not only offer a richly diversified and competitive source of supply to the Big C system in Thailand, but can also help Vietnamese farmers bring their quality agricultural products to other countries in the region."

While dragon fruit is the main item in the consignment, it also has more than 45 tonnes of sweet potatoes.

The purchasing division in Thailand has said Vietnamese agricultural products have unique advantages, especially sweet potatoes, whose supply is reliable and offers high quality and safety standards.

Vietnamese farm products are therefore likely to see large orders and for long terms.

"In addition to steady orders of over 100 tonnes a month, we are also working on exporting an average of 50 tonnes of frozen catfish filet a month," Pongwatana said.

He said the potential for Vietnamese exports looked great because of the 700-plus malls and supermarket distribution channel of Big C.

MM Mega Market Vietnam's export strategy is built on a professional platform system and direct interaction with farmers to create a quality and diverse source of supply.

The company has three hubs, which it calls "platforms": for fruits and vegetables in Da Lat, for fish in Can Tho, and for pork in Dong Nai. A fruit hub is taking shape in Ben Tre.

These facilities, which also include warehouses, not only supply the company's 19-store domestic distribution system but also help provide quality products for exports.

Besides exporting, MM also provides technical assistance and market research to local exporters trying to reach the Thai market.

It helped export more than 1,200 tonnes of dragon fruit and several other agricultural products last year.

EVN ensures stable electricity supply

HCM City is expected to have a stable electrical supply during the summer, according to the HCM City Power Corporation (EVN HCMC).

In April, demand for electricity during peak hours rose to 80.3 million kilowatt hours per day, which is 4.8 per cent higher than in April last year. The maximum output for April was 4,138.5 megawatts, which is 7 per cent higher than April last year. To prepare for the hot season, EVN HCMC has been upgrading the current power system by opening remote operating centres, unmanned substations, and other modern technologies to increase operating ability and ensure that any problems are resolved quickly.

In addition, EVN completed grid maintenance in March, and is now operating the grid carefully to avoid overloading, under a power supply plan approved by the Ministry of Industry and Trade late last year to ensure full coverage.

Accordingly, every month, the Electricity Regulatory Authority of Viet Nam works closely with EVN HCMC and other related parties to manage monthly supply plans.

To maintain uninterrupted electricity supply, EVN said that hotline maintenance will be applied to the electrical equipment while it is in use, and highly pressurised hoses will be used to clean ceramic insulators, which will not require electricity to be shut off.

Mobile generators and substations will also be used. Families and businesses have been urged to save electricity and ease the supply burden for EVN by carefully using electricity. Businesses have been encouraged to look at their production schedules and minimise electricity consumption during peak hours, as well as invest in energy-efficient machines.

Organic fertiliser demand rises

An expected rise in demand for organic fertilisers has sparked many companies to invest more in production.

The Binh Dien II Fertiliser Joint Stock Company opened a plant in March with a capacity to produce 100,000 tonnes a year in Long An Province, which in its first phase produces organic and microbial fertilisers and high-grade NPK fertilisers.

The company plans to invest VND200 billion (US$8.77 million) to annually produce 40,000-50,000 tonnes of nano organic fertiliser, a new generation of fertilisers, from next year.

Nguyen Kim Thoa, general director of Con Co Vang Group, said her company already supplies organic fertilisers to the market and plans to dedicate an 11ha plant to produce them.

Many companies have shifted to organic products to meet demand for safe agricultural produce.

According to the Ministry of Agriculture and Rural Development, as of the end of last year, 180 establishments had been licensed to produce 2.5 million tonnes of organic fertilisers a year, or 8.5 per cent of total output.

Meanwhile, statistics show import of organic fertilisers rocketing in recent years. Last year, 220,000 tonnes were imported, double the 2016 volume.

The ministry said Viet Nam has great potential in organic fertiliser production since annually around 60-70 million tonnes of agricultural by-products and 20 million of seafood by-products are produced.

The by-products can be used as raw materials for making organic fertilisers, but they have not been fully exploited for a long time, it said.

This would also help reduce pollution and improve soil fertility and farm produce quality, it said.

Nguyen Dinh Hac Thuy of the Viet Nam Fertiliser Association said long-term use of chemical fertilisers worsens the quality of not only soil but also crops themselves.

Many countries have shifted to organic agriculture to ensure sustainability, food safety and consumers' health, and it is time to increase the production and use of organic fertilisers to foster organic farming in Viet Nam, he said.

But according to experts, promoting their use remains difficult since farmers still prefer the quick impact of chemical products.

Minister of Agriculture and Rural Development Nguyen Xuan Cuong said last year the Government issued Decree No 108/2017/ND-CP on fertiliser management with policies to boost organic fertiliser production.

Using organic fertilisers is an inevitable trend and it is time to focus on solutions from the Government and enterprises to encourage farmers to use them, he said.

A growing number of enterprises who collaborate with farmers have switched to the use of organic fertilisers since demand for such produce is increasing.

HCMC honours top quality firms

The HCM City Department of Science and Technology on Wednesday honoured six enterprises from the city that won National Quality Awards for having outstanding performance in improving the quality and competitiveness of their products and services amid regional and global integration.

The enterprises are the Thinh Phat Real Estate-Cables Joint Stock Company and Binh Minh Plastics Joint Stock Company which won the gold prize; and Tan Quang Minh Manufacture and Trading Co. Ltd., Saigon Transportation Mechanical Corporation, Dong Viet Non-Ferrous Metal Joint Stock Company, and Center of Analytical Services and Experimentation of HCM City which won the silver prize.

They were among 73 enterprises winning the annual National Quality Awards.

Nguyen Khac Thanh, the department's deputy head, said the awards encouraged enterprises to take the initiative in carrying out activities on innovation and creativity.

He said the State and relevant agencies were ready to provide guidance to enterprises, and that HCM City has many programmes to assist enterprises interested in innovation.

By 2020, the city aims to have 10,000 enterprises attending its innovation and creativity programme, he said.

Nguyen Van Ha, head of the HCM City Bureau of Standards, Metrology and Quality, said that the winning enterprises are given priority in the city's preferential policies for development and innovation.

Thought the number of enterprises in HCM City accounts for 50 per cent of the country's total, only 7.6 per cent won the awards, he added.

The city will strengthen communication and encourage enterprises to increase the number attending and winning the awards.

It is important that they have awareness about improving quality in production and operation.

The ceremony was part of the celebration of Viet Nam Science and Technology Day on May 18.

SHB honoured as Best Bank in VN

The Sai Gon Ha Noi Commercial Joint Stock Bank (SHB) has won the Best Bank award in Viet Nam 2018 from the American magazine Global Finance.

The annual award is given based on the growth of financial indicators such as total assets and profit, quality of products and customer services and technological development.

Established in 1993, SHB is one of the five largest private banks in Viet Nam.

In the first quarter of 2018, its total assets exceeded VND286.9 trillion (US$12.6 billion USD), including more than VND12 trillion of charter capital and VND18.8 trillion ($826.2 million).

The bank mobilised VND264 trillion of capital in the January-April period.

SHB posted pre-tax profit of more than VND500 billion in the period, up 63.5 per cent against the same period last year.

Home Credit gets B3 credit rating from Moody's, matches banks

Moody's Investors Service has assigned a B3, or stable, credit rating to Home Credit Vietnam Finance Company Limited.

It is the first consumer finance company in Viet Nam to get the rating, matching that of some banks despite its high-risk business model.

According to Moody's, a further upward rating is possible if the company improves its funding and liquidity while maintaining stable asset quality and capital.

The rating reflects Moody's expectation that Home Credit Vietnam will maintain stable credit fundamentals over the next 12-18 months.

Home Credit also got a B3 rating for its credit profile, reflecting its exposure to the high credit risk inherent in Việt Nam's rapidly growing unsecured consumer finance market.

Moreover, its funding and liquidity are vulnerable to disruptions in case of market and/or credit shocks.

But the rating reflects the company's good market position, high profitability and good capital buffer.

Home Credit offers small unsecured consumer loans. Its exposure to credit risk is high, as highlighted by loan loss provisions to average gross loans of 7.7 per cent at the end of 2017, and non-performing and written-off loans of 7.8 per cent of gross loans as of the same date.

The company posted a return on assets of 9 per cent and return on equity of 44 per cent at the end of 2017.

Despite high cash dividends and rapid growth, Home Credit's high profitability will allow the company to maintain a good capital buffer over the next two years.

VPBank awarded for its contribution to GTFP

"2017 Best Issuing Bank Partner for Women-Owned Businesses in East Asian Pacific".

It received the award from International Finance Corporation (IFC) for its contribution to the Global Trade Finance Programme (GTFP).

After nearly two years of participating and implementing the GTFP of IFC, VPBank has achieved impressive results in promoting import, export and local trade.

In 2017, VPBank saw remarkable achievements in transaction banking in 2017, including increased off-balance sheet balance, foreign exchange trading balance and fees income. The Bank's off-balance sheet balance rose 20 per cent, with fees income from trade finance transactions up 13.8 per cent year-on-year. Twenty supply chain financing programmes were implemented with year-on-year TOI growth of 31 per cent.

In 2017, VPBank implemented an initiative to support women business owners with the sponsorship and cooperation of IFC.

Women-owned businesses account for 18 per cent of the SME category and 85 per cent of the household category, which brings some 85 per cent of fees income from insurance and trade finance transactions.

As a leading bank in this segment, VPBank has supported more than 40,000 enterprises accessing banking capital, which helps businesswomen realise their potential and contribute to economic growth.

HCMC to get 1st Mandarin Oriental 5-star hotel

Mandarin Oriental Hotel Group on Wednesday announced plans to set up its first five-star hotel in Viet Nam.

Under an agrement signed with Union Square Saigon Company on Wednesday, Manadarin Oriental will develop the hotel at the Union Square Saigon building in HCM City which has four facades looking over Nguyen Hue, Dong Khoi, Le Thanh Ton, and Le Loi streets.

The hotel will come up between the fourth and ninth floors of the existing building. The remaining floors will continue to house the shopping mall and food and beverage areas.

Scheduled to open next year, it will have 228 guest rooms, six restaurants and bars, a spa, and an outdoor pool of international standard.

Richard Baker, chief relationship officer of Mandarin Oriental Hotel Group, said: "Our hotels and resorts have their own personality with a distinctive sense of place, thereby reflecting the best of their city or country. We look forward to creating unique experiences in the heart of HCM City."

The hotel is being designed by architect and designer Patricia Urquiola, the designer of the renowned Mandarin Oriental Barcelona in Spain and one of the most famous interior designers with many award-wining interior masterpieces and architectural projects all over the world.

Mandarin is the owner and operator of a global chain of luxurious hotels, resorts and residential services that have won many prestigious awards like Conde Nast Traveller, Business Traveller UK, DestinAsian, Forbes Travel Guide, and Best Hotel Awards.

It operates 31 hotels and eight penthouses in 21 countries and territories.

King Broker eyes nation-wide expansion

King Broker plans to expand operations to all 63 provinces and cities, according to Trinh Nguyen Tuan Anh, the founder of the real estate company.

King Broker has been in operation for five years, during which time it has set up systems to support property brokers including organising online training, setting up social media channels to connect brokers and solutions based on Big Data.

It now has nine branches — in Lao Cai, Ha Noi, Thanh Hoa, Ha Tinh, Quang Binh, Binh Thuan, Dong Nai, Vung Tau, and HCM City – Anh said.

Late last week, to connect brokers, King Broker and Investment Review organised a seminar for 200 brokers in Vung Tau and Dong Nai provinces.

Participants spoke about the market in the two provinces and discussed opportunities and challenges thrown up by industry 4.0 were discussed so that brokers could learn how to succeed in the new technological era.

Gemadept eyes 227% rise in profit

Logistics firm Gemadept Corporation (Gemadept) estimates its full-year pre-tax profit will jump 227 per cent to VND2.13 trillion (US$94.7 million) in 2018.

The expected soar in profit growth is attributed to the firm selling its stakes in three subsidiaries, and an affiliate, which is forecast to produce returns of up to VND1.56 trillion.

Excluding asset sales, Gemadept predicts its pre-tax profit may increase by a more modest 6 per cent year on year to VND570 billion.

According to general director Do Van Minh, the company's full-year revenue is estimated at VND2.4 trillion, down 40 per cent from 2017.

Of the total figure, revenue from seaport operations accounted for 91 per cent, a rise of 19 per cent year on year, while income from the logistics side of the business fell 90 per cent year on year.

In the first quarter of 2018, Gemadept posted a one-fifth decrease in its revenue from core business activities, which reached VND689 billion, but its pre-tax profit rose to VND1.5 trillion thanks to the successful sale of its stakes in two subsidiaries.

During the first quarter, the company sold a 51 per cent of its ownership in CJ-Gemadept Logistics Holdings Co Ltd, which was formerly known as Gemadept Logistics Co Ltd before the deal; and a 49 per cent stake in CJ-Gemadept Shipping Holdings Co Ltd, which was previously named Gemadept Shipping Co Ltd, for VND1.35 trillion.

The stake sales also helped the company accomplish 71 per cent of its full-year pre-tax target and 29 per cent of the full-year revenue target. Without the sales, it has fulfilled just 23 per cent of the full-year pre-tax estimate.

Despite higher-than-expected full-year earnings, Gemadept shares (HoSE: GMD) have been on a downtrend since early March. They finished Friday at VND27,900 per share, having lost 22 per cent in value since March 2.

According to Viet Dragon Securities Co (VDSC), the establishment of Nam Dinh Vu Seaport's first component in the northern city of Hai Phong is expected to make a big contribution to the firm's logistics and shipping revenues this year.

However, as the company is still operating at Lach Huyen Seaport, which is built in another site of Hai Phong City, the competition between the two seaports may result in a struggle for the firm's business structure this year, VDSC said in a note this week.

Nam Dinh Vu's first compartment began operations in February 2018 and was officially launched on May 7, 2018. It has an annual capacity of 600,000 twenty-foot equivalent units (teu). The Nam Dinh Vu Seaport has total area of 65 hectares and is able to receive ships of up to 40,000 deadweight tonnage (DWT).

Gemadept is strengthening its port operation by constructing the second component of the Nam Dinh Vu Seaport in the third quarter of the year. This plan is seen as a suitable strategy to ensure the company can receive more ships from upstream seaports, especially Lach Huyen, given that shipping firms in said ports have yet to clarify their short-term business plans.

Hai Phong plans to keep the city's import-export growth at an annual rate of 15 per cent in the next few years thanks to increasing demand from the foreign direct investment (FDI) sector. It may benefit shipping companies to transport containers to downstream ports more often, VDSC said.

Gemadept will benefit from the flow of containers to downstream ports, as the Nam Dinh Vu Seaport is more capable of handling a large amount of containers, the brokerage firm reported.

Hoa Phat to issue 606 million bonus shares

Steel producer Hoa Phat Corporation plans to issue more than 606.8 million bonus shares, worth VND6 trillion (US$266.7 million), to pay a 40 per cent dividend for its performance in 2017.

Each shareholder will receive four additional shares for every 10 shares owned. The share issuance is scheduled in the second or third quarter of 2018, after receiving approval from the State Securities Commission.

The share issuance will increase the firm's charter capital to VND21.2 trillion from VND15.2 trillion.

In 2017, Hoa Phat Corporation posted VND46 trillion in net revenue, a yearly increase of 38.7 per cent. Its post-tax profit in 2017 rose 21 per cent year on year to more than VND8 trillion.

The company is listing more than 1.5 billion shares on the HCM Stock Exchange with code HPG.

Its share price rose 1.7 per cent to end Friday at VND53,900 ($2.4) per share, down 19 per cent from the record-high of VND66,700 per share in early March.

Korea's Woomi Construction buys stakes in Bamboo Capital, Tracodi

Korea's Woomi Construction bought 10.26 million (9.5 per cent) shares of Bamboo Capital and 1.72 million (5 per cent) shares of its subsidiary Tracodi on May 16.

After identifying potential co-operation opportunities, Woomi decided to invest directly in both companies, and will assist BCG in developing a diversified portfolio of real estate projects and connecting with Korean partners.

At TCD, it will play the role of a technical consultant, being in charge of technology transfer.

Pham Minh Tuan, deputy general director of BCG, said with Woomi's vast experience in the field of construction, its partnership with BCG and TCD would be an important step for both companies' future real estate projects with regard to quality enhancement and meeting international standards.

Woomi is one of the largest companies in residential construction in Korea, providing services such as real estate development, civil and industrial construction and infrastructure design.

BCG is a diverse investment company with interests in agriculture, manufacturing, infrastructure, real estate, and renewable energy.

TCD's core businesses include construction and infrastructure, quarrying, trading of industrial and agricultural products, and labour export.

Samsung Pay records 500,000 transactions within 6 months

Samsung Pay reported nearly 400,000 registered users and 500,000 successful transactions, taking the total transaction value up to VND350 billion (US$15.4 million) within six months of being operational.

Launched in September last year, Samsung Pay is a payment application on Samsung's mobile devices.

The application operates on platforms of the National Payment Corporation of Viet Nam, Visa or Mastercard connected with banks to provide mobile payment services in a simple, safe and convenient way.

"We expect Samsung Pay to continue to bring mobile experiences beyond the capabilities of a phone, becoming a leading mobile payment method," said Nguyen Quang Hien Huy, deputy general director and executive director of Samsung Vina Electronics Co Ltd.

We will continue making efforts to further develop and improve Samsung Pay to bring more benefits to Samsung mobile users, he added.

To enhance user experience, making mobile payment by Samsung Pay easy, convenient and safe continues to be the goal of Samsung Pay this year.

Up to now, 15 banks and three card switching organisations have joined the Samsung Pay mobile payment network, accounting for 75 per cent of the domestic payment card market.

VN produce aims to reach French buyers

The Viet Nam Agricultural Product Week 2018 will offer various kinds of farm produce such as fruits, vegetables, aquatic products, processed food and beverages at France's Rungis market from June 26-28.

France is the third-biggest economy in Europe and sixth in the world with a population of 66 million, according to Hoang Van Du, deputy director of the Agricultural Trade Promotion Centre under the Ministry of Agriculture and Rural Development. Rungis is one of the biggest farm produce markets in the globe, which provides agricultural products for the French capital and surrounding areas home to 18 million people, he said.

Paris and France in general are home to a large number of Asian people who have great demand for made-in-Asia farm produce, he added. Each day, up to 6,000 tonnes of farm produce are transported to the market, one-tenth of which are transported to the nearby airport for outbound shipment, Du unveiled.

The forthcoming event will feature a wide range of activities to promote Vietnamese agricultural products to French distributors and wholesalers, restaurants, hotels and supermarkets as well as increase business-to-business connectivity, he said.

Forum spotlights business development in digital age

Telecom and internet providers in Viet Nam have recorded US$6.1 billion in revenue and created more than 851 jobs, experts said at a forum on enterprises in the digital age held in Ha Noi on May 17.

The forum took place in conjunction with the announcement of the Vietnam Chamber of Commerce and Industry (VCCI)'s annual report on business in Viet Nam.

The IT and telecom sector's production value contributed over 0.7 per cent to the nation's GDP on average in 2017-18. In 2016, the number of IT/telecom businesses surpassed 11,000, accounting for 2.2 per cent of Viet Nam's total figure.

Apart from the application of advanced technologies in traditional sectors, the digital age has given birth to a number of non-traditional business models in Viet Nam, like online car hailing and financial technology (fintech) services.

Expert said fast changes in these new models have sometimes outpaced legal regulations, thus causing difficulties for their providers and conflicts between them and their traditional peers.

VCCI Chairman Vu Tien Loc said last year, the Prime Minister issued Decree 16 on capacity building for the Fourth Industrial Revolution.

He said the decree put forth key measures on IT infrastructure development, and prioritised the building of digital industry, smart agriculture and smart cities.

He noted companies ought to design their relevant action plans and join the public sector's efforts in building strategies for smart governance and innovation.

Loc also acknowledged the achievements of the business sector last year, with the establishment of 126,859 new firms, the highest number recorded to date.

Pham Thi Thu Hang, head of the Viet Nam Business Insight Survey, a VCCI initiative, said the year saw improvements in the private sector, but the trend of smaller-scale firms persisted and the rate of performance failure among small scale businesses remained high.

Italian coffee producers highly evaluate Vietnamese coffee beans

Italian coffee producers highly evaluated Vietnamese coffee beans as they are essential ingredients of their products, Mario Vicentini from Comunicaffe International, an Italian daily newspaper about coffee, told Vietnam News Agency reporters at Milano Coffee Festival.

Vietnamese Robusta coffee beans are of high quality that meets strict requirements of Italian coffee producers, he said, noting that Italian producers import raw coffee from Vietnam for the production of coffee products which will be supplied to both Italian and foreign markets. Italy has more than 1,000 coffee factories and all of them have known about Vietnamese coffee.

Federico Colombo, an Italian businessperson operating in the field of import-export, sharing the view, saying that high-quality Robusta coffee from Vietnam is very popular in the Italian market.

The Milano Coffee Festival is being held in Italy from May 19 – 21, gathering the world's leading coffee makers, including Vietnam.

Visitors to the festival are not only able to have a taste of the world's most popular coffee products from many countries but also get to know the processes to produce and make coffee of different cultures. This year, Vietnam brings to the festival Robusta and Arabica raw coffee beans and several Vietnamese processed coffee products.

According to Nguyen Duc Thanh, Trade Counsellor of the Embassy of Vietnam in Italy, Vietnam exported 3.2 billion USD worth of coffee in 2017, an increase of 34 percent from a year earlier. The country has remained the world's second largest coffee producer for years, behind Brazil.

Italy is the country's third biggest buyers, just behind the United States and Germany. Last year, Italy purchased 274 million USD worth of coffee from Vietnam, up 30 percent year on year and accounting for 8.5 percent of Vietnam's total exports.

Vietnam plans to step up coffee marketing in 2018 and the following years to ship more raw and processed coffee to Italy.

Dong Nai draws nearly 690 million USD in foreign investment

The southern province of Dong Nai absorbed nearly 690 million USD in 76 newly-licensed and existing foreign-invested projects this year to May 17, up 143 percent against the same period last year and fulfilling nearly 70 percent of the annual target.

Of the amount, over 346 million USD was poured into 42 new FDI projects and over 343 million USD into 34 existing ones, according to the provincial Department of Planning and Investment.

In May alone, Dong Nai attracted several new major projects such as the 40-million-USD project of the Republic of Korea's HI-KNIT Company at Nhon Trach 6A industrial park; the 33-million-USD project of the Netherlands' Air Manufacturing Innovation Vietnam at Giang Dien industrial park, the 32-million-USD project of Singapore's Logistic Property Vietnam at Loc An – Binh Son industrial park, and the 29.8-million-USD project of Japan's Kolmar Vietnam at Long Duc industrial park.

Some projects with big amounts of additional capital included the Netherlands' Bosh Gasoline Systems – HCP plant at Long Thanh industrial park with an addition of over 71 million USD, Singapore's OPV Pharmaceutical Joint Stock Company at Bien Hoa 2 industrial park with over 47.7 million USD, Japan's SMC Manufacturing Vietnam at Long Duc industrial park with 47 million USD and Belgium's Terumo BCT Vietnam at Long Duc industrial park with 30 million USD.

According to the provincial Department of Planning and Investment, the locality prioritises projects applying advanced and environmentally friendly technology and requiring skilled labour as well as those in the supporting industry.

So far, Dong Nai has attracted 1,792 FDI projects with total registered capital of 32.5 billion USD, of which 1,323 worth 27.46 billion USD are still valid.

The projects come from 45 countries and territories with the Republic of Korea, China's Taiwan and Japan being the biggest investors.

Overseas investors are interested in the fields of industry, logistics, energy and technical infrastructure.

Vice Chairman of the provincial People's Committee Tran Van Vinh said local authorities will push ahead with administrative reforms to reduce time and expenses for businesses.

The committee and relevant units such as customs, taxation, planning and investment will maintain periodical dialogues with enterprises to listen to their problems and discuss joint measures to improve operational efficiency, he added.

Quang Ninh looks to optimise sea tourism potential

The tourism sector in the northern coastal province of Quang Ninh has been growing at a fast pace in recent years, establishing its important role in the province's economy and moving towards sustainability.

Quang Ninh is endowed with natural advantages for sea and island tourism. It is home to the Ha Long and Bai Tu Long Bays, the Ha Long Bay National Park and some islands, the best known of which is Co To and Van Don.

In particular, Ha Long Bay has been twice recognised as a World Natural Heritage site by the United Nations Educational, Scientific and Cultural Organisation (UNESCO). The Heritage site has become a magnet drawing visitors to Quang Ninh.

In 2017, a total of 9.87 million tourists visited the province, including 4.28 million foreigners. More than 70 percent of the tourists came in sea and island tours.

In 2018, Quang Ninh welcomed more than 10 million tourists, 4 million of them came from other countries. The province aims to attract over 12 million visitors this year, including 5 million foreigners.

Quang Ninh is expanding the space for sea and island tourism farther from Ha Long Bay towards islands such as Co To, Van Don and Hai Ha.

Equipped with a strategic vision for developing the sea-based economy, the province in 2014 approved an Overall Plan for tourism development to 2020 with a vision to 2030. Under the scheme, the sea space in Quang Ninh is divided into five zones, which are the strictly preserved Ha Long Bay, the conservation area in Bai Tu Long National Park, the tourism zone, the zone with restricted development to serve national defence and security, and the zone with no development. Each zone, with their specific characteristics, has close links with each other to support the development of sea-based tourism and economy while ensuring national defence and security and serving the province's sustainable development.

The Overall Plan has made positive impacts on the local tourism sector, helping attract a series of investment projects. Many big investors such as Vingroup, Sun Group, Myway, Tuan Chau and FLC have poured money into tourism infrastructure and entertainment facilities in Quang Ninh.

Also during the 2010-2017 period, the province's administration issued many directives, resolutions and decisions on concentrating resources on tourism development, especially Resolution 07-NQ/TU dated May 24, 2013 of the provincial Party Committee. At the same time, the provincial authority strengthened leadership and guidance over tourism development.

Guided by the strategic orientations, Quang Ninh's tourism sector has recorded high growths in the number of visitors, revenues, workforce and service infrastructure.

The province has paid attention to the creation of new tourist products and improvement of service quality. A diverse range of sea and island tours are now available for visitors, from relaxation to entertainment and adventure.

All those efforts have contributed to building and establishing a unique trademark for Quang Ninh sea-based tourism.

This year, Quang Ninh is hosting the National Tourism Year 2018 which has the theme "Ha Long - Heritage, Wonder, Friendly Destination."

Under the Overall Plan for Tourism Development in Quang Ninh, Quang Ninh strives to become an international tourism centre and a leading tourism destination in Vietnam with modern infrastructure and diverse, high quality and competitive tourism products.

Vietnamese farm produce promoted in Japan

Vietnam's firms are striving to promote Vietnamese farm produce in the Japanese market at a trade promotion programme held within the 10th Vietnam festival in Tokyo.

The event was organised to celebrate the 45th founding anniversary of the two countries' diplomatic relations (1973-2018).

According to Ta Duc Minh, Trade Counsellor and head of the Vietnamese Embassy's Trade Office, the country has currently shipped dragon fruits, mango and banana to Japan, with all of the fruits meeting Japanese food safety requirements.

Last year, Vietnam exported 2,500 - 3,000 tonnes of banana and more than 1,500 tonnes of dragon fruits to Japan.

Vietnamese firms are advised to ensure food safety and quality, Minh said, adding the export of agricultural products to Japan is also an opportunity for Vietnam's farm produce to access other foreign markets.

Hidekatsu Ishikawa, President of Vient Co. Ltd, said in 2017, his company imported an average of about 200 containers of fruits from Vietnam worth up to 500 million JPY (4.6 million USD) to Japan, adding that Vient wants to introduce other high-quality fruits of Vietnam to Japan's consumers.

He pointed out that Vietnam should work to improve logistics services to reduce transportation time.

The two countries are negotiating for the export of Vietnam's lychee to Japan.