Anesthesia and Intensive Care Simulation Center opens in HCM City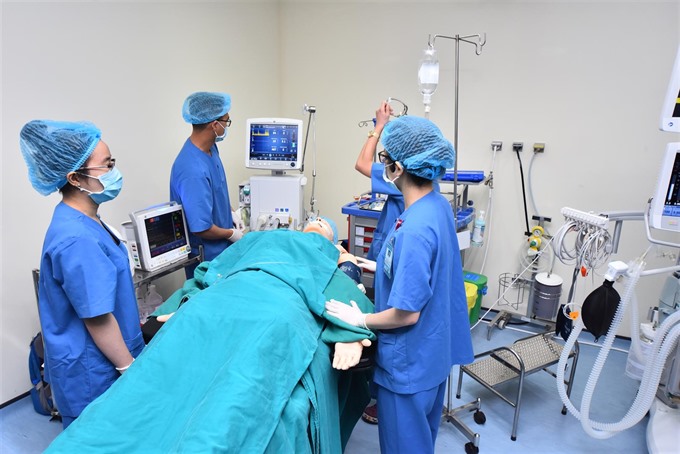 Doctors work with state-of-the-art simulation equipment.
The Anesthesia and Intensive Care Simulation Center opened yesterday at the University Medical Centre (UMC) in HCM City with the aim of providing training to healthcare professionals in southern Việt Nam.
Sponsored by GE Healthcare and VietMedical, the new centre is expected to train at least 400 doctors, specialty trainees and students each year by supporting simulation training and teaching of anesthesia and intensive care techniques, as well as promote knowledge sharing in the field through demonstrations and equipment showcases.
"This is where we will have the chance to interact with international trainers, exchange domain expertise, and simulate crisis scenarios that, although rare, will demand the most of a doctor's skill and expertise in the most critical moments," Nguyễn Hoàng Bắc, director of UMC, said.
"It will help medical staff become well-prepared for unexpected situations, resulting in safer surgery and better patient outcomes for the Vietnamese community," he added.
GE Healthcare will develop the training plan and content, and organise training courses tied to international best practices with support from experts.
Meanwhile,VietMedical, GE Healthcare's authorised distributor in Việt Nam, will be responsible for providing a suite of innovative equipment including anesthesia machines, patient monitors, ventilators, information connecting systems, monitor systems, ECG carts, ultrasound machines and simulator.
These cutting-edge technologies cover advanced features of low flow anesthesia, target-controlled infusion, balanced anesthesia, and pulmonary mobilisation in general anesthesia, as well as high-level hemodynamic parameters.
The anesthesia system also includes basic anesthesia machine which is suitable for provincial hospitals.
"Human capacity and technology are the key to enhancing healthcare systems sustainably. Well-trained anesthesiologists deliver safer and better patient treatment, while advanced equipment supports them to make decisions faster and more accurately," said Nilesh Shah, general manager for GE Healthcare's Clinical Care Solutions, ASEAN, Africa and South Asia.
This center is the second of its kind in the country, following the successful model called the Simulation Lab for Anesthesia and Intensive Care launched at Việt Đức Hospital in Hà Nội in July 2016, which is under management and administration of the Việt Nam Society of Anesthesiology (VSA).
The country's healthcare system is facing numerous challenges, one of which is the lack of skilled doctors working in anesthesia.
According to a report by VSA, the ratio of anesthesiologists in Việt Nam is 1 for 96,491 people while it is 1 for 24,748 in Singapore and 1 for 28,118 in the Philippines.
Ly Son Island to face overloaded traffic
Cars and vans are served for transporting tourists at Lý Sơn Island's port. Booming of transport vehicle would lead to damage of infrastructure.
Lý Sơn Island's roads could be overloaded with commercial transport vehicles in the near future, according to a local official.
Vice chairwoman of the island district's People's Committee, Phạm Thị Hương, made the warning after the Quảng Ngãi Province decided to increase the number of transport vehicles operating on the island to 160 cars in 2017-20.
Hương said the island has now 108 cars including four-seat cars, light-trucks and battery-powered cars travelling on the 10sq.km island, and 22 electric cars on An Bình Islet – 3 miles off Lý Sơn's coast.
The current vehicles can meet the travel demand for the island's 21,000 population and 200,000 tourists each year, while infrastructure would be damaged if more vehicles are brought to the island, according to Hương.
She said most vehicles operating on the island and islet were bought by local people due to the booming tourism industry in recent years.
The vice chairwoman said the new vehicles would lead to conflicts between businesses and local community over serving tourists.
She said the island always priorities sustainable development in tourism, focusing on the benefit of the community.
According to deputy director of Quảng Ngãi provincial transport department, Đỗ Tiến Đại, the department will add 160 more cars and battery vehicles by 2020, and 90 more cars in 2025.
He said 210 cars will operate on Lý Sơn Island, and 82 cars will travel on An Bình Islet in 2020.
The island, 30km off the coast of Quảng Ngãi Province, is a tranquil destination with 21,000 inhabitants, most of whom make their living from farming garlic and spring onions and fishing.
Illegal wood cutting rampant in Kon Tum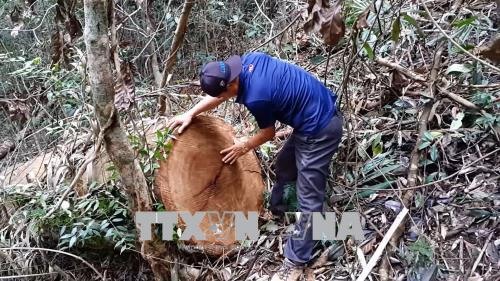 Trees are cut into slides to be transported easily.
A forest belonging to Đăk Tô Forestry Company in the Central Highlands province of Kon Tum's Đăk Tô District, has been exploited severely, according to local people. The company, however, refuted the report.
At least five big trees in the forest area near Ngọc Ló Mountain is reported to have been cut down. Only some slides of wood, with diametre around 60cm and height of up to 4m, remain in the area as loggers have removed the trees out. Moreover, a 3m-wide road has been opened by the lumberjacks to access the area.
Considering the evidence, Nguyễn Thành Chung, company director, told the Vietnam News Agency that they tried their utmost to protect the forest.
"We put an end to massive wood exploitation. Regarding small cases when loggers cut and transport trees at night using motorbikes, we are unable to stop it," he said.
Nguyễn Mạnh Vũ, head of Đăk Tô District Forest Ranger, said the forest company has showed its inability in capturing information to handle the illegal cases of wood exploitation. Moreover, the collaboration between forest owners and the local authorities is not strong enough to conduct frequent investigations and stop the phenomenon.
The subdivisions numbered 274, 275, 276 and 279 in Đăk Rơ Nga Commune next to Đăk Ang Commune, Ngọc Hồi District, have become the hotspot for deforestation for a long time, according to the Vietnam News Agency.
Loggers usually fell and slide trees at the spot then transfer them to hide all evidences. They divide themselves into groups of two to 15 each. Wood slides are then transported to Đăk Ang Commune or the adjacent area between the communes of Đăk Tô and Ngọc Hồi.
HCM City's District 2 gets new bridge
A bridge that passes through Diamond Island in HCM City's District 2 to link Mai Chi Tho Highway with Thạnh Mỹ Lợi residential area was opened to traffic on Wednesday, according to the city Department of Transport.
The four-lane bridge is 300 metres long and 22 metres wide, cost VNĐ93 billion (US$4 million).
Nguyễn Mỹ Lợi, a resident of District 2, said: "I used to take 20 minutes to reach District 1 but thanks to this bridge now I take [only] 10 minutes. The bridge is wide and beautiful."
The works included a 291m bridge over the Giồng Ông Tố River, planting of trees and a lighting system.
According to Lê Ngọc Hùng, director of the Urban Management Centre No.2, the bridge would ease traffic jams during rush hour in the Mỹ Thủy area.
Vehicles travelling from the Sài Gòn River Tunnel to Cát Lái port can now take this bridge.
Surrounded by the Sài Gòn and Giồng Ông Tố rivers and owned by Bình Thiên An company, Diamond is the only natural island in HCM City.
Media football tourney to kick off
More than 300 journalists from the central and Central Highlands region will take part in the annual Media Football tournament in Đà Nẵng on June 2-3. — Photo courtersy JFC Đà Nẵng
More than 300 journalists from the central and Central Highlands region will compete in the annual Media Football tournament to mark the 93rd anniversary of Việt Nam Journalism Day (June 21), in Đà Nẵng from June 2-3.
The event's organisers said eight teams from Thanh Hóa, Nghệ An, Hà Tĩnh, Huế, Quảng Nam, Đắk Lắc-Đắk Nông, Bình Định and Đà Nẵng will compete in a round-robin format in two groups, with the top team from each group qualifying for the final.
All matches will be played on a seven-a-side pitch in Tiên Sơn Sports Centre.
At the tournament, the organising committee will present scholarships worth VNĐ30 million (US$1,300) to underprivileged students and poor patients in the region.
It's the fifth time the tournament has been held for journalists in the central region.
In 2016, journalists in the region and sponsors donated VNĐ6.3 billion ($278,000) to help storm and flood victims in the central provinces.
Mekong sluice project is not necessary, experts say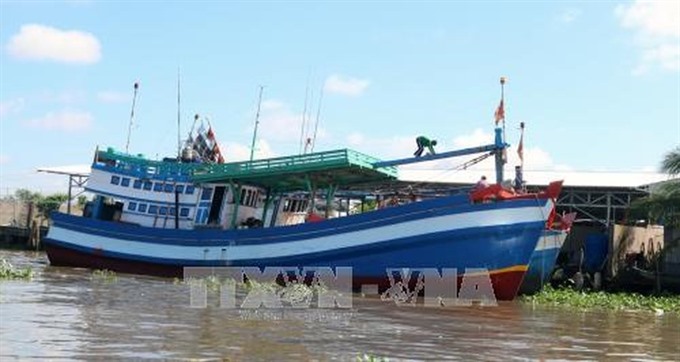 A boat anchors at Cái Bé River in Kiên Giang Province's Châu Thành District.
Many experts and scientists on Monday continued to express concern about the Cái Lớn-Cái Bé dual sluice project in Kiên Giang Province and its possible impact on the region.
The project is expected to control saline intrusion and adapt to climate change.
At a meeting on the sluice project held in Cần Thơ on Monday, a report from the independent group of the Ministry of Agriculture and Rural Development and United Nations Development Programme in Việt Nam showed that saline intrusion was from the region's eastern sea, but the sluice only controls water from the western sea.
Traffic is increasing on the two rivers of Cái Lớn and Cái Bé, forcing sluices to open, so it is difficult to control salinity as required.
However, the group concluded that the Cái Lớn-Cái Bé dual sluice project is necessary.
Đặng Kiều Nhân, representative of Mekong Delta Development Research Institute, said the project owner was unclear about the VNĐ8 trillion (US$350.9 million) investment.
As scheduled, the management board for investment and building irrigation infrastructure project No.10 under the Ministry of Agriculture and Rural Development collected public opinions about the project's implementation last year.
But residents have not been informed about the project, Nhân said.
Nguyễn Hữu Thiện, an independent expert on Mekong Delta's ecology, said the project should not be carried out. Severe drought and saline intrusion in 2016 was caused by El Nino's impact at that time, and it only occurs one time every 90 years.
The independent group said that the project was needed because of rising water levels but he disagreed with that conclusion.
In reality, the sea water rises only 3mm per year, while the region faces dangerous depression because of exploitation of underground water, Thiện said.
The environment has been damaged and rivers blocked, so people have been forced to exploit underground water, he added. If the project is carried out, the environmental risk and depression could worsen.
The project would not help ensure food security as the independent group claimed, Thiện said.
He said that in 2016 when the region suffered severe drought and saline intrusion, nearly 5 million of tonnes of rice were exported. Food security was not severely affected.
There is no evidence that shows the project would prevent fresh water from running out in the region, he said.
Dr Dương Văn Ni of Cần Thơ University's faculty of environment and natural resources, said the project could affect thousands of people in the region.
On the same fields, farmers sometimes need both salt water and fresh water. So it is not necessary to carry out the project to prevent saline intrusion, he said.
Preferential loans for the poor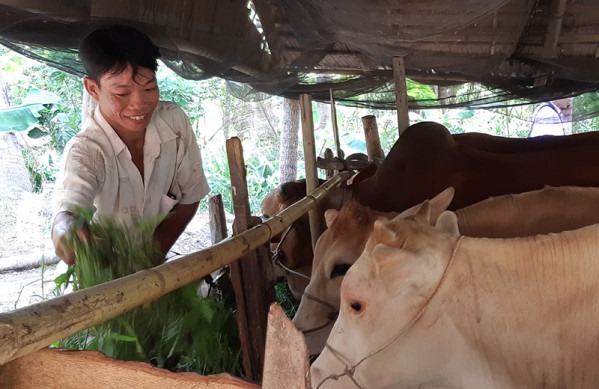 Farmer Phan Văn Nhu in Lương Hòa Commune in southern Trà Vinh Province is happy to receive preferential loans from the Bank for Social Policies to start cow farming. — Photo kinhtenongthon.vn
Preferential loans from Việt Nam Bank for Social Policies have been proved effective in helping poor people in southern province of Trà Vinh to imporve their lives.
Quỳnh Minh Nhân, chairman of Hiệp Mỹ Đông Commune People's Committee in the province's Cầu Ngang District said that preferential loans played an important role in reducing the poverty rate in the commune, from over 10 per cent in 2014 to just 4 per cent at present.
He said that as soon as poor families received the bank loans, they were instructed to spend the money effectively, for example, investing in developing shrimp or cow farms.
Phan Văn Oanh, chairman of Lương Hòa Commune, Châu Thành District said that the commune used to be especially disadvantaged, with a poverty rate of 29 per cent.
Thanks to preferential loans, local people had money to start businesses, according to Kinh tế Nông thôn (Farming Economy) newspaper.
Local authorities encouraged farmers to grow two rice harvests, as well as vegetables throughout the year to increase productivity.
The vegetables helped generate up to VNĐ 100 million (US$4,400) per hectare every year, five times higher than rice production, he said.
Oanh said that when a production model was introduced to local people, the local authorities offered training classes to ensure they could employ it effectively.
"With a proper understanding and farming technique, people could use their loans effectively," Oanh said.
Farmer Phan Văn Nhu in Lương Hòa Commune said that for years his family was unable to escape from poverty because he had no land for growing produce.
In 2013, he borrowed VNĐ10 million ($440) from a lending programme for poor households from the Social Policies Bank, and spent it on some cows.
Last year, Nhu received a preferential housing loan, so, together with his savings, he built a new house.
"Thanks to the loans, now I have business to run, a new house to live in, and my children can go to school. Life is much better," Nhu said.
Thạch Thành Trung, another resident in Thuận Hòa Commune, said that he also built a house with his loan, worth VNĐ100 million.
A few years ago, I borrowed VNĐ40 million ($1,750) from the bank's programme for the poor and another VNĐ8 million from bank's programme for people of ethnic groups to start growing peanuts, okra and rice.
Earlier this year he decided to build a house after bringing in a stable yearly income of VNĐ100 million. He also got a loan worth VNĐ25 million from the bank's housing programme.
Trung said that his mother was so poor that she sold her land to have money to raise eight children.
Despite working hard, Trung was unable to earn enough money to get his family's land back.
"The VNĐ40million loan from Social Policies Bank helped me to take back the land, so my family could farm it," he said.
Vice director of Trà Vinh Province's Bank for Social Policies Lê Hoàng Phi said that the bank was providing preferential loans to nearly 127,000 households including poor households and near-poor ones who have just escaped from poverty.
More beneficiaries can access preferential loans through lending programmes such as the programme for poor households, a programme on clean water and rural hygiene and environment, and a programme for business households in disadvantaged areas.
Trà Vinh Province now has 23,000 families, accounting for 8.41 per cent of its population, living under poverty line. Last year about 7,300 families, or 2.75 per cent of poor families, reportedly escaped from poverty.
Vietnam Social Security collects 121.1 trillion VND in revenue
The Vietnam Social Security (VSS) collected 121.1 trillion VND (5.38 billion USD) in revenue as of late May, or 36.7 percent of the yearly plan, it announced during a press conference in Hanoi on May 30 on social and health insurance.
Of the figure, 83.6 trillion VND was social insurance revenue while 5.6 trillion VND and 31.8 trillion USD was from unemployment and health insurance, respectively.
There were 13.79 million compulsory social insurance, 240,000 voluntary social insurance, 11.6 million unemployment insurance and 81.3 million health insurance participants, or 86.6 percent of the entire population.
In May alone, VSS handled 10,125 cases entitled to pensions and monthly social insurance benefits, 85,117 cases of lump-sum allowances, 858,380 people enjoying sickness, pregnancy and health rehabilitation benefits.
In the first five months this year, up to 49,765 people enjoyed pensions and monthly social insurance benefits, 296,916 received lump-sum allowances and over 3,95 million received sickness, pregnancy and rehabilitation benefits.
During the period, 70.6 million people underwent health check-ups and treatment using health insurance, 205,894 enjoyed unemployment allowances and 11,538 others received grants for vocational training.
Total spending on social, health and unemployment benefits hit 122.5 trillion VND, or 41.62 percent of the yearly plan.
Deputy head of the VSS's Insurance Payment Collection Department Mai Duc Thang said total delayed insurance payment topped 10 trillion VND in five months, accounting for 5 percent of the total, down 1 percent annually.
He added that the VSS is inspecting firms that have delayed insurance payment for three months and more. Those delaying for six months are under unscheduled inspection.
Thang said the VSS could surpass its insurance revenue target by 1-2 percent this year.
Uncle Ho's love for children expressed in photos
An art performance at the 21st Childhood World festival
A photo exhibition depicting Uncle Ho's love for children is being held as part of the 21st Childhood World festival in Hanoi from May 30 to June 1.
The annual festival is organised by the Ministry of Culture, Sports and Tourism on the occasion of the International Children Day (June 1).
The exhibition captures Uncle Ho's moments with children and displays documents and objects on Vietnam's youths in national building and safeguarding movements.
It aims to encourage children to follow the moral example of President Ho Chi Minh.
Children are also called to do good deeds such as cleaning their schools and supporting poor people.
Other activities held within the framework of the 21st Childhood World festival include an exhibition on children's rights, a reading space for kids, an entertainment area with games and an art performance.
Earlier on May 27, the Ministry of Labour, Invalids and Social Affairs launched the 2018 action month for children, themed "For children's safe and healthy living" in the northern province of Phu Tho to promote children's rights to protection, respect and living in a safe and healthy environment.
During the action month, the Ministry of Labour, Invalids and Social Affairs will hold events and activities to support children in need. It plans to hold children's forums, entertainment activities and free medical checkups for children and at the same time, provide those in need with scholarships and deformity correction surgeries.
Meanwhile, the National Fund for Vietnamese Children will allocate more than 14 billion VND (616,000 USD) to support about 5,000 children from difficult backgrounds across the country.
The action month aims to raise public awareness of a wide range of child-related issues through a number of messages, including children's safe and healthy living, a safe and healthy summer for children, summer without child drowning, listen to children, protect children, calling 111 to report violence against children and child abuse, using social media for the safe and healthy life of children and more.
Central island gets face lift thanks to solar power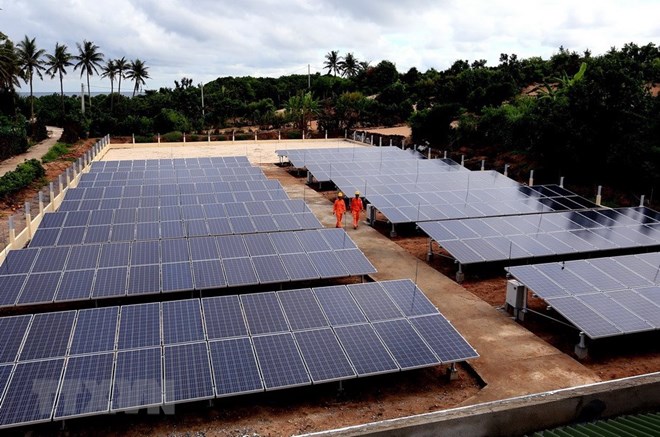 The solar power panel system in An Binh island.
Life in An Binh Island, also known as Be Island, in Ly Son island district, the central province of Quang Ngai has changed since solar power was introduced.
Together with a system of diesel power generators, the An Binh Power Plant has put into use a solar power facility, comprising 300 IREX solar panels with total capacity of 96kW, 100kW grid-connected inverters and 72kW battery inverters.
Thanks to the combined system of diesel and solar power generators which produce about 700 kWh daily, more than 100 local families have stable and constant access to power. Previously, the island only had electricity for some of the day.
Now, their quality of life has improved as many families have more electrical appliances in their homes, particularly televisions.
Owners of restaurants on the island are among the happiest. They used to not dare to buy refrigerators to store food due to electricity shortages, but now many have purchased large-capacity fridges to provide better services to tourists.
The system has also helped cut electricity costs. According to Nguyen Van Hong from An Binh seawater desalination plant, it used to cost the plant about 2.1 million VND (92.4 USD) per day using diesel power but with the new system, the cost was cut by more than two-thirds to only 600,000 VND (26.4 USD) per day.
The solar system also allowed the plant to operate for longer hours to ensure water supply for the locals, he added.
Be Island has had a facelift, especially in tourism, thanks to solar power, said Huynh Luy, Secretary of the Party Committee of An Binh Commune. Before, tourists normally only visited the island for a day; now they can stay for several days as homestay services and other facilities have developed. The local average income has been raised to more than 21 million VND (924 USD) per person per year.
Traffic accident kills two, causes power outage
The scene of the accident
A concrete mixer hit a motorbike and an electrical pylon after losing control, killing two people and causing a power outage on Cat Ba Island on May 30.
The accident occurred at 7.50 pm. When going down a slope, the driver of the concrete mixer lost control and hit a motorbike driver before continuing hitting the electricity pylon and headquarters of a drainage company.
The motorbike driver died on the way to the hospital. The guard of the drainage company was killed under the rubble of the destroyed building. His body was recovered at 1 am. A rescue team and two fire trucks were sent to the scene to clean up the rubble and help the victims.
Two people on the truck were injured and transferred to Vietnam Czech Friendship Hospital at Hai Phong City.
The accident also caused a power outage that left the whole island without electricity. Major establishments such as hotels were able to use generators.
The authorities are investigating the case.
After 'horror trip,' Aussie offered free tour of Vietnamese destinations
An Australian tourist has been invited to tour Vietnam's Ha Long Bay and other destinations for free after news outlets highlighted a Facebook post titled "Horror trip, Ha Long Bay" last week.
The Vietnam National Administration of Tourism (VNAT) has written of apology to Lynne Ryan and invite her to return to Vietnam for the free tour.
Nguyen Van Tuan, head of the administration, said in the letter that he was "sorry for what happened" and informed Ryan that Vietnamese authorities have "seriously punished" companies responsible for the cruise that proved to be a disaster.
Ryan, who'd visited Vietnam along with five other Australian tourists in early May, wrote the post after returning home. She said her group had booked a Ha Long Bay cruise with a travel agency in Hanoi. She said she'd been shown a glossy brochure with beautiful pictures of a boat and its services, but the actual tour proved to be vastly different.
The tourists were taken on a rat infested "junk boat" with a "rat house" under the sink in the bathroom, a rat coming through a window, and rat droppings in the room. One of their rooms had a broken toilet door and a non-functioning air-conditioner.
"Sun decks on the top of boat had wood borers and were falling to pieces," the news reports quoted her as saying.
The group described their Ha Long Bay tour as a "nightmare."
Once the news spread, authorities swung into action. They fined the owner of the cruise ship and the travel agency in Hanoi that booked the tour VND15 million (US$660) and VND8 million (US$351) respectively, and suspended the ship's operation.
Tuan said VNAT will take care of the free trip for Ryan; but the Australian responded saying she was wondering if she could take her friends along, since they were also victims of the scam.
Ha Long Bay welcomed more than 28,000 foreigners in the first four months this year, according to tourism department of Quang Ninh Province, home to the famous bay which is known as one of the top natural wonders of the world.
Australia is a major source of tourism revenue for Vietnam. The country received nearly 147,600 Australian visitors in the first four months this year, up 13% from a year ago.