Bangladesh paper supports Vietnam's cyber security law
Lawmakers press buttons to adopt Law on Cyber Security
Bangladesh's Dhakatribune newspaper recently published an article showing strong arguments and proof regarding the US to support Vietnam's Law on Cyber Security, saying that the law will bring more jobs to Vietnam and stronger commitment from investors which would help stabilise growth for the country.
About the line between cyber security and privacy right, the article disagrees with the opinion that the law is set to restrict Facebook and Google, hurt investors' confidence and stunt the growth of Vietnam's digital economy, given that it requires Vietnamese data to be stored within the country and allow the government full access as part of security measures.
It cited the example of the US, saying that there has been a much more robust government surveillance system in place under its Patriot Act, in the aftermath of the 9/11 terrorist attack and anthrax attack. The internet and Big Data-related businesses expanded, while the general masses in the US lived under their government's active and heavy-handed surveillance.
Vietnam is an independent country and its legislatures have the right to get a better understanding of their citizens' data in order to protect their national interests, it said, adding that Vietnam is simply exercising its right to protect their citizens from any possible manipulation.
According to the article, Europe has an extensive cyber security policy, and both Facebook and Google are currently negotiating with the EU to settle the damage they have dealt.
The new regulation will require these companies, who will continue to operate in Vietnam, to open offices in Vietnam and abide by the laws of the land (including storing data in their soil and to hand over any required access to government authorities).
In conclusion, the article welcomed the new regulation which it said, will actually render additional businesses and services free from possible manipulation.
HCM City, Finland discuss smart urban development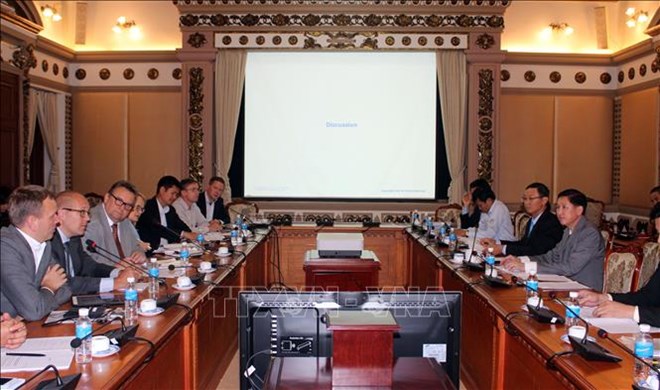 At the working session
Ho Chi Minh City wants to receive support from domestic and foreign resources in smart urban development, said Vice Chairman of the municipal People's Committee Tran Vinh Tuyen.
During a working session in the city on June 26 with a delegation of Finnish experts in smart urban development and innovation led by Ambassador of Finland to Vietnam Kari Kahiluoto, Tuyen said the city is keen on fields of Finland's strength such as smart health care and transport development, and sport management.
He added that the city's smart urban development project aims to put its economy on rapid and sustainable growth path, create a close interaction between authorities and people to bring practical and long-term benefits to them.
Ambassador Kahiluoto, for his part, said leading Finnish experts in smart urban development and innovation area are ready to share experience and want to establish long-term cooperation with the city in the field.
Finland wants to foster ties with the city to build smart urban development initiatives, provide solutions to projects in smart urban transportation, community-based health care and clean energy, he said.
He promised that Finland will attend an international conference on calling for investment in sub-components of the smart urban development project scheduled for this July as invited by the city authorities, adding that Finnish firms and experts will recommend specific technical solutions at the event.
Finnish experts introduced several outstanding smart urban and innovation park building projects abroad, technical requirements for the process.
They also expressed readiness to transfer technological advances and finance to the city in the effort.
International organisations help Vietnam in tobacco prevention
Luong Ngoc Khue, director of the Vietnam Fund for the Prevention of Tobacco Harms
Vietnam's Health Ministry and the Fund for the Prevention of Tobacco Harms on June 26 held a meeting of the tobacco control working group, gathering representatives from key tobacco control organisations in Vietnam and its development partners.
The meeting was attended by Head of the Bloomberg Philanthropies Public Health Programme Kelly Henning, and experts from the HealthBridge Foundation, World Health Organisation, Vital Strategies organisation and Chicago University, among others.
Luong Ngoc Khue, director of the Vietnam Fund for the Prevention of Tobacco Harms, said Vietnam has built a network on the prevention of tobacco harm in all 63 provinces and cities. The localities have built non-smoking areas and the cities of Ha Long, Hue, Nha Trang and Hoi An are developing smoke-free tourism areas.
Khue said about 1,200 secondary and high schools and nearly 130 colleges and universities nationwide have banned smoking.
However, he noted that at present, nearly half of Vietnamese men smoke, a high figure he said that needs to be reduced.
At the meeting, experts discussed the enforcement of the Law on the Prevention and Control of Tobacco Harms in Vietnam, including increases in tobacco prices and import duties, inspections and punishment of violations in the implementation of a smoke-free environment and Vietnam's Programme on Tobacco Prevention and Control.
According to Health Minister Nguyen Thi Kim Tien, tobacco costs Vietnamese smokers 31 trillion VND (1.36 billion USD) per year.
Treatment for five major diseases - lung cancer, gastrointestinal-respiratory cancer, chronic obstructive pulmonary disease, heart attacks and strokes, caused by smoking, are estimated to cost 24 trillion VND (1.05 billion USD).
Multi-million dollar plan to prevent child drownings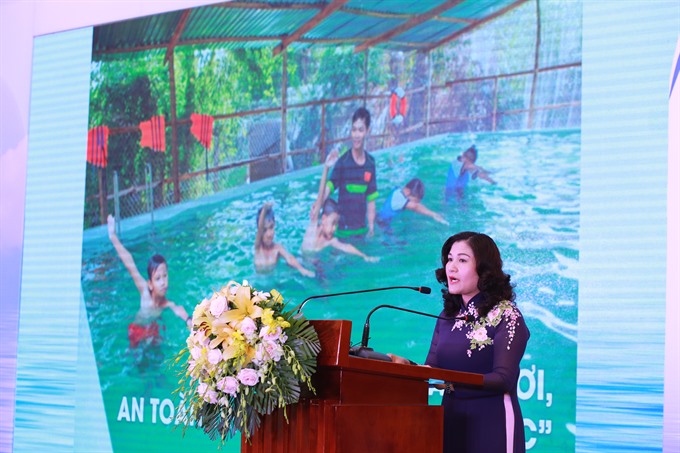 Nguyễn Thị Hà, Vice Minister of Labour, Invalids and Social Affairs (MOLISA) said that nine children die from drowning every day in Việt Nam.
A new scheme aimed at preventing children from drowning was launched on Monday in the capital city.
Kelly Henning, director of Bloomberg Philanthropies's Public Health Programmes, announced a commitment of US$2.4 million for the first two years of the five-year programme.
The programme will focus on proper supervision of children under five years old, and survival swimming lessons for those aged from six to 15 years old.
It will also raise awareness about risk factors and preventive measures, and strengthen co-ordination among relevant agencies in Việt Nam.
Drowning was a 'silent epidemic' that claimed the lives of more than 2,000 children each year in Việt Nam, making drowning the country's leading cause of child deaths under 15, according to Nguyễn Thị Hà, vice minister of Labor, Invalids and Social Affairs.
The rate of child drowning in Việt Nam is higher than in other Southeast Asian countries, and 10 times higher than in some developed countries.
"Việt Nam has undertaken significant efforts to prevent child drowning, including adopting a strong legal framework," said Hà.
"Following close co-ordination among relevant ministries and social organizations, and with the support of national and international organizations, we can all contribute to securing a safe environment for our children."
The programme will begin with targeted support for local governments and communities in the provinces of Lào Cai, Yên Bái, Ninh Bình, Quảng Bình, Thanh Hóa, Đắk Lắk, Đồng Tháp and Sóc Trăng.
New bus station on Belt Ring Road No.3 illogical: experts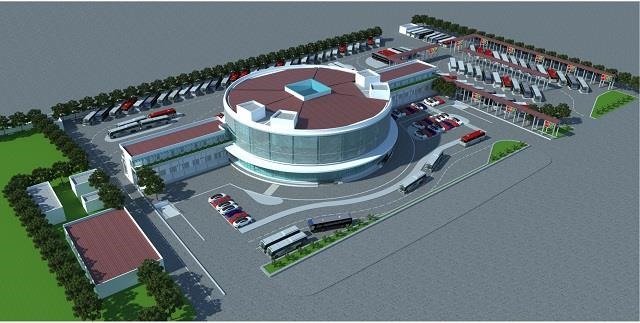 Artist's impression of Yên Sở's new bus station, planned for Belt Ring Road No.3 in Hoàng Mai District. – Photo kinhtedothi.vn
The recent decision of the Hà Nội People's Committee to approve the construction of a new bus station on Belt Ring Road No.3 is contrary to the city's prior plans to remove bus stations from the inner city, transport experts say.
The new bus station, to be called the Yên Sở station, will be built on Belt Ring Road No.3 near Yên Sở Park in Hoàng Mai District, reported online newspaper vietnamplus.vn.
Hà Nội plans to transform four major inter-provincial bus stations in the inner city, including Gia Lâm, Mỹ Đình, Giáp Bát and Nước Ngầm, into car parks and inner-city bus interchanges by 2020. The changes are part of the draft plan to improve parking lots, bus stations and bus interchanges by 2030. By moving the major inter-provincial bus stations outside of the central city, urban planners hope to reduce heavy traffic that currently ensnares commuters around the stations.
Gia Lâm and Giáp Bát bus stations are to be turned into parking lots by 2020 with Mỹ Đình and Nước Ngầm following five years later.
Notably, the Yên Sở station is just 1km away from the current Nước Ngầm bus station.
"Building Yên Sở bus station is contrary to the plan of moving bus stations out of the inner city. That plan should not be done by half", said Nguyễn Văn Thanh, president of Việt Nam Auto Transport Association.
"The city might not attract private investment into the new stations in the outlying areas, as is the plan if Yên Sở station is built", he said.
Funds to construct the bus station amount to VNĐ118 billion (US$5.1 million), of which investor's capital is VNĐ30 billion (US$1.3 million), accounting for 25.4 per cent. The rest was loaned and mobilised from other sources.
The Yên Sở Station is to be built on an area of 3.2ha. It will be used for coaches and trucks during the coming transitional period as officials construct new bus stations outside of the city. Yên Sở station will have a capacity of 800-1,000 fixed-route coaches and 200 trucks daily.
Although it is meant to be a temporary station, the city has granted an operating license of 50 years.
Bùi Danh Liên, president of the Hà Nội Transport Association agreed with Thanh's criticisms.
"Building Yên Sở station is illogical. It is too small to share the overload of Nước Ngầm station", he said. "And removing the current stations which were operating well was non-sense".
The ground clearance for Yên Sở bus station has not been completed due to protests by local residents.
Other transport experts also disagreed with the city's plan to remove the current bus stations from the inner city.
The draft plan claims new bus stations in the Belt Road No.4 area are more convenient for passengers to travel inter-province routes and will help ease traffic congestion in the inner city.
"But that plan is contrary to trend in the world, especially in European countries, where they place key bus and metro stations in the inner city", said Nguyễn Xuân Thủy, a transport expert and former of director of Transport Publishing House.
According to Thủy, building new bus stations on Belt Ring Road No.4, which is 10-20km from the inner city, would cause inconvenience and a higher cost of transport for passengers.
Moreover, traffic congestion would actually worsen if everyday thousands of bus riders are moving to and from the inner city and suburban areas.
"Removing the current bus stations from the city will cause losses of billions of đồng because the stations have already received much investment, never mind the cost of using the land to construct new stations", Thủy told the paper.
The city's weak urban and transport planning is contributing to its terrible traffic congestion at present, said Thủy.
For southern farmers, mangosteen no longer pays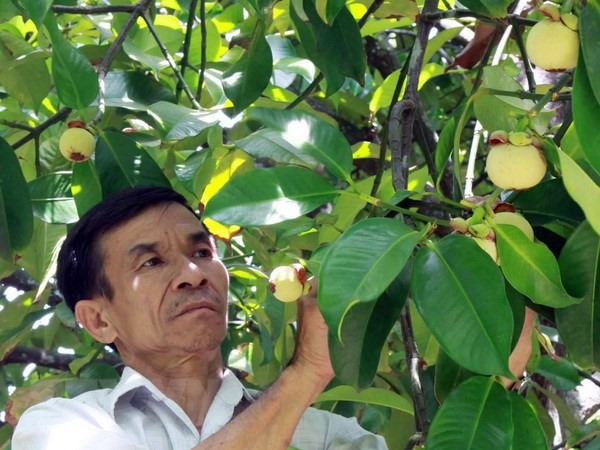 A farmer in Bến Tre Province in the Cửu Long (Mekong Delta) tends to his mangosteen tree.
Though he has grown and sold mangosteen fruit for 20 years, Lê Văn Sơn of the Bến Tre Province in the Cửu Long (Mekong) Delta has gradually removed the trees from his orchard over the last two years.
The 0.6ha formerly filled with mangosteen has been replaced by durian and mango trees on his 1.2ha orchard in Chợ Lách District. Sơn said he made the right choice.
"I used to make VNĐ15 million (US$655) a year selling mangosteen fruit. But crop failures in the past three years halved my earnings from the fruit to only VNĐ7 million ($306) per year," he said.
Having earned VNĐ1 billion ($44,000) from selling fruits from 100,000 durian and mango trees in the past two years, Sơn said he might get rid of his mangosteen trees altogether.
"Mangosteen has helped put food on our table for a long time, but it seems to have become outdated," he said. "I'm thinking of removing all the mangosteen trees from my orchard."
Many farmers in Bến Tre Province have stopped growing mangosteen due to its low economic efficiency, though the fruit being one of the province's five fruit specialties, Thanh Niên (Young People) newspaper reported.
A historic saltwater intrusion that affected the province in 2016 is blamed for the situation.
"Our mangoteen crops kept failing after that," said Nguyễn Văn Thùy, a farmer in the province's Vĩnh Hòa Commune. A month ago he decided to cut off 3,000sq.m of mangoteen trees that he had been growing for 30 years.
"I couldn't take it anymore and decided to switch to growing flowers," Thùy said.
Switching from mangosteen to other types of fruits and flowers causes farmers trouble because they are not familiar with the new crops and unsure who to sell them to.
But since mangosteen takes about five years to bear fruit, the farmers' decision is basically irreversible. It would take years before they can start earning money again, if they want to get back into the mangosteen business.
Trademark infringement is another factor that discourages farmers from growing mangosteen. For a long time, Bến Tre Province has been known for its Cái Mơn fruit brand, but more fruit products from other localities have been snuck into the province and fraudulently sold under the brand.
"We all know that our mangosteen growing area and yields have been decreasing. But when the mangosteen season comes, the fruit is sold everywhere at a cheaper price than what we normally offer," said mangosteen grower Bùi Văn Công of Long Thới Commune.
"This is why we gave up on the hope of having an authentic mangosteen brand," he said.
The province's agricultural authorities seem unsure how to deal with the situation. No measures have been applied to improve soil quality since the 2016 saltwater intrusion.
The province had 1,600ha of mangosteen growing area in 2014, and it's been on the decline ever since, said Võ Văn Nam, manager of the Cultivation and Plant Protection Division under Bến Tre Province's Department of Agricultural and Rural Development.
"This affected the province's strategy of developing five fruit specialties, including durian, rambutan, green-skin pomelo, longan and mangosteen," he said.
Bùi Thanh Liêm, director of the agricultural division of Chợ Huyện District, said that it is hard for mangosteen to survive saltwater intrusion and the extreme weather conditions that the Mekong Delta experienced in recent years, which caused a drastic reduction in mangosteen yields.
"Considering the profits farmers have been making from selling other types of fruits and flowers, it is understandable that they stopped growing mangosteen," he said.
"We find it hard to maintain the remaining mangosteen growing area, let alone consider increasing it," he said.
Cao Bằng to host song and dance fest
Artists from Cao Bằng Art Troupe perform on stage. The National Song and Dance Festival will gather 12 troupes from northern provinces between June 29 and July 7.— Photo bienphong.com.vn
Hundreds artists of 12 art troupes from northern mountainous provinces will take part in a national song and dance festival in Cao Bằng Province between June 29 and July 7.
Participants include troupes from Điện Biên, Sơn La, and Lào Cai, as well as Yên Bái and Tuyên Quang.
The opening ceremony and music show, which will be broadcast live on VTV channel, will take place at 8 pm on June 29 at the Cao Bằng Provincial Conventional Centre.
The closing ceremony will take place on July 27 at 8pm.
The opening and closing shows will feature the most distinguished performances from participating troupes.
During the festival, the troupes will perform before a local audience, while three troupes will tour Cao Bằng City and other districts such as Trùng Khánh and Hà Quảng..
Organisers said the event is an opportunity for professional art troupes and artists to engage in cultural exchange and for young talents to shine. The event also aims to encourage art troupes to stage high quality performances to entertain audiences.
GEF 6 side event calls for joining hands to protect ocean
Participants in the "Joining hands to protect the ocean" programme clean up a beach in Da Nang city
Vietnam's Ministry of Natural Resources and Environment (MoNRE) organised a programme titled "Joining hands to protect the ocean" in the central coastal city of Da Nang on June 26 in response to one of the themes of the 6th Assembly of the Global Environment Facility (GEF) which is taking place in Da Nang.
Addressing the programme's launch, MoNRE Deputy Minister Vo Tuan Nhan said the increasing volume of trash, especially plastic oceanic waste, is threatening the beauty of Da Nang, which has won numerous titles such as the best city for living in Vietnam or one of the most favourite destinations in the world in 2015.
He stressed that plastic trash has become a big threat to the world's oceans in general and Vietnam's seas in particular, calling on ministries, agencies, local administrations, organisations, businesses and individuals to join hands with the Natural Resources and Environment sector to carry out regular and effective campaigns to clean up the beaches, thus preserving the marine environment.
Under Secretary-General of the UN and Executive Director of UN-Habitat Maimunah Mohd Sharif told the event that marine pollution is one of the biggest concerns nowadays, which is worsening at a pace unseen before due to waste from industrial and agricultural production as well as daily life.
She cited statistics of the World Economic Forum that around 8 million tonnes of plastic waste were discharged into the ocean every year, while 3 billion people around the world rely on the ocean for their livelihoods.
Therefore, it is necessary to raise people's awareness about marine trash and community responsibility in managing and protecting the marine environment.
The UN Under Secretary-General stressed that preservation and sustainable use of the ocean and marine resources as one of the Sustainable Development Goals set by the UN. She pledged to cooperate with and support Vietnamese partners, especially the MoNRE, in combating marine pollution.
Executive Coordinator of UNDP Global Environmental Finance Adriana Dinu said with 3,000 km of coast, Vietnam contributes to and also is affected by marine plastics. She stressed that with 20 percent of its GDP comes from marine resources, Vietnam must take necessary measures to protect and restore the ocean.
After the launch, more than 600 delegates, young people and local residents collected trash and cleaned up the beaches, and planted trees.
The 6th GEF Assembly is taking place in Da Nang from June 23-29.
Children in Phu Yen receive free screenings, surgeries for facial deformity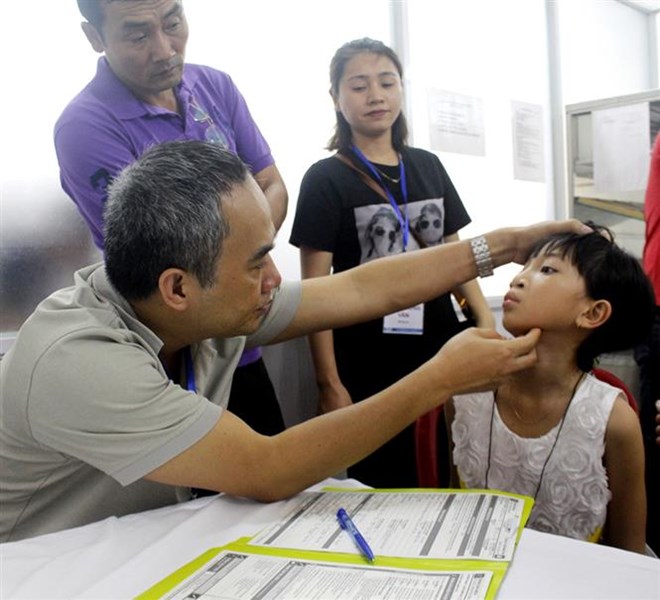 Doctor provides checkup for a child patient
A programme providing free screenings and operations for children with cleft lip, cleft palate was held at the General Hospital of the central coastal province of Phu Yen from June 22-26.
It was organised by the 108 Military Hospital of the Ministry of Defence, doctors and volunteers from the Operation Smile organisation of the Republic of Korea and the provincial Department of Labour, Invalids and Social Affairs.
Many children in Phu Yen as well as neighbouring provinces of Khanh Hoa, Binh Dinh and Dak Lak received medical checkups at the programme, the first of its kind held in Phu Yen province.
After medical checkups and screenings, 100 children will receive free surgeries and treatment. The programme also supports travelling and accommodation fees for the patients.
Nearly 300 children in Phu Yen with cleft lip and cleft palate have received medical checkups since 2008, and among them, 200 received free surgeries sponsored by donors found by the provincial Fund for Children.
Some 2,000 babies are born with cleft lip and cleft palate every year in Vietnam.
Since 1994, the National Fund for Vietnamese Children (NFVC) has run the Operation Smile programme to provide cleft lip and cleft palate surgeries for children. To date, nearly 30,000 children have benefited from the programme.
The NFVC has also mobilised resources to provide post-surgery assistance for children, thus helping them practice pronunciation and integrate into the community.
Red Journey blood donation campaign returns to Gia Lai
The trans-nation Red Journey blood donation campaign kicked off in Chu Pah district, the Central Highlands province of Gia Lai on June 26, with more than 500 officials, cadres, workers and students taking part.
More than 330 units of blood were collected at the event.
It has been the third consecutive year the campaign was launched in Gia Lai, helping to collect donated blood for the treatment of patients.
Deputy head of the campaign's organising board Le Hoang Oanh said hospitals nationwide often lack blood during summer so that the National Steering Committee for Voluntary Blood Donation holds the annual campaign to ease the scarce blood supply.
In 2017, nearly 1.5 million units of blood were collected nationwide, 98 percent of them were from voluntary donors.
Over the past five years, the campaign has come to 46 cities and provinces nationwide, raising public awareness of the effort and acquiring more than 120,000 blood units.
This year, the drive was scheduled to go through 26 cities and provinces.