Association of Vietnamese experts in Switzerland set up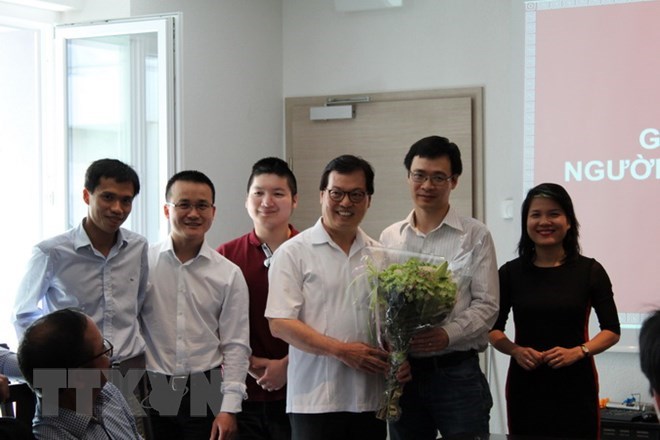 Ambassador Duong Chi Dung (third from right) congratulates the AVIES's debut.
The executive board of the Association of Vietnamese Intellectuals and Experts in Switzerland (AVIES) debuted on June 2 at the headquarters of Vietnam's Permanent Mission to the UN, WTO and other international organisations in Geneva, Switzerland.
Ambassador Duong Chi Dung, head of the Vietnamese mission, underlined contributions made by Vietnamese experts to the homeland's socio-economic development.
Lauding the establishment of the AVIES, the Vietnamese diplomat committed to support intellectuals to carry out the association's plans and projects while expressing his hope that more Vietnamese experts will join the association.
The AVIES gathers some 70 Vietnamese intellectuals and experts working in Switzerland in various fields of business management, finance, mobile technology, computer science, health care and infrastructure development, among others.
The association aims to accelerate the implementation of initiatives and cooperative projects for the development of the homeland, Vietnam-Switzerland ties and relations between Vietnam and the UN, WTO and other international organisations.
The AVIES establishment took place in the framework of the third talks on meeting Vietnamese intellects in Switzerland, during which blockchain technology and startup development were highlighted.
Hanoi hailed for environmental protection efforts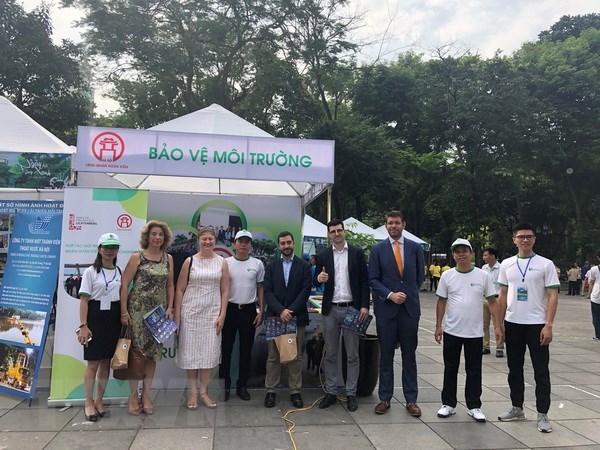 Representatives from foreign embassies in Vietnam attend the event
Ping Kitnikone, Canadian Ambassador to Vietnam has praised efforts and progresses made by the Hanoi authority in protecting and improving the environment.
Speaking at the Green Living Festival in response to the national action month for environmental protection and World Environment Day which took place in the capital city on June 1-2, she said representatives of embassies and international partner agencies had been working hard to launch a communication campaign against plastic pollution in Vietnam.
Notably, representatives from 41 embassies and international organisations will sign a code of conduct on plastic pollution prevention, committing to reducing plastic waste by adjusting internal regulations, and encouraging partners to apply solutions to minimize or eliminate plastic waste, she said.
She added that international diplomatic missions in Vietnam hope to work with the Vietnamese government and people, enterprises and other partners to continue joint efforts, aiming to reduce plastic waste in the country.
The municipal authorities pledged to gradually phase plastic bags out and replace them with more durable materials.
With sustainability in nature, plastic waste (plastic bottles, nylon bags, plastic food boxes and cups ...) along with other environmental pollutants have been negatively impacting on the environment, economy social and human health.
In that context, through the "Green Living Festival" with concrete and practical activities, Hanoi has expressed its determination and efforts in appealing consumers to save and recycle plastic waste; encourage the use of environmentally friendly energy, technologies and products; the electronic waste collection, towards a green and sustainable environment in Hanoi.
According to the municipal Department of Natural Resources and Environment, "the national action month for environmental protection" kicked off in many district and towns on May 15 and will last until July 31.
A series of activities in the framework of the programme have been organised, focusing on how to address issues related to management of natural resources; environmental protection; and collection, treatment and management of waste.
Attention has been also paid to intensifying the inspection, supervision and thorough treatment of projects prone to causing high environmental pollution; exploiting, using effectively and sustainably the water resources; and promoting the special control of production establishments, which are likely to cause high environmental pollution.
The Green Living Festival was organised by the municipal Department of Natural Resources and Environment, the People's Committee of Hoan Kiem district, and Live and Learn Vietnam.
An activity themed "What is happening to the environment in Hanoi?" features games providing information about environmental pollution, along with an exhibition of installation art works made from plastic straws, plastic bags and bottles.
Street music performances are also set to be a special treat for participants in the festival.
On June 5, a clean-up campaign will be launched in Tri Thuy commune of Phu Xuyen district to clean the environment, dredge cannels, sort waste and plant trees. It is hoped to draw 500 local residents.
These events are part of efforts to connect state managerial agencies with civil organisations, schools and businesses to encourage joint efforts to protect the environment and promote sustainable development.
Bac Ha tourism week underway in Lao Cai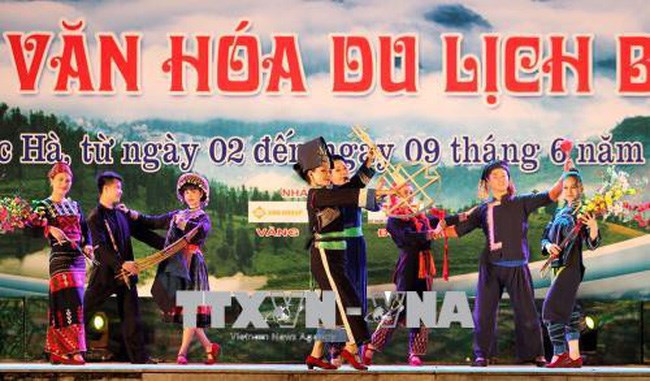 A performance at the opening ceremony of the Bac Ha tourism week
The Bac Ha tourism cultural week, themed "Colours of the White Highland", began in Bac Ha district, the northern mountainous province of Lao Cai, on June 2.
Speaking at the opening ceremony, Chairman of the Bac Ha People's Committee Nguyen Cong Huy said the event aims at promoting and preserving local cultural values, boosting tourism connectivity, and attracting investment in local tourism.
The same day, a road bicycle race took place with the participation of 150 riders who competed on the race spanning between Bac Ha and Xin Man district in the northern mountainous province of Ha Giang.
A street festival was also underway, reenacting various ethnic cultural activities, like the ancient fair of mountain villages, Khen dancing, and part of a wedding ceremony of Phu La ethnic people.
The week is designed to treat visitors to a horse race, a plum festival and a mountain fair.
The plum festival offering various kinds of farm produce at 20 booths such as Tam Hoa plums, Nam Xit rice, Tuyet San organic tea, honey and mushrooms are held at Hoang A Tuong Palace from June 3-6.
The traditional horse race from June 8-9 is expected to lure thousands of visitors.
Endowed cool weather year-round, Bac Ha has amazing sightseeing such as mighty mountains, beautiful caves and terraced fields.
The district has exotic cultures with 14 ethnic minorities and historic sites like Bac Ha temple and Hoang A Tuong palace.
Bodhisattva Thich Quang Duc commemorated
An art performance at a ceremony
The Vietnam Buddhist Sangha (VBS) held in Ho Chi Minh City on June 3 a ceremony to commemorate Bodhisattva Thich Quang Duc, who set himself on fire 55 years ago to protest against the repression of Buddhists by the American-supported Saigon government.
At the event, Chairman of the VBS's Executive Council Most Venerable Thich Thien Nhon reviewed the life of Bodhisattva Thich Quang Duc, praising the great sacrifice and patriotism of Bodhisattva Thich Quang Duc.
Most Venerable Thich Quang Duc was born as Lam Van Tuat in Van Ninh district, the central province of Khanh Hoa, in 1897.
He actively joined Buddhist movements for religious freedom and equality in the southern region. On June 11, 1963, when a procession of over 800 Buddhist monks, nuns and followers arrived at the intersection of Phan Dinh Phung boulevard (now Nguyen Dinh Chieu Street) and Le Van Duyet Street (now Cach Mang Thang Tam Street) in Sai Gon (now Ho Chi Minh City), Thich Quang Duc soaked himself in petrol, struck a match and set himself on fire.
He was honoured as a Bodhisattva in 1964 after the unified VBS came into being.
Da Nang emerges as popular destinations for RoK tourists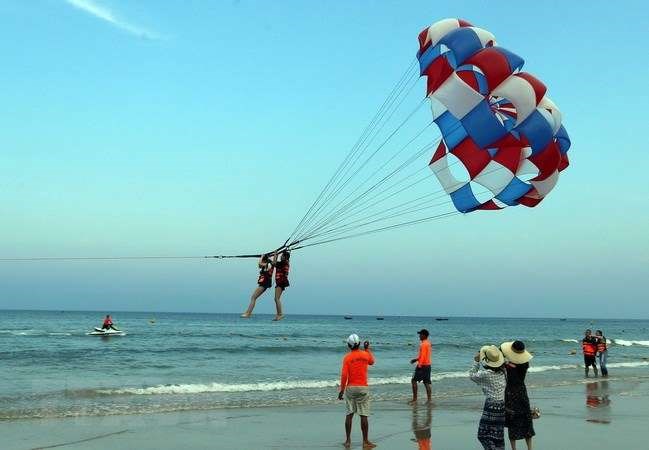 A beach in Da Nang
The Vietnamese central city of Da Nang has become one of the most popular tourist destinations for people of the Republic of Korea (RoK) this year, according to a RoK online ticket seller.
Da Nang ranked second in the list of the 10 most popular destinations among solo or couple travelers, Ticket Monster Inc. said, citing its analysis of air ticket reservations in July and August. Osaka of Japan topped the list.
The website said people who plan to travel abroad with family members chose Da Nang as the most popular destination.
The Vietnamese central coastal city is also the second-most popular destination among couple of travelers, followed by Bangkok (Thailand) and Guam (the US), it said.
The number of outbound RoK travelers has been on the rise in recent years with the increase of affordable tickets offered by low-cost local carriers.
Data compiled by the Korea Tourism Organisation showed more than 9.66 million Koreans traveled to foreign countries in the first four months of 2018, up 13.4 percent from a year earlier.
Tra Vinh farmers lend farmland for free to poor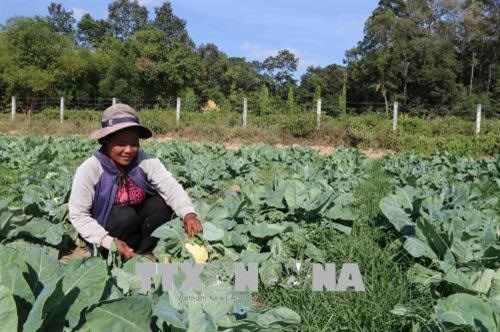 Farmers in southern Trà Vinh Province are lending their land for free to poor farmers as a way of helping families escape poverty.
Farmers in southern Tra Vinh province are lending their land for free to poor farmers as a way of helping families escape poverty.
Duong Phac Ra Day in the province's Duyen Hai district, for example, earned a profit of 15 million VND (600 USD) from his harvest of bird's-eye chili crop on a 2,000 sq.m of land which was lent to him by Thach Tai, a farmer in Duyen Hai's Ngu Lac commune.
Day is one of many farmers in the Mekong Delta province who have borrowed land from fellow farmers in recent years. As a result, many poor farmers have been able to escape poverty.
"I appreciate the help of my neighbour. It encouraged my family to strive for a better life," Day said.
Before receiving the land, Day had worked as a daily hired labourer, struggling to earn enough for his family.
In Tra Vinh, more than 1,000 farming households have lent a total of 600ha of farmland to nearly 1,400 poor farmers, helping many households escape poverty, according to the province's Ethnic Affairs Committee.
The province has more than 23,000 poor households, accounting for 8.4 percent of the total households. It targets reducing the poverty rate by 2-2.5 percent a year.
Farmers who lend land are classified by authorities as either near-poor or fairly well-off.
Tai of Ngu Lac commune, who is a near-poor farmer and has 6,000 sq.m of farmland, said his rice field often lacked irrigation water in the dry season, so the yield of rice was not high.
With guidance from local agriculture officials, Tai switched to one rice crop and one bird's-eye chili crop a year beginning in 2014. Since then, he has had a stable income.
Knowing Day's family difficulties, Tai last year decided to lend Day 2,000 sq.m of his farmland to plant bird's-eye chili in the dry season.
"I was happy to see that his family could earn more income," he said, adding that he would continue to lend his land to Day to grow the chili variety.
Thach Thi Hong Nghia, who has 4,000sq.m of farmland in Ngu Lac commune, has lent 2,000 sq.m to poor neighbouring farmers since 2013.
Ngu Lac, one of the poorest communes in Tra Vinh, has 4,200 households with a total of 18,000 people. Of the households, 64 percent are Khmer.
In the 2015-17 period, the number of poor families fell by 580. Many of them had borrowed land from other farmers.
Farmers with available land lend their land to poor farmers to grow crops in the dry season or year round.
Duong Van Lieu, Secretary of the Ngu La Commune Party Committee, said about 100 farming households were lending a total of 30ha of land to poor farmers.
Dak Nong defuses three 227kg-bombs
Preparing for defusing bombs
The armed force of Tuy Duc district, the Central Highlands province of Dak Nong, has defused three bombs each unearthed in the locality.

Each MK82 bomb is 227kg in weight, 1.33m in length and 27.3cm in diameter. They contain 87.2 kg of explosive substance each, with detonation diameter spanning 300 metres.

The bombs were found by local farmers in Quang Truc commune while he was doing field work in Bu Dar hamet.

Dak Nong is located in the south of the Central Highlands and houses the key road connecting the region with the southeast region. Once a warzone, the province has been tackling unexploded bombs for many years.

During the war, the US army dropped more bombs on Vietnam than were deployed in the First and Second World Wars combined, according to the US organisation Clear Path International.

It is estimated that about 30 percent of the bombs remain unexploded.

Grand meeting marks 70 years of patriotic emulation appeal
Prime Minister Nguyen Xuan Phuc (L) hands over the Government's emulation flag to Vietnam News Agency
A grand meeting was held in Hanoi on June 3 to mark the 70th anniversary of President Ho Chi Minh's call for patriotic emulation on June 11, 1948.

Attending the meeting were General Secretary of the Communist Party of Vietnam Nguyen Phu Trong, former Party General Secretaries Le Kha Phieu and Nong Duc Manh, President Tran Dai Quang, Prime Minister Nguyen Xuan Phuc who is also President of the Central Council for Emulation and Reward, Chairwoman of the National Assembly Nguyen Thi Kim Ngan, former NA Chairman Nguyen Sinh Hung, permanent member of the Party Central Committee's Secretariat Tran Quoc Vuong, and President of the Vietnam Fatherland Front Tran Thanh Man.

Leaders of ministries and localities were also present at the event, along with 700 delegates who are Heroic Vietnamese Mothers, Heroes of the People's Armed Forces, Labour Heroes, and role models in various fields.

Seven decades ago, in the Spring of 1948, the country was struggling as it waged its resistance war against the French. To encourage the nation to contribute to the war, President Ho Chi Minh made an appeal for patriotic work emulation on June 11, 1948.

Opening the appeal he wrote: "The purpose of patriotic work emulation is to eliminate poverty and hunger and illiteracy and foreign aggressors. It means our entire people have enough rice to eat and clothing to wear. The entire population will know how to read and to write. The soldiers will have enough food and weapons to defeat the foreign aggressors. These are aimed to unite the entire nation. Thus we will have an independent nation, free civil rights and happy welfare of the people."

In her opening remarks, Vice President Dang Thi Ngoc Thinh, First Vice President of the Central Council for Emulation and Reward, said that 70 years ago, the call by late President Ho Chi Minh became an appeal opening up the nation's patriotic emulation movement under the leadership of the Communist Party of Vietnam.

The appeal has encouraged all people to promote the tradition of patriotism and solidarity and step up emulation work in order to overcome all difficulties and challenges in the struggle for national liberation and during the nation building and development cause, stated Thinh.

According to Thinh, over the past seven decades, the Party and State have granted the "Hero of the People's Armed Forces" title to 7,814 collectives and over 9,300 individuals, the "Labour Hero" title to 1,332 collectives and individuals, and the "Heroic Mother" title to nearly 140,000 women, and commended millions of role models across the country.

Party General Secretary Nguyen Phu Trong expressed his thanks for efforts by the Central Council for Emulation and Reward, ministries, sectors, localities and the entire people to step up patriotic emulation movements, thus helping create socio-economic development achievements, consolidate defence security, build a firm political system and safeguard the national sovereignty.

However, he pointed to several shortcomings in emulation movements and commendation work which need to be solved soon.

He asked the Councils for Emulation and Reward from the central to grassroots level, and leaders of ministries and local authorities to heighten their sense of responsibility and continue reforming the leadership and organisation of emulation and reward work.

The Party chief called on all people and soldiers to continue following late President Ho Chi Minh's thoughts on patriotic emulation, add the emulation work in their daily activities, and effectively carry out the Party's policies and the State's laws related to emulation and reward work.

Emulation movement should be practical and bring about certain benefits for the nation, society and people, and inspire the sense of responsibility and self-consciousness of the entire people in order to create a new motivation for the nation building and safeguarding cause, he stressed.

On this occasion, 70 collectives and individuals who have made great contributions in research, learning, labour and production were honoured.

Prime Minister Nguyen Xuan Phuc handed over the Government's emulation flags to 10 ministries, sectors and 10 cities and provinces leading in the emulation movements in 2017, including the Vietnam News Agency.

Earlier, leaders of the Party, State, Government and National Assembly, and delegates paid tribute to late President Ho Chi Minh at his Mausoleum.
Pacific Partnership 2018 successfully concludes in Khanh Hoa
The US Navy's hospital ship USNS Mercy.
The US Navy's hospital ship USNS Mercy left the port of Nha Trang on June 2 after two-week mission in Nha Trang, the central coast province of Khanh Hoa as part of the Pacific Partnership 2018 (PP18) since May 17.
It was the 13th Pacific Partnership and the second time the programme has come to Khanh Hoa, following the first in 2008.
The annual multilateral humanitarian assistance and disaster relief preparedness mission conducted in the Pacific and Indian Ocean this year consists of more than 800 personnel from the US and partner nations, including the UK, Canada, France, Australia, Sri Lanka, Chile and Peru. The program aims to enhance national capacities and medical readiness and preparedness for disasters like earthquake, tsunami, and volcanic eruption.
During the Vietnam mission, the PP18 constructed, upgraded and repaired many classrooms, commune-based hospital rooms in Ninh Hoa town and Dien Lam and Dien Khanh districts. Training and experience sharing in disaster prevention and response were provided for hundreds of local people in the provincial capital of Nha Trang and Cam Lam district. Over 110 beach lifeguards working in beaches across Nha Trang were also offered training on drowning rescue and prevention.
In addition, the medical team of the ship USNS Mercy held training for nearly 1,100 local medical workers and worked alongside local hospitals to give medical checkups and treatment to hundreds people. Thanks to the programme, more than 190 people received free surgeries, including 78 knee and hip replacement surgeries.
Commissioned in 1986, the USNS Mercy is called "super hospital" of the US Navy. It is 272m long, 32m wide and equipped with 12 operation rooms, 100 beds and modern medical equipment to conduct complicated surgeries on board. The vessel provides not only medical care for US armed forces but also comprehensive health services for the US's global humanitarian and disaster relief mission.
Thousands youths join summer volunteer campaign
At the launching ceremony of the 2018 summer volunteer campaign (Photo: dantri.com.vn)
As many as 2,400 youths participated in the 2018 summer volunteer campaign launched in Tan An city, the Mekong Delta province of Long An on June 2.
At the launching ceremony, jointly held by the Ho Chi Minh Communist Youth Union and the local authority, Head of the Party Central Committee's Mass Mobilisation Commission Truong Thi Mai lauded the youths' contribution to the society through voluntary activities and summer volunteer campaigns.
Urging the youths to renew their activities, Mai said that the campaign should pay due attention to urgent issues like environment protection, traffic safety, and civilised urban areas, among others.
The summer volunteer campaign will take place from June 6 to August 31 under the theme of "Innovative youths, volunteer for community". It will include an array of activities like Tiep Suc Mua Thi (Assistance during Exam Season), Hoa Phuong do (flamboyant flower) campaign, Ky nghi hong (Red Holiday), and Hanh quan xanh (green operation).
The activities will be organised in 93 impoverished districts and the districts which have just escaped from poverty, polluted areas in 28 coastal provinces and cities, and international land in Laos and Cambodia.
As planned, the youths will repair 1,000 kilometres of road, construct 120 kilometres of new road, build 100 modern streets across the nation, and provide free medical examinations and medicines for 500,000 residents. Meanwhile, beach cleanup activities will be maintained in all 28 coastal localities.
At the launching ceremony, the Ho Chi Minh Communist Youth Union's Central Committee presented 70 gifts to poor students and policy beneficiary families. Also, nine schools worth over 10 billion VND (440,000 USD), 13 mobile swimming pools worth 650 million VND (28,600 USD), 37 playgrounds worth 1.65 billion VND (72,600 USD), and four clean water facilities worth 40 million VND (1,760 USD) were handed over to the locality.
The same event was observed in Kong Plong district, the Central Highlands province of Kon Tum on June 1.
Da Nang marks World Ocean Day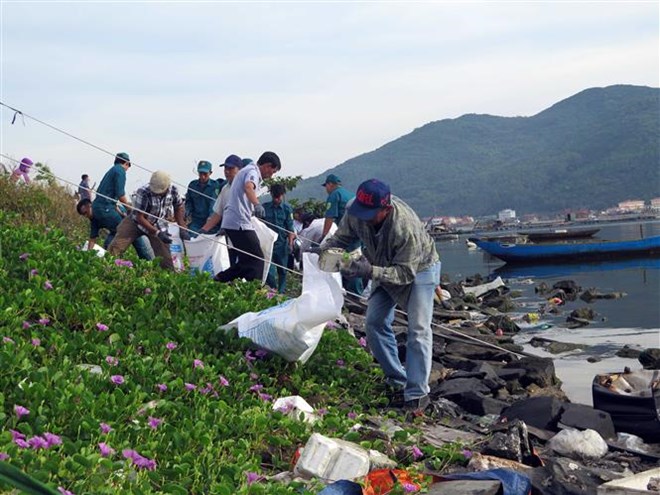 Local people in Da Nang take part in a clean-up event in response to the World Ocean Day (June 8).
The central city of Da Nang on June 2 held a meeting in Son Tra district to celebrate the World Ocean Day (June 8) and the Vietnam Sea and Island Week.
Addressing the event, Vice Chairman of the city's People's Committee Nguyen Ngoc Tuan said making a living from the sea is a right direction. However, the protection of marine and coastal resources has become more urgent with a number of serious challenges, such as the over-exploitation and degradation of coastal and aquatic resources, threats to biodiversity and marine ecosystem and pollution.
This year's World Ocean Day calls for better awareness of people's responsibility to keep the ocean clean and encourage the initiation of solutions to tackle plastic pollution for a healthier ocean and a better future.
In response to the World Ocean Day and the Vietnam Sea and Island Week, the central city has launched a series of clean-up events, for example, cleaning up Tho Quang fishing port, streets and pavements, conducting an oil spill response drill at Lien Chieu Port, and seminars to educate people on the sea and promote the Law of the Sea.
Da Nang City is blessed with about 90 km of coastline and 11 public beaches. It aims to make the sea-based industry a backbone of the local economy by 2030 with tourist arrivals set to increase 13 – 14 percent from 2016 – 2025 and the cargo volume through local ports reaching 12 – 13 million tonnes per year by 2025.
Italy's 72nd National Day marked in HCM City
At the ceremony to mark 72nd anniversary of Italy's National Day (Photo: hcmcpv.org.vn)
The Consulate General of Italy in Ho Chi Minh City hosted a reception on June 1 to mark the 72nd anniversary of Italy's National Day and the 45th anniversary of Vietnam-Italy diplomatic ties.
Cecilia Piccioni, Ambassador of Italy to Vietnam and representatives of the Italian community in the city attended the event, among others.
Dante Brandi, Consul General of Italy in HCM City, said the relations between Italy and Vietnam have been consolidated over the past 45 years and grown strongly in various realms since the countries signed an agreement on the establishment of strategic partnership five years ago.
The official said he is confident that the Consulate General would become a reliable consulting destination in terms of consular affairs for the Italian community, the municipal HCM City authority and 22 provinces and cities in south Vietnam.
The Consulate General will work harder to step up its ties with local authorities in the southern region to boost cooperation in sectors with potential, like infrastructure, water and waste management, smart city development, industry-agriculture, and cultural exchange, he said.
Representing the municipal administration, Pham Duc Hai, Vice Chairman of the HCM City People's Council stated that the signing of a joint statement on the establishment of strategic partnership in 2013 reflected the wish of both Vietnam and Italy to lift their ties to a new height as well as creating a firmer foundation to intensify their relations.
He said HCM City is one of the leading localities in stepping up cooperation with Italy and it will increase visit exchanges and expand cooperation with Italian localities.
In 2017, HCM City made a two-way trade value of 624 million USD with Italy, up 5 percent from 2016.
As of May, 2018, Italy had invested in 34 projects in HCM City with a total registered capital of 69 million USD, ranking 25th out of 95 countries and territories investing in the city.
HCM City and Italy boast potential for cooperation in garment and textile, and food and foodstuff processing.
Ly Son Island to celebrate First Culture Tourism Week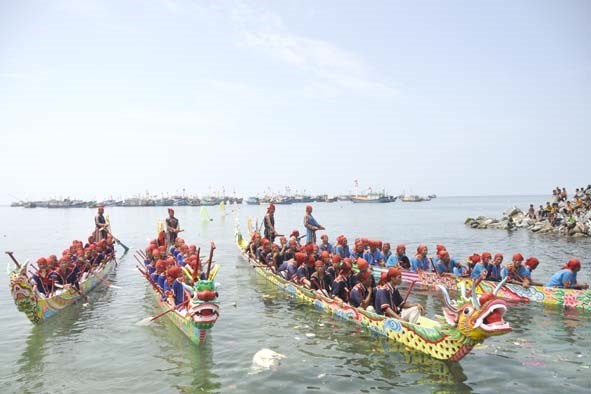 The central province of Quang Ngai will hold the 1st Ly Son Culture Tourism Week from June 29 to July 3, the Ly Son district People's Committee said recently.
The week will feature a wide range of culture, sports, and tourism activities, aimed at providing meaningful and impressive events to both locals and foreign tourists. An exhibition entitled Ly Son - Di San Van Hoa Bien Dao (Ly Son - Islands and Sea Culture Heritage) will be one of the highlights of the week.
The exhibition will display photos of daily life and beautiful landscapes in Ly Son Island, as well as maps and documents on Hoang Sa (Paracel) and Truong Sa (Spratly) Islands. The maps and the documents are seen as historical and legal evidence proving Vietnamese sovereignty over the Hoang Sa and Truong Sa archipelagos.
The exhibition also makes use of digital 3D technology.
The event aims to set a Vietnamese record with about 3,000 people singing the national anthem. It also features a human formation of the national flag on Hang Câu Beach, while about 1,000 tourists will participate in a music festival during the week.
A traditional boat-race will be held, with boats named after the four sacred animals – the dragon, unicorn, turtle, and phoenix. A boat-race has traditionally been organised between the fourth and eighth days of the Lunar New Year to commemorate ancestors and combatants who sacrificed their lives to safeguard national sovereignty over the Hoang Sa and Truong Sa archipelagos.
A ceremony to recognise Be Island as one of the province's relics will also be held. Be Island (Small Island) is one of three islands in the Ly Son island district. The week will also feature a night food market, which has been open since early May. It is expected to attract tourists, with 40 booths selling souvenirs, dried seafood, local cuisine and other specialties of the island.
"Transport services in the district are capable of transporting tourists to the culture tourism week, with 12 express ships offering about 1,450 seats in total," Nguyen Thanh, Chairman of the People's Committee, said at a press conference.
"Different kinds of vehicles in Ly Son Island are also prepared to serve about 3,000 people every day," he said.
The opening ceremony will be held at the Ly Son district centre at 7 pm on June 29.