Code and barcodes are necessary to ensure safety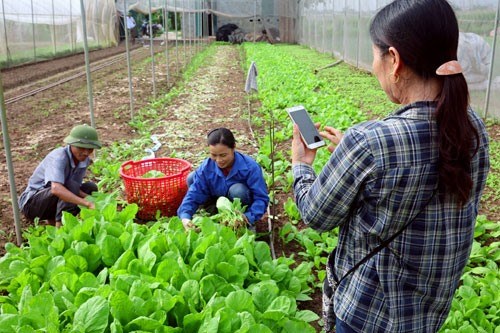 Farmers of Chuc Son Fruit and Vegetable Cooperative in Chuong My district, Hanoi, check the bar code of their produce
The use of codes and barcodes on products has helped improve the competitiveness of enterprises and ensured effective monitoring on the origin of goods for consumers.
However, to meet the requirements of management agencies and consumers, the application of codes and barcodes needs more comprehensive solutions relating to management and technology.
Codes and barcodes help quickly and accurately distinguish different types of products. The code consists of a sequence of numbers, which allow people to identify factors relating to the goods.
Barcodes consist of a pattern of parallel lines in varying widths, along with numbers, which are read by a computer of scanner.
According to the Vietnam Code and Barcode Association, in recent years, the application of codes and barcodes in production and business has become increasingly popular nationwide.
There are about 180 trade centres, 800 supermarkets, 4,000 convenience stores, and 9,000 family run stores that use them.
Previously, codes and barcodes were mainly used when importing goods, as well as for payments at counters.
Nowadays, codes and barcodes are used for warehouse management, pricing, and logistics.
They're also used to trace the origin of goods, especially foodstuffs, in order to ensure safety for consumers, and to ensure the quality of exported goods.
Ha Minh Hiep, Deputy General Director of the Vietnam Directorate for Standards, Metrology and Quality (VNDSMQ) told Ha Noi Moi (New Hanoi) newspaper that the use of codes and barcodes is an effective application of technology which aims to help consumers and enterprises quickly identify information about products. However, the technology hasn't reached its full potential, he said.
At present, many companies haven't employed codes or barcodes for their products, preventing legal access to the retail industry. Notably, the use of fake codes and barcodes has been reported.
Recently, bar code scanning software has been widely used by smart phone users to identify the origin of goods. According to a representative of the Vietnam Code and Bar Code Association, the use of smart phones to scan bar codes for the purpose of distinguishing real goods or counterfeit goods is necessary effort. Unfortunately, many goods have a standard bar code, but were fake or poor-quality.
Seeking the origin of products by scanning their code or barcode is necessary, but in order to effectively promote the circulation of goods in the market, additional tools are needed to ensure safety and quality.
According to Ha Minh Hiep, one of the key tasks that the VNDSMQ has been implementing is to build a national data centre storing all information on codes and barcodes.
"We will have information resources on products and goods, so enterprises, manufacturers, supermarkets, and retailers can access data and better develop their services," he said.
Phan Hong Nga, head of the code and barcode office under VNDSMQ, said according to the Ministry of Science and Technology's regulations on code and barcode granting, use and management, enterprises must periodically notify the list of codes and bar codes of their products.
VNDSMQ's free online software – idd.gs1vn.org.vn – was set up for businesses to declare product information quickly and accurately. The information is then automatically updated on the national data system.
According to Ha Minh Hiep, legal documents relating to codes and bar codes in Vietnam are now relatively up to date.
VNDSMQ is submitting a project on managing the origin of products to the Ministry of Science and Technology. Once the project is approved, we will have additional tools to identify goods and remove poor-quality goods from the market.
Fast growth – a condition for sustainable development: Deputy PM
Deputy Prime Minister Vuong Dinh Hue speaks at the symposium in Hanoi on June 10
Fast growth is a condition for sustainable development, Deputy Prime Minister Vuong Dinh Hue said at a symposium in Hanoi on June 10.
Amid the Fourth Industrial Revolution (Industry 4.0), Vietnam can easily lag behind if it does not develop rapidly, he said at the event, which saw the presence of Chairman of the Theoretical Council of the Party Central Committee and Director of the Ho Chi Minh National Academy of Politics Nguyen Xuan Thang, representatives of central sectors, and scientists.
The symposium, held by the Vietnam Academy of Social Sciences (VASS), discussed solutions to reinforce and create the basis for fast and sustainable development in the new context in Vietnam.
Director of the VASS's Centre for Analysis and Forecast Nguyen Thang said to capitalise on opportunities and minimise challenges in Industry 4.0, the country needs to address major issues, including ensuring that regulations are updated to pave the way for new technologies and modes of production to be applied in life. It should promote skills update amid the technology race and solve outstanding socio-economic and environmental problems.
It is also critical for Vietnam to learn experience of other countries, especially those taking the lead in Industry 4.0, he added.
Dang Kim Son, former specialist at the Institute of Policy and Strategy for Agriculture and Rural Development under the Ministry of Agriculture and Rural Development, said to successfully become an industrialised nation, Vietnam needs to boost the role of agriculture and rural areas in industrialisation, application of scientific and technical advances in the reality, and connection with urban areas so as to promote the quality and sustainable values of the economy.
Other participants at the event also stressed the necessity for openness and transparency to achieve fast and sustainable growth.
Tay Ninh draws over 14.3 trillion VND in solar power projects
The southwestern province of Tay Ninh has granted investment licenses to five solar power projects worth over 14.3 trillion VND (629.9 million USD) in Duong Minh Chau and Tan Chau districts.
The plants with a combined capacity of 560 MWp will be built on 20,620 hectares in the area of Dau Tieng reservoir.
Their construction is set to commence at the end of this year.
Three projects were invested by Dau Tieng Tay Ninh Energy Joint Stock Company.
The Dau Tieng 1 and 3 solar power plants are designed with the same capacity of 150 MWp and have respective investment of over 3.9 trillion VND (171.7 million USD) and 3.6 trillion VND (158.5 million USD).
The Dau Tieng 2 solar power plant worth over 4.9 trillion VND (215.8 million USD) has a capacity of 200 MWp.
The other projects were invested by Tri Viet Tay Ninh Joint Stock Company and Bach Khoa A Chau Tay Ninh Joint Stock Company with the same capacity of 30 MWp and investment of over 760 billion VND (33.4 million USD).
In recent years, the Dau Tieng reservoir has played an important role in providing water for agriculture, industry and local daily activities.
It holds great potential for solar energy production.
According to the Government's targets, solar power is expected to become the main renewable energy source in the future, with installed capacity to be increased from 6-7 MW by the end of 2017 to 850 MW by 2020 (1.6 percent of the country's power generation) and 12,000 MW by 2030 (3.3 percent of the country's power generation).
Vietnam is among countries that enjoy the most sunlight in the world, with the Central Highlands and south central regions recording between 2,000 and 2,600 hours of sunshine every year, reported the Vietnam Clean Energy Association.
Average solar radiation is 150 kcal/sq.m, about 2,000 to 5,000 hours per year.
Vietnam, China promise optimal conditions for lychee export
Deputy Prime Minister Vuong Dinh Hue called on the Chinese side to facilitate customs clearance of Vietnamese agricultural products, including lychees, while addressing an economic forum in Bac Giang province on June 8.
The forum focused on the production and consumption of lychees and other key agricultural products of the northern province, which is home to the largest concentrated lychee farming area in Vietnam – more than 28,000 hectares.
Sharing the Deputy PM's view, officials of the districts with big farm produce output in Bac Giang like Luc Ngan, Yen The, Tan Yen and Hiep Hoa also asked the administration of Pingxiang town, the Chinese province of Guangxi, to create more favourable conditions for vehicles transporting agricultural products, especially lychees, to go through its border gates as soon as possible.
Representatives from Lang Son and Lao Cai provinces, which border China, pledged to provide the best conditions for the customs clearance of farm produce and coordinate with Chinese authorities to remove export-import obstacles.
Meanwhile, the Chinese side also promised to swiftly handle customs procedures for Bac Giang lychees.
A leader of the Pingxiang fruits association said more than 200 traders are in Bac Giang and some localities of nearby Hai Duong province to purchase lychees in big volume.
At the forum, Vice Chairman of the Bac Giang provincial People's Committee Duong Van Thai said local authorities have provided the best support possible for lychee farmers and domestic and foreign businesses to harvest and purchase lychees. The province is also actively taking measures to expand the market for the fruit in both Vietnam and other countries.
Lychees are one of the 52 key agricultural products of Bac Giang, a list approved by local authorities in 2017.
About 13,500ha of lychee trees in Bac Giang are farmed under VietGAP standards with an estimated output of 90,000 tonnes. Of that area, 218ha with more than 10,000 tonnes of lychees are cultivated under GlobalGAP standards and eligible for export to demanding markets.
Total lychee output in the province is expected at 150,000 – 180,000 tonnes in 2018.
Quang Tri approves two wind, solar power projects
Chairman of the People's Committee of Quang Tri province Nguyen Duc Chinh on June 8 signed decisions approving two wind and solar power projects with total investment of over 2.7 trillion VND (120 million USD).
Under Decision No.1250/QD-UBND, the provincial authorities allowed Tan Hoan Cau Corporation to carry out Huong Hiep 1 wind power plant project in Huong Hiep commune, the mountainous district of Dakrong.
With 12 wind turbines, the plant has a total capacity of 30MW, generating more than 126 million kWh of electricity per year on a site of nearly 8ha. The project costs over 1.55 trillion VND, valid for 50 years.
The plant is being built from June 2018 to December 2020.
Under Decision No.1247/QD-UBND, the Licogi 13 JSC was allowed to build LIG-Quang Tri solar power plant in Gio Hai and Gio Thanh communes, Gio Linh district with a designed capacity of 49.5 MWp, generating 67,960 MWh of electricity each year.
Costing 1.2 trillion VND, the project will be implemented from June 2018 to June 2019, using 58ha of land.
The provincial authorities have agreed with a plan to build five wind power projects with a combined capacity of 150MW, which are expected to be put into operation in 2030.
The central locality is calling for investment in 17 solar power projects with a total capacity of more than 930MW to be built on about 1,400 ha.
Capital mobilisation in Ho Chi Minh City up over 14 percent
Capital mobilization by banks in Ho Chi Minh City reached over 2,082 trillion VND (88.1 billion USD) as of May, up 0.83 percent from the previous month and 14.47 percent year on year, said the municipal branch of the State Bank of Vietnam (SBV) on June 7.
Of the amount, commercial joint stock banks accounted for 50.85 percent, up 9.08 percent from the same month last year. Saving deposits made up 49.81 percent of the total, marking a 7.54 percent yearly increase.
As of early May, total outstanding loans surpassed 1,855 trillion VND, up 16.82 percent annually and 5.37 percent monthly. Commercial joint stock banks accounted for over 972.2 trillion VND, or 52.39 percent of the total and up 12.76 percent year-on-year.
May was the second consecutive month the SBV had pumped money into the banking system. The inter-bank rate was more stable in early May but increased in the latter half of the month, especially for short-term loans.
Experts said there is no need to worry about the system's liquidity, but close watch should be kept on new factors such as trade deficit and the tendency of capital withdrawal by foreign investors.
The USD Index went up 7 percent to 94.8 point, pushing up the US dollar price to over 22,880 VND, 0.64 percent higher than the level in the beginning of the year.
However, the foreign exchange is still cushioned by several factors, including a record foreign reserve of 64 billion USD.
The SBV adjusted the daily reference exchange rate down to 22,566 VND on June 1, thus pushing the US dollar price down to 22,840 VND.
According to experts, it is necessary to closely keep track of banking liquidity, trade deficit and indirect capital flows.
Vietnam has good growth momentum: Fitch forum
The Vietnamese economy is enjoying stronger growth compared to 2017 with increasing foreign reserves and tight control of foreign debt, said Fitch experts at the "Fitch on Vietnam" forum held in Hanoi on June 8.
Speaking at the event, Sagarika Chandra, senior analyst at Fitch Vietnam, said in May 2018, Fitch had improved Vietnam's Long-Term Foreign-Currency Issuer Default Rating (IDR) rating from BB- to BB with a stable outlook, thanks to a rise in foreign exchange reserves and strong economic growth.
Vietnam records a high growth rate in comparison to emerging economies or other BB-ranked nations, she said.
The country's GDP growth was above 6 percent in 2017 and is expected to reach 6.7 percent in 2018 and following years, she noted, adding that this was one of the important factors that helped improve Vietnam's rating.
According to the expert, the rating is a result of the country's maintenance of macroeconomic stability, stronger resilience to external risks and compliance with financial criteria. The Vietnamese government promulgated a flexible exchange rate mechanism in early 2016, and committed to limiting national debt as well as to restructuring state-owned enterprises. Among those factors, sustainable macroeconomic performance and increased foreign reserves are the two most important elements of Fitch's rating.
Fitch forecasted the Vietnamese economy could grow 6.7 percent in 2018, making Vietnam one of the fastest growing economies in Asia-Pacific and the fastest among BB-rated countries.
Can Van Luc, chief economist of the Investment Bank for Development of Vietnam (BIDV), said Vietnam sees a positive economic outlook with recognition of many international organisations. The World Bank has also revised up Vietnam's economic growth forecast to 6.8 percent from the previous 6.5 percent, he added.
Luc said two other factors making the economy more attractive is the fast expansion of private sector consumption, which increased by about 10 percent in the past year, and the surge in private investment besides the inflow of foreign capital.
Sebastian Eckardt, the World Bank's Lead Economist for Vietnam, highlighted a number of risks and challenges to Vietnam in future.
He said the economy is highly open, making it vulnerable to impacts of external factors such as trade fights, higher oil prices, and geopolitical instability.
In addition, the tightened monetary policy adopted by many state banks is expected to exert great impacts on the world economy and Vietnam will not be spared, he said.
Measures sought to facilitate Vietnam's shrimp export to US
High anti-dumping tariff and the US Seafood Import Monitoring Programme (SIMP) are now key barriers facing Vietnamese shrimp exporters.
According to the Vietnam Association of Seafood Exporters and Producers (VASEP), though shrimp export in the first four months grew by 13.8 percent annually to over 1 billion USD, the April figure dropped by 0.4 percent year-on-year, reaching over 275 million USD.
Last year, while shrimp export to countries surged, it fell by 8 percent from 2016 in the US market, partly due to high anti-dumping tax.
In early March, the US Department of Commerce (DOC) announced preliminary results of anti-dumping tax on Vietnamese shrimp during the 12th period of review from February 1, 2016 to January 31, 2017, amounting to 25.39 percent, much higher than the previous reviews.
Though lawyers discovered DOC's miscalculations and preliminary results only serve as a reference, the ruling worried both sellers and buyers.
In April 2018, shrimp was added to the SIMP by the National Oceanic and Atmospheric Administration. Accordingly, shrimp importers must fully abide by SIMP's requirements by December 31, 2018.
Specifically, they must be US citizens with International Fisheries Trade Permit from NOAA, declare necessary data to ensure legal imports. Such data must be kept within two years.
VASEP General Secretary Truong Dinh Hoe said the US has high demand for aquatic products, especially shrimp. It imports nearly 600,000 tonnes of shrimp for domestic consumption.
However, Vietnam's shrimp export to the US only accounts for 10 percent annually, or around 60,000 tonnes. Meanwhile, Vietnam could ship 150,000 tonnes to the country so that firms need to improve quality and competitiveness to expand their market share.
VASEP has recently sent a document to the Ministry of Agriculture and Rural Development suggesting measures for sustainable shrimp production and export. It asked the government to heed high-level diplomatic activities so that the US could rapidly lift trade barriers, especially anti-dumping taxes on shrimp.
Domestic market remains stable in May
The domestic market remained stable in May with total revenue from goods retail sales and services exceeding 354 trillion VND (15.6 billion USD), up 1.5 percent against the previous month and 10.4 percent year-on-year.
The amount lifted the total revenue from goods retail sales and services in the first five months of this year to nearly 1.75 quadrillion VND (77.2 billion USD), an increase of more than 10 percent over the corresponding period last year, according to the Ministry of Industry and Trade (MoIT)'s Domestic Market Department.
The value was mainly contributed by essential goods like food and foodstuff, garments-textiles and household utensils. Of note, revenue from tourism services expanded by 23 percent thanks to effects of the beginning of the tourism season and Vietnam's efforts to develop the tourism sector.
Despite rosy signs of the market in the five months, huge inflation pressure is forecast to persist in the time ahead, mainly due to increasing trends of prices of petroleum and other major materials, plus results of the market price roadmap for several public services like health care and education.
Besides, the adjustment of the basic salary from July 1 is expected to impact on prices of goods and domestic consumption.
Given this, the MoIT has underlined the need to keep a close watch on the market in the remaining months of the year in order to ensure macro-economic stability.
Viettel opens its 10th international mobile network in Myanmar
The Vietnamese military run telecom Viettel Corporation officially launched its 10th international mobile network in Myanmar, under the brand name of Mytel, on June 9.
As the fourth network in the Myanmar market, Mytel aims to be the largest operator in both infrastructure and business. It is the first and only mobile network in Myanmar to be equipped with nationwide, state-of-the-art, 4G technology, immediately following its launch.
Speaking at the ceremony, Senior General Min Aung Hlaing, commander-in-chief of the Myanmar Armed Forces, said that the event is a milestone in the history of Myanmar, and also a milestone in the relationship and cooperation between Vietnam and Myanmar in the field of ICT. He expressed his belief that the Mytel joint venture would continue to succeed and contribute to the development of telecommunications and high quality human resources for Myanmar.
In addition to its business operations, Mytel expects to spend US$80 million over 15 years for social responsibility projects in Myanmar, of which 80% will be allocated to support the education sector.
According to Nguyen Thanh Nam, General Director of Mytel, his network's goal is to create a real information highway with extensive 4G infrastructure in order to empower local people and the country of Myanmar in the Industrial Revolution 4.0. As has been deployed in other international markets, Viettel has set the top target of becoming No. 1 in mobile broadband, thus significantly improving the world rankings of the telecommunications infrastructure in the country in which they are investing, Nam added.
Among the ten international markets where Viettel has run business, Myanmar is the country with the fastest deployment of telecommunications infrastructure and is the biggest foreign market of Viettel up to now.
To date, Viettel's registered capital in foreign countries has reached over US$2 billion, with profit at US$516 million, or nearly 45% of the total investment.
Dragon fruit dominates Vietnam fruit exports
Dragon fruit has dominated Vietnamese fruit exports in the first four months of 2018 with total exports reaching USD427 million, a year-on-year increase of 9%.
According to the General Department of Vietnam Customs, dragon fruit accounted for 32% of the total export value of Vietnamese vegetables and fruits. The export value of dragon fruit was nearly four times higher than the two fruit exports ranked below it – longan, which had an export value of US$121 million, and mangos, whose export value stood at US$104 million. Dragon fruit exports also outperformed the vegetables group, which had an export value of US$143.8 million, and processed products, at US$143.6 million.
Thanks to favourable exports, prices of different variations of dragon fruit in the raw materials sector have remained high since the beginning of the year. The price of white dragon fruit currently stands at about VNĐ20,000 (US$0.87) per kg while red dragon fruit sells for VNĐ40,000 per kg. In addition to Bình Thuận, called the "dragon fruit capital," the fruit is now being grown in many southern provinces in Vietnam, specifically Long An and Tiền Giang.
Aside from dragon fruit, mango exports also made a strong impression by doubling its export value in the first four months of the year compared to the same period last year, reaching US$104 million and pushing its market share from 5% in 2017 to nearly 8% from January to April 2018. Mangoes are mainly exported to China, the Republic of Korea, Australia, and Japan.
The value of mango exports to Chinese market during the same period reached US$95 million, up 119% over the same period last year and accounting for 91% of Vietnam's total export turnover of mangoes.
According to statistics from the Department of Farm Produce Processing and Market (DFPPM) under the Ministry of Agriculture and Rural Development, fruit and vegetable exports from January to May reached US$1.62 billion, an increase of 16.4% against the same period last year.
China remains Vietnam's largest importer of vegetables and fruits.
In the first five months of 2018, Vietnam's total import value reached $575 million, a year-on-year increase of 15.3%.
In order to maintain the export growth of vegetables and fruits and avoid devaluation, the DFPPM said Vietnam's fruit and vegetable industry must maintain control over quarantine and food hygiene and safety, especially pesticide residues. In addition to inspecting and speeding up the processing of factories every year, they must coordinate with localities to concentrate on reinforcing the raw materials sector to ensure the quality of raw materials for production and processing for export, the DFPPM said.
Conference debates sustainable energy obstacles
Renewable energy does not need to be imported and will help Vietnam save lots of money in the future, according to Bui Vinh Thang, Business Developer at Mainstream Renewable Power Ltd.
Many experts in Vietnam and overseas attended the conference about wind power held by the Ministry of Industry and Trade, the Embassy of Denmark, the Embassy of Germany and the German International Co-operation Agency (GIZ) on June 7.
Wind power is the world's fastest-growing energy source in the past 15 years. More and more countries are developing wind powers because of its socio-economic benefits and positive environmental impacts on reducing greenhouse gas and other air pollutant emissions. Wind power is the answer when Vietnam needs an affordable and clean energy.
Bui Vinh Thang, Business Developer at Mainstream Renewable Power Ltd, said, "We have to import a large amount of coal, and hydropower exploitation is reaching its limits. Solar and wind power are renewable so in the future, solar and wind power will be much cheaper than coal power."
The banks in many countries have stopped providing loans to coal power projects while renewable energies are encouraged.
Steve Sawyer, general secretary of Global Wind Energy Council, said they wanted to help Vietnam enjoy the benefits of wind power in boosting economic development, ensuring energy security, generating jobs and developing modern technologies.
According to the experts, even though Vietnam already has its national energy policy framework, it needs to work more to improve the effectiveness and transparency of various regulations. Once the legal problems are dealt with, the wind power sector will experience rapid growth and attract international investors to Vietnam.
The Global Wind Energy Council advised Vietnam to complete the power purchase agreements' terms, clarify and simplify project approval processes, build a grid development plan and establish a national wind power association.
Thang said currently, the investment risks in Vietnam is high. For example, the investors want a 20-year operation plan but it is stated in the power purchase agreements that EVN can cancel the contract anytime and only need to compensate for the revenue earned in one year.
Nguyen Van Thanh, deputy head of the Electricity and Renewable Energy Department under the Ministry of Industry and Trade, said Vietnam had issued many policies to encourage renewable energy development such as solar, wind and biomass energy to replace the fossil fuel. However, the growth is slow as only seven wind power projects with total capacity of 190 MW had been put into operation.
Thanh went on to say that the Ministry of Industry and Trade wanted to gather opinions from both firms and experts about their experiences in power development with new technology and in different terrains and climate in order to build Vietnam Power Development Plan to 2030 with a view to 2050.
PVcom Bank, PGT Group ink financial agreement
The Viet Nam Public Commercial Joint Stock Bank (PVcom Bank) has signed a financial agreement with Da Nang-based PGT Group to arrange loans for property investment projects in central Viet Nam.
Chairman of PGT Group Le Anh Trieu said the agreement, which was signed on June 9, will help mobilise capital for tourism property projects, including hotels and service, as well as for hi-tech farming in the central region.
The agreement will also help free up loans to provide financial services for customers in the region with a network of 102 transaction branches throughout the country.
Earlier, PGT Group, in co-operation with PVcom Bank, inaugurated the 12-storey PGT Tower – the first co-working space of its kind in central Viet Nam – with total investment of VND100 billion (US$4.4 million) on June 9.
As planned, PGT Group will launch its initial public offering (IPO) on the stock exchange in 2022.
Da Nang is seen as a favourite destination for foreign investment and as an increasingly popular tourism hub in central Viet Nam.
Last year, the city hosted 6.7 million tourists, of which 2.3 million were foreigners. More than three million tourists have visited the city in the first five months of this year.
According to the city's Investment and Promotion Agency, the city has attracted 546 foreign direct investment (FDI) projects, with total investment of $3 billion. Tourism property and service projects attracted total FDI of $1.8 billion.
The city's hospitality service has offered the market with 27,000 rooms including villas and condo hotel projects.
Sacombank upgrades core banking system
Swiss IT company Temenos has begun to upgrade Sacombank's core banking system.
The switch from the company's T24 –R11 platform to the latest T24-R17 platform will be completed in September 2019.
Sacombank is the first lender in Viet Nam to upgrade to the R17 version, which boasts breakthrough features and is considered highly suitable for digital banking.
Nguyen Xuan Vu, member of Sacombank's executive board, who is overseeing the upgrade, said it would enable the bank to improve its operational efficiencies and compliance and risk management and develop new innovative products quickly.
Temenos is a global leader in banking software and has over 3,000 clients, including 41 of the top 50 banks.
Russian automaker keen on joint venture in VN
Russian automotive manufacturer Gorkovsky Avtomobilny Zavod (GAZ) will establish a joint venture to distribute its products in the Vietnamese market after it received good feedback at the Vietnam AutoExpo 2018 held in Ha Noi from June 6-9.
It was GAZ's first participation at an auto expo in Viet Nam. It introduced five types of vehicles to explore the Vietnamese market, including GAZelle NEXT trucks, GAZelle NEXT Citiline buses with 19 seats, GAZelle Business 4x4 trucks, GAZon NEXT medium-duty cargo and Sadko 4x4 trucks.
The firm said it would come up with a detailed plan for assembling cars in Viet Nam.
Christian Kremer, deputy director of Global Sales and Marketing of GAZ, said the models displayed at the AutoExpo were models representing different segments of the best-selling commercial vehicles in the market of commercial light trucks in Russia and Europe.
He said the firm considered Viet Nam a potential market with great growth in the coming years. From this year, GAZ began implementing the intergovernmental protocol signed between Russia and Viet Nam on supporting the production of motorised transportation vehicles in Viet Nam.
GAZ is currently exploring the possibility of establishing a joint venture and starting sales in Viet Nam, Kremer said.
GAZ has 13 production facilities in Russia and assembly plants in Turkey and Kazakhstan, with more than 500 types of vehicles, including passenger cars, trucks, buses, military vehicles and special vehicles. It has exported products to more than 40 countries across the world.
HCM City to host Mekong Beauty Show
More than 200 Vietnamese and foreign cosmetics firms will showcase their new technologies and innovations at the 2nd Mekong Beauty Show in HCM City from June 14 to 16.
The annual business-to-business beauty exhibition has established a platform for industry players in the entire supply chain covering beauty and cosmetics, hair and nails, herbal and health, and OEM and packaging, Joy Zou, international marketing manager of Informa Exhibitions, the organiser, said.
The South Korean beauty industry would be the most important driver of the event, with 110 firms from that country exhibiting more than 400 brands, Zou told a press meeting on June 7.
More than 150 buyers from Viet Nam, Cambodia, Laos and Myanmar are expected to visit the event to source products and seek new partnerships, she said.
The three-day expo at the Saigon Exhibition & Convention Centre is expected to attract more than 12,000 visitors.
Tran Quang Thang, director of the HCM City Institute of Economics and Management, said Viet Nam's cosmetics industry with annual growth of 30 per cent offers enormous potential for foreign and local firms.
The country's middle class is set to become 33 million strong by 2020, and is looking for healthier and higher quality brands, he said.
Seeing the huge potential of the beauty market, most premium foreign brands have entered the market and now dominate all categories of the industry, he said.
But counterfeit beauty products have also flooded the market, with more than 50 per cent of products sold online being substandard or fake, he added.
Bart Verheyen, commercial director of beauty, health and wellbeing retail chain MEDiCARE, said its number of stores would be expanded to 100 by the end of this year from the current 72 to meet the rising demand.
The chain enjoyed growth of 30 per cent last year, he said.
GELEX fined to more than $53,000 for erroneous tax declaration
The Hanoi Department of Taxation has just issued a fine of more than VND181 million ($8,000) to Vietnam Electrical Equipment JSC (GELEX) for erroneous tax declaration, along with over VND1.03 billion ($45,400) in tax arrears and late payment fees.
Additionally, GEX also has to pay more than VND1.03 billion ($45,400), including VND906 million ($39,900) in tax arrears and VND125 million ($5,500) in penalty for late payments.
According to the Ho Chi Minh City Stock Exchange (HSX), the Hanoi Department of Taxation has issued a fine for GELEX (code: GEX)'s administrative violations. The company submitted a false declaration, which resulted in reduced tax payments. Thereby, GEX was fined over VND181 million ($8,000), equivalent to 20 per cent of the difference between the declared and due tax value.
Related to this incident, GEX's Accounting Department told VIR that the corporation had just finished its tax payments before receiving the decision of the Hanoi Department of Taxation.
In 2017, GEX's revenue increased by 1.8 times, and recorded VND526 billion ($23.2 million) in profit from selling investment projects. The company reported after-tax profit of VND1.307 trillion ($57.6 million), doubled the 2016 profit and exceeding the annual plan by 24.5 per cent.
Gelex has officially listed 266.8 million shares on HSX in early 2018. In the first quarter of 2018, GEX's net revenue hit over VND2.8 trillion ($123.35 million), equivalent to the same period last year. After-tax profit reached VND312 billion ($13.74 million), a slight increase on-year.
Gelex's total revenue is expected to hit VND15 trillion ($660.8 million) this year, including VND12.5 trillion ($550.6 million) from electric devices and the rest from logistics and infrastructure investment.
Facebook selling user data—this time to mobile manufacturers
Hot on the heels of Facebook's data leak in March, the social network is once again in hot water for sharing user data with mobile manufacturers, including Chinese brands that hold large market shares in Vietnam such as Huawei, Oppo, Xiaomi, and TCL, and even global brands like Samsung, Apple, Blackberry, and Amazon.
The New York Times reported that on June 5, Facebook admitted to strike deals with four Chinese mobile giants, Oppo, Huawei, Xiaomi, and TCL. Accordingly, the deal between Facebook and Huawei has been going since 2010, while the deals with other mobile manufacturers could have been going for similar durations.
Facebook's representative also said that its partnership with four Chinese brands remains effective, but the social network will soon cancel the deal with Huawei.
This particular round of scandal broke earlier this week, when Facebook was revealed to allow access to user data for 60 firms, including Amazon, Apple, Blackberry, and Samsung.
The New York Times also quoted Facebook's representative as explaining that the deals were a small part of its efforts to lure people to the social network site since 2007, and was made prior to the Facebook smart phone applications. The co-operation has allowed mobile manufacturers to look at users' personal information, such as addresses, the number of likes, and status updates.
The co-operation with Facebook is supposed to help Huawei – the world's second largest mobile manufacture – in creating its own application named "social phone" which will allow users to read messages and manage their accounts of many different social networks.
Facebook's representative stated that data shared with Huawei is located on users' devices and is not moved to the Chinese mobile manufacturer's servers.
"The deals between Facebook and Huawei, Lenovo, Oppo, and TCL have been under control right from the start," affirmed Fransico Varela, deputy chairman of Facebook. "We wanted to make it clear that all the information from these integrations with Huawei was stored on device, not on Huawei's servers."
Facebook is getting mired down in data leak scandals left and right, getting to the point that there are hardly a couple of weeks between compromising information about the company making headlines in the global media.
These news uncovering newer and newer facets of the corporation's dealing point at core-deep troubles in its attitude to and handling of the personal information of its users. It is either a blatant disregard of the sanctity of personal information or an astonishing inability to regulate the sprawling corporation's inner dealing, as one hand does not know what the other is doing.
With the huge market shares of the leading mobile brands as well as the popularity of Facebook among Vietnamese people (64 million registered users as of July last year), the deals could have contributed to these firms' making bank in Vietnam.
Latest data released by market research company IDC shows that Samsung leads the Vietnamese smart phone market with 32 per cent, followed by China-based Oppo with 24 per cent. "Tenderfoot" Xiaomi and giant Apple rank at the third position, each with 7 per cent.
One year after entering Vietnam, Xiaomi has quickly gained a foothold and rose to the same standing as Apple. Xiaomi CEO Lei June also plans to expand market share as well create fresh competition between mobile brands in Vietnam. "We will create more competition by offering premium configurations at reasonable prices," June added.
Lately, Huawei—the world's second largest mobile manufacturer with 153 million mobile phones sold in 2017—also announced plans to become the second best-selling mobile phone brand in Vietnam by 2020.
No transactions on first day of listing of Halico
No transactions occurred on first day of listing Hanoi Liquor JSC (Halico) on the Unlisted Public Company Market (UpCOM) on June 8.
On June 8, 20 million shares of Halico (ticker HNR) were officially listed on the UpCOM at the reference price of VND31,900. However, after the first transaction session, no Halico's shares saw trading.
Even, the British multinational alcoholic beverages company Diageo Plc., the second largest shareholder of Halico with 45.5 per cent, gave Halico the cold shoulder.
This is no surprise because the firm's listing occurred while it is flooded by massive losses.
The listing is part of Habeco's plan to divest Halico due to its bleak business results, however, if the firm remains unmarketable for a long time, it may throw a wrench in Habeco's plans.
Halico was Vietnam's leading domestic branded spirit producer with the No.1 vodka brand Vodka Hanoi.
The firm reported soaring revenue in 2008-2011, with 2011 revenue reaching a record VND1.067 trillion ($46.86 million).
However, in the past years, business started going downhill.
Notably, in 2014, the company reported a revenue of VND397 billion ($17.4 million), with only VND30 billion ($1.3 million) of profit. In 2015, business deteriorated even further with the reported loss of VND21 billion ($922,426). As of the end of 2017, the firm reported a consolidated loss of VND255 billion ($11.2 million).
Yeah1 may break record share value
Once Yeah1 succeeds in selling 7.8 million shares at the unit price of VND300,000 ($13.17), it will become the most valuable stock in Vietnam, exceeding the record VND230,000 ($10.09) of Sabeco.
A leading global digital network, Yeah1 is confident that the sale will be successful, generating proceeds of $100 million.
To date, numerous foreign firms from the UK, Singapore, Japan, and Thailand registered to buy 70 per cent of the offered shares. Some of the largest names are Capital Asset Management, Probus Group, and TT International Limited.
Once successful, Yeah1 will spend the proceeds on expanding its operations via investments, M&A deals, as well as partnerships.
Along with Yeah1, there were numerous large-scale M&A deals in the digital networks on the world.
According to Fiercecable, in April 2016, new over-the-top player Verizon (NYSE: VZ) purchased a 24.5 per cent stake in AwesomenessTV, a youth-focused digital media company that branched out from its original roots as a YouTube multichannel network. Combined with majority owner DreamWorks Animation and minority owner Hearst (which also holds a 24.5 per cent stake), AwesomenessTV's valuation was $650 million.
With the investment of Verizon, AwesomenessTV will create short videos to launch exclusively on Verozon's Go90 OTT service, while previously it only developed original content for Go90 OTT.
This year, Yeah1 targets earning VND1.6 trillion ($70.2 million) in net revenue and VND172 billion ($7.55 million) in net profit, signifying increases of 90 and 109 per cent.
This investment moved Verizon's OTT strategy ahead as it continues to target millennial viewers on its mobile-first service.
Meanwhile, according to The New York Times, in March 2014 Walt Disney Company took a big step to embrace the new digital sector by spending $500 million on acquiring Maker Studios, a YouTube-based video supplier that generates more than 5.5 billion views a month from a subscriber base of 380 million.
Kevin A. Mayer, Disney's executive vice president for corporate strategy and business development stated that through the deal Disney gains access to a large audience group, which would be hard to build from scratch.
"Maker brings to Disney a substantial digital audience, some of the biggest stars in the space, and also a real understanding of how to manage big brands on YouTube. Look at what Maker has done for Epic Rap Battles and Snoop, and imagine what they can do for Iron Man, Mickey, and Yoda," said Brent Weinstein, who leads United Talent Agency's digital media division.
Established in September 2006, Yeah1 specialises in entertainment for young people in Vietnam and runs a series of entertainment channels, including Yeah1TV, Yeah1family, Imovietv, and SCTV2, with nine subsidiaries and four indirect subsidiaries, including Yeah1 Vietnam Co., Netlink Online Corporation, and TNT Media Advertising.
In 2008, DFJ VinaCapital, a venture fund of Vietnam's leading asset manager VinaCapital, invested $1.4 million in Yeah1.