Congratulations to CPP on founding anniversary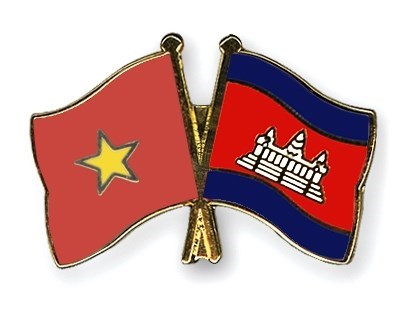 The Central Committee of the Communist Party of Vietnam (CPV) has sent a message of congratulations to the Central Committee of the Cambodian People's Party (CPP) on its 67th founding anniversary (June 28).
The CPV and Vietnamese people congratulate the CPP and Cambodian people on scoring major and important achievements in diverse areas over the past years, the message wrote.
The CPV and Vietnamese people believed that under the leadership of the CPP, Cambodia will certainly obtain new, greater achievements in the cause of national construction and development, it said.
The message wrote that the CPV, State and people of Vietnam pledge to work closely with the CPP, Government and people of Cambodia to preserve, safeguard and incessantly foster their fine neighborliness, traditional friendship, comprehensive and sustainable cooperation to a new height, for the sake of prosperity and well-being of each country's people, and for peace, stability, cooperation and development in the region and the world.
Vietnam determined to fulfill 2030 Agenda: Deputy PM
Prime Minister Vu Duc Dam.
The Government of Vietnam is determined to fulfill the 2030 Agenda for Sustainable Development, Deputy Prime Minister Vu Duc Dam told Administrator of the United Nations Development Programme (UNDP) Achim Steiner on June 27.
Dam hosted a reception for Steiner when the UNDP official has been on a visit to Vietnam to attend the 6th Global Environment Facility Assembly (GEF-6) held in Da Nang on June 27 and 28.
Dam and Steiner exchanged views on the current major priorities of Vietnam, the UNDP and the UN in general. The two officials agreed on the need to further deepen the cooperation between Vietnam and the UNDP and to focus all necessary resources to effectively implement the 2030 Agenda.
The Deputy PM updated his guest on the National Action Plan on the Implementation of the 2030 Agenda for Sustainable Development which was adopted by the Government of Vietnam last year, featuring 115 specific goals. He also mentioned Vietnam's efforts to boost economic growth in tandem with the advancement of social equality and environmental protection.
Dam discussed with the UNDP administrator about challenges faced by Vietnam in coping with climate change, ensuring sustainable development and narrowing the development gap among residential communities, expecting that the UN and the UNDP will continue backing and cooperating with Vietnam in the era of Industry 4.0.
Steiner, for his part, congratulated Vietnam on the impressive socio-economic development and lauded it as a leading nation in implementing the One UN Programme. Steine said he wants Vietnam to continue supporting the UN's reform process.
The offcial affirmed that the UNDP looks forward to closer partnership with Vietnam in the time ahead with the focus on policy management consultation, strategy building and leadership skills.
In addition, he suggested that the two sides should look into the possibility of cooperating in making policies on insurance, including environmental insurance, health insurance and climate change insurance.
In the era of Industry 4.0 and automation, governments needs to develop smart policies and human resources and encourage the participation of the private sector, particularly small and medium-sized enterprises, Steiner added.-VNA
PM urges Fukuoka prefecture to foster multifaceted ties with Vietnam
A photo of PM Nguyen Xuan Phuc (fourth from right) and the delegation from Fukuoka prefecture
Prime Minister Nguyen Xuan Phuc expressed his hope that Vietnam and Japan's Fukuoka prefecture will strengthen cooperative ties in the fields of their strengths for mutual development and benefits while receiving Governor of Fukuoka Hiroshi Ogawa in Hanoi on June 27.
Lauding the visit to Vietnam by leaders of Fukuoka prefecture, PM Phuc wished that Fukuoka will enhance twining relations with Vietnamese localities.
Ties between the two countries' localities play an important part in the Vietnam-Japan extensive strategic partnership, he noted, recommending that the two sides foster economic, cultural, tourism and people-to-people exchanges.
Meanwhile, Ogawa said that the Fukuoka delegation's visit to Hanoi aims to mark the 10th anniversary of the cooperative and friendship ties with the capital city. Both localities have organised exchange activities in various sectors, particularly environmental and youth cooperation.
Fukuoka prefecture has strengths in manufacturing as well as robot, automobile and steel production, he stated, adding that agriculture was added to the cooperation agreement with Hanoi.
As Vietnam-Japan relations are now at the best, Fukuoka realises its responsibility to make contributions to the development of the ties, he underlined, suggesting both sides promote people-to-people exchanges.
He expressed his hope that the Japanese prefecture will continue to receiving support from the Vietnamese Government and the Prime Minister to step up cooperative ties between the two sides.-VNA
Russian experts hail Vietnam's efforts in fight against corruption
At the national conference on corruption prevention held in Hanoi on June 25
Russian experts have applauded the national conference on corruption prevention held by Vietnam's Central Steering Committee on Anti-Corruption in Hanoi on June 25, during which a large-scale programme to root out corruption was mapped out, according to Sputnik radio broadcaster.
Vietnam is on its right track to fight corruption, Professor Vladimir Kolotov, Director of the Ho Chi Minh Academy under the Saint Petersburg National University told Sputnik.
General Secretary of the Communist Party of Vietnam (CPV) Nguyen Phu Trong was absolutely right when considering corruption is an internal invader of the country, Kolotov said
The conference gave out impressive figures of the critical losses to the national economy caused by corruption, he said, noting that the struggle against corruption initiated by the CPV has no restricted zones and no exception and disciplinary measures and criminal charges were imposed on even high-ranking officials.
Also, the conference stated that President Ho Chi Minh's thought in preserving the Party's purity has a crucial role in the thorough change in Vietnam, he stressed.
Meanwhile, Dr. Vladimir Mazyrin, Director of the Far East Institute's Vietnam-ASEAN Research Centre, said he was impressed by Party General Secretary Trong's statement "It is too early to satisfy with the achievements" and "there is a huge load of work in the fight against corruption".
According to a report delivered at the conference, since 2014, disciplinary measures have been applied on 840 Party organisations and 58,120 Party members, of whom, 2,720 violated anti-corruption regulations.
Since the beginning of 2016, 490 Party organisations and 35,000 Party members have been punished, including 1,300 Party members involved in corruption.
Notably, 50 centrally-managed officials, including nine members or former members of the Party Central Committee, received disciplinary measures. Among them, Dinh La Thang, a former member of the Politburo, was expelled from the Party.
Over the years, many serious corruption and economic cases were brought to light and handled in accordance with the law without any exceptions.
VUFO's friendship insignias presented to IGE members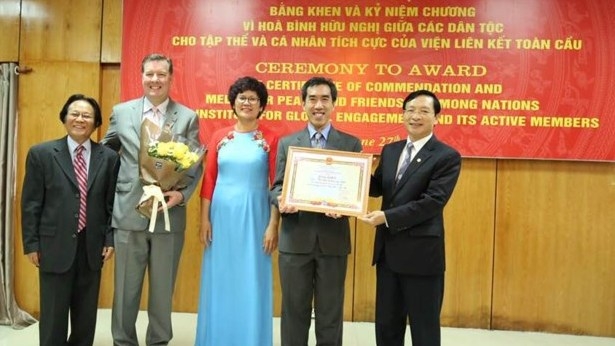 Vice President of the Vietnam Union of Friendship Organisations (VUFO) Bui Khac Son presented insignias "For Peace and Friendship Among Nations" to three members of the Institute of Global Engagement (IGE) during a ceremony in Hanoi on June 27.
The VUFO's most noble distinctions were granted to IGE founder and first Chairman Robert Seiple, former Chairman and Honorary Chairman Chris Seiple, and Manager of IGE Programme in Vietnam Vu Thi Mai Hien.
Speaking at the event, Son hailed the IGE as one of the close partners of the Vietnam-US Society (VUS) and thanked the IGE and individuals for contributing to the friendship between the Vietnamese and US people.
He expressed his belief that the IGE will further grow and ties between the IGE and the VUS, and other Vietnamese partners will see new progress.
Robert Seiple, for his part, attributed the thriving Vietnam – US ties to mutual understanding between the people of the two countries.
As a non-governmental organization of the US, the IGE was founded in 2000 with a view to developing the environment for dealing with conflicts and promoting religious freedom worldwide. In 2005, the IGE began partnering with the VUS as a bridge linking Vietnamese and US organisations together.
With many years of working in Vietnam, Robert Seiple has gained an insight into Vietnamese history and culture. He has cherished many social development projects with a hope of bringing a better life to the Vietnamese people. His special sentiment to Vietnam has been passed down to his son Chris Seiple, who later did the same mission in Vietnam.
Chris Seiple, on his position as IGE Chairman for many years, raised many initiatives on freedom of religions and belief. He also helped strengthen mutual understanding between local authorities, religion officers and religious followers in Vietnam.
Previously living and studying in the US, Hien has worked for the IGE since 2007. With insightful understanding of Vietnamese society and people, she has made important contributions to connecting the IGE with Vietnamese partners.-VNA
Hanoi expects stronger cooperative ties with Japan's Fukuoka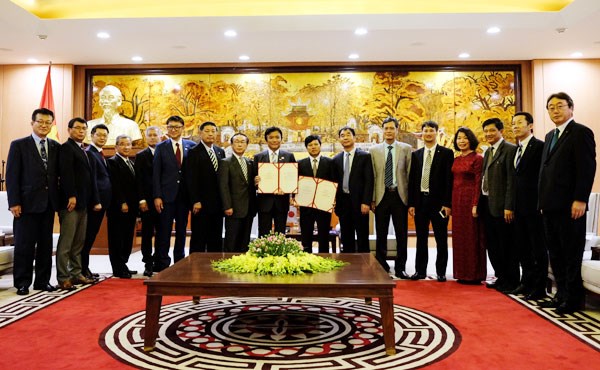 At the reception (Photo: hanoimoi.com.vn)
Hanoi wants to continue promoting cooperative ties with Japan's Fukuoka prefecture in the fields of trade, investment, education-training, environment, science-technology, cultural exchange and agricultural development, said Vice Chairman of the municipal People's Committee Ngo Van Quy.
At a reception on June 27 for Governor of Fukuoka Hiroshi Ogawa, Quy laid stress on the fruitful cooperation between the two sides in environment, education-training, culture and investment since they established cooperative and friendship relations in 2008.
With total committed amount of over 2 billion USD, Japan is currently the largest provider of official development assistance (ODA) for Hanoi, he said, noting that Japan is also the biggest foreign investor in the capital city with registered capital of more than 5 billion USD and Fukuoka is the third largest trade partner of Hanoi.
Touted as an attractive destination for foreign travellers, Hanoi welcomed 2.2 million visitors, including nearly 300,000 from Japan in 2017, Quy said.
Briefing the guest about Hanoi's economic development in the first half of the year, Quy said that the city recorded economic growth of 7 percent, higher than the same time last year. The city's exports surged 10.1 percent year on year and attraction of foreign investment rose 9.9 percent.
Ogawa, for his part, noted that Fukuoka prefecture has strengths in manufacturing as well as robot, automobile and steel production.
With considerable experience in the application of high technology in agriculture, Fukuoka hopes that it can contribute to agricultural development in Hanoi in particular and in Vietnam in general, he said.-VNA
WEF ASEAN 2018 to promote Vietnam in international arena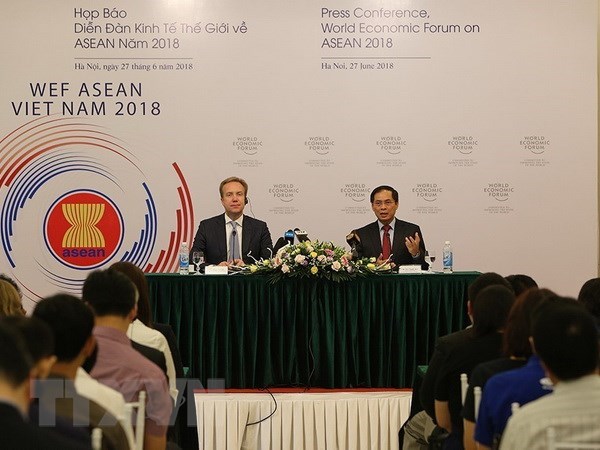 Deputy Minister of Foreign Affairs Bui Thanh Son (right) and World Economic Forum President Borge Brende chair a press conference on the WEF ASEAN 2018 in Hanoi on June 27.
The hosting of the 2018 World Economic Forum on ASEAN (WEF ASEAN 2018) will deepen cooperation between Vietnam and the WEF and promote the country among the political circles as well as leading global and regional enterprises, said a senior official.
Deputy Minister of Foreign Affairs Bui Thanh Son, who is also head of the organizing committee, made the comment at a press conference on the WEF ASEAN 2018 in Hanoi on June 27.
The WEF ASEAN 2018 is scheduled to take place in Hanoi from September 11-13, focusing on the theme "ASEAN 4.0: Entrepreneurship and the Fourth Industrial Revolution." It is one of the WEF's biggest and most important events in the region, Son said.
The event will bring together leaders of ASEAN and regional nations, representatives of international organisations, policymakers, experts, scholars, and business leaders in the region and the world.
This year's theme addresses the common concerns of ASEAN member states and other countries in the region and is closely connected to the ASEAN theme for 2018 "Resilient and Innovative," the deputy minister noted.
By hosting the event, Vietnam expects to step up cooperation with partners, leading world enterprises, expand markets and attract high-quality investments and advanced technologies for the country's economic restructuring and renovation of growth model, he added,
WEF President Borge Brende spoke highly of Vietnam's robust economic growth and competitiveness. He stressed that Industry 4.0 brings both opportunities and challenges to ASEAN nations and the WEF wants to foster partnership with ASEAN to tackle these challenges for the benefit of people in the region.
The event will address strategic issues of national and regional significance under three thematic pillars – Entrepreneurship to craft new approaches to regional and global governance; Entrepreneurship to drive economic and business dynamism; and Entrepreneurship to shape social inclusion.
The WEF was established in 1971 as a non-profit foundation and headquartered in Geneva, Switzerland. The forum engages the foremost political, business and other leaders of society to shape global, regional and industry agendas.-VNA
VFF President congratulates Hoa Hao Buddhism's 79th anniversary
President of the Central Committee of the Vietnam Fatherland Front (VFF) Tran Thanh Man has sent a letter of congratulations to the Central Executive Committee, dignitaries and followers of Hoa Hao Buddhism to recognise of the sect's 79th founding anniversary (the 18th of the fifth lunar month).
In the letter, Man lauded Hoa Hao Buddhist followers for staying united with other religions and people nationwide to carry out movements launched by the VFF such as building new-style rural areas, civilised urban areas, rural roads and offering free meals to hospital patients, activities which have been welcomed by society, contributing to strengthening national unity.
He expressed his belief and hope that Hoa Hao Buddhist followers will continue abiding by Party policies and State laws and joining social welfare and vocational training activities, health check-ups and treatment and other social activities.
Man wished that they would continue joining campaigns and patriotic emulation movements launched by the VFF Central Committee, especially the campaigns "All people stand united to build new-style rural and civilised urban areas" and "Vietnamese people prioritise Vietnamese goods".
He wished that all Hoa Hao Buddhist followers would celebrate the grand anniversary in joyful spirit and closely connected with national unity.
There are 397 local executive committees of Hoa Hao Buddhism in 17 cities and provinces at present, according to the Hoa Hao Buddhist Sangha.
Deputy PM updates US firms on Vietnam's economic policies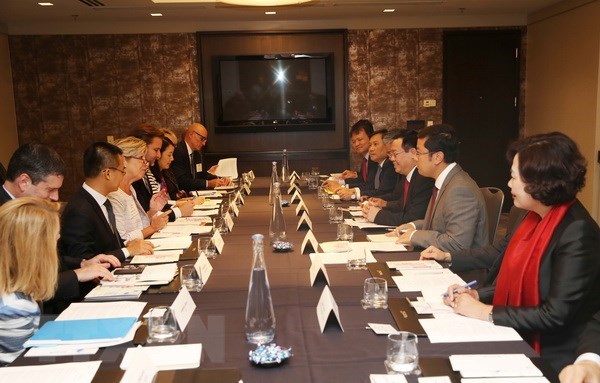 An overview of Deputy Prime Minister Vuong Dinh Hue and leaders of the US-ASEAN Business Council (USABC)
Deputy Prime Minister Vuong Dinh Hue met with US enterprises during his visit to the US from June 25-27 to introduce Vietnam's external and macro-economic policies, economic reform and investment attraction mechanisms.
Addressing a talk held by the American Enterprise Institute (AEI) on June 26, the Deputy PM said that Vietnam and the US have shared interests in a peaceful, stable and prosperous environment in the region where maritime and aviation freedom, security and safety are respected.
This is an important condition for regional cooperation and development, he stressed.
Scholars from the AEI lauded the vision and external, economic and integration policies of Vietnam, while expressing hope that the Vietnam-US comprehensive partnership will continue to be fostered amidst a changing world.
They also showed their desire to expand ties with Vietnamese officials, scholars and researchers.
At a business seminar held by the US-Asia Institute and VinaCapital in Washington D.C. the same day, Deputy PM Hue noted that the Vietnamese economy grew 7.38 percent in the first quarter of 2018, a 10-year high.
He affirmed Vietnam's commitment to create a business environment meeting standards of the Organisation for Economic Cooperation and Development (OECD), and answered questions on cooperation and business opportunities in Vietnam.
The US enterprises praised the Vietnamese Government's commitments, lauding the country's policies to lure investment in infrastructure, energy, pharmaceuticals, e-commerce, service, State-owned enterprises' restructuring and startups.
On June 27, Deputy PM Hue met with leaders of the US-ASEAN Business Council (USABC), during which he highlighted that leaders of the US's Congress, National Security Agency, Departments of States, Finance, Commerce and Agriculture all affirmed that the US is keen on boosting relations with Vietnam, especially in economy, trade and investment.
This is an assurance for businesses of both sides in the long-term, he added.
The Deputy PM reiterated that the Vietnamese Government is willing to listen to enterprises to improve the country's business environment and ensure fair conditions for businesses.
He also answered questions from US firms on various fields, especially the newly-adopted Law on Cyber Security, the payment activities of banks, regulations on automobile import and granting licences in agricultural areas.
Vietnam always abides by international rules, while giving optimal conditions for businesses as long as they ensure consumers' interests and Vietnam's national security, stated the Deputy PM.
The same day, he met with some US leading firms investing in Vietnam, including Nike, Coca-Cola, Visa, Exxon Mobil, Murphy Oil and AES.
The US firms thanked Vietnam for supporting them over the years, highlighting that Vietnam is a dynamic market with high potential. They expressed their wishes to expand their activities in Vietnam.