HCM City seeks further support from INGOs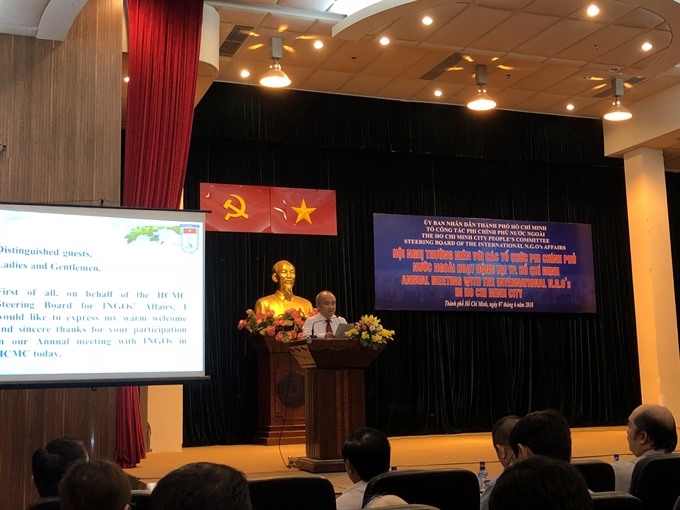 An annual meeting with representatives from international non-governmental organisations (INGOs) discussed INGOs' vital contributions to socio-economic development in HCM City.
HCM City is seeking further support from international non-governmental organisations (INGOs) in socio-economic development, said authorities at the annual meeting between the HCM City Steering Board for INGO Affairs and INGOs held on June 7 in the city.
The meeting discussed INGOs' societal contributions between 2015 and 2017, reviewed INGO activities last year as well as the first five months of the year, and sought feedback from INGOs.
Attending the meeting were a representative of the US Consulate General in HCM City, Pamela Pontius; deputy head of the HCM City Emulation and Commendation Board, Ngô Thị Hoàng Cát; and chairman of the HCM City Union of Friendship Organisation (HUFO) and leader of the HCM City Steering Board for INGO Affairs, Huỳnh Minh Thiện; among others.
Thiện stressed the importance of INGOs' assistance and cooperation in conducting humanitarian and development projects in HCM City.
"The meaning of humanitarian projects is not only about technical and material support but enhancing the capacity of local staff and fostering mutual understanding between the people of HCM City and other countries," he said.
"HCM City will continue to create favourable conditions for INGOs," he said.
On the occasion, the city's People's Committee granted merit certificates to 13 INGOs, while HUFO offered certificates to 31 INGOs and seven companies with outstanding contributions to society.
HCM City has 160 INGOs with official licences, including 67 from the US, 61 from Europe, 30 from Asia Pacific and two from Africa, up one organisation compared to last year.
In 2017 and the first five months of 2018, HUFO and members of the HCM City Steering Board for INGO Affairs assisted in legal procedures for two INGOs that ceased to operate; allowed 19 INGOs to organise international conferences; and assisted in visa application in 115 situations, among other activities.
Although the city's socio-economic development last year witnessed a slight improvement, achieving steady economic growth this year remains a challenging target, Thiện said.
Considering the city's rapid population growth, it is in need of long-term material and technological support as well as cooperation from the international community, he added.
HCM City's GDP reached 8.25 per cent, up 0.2 percentage points year-on-year.
Contractor replaced for delayed progress of bridge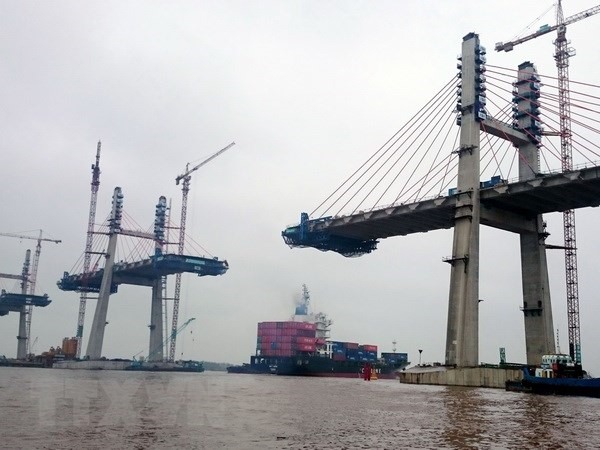 B
ạch Đằng bridge is under construction.
The Bạch Đằng Bridge BOT Joint Stock Company in northern Quảng Ninh province has decided to replace the contractor of the bridge for delay in construction.
The Cường Thịnh Thi Construction Investment Joint Stock Company will be suspended and replaced by another contractor with a better capacity to ensure the progress of the project as scheduled.
The 5.4km-long bridge across the Bạch Đằng river is being built at a cost of VNĐ7.3 trillion (US$324 million) in the form of Build-Operate-Transfer. The cable-supported bridge is 28m wide with four traffic lanes.
Construction of the bridge started in January 2015. Touted as the first made-in-Việt Nam bridge, it will, together with the Hải Phòng-Hạ Long-Vân Đồn highway, connect the three economic hubs in the north---Hà Nội, Hải Phòng and Quảng Ninh---upon its completion.
The bridge will reduce the distance between Hà Nội and Quảng Ninh from 175km to 125km as well as cut travel time between the two localities by half.
The final segments of the bridge connecting the northern port city of Hải Phòng and the northern coastal province of Quảng Ninh were joined in April and investors committed to complete the final work before June 30.
However, after the final segments of the bridge were joined, the remaining work (some seven per cent of the project) has been progressing slowly. These include spreading asphaltic concrete for the bridge surface, cleaning construction waste and installing bridge barriers. Just a few workers have been assigned to complete the remaining works, resulting in the delay.
After directly inspecting the construction site, director of the provincial Transport Department Vũ Văn Khánh said a warning was given to the contractor for the delayed work.
Vice chairman of the provincial People's Committee, Vũ Văn Diên, asked the contractor to mobilise enough workers and equipment to speed up the project. He said any contractor found to have delayed the work would be replaced.
Drug trafficker arrested in Thanh Hóa
Authorities in central Thanh Hóa Province arrested a suspect who was caught illegally transporting drugs from the Việt Nam-Laos border area into the province, police said on Thursday.
Nguyễn Ngọc Thành, 41, was caught in the act of transporting nearly 3kg of methamphetamine, over 5,800 pink meth pills, and nearly 40g of heroin from the border area between the provinces of Thanh Hóa and Hua Phan for sale in Thanh Hóa City.
Thành said he was hired by an unknown man to transport the drugs in exchange for VNĐ50 million (US$2,200).
The case is under further investigation.
Vietnamese class opens for Vietnamese people in Russia
A Vietnamese language class opens for Vietnamese children in Russia.(Photo: nhandan.com)
The Consulate General of Vietnam in Ekaterinburg, Russia and the Vietnamese people association in Sverdlovsk province recently opened a Vietnamese language class in Ekaterinburg city.
In his opening remarks, Vietnamese Consul General Ngo Phuong Nghi lauded efforts made by the association in organising the class, which helps Vietnamese children in the host nation learn Vietnamese language.
They will also have a deeper understanding about the country's history and tradition, thus preserving national cultural characteristics, he noted.
Meanwhile, Chairman of the association Le Thanh Do praised support from the Consulate General, benefactors and the Vietnamese community in organising the class.
The opening ceremony also featured an art performance.
10 charged for online gambling
The defendants at a local police station. — Photo hungyentv.vn
Police in northern Hưng Yên Province started legal proceedings against 10 defendants on Tuesday for their alleged involvement in an online gambling ring.
The ring was worth more than VNĐ120 billion (US$5.3 million).
Three of the defendants - Lê Quang Vinh, 31, who headed the ring; Trần Anh Dương, 22, and Nguyễn Mạnh Tùng, 22 - will be prosecuted for organising the gambling while the rest will be prosecuted for gambling.
The ring was busted last month after local police checked 10 gambling points in Khoái Châu and Tiên Lữ districts. Police arrested 14 persons and seized nearly VNĐ400 million in cash, two cars, 15 mobile phones, three computers and other items.
Initial investigation revealed that the defendants often used social networking sites, such as Zalo and Facebook, as well as mobile messages to organise gambling. They also used websites to join football betting games at regional and international levels.
The case is under further investigation.
Vietnam needs more effective urban land use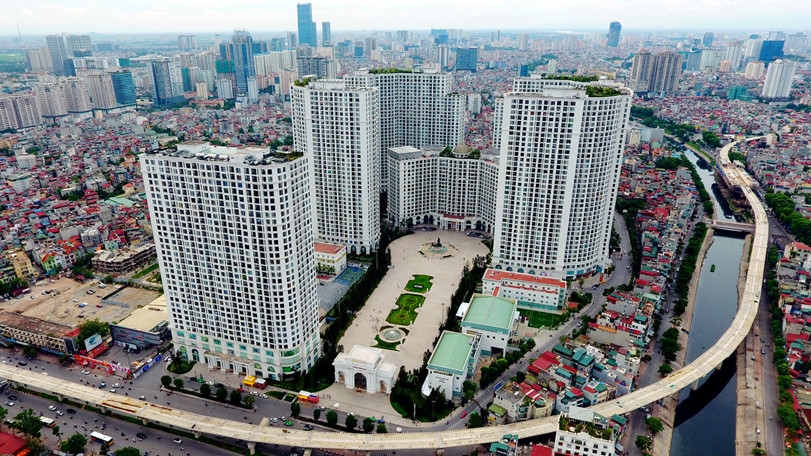 Many high-rise buildings are emerging in areas which were previously factories.
As of 2017, Vietnam's urbanisation rate was estimated at 36.6%, with more than 813 towns and cities throughout the country contributing more than 70% of economic output.
Vietnam is among the countries with the fastest urbanisation rates in the region and the world, with around 700 square kilometres of land incorporated into towns and cities annually.
Such figures show the importance of managing urban land resources effectively in sustainable urban development.
However, experts said the efficiency of urban land use in Vietnam remains relatively low, as seen in the population density of 2,100 persons per square kilometre, compared with the regional average of 9,000.
Large areas of urban land are left unused when many projects are discontinued or delayed, tens of thousands of semi-detached houses and villas are left deserted, and numerous residential tower blocks are not fully occupied, leading to billions of US dollars being untapped in these areas.
The ineffective use of urban land, when a fair share of land and financial resources are earmarked for residential buildings, while little is allocated for social and transport infrastructure, has resulted in increased traffic congestion, flooding and pollution, which are also reasons why many new urban areas and satellite cities fail to attract residents.
Urban land in old city centres is also used improperly and even arbitrarily, in favour of developers. Many high-rise buildings emerge in areas which were previously factories, while there is a serious lack of land for green areas, parks and schools, causing population density to rise rapidly, which runs counter to the policy of reducing the population in urban centres.
Although there are already clearly drawn-up plans, local governments in some places have repeatedly failed to follow the plans, leaving new developments unconnected, reducing the efficiency of investment and impairing urban land use plans.
Recently, the central government has promulgated many resolutions on land use plans but in order to enhance the effectiveness of land use management, stronger and more synchronised measures are needed. One of the top priorities should be concentrating financial and human resources to create detailed plans, currently accounting for just 35% of total master plans. The lack of detailed plans is a loophole for the arbitrary issuance of construction permits.
At the same time, it is necessary to review the current plans to increase the ratio of land for social and urban infrastructure, and restrict the issuance of construction permits and land use permits for socially and economically inappropriate projects.
Furthermore, the concerned authorities should step up oversight of urban land use and increase sanctions for violations in order to reduce unlicensed construction projects. Regulations and administrative procedures concerning construction in urban areas are also in need of revision.
HCMC: Two massage spots violate regulations with naked stewardesses
Female hostess strippers serve guests. (Picture: DAN NGUYEN)
The social and cultural patrol team number 2 in collaboration with the city's Police for Investigation of Crimes on Social Order (PC45) patroled the "sensitive business" centers last night.
Surprisingly checked, two massage parlors in Tan Binh district, HCM City were discovered with dozen naked stewardesses bathed naked guests.
Accordingly, at about 3 am of the same day, reconnaissance policemen and the group unexpectedly checked two massage spots: Linh Ha in Son Ky Ward and 181 (Ward 15) in Tan Binh District.
Samsung Vina starts STEM Club in Da Nang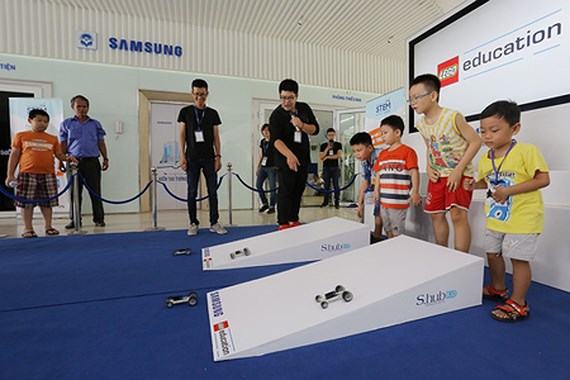 STEM education method is expected to deliver many positive values to pupils
With the aim to promote the STEM (curriculum based on the idea of educating students in four specific disciplines — science, technology, engineering and mathematics) education method, Samsung Vina Electronics Co. Ltd. has launched STEM Club at S.hub Kids in the central city of Da Nang.
After the grand opening ceremony was the conference 'Happy summer time with STEM Club', held on June 2-3, 2018 and attracting more than 500 pupils as well as parents living in Da Nang city. The conference will be held again on June 9-10, 2018.
The conference successfully presented the significance of STEM education method, along with valuable information on technological thinking, computer science, and necessary skills for the 21st century via lively visual examples.
Many trial STEM-robotics classes, where pupils themselves had a chance to practice programming and assembling robots by applying natural science knowledge were held.
These activities are supposed to boost their creative thinking, interaction skills, team-working skills, while improving the skill to solve problems via careful observation and logical thinking.
According to Communications Director of Samsung Vina Co. Ltd. Nguyen Tri Thong, with the aim of supporting education development, his company continuously had been seeking new content to show its responsibility to the society, and the introduction of the club this time had fulfilled that purpose.
"We always wish that Vietnamese children could experience new education trends in the world so that their learning becomes more enjoyable and effective", said Mr. Nguyen Tri Thong.
In this June, the construction of STEM Academy for children in the Ho Chi Minh City General Science Library will also be launched. The area of 400m2 will be used for activities of technology, astronomy, STEM learning for the young, as well as a reading corner.
Two new schools opened for rural communities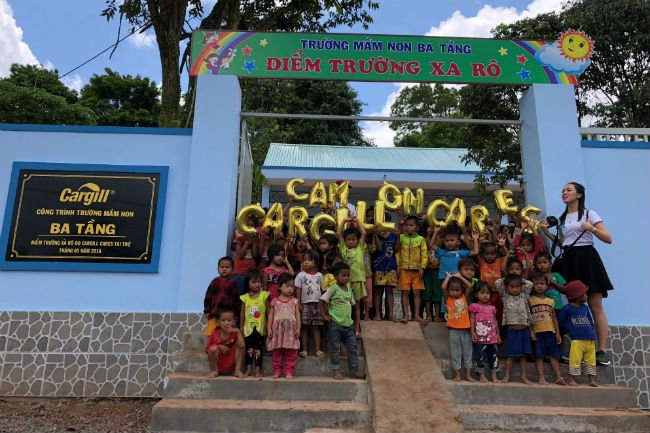 Students of Ba Tang Commune in Quang Tri Province pose in front of their new school
To commemorate International Children's Day, the feed producer Cargill has opened two kindergartens for children, one in Ba Tang Commune in Quang Tri Province and the other in Xuan Hong District of Nam Dinh Province.
Ba Tang kindergarten is located in a mountainous area in the central province of Quang Tri, where both Kinh and Van Kieu ethnic people live together. Most of them are from low income families and work on banana plantations.
The old school which was built many years ago was in a dilapidated condition and had to be shut down a few years ago. This forced the children of different ages to learn together in a temporary classroom located within a local's house. The new kindergarten is the 87th one developed under the Cargill Cares school program, providing pre-school education in a safe, convenient and friendly environment for over 80 children.
This newly built school has three classrooms, restrooms, a fence, a school yard, and also a water well to serve both the school and local households, satisfying their basic water and sanitation needs and relieving them of having to go far to fetch water from the stream for their daily consumption.
Two weeks earlier, Cargill opened the 86th school named Xuan Hong Kindergarten in Nam Dinh Province. Inaugurated in late May, the school serves 180 children aged from two to five. The school has five classrooms, restrooms, gate and fence with total value of US$57,000.
"We are excited to start the new fiscal year with the Cares school opening event and children's day celebration. We are happy to serve the local community with a new and modern education infrastructure that promises to nurture the dreams and aspirations of the children and their parents for a better future," said Stoney Su, Country Director of Cargill in Vietnam.
Within 12 months of the last fiscal year, Cargill Cares in Vietnam built and handed over six new schools in six provinces, benefiting 1,000 children.
On the same day of Ba Tang kindergarten inauguration, the Cargill Cares in Vietnam organized a memorable children's day event for the local kids. The event featured various games, art balloons, clowns and a plentiful party run by Cargill Cares volunteers. The Cargill volunteers distributed new shoes, caps, school bags and toys to the students to help them better prepare for a new school year in September.
Cargill's school building program was initiated in 1997 to support students in agricultural communities in rural Vietnam. It is aimed at providing students access to quality education in a safe and conducive environment. The program is part of the Cargill Cares Council which is completely employee-led.
Funds come from Cargill customers, partners and employees. Since 1997, around US$5 million has been raised to build schools that now provide quality education for more than 13,000 students across 46 provinces nationwide.
Asia South East-Short Film Festival hits HCMC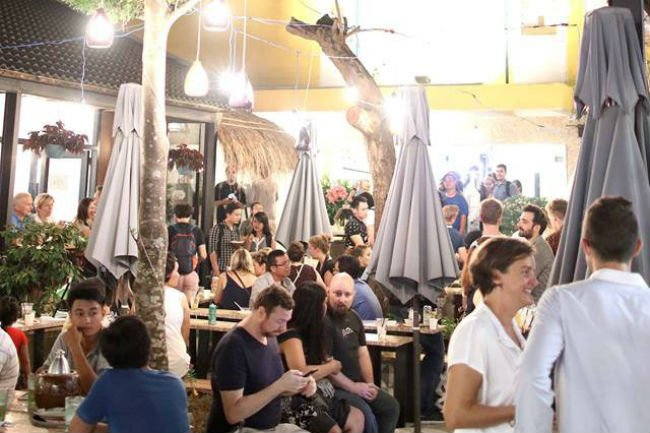 The Asia South East-Short Film Festival was held at The Hive co-working space in HCMC's District 2 last weekend, giving audience a chance to watch a wide variety of great short films that are produced from around the world.
The festival was curated by Rod Fraser, who is also the festival director of two other international film festivals that take place in the UK including London-X4 Seasonal Short Film Festival and London-Worldwide Comedy Short Film Festival.
During the two-day festival, the organizer screened all genres, from drama to action, horror, documentary, comedy and animation.
Particularly, there were comedies from India, Korea and Japan, horror films from America and China, music videos from Vietnam and South Africa, documentaries from Myanmar and Canada, poetic dramas from France, India and Taiwan, amazing animation from Hungary and China, and a comedy horror film made by a nine-year-old boy from Australia.
Many of these films are not in wide release or available outside of film festivals.
"Since the dawn of Youtube, Facebook and cheap video camera technology there has been a real surge in independent filmmaking from every part of the world. It's a very accessible art form now and I also love the fact that when you watch a short film you're looking through the eyes of the filmmaker into a world that you might never actually get to see in real life," said Rod Fraser.
According to the curator, with a young, motivated and aspiring population, HCMC was a perfect place to host the short film festival.
The Asia South East-Short Film Festival was previously held in Phnom Penh, Cambodia and will later visit Bali, Indonesia after HCMC.
Hanoi proposes removing northern Thang Long – Noi Bai toll station
Hanoi City has asked the Ministry of Transport to remove the Northern Thang Long – Noi Bai toll station as its fee collection is not used to reimburse investment capital for Vo Van Van Kiet Street in the capital city, but for the build-operate-transfer (BOT) road bypassing Vinh Yen City in Vinh Phuc Province, Lao Dong newspaper reports.
That means residents, especially people living in Hanoi's Soc Son District or passengers heading to Noi Bai International Airport, have to pay toll fees without using the bypass, arousing widespread disagreement among the city's people.
According to the written request sent to the ministry, most of the residents and enterprises have decried the toll fees at BOT stations as too high, affecting their business activities. Besides, drivers have to pay the toll fees in cash when going through the toll gates, causing traffic congestion and provoking widespread objection among vehicle users.
The municipal authorities also propose the toll fees should be revised to ensure benefits for the State, investors, and road users as well, adding that collection at toll gates on crucial routes of the city should be automated in order to enhance traffic flows and efficiency.
WHO & UNICEF call for full implementation of food decree
The World Health Organization (WHO) and UNICEF on June 7 called on the government and State agencies to implement Decree No. 09/2016/ND-CP, which mandates the fortification of salt, wheat flour and vegetable oil and the use of fortified salt and wheat flour by the food industry.
The issuance of the decree was based on strong evidence that the country needs to step up efforts to address severe micronutrient deficiencies among the Vietnamese population.
The decree is in line with global recommendations on this highly cost-effective strategy to prevent and control micronutrient deficiency and highlights the government's commitment to improving the health of the population.
WHO and UNICEF, however, noted that the decree has not yet been implemented more than two years after being adopted. This is despite the fact that food fortification, including the use of fortified food ingredients in processed foods, is already the global norm, with no detrimental impact upon the final food product or business profitability and sales. Food fortification contributes to a smart and healthy population, which benefits society and national development, including competitiveness.
Iodine deficiency is a significant cause of intellectual disabilities in children and stillbirth and miscarriage in women. Vietnam is among a group of 19 countries still battling iodine deficiency.
The Multiple Indicator Cluster Survey of 2011 indicated that only 45 per cent of households in Vietnam were consuming iodized salt, which is also far below the 90 per cent global recommendation on universal salt iodization. Nearly 30 per cent of children under 5 and 37 per cent of pregnant women are anemic. Zinc deficiencies are very high for children (69 per cent) and pregnant women (80 per cent). Iron deficiency increases the risk of maternal death and poor fetal development and impairs motoric and cognitive development in children and productivity among adults. Zinc deficiency increases the incidence of diarrhea, the risk of acute respiratory infection, and child mortality.
Fortification of widely consumed staple foods and condiments such as salt, vegetable oil and wheat flour is a globally recognized and highly cost-effective strategy for increasing nutrient intakes without the need to change eating behaviors or outlay substantial government funds. Every dollar spent on salt iodization and flour fortification would result in benefits of more than $10.
WHO recommends that all food-grade salt used in households and food processing be fortified with iodine as a safe and effective strategy for the prevention and control of iodine deficiency disorders. There is internationally-proven evidence that the use of iodized salt has no negative impact on the final product's color, taste and smell.
WHO also recommends the fortification of wheat flour when industrially-produced flour is regularly consumed by large population groups in a country. As a result, the fortification of salt, wheat flour, and vegetable oil is mandatory in 108, 85 and 29 countries, respectively, and 96 of the 108 countries that currently have mandatory legislation for edible salt iodization and all 85 countries that have mandatory wheat flour fortification include the requirement to use iodized salt in processed foods.
The Vietnamese Government has acted positively to promote public health for the prevention and control of micronutrient deficiencies over the past two years and there is a need to continue.
WHO and UNICEF strongly recommend the government fully implement Decree No. 09, including ensuring that processed foods are made with iodized salt and fortified wheat flour and that companies are supported to ensure compliance.
Food producers and distributors should be supported by clear guiding regulations on compliance requirements and the use of fortified ingredients. In Vietnam, the main source of dietary salt and wheat flour intake comes from processed food and meals consumed outside the home.
Thus, mandatory food fortification as regulated in Decree No. 09 is not detrimental to business and industry. Moreover, businesses can apply for exemptions in the rare cases when negative impacts on final products or sales are proven.
An important note is that the mandatory fortification of salt, wheat flour and vegetable oil are channels of operationalization of the recent Communist Party Resolution No. 20/NQ-TW to improve people's health.
The enforcement of government regulations strengthens human capital in Vietnam and is in line with the UN Decade of Action on Nutrition. WHO and UNICEF stand as one behind the government in supporting the implementation of Decree No. 09 for the benefits of the entire country.
Bridge proposed to be lifted to facilitate traffic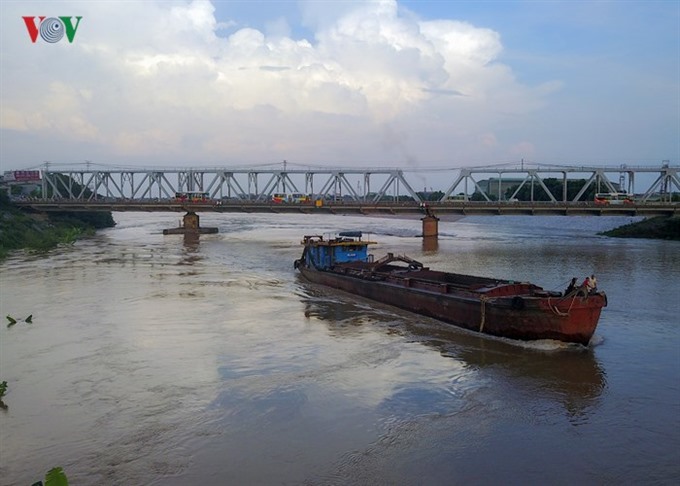 Some 200-250 vessels pass under the Đuống Bridge in Hà Nội every day. The vessels, with a load of more than 1,000 tonnes, usually have a limited range of vision, which poses risks to traffic on the bridge as well as its construction. — Photo vov.vn
The Railway Projects Management Board has proposed the transport ministry to develop a project to lift Hà Nội's Đuống Bridge to facilitate waterways traffic.
The road-and-railway bridge across Đuống River has a vertical clearance of 2.5m, but according to a circular issued by the transport ministry in 2016, the bridge's vertical clearance must be up to 9.5m to meet increasing waterways traffic and ensure traffic safety.
A project to increase the bridge's vertical clearance was introduced in 2008. Later, the ministry decided to merge the project with the Yên Viên-Ngọc Hồi urban railway project.
But the project has been delayed with some land clearance work still pending.
According to the Railway Projects Management Board, the vertical clearance of the bridge should be increased at the earliest and the work should be done independently.
Some 200-250 vessels pass under the Đuống Bridge every day. The vessels, with a load of more than 1,000 tonnes, usually have a limited range of vision, which poses risks to traffic on the bridge as well as its construction.
The risks are higher because of the strong and unpredictable water flow of the Đuống River in the bridge area.
Phú Mỹ Hưng gifts public litter bins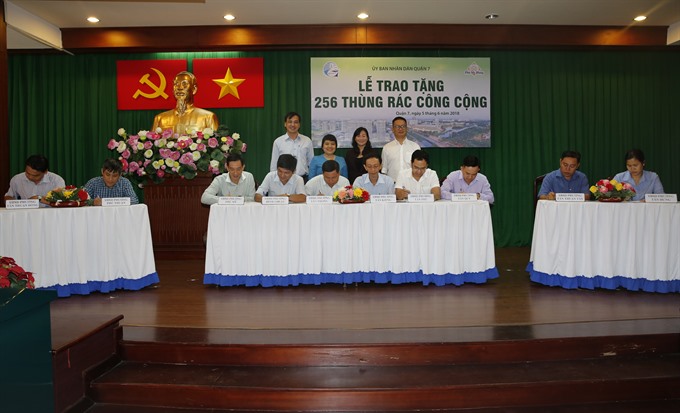 Officials in HCM City's District 7 receive litter bins donated by the Phú Mỹ Hưng Development Corporation earlier this week. – Photo courtesy of Phú Mỹ Hưng.
Phú Mỹ Hưng Development Corporation has donated 256 litter bins for public use to District 7 authorities.
The urban developer said this was its contribution to the city's plans to reduce pollution and install more litter bins and raise public awareness of keeping streets clean.
The bins have a separate compartment for organic wastes.
Lê Hoà Bình, chairman of the District 7 People's Committee, said the district is working on plans to distribute the bins efficiently to enable people to use them.
Nguyễn Thị Thanh Mỹ, deputy director of city Department of Natural Resources and Environment, commended the effort of Phú Mỹ Hưng Development Corporation and other companies in helping the city instal facilities such as public restrooms and garbage cans.
She also hoped the businesses would continue to support the city in making the streets cleaner.