Thousands of biogas plants built thanks to ADB-funded project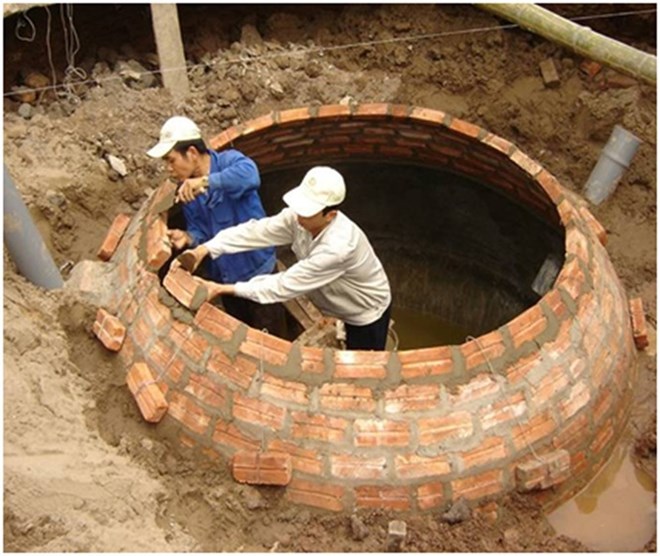 Constructing a biogas plant in the Mekong Delta province of Ben Tre. (Photo: nongnghiep.vn)
By February 2018, nearly 52,000 small, 23 medium and two large biogas plants had been built across Vietnam to help reduce rural waste from livestock production under an 84-million-USD agricultural project.
The Low Carbon Agricultural Support Project (LCASP) has been carried out by the Ministry of Agriculture and Rural Development in ten provinces – Lao Cai, Son La, Phu Tho, Bac Giang, Nam Dinh, Ha Tinh, Binh Dinh, Tien Giang, Ben Tre and Soc Trang – since June 2013.
The project aims to encourage farmers to process livestock waste, which has serious consequences for health and the environment, into biogas and slurry. It also looks to raise awareness about environmentally-safe, climate-friendly waste management practices using commune pilot demonstrations, training courses, study tours, radio and television programmes and other information.
It is expected to lower energy costs, raise organic fertiliser use and boost household incomes, contributing to sustainable agricultural development and new-style rural area building.
The LCASP received 74 million USD in soft loans from the Asian Development Bank and 10 million USD from the Government and State-owned financial firms.
According to the Ministry of Agriculture and Rural Development, Vietnam is home to about 12 million households raising livestock and 23,500 livestock farms which dump an estimated 84.5 million tonnes of waste annually. Only 20 percent of the waste is converted into biogas and fertiliser or used for aquaculture. The remainder is discharged into the environment without treatment, causing serious pollution.
Lao order presented to Thanh Hoa volunteer soldiers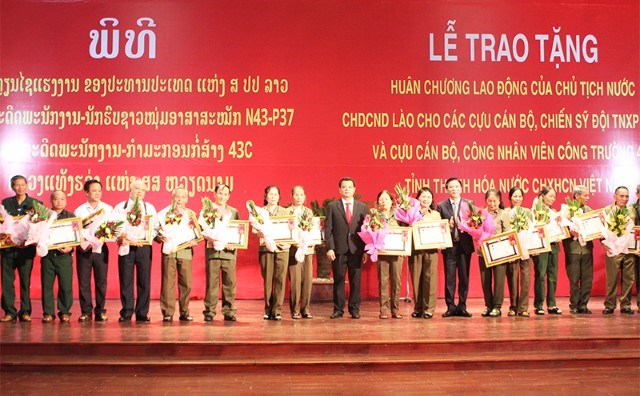 At the ceremony (Source: http://baothanhhoa.vn)
More than 1,000 former Vietnamese officers and soldiers from the central province of Thanh Hoa were awarded with the Order of the Lao President for their contributions to Laos' national liberation struggle at a ceremony held in the locality on June 24.
The event showed the solidarity and friendship between the two countries, and the close relations between Thanh Hoa and Laos's Houaphanh province in particular.
Addressing the event, both Vice Secretary of Thanh Hoa province's Party Committee Do Trong Hung and Houaphanh's Governor Vanxay Phengsumma affirmed that the two countries' Parties, authorities and people and those of the two localities appreciate the sacrifices of Vietnamese officers and soldiers to the national liberation, defence and construction of Laos.
The two localities will continue to work together, towards strengthening their relations, they said.
50 years ago, a young volunteer team named N43 with officers and soldiers from Thanh Hoa province was established. More than 1,600 young men and women from the locality were assigned to serve in Laos.
In recognition of the team's contributions, the Lao State presented the Freedom Order (Itsala), first class to the unit in 1970.
WB's project to improve Thai Nguyen's urban infrastructure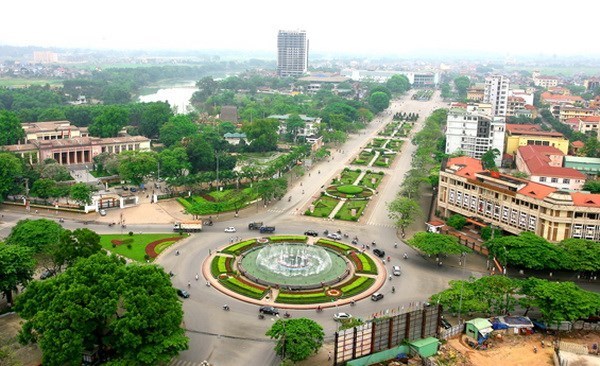 Thai Nguyen city's centre.
The World Bank has approved 80 million USD in loan to enhance the quality of key urban infrastructure in Thai Nguyen city, the capital of northern Thai Nguyen province.
The funds will be spent to construct and upgrade urban roads and bridges, improve local drainage system, urban amenities and public spaces and build preschools. It will also support better urban planning and management, taking into account climate change and disaster risks.
The project is expected to directly benefit more than 81,000 residents of the city from improved urban infrastructure that will reduce the risk of flooding and expand access to improved sanitation, reduce vehicle travel times on new and improved roads and increase access to child care services and public spaces.
It will also improve connectivity to industrial parks, commercial establishments and tourist attractions, which will benefit workers and merchants commuting to and from the project city as well as tourists visiting Thai Nguyen city.
Furthermore, support will be provided to the government of Thai Nguyen to strengthen its capacity for integrated urban planning, public transport planning and sustainable asset management.
The project is estimated to cost about 100 million USD, including 80 million USD financed by the WB's International Development Association (IDA) and 20 million USD from the provincial government.
Thai Nguyen city is the capital of Thai Nguyen province and the regional hub of the northern mountainous region. The city is located in the Hanoi Capital Region, with newly constructed highway connections facilitating access to the capital, just 80 km away.
It has a total natural area of approximately 223 sq.km and a population of more than 362,900 people.
ASEAN Sports Student Festival opens in the Netherlands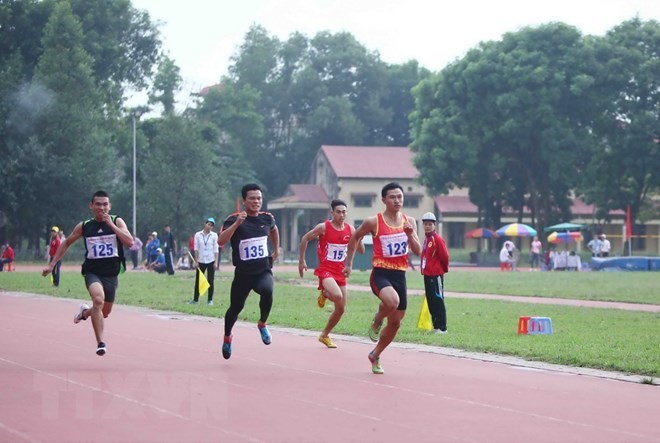 The second ASEAN Sports Student Festival has kicked off in Amsterdam, the Netherlands, with more than 100 Vietnamese and ASEAN students taking part.
In her opening speech, Chairwoman of the ASEAN Committee in The Hague and Vietnamese Ambassador to the Netherlands Ngo Thi Hoa said the event has become a tradition of ASEAN member states in the European country. It is expected to strengthen friendship in the bloc and encourage youths to join physical activities.
She lauded ASEAN embassies' support for the event, especially the Vietnamese Students' Association in the Netherlands.
The Vietnamese Ambassador and ASEAN fellows presented flowers and sent best wishes to competitors.
The festival featured mini football, badminton, basketball and relay.
Concluding the event, Vietnam won in football and the relay while the Philippines triumphed in basketball. Indonesia came first in badminton in the doubles and singles events.
Fire hits apartment building in Gò Vấp District
Heavy smoke comes out of a sixth floor apartment at the I-Home building in HCM City's Govấp District. — Photos news.zing.vn
A fire broke out today in an apartment of the I-Home building in Phạm Văn Chiêu Road, HCM City's Gò Vấp District causing panic to those living there.
Local residents discovered the blaze after seeing thick smoke coming from an apartment on the 6th floor. Many raised the alarm to warn all others to vacate the building.
About 30 fire fighters rushed to the area and brought the fire under control. Initial cause was suspected due to an electric shock.
Đồng Tháp establishes Family, Juvenile Court
Youssouf Abdel-Jelil, UNICEF representative in Việt Nam, gives a speech at the Family and Juvenile Court launching ceremony in Đồng Tháp Province. — Photo Courtesy of UNICEF
Đồng Tháp southern province on Friday established its Family and Juvenile Court, making it the second province in Việt Nam to have a specialised court for children.
The Family and Juvenile Court aims to provide better support and protection for children in need of legal aid. The event was chaired by Chief Justice of the Supreme People's Court, Nguyễn Hòa Bình.
"Việt Nam's establishment of the Family and Juvenile Court was a major milestone for children's rights in Việt Nam. Today's launch of the Đồng Tháp Family and Juvenile Court reflects Việt Nam's continued commitment to uphold children's rights enshrined in the Convention on the Rights of the Child," said Youssouf Abdel-Jelil, UNICEF representative in Việt Nam.
The establishment of the Family and Juvenile Court is part of wider child justice reforms introduced under the Law on Handling of Administrative Violations, Penal Code, Penal Procedure Code and Law on Children.
The reforms allow children, families and qualified professionals to participate more fully in judicial proceedings through the application of child-friendly and gender-sensitive procedures and trained specialised judges, who will be able to tailor decisions to the needs of an individual child based on his or her best interests.
"The establishment of the Family and Juvenile Court is not merely about rearranging the structure of the People's court system; rather, this institution allows specialisation in the handling of family and children's cases to increase the effectiveness and quality of judgement and shorten the time of adjudication of these cases in the People's Courts," Deputy Chief Justice of the Supreme People's Court, Lê Hồng Quang, said.
Đồng Tháp is one of the provinces in Việt Nam with high rates of child abuse and juvenile offences. UNICEF has been supporting the province to build capacity on child friendly investigation since 2006. More than 70 police investigators and frontline investigators were trained on child-friendly and gender-sensitive investigation and interview skills.
Đồng Tháp is also one of the first provinces to establish child-friendly police interview rooms at both the provincial and district levels.
"Đồng Tháp deserves applause for building a local child protection system and promoting child-friendly justice and community-based support for juveniles in conflict with the law. I encourage Đồng Tháp to maintain this momentum and be a role model for all provinces," Abdel-Jelil said.
In the lead up to the launch of the court, UNICEF has provided training to Family and Juvenile judges on children's rights and justice for children. The training equips 62 judges with an understanding of children's rights, child and adolescent development and basic skills on child-friendly and gender-sensitive procedures.
The first Family and Juvenile Court was launched in HCM City in 2016. It is expected that court will be rolled out across all provinces of Việt Nam.
No clean water for residents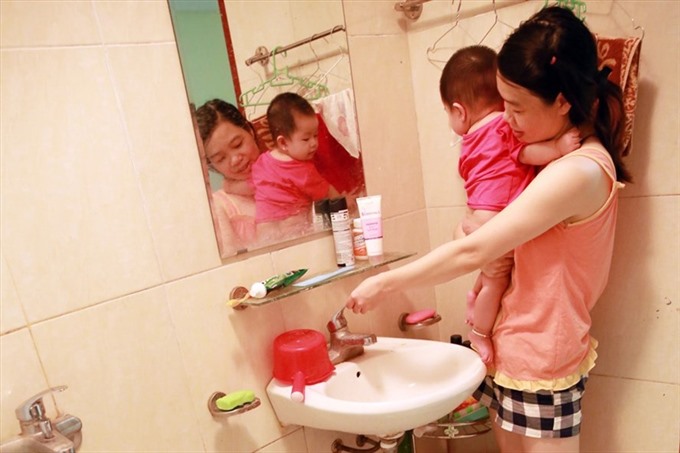 Thousands of residents in the Đại Thanh residential area of Hà Nội face water shortages in the peak of summer.-- Photo laodong.vn
Hà Nội has been entering the peak of summer, causing an increased demand for water. But at present, thousands of citizens in apartment buildings are facing water shortages, lasting for days at a time.
Nguyễn Anh Việt, director of Viwaco - Clean Water Construction Investment and Trading Joint-Stock Company, said the cause of water shortages is a break of a Đà River pipe.
One of the worst hit places was the Đại Thanh residential area, in Tả Thanh Oai Commune of Thanh Trì District, where thousands of inhabitants were extremely anxious about the lack of water.
"I dare not go to the toilet because it doesn't always flush," Trần Phương Lâm, a resident of Đại Thanh urban area told Lao Động (Labour) newspaper.
Looking down at the tap that no longer pours water to wash his dishes, Lâm, living in the CT8A building said angrily: "In recent days, my building has no water, so life for the whole family has been a big mess."
"I had to take the children back to the countryside, because there is no water, no one can survive," the 40-year-old man said. "Here I see the building's workers trying to pump water three times per day, but if a family doesn't have a water tank, they will have no water for daily use."
Facing the water shortage for daily living, thousands of residents in the Đại Thanh residential area can't believe that they still live in fear of a lack of clean water.
Phạm Huy Hiệp, a resident of the 31st floor of the CT8A building, said on June 14 the building's management board posted a water-cut off schedule, announcing that one day later the water supply was expected to be resumed.
"Although residents are informed in advance about water-cut off times, instead of a day, we have suffered for five days," he said.
The building's investor, the water provider, also didn't explain when the water would be operational again.
According to residents, on June 19, the water shortage still was occurring in many buildings, including CT8A of the Đại Thanh residential area.
The building's water tank is always dry, sometimes water is dripping, and many families have to mobilise saucepans and pots in all sizes, to collect water.
Hiệp said his family always has members at home so they should open water tap 24/7 to reserve water. "There are days we have to stay up until midnight or wake up at 5am to collect water."
Several households had to temporarily move to their relatives or friends' houses.
At present, the water-cutting situation alternates between the buildings of the Đại Thanh residential area.
Nguyễn Thị Thúy, living in the CT8B building said "Our building suffered water shortages last week, but now it has water. Recalling the scene without water in the past few days, the whole family shivered. We must have dinner at vendor shops and every day we move to our friend's house for washing."
Long-day water shortages have turned the lives of most of the families upside down, especially families with elderly and children.
Lê Thị Diệp, a resident on the second floor of the CT8A building said "I have a 6-month-old child so activities without water cause the family distress. Other people can take a bath at a friend's house or eat at a restaurant, but my family has to save every drop or buy water filters for cooking and bathing for the baby, so it's difficult."
On June 19 Nguyễn Anh Việt told Lao Động (Labour) newspaper that as of 5pm on Tuesday, the Đại Thanh residential area mostly had water, with the exception of the CT8A building, because water workers still were repairing the water supply pipeline.
Nguyễn Hữu Tài, Chairman of the People's Council of Tả Thanh Oai Commune confirmed that clean water was back to many buildings in the Đại Thanh residential area, but the CT8A building still has a problem so it contacted the water company about this issue.
GEF 6 holds Council Meeting on second working day in Da Nang
The 54th Global Environment Facility (GEF) Council Meeting was a highlight during the second working day of the sixth GEF Assembly (GEF 6) in the central city of Da Nang on June 24.
The GEF Council Meeting, which will last until June 26, looks into the updated co-financing strategy, the GEF partnership, rules for the System for Transparent Allocation of Resources, the 2019 GEF Business Plan and Corporate Budget and the seventh replenishment of the GEF Trust Fund (GEF-7).
GEF CEO and Chairperson Naoko Ishii said it is the final council meeting during the GEF's 6th cycle, providing a platform to review four-year achievements and introduce reforms regarding approaches for cities, supply chains and food security in Africa.
She added that the GEF Assembly has embarked on a new project in the Amazon Basin, supported innovation projects and launched a capacity building initiative for transparency.
Sideline events on June 24 discussed important global issues such as food, the environment, climate change, biodiversity preservation, and land degradation mitigation, food system strategy and cool chain system to increase resilience to climate change, strengthening national capacity to meet demand for transparency, sustainable infrastructure and guidelines for GEF policy implementation on the involvement of parties concerned.-VNA
Thousands join "Move for my healthy lung" event
A free walk/running event titled "Move for my healthy lung" was held at Hanoi's Ly Thai To Park on June 24, drawing thousands of participants, including disabled people and children (Photo: vtv.vn)
A free walk/running event titled "Move for my healthy lung" was held at Hanoi's Ly Thai To Park on June 24, drawing thousands of participants, including disabled people and children.
The event was organised by the Central Lung Hospital and the National Tuberculosis Control Programme to mark the 61st founding anniversary of the Central Lung Hospital (June 24). It also aimed to encourage regular physical exercise to improve people's health and raise public awareness of lung health.
In his remarks, Deputy Minister of Health Nguyen Viet Tien noted that although the number of TB cases in Vietnam has been significantly reduced, there are hundreds of thousands of new TB patients detected annually while many others are receiving treatment.
The event was based on the "Walk the Talk" event initiated by the World Health Organisation (WHO), which took place in May in Geneva, Switzerland.
At the event, the organisers also called for donations to a fund supporting treatment for TB patients and those who are affected by the disease.
TB remains the leading cause of fatality in the world, leading to the deaths of nearly 2 million people every year, particularly drug-resistant TB has threatened global health.
In Vietnam, the WHO estimates that there are nearly 130,000 new cases of TB diagnosed each year, resulting in some 16,000 deaths in the Southeast Asian country in 2015.
Vietnam ranked 16h among 30 countries with the highest number of TB patients globally. It also ranked 13th among 30 countries with the biggest burden of multi drug-resistant TB in the world.
The country is a leading nation in terms of TB prevention efforts. The rate of successful treatment for multi drug resistant TB in Vietnam is over 70 percent, much higher than the world's rate of 54 percent.
Thanks to early detection and effective treatment, TB-related deaths reduced 3,000 cases during 2015-2016. The country has set a target to cut 30 percent of TB infection cases and 40 percent of TB deaths during 2015-2020.-VNA
Workshop discuses strategies for food, cool chain development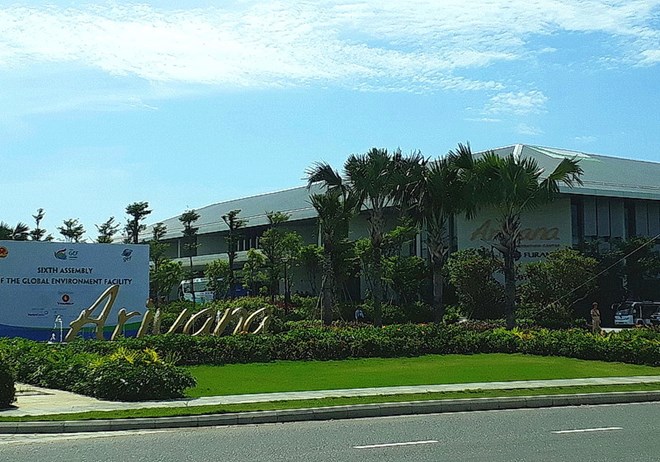 Ariyana conventional centre in Da Nang - the venue of GEF-6 activities (Photo: http://daidoanket.vn)
A workshop was held in the central city of Da Nang on June 24 to discuss strategies for food and cool chain development with the aim of enhancing adaptation to climate change.
Co-organised by the United Nations Industrial Development Organisation (UNIDO) and relevant agencies, the event was part of the sixth Assembly of the Global Environment Facility (GEF) that opened in the central city of Da Nang on June 23 and will run through June 29.
During the workshop, participants shared their ideas and experience on the significance of integrated approaches on food chain which opens the way to multi-benefits in the global scale.
Efforts of UNIDO and its partners in the field were highlighted, along with methods of approaching food in value chains.
At the same time, representatives of the Vietnamese Ministry of Natural Resources and Environment and private enterprises as well as integrated cold chain logistics service provider ABA CoolTrans and Viet Hien coffee processing firm, also shared their practical experience.
Participants also stressed the need of combining innovative technologies in processing, transporting and storing agricultural products to minimise energy use as well as post-harvest losses and waste, thus enhancing the products' quality and climate change mitigation.
This year, UNIDO will support Vietnam by sharing international practices to private sectors and technology research facilities, creating favourable conditions for technology transfer activities, human resource development, environmental protection, efficient energy use, investment promotion, and responsible business.
UNIDO will also assist Vietnam in enhancing capacity in preparing for and implementing strategies and policies to develop industry and trade with the target of greener and more energy efficient production.
GEF was established on the eve of 1992 in Rio Earth Summit to help tackle the planet's most pressing environmental problems. So far, the GEF has provided over 17.9 billion USD in grants and mobilised an additional 93.2 billion in co-financing for more than 4,500 projects in 170 countries.
Today, GEF is an international partnership of 183 countries, international institutions, civil society organisations and the private sector that addresses global environmental issues.-VNA
Work starts on 400-bed general hospital in Bac Lieu province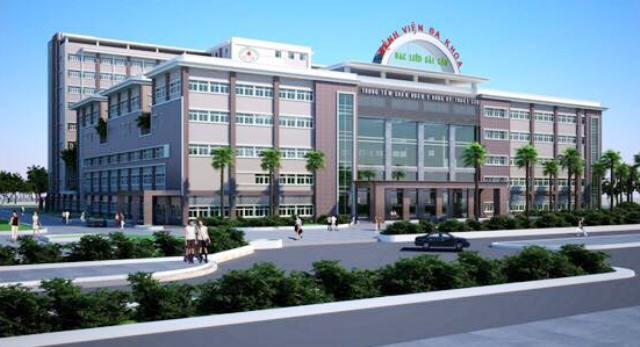 Design of the hospital (http://dantri.com.vn)
A ceremony was held in Bac Lieu city in the Mekong Delta province of Bac Lieu to start construction of Bac Lieu-Sai Gon General Hospital which is estimated to cost nearly 1.37 trillion VND (60.3 million USD).
According to Truong Thien Niem, Chairwoman of the Board of Directors of the Bac Lieu-Sai Gon General Hospital JSC, the investor of the project, said that the hospital covers 38,000 square metres in Ward 1 of Bac Lieu city.
The 10-storey hospital with 400 beds, is expected to become operational in late 2020.
In the first phase, the project has investment of over 992 billion VND, and the capital for the second phase is more than 376 billion VND.
It will be equipped with the most modern medical equipment. It is hoped to give better medical services to local people and train medical staff for Bac Lieu and neighbouring provinces.
Addressing the event, Vuong Phuong Nam, Vice Chairman of the People's Committee of Bac Lieu province, said that the project is in the province's list of projects calling for investment.
With the hope of improving the quality of medical checks-up and treatment, Bac Lieu has paid much attention to luring investment in health care sector, he said, adding that along with health care system in localities, the province has only 12 medical establishments, resulting in overload in provincial hospitals.
Nam requested the investor to ensure the project's quality and progress, while pledging that the provincial administration and departments will create optimal conditions for the implementation of the project.
"Vietnam Day" held in Ukraine's Lviv city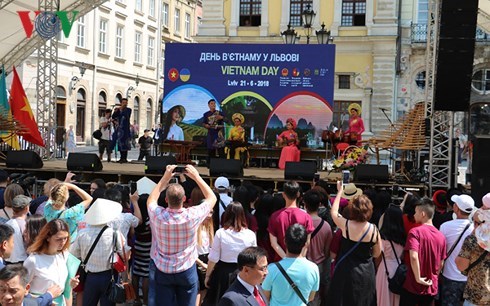 A photo of the "Vietnam Day" programme held in Lviv city of Ukraine (Photo: VOV)
The "Vietnam Day" programme was recently held in Lviv city, the centre of culture and history in western Ukraine, as part of activities of the Vietnamese Cultural Year in Ukraine.
The event was co-held by the Embassy of Vietnam in Ukraine and the Vietnamese Ministry of Culture, Sports and Tourism, the Vietnam-Ukraine Friendship Association and local authorities.
Organised in western Ukraine for the first time, the "Vietnam Day" saw the participation of Vietnamese people across the nation as well as in neighbouring countries such as Germany, Poland and Hungary.
The programme featured a series of activities, including fairs introducing Vietnamese goods and cuisine, along with seminars on tourism cooperation and a photo exhibition on Vietnam's landscapes and people.
A highlight of the event was an art programme with Vietnam's traditional instruments performed by artists of Vietnam and overseas Vietnamese (OVs) from Ukraine's cities of Kiev, Odessa and Kharkov, attracting many people and tourists in Lviv city.
At the opening ceremony, Vietnamese Ambassador to Ukraine Nguyen Anh Tuan stressed that the event was designed to introduce images of Vietnam to Ukrainian friends in the western region and tourists in Lviv, thus deepening the Vietnam-Ukraine traditional friendship.
It also aimed to enhance mutual understanding of people and businesses of the two countries and foster the connection of Vietnam's localities and agencies with Ukraine and Lviv city in particular, he added.
The event also offered chances for OVs in Ukraine and neighbouring countries to meet with each other and their Ukrainian friends.
Lam Dong: Thousands join summer voluntary campaign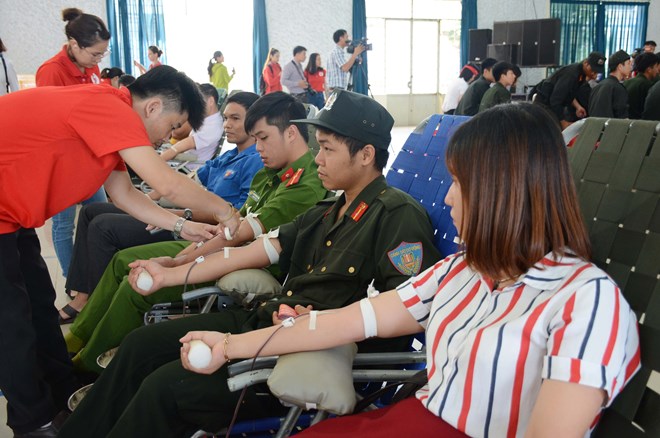 Youths collect garbage around Xuan Huong Lake (Photo: thanhnien.vn)
More than 5,000 youths in the Central Highlands province of Lam Dong have registered to participate in the Summer Volunteer Campaign 2018 and the 6th Chu Nhat xanh (Green Sunday) which were launched in Da Lat city on June 23.
The campaign, which featured four topics of green summer, red flamboyant, red holiday and green march, targets to introduce jobs to at least 1,500 youths, provide free medical check-ups and medicine for 3,000 people, and mobilise local youth to donate at least 2,000 blood units.
Each district youth union will strive to construct five kilometres of rural roads and canal system while joining hands to plant 120,000 trees in the province in 2018.
On the occasion, the province's Ho Chi Minh Communist Youth Union rolled out the Tiep Suc Mua Thi (examination assistance) campaign to support students sitting the national high school graduation examinations at 37 high schools.
The same day, over 1,000 youths collected garbage and cleaned up Lam Vien square and areas surrounding Xuan Huong Lake in response to the Green Sunday event.
Red Journey attracts ethnic minority donors in Dak Lak
Blood donation campaign "Hanh trinh Do" (Red Journey) has returned to the Central Highlands province of Dak Lak, attracting a large number of local ethnics, including those from rural areas, to the voluntary activity.
The two donation events in Buon Ma Thuot city and Ea Sup district on June 21 and 23 have collected more than 1,640 blood units.
This is the fifth year the Red Journey has been held in Dak Lak. It drew numerous people of such ethnic groups as Kinh, E De, M'nong, Thai, Tay and Nung, and different age groups.
The number of blood donors from remote and poor communes of the border district of Ea Sup was also higher than expectations.
This year, the campaign is expected to collect at least 30,000 blood units when it takes place in 26 provinces and cities across the country from June 13 to July 14.
The Red Journey was initiated by the National Steering Committee for Voluntary Blood Donation and the National Institute of Haematology and Blood Transfusion in 2013.
It is a nationwide communication campaign helping to address the shortage of blood for medical treatment in summer.
It has helped increase groups of blood donors and train many localities in the organisation of blood donation events to provide for those who need in accidents and disasters.
More than 120,000 blood units were donated in the programme from 2013 to 2017.
Irrigation works in Dien Bien, Thanh Hoa need repairs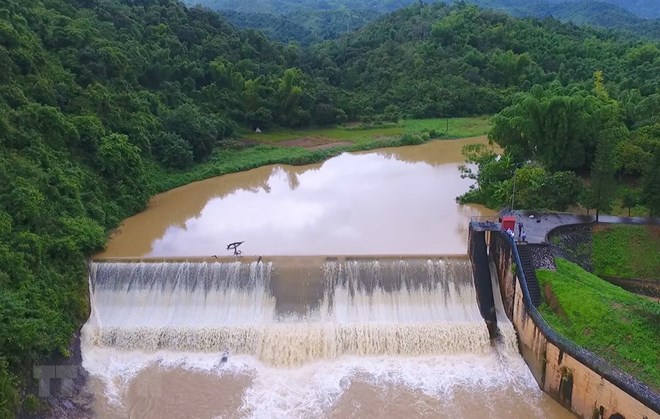 A weir in Dien Bien province
Nearly 900 irrigation systems in the northern mountainous province of Dien Bien will be reinforced in preparation for the upcoming flood season.
Among those systems are 13 reservoirs, two electrical pumping stations and more than 880 spillways and temporary dams. Two other reservoirs are under construction, including Ang Cang in Muong Ang district and Nam Khau Hu in Dien Bien district. Damaged constructions pose severe threats to people who live in downstream or riverside areas.
According to Nguyen Van Dinh, head of the Department of Water Management, the agency tasked reservoir owners to evaluate the construction's conditions to draw up plans of flood prevention and resilience. Forest protection and better communication between reservoir owners and local authorities were stressed as essential.
Nguyen Van Duyen, Director of Dien Bien Irrigation Management Company, said that since April 2018, the company had inspected 12 reservoirs and dams that it reinforced for extreme weather events.
Dien Bien province has several irrigation systems located in isolated areas which pose difficulties for search and rescue operations. Moreover, some reservoirs such as Ban Ban, Na Huom and Sai Luong are inaccessible in the flood season.
Meanwhile, the breakwater project along Quang Thai beach in the central province of Thanh Hoa is being postponed, exposing locals to danger when the storm season approaches.
The project, which was invested with more than 180 billion VND (7.9 million USD) and was expected to be completed this month, is currently halted due to slow disbursement.
At the same time, the casuarina forest playing the role of a natural breakwater was completely felled, letting waves directly hit the shore.
Pham Trung Tuan, Vice Chairman of the Quang Thai commune People's Committee, said that if a powerful storm hit the area, 300 local families would face severe damage.
Because of the postponed project, the landscape is negatively affected, fishing boats have no place to be moored and local fishing is ruined, he said.
Conference reviews Korean-funded green city planning project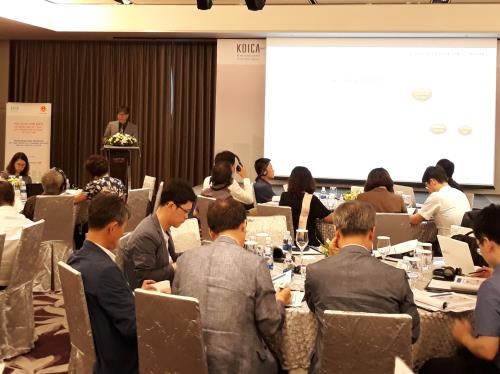 The Vietnamese Ministry of Construction and the Korea International Cooperation Agency (KOICA) co-hosted a conference in Hanoi on June 22 to update on the implementation of a Korean-funded technical assistance project on planning green cities in Vietnam.
The 6.5 million USD project was planned to be implemented in 29 months in Hanoi, Yen Binh district (Thai Nguyen province) and Rach Gia city (Kien Giang province).
Tran Thu Hang, Head of the Planning - Architecture Department under the Ministry of Construction, said after two years, the project has built a set of green city indexes, a Green City Planning Decision Support System (GDSS), and a legal framework for green city planning.
It has also designed pilot planning options for the Yen Binh urban area and Rach Gia city, she added.
Hang expected that the project will boost city management capacity and develop data on city planning nationwide, which in turn would help cities capitalise on their natural resources, reduce climate change impacts, and increase living standards toward sustainable development.
Lee Dong-youn from the Jeongdo Uit company introduced the GDSS, saying its main functions are to assess local conditions in terms of green city criteria, population, land usage, among others, to forecast demand for land use, and to calculate the amount of greenhouse emissions.
He said it is necessary to continuously adding more data to the system, monitor the green city criteria and indexes, and prepare needed infrastructure.
Luu Duc Minh, Director of the Institute of Environment Planning, Urban and Rural Infrastructure under the Vietnam Institute for Urban and Rural Planning (VIUP), said Vietnam should improve its capacity in inputting data to the GDSS, as the country has yet to have data systems at national and provincial levels.
Red Journey: 1,500 blood units collected in HCM City
A member of the Red Journey's organising board presents flowers to a blood donor at the blood donation event in HCM City on June 22
Ho Chi Minh City collected a total of 1,500 blood units on June 22 as part of a nationwide blood donation campaign "Hanh Trinh Do" (Red Journey).

Starting on June 13, the campaign has been held in Ca Mau, Kien Giang, Hai Phong, Quang Ninh, Can Tho, Lam Dong, Dak Lak and HCM City. To date, more than 7,500 blood units were collected during this year's campaign.

The organising board of the Red Journey campaign puts a programme themed "Globin Cipher" in activities in Ho Chi Minh City and several other localities with the aim to raise community awareness of thalassemia - a genetic blood disorder that can lead to heart failure and liver problems.

Doctor Ngo Manh Quan, from the National Institute of Haematology and Blood Transfusion, stressed the importance of the work, especially for young people and those about to get married, as around 2,000 Vietnamese babies are born with thalassemia each year.

Luu Hoang Phuc, a resident in HCM City's Phu Nhuan district, who has donated his blood 26 times, said: "Each blood donation takes around one hour, but can save someone from critical conditions. I feel very happy".

"Red Journey" is a cross-country campaign initiated by the National Steering Committee for Voluntary Blood Donation and the National Institute of Haematology and Blood Transfusion in 2013, aiming to raise public awareness of the need for blood donation as well as thalassaemia, a genetic blood disorder that can lead to heart failure and liver problems, and to address the shortage of blood for medical use.

Over the past five years, more than 120,000 blood units were collected, helping to reduce blood shortages during summer and saves lives of thousands of patients across the country.

This year's campaign will conclude on July 14, passing through 26 cities and provinces and expected to collect at least 30,000 blood units. In 2017, the campaign collected over 38,000 blood units nationwide.
Hanoi improves supply, quality of tap water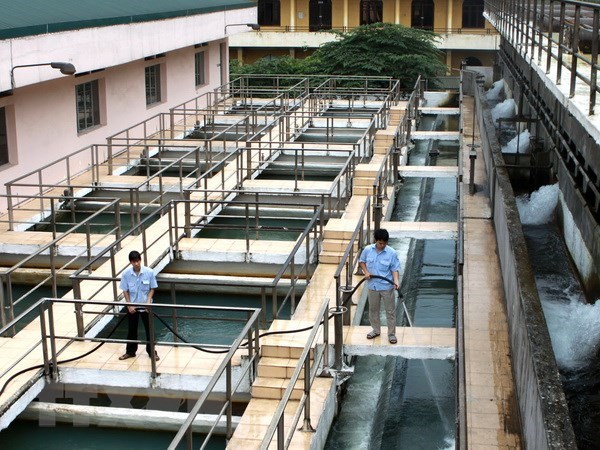 A water treatment system of the Hanoi Water Co. Ltd
The capital city of Hanoi is working to realise its set target to make tap water safe for drinking by 2020.
As the city considers supplying clean water to local people as a way to improve living standards, it has plans to upgrade and build more water plants, pipelines and treatment system.
A water plant using water from Duong River with a capacity of 300,000 cubic metres per day and night is expected to be completed and put into operation this year. Meanwhile, the existing plant using water supply from Da River will have its capacity raised from 300,000 cubic metres to 600,000 cubic metres per day and night.
In addition, a new pipeline system and a plant using water from the Hong River will be built and slated to be completed by 2020.
The city is working to expand the water supplying system to 70,391 households in 34 communes, and calling for investment to provide clean water for rural communities in Me Linh, Ba Vi, Phuc Tho, Dan Phuong, Thach That and Chuong My districts which are yet to have access to clean water.
The municipal People's Committee has required that all new water plants and pipelines must use advanced technology so that by 2020, local tap water will be drinkable.
Chairman of the municipal People's Committee Nguyen Duc Chung said that the city has increased media works to raise public awareness of the importance of clean water and water saving.
The city has ordered relevant departments and branches to handle difficulties in site clearance for water supply projects and inspect the projects' progress, he added.
Soc Trang develops eco-tourism in Dung islet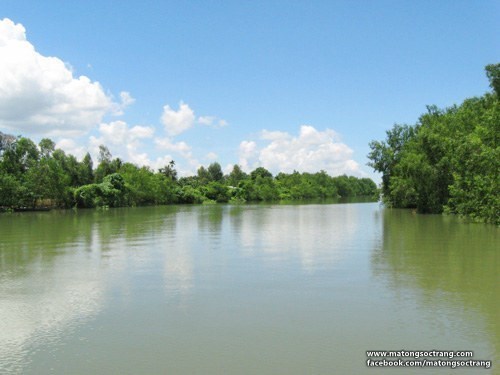 Emblazoned with lush carpet of forest with diversified flora and fauna, Cu Lao Dung (Dung islet) in the Mekong Delta province of Soc Trang boasts huge potential to develop eco-tourism.
Surrounded by criss-cross canal system, Cu Lao Dung is home to 77 species of birds, 15 species of reptiles and amphibians, and 18 species of mammal animals, including some 300-400 long-tailed monkeys living in the mangrove forest.
The islet is also well-off for seafood and aquatic creatures with 661 types of fish, 35 types of shrimp, 23 types of cuttlefish as well as many kinds of crabs and molluscs.
Blessed with favourable climate, Cu Lao Dung is an ideal destination for those who want to experience discovery and leisure tourism. Besides being attracted by orchards in An Thanh Nhut and An Thanh Tay communes, visitors will have a chance to contemplate immense sugar cane fields and colourful flower gardens, enjoy local staples and visit cultural and historic relic sites like Uncle Ho Temple and Rach Gia victory memorial site.
The Cu Lao Dung district People's Committee is building a master plan to branch out eco-tourism in companion with preserving natural resources.
Due attention will be given to upgrading infrastructure, training personnel and developing standout tourism products.
The district will issue preferential mechanisms and policies to attract tourism investments while foster promotion activities to introduce standout features of Cu Lao Dung to domestic and international friends. Cooperation with travel agents is also put in the first line of measures to lure visitors to the islet.
Regarding biodiversity preservation, the district will continue programmes to safeguard endangered animals, sustainably protect coastal preventive forests, carry out pilot projects on clean development in forestry, and encourage initiatives aimed at sustainable forestry land management in combination with poverty alleviation.
Also, it will work to create stable livelihoods for local people.
Regional workshop on human trafficking prevention
Participants take photo at the workshop (Photo: VOV)
A regional workshop on prevention strategies to combat trafficking in persons, especially for women and children, and enhance access to information and community-based protection system was held in Hanoi on June 21-22.
The event was jointly held by the ASEAN Intergovernmental Commission on Human Rights (AICHR), ASEAN National Secretariat of Vietnam, ASEAN-US Partnership for Good Governance, Equitable and Sustainable Development and Security (PROGRESS), and the governments of Australia and Turkey.
Speaking at the opening ceremony, Assistant Minister of Foreign Affairs Ambassador Pham Sanh Chau reiterated the determination of the Vietnamese government to continue implementing effectively policies and measures to prevent human trafficking.
He called for stronger regional and international cooperation and mobilisation of financial resources to promote efforts in the field.
Participants said the prevention of human trafficking needs the joint efforts of governments, relevant agencies, organisations and individuals in the society.
They encourage the participation of the involved parties in consulting and implementing policies related to anti-trafficking of persons to build a people-centred ASEAN community.
The workshop put forth some recommendations to enhance the efficiency of prevention strategies and emphasised on such regional and international commitments as the ASEAN Convention Against Trafficking in Persons, Especially Women and Children (ACTIP), ASEAN Plan of Action Against Trafficking in Persons, Especially Women and Children (APA), Bohol Trafficking in Persons (TIP) Work Plan 2017-2020, the United Nations Convention against Transnational Organised Crime (UNTOC), and the Protocol to Prevent, Suppress and Punish Trafficking in Persons, especially Women and Children.
These are foundation documents and necessary tools to strengthen cooperation in human trafficking prevention, heard the workshop.
Founded in 1967, the 10-member ASEAN groups Brunei, Cambodia, Indonesia, Laos, Malaysia, Myanmar, the Philippines, Singapore, Thailand and Vietnam.
Universal Music to open TV channel in Vietnam
The new music, entertainment and media channel, UM Channel, will be launched under a tripartite agreement has been signed between Universal Music Group (UMG), Vietnamese multi-channel network Yeah1 Group (YEG) and the online digital distribution service Global Tunes.
The content of UM Channel will include music videos (MV), international and Vietnamese entertainment news, rebroadcast of live concerts and MV production. It is also expected to feature many other special programs such as talent competitions, talk shows with international artists, and exclusive footage of Vietnamese celebrities at global events.
The airtime division will be 70% for music and 30% for other content types.
It is unclear when UM Channel will be officially launched.
At a recent signing ceremony, three Vietnamese singers including Minh Hang, Isaac and Vu Cat Tuong were announced as the ambassadors of UM Channel.
UMG is a world's leading music company, which owns and operates a broad array of businesses engaged in recorded music, music publishing, merchandising, and audiovisual content in more than 60 countries.
Some of the Universal Music Group artists are Taylor Swift, Rihanna and Kanye West.
Global Tunes is the technology for music distribution, talent search and community platform with a global exclusive partnership with UMG.
And Yeah1, with its community and roots in tech and television, is now aggressively expanding into the region and beyond for its digital ambitions.