Public trust Party, State's resolve in fighting corruption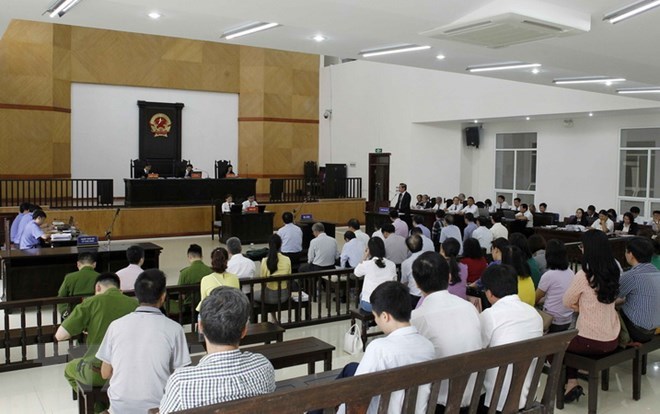 At the appeal trial on the case on "asset embezzlement" and "deliberately violating State regulations on economic management, causing severe consequences" at PetroVietnam Construction JSC

The public have expressed their trust in the resolve of the Communist Party of Vietnam and the State to fight corruption ahead of the national conference on corruption prevention and fight scheduled for June 25.

Nguyen Tuc, member of the Presidium of the Vietnam Fatherland Front's Central Committee, highlighted remarkable changes in the anti-corruption work after the 12th Party Central Committee adopted the Resolution on Party building at its 4th plenum.

The changes can be seen most clearly in the revelation and trial of many corruption cases, with many high-ranking officials brought to court for their law violations.

However, those are only initial outcomes, Tuc said, stressing that besides fighting corruption, it is necessary to revise existing policies and laws to make them suitable to the current situation.

Vice Director of the Ho Chi Minh National Politics Academy Le Quoc Ly said the outcomes of the anti-corruption fight have won approval from the public and enhanced their trust into the leadership and resolve of the Party in combating this evil.

The trial of corruption cases recently has demonstrated that the Party does not compromise with corruption and tolerate no "banning zone" in the fight, he said.

The scholar noted that prevention is better than fight, and urged the establishment of institutions for agencies to monitor each other and for the people to supervise State and Government agencies.

Luu Binh Nhuong, a permanent member of the National Assembly's Committee for Social Affairs, called for consolidating the apparatus and personnel of Party and State agencies directly involved in corruption prevention and fight, and strengthening the supervision of the NA, NA deputies and elected agencies in localities.

He also urged the Vietnam Fatherland Front and its member organisations to perform well their role as supervisor and social critic, and the public as well as the media to participate stronger into the anti-corruption fight.

According to Ngo Duy Hieu, head of the Department of Labour Relations under the Vietnam General Confederation of Labour, the fight against corruption in the country is being intensified in a result-oriented manner, under strong instruction with high resolve and drastic actions.

He said in the time to come, more attention should be paid to completing institutions in order to minimise opportunities for corrupt officials, while corruption cases and degraded officials should continue to be tried in a strict manner.
PM orders focusing efforts on addressing flood consequences in northern localities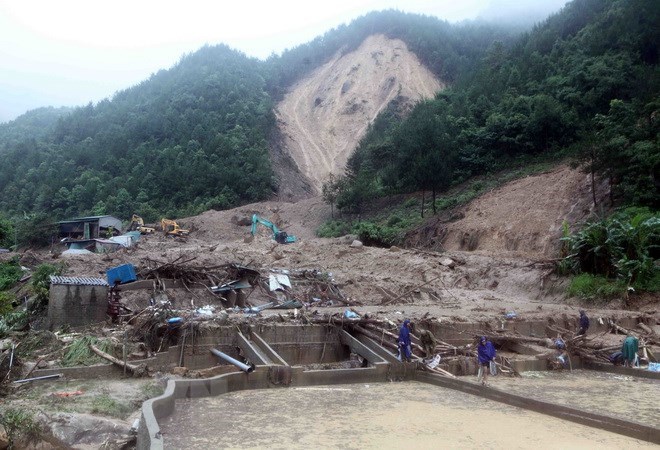 Dealing with flood consequences in Tam Duong district of Lai Chau

Prime Minister Nguyen Xuan Phuc has issued a dispatch asking relevant ministries, sectors and localities to focus resources on search and rescue along with activities to overcome flood consequences in northern mountainous and midland provinces.

As from June 22 night, the provinces suffered heavy rains and serious landslides, causing losses in human lives and property, especially in Lai Chau and Ha Giang. By late June 24, localities reported five deaths and eight people missing.

The Government leader sent deepest sympathy to families of the victims, and required local authorities to support affected families, and providing safe shelter and food to locals.

Localities were also asked to continue inspect areas with high risk of landslide and flashflood in order to timely issue warning and evacuate locals to safer places.

The National Committee for Disaster Response, Search and Rescue, the Ministry of Defence and Ministry of Public Security were assigned to direct forces based in the localities to engage in coping with disaster aftermath.

Meanwhile, Minister of Agriculture and Rural Development and Ministries of Industry and Trade were requested to ensure safety for dykes and reservoirs, while the Ministry of Transport must direct the rapid settlement of landslides to make sure traffic in national routes is smooth.

The Ministry of Natural Resources and Environment was asked to regularly update information and developments of floods and disasters to people for preparations.

According to the Steering Committee for Natural Disaster Response, Search and Rescue of Lai Chau province, as of 21:00 of June 24, three persons died and eight others went missing during flood in the locality, while property losses mounted to about 60 billion VND.

In Than Uyen, Tan Uyen, Sin Ho and Tam Duong districts, floods drowned over 200 hectares of rice farm, swept away 100 hectares of maize and more than 7 hectares of fish farm, and damaged 20 water and irrigation works. Landslides left over 500,000 cubic metres of soil blocking many roads and isolating about 20 households in Nam Cay village of Xa De Phin communes, Sin Ho district.

Meanwhile in Ha Giang, two people in Quan Ba district died as their house collapsed due to flood, while nearly 400 houses in Ha Giang city were completely submerged in floodwater.

Many transportation routes have been blocked, isolating many localities.

At the same time, Bac Kan province also severely suffered from torrential rains, floods and landslides. Initial reports showed that 7 hectares of rice and maize were sunken in flood water, while about 0.4 hectares of aquatic farm with about 600kg of fish was swept away, along with about 0.1 hectares of maize farm. Total losses have reached about 300 million VND.-VNA
Vice president wraps up Laos visit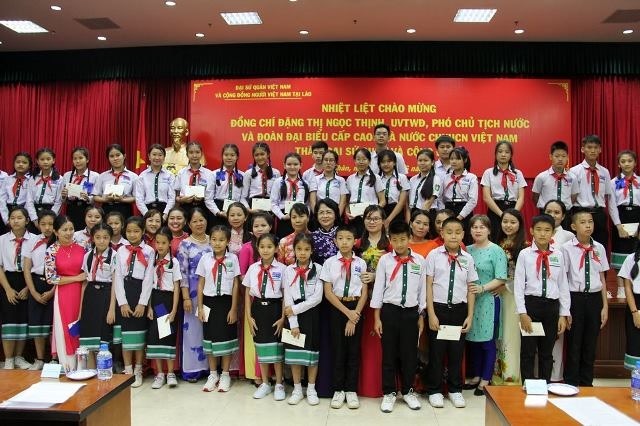 Vietnamese Vice President Đặng Thị Ngọc Thịnh concluded her official visit to Laos with a meeting with the staff of the Consulate General of Vietnam in Luang Prabang and representatives of Vietnamese people and businesses in the northern region of Laos.
Vietnamese Vice President Đặng Thị Ngọc Thịnh concluded her official visit to Laos after leaving the country's Luang Prabang Province yesterday.
She had a meeting with the staff of the Consulate General of Vietnam in Luang Prabang and representatives of Vietnamese people and businesses in the northern region of Laos.
She expressed appreciation for the patriotism and precious contributions of Vietnamese expatriates in Laos to the two countries' special friendship.
The Party and State always pay attention to the interests and lives of overseas Vietnamese, including those in Laos, Thịnh stressed, adding that while talking to Laos' central and local officials, Vietnamese leaders have always asked them to continue creating the best possible conditions for Vietnamese to live and work in the country.
At the meeting, Thịnh told Vietnamese people in Laos to maintain their solidarity and mutual support, uphold the homeland's traditions, and respect and adhere to local law and customs, thus helping to enhance the two countries' friendship.
She also called on Vietnamese businesses to step up investment and trade and actively take part in social activities, thereby contributing to socio-economic development in the northern region of Laos.
Earlier during her visit, Thịnh and Chairwoman of the National Assembly of Laos Pany Yathotou expressed their delight at closer ties between the two legislatures during a meeting in Vientiane on Wednesday.
Both sides spoke highly of the sharing of information and expertise between the two legislatures' units as well as effective cooperation in their external activities, especially at regional and global parliamentary forums such as the ASEAN Inter-Parliamentary Assembly and the Inter-Parliamentary Union.
Meeting with President of the Lao Women's Union (LWU) Central Committee Inlavan Keobounphan the same day, Thinh highly valued ties between LWU and the Vietnam Women's Union in the cause of promoting gender equality, women emancipation, health care for women and children, and especially educating young generations about maintaining and upholding the tradition of bilateral special solidarity.
In the afternoon, she visited the headquarters of the Star Telecom company – a joint venture with Vietnam's military-run telecom provider Viettel. It is now the most modern Internet 4G service supplier with nearly 3 million subscribers, accounting for 52 percent of market share in Laos.
Problems set to slow HCM City's growth
HCM City's growth is likely to slow down in the years ahead. -- vov.vn
HCM City's growth is likely to slow down in the years ahead because it is running out of land, has poor infrastructure and human resources and lacks regional connectivity, a conference has heard.
City Party Secretary Nguyễn Thiện Nhân told the "Reality and solutions to improve HCM City's economic growth quality and competitive capability to meet integration demands" conference on Saturday that it was vital for HCM City to restructure its economy and we need all possible contributions from experts, scientists, researchers and enterprises.
"The city Party Committee will soon meet to review and decide what we should do in the next 2 1/2 years, and scientific research is very important for new development."
Nguyễn Trọng Hoài, principal of the HCM City Economics University, said: "HCM City is now becoming a mega city with a population of over 10 million. If it does not expand urban space, traffic congestion would become more serious."
He said his recent survey had found that 90 per cent of enterprises in the city's processing zones and industrial parks use medium-level technology, many companies do not use all the land allotted to them and instead rent it out, and 70 per cent of workers are immigrants training whom costs a lot.
"The city must pay more attention to training high-quality human resources, invest more in infrastructure, expand regional connections and restructure the urban space.
The city also needs to restructure industrial production by renovating technologies and improving the effectiveness of land use."
He urged the city to increase the use of information and communication technology in public administration to reduce time and cost for the public.
Economist Nguyễn Thị Cành of the HCM City Law – Economics University said the city's economic growth in recent years has been inconsistent, FDI is slowing, efficiency of investments is low, quality of human resources is poor, and it is running up a trade deficit.
"The city needs to improve its business environment, attract more FDI and promote small and medium-sized enterprises."
Dr Nguyễn Thuấn of the Open University said: "The city must consider science and technology as the foundation to promote its entire economy."
According to its Department of Planning and Investment, HCM City's economic growth has been rising by around 0.3 percentage points a year recently (7.72 per cent in 2015, 8.05 per cent in 2016 and 8.25 per cent in 2017).
But the quality of growth is not consistent, and its competitiveness is low.
Growth in the services and construction sector fell from 12.5 per cent in 2006 –10 to 11.2 per cent in 2011 – 2015, while industrial growth declined in that period from 10. 3 to 7.6 per cent.
Industrial production is still focused on consumer goods and many sectors remain labour-intensive.
Services, small trade and real estate still account for a large proportion of the economy while high-tech services account for a very small portion.
Deputy PM urges acceleration of North-South Expressway project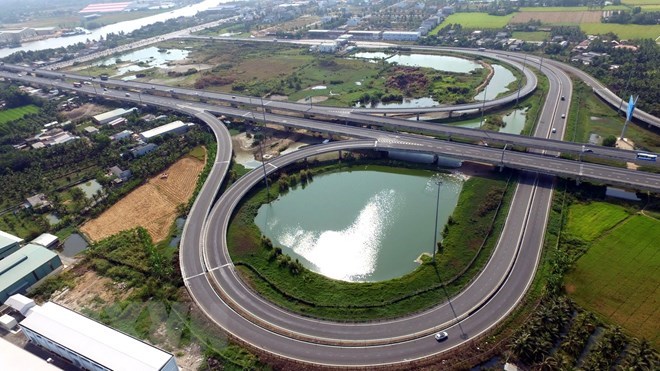 A section running through Tan An city (Long An province) of Ho Chi Minh City-Trung Luong Expressway, part of the North-South Expressway

Deputy Prime Minister Trinh Dinh Dung has asked ministries, especially the Ministry of Transport (MoT), to speed up preparations to ensure all sections in phase I of the North-South Expressway will be completed in 2021.

At a meeting to review the project's progress on June 22, Deputy PM Dung urged the MoT to promptly make investment preparations in line with legal regulations so as to prevent losses and complete the project on schedule.

"Bidding must be carried out publicly to select the most suitable investors so as to ensure the project's efficiency, quality and progress," he noted.

He asked localities, other ministries and sectors to coordinate closely with the MoT to address difficulties in procedures, capital, and compensation for and resettlement of displaced people.

The Deputy PM also told the MoT to standardize technical and architectural requirements for rest areas along the North-South Expressway so that they will provide modern, convenient and civilized services for passengers.

[Infographics: 654km section of North-South Expressway to be built]

The North-South Expressway has total length of over 2,100km, traversing 32 provinces and cities. The project is divided into three phases.

In the 2017 – 2020 period, more than 650km of the road running through 13 provinces and cities will be built. There are 11 sub-projects in this period.

From 2021 to 2025, the sections of Bai Vot (Ha Tinh province) – Cam Lo (Quang Tri province) and Quang Ngai province – Nha Trang (Khanh Hoa province) will be constructed. Meanwhile, the section from La Son (Thua Thien-Hue province) to Tuy Loan (Da Nang city) will be upgraded from two lanes to four lanes.

The section from Can Tho city to Ca Mau city of Ca Mau province will be built and put into operation after 2025.

Total investment for the project in 2017 – 2020 will be 118.7 trillion VND (5.2 billion USD), including 55 trillion VND (2.4 billion USD) from the Government and the remainder raised from investors through public-private partnership.
PM wishes Italian insurer success in Vietnam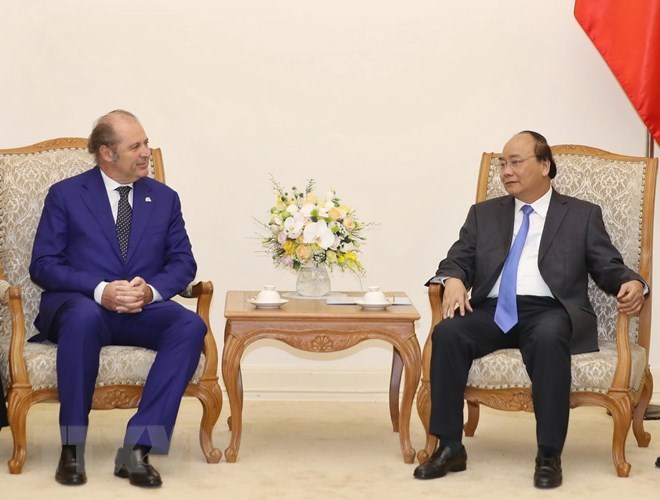 Prime Minister Nguyen Xuan Phuc (R) and Philippe Donnet, Director General of the Italian life insurance group Generali
Prime Minister Nguyen Xuan Phuc wished the Italian life insurance group Generali success in doing business in Vietnam during his reception in Hanoi on June 22 for the group's Director General Philippe Donnet and the Italian Ambassador to Vietnam Cecilia Piccioni.
The PM said the life insurance market in Vietnam is still small, but with a population of nearly 100 million, the market has great potential for development.
He stressed that with stable socio-political situation, extensive international integration and full adherence to commitments to the World Trade Organisation, Vietnam provides a good environment for economic growth and the development of life insurance market.
Philippe Donnet said he was impressed by Vietnam's growth in the past time, noting that the growth is a favourable condition for the development of the life insurance market.
According to Donnet, his group has gained certain success during its nearly one decade operation in Vietnam. He expressed his hope that the Vietnamese Government and the Prime Minister will facilitate the group's business.
In response, PM Phuc said Generali, which is the leading life insurance company in Italy, should adopt suitable operation methods and cooperate with Vietnamese partners and agencies to increase the number of people participating in life insurance.
The Government leader reiterated the Vietnamese Government's intention to continue refining institutions and policies to facilitate foreign investors' operation in Vietnam, including in the insurance sector.
He urged Philippe Donnet and the Italian Ambassador to campaign for the Italian Government's support and adoption of the Vietnam-EU Free Trade Government.
The PM asked Ambassador Cecilia Piccioni to work closely with the Vietnamese side to well organize the celebration of the 45th anniversary of Vietnam-Italy diplomatic relations this year.