Mekong Delta: draft plans on water supply released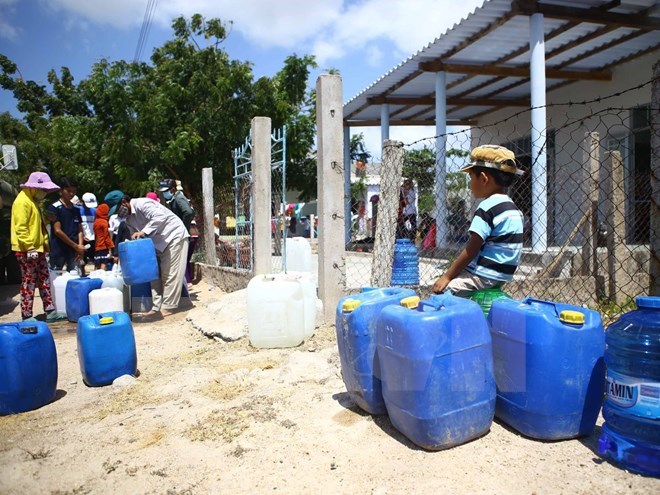 Residents in the Mekong Delta province receive water aid.
The Construction Ministry reported its draft plans on water supplies in the Mekong Delta through 2030 at a conference held in Can Tho on March 18.
Residents' demand for clean water is estimated at 3.4 million cubic metres per day by 2030, while the total capacity of all existing plants is 918,000 cubic metres.
Thus, new water systems in localities and a central system supplying the whole region will be built, totalling 2.3 million cubic metres of water shortage.
The plan aims to provide clean water to all residents in urban areas and 90 percent of residents in the countryside. The use of groundwater will be restricted, with the Tien and Hau rivers being the main sources of supply.
Construction costs will be sourced from community support, public-private partnerships, official development assistance and Government bonds.
By 2050 the ministry intends to expand the water pipes to reach provinces located along the North and the West seas. The percentage of clean water lost should remain under 10 percent.
At the function, Deputy Construction Minister Phan Thi My Linh pointed to serious drought and saltwater intrusion, which are taking their toll across the region, and making adequate water supplies a pressing issue.
She said the agency will consult local provinces as it completes the plans, which will be submitted to the Prime Minister for approval.
VEF holds 12th scholars conference in Washington DC
The Vietnam Education Foundation (VEF) held its 12th Fellows and Scholars Conference on March 16-18 in Washington DC that attracted the participation of 140 intellectuals.
At the conference, the VEF hosted an opening reception at which both US Ambassador to Vietnam Ted Osius and Vietnam Ambassador to the US Pham Quang Vinh were the guest speakers.
Minister of Science and Technology Nguyen Quang also attended the event and talked about building an environment where intellectual freedom flourishes and where superficial values are crushed by intellectual honesty.
Participating Fellows and Scholars took turns sharing their personal ideas on how best to contribute to the development of Vietnam with an emphasis on sustaining collaborative efforts between the US and Vietnam.
Central Highlands ethnic cultural diversity introduced
A festival honouring the making of ethnic wood sculptures and musical instruments was held in the Central Highlands province of Kon Tum on March 18.
The festival is part of the Central Highlands Folk Culture Festival and Culture Tourism Week which is set to be held in Kon Tum from March 18 to 23 with the aim to introduce an overview of the traditional cultural heritages of the ethnic minorities in the region.
During the three-day festival, 57 artisans from the five Central Highlands provinces will create wood sculptures on site.
Meanwhile, 22 other artisans will show their talents in making various kinds of ethnic musical instruments, such as T'rung, Ting ning, Koni, and Dinh Klok.
On the same day, an exhibition on traditional item collections in accordance with the cultural daily lives and costumes of the ethnic minorities was organised at the provincial museum.
Sideline activities of the exhibition include a gong-tuning custom, musical performances, and the making of handicraft products.
The Central Highlands encompasses the five provinces of Dak Lak, Gia Lai, Kon Tum, Dak Nong, and Lam Dong, which are home to more than 5.5 million people with 36 percent of them hailing from 46 minority groups.
Several Central Highlands cultural heritages have been recognised worldwide, including the cultural space of gongs, which was recognised by UNESCO as part of the world cultural heritage in 2005.
Techniques for farming in Mekong Delta salty land introduced
The Ministry of Agriculture and Rural Development's Cultivation Department has issued a set of techniques for rice and fruit cultivation in salty land in the Mekong Delta, its head Ma Quang Trung has informed.
He called for outlining a map of saltwater-infected areas, thereby studying suitable species of plants and animals to farm.
A research on early-maturing rice varieties that could stand high salinity levels should be promptly conducted, he said.
The summer-autumn rice should be sown in April and May, he said, adding that water should be used sparingly.
According to the departments of agriculture and rural development in the region, over 1.6 million ha of summer-autumn rice will be planted, up 628 ha from the same crop last year.
More than 900,000ha of autumn-winter rice will be sown, 25,800 ha more than last year's crop.
According to the Vietnam Academy for Water Resources, saltwater will encroach deep into most of the Mekong Delta in the 2015-2016 dry season.
Many areas that have never experienced saline intrusion, such as Vinh Long province and Chau Thanh district and Nga Bay township of Hau Giang province, will experience the phenomenon.
About half of the farmland in Hau Giang and Kien Giang provinces is predicted to be ruined by saltwater, which will impact all farmland in Ca Mau, Bac Lieu and Soc Trang provinces.
In Long An province's Tan An city in particular, saltwater with salinity of up to 10 – 12 grammes per litre is likely to enter 85km deep into the mainland in May if there is a lack of rain and timely prevention measures, the academy predicted.
Young Lao people visit Ly Son island district
A delegation of young people from the Lao provinces of Champasak and Khammouane has visited Ly Son island district in the central province of Quang Ngai.
They took part in planting 100 square almond trees, which have the name due to the distinct square-shaped fruit they produce , along the beach near Chua Hang area to green up the locality.
Phoutthadeth Noryanxana, a delegation representative, said the tree-planting activity contributed to fostering the friendship between Laos and Vietnam during her first visit to scenic Ly Son.
Deputy Secretary of the provincial youth union Nguyen Hoang Hiep said his association has chosen Ly Son as a destination for exchange activities based on its strategic position as well as wishes from the Lao delegation.
Joining social activities and exchange experience with international friends will help local youth become more active, he noted.
Ly Son island, a tranquil destination 30km off Quang Ngai's coast, is home to about 2,100 residents. Most make their living by fishing and farming garlic and spring onions.
It is homeland of the Hoang Sa (Paracel) flotilla soldiers, who sacrificed their lives to safeguarding national sovereignty.
Hanoi adds leaders of municipal People's Council and Committee
The People's Council of Hanoi in the 2011-2016 tenure convened an unusual meeting to elect additional leadership positions in the municipal People's Council and the People's Committee.
Nguyen Ngoc Tuan, Vice Chairman of Hanoi People's Committee, was elected as the new Vice Chairman of the municipal People's Council in the 2011-2016 tenure.
Nguyen The Hung, Nguyen Doan Toan and Ngo Van Quy, who have been directors of the municipal Departments of Planning and Architecture, Finance and Planning and Investment, respectively, will be Vice Chairmen of the municipal People's Committee.
Speaking at the meeting, Politburo member and Secretary of the Municipal Party Committee Hoang Trung Hai underlined the significance of the event, affirming that the election followed the city's personnel arrangement and planning requirements.
At the meeting, one Vice Chairman, one permanent member of the municipal People's Council and three Vice Chairmen of the municipal People's Committee were dismissed from their duties.
Quang Tri recognises 15 additional new-style rural communes
Authorities of the central province of Quang Tri granted certificates recognising another 15 communes as new-style rural areas at a local ceremony on March 17.
The figure raised the total number of communes recognised as new-style rural areas to 18, including Vinh Kim and Vinh Thanh in Vinh Linh district; Hai Thuong in Hai Lang district; Tan Hop in Huong Hoa district.
During the event, another 16 communes signed agreements demonstrating their determination to accomplish the new-style rural area criteria in 2016. This year, the Quang Tri aims to have 29 communes to become modern.
The locality plans to take a number of measures to realise the targets, including mobilising various financial resources in service of the work and conducting communication campaigns to gain wholehearted support from locals, businesses and administrations.
Initiatives are encouraged to effectively implement the new-style rural area building programme across the province.
In 2015, Quang Tri has eight communes meeting from 15-18 criteria, 59 communes meeting 10-14 criteria, and 32 communes from 5-9 criteria.
The province has mobilised over 1.1 trillion VND (49.5 million USD) for upgrading infrastructure, improving services relating to education and training, health care, and culture, protecting the environment, and maintaining social order.
The programme has been also implemented in close link with the local project on restructuring the agricultural sector towards improving added-values, contributing to raising income for local farmers.
On the occasion, numerous individuals and units were honoured for their outstanding contribution to the building of new-style rural areas in 2015.
The National Target Programme on New Rural Development, launched in 2010, sets 19 criteria for new rural areas covering infrastructure, production, living standards, income and culture, among others. A district must have at least 75 percent of its communes meeting all the 19 criteria in order to receive the title of new rural district.
Canadian girl raises her voice for charity
The youngest Youth Ambassador of SOS Children's Village, 11-year old Capri Everitt from Vancouver, Canada, raised her pure, innocent voice to sing the Vietnamese national anthem at SOS Children's Village in Da Nang on March 17.
Capri loves to help children less fortunate than herself. She is touring of 80 countries to sing 80 national anthems in 41 different languages to raise 1 million USD for SOS Children's Village – a charity which provides homes worldwide for children who have been orphaned, abandoned, or affected by war and poverty.
In a short clip featured on the website aroundtheworldin80anthems.com , the angel-hearted girl said she decided to act when she discovered that 18 million orphaned children face death, due to disease and malnutrition.
"I wanted to use my voice to help children get clean water and food," she said.
The idea of traveling to 80 countries was inspired by the classic novel Around the World in 80 Days by Jules Verne.
"But this is not just about visiting countries. This is about bringing children together through the common language of music," her website aroundtheworldin80anthems.com explains.
Why does Capri sing national anthems everywhere she goes?
Many children may not know famous pop songs, but they know their own national anthem. So Capri sings local national anthems with children in their own language, and children everywhere sing with her. She hopes that her work will inspire children of the world to use their talents to help make a better world for people everywhere.
In Vietnam, her nine-year-old brother Bowen Everitt and children of the SOS Children's Village in Da Nang accompanied her in singing the Vietnamese national anthem.
On March 18, she will participate in a cultural exchange programme with children from SOS Da Nang Village and 100 university students at Chau A Park from 6pm to 8pm.
A similar programme will be held tomorrow at Bien Dong Park.
On November 20, 2015, Capri began her incredible journey at UNICEF's Universal Children's Day celebrations in Ottawa, together with her mom, dad, and younger brother. Then she travelled through countries in the Caribbean, Mexico, Central America, South America, Oceania, and Eastern Asia. In each country, she invites as many local children as possible to join her.
Vietnam is her 30th country. After leaving this country on March 20, Capri will continue her mission in other Southeast Asian countries, including Thailand, Laos, Cambodia, Singapore, Indonesia, and Malaysia, before heading to the Southern Asia region to sing in Sri Lanka and India.
Her journey will also extend to South Africa, the Middle East, and Europe. She is scheduled to complete her 80-country global mission in mid-August.
To learn more about Capri's journey, or to make a donation, visit her website at http://aroundtheworldin80anthems.com.
Happiness in the air across Vietnam
Provinces and cities nationwide are busy with activities marking the International Day of Happiness, which falls on March 20.
This year's theme is still "Love and Sharing", the Minister of Culture, Sports and Tourism said.
Different campaigns imparting knowledge, skills and experience to build a happy home and community are underway, alongside a series of charitable programmes.
Some localities plan to hold mass weddings, events honouring notable long and content marriages, and talk shows with outstanding women who have contributed to the nation.
Vietnam first celebrated the international holiday in 2014. The Prime Minister issued Decision 2589/QD-TTg to mark the day annually throughout the nation. The domestic celebration is an opportunity for the Government to promote policies and initiatives to advance local living standards, and encourage law-abiding behaviour and community spirit.
With a happiness index of 5.061 points, Vietnam ranks 96th among 157 countries and territories in the World Happiness Report 2016. The three countries with highest happiness levels were Denmark, Switzerland and Iceland.
Established by the UN General Assembly in June 2012, the International Day of Happiness is now responded by 193 countries worldwide.
Japanese enterprises seek Vietnam's high-quality human resources
An exchange was held in Osaka, Japan on March 17 to connect Japanese enterprises and Vietnamese students.
The second event held by the Consulate General of Vietnam in Japan aims to meet increasing demand of Japanese enterprises for Vietnamese high-quality human resources and help Vietnamese students in Japan find jobs.
More than 20 Japanese small and medium-sized enterprises which have invested or planned to operate in Vietnam attended the event to look for Vietnamese students qualifying in mechanics, information technology, agriculture, economic management and international cooperation.
The exchange attracted the participation of nearly 60 Vietnamese university graduates from Kansai and graduates from Japanese language training institutions like Meric and Ehle.
At the event, Japanese enterprises highly appreciated the qualification, dynamism and hard-working of Vietnamese students. Many interviewed qualifying candidates for recruitment.
VN responds to World Water Day
The Ministry of Natural Resources and Environment (MNRE) will work with the People's Committee of Thanh Hoa and relevant agencies to host a program in response to World Water Day on March 21-22.
Key events include a national meeting in response to the World Water Day (March 22), a scientific workshop under the theme "Water and Jobs," a photo exhibition, an art performance.
The MNRE will launch other local-level activities.
World Water Day is marked on March 22 every year. It's a day to celebrate water. It's a day to make a difference for the members of the global population who suffer from water related issues. It's a day to prepare for how we manage water in the future.
In 2016, the theme for World Water Day is 'Water and Jobs' with a view to emphasizing the two-way relations between water and useful jobs towards water security, sustainable socio-economic development.
Deputy Director suspended from work due to irresponsibility, incapability
A deputy director and a group of medical workers in a public hospital in the central highlands province of Dak Lak were suspended from work because of "incapability and irresponsibility" and caused a 16-year-old to lose one leg last week.
Nguyen Van Tam, director of the General Hospital in Dak Lak province's Cu Kuin District, affirmed that after a meeting convened on March 16 to analyze lack of responsibility and professional knowledge of medical workers in treating Le Thi Ha Vi, a 15-year-old high school student, Deputy Director cum head of Surgery Ward Trinh Duc Lam; surgeon in charge, Y Tam and two nurses Le Thi Long and Vu Thi Kim Len faced suspension.
Before, on March 6, student Le Thi Ha Vi was rushed to Cu Kuin District General Hospital after a road accident on her way from school. Doctors said she had a bone rupture around the right knee and put her in a cast. Vi complained that the cast was too tight and painful and her leg below the cast was numb.
Her family decided to transfer her to leading Cho Ray hospital in Ho Chi Minh City where surgeons had to amputate her leg to save her life because the leg got gangrene.
'Shakespeare lives in photography' at Hanoi Creative City
The best images from the 'Shakespeare Lives in Photography' competition are to be exhibited at Hanoi Creative City March 25- April 15.
Organised by the British Council in partnership with the British Embassy and Hanoi Creative City, the exhibition kicks off the Shakespeare Lives global campaign in Vietnam. 'Shakespeare Lives' is comprised of a series of events and activities throughout 2016 celebrating Shakespeare's work on the occasion of the 400th anniversary of his death.
Activities in English, education and the arts will explore the story of how the 'Bard of Avon' and his work continue to inspire people all over the world.
The 'Shakespeare Lives in Photography' competition run by the British Council has attracted 200 entries and produced 11 winners choosing to creatively reference scenes from either Shakespeare plays, his influence on literature or capture a famous Shakespearian location.
The 11 winning photos will be displayed alongside commissioned images from live Shakespeare performances around the world, featuring scenes from Richard III, A Midsummer Night's Dream, Hamlet, Romeo and Juliet and Macbeth, amongst others.
'Much Ado about Nothing,' the romantic comedy which was directed by five-time Academy Award nominee Kenneth Branagh is to be screened during the exhibition.
The film stars Emma Thompson, Denzel Washington and Michael Keaton who are all Academy Award winning actors. Screenings are scheduled for 24 March at 15.30 and on 2 and 9 April at 18.30.
They are part of a series of screenings throughout 2016 to showcase film adaptations of Shakespeare's work, or filmed theatre productions as part of the 2016 'Shakespeare Lives in Film' collection.
Leading the 'Shakespeare Lives' activities in Vietnam, the British Council is collaborating with publishing houses, arts organisations and schools to engage audiences with new creative work inspired by Shakespeare's plays and sonnets.
The event will enable audiences to reassess perceptions of Shakespeare and provide new inspiration to engage with his work. Meanwhile, this work continues to grow in popularity internationally, thanks to its continuing engagement with social issues and the influence it has had on the English language.
Party chief asks for long term response plan against saltwater creep
Party General Secretary Nguyen Phu Trong asked the southern province of Ben Tre to adopt short and long term plans to tackle saltwater intrusion when inspecting works against the ongoing disaster in the locality on March 17.
Ben Tre has lost 19,000ha of winter-spring rice crop, over 500ha of vegetables, nearly 5,800ha of fruits and 475ha of aquaculture to salinity, becoming one of the hardest hit localities.
Over 88,200 households with 353,000 people lack freshwater, mostly those living in three coastal districts.
As many as 162 out of 164 communes and precincts have been affected.
To minimise losses, the Party leader called for switching to disaster-resistant plants and animals.
He hailed the provincial Party Committee for improving local well-being on par with those in the region, partly by developing a set of specific actions.
The upgraded socio-economic and technical infrastructure has resulted in a 7.3 percent economic growth per year, with the rate of poor households falling to 5.5 percent.
Ben Tre should remove any arising business obstacles, improve the business climate, develop tourism and tap marine-based economic potential, the leader suggested.
Lauding the province for its thorough preparations for the upcoming elections of deputies to the National Assembly and People's Councils at all levels for 2016-2020, he wished that the elections will be held in a democratic manner in line with the law.
The Party chief also took the occasion to urge for the consistent implementation of a Resolution on Party building adopted by the 11 th Party Central Committee's fourth plenum, saying that personnel work is of special significance.
Earlier, he visited Huu Dinh commune – the only new-style rural area in Chau Thanh district and inspected salinity situation in Giong Trom commune which recently lost 90 percent of harvest-ready rice acreage.
During the stay, he also visited a coconut processing plant and called on heroic Vietnamese mothers.
HCM City approves provisional list of candidates for 14th NA election
Ho Chi Minh City's preliminary list of candidates running for the deputies of the 14th National Assembly (NA) will consist of 90 persons. The list was approved at the municipal Fatherland Front's the second consultation meeting on March 17.
Accordingly, it includes 42 persons nominated by organizations and 48 self-nominated candidates. Non-Party members account for nearly 48.8 percent and women make up 33.3 percent.
The meeting also agreed with the preliminary list of 178 nominated and 25 self-nominated candidates for the seat in the municipal People's Council in 2016-2021.
The municipal front's standing board will then work to collect feedback from locals and the official list of candidates will be decided at the third consultation.
Hoang Sa, Truong Sa exhibition opens in Gia Lai province
Exhibits affirming Vietnam's ownership over Hoang Sa (Paracel) and Truong Sa (Spratly) archipelagos are being showcased in the Central Highlands province of Gia Lai from March 17.
They include photos, maps and documents in Han (classical Chinese), Nom (Vietnamese ideographic script), Vietnamese and French languages, issued from the 17 th to the outset of the 20 th century by the Vietnamese feudal states and the French government in Indochina (on behalf of the then Vietnamese state).
On display are also publications issued by western countries from the 18 th -19 th century, providing strong evidence that Hoang Sa and Truong Sa belong to Vietnam.
Worthy of note is a collection of four atlases and 30 maps compiled and published by China, which proves China has never managed the islands.
Socio-economic activities in Truong Sa island district during the country's industrialisation process are also featured at the exhibition.
The six-day exhibition aims to raise the public's awareness, and encourage Vietnamese nationals to affirm and protect national territory.
Sài Gòn Railway launches Facebook page
The Sài Gòn Railway Company has opened a Facebook account to offer updated information, schedules and promotions, and receive passengers' opinions. The aim is to improve its services, according to Lê Quốc Trung, the company's deputy general director.
People are invited to visit the page at https://www.facebook.com/duongsatsg.
New road to Cam Ranh Airport completed
A new road linking the Cam Ranh Airport and a new administration centre located in Nha Trang City in Khánh Hòa Province, has been completed, according to Trần Hòa Nam, director of the province's Department of Planning and Investment.
The road is 6.3 kilometres long and worth more than VNĐ2.1 trillion (US$96 million).
Mekong flower, bonsai areas to expand
The Cửu Long (Mekong) Delta River provinces are working with northern provinces to develop cultivation areas for flowers and bonsai. New growing methods will also be used, according to the Ministry of Agriculture and Rural Development's Department of Cultivation.
The country has 35,000 hectares of flowers and bonsai, earning VNĐ650 billion (US$29 million) per year, including $5 million from exports.
Free vaccines offered to City students
HCM City's Department of Health, in co-operation with the Department of Education and Training, will expand a programme to provide free measles-rubella vaccines for students aged 16-17 at high schools and vocational training centres.
The programme began this week, will last until May 13.
Tunnels approved for busy City intersection
An underground road beneath An Sương intersection in HCM City's District 12 will be built to reduce traffic congestion at the area.
The city's Department of Transport has approved the project with investment from the Urban Transport Management Zone No 3 at a cost of VNĐ514 billion (US$22.9 million).
Around VNĐ130 billion ($5.8 million) of that amount will be used for site clearance and compensation.
The design includes two tunnels with a total length of 850m. Each tunnel will be 9m wide with two lanes.
Work on the construction is expected to start in the second quarter of this year and finish by the third quarter next year, according to the investor.
Fatherland Front leader welcomes cybernetics expert
President of the Vietnam Fatherland Front (VFF) Central Committee Nguyen Thien Nhan hosted a reception in Hanoi on March 17 for Professor Fredmund Malik, Head of the Malik research institute in Switzerland.
Nhan praised the professor's work in the arena of cybernetics, adding that some of his projects have been applied in Vietnam's northern city of Hai Phong, yielding sound outcomes.
Vietnam hopes to collaborate further with Professor Malik and his institute to boost cybernetics development in the country, he said.
For his part, Malik noted he is committed to supporting Vietnam's scientific improvement.
He said he want to continue cooperating and sharing experience in cybernetics to replicate world successful models in the field, which can contribute to Vietnam's sustainable growth in economics and environment, among others.
Fredmund Malik, the founder and chairman of Malik, is an acclaimed international management expert and scientific thinker.
Malik applies systems theory and cybernetics to analyse and design management systems.
He was Professor of corporate management and governance at the University of St.Gallen, Switzerland, and at the Vienna University of Economics and Business, Austria.
World Bank vows to support healthcare development in Vietnam
The World Bank (WB) is committed to supporting Vietnam in completing its goals set in the national strategy on medical development from 2016-2020.
WB Country Director in Vietnam Victoria Kwakwa made the statement at a meeting between the Health Ministry and international health partners, which was held on March 17.
Vietnam ought to ensure local access to high-quality medical services and improve health staff's competence, she said.
At the meeting, Health Minister Nguyen Thi Kim Tien noted her agency will continue prioritising measures to ease the issue of hospital overloads moving forward.
The improvement of human resources, finances, infrastructure and disease precautions are also on the ministry's agenda, she added, underscoring the importance of overhauling relevant customer services.
According to the Health Ministry, throughout the 2011-2015 period, the numbers of beds and doctors per 10,000 people increased from 21.5 to 24, and from 7.2 to 8, respectively. Meanwhile, in some major hospitals, the percentage of shared beds was reduced from 70 percent to 7 percent.
The period saw expenditure on the health sector accounting for 7.52 percent of total public spending. The amended law on health insurance was issued on January 1, with the rate of insurance coverage rising from 60.9 percent in 2010 to 75.3 percent in 2015.
Health services have become available in all localities nationwide, and there have been 240 private facilities set up by family doctors since 2013.
EU-funded project helps promote central coastal tourism
The EU-funded capacity development programme for environmentally and socially responsible tourism in Vietnam (EU-ESRT) is building a website to help promote tourism in the central coastal region, focusing on Thua Thien-Hue and Quang Nam provinces and Da Nang city.
The website aims to strengthen tourism services and products of the localities, and support visitors in searching for tourist information. This is hoped to help increase sources of income for the localities.
The site, which is scheduled to be put into operation in this July, will cover information on must-see destinations, popular tourism activities, must-eat dishes and journeys worth travelling.
It will also provide information related to visa regulations for international tourists, weather, tourist transport support centres and accommodation establishments.
The three localities are famous for many beautiful beaches as well as tangible and intangible cultural heritages of the world such as the Complex of Hue Monuments, the "Nha nhac" (royal court music), Hoi An ancient town and My Son Sanctuary. They also boast biospheres and national parks with various species of flora and fauna.
In 2015, they enhanced links in promoting regional tourism and developing new products, in order to attract more holiday-makers to the region.
Along with sea travel, Da Nang is focusing on the development of entertainment services. Thua Thien-Hue is concentrating on cultural tourism through organising cultural events and arts performances and introducing local specialties, while Quang Nam is promoting ecotourism and community-based tourism.
Foreign sponsors join hands to help children in Lai Chau
The Aide et Action International (AEAI), the Institute of Development Economics Consultants - Social And Rural Mountain (CISDOMA) and the European Union joined hands to launch a project on March 17 to improve care and education for ethnic and disadvantaged children in Tam Duong in the northern province of Lai Chau.
The project will be realized within three years from 2016 to 2018 in three mountainous communes to help children get access to preschool and primary school.
The project will improve and apply advanced teaching methods, enhance the active participation of parents in teaching children and provide information to policy-makers.
It will also apply documents with Vietnamese and local languages with topics such as gender equality, living skills, individual safety, children rights, local culture and traditions.
Regional Director for Aide et Action South East Asia Prasert Tepanart revealed that the project creates an opportunity to improve education for children in Lai Chau, one of the most disadvantaged provinces in Vietnam.
VNA/VNS/VOV/SGT/SGGP/TT/TN/Dantri