Vietnam pledges promotion of women's empowerment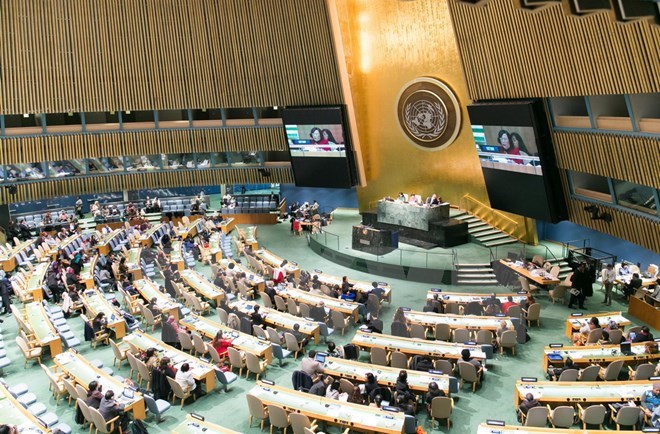 Minister of Labour, Invalids and Social Affairs Pham Thi Hai Chuyen highlighted Vietnam's achievements in empowering women at the March 15 working session of the ongoing 60th Session of the Commission on the Status of Women (CSW) in New York.
Vietnam, for the first time, has three female Politburo members, equivalent to nearly 16 percent, and more than half of ministries and agencies have women holding key positions, the minister said.
These female officials are expected to be promising candidates for the upcoming election of deputies to the 14th National Assembly and People's Councils at all levels for 2016-2021, she added.
Alongside this, female labourers make up 48.3 percent of the country's total figure and nearly 24.9 percent of business managers are women.
Notably, maternity mortality dropped over three folds, from 233 mothers per 100,000 live births in 1990, to 59 in 2014 and an estimated 58.3 in 2015, according to the official.
Thanks to its marked achievements in gender equality, the country has been lauded by the World Bank in its Vietnam 2035 Report released last February.
Minister Chuyen attributed such results to the country's efforts in promoting gender equality and ensuring human rights of women and girls.
Vietnam has considered the integration of gender equality into legal documents one of the key tasks ahead, she said.
She cited the national action plan on gender equality for 2016-2020 which aims to narrow the gender gap and raise women's position in a number of sectors, regions and localities, in addition to a string of policies and projects geared towards women.
To ensure gender equality, Vietnam has tried to grasp the demands and aspirations of women and employ solutions to promote their empowerment in all areas, the minister shared at the session.
However, like other CSW members, the country has encountered an array of difficulties and challenges in the work, she said, citing the complicated issue of violence against women and girls, and backward customs in rural, mountainous, far-flung and remote areas that hinder the development of women.
To deal with the problems, Vietnam will speed up writing and enforcing laws and policies on gender equality, add priorities regarding the empowerment of women and girls into the national agenda on sustainable development, and strive to better protect the rights of the group during the process of economic development, Chuyen promised.
The country hopes to have more opportunities to take part in meetings and thematic discussions of this year's session in order to work together with other CSW members in seeking out suitable solutions and priorities to women's empowerment, she said.
Egyptian robbed in Ho Chi Minh City gets public apology, pledges return trip
An Egyptian tourist that was robbed in downtown Ho Chi Minh City last week received a public apology from local authorities on Wednesday as she asserted that the incident did not ruin her feelings about Vietnam.
Representatives from the municipal Department of Tourism and the administration and police unit of Pham Ngu Lao Ward, District 1, came to see Alaa Aldoh at her hotel to offer their apology, which the 22-year-old vacationer accepted.
After hearing that Aldoh was robbed of US$230 in cash and an ATM card by two bag snatchers in the area on March 11, the administration arranged a hotel for her.
"We are sorry for all the bad things that have happened to you recently," Nguyen Van Cuong, deputy head of the tourist information support division at the tourism department, said to the tourist.
Le Tan Dat, chairman of Pham Ngu Lao Ward, who also offered Aldoh an apology, on behalf of local citizens gave her $230 to make up for the lost money.
The Egytian and a traveling companion arrived in Ho Chi Minh City on March 9 for a planned trip across Vietnam, she recalled at the meeting.
The pair was walking on Luong Huu Khanh Street when the robbers grabbed her bag containing cash and an ATM card. However, she did not have her passport and other important papers with her, she said.
After a failed attempt at chasing the bag snatchers, Aldoh eventually fell to the ground in tears.
Passers-by began to console her and some photos of the crying tourist were quickly uploaded and shared online.
The woman said those viral photos have somehow made her 'famous' in Vietnam.
The tourist added many people in Ho Chi Minh City who heard of her experience offered to provide free lodging and support.
When she visited the resort town of Da Lat in the Central Highlands earlier this week, some locals also recognized Aldoh and showed her what they had read about her in the media, she added.
Police in Pham Ngu Lao Ward said they received her complaint immediately after the incident and the chief officer of the unit apologized to her at that time.
Officers admitted that the lack of a surveillance camera system on Luong Huu Khanh Street makes it difficult to detect the bag snatchers.
Even after the experience, Aldoh says the robbery did not create ill-will towards Vietnam and she believes these two bag snatchers do not represent millions of other people in Ho Chi Minh City.
The Egyptian said Vietnam is a vast and beautiful country and she plans to return.
Her trip to Vietnam is the first journey she has decided to embark on since graduating and in her excitement for the trip she had carefully studied the country's landscapes, and planned to visit numerous places from north to south.
Vu Dinh Quan, general director of Ben Thanh Tourist Company, said at the meeting the tour organizer will sponsor the entire trip for Aldoh and her friend "as a way to share their mishap."
PM to chair anti-corruption review conference next month
The Prime Minister will chair a national conference reviewing the 10-year enforcement of the Law on Corruption Prevention and Control next month.
The event will present an overview of the fight against corruption, shortcomings and solutions towards refining legal regulations on combating corruption and outlining key tasks for 2016-2020.
It is also to raise public awareness of anti-corruption work and honour outstanding individuals and organisations for their contributions.
Adopted by the 11 th National Assembly's eighth sitting on November 29, 2005, the Law comprises eight chapters and 92 articles and took effect on June 1, 2006. Revisions and supplements to the 2005 law were made at the 12 th NA's first meeting on August 4, 2007 and the 13 th NA's fourth meeting on November 23, 2012.
In recent years, the Party and State have defined anti-corruption work as a priority focus.-
Quang Ngai commemorates victims of Son My massacre
Hundreds of local people on March 16 offered incense at the Son My relic site in Tinh Khe district, in the central province of Quang Ngai to pray for victims of a bloody massacre by US soldiers 48 years ago.
The killings that occurred on March 16, 1968 in the South Vietnamese hamlet of My Lai prompted widespread outrage around the world. The massacre is also credited with advancing the end of the American War because it significantly undermined public support in the United States for the war effort.
Some 504 unarmed civilians in Tinh Khe commune were killed, mostly elderly villagers, women and children. Hundreds of houses, along with thousands of heads of cattle and poultry, and all food, were burned and destroyed that day.
At the ceremony, Billy Kelly, a US war veteran, sent 504 roses to the monument to commemorate the victims.
Meanwhile, another war veteran Mike Boehm, who is also Managing Director of the Madison Quakers charitable organisation, played a piece of music named "The sound of the violin in My Lai" in memory of the victims.
Over the past 25 years, Boehm has also visited Son My Memorial frequently, where he plays his violin to pray for the souls of the massacre victims and to send out a message of peace.
A book "The Witness from Pinkville", written by Pham Thanh Cong - one of a dozen survivors of the 1968 My Lai massacre, was published on the 48 th anniversary of the infamous incident.
2,000 copies of the book, 1,000 of which are in English, are available at the Son My Vestige site from March 16.-
200 scholarships granted to unfortunate students in central region
Scholarships were presented to 200 less privileged children in central Phu Yen and Quang Ngai provinces on March 16 to help them continue their studies.
In Phu Yen's Tuy Hoa city, Vice President Nguyen Thi Doan, who is Chairwoman of the National Fund for Vietnamese Children's Sponsorship Council, presented 150 scholarships as part of the "Together with children to school" programme.
The beneficiaries were students from across the province who weathered their less fortunate backgrounds to study. Many of them are ethnics and orphans while some others suffer from disabilities.
Hoang Van Tien, Director of the National Fund for Vietnamese Children, said the "Together with children to school" programme, launched in 2012, has assisted over 10,000 underprivileged children with more than 40 billion VND (1.8 million USD).
This was the second time the programme had presented scholarships in Phu Yen, he added.
On this occasion, the National Fund also decided to support 10 local children with particularly disadvantaged backgrounds until they reach adulthood.
The same day, former Vice President Truong My Hoa, Chairwoman of the Vu A Dinh Scholarship Fund, granted scholarships for 50 students in Ly Son island district and 60 others in mountainous Minh Long and Ba To districts of Quang Ngai province.
Fishermen provided with disaster prevention navigation charts
Fishermen and students in Nghia An commune in the central coastal province of Quang Ngai were presented navigation charts and documents that provide knowledge of storm avoidance at a ceremony held on March 16.
The event was jointly organised by the Central Region Natural Disaster Prevention and Support Fund and the Prudential Assurance Vietnam.
At the ceremony, 3,000 navigation charts were given to fishermen, helping them keep tracks of the paths of tropical storms as well as supporting rescue activities at sea.
The organisers also presented 15,000 notebooks with instructions for disaster readiness, self-protection skills and practical survival methods to overcome natural disasters.
The programme is part of the Disaster Risk Reduction project, funded by the Prudential Vietnam, in response to a call by the Government to raise preparedness to cope with natural disasters.
Project launched to replant old coffee plants in Dak Nong
A project to replace old, low-yield coffee plants in the Central Highlands province of Dak Nong was launched at a conference on March 15.
The Vietnam Sustainable Agriculture Transformation (VnSAT) project has a total investment of 260.7 billion VND (11.73 million USD), including 157.4 billion VND (7.08 million USD) sourced from the World Bank.
It will be implemented in 11 communes in three districts and Gia Nghia town from 2016-2020.
Under the project, on-field training services will be provided for outstanding coffee growers while building capacity for cooperatives' managerial staff to ensure sustainable coffee cultivation.
Vice Chairman of the provincial People's Committee Truong Thanh Tung said the project will encourage local farmers to apply technology-based cultivation not only in coffee plants but also in other crops, thus raising the economic value of the local agricultural sector.
Dak Nong has nearly 120,000 hectares of coffee plants. Of these, 25,000 hectares will be replaced from now to 2020, Tung said.
The VnSAT project, part of the World Bank – financed national cooperation plan , was outlined by experts from the WB, the UN Food and Agriculture Organisation and the Vietnamese Ministry of Agriculture and Rural Development.
It has been implemented in 13 Central Highlands and Mekong Delta localities, including Dak Lak, Dak Nong, Gia Lai, An Giang, Can Tho and Hau Giang, from 2015 to 2020 with a total capital of 301 million USD, of which 238 million USD came from the WB's preferential loans.
The project aims to help promote agricultural restructuring through increasing the sector's institutional capacity, renewing sustainable cultivation methods and raising the value chain for rice production in the Mekong Delta and coffee crops in the Central Highlands.
Additionally, the project can help reduce negative impacts on the environment through lower use of water for irrigation, fertilisers and pesticides.
Ninth HCM City book fair to open later this month
The ninth Ho Chi Minh City Book Fair will open at Le Van Tam Park in the southern city from March 21-27, featuring more than 720 booths from 167 domestic and foreign publishers.
Speaking at a press conference on March 15, Director of the municipal Department of Information and Communications Le Thai Hy said this year's event will see a significant increase in the numbers of participating firms and booths.
Themed " Books- Culture and Development", the fair will introduce to readers millions of copies of 300,000 different books. Visitors at the event will also have a chance to buy books with discounted prices or take part in attractive promotion programmes.
Numerous activities will be held during the week-long event such as talks; drawing competitions; exhibitions on books; and photos on Vietnam's seas and islands, Ho Chi Minh City and its development process; and e-books.
A highlight of the fair will be a playground for kids with several activities including painting, sand-picture making and storytelling competitions.
The biennial event started in 2000, receiving a warm response from the public while encouraging reading culture among Vietnamese youth and adults.
PM gives nod to form Mine Action Partnership Group
Prime Minister Nguyen Tan Dung, head of the State Steering Committee for the National Mine Action Programme, also known as Programme 504, has agreed to establish the Mine Action Partnership Group (MAPG).
According to the Ministry of Planning and Investment, the overall objective of the MAPG is calling on donors and international sponsors to effectively implement the programme.
The MAGP also aims to bolster mutual understanding on policies, plans and measures to implement the programme, ease the impacts of bomb and mine pollution on Vietnam's socio-economic development, and team up with domestic and international organisations to deal with the aftermath of bombs and mines left over from war.
More than 800,000 tonnes of unexploded bombs and mines are buried across 21 percent of the country, mainly in the central provinces of Nghe An, Ha Tinh, Quang Binh, Quang Tri, Thua Thien-Hue and Quang Ngai.
Wartime bombs and mines have killed about 42,130 people and injured others 62,160, according to the Ministry of Labour, Invalids and Social Affairs.
Workshop on renewable energy in Vietnam held in France
A strategy for developing energy for Vietnam after COP21 was the focus of discussions at a workshop recently held in France .
The event at the University of Ense3 Grenoble-INP in the southeast city of Grenoble saw the participation of crowds of local and Vietnamese experts and students.
Addressing the event, Director of the French National Center for Scientific Research (CNRS – EDDEN) Professor Patrick Criqui shared with participants the outcomes of the 2015 UN Climate Change Conference (COP 21) and the severe impacts of global warming on humans and the environment.
Meanwhile, Professor Vincent Debusschere from the university introduced the concept of smart power grids (Smartgrids) for renewable energy.
They both underlined the need to develop renewable energy sources, including hydropower, wind power, solar power and biomass, particularly after 195 nations reached a historic agreement to keep the global temperature from rising 2 degrees Celsius or more on December 12, 2015 during the COP21.
For his part, Professor Nguyen Khac Nhan, former lecturer at Grenoble University , called on nations to stop using coal-fired power plants, reduce the need for fossil fuel and boost investment in renewable energy sources.
He cited statistics from the French Environment and Energy Management Agency (ADEME) that say that by 2050 renewable energy could fully meet the country's demands for power.
Investment in renewable energy in Vietnam is much lower than its potential. The country has 41,000 km of rivers and waterways that could be used for hydropower, Nhan said.
Vietnam is also endowed with favourable weather patterns for developing biomass, solar power and wind power, he added.
The Vietnamese Government adopted the National Strategy on Energy Development through 2020 with a vision towards 2030, which aims to raise the proportion of renewable energy from 3 percent of total power generation in 2010 to 5 percent in 2020 and 11 percent in 2050.
To meet these goals, the Government has outlined various preferential measures to support investors, such as tax exemptions for equipment imports and land use for projects in the field.
Bac Giang province observes 132nd anniversary of Yen The Uprising
The 132nd anniversary of the Yen The Uprising, a major movement against France, was celebrated in northern Bac Giang province on March 16.
The ceremony at the Yen The Uprising relic site in Yen The district, was also to open the Yen The Festival.
Chairman of the district People's Committee Vu Tri Hai said the festival aims to honour the significant history of the uprising and pay homage to the uprising's leader, Hoang Hoa Tham, and his troops who fought the French colonialists for nearly three decades, from the late 19th century to the early 20 th century.
The festival also features a host of cultural and sports activities such as a martial arts competition, tug of war, human chess, cheo (traditional opera), quan ho (love duet) performances, and water puppetry. An exhibition on the Yen The Uprising is also open for visitors.
The Yen The Uprising broke out in 1884 in Bac Giang and later expanded to other northern provinces such as Bac Ninh, Vinh Phuc, Thai Nguyen and Lang Son.
The uprising, which lasted until 1913, is considered as the biggest and longest armed rebellion staged by farmers before the Communist Party of Vietnam was founded and led the country's revolution.
The Yen The Festival was organised for the first time on March 16, 1984 – the 100th anniversary – to commemorate the revolt.
To preserve and promote the movement's values, nine sites of the Yen The Uprising were listed as national special relics in 2012. The Yen The Festival was also recognised as part of the national intangible cultural heritage.
Baby recovers from tricky surgery
Doctors from Đà Nẵng's Paediatrics and Obstetrics Hospital and the International Pediatric Specialists Alliance (IPSAC) have successfully completed a surgery on a local three-month-old baby who had been born without an anus.
Prior to the surgery, the boy had used a temporary artificial anus that local doctors had created during his hospital stay.
He received an endoscopy surgery last week, and he has made a healthy recovery.
The surgery was part of a five-day charity drive last week to perform operations on 25 babies with genital malformations as well as digestive and urinary defects.
More than 150 newborn babies in the city and central region have received free surgeries from voluntary doctors of IPSAC since 2010.
Confusing social insurance law leaves workers in dark
The implementation of the Social Insurance Law has been a confusing process, said Deputy Chairman of the National Assembly's Committee for Social Affairs Bùi Sỹ Lợi.
In a conference regarding the late promulgation of the law's guiding document on Monday, Lợi said the law is good on paper, but in practice, many people have found its regulations to be confounding.
The law concerns the rights of millions of workers and specifies regulations related to work entitlements and compensation for pregnancy and sick leave, work accidents and retirement. It has been in effect since the beginning of the year.
Workers and enterprises in the south have reportedly had the most difficulties.
Lợi suggested that leaders of the Ministry of Labour, Invalids and Social Affairs and the Việt Nam Social Insurance should take a field trip to meet workers and gain an understanding of the current situation.
Cao Văn Sang, director of the HCM City Social Insurance, said the process of recovering social insurance debt has been challenging because the handling of cases in court has taken too long, thereby allowing enterprises to disperse and hide their properties.
Speaking at the conference, Deputy Minister of Labour, Invalids and Social Affairs Phạm Minh Huân said that two decrees and several circulars under the law have not been enforced.
"The law was promulgated, but the guidance documents that have not been promulgated will create obstacles for the law implementation," said Huân.
Deputy Chairman of the Việt Nam General Confederation of Labour, Mai Đức Chính, said that at the end of last year, several enterprises sold their workshops and properties to other enterprises to flee from their social insurance creditors. As a result, old enterprises disappeared, and new ones refused to pay the debt of dozens of billions of đồng.
"The workers were held hostage by social insurance offices and enterprises because when the enterprises did not pay the insurance, the workers' rights, including coverage for sickness, pregnancy, accidents and retirement, were not protected," he said.
Chính proposed to add a regulation about protecting workers' rights when employers evade responsibility.
"The obstacle is that the Social Insurance Law was put into effect at the beginning of this year, but the Law on Civil Procedures won't be put into effect until July, so the workers have to wait," Chính said.
Concluding the conference, Deputy Chairman Lợi urged concerned ministries and sectors to submit necessary decrees to the Prime Minister for approval and promulgation.
The guidance documents and decrees must not create difficulties for workers, Lợi said, adding that administrative procedures must be simple and easy to access.
"We think that it's not important if the decrees are promulgated one month or three months late, but in fact the workers wait for the decree every day, every hour," he said. —
Symposium held on pharma quality
Health experts and policy makers discussed ways to improve the outcomes of patient care and the quality of pharma products at a symposium yesterday in Hà Nội.
The event was the first international symposium on quality and innovative pharmaceuticals organised by the Pharma Group and the British Embassy in Hà Nội and the European Union-Việt Nam Business Network.
"The multi-stakeholder symposium was a good opportunity for us to listen and exchange information with the pharmaceutical industry on improving the quality and innovations of pharmaceutical products," Deputy Health Minister Phạm Lê Tuấn said.
Drug Administration of Việt Nam (DAVN) Deputy Director Nguyễn Tất Đạt said the 2005 Pharmaceutical Law had achieved its objectives on improving patients' access to high-quality, safe and affordable drugs in the last 10 years of its implementation.
However, Đạt said, "Challenges and shortcomings still remain in the law's enforcement due to outdated provisions that are no longer suitable, given the rapid development of the industry."
"The health ministry is in the final stages of drafting amendments to the revised Pharmaceutical Law for the National Assembly's approval. The amendments will facilitate the pharmaceutical industry's rapid growth in the context of Việt Nam's deeper integration into the global economy," Đạt said.
The symposium's delegates focused their discussion on the role of improved drug quality in patient care and on enhanced innovations in Việt Nam's pharmaceutical industry.
They discussed pharmaceutical quality and safety in Việt Nam and proposed specific recommendations to improve quality and to advance policies that enhance innovation.
They also shared experiences and lessons learned in managing drug quality, addressing counterfeit products and encouraging pharmaceutical innovations.
The DAVN said the country's total medicine consumption value reached US$3.4 billion as of the end of 2015, of which domestic medicines comprised 50 per cent. The country currently has 153 drug production facilities, 2,000 wholesale companies and 40,000 drug retailers. The Vietnamese people spend an average $38 per person on medicines annually.
Highway to break ground in 2017
The progress of the Dầu Giây-Phan Thiết Expressway and plans to acquire the lands required for it were discussed at a meeting on Tuesday between the project's management agency and officials from provinces through which the expressway will run.
The 100km expressway will run through the districts of Thống Nhất, Cẩm Mỹ, Long Khánh, and Xuân Lộc in Đồng Nai Province and Hàm Tân and Hàm Thuận Nam in Bình Thuận.
It will cost over VNĐ17.7 trillion (nearly US$800 million), with funding provided by the International Development Association and the World Bank's International Bank for Reconstruction and Development.
Its first section is 36km long from Dầu Giây to Xuân Lộc District, and its construction will begin in the first quarter of next year.
The 62km second section will run from Xuân Lộc to Phan Thiết, and construction will start in 2018.
Plans for site clearance and compensation payment have been approved, the Project Management Unit No 1 said.
But there differences in the land areas to be taken over by authorities and the areas approved by the Đồng Nai People's Committee, the Management Unit No 1 said.
Speaking at the meeting, deputy chairman of Đồng Nai People's Committee, Trần Văn Vĩnh, urged the unit to closely co-ordinate with provincial authorities.
He also urged the Đồng Nai Department of Natural Resources and Environment to get plans for land use quickly from district authorities to ensure that the lands could be handed over in time.
Party chief urges action in fight against drought
Party General Secretary Nguyễn Phú Trọng called for prompt actions to fight drought and saline intrusion while visiting the Mekong Delta province of Tiền Giang yesterday.
He asked the province to adjust its agriculture planning and keep regular track of freshwater shortages to ensure a stable water supply for local people.
He hoped that Tiền Giang would be successful in Party building and carrying out the Party building resolution adopted by the 11th Party Central Committee's fourth plenum.
Tiền Giang needs to hold elections for deputies to the 14th NA and People's Councils for the 2016-2021 tenure, ensuring democracy, quality and law abidance in the process.
The Party chief took note of the provincial authorities' proposals on providing funding for facilities to counter climate change and rising seawater levels, as well as adding Gò Công coastal economic park into the country's coastal economic zone master plan.
Visiting Gia Thuận Commune – a disadvantaged locality in the coastal district of Gò Công Đông, he examined local measures to cope with the severe drought, develop the marine-based economy, build new-style rural areas and reduce poverty.
The district is currently home to two communes meeting all new-style rural area criteria, with the rate of poor households falling to 2.96 per cent.
On the same day, the Party chief met a local heroic Vietnamese mother and visited Gò Công wood craft village.
Ten provinces, cities top in food safety management
Ten provinces and cities have received good valuation on food safety and hygiene management in 2015 from the Ministry of Agriculture and Rural Development.
They include Bà Rịa-Vũng Tàu, Bình Định, Đồng Nai, and Hà Nam, in addition to Hà Nội, Long An, Kiên Giang, and Phú Thọ. The other two provinces are Sơn La and Tiền Giang.
Meanwhile, many localities have done this work inefficiently, Trần Quốc Tuấn, head of the ministry's office said.
This is the first year the ministry evaluated and ranked the activities in food safety management in cities and localities, he said.
The assessment was based on a set of criteria which include conducting activities in management of food safety, implementing communications to raise public's awareness about food safety and sense of abiding by food safety regulations and monitoring, apart from inspecting and handling violations, and setting up and developing safe food supply chains.
According to Tuấn, the valuation is very practical when food safety issues are alarming.
It will help locals to strengthen their activities on management of food safety, to limit the overuse of antibiotics in animal husbandry and aquaculture, and pesticides in vegetables, fruits and other agricultural products, he said.
Oil truck, coach collision kills two
At least two people died and 13 others were seriously injured after an oil truck collided with a 24-seater coach in the northern province of Hòa Bình's Mai Châu District yesterday afternoon.
The accident occurred at Km 127 of National Highway 6, the section at Thung Nhuổi Pass between Thung Khe and Tòng Đậu communes.
Witnesses said the oil tanker, running from Hà Nội to Hòa Bình, lost control on a turn on the pass and hit the coach travelling on the opposite site. The truck was totally destroyed and subsequently caught fire. All of the injured were transferred to local hospitals. Three fire-fighting trucks were sent to the scene.
Hòa Bình Police is investigating the accident.
Hanoi expands methadone treatment for drug addicts
Hanoi will set aside 36 billion VND (1.61 million USD) to expand methadone maintenance treatment (MMT) availability among heroin addicts in the city, said Le Nhan Tuan, Director of the municipal Centre for HIV/AIDS Prevention and Control.
Some 3,729 addicts received MMT treatment by the end of 2015, meeting just 43 percent of the set plan.
As of the end of 2015, the city had 17 methadone treatment clinics, but there were no specialised staff at those facilities.
According to Tuan, the city will ensure 12 staff for each facility within this year.
In addition to ensuring sufficient methadone and equipment, the city have provided the clinics with trainings, and disseminated information on the efficiency of methadone treatment, in a bid to get the community and addicts' families involve in the treatment.
The MMT is a cost-effective method that costs nine times less than traditional treatments in rehab centres. It not only allows addicted people to stop using drugs, reduces their risk of HIV transmission and improves their quality of life, but also is associated with a reduction in criminal activity.
Village bans motorbikes on holidays
Elders in A Xan Commune in central Quảng Nam Province's Tây Giang District have decided to confiscate all motorbike keys during holidays such as Tết (Lunar New Year) due to the dangers of drunken drivers.
Pơ Loong Đội, chief of A Xan Commune's A Rang 1 village, said in the past elders went to each household in the village to collect keys. But now they wait in front of Guol House - a place for administrative works and cultural activities of the Cơ Tu ethnic minority – where villagers hand over keys.
"There is a wedding in the village tomorrow. I'm sure that everyone will drink wine at the wedding so collecting motorbikes keys is the best way to prevent accidents," Đội was quoted by Vnexpress online newspaper as saying.
Five years ago, after local roads were paved with concrete and local residents became well-off, they started buying motorbikes, he said.
Since then many children in the villages died in traffic accidents. Drunk drivers on small, winding roads were blamed for many of the deaths.
Accidents often occurred on holidays so it took a long time to settle the incidents, Độ recalled.
The village head and elders tried to convince youths not to drive motorbikes while drunk and follow traffic regulations but their please fell on deaf ears. Village elders then decided to supplement a ban on driving motorbikes during holidays in the village regulations.
Now, a day before a wedding or a holiday, village elders and the chief go to each household to collect keys, which can be collected the following day after the villagers sober up..
"Exceptions will be allowed only in emergency cases such as transporting someone to the hospital," said Pơ Loong Jim, a village elder.
According to Jim, local people who violated the regulation would have to pay with a certain amount of their livestock.
No accidents have occurred in A Rang 1 Village during the past four years, he said.
Policeman sacked after shooting
A policeman in southern Cần Thơ Province's Cờ Đỏ District has been sacked after he shot a local woman in the buttocks.
Police from Trung An Commune stormed a gambling-den in Thạch Lộc 2 Village last month when Nguyễn Văn Hoa, a local policeman on duty, fired two warning shots into the air. Unexpectedly, one of the rubber bullets struck the buttocks of a 43 year-old woman from Trung An Commune, who did not participate in the gambling.
Luckily, the bullet caused no serious injuries but left a hole in her buttocks.
The woman went to the hospital for emergency treatment. After several days, she complained to local authorities that she had to pay more than VNĐ11 million (US$$494) for the treatment and asked to be compensated.
Authorities immediately sacked the policeman and paid compensation to the woman.
Karma takes down traffickers
Two drug-traffickers tried to throw away their drugs in an attempt to escape from police in Hà Nội, but were defeated by the wind.
The incident occurred on Sunday afternoon, while driving by Trường Chinh –Tôn Thất Tùng intersection, the police stopped the two suspects to check their motorbike licences.
While being escorted to the police station, the traffickers started swearing, shouting and arguing with the police. They threw a nylon bag towards Hố Mẻ Lake. Unfortunately, a strong wind blew back the bag back to their feet. Police picked up the bag and discovered it was containing drugs which would be used as evidence to prosecute them.
It seems karma didn't smile upon the two traffickers, perhaps if they had been polite to the police they'd still be walking the capital's streets today.
Journalists' Association receives objects for museum
The Journalists' Association has received various rare donated memorabillia for its new museum at a ceremony in Hà Nội.
Major General Nguyễn Trọng Khánh donated a statue depicting President Hồ Chí Minh reading Nhân Dân newspaper.
The daughter of late noted journalist Xuân Thủy donated her father's suit that he wore in the 1960s while working as the first president of the Việt Nam Journalists' Association. He occupied the post twice between 1950 and 1962.
Many former war journalists donated memorabillia they had used during the wars.
Journalist Phan Khắc Hải, former journalist of Quân Giải Phóng (Liberation Fighters) newspaper, donated a hammock he used during the Trị Thiên battle in the American War.
The museum has received hundreds of objects from two donation drives held last year in Hà Nội and HCM City.
Let your child be thin, new book on parenting launched
Dr Trí Đoàn, a Singapore-trained veteran paediatrician, and freelance writer Bùi Thị Hà Uyên yesterday launched their new book, Để con được ốm (Let your child be sick/thin) in HCM City.
The title is a warning against trying to overfeed babies to make them chubby, "because your neighbour's child is", Uyên told the media at the launch.
The humorously written book tries to answer many of the health and parenting questions that arise in people's minds while taking care of babies aged up to two.
It is written in an anecdotal format and packed with illustrations and the humour of real-life mother Uyên.
Đoàn said many parents worry excessively even if their children are slightly ill and hoped the book would put their mind at ease.
Để con được ốm will be available at all bookstores from Friday.
Music show highlights Japanese rock
A Japanese rock music show called The Last Samurai Night will be held at Saigon Ranger on March 19. The concert will feature Japanese, expatriate and local bands Nice Coffee, L.C.L, Rotten Red Machine, and Steel Saigon.
The event will begin on 7.30pm at 5/7 Nguyễn Siêu Street in District 1. Entrance is free.
Irish artists to play at St. Patrick Rocks
The St. Patrick Rocks concert featuring Hipster, specially flown in from the UK, will be held at American Club on Friday.
Hipster have played several music festivals in UK and Ireland and won the Outstanding Artist of 2015 Award by Alive Network. They will be accompanied by Comhaltas Ceoltoùirí EÙireann – traditonal Irish musicians from Dublin, as well as other local rock band performances and artists, including French band La Belle et la Beâte and Hong Kong-based American musician Michal García from The Anello.
The concert will be held from 5.30pm until 11pm. The American Club is at 19 Hai Baø Tröng Street.
Tickets cost VNÑ250,000 for adults, and VNÑ100,000 for children 2-12, free for children under 2 years old. Tickets available at The Kitchen, 30 Toâ Ngoïc Vaân Street, and Hanoi Rock City, 27 Alley 52 Toâ Ngoïc Vaân Street. Adult tickets include 1 free Magners Irish Cider and free entrance to the official after party at Hanoi Rock City.
Electric Yard Dogs back in Ha Noi
On their return from central Vieät Nam tour, the Electric Yard Dogs continue to perform at some bars and clubs in Haø Noäi this month.
On March 18 and 25, the group will stir the atmosphere at +84 BAR, 23 Ngoâ Vaên Sôû Street from 9pm.
On March 20 and 27, the band will rock audience at the 1900 Le Theatre at 8 Taï Hieän Street from 8pm. They will meet their fan again on March 23 and 30 at the 21 North Club, 49 Yeân Phuï Village.
The Electric Yard Dogs have been performing in Haø Noäi for over five years. Their music is a highly dance-able mix of fast rock, rhythm and swing, a style reminiscent of Dr Feelgood, the Texas Bar Room Blues of Stevie Ray Vaughan and the Fabulous Thunderbirds with a touch of Chuck Berry and Jimmy Reed.
Teams drawn for national U19 football contest finals round
Hosts Sannatech Khánh Hòa will be in Group A of the National U19 Football Tournament's final round in the southern province of Khánh Hòa, according to the event's draw held yesterday.
Khánh Hòa will play with Hà Nội T&T, Becamex Bình Dương and An Giang. While Group B includes Quảng Nam, PVF, Viettel and Bình Định.
In the opening matches today, Khánh Hòa will meet Bình Dương, while defending champions PVF face Viettel.
"The tournament is a chance for junior teams to hone their skills and gain experience for their long-time target. The event's outstanding players will be selected for the Olympics, U23 and senior football team. The eight teams in the final round competed very successfully in the qualifying rounds, so it will be difficult for our team, PVF, to defend our title from last year. However, we will strive for the best result," said Nguyễn Mạnh Cường, chef-de-mission of PVF.
At this year's event, the winner will walk away with VNĐ80 million (US$3,500). The runners-up will receive VNĐ50 million (US$2,100) and VNĐ30 million (US$1,300).
The organising board also presents awards for best footballer, best goal keeper and best scorer.
The tickets will be free for fans nationwide.
Việt Nam ties T&T in friendly
The Việt Nam national football team tied with V.League side Hà Nội T&T in a friendly match in Hà Nội yesterday.
The match was a test for Vietnamese players ahead of their World Cup qualifiers later this month.
Việt Nam, under coach Nguyễn Đức Thắng, have trained together for a week. They tried to follow counter-attack tactics using short, rapid balls.
But the short time did not allow them to triumph.
Hà Nội T&T made their first threat when Samson chested the ball in front of the box, but his strong shot hit the bar at the 34th minute.
Three minutes later Việt Nam midfielder Lương Xuân Trường sent a smart ball to forward Nguyễn Văn Toàn, but the little squirrel headed over the bar.
Former PSG striker Loris Arnaud of T&T stole the ball from some chaos in the box, but his kick failed to pass the national defenders.
Samson heeled to Nguyễn Văn Quyết, who was free to shoot to a wide open net at the 66th mark, but it somehow found goalkeeper Nguyễn Nguyên Mạnh.
Việt Nam's best chance came near the end when Hoàng Đình Tùng broke into T&T's area and made a strong kick, but it went wide.
Another friendly for the national team will be played on Saturday against Quảng Ninh Coal, another V.League team.
In yesterday's match, T&T made it a farewell for players who had contributed much to the team – goalie Dương Hồng Sơn, striker Thạch Bảo Khanh, and midfielders Lê Hồng Minh and Nguyễn Tiến Dũng.
Sơn announced his retirement recently, while the rest retired several years ago.
It was the first time such an activity was organised to honour players in Việt Nam.
"This should have been done a long time ago," said coach Thắng. "I do not mean to compare, but in other countries they organise these farewell matches where we can see moving moments with smiles and tears of happiness. Players and their families feel pride when their contributions are widely recognised."
Keeper Sơn, who started the game with the captain band, said he was happy to be one of the first players to receive the honour.
"It is a surprise and I am really satisfied with this attitude. Thank you all for what you have done for me. Matches like this are for deserved players," said Sơn ,who received the Golden Ball statue in 2008 for being the best player of the year.
Italian ambassador reveals embassy's future activities
The Italian embassy in Vietnam convened a press briefing in Hanoi on March 16 to update its past and future activities.
Italian Ambassador Cecilia Piccioni informed the press on the embassy's activities across economics and trade, arts, education and cultural fields.
She said activities joined in by herself and Italian Consul General in Ho Chi Minh City Carlotta Colli, within the framework of "The Journey" (an Italian Embassy organised fact-finding tour) across the length and breadth of Vietnam, are raising understanding about the development of Vietnamese localities, thereby seeking trade opportunities for Italian firms in Vietnam.
In order to further strengthen educational links, the embassy and the Uni-Italy Vietnam Office in coordination with the Ministry of Education and Training's Vietnam International Education Department hosted an Italian education festival in Hanoi, attracting over 500 students.
In culture and arts, the Vietnam fashion week was held on February 25-28 and the "Symphony Season" got underway on February 27-28.
A symphony concert will begin on March 22 at the Vietnam Academy of Music and a fashion show is scheduled for March 31 at the embassy.
At the end of the event, the ambassador introduced several traditional Italian dishes for the upcoming Easter holiday.
Vietnamese, Japanese Party officials meet in Hanoi
Politburo member and Permanent member of the Party Central Committee's Secretariat Dinh The Huynh hosted a reception for the visiting Vice Chairman of the Japanese Communist Party (JCP) Yasuo Ogata in Hanoi on March 16.
The host said the two Parties should further enhance their ties through sharing experience and bolster coordination at regional and international forums as well as in multilateral activities of political parties.
He expressed his hope that the JCP will continue making contributions to deepening Vietnam-Japan relations.
Yasuo Ogata highlighted the significance of the 12 th National Party Congress, saying that this is a crucial milestone helping promote Vietnam's development in the future and increasing the country's position in the international arena.
He hailed the outcomes of the talks between JCP Chairman Kazuo Shii and Party General Secretary Nguyen Phu Trong during the Vietnamese Party leader's visit to Japan in September last year.
The two leaders agreed to strengthen relations through three main pillars, including tightening bilateral ties, stepping up theoretical and experience exchanges and enhancing cooperation for peace in the region and the world.
The JCP will do its best to help further bolster the friendship between the two countries, Yasuo Ogata said.
Earlier the same day, Head of the Party Central Committee's Commission for External Affairs Hoang Binh Quan held talks with the JCP Vice Chairman, during which they agreed to promote multifaceted cooperation between the two Parties.
The two sides compared their notes of common concern in the region and the world, focusing on recent complicated developments in the region. They stressed that disputes in the sea should be addressed by peaceful measures in line with international law.
VNA/VNS/VOV/SGT/SGGP/TT/TN/Dantri