French NA President attends Francophone festival in Hanoi
The visiting President of the National Assembly of France, Claude Bartolone, participated in the 2016 Francophone Festival held in the Hanoi University (HANU) on March 19.
The President visited booths of Francophone organisations and agencies, embassies of French-speaking nations in Vietnam, and French departments from Vietnamese universities, while joining exchanges with students.
Jointly organised by HANU and the French Embassy in Vietnam, the event offered French-language teachers and students, as well as French language lovers a chance to exchange and share experience in teaching and studying the language.
It included many activities, including an art performance, a French-eloquence contest, and meetings among Francophone agencies in Vietnam operating in the fields of education, culture, and development cooperation.
This is the sixth consecutive year the Hanoi University has hosted the event, which was to celebrate the International Francophone Day (March 20).-
Health Minister visits schoolgirl who lost leg due to doctors' negligence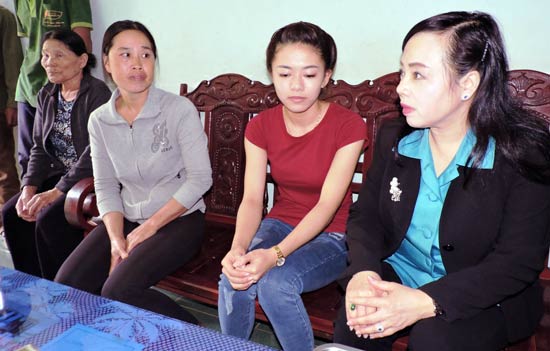 Ms Tien (1st, R) visits the family of schoolgirl Ha Vi who lost a leg due to doctors' negligence (Photo: SGGP)
Health Minister Nguyen Thi Kim Tien and a mission team visited the family of schoolgirl Le Thi Ha Vi in the highland province of Dak Lak who lost a leg due to doctors' negligence.
Ms. Nguyen Thi Kim Tien shared the painfulness which schoolgirl Vi has had for these days. She said that after Cho Ray Hospital in Ho Chi Minh City provided consultation, the the Department of Health in Dak Lak province will issue penalties on medical workers involved in the case.
The Department will impose harsh punishment promising that it will not hide any wrongdoing in the case, Ms Tien said.
The Minsitry of Health ordered Cho Ray Hospital to cover all treatment fee for Vi as well as provide cost for physiotherapy and prosthesis leg for Vi. Knowing that Vi is good student, Ms Tien encouraged Vi to sit for a medical school and Vi will work in the health sector in Dak Lak after graduation to have chance to treat ethnic minority people in the province.
On behalf of the family, Vi's sister, Trang sent her thank-you to related agencies which take the case to the light proposing Ms. Tien to have harsh penalties on medical workers who were negligent in their duty.
79 samples tested for fear of entrance of Zika virus
The National Institute of Hygiene and Epidemiology yesterday said that it has received 79 samples transferred from hospitals in Hanoi, the northern provinces of Hai Phong, Thanh Hoa, the central province of Ha Tinh, and the central province of Khanh Hoa's Nha Trang Town for testing to find out whether Zika virus exists.
All samples were taken from patients who experienced fever in one to five days . These blood samples are either negative for Dengue virus or Zika virus. Additionally, three suspected samples for Zika virus sent from the major hospitals were also negative for the fatal virus.
The Department of Preventive Medicine under the Minsitry of Health said that so far 54 nations and territories announced to have the circulation of Zika virus or disease caused by the virus. The Southeast Asian country has not recorded any cases of disease caused by Zika virus yet its neighboring nations bordering with Vietnam have had the virus.
Accordingly, it is highly likely that the virus will enter Vietnam through business exchange, travelling.
Moreover, the mosquito which transmit the virus is also the insect transmitting dengue fever circulating in Vietnam lately.
Consequently, to increase control over the entrance and circulation of Zika virus effectively, the Department of Preventive Medicine asked hospitals, institutes of hygiene and epidemiology and Pasteur institutes across the country to enhance supervision and taking samples in "hot spots" of dengue fever for early testing so as to soo detect Zika virus.
The Ministry of Health ordered municipal and provincial departments of health and local governments to launch campaign "Residents kill mosquitoes and its larvae to prevent dengue fever and diseases caused by Zika virus". Additionally, local administrations and health sector should increase information against Zika and dengue fever virus.
The departments of health will have penalties for acts to thwart medical workers in prevention the disease.
Hanoi: Winners of drawing contest on bear protection announced
Around 100 pupils were presented awards for their drawings calling for joint efforts to protect bears in Vietnam at a ceremony held on March 18 at Phung Thuong Elementary School in Hanoi's Phuc Tho district – the locality with the largest density of farmed bears in the north.
The drawing contest was launched by Animals Asia Foundation, in collaboration with the Netherlands Embassy in Vietnam, and Hanoi Forest Protection Department, on January 8, aimed at protecting bears and endangered wildlife in Vietnam.
After more than two months, the organising board received 1,082 drawings, showing creativity through different colours and messages to protect wild bears.
As many as 100 works were selected for award, including ten first prizes worth VND500,000 each, 20 second prizes worth VND300,000, 20 third prizes of VND200,000 and 50 consolation prizes worth VND100,000.
All 100 winners and teachers of students participating in the contest will join a field trip to the largest 'house of bears' in Vietnam in Tam Dao National Park, Vinh Phuc province.
Speaking at the ceremony, Founder and CEO of Animals Asia, Dr Jill Robinson MBE, said the competition would help raise awareness of future generations to protect bears and wild animals, terminating animal abuse and contributing to conservation of biological diversity in Vietnam.
The contest also calls for the support of the community, especially owners of bear farms, to stop bear bile farming and free more than 200 bears living in pain at 37 camps not far from Phung Thuong school gate at the commune, Dr Jill Robinson MBE added.
Dutch Ambassador to Vietnam Nienke Trooster also emphasised the nonsense of medicinal use of bear bile, saying that bears should not suffer and bear bile extraction is illegal in Vietnam.
He expressed his hope that the contest could make a difference to facilitate law enforcement on the issue and help students understand and act to end the suffering of these animals.
Resettlement housing program ineffective in Hanoi
The resettlement housing program in Hanoi has been ineffective with hundreds of unused apartments, according to the capital city People's Committee.
A total of 1,583 apartments have been handed over to dwellers but they have not signed sale contracts and made payment. The city has also made decisions to resettle another 1,303 households but they have neither made payment nor received apartments.
Notably, 625 apartments have been left empty. Some apartment buildings have even been put into operation for more than 10 years but legal procedures have not been completed.
Citizens have moved to dwell in a total of 4,493 apartments, accounting for 36.7 percent of the total apartments that have been handed over, however, they have not been granted with home ownership certificates so far.
Official insists independent candidates for the NA should not face discrimination
In an interview with the Sai Gon Giai Phong Newspaper, Vice President and General Secretary of the Vietnam Fatherland Front Central Committee Vu Trong Kim said that there have been an increasing number of self-nominated candidates wanting to stand in the approaching general election which will elect deputies to the National Assembly.
"This is a good sign and is an example of democracy," Kim said. "They schould receive fair treatment and any act of discrimination against self-nominated candidates is against the law."
The National Assembly is Vietnam's legislative body, whose 500 members are elected every five years via a national election.
The election of members of the 14th National Assembly is scheduled for May 22 this year.
Independent members of the assembly have long been outnumbered by those nominated by organisations, with the current term having only 42 independent members compared to 458 party affiliates. This time, however, there are over 100 independent people, with the number of self-nominations in Hanoi and HCM City outnumbering those put forward by organisations.
This can be seen as a positive sign as it shows people's sense of responsibility and self-confidence, and promotes democracy based on the Communist Party of Vietnam's Resolution 12 passed at the recent congress.
Obviously the best people should stand for election. But the Election Council has not always made the right choices. There have been some elected candidates that were found to lied in their CVs or faced criminal charges.
Nguyen Khoa Diem- former member of politburo, head of the Party Central Committee's Ideology and Culture Commission, once asked, "Who thought this deputy was a good choice? who voted for this deputy?"
In the current election system, the electorate aren't necessarily clear about the CV and motivation of a candidate. Many voters just trust in the nominations from organisations when choosing a candidate.
Answering questions in the HCM City Law Newspaper regarding self-nominations for the approaching general election, Nguyen Van Pha, vice chairman of the Vietnamese Fatherland Front which is in charge of approving nominations, said that all nominees, whether self-nominated or nominated by their affiliation, had equal opportunities in the election.
"Favouring candidates nominated by certain affiliations is strictly forbidden," Pha noted.
International Francophone Day celebrated in Vietnam
A ceremony took place on March 18 at the Hanoi Opera House to celebrate the International Francophone Day (March 20).
Addressing the event, Deputy Minister of Foreign Affairs Ha Kim Ngoc hailed the French-speaking community's contributions to boosting cooperation for peace and development in the world, affirming that Vietnam has been keen on strengthening its relationship with the Francophone community.
Eric Normand Thibeault, Director for Asia-Pacific of the International Francophone Organisation (IFO), lauded Vietnam's commitments with the Francophone community as well as its participation in UN peace-keeping missions, especially in some French-speaking countries.
President meets military, local gov't in Ninh Bình
President Trương Tấn Sang visited northern Ninh Bình Province yesterday, where he met local military forces and provincial authorities.
Visiting Army Corps No 1 – the first mobile regular army unit of the Việt Nam People's Army – the President hailed their efforts since being established on October 24, 1973. The unit played a key role in the liberation of the South in 1975.
"The Army Corps No 1 should uphold its responsibility to be ready for fighting and to perform its task as a consultant for the General Political Department of Việt Nam People's Army and the Ministry of National Defence," Sang said.
The President expected the Corps' soldiers to perform numerous deeds of arms to celebrate the historical Liberation Day of April 30 which is approaching.
He also expected that the soldiers would select good candidates for the National Assembly and People's Councils at all levels in the coming elections.
On the same day, President Sang visited Ninh Bình Province's Military Headquarters where he emphasised the role of the armed force in mass mobilisation.
He required the Military Headquarters to make timely recommendations to provincial authorities to be pre-emptive in any circumstance; and to build a strong local force as well as steady defence areas for national construction and protection.
Provincial authorities informed the President of three breakthroughs and seven focal points the province targets to accelerate local socio-economic development, and ensure security and national defence in the province.
The year 2015 and first months of 2016 witnessed stable agricultural production with gross product worth more than VNĐ8 trillion (US$350 million), equal to VNĐ97 million ($4,300) per hectare. Industrial production has increased markedly, up 21 per cent compared to the same period last year.
President Sang said the country was expected to face several challenges in the coming time, especially pressures which arise in the context of integration.
"Ninh Bình should boost economic restructuring, develop varieties of plants and animals of the province's advantage in combination with the application of science and technology into production," said the President.
"This should be a policy, an urgent task," he said.
He emphasised one of the obstacles to industrialisation was that Việt Nam had not formed a supporting industry 30 years after Đổi mới (Renewal).
"It is necessary to review industrial products to find ways to increase the local content of products in the value chain," the President said.
He added that as a short-term target, Việt Nam should reach standards that can be compared with developed ASEAN countries.
Also he noted that Ninh Bình which is home to various well-known cultural relics and beauty spots such as Tràng An Complex and Cúc Phương National Park should preserve and maintain cultural and historical values, creating new tourism products attractive to domestic and foreign visitors.
He affirmed that the IFO is willing to support Vietnam in the field.
Also at the ceremony, the Group of Francophone Ambassadors presented awards to Nguyen Thi Cuc Phuong, Vice Rector of the Hanoi University, and Tran Thi Lan Anh, a lecturer from the Hanoi University of Home Affairs, for their contributions to promoting the French language in Vietnam.
Foggy weather causes flight delay, diversion in Vietnam
Dozens of flights from and to airports in northern and central Vietnam have been affected by hazy climate in recent times, according to local air firms.
Many flights arriving at and departing from Noi Bai International Airport in Hanoi on March 19 were delayed or had their routes re-directed due to thick fog, local air firms said.
It was not until 9:00 am that weather conditions turned better, but negative influences from such conditions were undeniable, local carriers said.
Canceling and delaying flights not only affect passengers but also inflict severe damage on an air firm's business, a spokesperson of an aviation company said.
Although the firm is required to pay no reimbursement to customers for delaying or canceling flights due to bad weather, it has to pay such compensation for any delayed flight that follows, the spokesperson added.
Vietjet, a Vietnamese budget airline, said that seven of its flights at the airport had their departure time delayed for one hour on average, rendering 26 connection flights to fall behind schedule.
National carrier Vietnam Airlines also admitted that it had altered flight routes and schedules for over 40 flights from and to the airport for safety purposes.
Three of the flights from London, Paris, and Frankfurt were diverted to touch down at Danang International Airport in the central city of Danang instead of Noi Bai as scheduled, the airline announced.
Pham Viet Dung, director of Vietnam Air Traffic Management Corporation, said that thick fog hazing the airport significantly reduced visibility to 200-300 meters, forcing all flights heading to the airdrome to divert as the instrument landing system (ILS) could not support pilots at such a distance.
According to Airservices Australia, a corporate Commonwealth entity providing aviation-involved services, ILS is a highly accurate radio signal navigation aid used by pilots landing at an airport when there is poor weather and/or low visibility.
All flights departing from Noi Bai also had to wait for better conditions to take off in safety, Dung said.
On March 19, the foggy weather also affected flights to Phu Bai Airport in Hue, the capital city of Thua Thien-Hue, a coastal province in the central region, the two carriers said as two of their flights from Ho Chi Minh City to Hue had to land at Danang International Airport.
Passengers booking the affected flights are entitled to alternative flights when the weather turns better, the aviation firms said, adding that they can either demand refunds or change their tickets.
On Friday, thick fog also enveloped Cat Bi International Airport in the northern city of Hai Phong and Dong Hoi Airport in the north-central province of Quang Binh, causing several flights from and to the airports to be delayed, diverted, or even canceled.
According to Dung, visibility at the two airports improved as fog density declined in the evening of March 19.
In Vietnam, come March and April, thick fog and poor weather conditions tend to occur in the northern and central regions.
Vinh Nghiem Pagoda receives Special National Relic title
Vinh Nghiem Pagoda in Yen Dung district of Bac Giang province received the title of Special National Relic at a ceremony on March 20.
Granting the recognition certificate to Vinh Nghiem Pagoda, Deputy Prime Minister Nguyen Xuan Phuc said the province should develop a plan to preserve the pagoda soon.
Further studies should also be conducted on its value in connection with the Complex of Yen Tu Monuments and Landscape, the Deputy PM said, adding that this is needed in order to ask for UNESCO recognition as a World Heritage item.
Arts performances during the ceremony recreated the life of King Tran Nhan Tong, the third king of the Tran Dynasty and the first master of Truc Lam Zen Buddhism, who became a monk in Vinh Nghiem Pagoda.
Vinh Nghiem Pagoda is located 20 kilometres southeast of Bac Giang city. Constructed at the beginning of the Ly Dynasty in the 11th century, the pagoda was expanded during the Tran Dynasty (13th – 14th centuries). Then it became a training centre for Truc Lam Zen followers for nearly eight centuries.
Many types of sacred Buddhist statues – including a valuable collection of woodblocks used to print Buddhist Sutras – were safeguarded here.
The pagoda was named a national relic in 1964 and its festival, held annually on the 12th of the second lunar month, was recognised as a national intangible cultural heritage item in 2013.
The Prime Minister decided to grant it the title of Special National Relic on December 23 last year.-
RoK sponsors US$1.9 million to help Thai Binh plant mangrove forests
A Korean-funded project on restoring and sustaining mangrove forests in the northern province of Thai Binh was launched on March 18.
The project costs over US$2 million, with US$1.9 million coming from the Republic of Korea (RoK).
The mangrove reforestation project is being implemented in four coastal communes of Thai Thuy and Tien Hai districts, with a long-term goal of recovering and sustaining development of mangrove ecosystems, protecting biodiversity, reducing greenhouse gas emissions, and improving knowledge and living conditions for local communities.
It targets to plant 160 hectares of new mangrove trees and look after 800 hectares of existing forests across the four coastal communes between now and 2024.
Local personnel will be trained on the work, while several seminars, workshops and awareness-raising campaigns will be organised. The project will also invest in necessary equipment, including cars, motorboats and field glasses.
Thai Binh is a coastal province with 54 km of sea dykes and five river mouths creating a tidal area of more than 25,000 hectares. Forests account for over 3,700 ha of 9,600-ha forestry lands in the locality.
President Truong Tan Sang visits Dak Nong
President Truong Tan Sang acknowledged achievements made by the Central Highlands province of Dak Nong in promoting socio-economic development and ensuring security and defence during his visit to the locality on March 19.
He praised local authorities for their efforts in improving living conditions for locals, building Party organisations in rural areas, upgrading the infrastructure system and accelerating new-style rural area building.
Hailing achievements in developing products for export such as pepper, coffee and cashew nut, and creating industrial and agricultural value chains, the State leader pointed out shortcomings the province needs to fix in the coming time to improve the quality of goods to international standards.
Local authorities were reminded to pay attention to issues related to free migration, planning of residential zones in border areas, and poverty reduction.
The President also underlined the necessity for effectively managing the border line shared with Cambodia and bolstering relations with the neighbouring country.
Regarding the locality's proposal to exploit alumina resources, he said the application of high technologies and market research should be promoted to roll out appropriate development strategies for the sector.
While visiting Regiment 762 under the Army Corps 16, the leader spoke highly of an initiative to develop an area of wild land into a large coffee and macadamia farm.
He also asked officers and soldiers in the Dak Song border post to work harder to safeguard the national sovereignty and ensure national security, as well as help locals in socio-economic development.
Mexico, Vietnam bolster auditing cooperation
A delegation from the State Audit of Vietnam led by Deputy Auditor General Hoang Hong Lac paid a working visit to Mexico from March 16 to 19 to exchange experience and discuss orientations for bilateral collaboration in the field.
During the visit, the delegation had a working session with Roberto Salcedo Aquino, Deputy Auditor General of the Superior Audit Office of Mexico.
The two sides exchanged views on issues of common interest performance audit and public debt management as well as discussed measures to enhance cooperation, including the exchange of experience and experts and the organisation of training courses and seminars.
They also agreed to realise the common goals of the International Organisation of Supreme Audit Institutions (INTOSAI) and support each other in international forums.
As part of their visit, the Vietnamese delegation on March 17-18 visited the Mexican state of Puebla and held a meeting with representatives from the local Superior Audit.
Glare shield panels needed on highways to prevent accidents
Motorists along National Highway 1A section from central Thanh Hóa Province to southern Cần Thơ Province are far more prone to accidents since almost two-thirds of the stretch is devoid of any anti-glare panels, Tiền Phong (The Vanguard) newspaper reported.
The anti-glare panels are supposed to be installed on the road dividers to help drivers see vehicles coming from the opposite side and thus avoid any accident.
Nguyễn Chiến Thắng, a police officer of Hà Tĩnh Province's traffic police department said in the first two months of this year, the number of accidents occurring in the province increased.
Another traffic police officer of Hồng Lĩnh Town in the province said most of the accidents had happened because vehicles collided when the drivers could not see the oncoming traffic.
"We have reported the problem to higher authorities but have yet to receive any feedback," he said.
Bùi Đình Nam, a truck driver who often drives along these curvy roads without anti-glare panels said driving at high speed on these stretches was very dangerous. Drivers can do little except to keep honking.
The waist-high central dividers, which are actually concrete blocks, also pose a potential risk on the highway.
The locals usually climb over these dividers, which are so low that at night, cars running in opposite directions shine their headlights on each other, thus momentarily blinding the drivers and causing accidents, according to Vũ Ngọc Lăng, Director of the Traffic Safety Agency under the General Road Administration.
Even along the sections equipped with anti glare panels, residents have brought down panels at some places to make it easier for them to cross the road.
According to Dương Viết Roãn, deputy head of Construction Management and Transport Quality Department, to save expenses, leading officials from transport ministry allowed to install anti-glare panels only along the highway sections where the road curves or passes through densely-populated areas.
He denied the accusation that the highway's contractors and investors had cut down expenses.
He said the ministry did not invest in anti glare panels as it could have jacked up the bill by VNĐ700-800million (US$31,100-35,560) per km, adding that the department would rather consider placing these panels first on sections vulnerable to risk.
However, many transport experts have proposed that installing anti glare panels should be a task that the ministry needs to undertake urgently to ensure traffic safety.
They estimate that compared to the VNĐ14trillion ($622million) remaining funding for highways 1A, spending an amount of VNĐ700-800million is affordable.
BIDV provides financial support for drought-hit localities
The Bank for Investment and Development of Vietnam (BIDV) on March 18 decided to grant financial support worth 23 billion VND (over 1 million USD) for 16 localities hardest hit by droughts and saline intrusion.
Accordingly, the bank has completed the disbursement of 14 billion VND (608,000 USD) in aid for seven Central Highlands and central provinces, including Kon Tum, Gia Lai, Dak Lak, Dak Nong, Lam Dong, Ninh Thuan, and Binh Thuan.
The remaining 9 billion VND (391,000 USD) will be allocated for nine Mekong Delta provinces, namely Long An, Tien Giang, Ben Tre, Tra Vinh, Soc Trang, Bac Lieu, Ca Mau, Kien Giang, and Vinh Long.
At present, Central Highlands, south central and Mekong Delta provinces are currently severely hit by drought and saltwater. Especially, all the13 localities in the Mekong Delta region have been hit by saline intrusion.
Sea water with salinity of up to 6 miligrammes per litre has entered 40-60 km deep into the mainland and is expected to last until May.
Workers in Japan's factory satisfied with working, living conditions
Representatives of the Vietnamese Embassy in Japan on March 18 visited the Seinan factory in Iwate prefecture to inspect working and living conditions of Vietnamese guest workers, which was reported poor by a Vietnamese man.
In a letter sent to the embassy on March 15, Nguyen Quang Hung said that working conditions, including protection gear and housing, are not ensured for the nine Vietnamese workers at the factory, with house rental and food costs being deducted unreasonably.
However, following the letter, the social network spread information that 43 Vietnamese workers working at the Seinan factory got unfair treatment.
The Vietnamese embassy's representatives affirmed that the information was incorrect, as except Hung, there are only eight Vietnamese guest workers at the factory.
These eight workers said that they are satisfied with their current working and living conditions.
They had been also informed of the deduction of house rental and food costs before travelling to Japan.
According to them, Hung had worked and lived with them. However, he isolated himself from the collective, and was not active in working and learning Japanese to fulfil his assigned tasks.
Therefore, on March 1, the company stopped the working contract with him and sent an announcement to him on March 14.
After talking with Vietnamese employees, the embassy officials asked the Seinan factory and the Freesia House Corporation to improve living conditions for workers.
They also pledged to work with the factory on these matters to ensure the interests of Vietnamese guest workers.
Hanoi to raise spending on drug-addiction treatments
Some VNĐ36 billion (US$1.6 million) will be spent on methadone treatment for drug addicts to improve efficiency and further develop this treatment method, officials said.
The Hà Nội People's Committee also decided to add more staff to methadone treatment centres for drug addiction, Lê Nhân Tuấn, Director of the Centre for HIV/AIDS Prevention and Control, said.
The city failed to meet the target set by the Prime Minister, he said.
Only 3,730 of the city's 8,500 addicts had been treated with methadone, accounting for 43 per cent of the target.
The failure to meet the target was attributed to the shortage of human resources and allowances for staff working in these treatment centres, Tuấn said.
There are 17 centres treating drug addicts with methadone in Hà Nội.
To improve the reach of the drug treatment, the city has organised training courses for treatment centres and has raised public awareness of methadone treatments for drug addiction.
Black boxes made mandatory for high-capacity trucks
Vehicles of transportation firms that have a capacity of seven to less than 10 tonnes have to install black boxes before July 1, the Directorate for Roads of Việt Nam (DRVN) said.
As per the DRVN's regulation, trucks with a designed capacity of 3.5 tonnes to less than seven tonnes also have to install black boxes before January 1, 2017.
The DRVN has asked Việt Nam Register and local transport departments to direct registration centres to guide and help vehicle owners to implement the regulation.
Vehicles without black boxes will be fined VNĐ2 million to VNĐ3 million (about US$90-$130).
German director to give talk on on short films in Hội An
Heinz Hermanns, founder, Festival Director and CEO of interfilm Berlin, a short film festival and distribution platform, will deliver a talk at the Phan Châu Trinh College Library at about 2pm today.
The seminar will focus on the art of short film making and the German director's experiences over his 35 years in the industry.
"I will present my views as one of the longest working short film festival directors about what is the best way to apply for film festivals, which film festivals are the most appropriate and what are the chances of short film distribution," Hermanns said.
"The seminar will feature the screening of very different kinds of short films from previous years, presenting examples from all over the world about how unusual ideas, concepts and ways often help make a successful short film.
"The main goal is to inspire filmmakers to implement and develop their ideas, try something new and have the courage to do it."
The seminar being held by the Phan Châu Trinh College is part of its efforts to ensure comprehensive human development.
Heinz Hermanns, who was born in Duisburg, West Germany, worked for the Kingbonn China Short Film Festival organized by the Shenzhen Media Group in Shenzhen, China as programme and international relations consultant and international guest coordinator from 2010-14.
In 2014, he founded and directed the first Short Visions short film festival in Ningbo, China.
Security cameras thrive in Vietnam
Vietnamese cities are rushing to install security cameras in an effort to deter crime and ensure the safety of their neighborhoods.
Thousands of surveillance cameras are being installed in public places and residential areas across the central city of Danang, paid for by both the authorities and local citizens.
Aside from cameras funded by the city, local officials are encouraging citizens to contribute to a crime-free life and install cameras of their own, said Huynh Duc Tho, chairman of the municipal People's Committee.
The campaign is aimed at minimizing crime and traffic accidents in the city, as well as raising people's awareness of the goal of a city with better living conditions, Tho continued.
The action was first proposed by police in Xuan Ha Ward, Thanh Khe District in late 2015 as the rate of criminal activity developed, according to Lieutenant Colonel Nguyen Van Hung, chief of police in Xuan Ha.
The suggestion met with positive feedback and support from local leaders as well as civilians, Lt. Col. Hung said.
Upon approval from the authorities, a monitoring system, including a 42-inch screen, transmitters, a server network, and the Internet, were all installed at the police station in the ward, paid for by the city's budget as well as local people, Lt. Col. Hung continued.
"After conducting a survey, we decided to install 32 security cameras in nine residential areas across the ward," Hung said.
He added that no crime has occurred in the area since the installment of the devices.
A police officer in Xuan Ha Ward, Danang City, monitors a security camera system in a residential area.
During a meeting on March 3, the Danang Party Committee approved the proposal of the Department of Police to position an additional 4,220 surveillance cameras, of which 857 will monitor the city's streets and the rest will be placed in residential areas.
The installment of the cameras along the streets will be funded by the city's local budget while those in the neighborhoods shall be financed by local citizens, organizations and businesses on a voluntary basis.
The total expenditure of the plan is estimated at VND20 billion (US$897,200), of which VND13 billion (US$583,180) is expected to be sourced from the private sector.
In order for the action to be effective, the cameras should be of high quality, and provide clear footage of activities on the streets, Chairman Tho said.
According to Colonel Le Van Tam, director of the Department of Police, security in the 10 locations where surveillance cameras have already been installed has been significantly improved.
The camera system has also provided authorities with evidence of traffic violations, according to Le Van Trung, director of the Danang Department of Transport.
VNA/VNS/VOV/SGT/SGGP/TT/TN/Dantri