Import cover in foreign reserves close to three months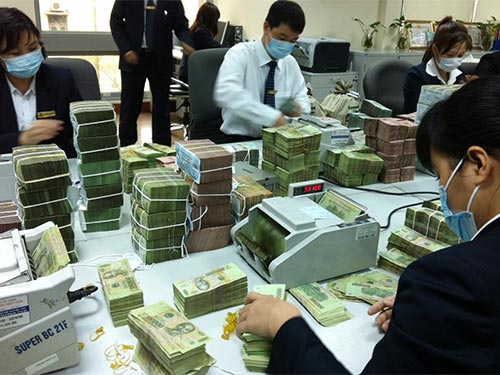 Vietnam's foreign reserves can now cover three months of import, Vu Bang, chairman of the State Securities Commission of Vietnam (SSC), said at a conference recently held for South Korean investors in HCMC.
HSBC Global Research's report released on December 3, 2015 quoted data of the International Monetary Fund (IMF) as showing that Vietnam's foreign reserves had dropped by US$6.7 billion to US$30.3 billion by end-September 2015, equal to nine weeks of import.
Nguyen Van Binh, governor of the State Bank of Vietnam, told the Daily last year that the country's foreign reserves had amounted to some US$40 billion by end-July 2015, including cash, foreign currencies and gold.
Bang of SSC told South Korean investors at the conference that Vietnam's economy has stabilized and returned to the high-growth path. Last year saw the economy expanding 6.68%, the highest in five years.
He added that Vietnam's macro-economic outlook is good in the coming years. Gross domestic product (GDP) growth is expected to range from 6.5% to 7% per year and annual inflation from 5% to 7%.
Fuel supply forecast to outpace demand in 2018
Though Dung Quat oil refinery can meet only one-third of domestic demand, the Vietnam National Oil and Gas Group (PVN) has predicted that oil and gas supply could exceed demand in 2018.
Dung Quat in Quang Ngai Province can satisfy some 30% of local demand and fuel trading companies import the remainder.
Oil and gas import prices have fallen due to tariff cuts given the free trade agreements Vietnam has signed. Furthermore, the global price has slumped due to the oil glut.
According to PVN, when Nghi Son oil refinery begins commercial operation in 2017 and reaches its maximum capacity in 2018, annual local supply would amount to around 17.6 million cubic meters, with 7.27 million cubic meters from Dung Quat and 9.62 million cubic meters from Nghi Son. The figure does not include the projects using condensate.
Meanwhile, the market is estimated to need around 17.33 million cubic meters of gasoline, diesel and jet fuel in 2018 based on domestic demand growth of 3% a year. Therefore, the combined supply from the two refineries and other sources would meet domestic demand while diesel would be redundant.
If Dung Quat and Nghi Son ran at full tilt, total supply would exceed demand by 821,000 cubic meters while there would be a diesel surplus of 849,000 cubic meters.
Vietnam still has four other oil refining projects in Vung Ro, Nhon Hoi, Long Son and Can Tho. Aside from the Can Tho project which is facing license withdrawal, the remaining projects are under perfunctory construction because of global market volatility.
Twenty electronic tollbooths on drawing board
The Ministry of Transport (MoT) will invest $68.36 million in building 20 electronic tollbooths along Highway No. 1 by June 30.
The Tasco Joint Stock Company and the VETC Viet Nam Joint Stock Company won the bid for the project, under which electronic tollbooths will be built in the first phase along Highway No. 1 and the Ho Chi Minh Highway through the central highlands in the build-own-operate (BOO) model.
Deputy Minister of Transport Nguyen Hong Truong said that in the period from 2016 to 2018 electronic tollbooths will be added to existing pay-as-you-go tollbooths. After 2020, he went on, electronic tollbooths will be introduced around the country and replace all pay-as-you-go tollbooths.
Radio-frequency identification (RFID) will be used at the new tollbooths.
According to MoT experts it takes about three minutes for a motor car driver to pay the toll at a tollbooth. Electronic tollbooths would therefore help save time estimated at VND2.8 trillion ($125.6 million) and curb energy waste by VND233 billion ($10.45 million) per year.
Largest wood processing plant in Mekong Delta inaugurated
The largest medium-density fiberboard (MDF) wood processing plant in the Mekong Delta was inaugurated in Kien Giang province on March 14.
Prime Minister Nguyen Tan Dung along with former Politburo member and former permanent member of the Party Central Committee's Secretariat Le Hong Anh were present at the inaugural ceremony.
The construction of the project commenced in February 2014 with a total investment of 1.36 trillion VND (61.2 million USD) and a designed production capacity of 75,000 cubic metres of MDF per year.
Once operational, the plant, invested in by the Vietnam Rubber Group will enable the province to sell a large amount of forestry products, increasing local income, and generating jobs for hundreds of workers.
It is also expected to encourage farmers to expand cultivation of high-value industrial trees to to supply to the wood processing sector.
The same day, PM Dung also attended ceremonies to inaugurate sport shoe, beer and tobacco factories in the locality.
Japanese bank assists Vietnamese SMEs
The Johnan Shinkin Bank of Japan (JSB) will provide financial information and consultations for Vietnam's Small- and Medium-sized Enterprise Development Fund (SMEDF) under a Memorandum of Understanding (MoU) inked in Hanoi on March 14.
The two sides will also exchange officials and cooperate with each other in organising workshops and other business connectivity activities.
Addressing the ceremony, SMEDF Director Hoang Thi Hong lauded JSB's collaboration, which demonstrates its special attention to the development of Vietnamese small- and medium-sized enterprises (SMEs) as well as the country's economic growth in general.
She noted her hope that the cooperation will bring about specific solutions to assist SMEs of Vietnam, the region and the world at large.
JSB Chairman Masao Morita highlighted Vietnam's rapid economic growth rate, adding that SMEs play an irreplaceable part in driving economic growth.
Presently, Vietnam houses 600,000 SMEs, which are expected to give a boost to the national economy, he said, voicing his wish that the MoU will allow the partners to give effective support to the SMEs in making greater contributions to the country.
The bank will support its Japanese business customers who are interested in investing in Vietnam, he promised.
Vietnam, India make significant progress in textiles, garments
Vietnam and India have made significant progress in textile and garment trade last year, said Deputy Minister of Industry and Trade Do Thang Hai on March 15.
He made the statement at the third meeting of the Vietnam-India Joint Sub-Commission on Trade in New Delhi, India the same day.
Opening the meeting, Indian Commerce Secretary at the Ministry of Commerce and Industry Rita Teaotia hailed the strong ties between Vietnam and India. She also spoke highly of Vietnam as current coordinator between India and the Association of Southeast Asian Nations (ASEAN) from 2015-2018.
The partnership between the two countries has been further developed in multiple fields, including textiles and garments, she said, but noting that little progress has been made on pharmaceuticals.
Teaotia suggested the two sides enhance information exchanges, particularly in trade and commerce, as well as to strengthen connections in air and sea transportation.
Deputy Minister of Industry and Trade Do Thang Hai stated that bilateral cooperation has seen notable progress since the 2nd meeting of the Vietnam-India Joint Sub-Commission on Trade in Hanoi last year; the highlight being textiles and garments, followed by energy and industry, footwear and chemicals.
To further cement economic ties, the deputy minister recommended the two nations enhance regional value chains and identify ways to support businesses. He also urged that India's privileged credit package worth 300 million USD for investments in Vietnam's garment and textile sector, should take effect soon.
India can consider opening a bonded warehouse in Vietnam to reduce costs and increase competitiveness for its products, Hai suggested.
Later the same day, Hai had a working session with India's Textiles Minister Santosh Kumar Gangwar in which he said that Vietnam enjoys the benefits of a number of FTAs, including a large market for exports, and an advantage of skilled workers in textiles and garments, while India is a big supplier of cotton and fabrics.
The two countries could complement each other and tighten their partnership so as to integrate into global value chains more deeply, he noted.
Minister Gangwar said he would propose to the Indian government that it helps address the remaining challenges in the two sides' cooperation in textiles and garments, and that he hopes the upcoming visit of President Narendra Modi to Vietnam will give a push to that end.-
Phu Yen bolsters economic cooperation with EU
A symposium on economic cooperation opportunities between the southern central province of Phu Yen and the European Union was opened in Tuy Hoa city on March 15.
The event was jointly organised by the provincial People's Committee, the Ministry of Foreign Affairs and the European Chamber of Commerce in Vietnam (EuroCham).
Participants at the event exchanged information relating to the Europe- Vietnam Free Trade Agreement (EVFTA) as well as the pros and cons to local businesses when the trade deal takes effect, including seeking partners and accessing markets in member countries.
Local officials briefed EuroCham's members about the potential and advantages of the province while calling for European enterprises to invest in large-scale projects in the locality, such as the existing 1.5 billion USD An Binh Thanh hi-end complex, the 170 million USD petrochemical industrial park and the Phu Yen hi-tech applied agribusiness park worth 100 million USD.
Deputy Director of the province's Department of Planning and Investment Nguyen Le Vu said the province will create the best possible conditions for investors in terms of tariff, land and water surface leasing, business income tax and import-export tax.
Alongside this, Phu Yen will also apply several preferential treatments and investment support in the province's industrial parks, he added.
Phu Yen is home to 42 foreign direct invest (FDI) projects with a total investment capital of 4.56 billion USD, of which 28 projects are operational. FDI enterprises' turnover in 2015 was 105.4 million USD, generating jobs for over 3,400 labourers.
EuroCham is an organisation representing the business community of the European Union. It bridges enterprises and governments at country, regional and local levels. To date the organisation has 900 members worldwide.
JICA continues cooperating with HCM City
Officials of Ho Chi Minh City and the Japan International Cooperation Agency ( JICA ) held a working session on March 15 to discuss upcoming cooperation.
Mutsuya Mori, JICA Chief Representative, said that the agency has worked with the HCM City Urban Civil Works Construction Investment Management Authority ( UCCI ) on the new phase of the city's Water Environment Improvement Project.
He mentioned the task of accelerating ground clearance along the canal systems to facilitate the project's implementation.
Regarding the city's Metro projects, Mori said the Japanese side is willing to support the city in operational and management training, especially once Metro Line No.1 from Ben Thanh to Suoi Tien is put into operation.
He added that Japan has sent experts to the city to conduct a study on Metro Line No.3a from Ben Thanh to Tan Kien station.
Highlighting the cooperation between JICA and the city, Chairman of the municipal People's Committee Nguyen Thanh Phong said that the agency's support has contributed to the city's development.
He pledged that the city will soon speed up the ground clearance work on the canal system in District 8 and surrounding areas, to facilitate the Water Environment Improvement Project.
Roundtable: TPP's promise and pitfalls
The World Bank (WB) and the Vietnam Chamber of Commerce and Industry (VCCI) co-organized a roundtable discussion on March 15 themed around the promise and pitfalls the TPP and free trade agreements in general pose to local businesses.
Nguyen Thi Thu Trang, director of the WTO Centre said there is widespread concern that local businesses do not have the capacity to compete in foreign markets and many lack even a basic awareness and understanding of the trade deals.
She voiced her concern that it's a quantum leap to expect Vietnamese businesses to be competitive in foreign markets in the near term, however, with proper training they should be able to compete on an equal footing in the many of the domestic markets.
Nguyen Ton Quyen, vice president of the Vietnam Timber and Foreign Products Association (VIFORES) pointed out the innumerable challenges facing the wood industry in overcoming obsolete technologies and lack of competitive capacity in boosting exports.
Pham Chi Lan, a senior economist said there are multiple layers of barriers for local businesses to operate in foreign markets including complicated tax procedures that cost them time and money.
Meanwhile, the government's support programs have largely proved ineffective, said Lan.
At the conclusion, the experts underscored the economic importance of the TPP and other free trade agreements, requirements for institutional reform in order to create a more competitive and transparent business environment.
Vietnam clothing exports to Russia look to soar
Russia imports nearly US$13 billion of clothing and textiles annually, according to the Russian Trade Representative Agency in Vietnam.
Last year, Head Trade Representative Maxim Golikov said official trade statistics show the Russian market imported US$350 million of clothing and textiles from Vietnam, which is an inconsequential 2% market share.
However, with the recently concluded free trade agreement between Vietnam and Eurasia, there is an opportunity to greatly expand exports, he said on March 15 at a meeting with representatives of the Vietnam National Textile and Garment Group (Vinatex).
Le Tien Truong, general director of Vinatex said if the stars line up it is not unrealistic to think that Vietnam might see its market penetration rise to 10%, which would translate to in excess of US$1.3 billion in exports.
Trade counsellors conference focuses on exports
Featuring high-level speakers from the government, non-governmental organizations and the private sector, Vietnam's trade counsellors conference took place recently before a packed audience in Hanoi.
The event commenced with a keynote address from Tran Tuan Anh, deputy minister of the Ministry of Industry and Trade (MoIT) outlining his thoughts and insight into Making Vietnam an export success story.
"Foreign companies tend to be conservative when approaching new markets, such as Vietnam's," said Deputy Minister Anh, but our trade counsellors have done an excellent job convincing them that opportunity is here.
Through the trade counsellor's efforts, more and more foreign companies now understand that we are developing the nation's manufacturing capacity and investing in a world-class infrastructure.
"While at the same time we are reasonably priced and an economical alternative," said Mr Anh.
Mr Anh also touted Vietnam's suitability as a base for foreign businesses to use as a hub to access other ASEAN nations, providing a very attractive opportunity for them to expand their footprint throughout the region.
"ASEAN represents not only one of the biggest, but one of the fastest-growing economies in the world," he said, "and Vietnam's economy is strong, and our infrastructure, human resources and technology are all very competitive."
Prime Minister Nguyen Tan Dung in turn said Vietnam is slowly integrating into the world economy thanks to a large number of free trade agreements negotiated by the trade counsellors.
At present we are seeing a huge interest of foreign businesses in investing in the manufacturing sector, especially in the clothing and textiles industries, said Prime Minister Dung.
Vu Tien Loc chairman of the Vietnam Chamber of Commerce and Industry also applauded the trade counsellors for their successful efforts in advancing economic cooperation, commercial trade and investment.
With so many high-level delegates in attendance, networking formed a key feature throughout the conference.
With a networking lunch, an evening reception and specific networking platforms, there was ample opportunity for anyone serious about doing business in the region to create new business contacts and build relationships with the market's main players.
Exports by companies operating within Vietnam's borders experienced solid growth in 2015, said speakers at the conference. Exports to Asia, the EU, the US and Africa registered growth of 7.2%, 8.7%, 18.1% and 3.4%, respectively.
Meanwhile Vietnam's gross domestic product (GDP) growth climbed 6.68%, the highest figure for the last five years, substantially all driven by exports of foreign invested companies.
Japan sows seeds of agri-investment
Pressure to remove tariff barriers on agricultural products ahead of the Trans-pacific Partnership has prompted Japanese investors to boost their agricultural investment projects in Vietnam.
According to Japanese investment consulting firm Seiko Ideas Corp., Japan is now increasing its agro-forestry-fishery investment capital in Vietnam as it must open up its own agricultural sector to certain sensitive items once it enters the Trans-Pacific Partnership (TPP).
As a result, Japanese agricultural products will have to compete on pricing with similar produce from other countries. This puts Japan at quite a disadvantage as its own agricultural sector is defined by its small scale and costliness.
"Therefore, Japan has decided to boost investment into Vietnamese agriculture as Vietnam is a TPP member with huge potential in this sector", said a Seiko Ideals document on the TPP's impact on Vietnam-Japan agriculture co-operation. "When exporting to Japan, the tax rate will be 0%. At the same time, this can meet the condition that export products must have 70% of intra-TPP origin".
According to Seiko Ideas, while Japan needs a key partner for agricultural development, Vietnam needs a relevant "padlock" to access state-of-the-art agricultural technology.
The Japan International Co-operation Agency (JICA) said that it would increase its support to Vietnam's agricultural sector through various projects invested in by Japanese firms.
"The number of Japanese firms wishing to implement agro-fishery projects in Vietnam has been strongly growing. Many are conducting market surveys", said JICA Vietnam Office chief representative Mutsuya Mori.
For example, Kato Group is co-operating with the south-central province of Binh Dinh in a US$771,000 tuna-fishing project, which will run until June 2020. Also, Shudensha Company is implementing an US$820,000 project to improve water quality in the fishery sector. This project's lifetime runs from 2015-2020.
OTA Kaki Company has been co-operating with the Central Highlands province of Lam Dong in a project to develop a high-quality flower market with an effective distribution system. This project will last through 2016.
Also, Nikko Foods Company is also working on an US$820,000 project to develop high-quality tomatoes in Lam Dong.
"Vietnam's agriculture has big potential. For instance, under our survey in Lam Dong, if local farmers replace coffee trees with a flower planation, their income will rise nin fold", Mori said.
Last year, our of new Japanese investments totalling US$1.3 billion in Vietnam, there was a sudden upsurge of agro-forestry-fishery projects. The 82 Japanese projects initiated last year bought the negligible percentage of Japanese agro-investments to 6%, putting it in the third-place ranking for newly-committed capital, after manufacturing (51%) and construction (28%).
According to Seiko Ideas, Japan is co-operating with Vietnam though its "Payroll Outsourcing" model. Specifically, Japanese firms, through outsourcing will pay salaries for their farming employees in Vietnam. It means that they come to Vietnam as transnational companies, hiring local labourers to implement their agricultural investment projects.
This model is becoming increasingly popular as hired companies recognise the importance of personnel consulting service, including recruitment, salary payment, relocation, and performance assessment. As such, this service offers a high level of assurance for corporate customers.
UNIDO assists in building strategy for industrial sector
The Prime Minister has approved the portfolio of a project funded by the United Nations Industrial Development Organization (UNIDO) to assist the building of development policies and strategy for the industrial sector through capacity building.
The project will be carried out for 36 months at a total investment of US$1.08 million.
It aims to raise the institutional capacity of both the Government and the private sector, thus helping improve the strategy for the sector as a whole and develop suitable policies for each specific industry, and ultimately enhancing the competitiveness of Vietnam's industrial sector.
According to the industrial development strategy through 2025, with a vision to 2035, Vietnam's industrial sector will develop with a sound structure in terms of industry and region. The industrial sector should be sufficiently competitive to develop during integration, have modern technologies, and participate in the global value chain in a number of specialised sub-sectors and fields, and can fundamentally meet the requirements of the economy and export.
By 2035, Vietnam's industrial sector will develop with a majority of specialised industries meeting international standards in terms of technologies and product quality, deeply participating in the global value chain, using energy efficiently, and competing fairly in international integration.
Upturn in cuttle-fish and octopus exports
Cuttle-fish and octopus exports rose 9.8% to US$38.45 million in January, the Vietnam Association of Seafood Exporters and Producers said quoting statistics from the General Department of Vietnam Customs.
Of the figure, cuttle-fish exports earned nearly US$20 million, accounting for nearly 52% while octopus exports reached US$18.45 million, making up 48%.
Thus, exports began increasing after constantly seeing a downturn trend in late last year.
The Republic of Korea was the biggest importer of Vietnam cuttle-fish and octopus with US$15.31 million, up 3.6%.
Meanwhile ASEAN saw a high growth of nearly 21% with an import value of US$5.42 million.
Particularly, exports to the US just held 1.3% or around US$503,000 of the total export value but obtained an impressive growth of 167.3%.
PetroVietnam to build natural gas processing plant
The Viet Nam Oil and Gas Group (PetroVietnam) will build an offshore natural gas processing plant and two 700MW plants in central Quang Nam and neighbouring Quang Ngai provinces.
The group will spend US$3.8 billion on the project.
The group's leaders said at a meeting with the provincial People's Committee last week that the gas processing plant would be built on 1,000ha in Tam Quang Commune in Nui Thanh District, 90km south of Ða Nang City.
As per the plan, the plant will receive 10 billion cubic metres of natural gas from the Ca Voi Xanh (Blue Whale) offshore natural gas field, 100km off Quang Nam province, annually.
The construction of the plant is scheduled to begin in 2017 and it will become operational in 2023.
ExxonMobil in Viet Nam has been working with PetroVietnam and Vietnamese government agencies and businesses to evaluate the feasibility of developing the natural gas field.
It's expected that the central province and PetroVietnam will sign a comprehensive co-operation agreement on the development of a natural gas processing plant and thermal power plants next year.
SAMCO seeks bus hub partner
Saigon Transportation Mechanical Corporation is looking to partner with other investors to construct a new bus station in the eastern part of Ho Chi Minh City this year.
Early last week, Ho Chi Minh City authorities approved a detailed plan to build the new eastern bus station at a total cost of around VND4 trillion ($180 million), which would help ease overload at the existing bus station in the city's eastern Binh Thanh district.
Under the plan, the 16-hectare station will be located on the border between District 9 and Di An town in Binh Duong province, and will boast a 26-storey building, a two-storey passenger terminal, a five-storey building for commodity trading and vehicle transit, as well as a 15-storey building with commercial and customer service areas.
The new station will connect to the new Metro Line 1 running from Ben Thanh market in District 1 to the Suoi Tien entertainment area in Thu Duc district. Upon project completion, passengers will be able to choose to take either the bus or the metro to the city centre, city outskirts, and neighbouring provinces.
Deputy marketing director of Saigon Transportation Mechanical Corporation (SAMCO) Nguyen Xuan Dien said "We will mobilise capital from the public, and capital from domestic and foreign investors, who might be allowed to lease the whole or a part of the customer service, commodity trading, and transit areas. The corporation is now seeking strategic partners who have both the capital and the relevant management and development experience to develop the project."
He also noted that SAMCO was in discussions with Japan's Tokyu Group as one of the potential investors. The corporation expected new partners to consult on the project implementation, as it has not yet selected a consultancy firm for the new project.
SAMCO plans to break ground on the project in April 2016, and is currently applying for a building permit to put up a wall around the construction site. As one of the satellite projects surrounding the Metro Line 1, the station is expected to be completed around the same time as the new railway.
Under the project plans, 31 households and five state companies would be relocated. The site clearance work is being carried out in both Ho Chi Minh City and Binh Duong to prevent delays. SAMCO is now urging one company to relocate to carry out the project on schedule.
According to the Ho Chi Minh City People's Committee, the project will be an important traffic hub in the northeast gateway as well as one of the priority projects in the city's transport development strategy. The new eastern coach station will help meet the rising demand for travel from Ho Chi Minh City to the northern and central provinces as well as reduce overload at the existing eastern bus station, which serves up to 50,000 people per day.
In September 2014, the city's authorities also approved a plan to turn the current 60,200 square metres coach station into reconstructed urban areas. Zone A will therefore be maintained as a station for bus services to the city, while Zone B will be turned into a business and service centre for offices and hotels with modern facilities.
FX rate stablised but dollarisation continues
Viet Nam has succeeded in stabilising the foreign exchange rate, but the rate of dollarisation has not decreased as expected, experts said in a meeting on Monday.
Director of the Viet Nam Institute for Economic and Policy Research, Nguyen Duc Thanh, said that people now tend to keep their savings in US dollars and wait for the currency to appreciate.
In reality, it is likely that the Viet Nam dong will be depreciated as the currency is quite strong, putting enterprises under much more pressure, he said.
Thanh also said that the market was waiting to see who would be the new leader of the State Bank of Viet Nam (SBV), and whether the change in power would be followed by a change in foreign exchange policy.
"This is another reason for the increase in dollarisation," he added.
According to the director, the important thing in a stabilised foreign exchange market is that enterprises could buy US dollars easily, but the current supply of US dollars to market is still dominated by a few banks.
Truong Van Phuoc, deputy chairman of the National Financial Supervisory Commission (NFSC), said that foreign currency-denominated deposits in commercial banks last year rose by 14 per cent compared to 2014.
Particularly, the market saw an unexpected surge in the savings' mobilisation rate in the last four months from September to December, he said. He attributed the surge to China's foreign exchange adjustment in August.
He said that China's move had impacted people's sentiments by motivating them to buy more foreign currencies to deposit at banks.
Le Duc Thuy, former governor of the SBV, raised concerns that the US dollar deposit interest rate was now zero per cent, but this had not incentivised people to save in Viet Nam dong.
He said the Viet Nam Joint Stock Commercial Bank for Trade and Industry (Vietinbank) had signed a contract to borrow US$200 million from eight foreign commercial banks.
He wondered, "Why did the Vietinbank have to ask for loans from foreign banks while the domestic US dollar savings interest rate is zero per cent?"
The phenomenon proved that the low interest rate did not prevent people from saving money in US dollars, Thuy said.
NFSC deputy chairman Phuoc agreed, saying that the Government was taking measures to prevent dollarisation, and the reduction of the interest rate was one solution, but in fact, people were still looking forward to an increase in the currency's value.
That's why people were still saving in US dollars at home, Phuoc said.
VIB to provide financial solutions to Doan Xa Port JSC, Tien Phong Plastic JSC
Vietnam International Commercial Joint Stock Bank (VIB) on March 11 signed the comprehensive cooperation agreements with Doan Xa Port JSC and Tien Phong Plastic JSC.
Accordingly, VIB pledges to provide optimal financial solutions to facilitate these two companies' operation and business as well as to provide various preferential services and products to the companies' employees.
Also on the same day, VIB Haiphong was relocated to Tran Hung Dao Street. VIB Haiphong now has a new look and feel while continuing to deliver various banking and financial services such as deposit, lending, payment, mortgage, discount, and others with a friendly, modern transaction space following the new sales and service model of international standards. According to the bank, the new office shows its commitment to meeting financial plans of personal, corporate and institutional customers in the city.
After over 12 years of operation in Haiphong, VIB has become one of the leading commercial joint stock banks here, with more than 20,000 local customers.
According to VIB's pre-audited consolidated financial statements for 2015, VIB earned pre-tax profit of VND655 billion ($29.4 million). Lending was VND47.7 trillion ($2.14 billion), with lending growth of 25 per cent. In 2015, the bank's total assets increased by 5 per cent compared with 2014 to VND84.4 trillion ($3.8 billion).
Gateway Thao Dien attracts high-income customers
The Gateway Thao Dien project in Ho Chi Minh City's District 2 has received a lot of attention from high-income buyers – especially foreigners – due to its prime location, complete infrastructure, highquality finishes and fittings, and legal transparency of the developers.
Gateway Thao Dien in Ho Chi MInh City offers homeowners impeccably-designed units with stunning river and city views
Notably, in Ho Chi Minh City's plan to invest VND250 billion ($11.2 million) in infrastructure over the 2010-2020 period, the eastern part of the city, where the project is located, accounts for 70 per cent of planned investment. Many key projects have been completed in the area, such as the Long Thanh-Dau Giay expressway, the Vo Van Kiet road, the Thu Thiem tunnel, the city's inner ring road, and the Saigon 2 bridge. Also, the new Metro Line 1 route will vastly improve the area.
In addition to the development of transport infrastructure, facilities to serve the demand of residents, such as malls, schools, and hospitals, are also being completed. These factors are prompting the rapid development of real estate in the area, especially for projects along the Metro Line 1.
Of these projects, Gateway Thao Dien stands out by virtue of its quality and the ease with which customers can purchase apartments. Gateway Thao Dien is a 150-metre walk from station No.7 on the Metro Line 1. Residents are also within walking distance of the biggest mall in the eastern part of the city, Vincom Mega Mall Thao Dien. Meanwhile, the Parkson mall and Metro supermarket, the International School Ho Chi Minh City, and the British International School are only a few minutes' drive away.
The population density is low and facilities such as BBQ area, swimming pool, gym, sauna, as well as restaurant and café will make residents of Gateway Thao Dien feel like they are living in a resort.
The project has 439 condo units with 1-4 bedrooms, 85 serviced apartments, and 22 ultra-luxury, extra-large apartments, offering stunning river and city views. The apartments at Gateway Thao Dien are equipped with large windows providing plenty of natural light, with impeccable standards of design and finishing throughout, making each apartment truly a home.
On February 3, 2016, the Ho Chi Minh City People's Committee assessed the unit price of Gateway Thao Dien's land for the developer to perform its financial obligations under Decision No.412/QD-UBND. After receiving approval, the developer fully paid the land use fee as certified by the District 2 Tax Bureau under Official Letter No.012/CCT-TrB dated February 17, 2016.
Also, the Ho Chi Minh City Department of Construction has approved the developers to sell the apartments to be formed in the future which belong to Block A (The Aspen) and Block B (The Madison) of Gateway Thao Dien in accordance with the Official Letter No.2198/SXD-PTN&TTBDS dated February 5, 2016 and Official Letter No.3594/SXD-PTN&TTBDS dated March 9, 2016. This is an important legal ground that forms the basis on which the developer is allowed to sign the sales and purchase agreements with the customers.
The project's home buyers will gain more confidence knowing the developers have signed the Agreement on Provisions of Guarantees with Orient Commercial Bank (OCB) on February 1, 2016. The bank will therefore issue bank guarantee letters to Gateway Thao Dien's buyers. This agreement proves that the developer is fully compliant with all current laws.
Gateway Thao Dien is jointly developed by SonKim Land and Hamon Developments. The construction was headed by contractor Cofico and supervised by Mace, both major names in the construction field not just in Vietnam but worldwide.
At the Vietnam Property Awards 2015, Gateway Thao Dien won prizes for the Best Condo Development in Vietnam and the Best Luxury Condo Development in Ho Chi Minh City. Gateway Thao Dien was also one of six finalists for the Southeast Asia Property Award for Best Condo Development in the region, and received the Highly Commended Award in Singapore in October 2015.
Ha Noi administration eases difficulties for businesses
The Ha Noi People's Committee has recently asked the Department of Planning and Investment to provide guidelines on procedures for granting business registration certificates in the Thang Long Industrial Park.
They believe this will make them favourable to enterprises.
According to Vice Chairman of the Ha Noi People's Committee Nguyen Ngoc Tuan, the People's Committee has also the Department of Environment and Natural Resource to urgently instruct five businesses in the industrial park including Panasonic Vietnam, Kai Vietnam, Asahi Intecc Hanoi, and Nissei Electric Hanoi, in addition to Showa Auto-parts Vietnam, to complete administrative formalities and land use right certificates for these businesses on March 15.
Tuan also has assigned management boards of industrial and export processing zones to work with Ministry of Internal Affairs to consolidate and enhance their organisation to address difficulties and problems in a timely manner at every industrial park in Ha Noi.
Pham Van Loc, deputy general director of Thang Long Industrial Park Limited Company, complained about cumbersome administrative procedures, that would be inconvenient and a waste of time for businesses, involving issuing land use right certificates for investors, and planning of industrial parks.
Loc also said there remains overlapping management issues between management boards of industrial and export processing zones with the departments of Planning and Architecture, Planning and Investment, Environment and Natural Resources. Inspections are conducted of the same content in every enterprises, he said.
In addition, Secretary of the Ha Noi Party Committee Hong Trung Hai asked Vice Chairman of the Ha Noi People's Committee Nguyen Ngoc Tuan to instruct the Department of Planning and Investment to review all existing problems to report to the chairman of the Ha Noi People's Committee soon.
Hai said that before conducting inspections they should be checked by authorised agencies to avoid overlapping.
Jan-Feb cement consumption up
Total sales of cement reached 9.44 million tons in January and February, 6 per cent higher than in the same period last year, the Ministry of Construction has announced.
Nearly 7.3 million tons was consumed domestically while 2.2 million tons were exported.
According to a forecast from the International Economic Information Department under the Ministry of Industry and Trade, demand for cement will stand at between 75 and 77 million tons this year, up 4 to 7 per cent against 2015. Domestic consumption is expected to increase from 59 to 60 million tons while export volumes will fall 16 to 17 million tons.
The cement price has remained stable around the country since last year due to steady production costs. In 2015 the basic price of cement did not increase at all, despite rising input prices.
One reason for the greater consumption is the State allocating capital to infrastructure works in transport, hydropower, and social housing.
The country's real estate market also continues to warm up, pushing cement consumption upwards. Vietnam now has nearly 60 cement producers with a total capacity of approximately 81.5 million tons.
Conference planned on cooperation among localities
Wide range of events to be held within Cooperation Conference between Vietnamese and French Localities in September.
The 10th Cooperation Conference between Vietnamese and French Localities will be organized in the Mekong Delta's Can Tho city from September 14 to 16, attracting 200 representatives from France and 300 from Vietnam.
French Ambassador to Vietnam, H.E. Jean Noel Poirier, said that the conference will provide opportunities for the two countries to promote cooperation in economics, tourism, education, healthcare, the environment, climate change, agro-fishery, and urban development.
Many events will be held on the sidelines of the conference, such as the Vietnam - France cultural week from September 12 - 18, the Vietnam - France International Fair from September 15 - 17, and a roundtable on trade promotion between the two countries on September 15.
The conference was organized for the first time in 1989 when Hanoi and Ile de France, a region of France, established a relationship. Since then the conference has been held every two or three years to promote the traditional friendship between the two countries.
PM directs contractor selection for Quang Tri EZ planning
Prime Minister Nguyen Tan Dung has assigned the Chairman of the Quang Tri Provincial People's Committee to select contractors to conduct project planning for the development of the Southeast Quang Tri Economic Zone in the central province.
The Southeast Quang Tri Economic Zone has an area of 23,729 ha and spans 17 towns and communes: Hai An, Hai Ba, Hai Vinh, Hai Que, Hai Khe, and Hai Duong in Hai Lang district, Trieu An, Trieu Phuoc, Trieu Van, Trieu Trach, and Trieu Son in Trieu Phong district, and Gio Quang, Gio Mai, Gio Hai, Gio Viet, and Cua Viet in Gio Linh district.
The economic zone includes industrial zones, administrative zones, residential zones, tourism zones, services zones, and a harbor, and is to be a key development area in the province and central Vietnam as a whole.
Moreover, it is to become an international trade center for agriculture, forestry, and fishery, a building materials production center, and an electricity production center, and will also provide tourism and trade services.
The Southeast Quang Tri Economic Zone will maximize the natural local conditions and its geographic location to not only connect transport from and to the north and the south but also play an important role in national security and economic development.
Smart data conference underway
The Asian Conference on Intelligent Information and Database Systems (ACIIDS) is being held in central Da Nang city from March 14 to 16 by the Vietnam Korea Friendship Information Technology College and Poland's Wroclaw University, according to the Ministry of Information and Communications (MIC).
The conference is being attended by IT experts from Hong Kong, Poland, and Taiwan, discussing topics such as neurodynamics solutions, big data in modern linguistics research, and incremental data.
It is an opportunity for the foreign IT researchers to discuss and share their experience to raise awareness about the importance of intelligent data systems, contributing to IT development in Vietnam during integration.
The conference is also a bridge connecting international scientists, especially Asian scientists and Vietnamese scientists, so they may expand knowledge about the issues under discussion.
ACIIDS was organized for the first time in 2009 and its reputation has grown within the scientific community, with the results of previous ACIIDS being used in prestigious studies and scientific journals on IT and automation.
It has also made a positive contribution to research activities and improved the quality of IT and power engineering in Vietnam.
IBM the best place to work in IT-Hardware/Telecom
The results of the Vietnam Best Places To Work 2015 survey were released recently by Anphabe.com and Nielsen and named IBM Vietnam as one of the best places to work in 2015 in the IT-Hardware/Telecom sector. This is the third consecutive year IBM has been named.
The IT-Hardware/Telecom sector had three companies in the Top 10 best workplaces: with Microsoft and Vietel joining IBM.
"In 2016 we celebrate 20 years of IBM Vietnam officially operating as a 100 per cent foreign-owned company," said Mr. Eric CW Yeo, General Director of IBM Vietnam. "During the last 20 years, regardless of how the company's strategy has changed, IBM Vietnam has always secured its plan of developing its personnel with three pillars: Ability, Work Environment, and Organization Culture."
This year IBM has announced a new way of developing, becoming a company based on cognitive business and cloud computing.
VIB Hai Phong officially relocated on March 11 and take on a new look and feel, at 9 Tran Hung Dao Street, Hai Phong.
From March 11 to 31 customers who bank with VIB Hai Phong will not be subject to fees when opening a current account, when using VIB Values, VIB Debit MasterCard, and VIB Credit MasterCard, or when accessing payment guarantees and many other services related to funds and cash.
After more than 12 years in Hai Phong VIB has become one of the leading commercial joint stock banks in the city, with more than 20,000 local customers. By relocating VIB Hai Phong, VIB demonstrates its strong development and commitment to best meeting the financial plans of personal, corporate and institutional customers in the area.
This is also part of the bank's roadmap to operate a new sales and service model by putting customers at the center, which has been continually implemented since 2009.
The new sales and service model applied at VIB branches is a positive change not only in the branches' look and feel or how they communicate their message but also in their staff's daily thinking and attitude, which will help create more value for customers. All staff at VIB branches have been trained to fully meet new requirements in customer service quality, while 98 per cent of all VIB branches are now operating under the bank's new sales and service model.
On this occasion VIB also signed comprehensive cooperation agreements with the Doan Xa Port JSC and the Tien Phong Plastics JSC. VIB pledges to provide optimal financial solutions to facilitate the two companies' operations and business. The bank also provides various preferential services and products to the companies' employees to best meet their essential needs.
VEF/VNA/VNS/VOV/SGT/SGGP/Dantri/VET/VIR