Japanese company asked to protect Vietnamese workers' rights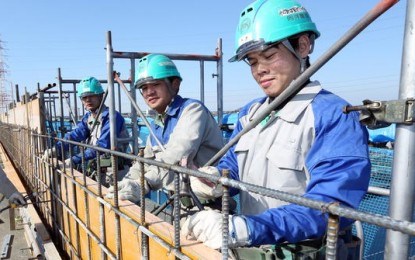 The Vietnamese Embassy in Japan has contacted First Cardea - a Japanese company that acts as guarantor for a number of Vietnamese labourers to work in Japan - concerning a letter sent to the embassy on March 15 requesting support from a Vietnamese guest worker.
Nguyen Quang Hung, a Vietnamese national working at Seinan factory in Iwate prefecture said in his letter that working conditions, including protection gear and housing are not ensured for the nine Vietnamese workers at the factory, with house rental and food costs being deducted unreasonably.
At a working session with the embassy, Hung said these workers directly signed individual labour contracts with the Tokyo-based First Cardea, to work in Japan as engineers beginning September 17, 2015.
The embassy met with representatives from First Cardea on March 16, and requested the company to look into the case and take measures to ensure the legitimate interests of these workers.
The embassy said its representatives will arrive in the Seinan factory this week to inspect working and living conditions of the guest workers, thus coordinating with Japanese authorities to ensure the rights of the Vietnamese workers, in line with the host country's legal regulations and practice.
Schoolgirl who lost legs due to doctors' negligence apologized
On behalf of health authority, head of the Planning and Skill Ward of the Department of Health in the highlands province of Dak Lak Nguyen Huu Huyen publicly apologized 16 year old schoolgirl Le Thi Ha Vi and her family for doctors' irresponsibility and incapability leading to Vi's leg amputated in Cho Ray Hospital.
The apology was made publicly at a press brief held on March 17 by the Department.
In the press brief, the Department said that it had established an inspection over the admission procedure as well as issued decision to suspend doctors and nurses involved in the case.
Leaders of the Department and the hospital arrived in Cho Ray Hospital to visit schoolgirl Vi and apologized her and the family once again.
In addition, the Department liaised with Cho Ray Hospital and Trauma and Orthopedics Hospital over physiotherapy and a prosthesis leg for Vi.
Director of the Department Doan Huu Long said that Health Minister Nguyen Thi Kim Tien ordered the hospital to pay Vi's treatment cost and support the cost of a prosthesis leg. The health sector will do its best to help her.
Nine fishermen in distress offshore Danang rescued
Seven out of the nine fishermen on board the distressed boat QNg 98997TS in the central province of Quang Ngai were taken to the mainland safe and sound on March 18.
Earlier the same day, the boat broke and sunk around 41 nautical miles off the shore of Danang.
The nine people were then rescued by a ship coded SAR 412, sent by Maritime Search and Rescue Coordination Centre Region II.
The ship's owner, who is also its captain, and another fisherman stayed at the scene on another boat to help out.
Vietnam Airlines promotes the country's image in China
Vietnam Airlines (VNA) held a seminar in China on March 17 showcasing Vietnam's land and people and VNA new products to Chinese people.
This is part of activities to mark the 60th anniversary of VNA and 15th anniversary of its representative office in China.
Addressing the seminar, ambassador to China Dang Minh Khoi emphasized that China has constantly been Vietnam's largest trade partner for 12 years while Vietnam is its second largest trade partner in ASEAN.
According to latest statistics, trade value between the two countries last year grew by 13.7% to US$66.67 billion. China is now ranking 9th among foreign investors in Vietnam with a total investment of US$8.4 billion.
The number of Chinese visitors to Vietnam has constantly increased and hit 1.8 million while more than 1.5 million Vietnamese people toured China last year.
Ambassador Khoi spoke highly of the event and said it was an opportunity for the Chinese people to gain a better understanding of Vietnam's land and people and provided a good chance for both sides to boost tourism cooperation.
Meanwhile, Kieu Anh, chief VNA representative in China told the seminar that VNA conducts 42 weekly flights from China to Hanoi, HCM City, Da Nang and Nha Trang cities in Vietnam. China is considered one of VNA's most effective air routes.
Kieu Anh reported that China is a VNA key overseas market besides Japan and the Republic of Korea (RoK). Last year, VNA gained a profit of VND640 billion from the market. In the first two months of this year, the number of Chinese passengers using VNA services rose 40% over the same period last year and 20% of the set plan.
VNA introduced its high-quality services to the seminar with the aim of attracting more Chinese tourists to Vietnam, Kieu Anh said.
Vietnam welcomes first surrogate twins
A pair of surrogate twins was born on Wednesday, marking the first successful surrogacy in southern Vietnam, and the first twins given birth by a surrogate mother across the Southeast Asian country.
The twins, who are two boys weighing 2.1kg and 1.9kg respectively, arrived at 10:35 am at Tu Du Hospital in Ho Chi Minh City, Tran Ngoc Hai, head of the infirmary's Division for Planning and Assortment, said on Friday.
The babies are currently stable, respiring well, and responding positively to bottle feeding, Hai said, adding that the hospital is expected to hand the twins over to their family later today, March 18.
Their biological mother is a 29-year-old woman hailing from the south-central province of Khanh Hoa, who had asked a 34-year-old cousin of her husband's to bear the babies since she has neither a cervix nor menstruation although her ovary is functional.
Vietnam legalized surrogacy for humanitarian purposes on March 15, 2015, though the law regulates the process strictly, only allowing relatives of the mother or father to be the surrogate mother.
The first surrogate baby in Vietnam was born on January 22, 2016 at the National Hospital of Obstetrics and Gynecology in Hanoi.
Prior to 2015, surrogacy of any kind was completely outlawed in the Southeast Asian country, and infertile couples had to travel abroad to perform the procedure.
Now, only three public hospitals are allowed to perform surrogacy in the country, which are the National Hospital of Obstetrics and Gynecology in the north, Hue Central Hospital in the central region, and Tu Du Hospital in the south.
The surrogate mother expressed her happiness being able to help a relative's family, while the couple was so blissful to finally see their sons after years of persistent efforts.
According to Tu Du Hospital's records, since July 2015, the infirmary has received 33 registrations for surrogacy, 20 of which were approved by the medical council.
Up until now, six out of the 11 embryos transferred have resulted in pregnancy.
Adviser to Japanese PM pledges strengthening ties with Vietnam
The Senior Adviser to Japanese Prime Minister Shinzo Abe, Isao Iijima, has vowed to do more for lifting the Japan-Vietnam relations to a new height, and deepening the two countries' extensive strategic partnership.
Iijima made the pledge at his meeting in Hanoi on March 17 with Minister of Public Security General Tran Dai Quang.
The Vietnamese official said with joy that the Vietnam-Japan relationship has developed and expanded continually in numerous fields since the two nations established their diplomatic ties more than 40 years ago.
Japan has become Vietnam's important strategic partner, he said, adding that the two countries' leaders have also conducted visits to boost the partnership with the target of intensifying political trust and promoting connectivity and cooperation in economics and other fields.
Quang expressed his hope that the adviser and Japanese enterprises will continue coordinating in implementing investment projects, as well as maintaining expert exchanges in the fields of Japan's strength, training Vietnamese law enforcement officials and sharing experience in areas of mutual interest.
Register electric bikes before riding them, students warned
All departments of education and training throughout the country have warned students not to ride electric bikes without registering them and installing number plates.
Students under the age of 16 also have to make a commitment to not drive electric bikes. According to regulations, only people above 16 are allowed to drive electric bikes.
This was the latest directive of the Ministry of Education and Training signed by Deputy Minister Nguyễn Thị Nghĩa on Tuesday.
As per the document, violations on regulations for registering vehicles, including electric motorcycles, were complicated, and therefore, these directives had been issued, Nghĩa said.
Riding electric bikes without registration also means safety standards of these vehicles have not been verified. This poses a risk to both, vehicle users and other road users, the document says.
The departments were required to quickly implement the rule and report to the ministry's Student Affairs Department before May 31, she said.
WHO-funded cooperation project approved
The Prime Minister has approved the portfolio of a health cooperation programme sponsored by the World Health Organisation (WHO) in the 2016-2017 fiscal years.
The project aims to assist the health sector in Vietnam to implement effectively the national strategy on public health in 2011-2020, with a vision towards 2030.
Specifically, the project will help Vietnam reduce communicable diseases such as HIV/AIDS, tuberculosis and malaria through technical support, policy dialogue, and inter-sector cooperation.
At the same time, it will support the implementation of the national strategy on preventing non-communicable diseases, contributing to improving public health.
It also looks to improve maternal and child health and medical services for the elder.
Strengthening the healthcare system, particularly the prevention, monitoring and control of epidemics, is also among the goals of the project.
5 Vietnamese punished for revealing police checkpoints on Facebook
Police in Hanoi have fined five people up to VND20 million (US$900) each for running Facebook pages that tell people how to avoid police officers.
The men, all in their 20s, were punished for revealing locations of the police's random checkpoints.
They said they did not run the pages for personal gains and that they only helped others avoid the traffic police.
Two young men in the northern city of Haiphong were sentenced to six months in jail last December for running similar Facebook pages.
They also posted defamatory comments against the police and tried to sell their pages.
VN woman gets 14 years for trafficking 10 into Malaysia sex ring
A court in Ho Chi Minh City on March 16 sentenced a woman to 14 years in prison for trafficking at least 10 women to Malaysia since 2010.
Tran Thi Phuong Long, 32, worked for Ooi Chin Chye as a translator and supervisor at his hotel in Kuala Lumpur, where Ooi also ran an illegal prostitution ring.
In 2010 Long began to come back to Vietnam, seeking young women and luring them to Malaysia for her boss.
She promised the victims high-paid jobs as waitresses in beer clubs and massage parlors.
But prosecutors said when the women arrived in Kuala Lumpur, they had their passports taken away and forced to do sex work in Ooi's prostitution ring.
Tran Thi Phuong Long and her two accomplices stand trial in Ho Chi Minh City on March 16, 2016.
Ooi reportedly paid Long VND2 million (US$90) per woman. Prosecutors said between 2010 and 2014, she trafficked at least 10 Vietnamese women to Malaysia, adding that there could be several more victims who investigators were trying to reach out to.
In a related case, Long asked her Malaysian boyfriend Yeow Kheng Ho and their accomplice Tran Ngoc Quoc Sang to threaten a relative of one of her victims in Vietnam. They robbed the person of his iPhone.
Yeow and Sang were sentenced to four years and four and a half years respectively on March 16.
Another suspect in the human trafficking scheme, Pham Thi Chuc, will stand trial later. She has been accused of selling two women to Long.
HCM City vigilantes on Facebook
The Facebook pages of a group of vigilantes in Ho Chi Minh City have been capturing the attention and support of local citizens, who have been following their accomplishments in the fight against crime in the city.
Two Facebook pages with the names 'Stolen Property Report' and 'Ho Chi Minh City Thief Hunter' have been increasingly popular with local people, gathering over 90,000 followers.
The social media pages are the places where the group members post information on the theft cases they have solved as well as photos of the detained offenders.
They are also a hub for local citizens looking to stay updated on the security situation in Ho Chi Minh City, share their experience of places vulnerable to thieves, and express their appreciation for the 'street heroes.'
The vigilantes are pictured detaining a thief on Tran Hung Dao Street, Ho Chi Minh City in this photo taken from the group's Facebook page.
"Many thanks to the vigilantes for helping me retrieve my stolen cellphone. I am beyond happy and admire your courage in facing the criminals to return civilians' property," Ha Nhu Quynh, 22, said on one of the pages.
Meanwhile, M.S. considered the self-appointed law enforcers her saviors after they helped S. and her family to take back what she was scammed out of by a con artist.
S. recounted that her older sister was tricked and had her motorbike, smartphone, jewelry and other belongings stolen by the suspect via Zalo, a Vietnamese mobile-based free texting and calling app, in 2015.
She decided to contact the group of vigilantes as no progress had been made after reporting the case to local police.
Within 10 days, the 'heroes,' in coordination with S., succeeded in solving the case and handing the suspect over to police officers, according to the woman.
Lam Hieu Long, 26, has confirmed to Tuoi Tre (Youth) newspaper that he is the representative of the vigilantes and administrator of the Facebook pages.
"We only arrest the criminals when they are caught red-handed. In each case, the whole team usually discusses the safest and most effective as well as legal approach to catch the thieves," Long said.
As the thefts have been affecting the lives and safety of local citizens, Long and his friends decided to establish the social media pages to update information regarding the suspects, Long explained.
The pages are solely aimed at providing the members with information that facilitates the fight against crime, Long said, adding that they did not create the pages for attention or popularity.
The group currently has seven members, with ages ranging from 23 to 26, who come from all walks of life, including one cab driver, a businessman, deliveryman, college student, and others, according to Long.
Since the group was formed in 2010, the vigilantes have solved over 200 cases of theft and robbery.
He added that they receive about 20 reports of security issues from civilians daily, of which 60% are about theft.
The activity of the vigilantes is a double-edged sword, according to Truong Van Vy, a criminology lecturer at the Vietnam National University - Ho Chi Minh City.
On the positive side, they offer support in the fight against crime to competent authorities, Vy said.
However, these 'heroes' could potentially act beyond their rights and commit violations due to insufficient knowledge of the law, the academic added.
Nguyen Van Hau, vice president of the Ho Chi Minh City Lawyers Association, suggested that the team members strictly comply with the law to avoid any complication or abuse of power.
Publicizing their activities as well as criminals' information on Facebook without a final conclusion by police could cause several issues related to one's private life, Hau added.
The team could also encounter other legal problems if they receive false reports from their followers, according to the lawyer.
Colonel Nguyen Nhat Thanh, deputy chief of police in District 1, recommended that the vigilantes organize their team thoroughly with the proper skill of arrest and ways to gather evidence and statements from victims and witnesses.
Police cannot investigate or bring charges against suspects if there is no proof of any violation, Col. Thanh elaborated.
VN woman lives with 3 bomb fragments in shoulder for over 50 years
An elderly woman in Vietnam has recovered from surgery to remove three bomb fragments that had lain in her left shoulder for more than three decades.
Doctor Pham Van Phuong from the thoracic department of Can Tho General Hospital said on March 15 that surgeons had succeeded in removing three bomb fragments stuck in the left shoulder of 70-year-old woman Ha Thi Bay of Binh Thuy District, Can Tho City.
A scan prior to surgery revealed bomb shrapnel pieces of 4, 6, and 10 millimeters respectively, situated around the patient's left shoulder's joint.
Bay's family said that she had lived with the fragments since she was 17 years old after a bomb went off during a revolution she was participating in.
The three fragments sank deep into her flesh, and while the external wounds healed, Bay always felt pain when she moved her left shoulder.
She went to several hospitals for treatment but doctors suggested that the removal not be carried out, so as not to cause any complications.
It was not until her left shoulder experienced partial paralysis that Bay insisted on conducting the surgery in the city's general hospital to remove the shrapnel, her family said.
After multiple consultations and examinations, doctors decided to carry out the operation on March 15.
After one hour, the bomb fragments were successfully pulled out of her body.
2 arrested in large heroin bust in Thanh Hoa
Two alleged drug dealers from Laos were arrested in Thanh Hoa Province on March 15 after authorities found 7 kilos of heroin in their possession with a street value of in excess of US$100,000.
Nang Nu Mua, 36, and her husband Thao Chu Vang, 36, both Lao nationals were busted by Thanh Hoa border guards as they attempted to crossover the border into Vietnam.
Border guards say large quantities of synthetic drugs, cash, gold, jewellery and other related drug paraphilia were also seized in connection with the arrests.
The busts are significant, because they break down the complicated illicit trafficking system between Laos and Vietnam.
Authorities say ultimately these two people contribute to the crime, death, and addiction that runs rampant in our communities.
Three Vietnamese films screen in the Philippines
Three films of Artist Bui Trung Hai are being screened at ASEAN Film Awareness Month, underway at the Manila Cinematheque in the Philippines, according to a local newspaper.
They are When Autumn Sunlight Comes (Gold Remi Award for First Feature Film at the 41st Houston Film Festival), Summer Rain, and David and Luisa (Bronze Remi Award at the Houston Film Festival in 2015).
The event, reports the local newspaper, provides audiences the chance to enjoy the finest of contemporary Southeast Asian cinema, bringing together the values, traditions and cultures of the diverse peoples of the region.
All screenings at the Film ASEAN Awareness event running through April 3 are open to the public free of charge.
16 projects won first-prize awards in ViSEF 2016
16 projects of senior and junior high schools of southern provinces and cities won the first prizes in the national contest ViSEF 2016 held in March 12 to 15 in the southern province of Dong Nai's Bien Hoa city.
This is the national science and technology competition for junior and senior high school in the Southern region. The competition organizer received 206 projects from 358 students including 160 senior high school students and 46 junior high school students in 19 fields of science and technology.
After three days, the organizer decided to give the first-prize award to 16 projects: second-prize award to 29 projects; third-prize award to 34 projects and encouragement prize award to 55 projects.
One of the winning projects attracting more attention of the jury is designed by students from Le Hong Phong Senior High School in Ho Chi Minh City. They created specific equipment to go through all terrain for elderly and disabled people.
13 projects of student teams of Ho Chi Minh City won the first, second, third and encouragement awards.
10,000 cherry blossoms celebrate Vietnam, Japan ties
Some 10,000 branches of cherry blossoms will go on display March 19-20 at the statue of King Ly Thai To, in Hanoi as part of activities to mark 43th anniversary of diplomatic ties between Vietnam and Japan.
The information was unveiled at a March 17 press conference by leaders of the Hanoi Department of Culture and Sports.
A wide variety of cultural activities are planned in connection with the event including Japanese art of flower arrangement, Japanese film screening, martial arts and dragon dance performances.
5 Vietnamese punished for revealing police checkpoints on Facebook
Police in Hanoi have fined five people up to VND20 million (US$900) each for running Facebook pages that tell people how to avoid police officers.
The men, all in their 20s, were punished for revealing locations of the police's random checkpoints.
They said they did not run the pages for personal gains and that they only helped others avoid the traffic police.
Two young men in the northern city of Haiphong were sentenced to six months in jail last December for running similar Facebook pages.
They also posted defamatory comments against the police and tried to sell their pages.
HCM City party chief supports university's ambitious goal
HCM City's newly-appointed party leader Dinh La Thang offered advice to a non-state local university on dealing with difficulties to realise their ambitious goal of becoming an internationally-standardised one.
During the visit to Ton Duc Thang University, he was impressed with the university's facilities and administration and appreciated the efforts made.
Established in 1997, Ton Duc Thang University under the management of Vietnam General Confederation of Labour now has 1,760 teachers and staff. The university has determined to apply international standards in educational activities and become a leading university in the next seven years.
Dr. Le Vinh Danh, the university's principal, said that under the government's decrees, the university is allowed to open their faculties and adjust courses. However, the university has not got the right to decide their management as this right remains with the Vietnam General Confederation of Labour. So, he claimed, it was difficult for the university to operate as a business.
Dang Ngoc Tung, Chairman of the confederation, said that it is the Article 20 of the Education Law that does not allow universities to decide their own management board.
Thang suggested the confederation should seek the government's approval for Ton Duc Thang University to pilot their own management board.
According to Thang, the university's management board should not include members who are HCM City's leaders and instead look at hiring people with expertise in education.
"I highly appreciate Ton Duc Thang University's ambitious goal to become one of the world's top 500 universities in the next 20 years. The university should submit specific proposals to the Vietnam General Confederation of Labour so that the confederation can work out what the next steps are. Vietnam really needs good universities," he emphasised.
At the meeting, the university also reported problems in importing medical equipment. The equipment has been impounded the port since November last year because the Ministry of Health has yet to licence its import.
Thang later spoke to Minister of Health Nguyen Thi Kim Tien and Deputy Minister Nguyen Viet Tien about the case.
The deputy minister then contacted Dr. Le Vinh Danh to resolve the issue.
Judicial ties – impulse for comprehensive Vietnam-Hungary cooperation
The recent judicial cooperation will help Vietnam and Hungary step up their affiliation in other fields, said Hungarian Minister of Justice Laszlo Trocsanyi.
The minister told the Vietnam News Agency on the sidelines of his working visit to Vietnam from March 14-17 that the bilateral judicial collaboration will contribute to spurring economic growth and modernising administrative systems in each country.
According to the official, the two sides have supported each other in making and approving new laws, and training judges.
Apart from a judicial cooperation agreement signed in 2013, they have set up a further framework for this sector in the next two years and agreed to mark the Hungary-Vietnam Law Day in Budapest in 2017, Laszlo Trocsanyi noted.
Vietnam and Hungary boast substantial potential for collaboration in other spheres like economy, culture, higher education, science-technology, and database protection and establishment.
Hungary is assisting Vietnam in piloting a citizen management programme in the northern port city of Hai Phong, the minister said, adding that his country stands ready to support the Southeast Asian nation in building hospitals.
A water company of Budapest is interested in constructing waste water treatment facilities in Vietnamese hospitals and many major Hungarian companies and groups are seeking investment opportunities in the country, he said.
During the interview, Laszlo Trocsanyi stressed the need to elevate the two countries' relationship and create a momentum for their cooperation in the future. There is currently a community of 4,000 Vietnamese in Hungary and this is a good foundation to expand the mutually beneficial affiliation.
Hungarian authorities and people highly value the Vietnamese community and are very willing to help them to integrate in the country, thus further boosting bilateral ties, he said.
Locally-made drugs not meet demand
Locally-made medicines just meet 48 percent of demand, said experts at meeting themed "Raising patient's health: Importance of medicine's quality" held by European Chamber of Commerce in Vietnam on March 16 in Hanoi.
Deputy Health Minister Dr. Pham Le Tuan, said that in 2015 total value of domestically-made medicines reached over US$1.6649 billion, an increase of 18 percent compared to the whole last year.
Additionally, a person spent US$37.9 a year, 10 percent higher than 2014 and two times higher than 2009.
In the meeting, in addition to issuing information of drugs' quality, the experts also discussed new pharmacy regulations and guidelines in medicine bidding and information of how nations in the world manage medicine's quality, measures against fake tablets...
VNA/VNS/VOV/SGT/SGGP/TT/TN/Dantri