Reforms urged to increase growth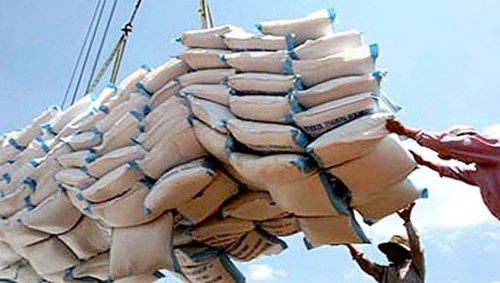 Việt Nam should enact large macroeconomic reforms in order to lift growth and catch up with other economies, Christine Largarde, Managing Director of the International Monetary Fund (IMF), said yesterday at a meeting with students of the National Economics University.
The country should ensure its macroeconomics are stable by using flexible exchange rates to minimise the shocks created by global financial markets, and by using inflation as a decisive factor to develop monetary policies, she said.
Việt Nam must increase the Government's income to reduce public debt, which currently stands at about 60 per cent of the GDP, and to boost investment in critical areas such as infrastructure, health and education, she said.
The Government should also assist banks in resolving non-performing loans and bolster their balance sheets, which will support better credit growth for a more sustainable development of the economy in the medium term, she said.
In addition, the Government should also accelerate the restructuring of State-owned enterprises (SOEs) and boost labour productivity by reforming corporate governance, making divestments from non-core activities and allowing more foreign ownership in the SOEs, she said.
Christine also noted that local SOEs and private companies currently have very low productivity, only about one-fifth that of the foreign-invested firms, she said. She added that this explained why foreign direct investment (FDI) companies accounted for 70 per cent of the country's total exports.
Việt Nam should also invest more in research and development (R&D) for technological innovation, where the country lags behind other nations, she said.
Christine also mentioned that Việt Nam needs to boost the quality of education, especially vocational training, to meet international requirements to reduce the high youth unemployment rate.
The IMF's Managing Director suggested that Vietnamese students lift their creativity and innovation, while trying to build good knowledge and skills in economics related subjects such as math, engineering and finance.
"You will also have a chance to create sustainable ventures that are firmly grounded in mutual trust and strong ethical behavior," she said, as unethical behavior sometimes appears in highly-competitive industries.
Additionally, Việt Nam also has to reduce its poverty rate of 13.5 per cent, and promote gender equality, which aims to provide more opportunities and power for women in the workforce, she said.
Such methods are expected to help Việt Nam cope with a slowdown in global economic growth, attract more foreign direct investment, cope with shocks from global financial markets and catch up with other economies, Christine said.
She said that the country has become one of the world's most open economies in the past 30 years, which benefits from international trade and FDI to drive up growth and reduce poverty.
She said that there will be more opportunities for Việt Nam given the current status of the global economy, including the slowdown of China's economy, the stronger US dollar and the signed Trans-Pacific Partnership (TPP).
Those economic events will help Việt Nam win market share at the lower end of the value chain, sell more final goods to overseas markets, boost its GDP to 8 per cent and its exports by 30 per cent during the next 15 years, she said.
HCM City should invest more in infrastructure: IMF leader
Ho Chi Minh City should pay attention to transport, with the focus on developing public transport, and invest more in infrastructure, suggested Managing Director of the International Monetary Fund (IMF) Christine Lagarde.
The IMF leader made the recommendation when received by Chairman of the municipal People's Committee Nguyen Thanh Phong on March 18.
She also proposed forming a "business consultancy council" which includes successful entrepreneurs, because they can efficiently popularise the city's investment policies to investors.
Phong informed the guest that Ho Chi Minh City is concentrating on attracting investment in information technology, electronics, mechanics, rubber and plastic, and food processing.
During its development process, the city will strive for sustainable economic growth and include environmental protection, social welfare and security and order maintenance in economic development, he said.
Attention is also paid to increasing the competitiveness of the city, enterprises and products, including helping businesses meet export markets' strict requirements, raising the quality of human resources, and modernising the infrastructure system.
Therefore, the city is encouraging investors to participate in infrastructure upgrading, and using official development assistance in urban planning such as water resources improvement, he added.
GreenFeed Vietnam inaugurates animal-feed factory in Ha Nam
GreenFeed Vietnam JSC on March 18 inaugurated a factory producing animal feed in the northern province of Ha Nam.
The GreenFeed Ha Nam Factory, built on five hectares in the Dong Van 2 Industrial Park (IP) in Duy Tien district at a total cost of 37 million USD, has an annual capacity of 400,000 tonnes.
It is expected to meet the demand for animal feed in the province and surrounding areas, as well as creating jobs for locals.
Addressing the inauguration ceremony, Chairman of the company's Management Board Ly Anh Dung pledged environmentally-friendly operations at the factory.
Vice Chairman of the provincial People's Committee Pham Sy Loi called on the firm to observe local regulations and take good care of its employees.
He also urged the IP Management Board, relevant sectors and local authorities to ensure optimal conditions for the investor to operate in the locality.
In 2015, local industrial parks in the province attracted 39 projects, 28 of which were foreign invested, with a combined registered investment of 391 million USD.
They are now home to 230 active projects, including 131 foreign invested ones with a total registered capital of 1.3 billion USD.
Currently, the province has eight industrial parks that cover an area of 2,000 ha. The industrial park Dong Van III, which is under construction and geared towards the supporting industry, will apply its own mechanisms and policies. The locality has approved plans for 18 industrial clusters on an area of nearly 500 ha.
Vinasoy builds third plant in Binh Duong
Vietnam Soya Products Company (Vinasoy) began construction on its third plant in the Vietnam-Singapore Industrial Park (VSIP 2A) in the southern province of Binh Duong on March 18 to meet increasing demand in the domestic market and its export expansion target.
Covering an area of 8.5 hectares, the plant has a total investment of 900 billion VND (40.5 million USD). It is scheduled to be completed and put into operation later this year, with an annual capacity of 180 million litres of soymilk.
Ngo Van Tu, CEO of Vinasoy, said once becoming operational, the plant will contribute to shortening time and distance for transporting the company's products to southern localities.
Vice Chairman of the provincial People's Committee Tran Thanh Liem affirmed that the new project matches the locality's economic development orientation.
Vinasoy is the largest soymilk producer in the country at present, accounting for over 84.2 percent of the market share.
It now operates two manufacturing plants in central Quang Ngai and northern Bac Ninh provinces, bringing in annual revenue of 3.8 trillion VND (171 million USD).
Alma Resort – first vacation ownership format in Vietnam
Paradise Bay Company - the investor of Alma Resort in the central province of Khanh Hoa - has sped up the construction of its resort to introduce the first "Vacation Ownership" residence format in Vietnam.
According to Hem Patel, general director of Alma, more than 1.1 million cubic metres of land was removed and the frame of the main building is now taking shape.
Invested by the Israeli billionaire Igal Ahouvi, Alma Resort will provide 200 high-end villas and 400 condominiums, providing 30,000 vacation units a year when it comes into operation in 2018. Alma Resort is expected to offer deluxe services for family vacation-goers.
Patel cited that by offering a stunning variety of advantages the trend of "Vacation Ownership" would see both investors and consumers scampering in the coming time.
"Any year that Alma members cannot go on their planned vacations, they can pass these weeks to other people that are interested. Accordingly, our customers can receive an interest rate of 20-25 per cent of their initial payment, and the payback period shall only be around four financial years," said Patel.
Customers can save up to 25 per cent on one to three week vacations at Alma, compared to the average price of $4,200 per week at other beachside 5-star hotels.
Initiated in France in the 60s, "Vacation Ownership" is not only a trend in luxury resort ownership, but also a potential investment opportunity. After 50 years of development in more than 100 countries, this real estate model is hallmarked and pioneered in Vietnam by Alma Resort.
Furthermore, the resort grounds offer a beautiful theme park stretching alongside the scenic seashore is expected to bring families and visitors a myriad moments of wonder. Alma customers can pay in advance for their future vacation spots in a condominium or a villa, from at least one week at most every year.
Additionally, they can join the more than 17 million-strong "Vacation Ownership Community", and have the chance to visit more than 6,000 hotels and resorts around the word.
Hai Ha IZ to host VND1 trillion multi function port project
The Quang Ninh Special Economic Zone Management Authority has recently green-lighted Quang Trung Mechanical Engineering Enterprise to conduct the first stage of a $47.3 million multi-function port project on Hon Mieu Island, belonging to Hai Ha Port industrial zone (Hai Ha IZ).
This is the second large-scale port project at Hai Ha IZ. The first stage of the 24.5 hectare project consists of building a corner wall embankment, a storage yard and warehouse complex, and a weighing station, among others.
Construction is slated to kick-off within the year, and the project is due to be operational by the third quarter of 2018. At such a time it will have the capacity to welcome ships with a dead weight tonnage of between 1,000 and 3,000DWT, and barges between 300 and 600DWT. The port is expected to handle ships with total carrying capacity reaching 412,000DWT by 2020.
Hai Ha IZ has been approved for investment since January 23, 2008. The highlight of the IZ is the large-scale investment of Hong Kong's Texhong Corporation. The first-phase of Texhong-Hai Ha IZ project covers 660ha in Quang Dien ward, with the total investment capital exceeding VND4.52 trillion ($207 million).
The project will encompass industrial factories, an administrative centre, industrial zone service facilities, technical infrastructure, landscaping, and will leave some space for future expansions.
With a view to creating a centralised IZ to satisfy investors' growing demands, Texhong-Hai Ha IZ is the biggest wholly foreign-invested IZ in the province.
Texhong Corporation has also established Texhong Ngan Ha Technology and Science Ltd. to build modern industrial sewing facilities in Texhong-Hai Ha IZ, altogether valued at VND6.4 trillion ($293 million).
This project consists of three spinning factories with 300,000 spindles and a range of supporting facilities, as well as two dyeing factories with 1,200 sewing machines and dyeing devices. The project is expected to be completed by 2017.
Korean investors flock to Vietnamese potential
As one of the largest foreign investors in the Vietnamese stock market, Korean stakeholders have expressed high hopes for the country's growth potential.
At the recent Vietnam–Korea investment conference in Ho Chi Minh City, chairman of the Korea Financial Investment Association Hwang Young Key noted that Koreans were drawn to Vietnam by strong growth prospects. Investors from Korea were also impressed with Vietnam's strong determination to integrate into the global market, which is shown through the flurry of recent trade pacts, including the Vietnam–Korea Free Trade Agreement that took effect last December.
"Moreover, Vietnam is pushing the equitisation process of state-owned enterprises, as well as lifting the foreign ownership limit on listed domestic firms. All of this is good news to Korean investors, who are truly keen to invest in Vietnam, both directly and indirectly," said Hwang. He pointed out that the Vietnam – Korea investment conference has drawn the attendance of numerous leaders from leading Korean funds, brokerages, and other financial institutions, who altogether oversee $350 billion.
The most recent display of Korean investors' eagerness was conglomerate CheilJedang's aggressive bid to become strategic investor to Vissan, a leading state-owned meat processor. At the Vietnamese firm's initial public offering two weeks ago, CheilJedang offered the highest price of VND102,000 ($4.5) per share, almost ten times the starting bid.
Meanwhile, chairman of State Securities Commission (SSC) Vu Bang said that Koreans were among the three biggest overseas investors on the Vietnamese financial and securities market. To serve the on-going influx of Korean investment, four Korean brokerage firms have already set up business in Vietnam at the end of 2015.
Bang noted that Korean investors' interest in the Vietnamese stock market goes hand-in-hand with the country's top position in foreign direct investment in Vietnam, which reached $44.1 billion in 2015. The annual turnover for bilateral trade has also skyrocketed since 2009, to stand at $36.5 billion last year.
Chairman of the Ho Chi Minh Stock Exchange Tran Dac Sinh added that Vietnam was currently home to 34 firms, branches, and representative offices of Korean financial institutions. These entities offer a wide variety of services and products to Korean investors, adding greater value to the Vietnamese market.
To attract investors from Korea and the rest of the world, the Ho Chi Minh Stock Exchange (HOSE), in collaboration with Morgan-Stanley Capital International, has introduced the Global Industry Classification Standard in January. The classification of industries is expected to spur the number of exchange-traded funds in Vietnam and lure financial investors from overseas. Moreover, HOSE will diversify its products by introducing covered warrants or non-voting depository receipts. The anticipated derivatives market and pension funds will come into reality in 2017, offering a wider range of choices for investors from Korea and elsewhere.
In 2015, the number of foreign institutional and retail investors at HOSE has increased by 19 (or 4.3 per cent). In total, approximately 2,620 institutions and 15,200 overseas individuals have registered to trade at the stock exchange.
$1.52 billion in ODA for health in 2015
The public health sector received $1.52 billion in official development assistance (ODA) in 2015, with 28.4 per cent being in non-refundable aid and the remainder in loans, a Partners Group Meeting held on March 17 by the Ministry of Health reviewing the implementation of the five-year plan for 2011-2015 and to set priorities for the next five-year plan was told.
The 219 international non-government organizations (INGOs) operating in the health sector also contributed $102.8 million, accounting for almost 40 per cent of the total funding from INGOs.
Other achievements in the health sector over the last five years include easing overcrowding at hospitals, with the number of beds per 10,000 people increasing from 21.5 to 24 and some 4,800 beds being added to central-level hospitals.
Health insurance coverage increased from 60.9 per cent to 75.3 per cent during the 2011-2015 period. Thirty-nine out of the country's 63 cities and provinces allocated local budget funds to support health insurance premiums for the poor.
The grassroots healthcare network improved a great deal, with medical staff working in all communes, city wards, and towns.
The number of doctors per 10,000 people increased from 7.2 in 2010 to 8 in 2015, while the number of pharmacists with a university degree per 10,000 people rose from 1.76 to 2.2.
Minister of Health Nguyen Thi Kim Tien also identified challenges now facing the health sector, including the failure to meet demand for budget funds, private clinics, and high quality medical staff. Administrative procedures also need to be improved, she said.
Bloomberg: Analysts upbeat about Vietnam's stock markets
With Vietnamese shares close to erasing the losses seen in 2008 this year, analysts surveyed by Bloomberg say the country's indexes will continue climbing to reach their highest level since 2008 as a rising economy and earnings draw in investors.
After surging 11 per cent from this year's low on January 21, the stock benchmark gauge in the survey extends gains to about 642 points by the end of the year, or 11 per cent above its close on March 14, according to the average of the ten analyst surveyed. The VN-Index rose 6.1 per cent in 2015, the best performer in Southeast Asia, while the MSCI ALL Country World Index slid 4.3 per cent.
Vietnam's economic growth target of almost 7 per cent this year makes it among the fastest-growing markets in the world and offers investors a refuge in a region rocked by the fallout from China's economic slowdown. Companies in the consumer, industrial, building, and power sectors will help drive a rally as they benefit from the fastest expansion in almost a decade, according to the analysts. Profits at companies on Bloomberg's benchmark gauge are projected to grow 14 per cent over the next 12 months.
Pantech launches smartphones
The Pantech Group has officially entered Vietnam in introducing two smartphones - the V950 and V955 - and appointing the Viettel Import - Export Limited Company (Viettelimex) as its exclusive distributor.
"The decision to make an investment in such a fiercely competitive market like Vietnam presents opportunities and challenges for Pantech," Mr. Chung Hwan Woo, General Director of Pantech Group, said at the launch event. "We will do our best and commit to offering the highest quality products to Vietnamese consumers."
Viettelimex will be the official distributor for Pantech in Vietnam via a global strategic partner company - Veritas Global Vietnam (VIG).
"In partnering Pantech as the official distributor in Vietnam we wish to help Vietnamese consumers find diversity in product selection, convenience in access, and an enjoyable experience with a new generation of smartphone," said Mr. Nguyen Quanh Vinh, Director of Viettelimex's subsidiary company, Distribution Center.
Pantech hopes for support and positive feedback from Vietnamese consumers over its new products.
State Securities Commission should operate independently, researchers
The National Assembly should establish and build State Securities Commission (SSC) into an independent agency, said researchers at a seminar in Hanoi on Thursday by the Central Institute for Economic Management and the NA Economic Commission.
The seminar was hosted to introduce a study on economic, legal institutions of some nations in the world and proposals to improve Vietnam's economic institutions.
According to the study group, the State Bank of Vietnam should be developed into a modern central bank also operating independently in accordance with the law. It should excise self-control in drawing up and implementing monetary policies.
They also suggested promulgating Planning Law to unify the legal system on planning.
Besides, they requested to eliminate regulations on minimum shareholders in a joint stock company of three now and maximum members of a firm's board of directors, it should be decided by companies themselves.
Rice prices have recently increased amid the peak harvest time of winter spring crop in the Mekong Delta because salt intrusion has reduced output in many coastal provinces, according to Vietnam Food Association chairman Huynh The Nang.
In addition, businesses have sped up purchase for their export contracts.
Chinese traders have been found buy rice at businesses' warehouses in the Mekong Delta and transport to Hai Phong port and the northern border before exporting to their country.
These factors have hiked rice prices by VND300-600 a kilogram. Export prices have also moved up by US$10 to US$370-380 a ton of 5 percent broken rice and by US$5 to US$445-455 a ton of Jasmines rice.
The rice price is forecast to continue increasing as drought and salt intrusion have not eased in the delta. The output of summer autumn crop will be affected without rain in April and May.
Import cover in foreign reserves close to three months
Vietnam's foreign reserves can now cover three months of import, Vu Bang, chairman of the State Securities Commission of Vietnam (SSC), said at a conference recently held for South Korean investors in HCMC.
HSBC Global Research's report released on December 3, 2015 quoted data of the International Monetary Fund (IMF) as showing that Vietnam's foreign reserves had dropped by US$6.7 billion to US$30.3 billion by end-September 2015, equal to nine weeks of import.
Nguyen Van Binh, governor of the State Bank of Vietnam, told the Daily last year that the country's foreign reserves had amounted to some US$40 billion by end-July 2015, including cash, foreign currencies and gold.
Bang of SSC told South Korean investors at the conference that Vietnam's economy has stabilized and returned to the high-growth path. Last year saw the economy expanding 6.68%, the highest in five years.
He added that Vietnam's macro-economic outlook is good in the coming years. Gross domestic product (GDP) growth is expected to range from 6.5% to 7% per year and annual inflation from 5% to 7%.
FMCG grows 5.7% in Q4 last year
In the last quarter of 2015, Fast Moving Consumer Goods (FMCG) growth in the six key cities of Vietnam was 5.7%, up from 4.5% in the previous quarter.
The growth was driven by an increase of 4.9% in volume growth compared to 3.6% in the previous quarter, according to a quarterly Market Pulse report released by Nielsen.
The Market Pulse report is based on the results of a Nielsen Retail Measurement study of FMCG in Hanoi, HCMC, Haiphong, Can Tho, Nha Trang and Danang. The Nielsen Retail Measurement provides continuous tracking of product movement through defined retail outlets.
According to the report, the recovery is reflected in growth across most seven key categories which are beverage (including beer), food, milk base, household care, personal care, cigarettes and baby care.
Beverage continued to enjoy a big increase with the highest growth rate with 9.7%, mainly driven by volume growth at 7.7%, which contributed 38% to the total FMCG sales.
The last quarter also witnessed a soft bouncing back of food and milk-based categories with respective volume growth of 0.9% and 3.7%. Other categories also showed signs of recovery in the final quarter of last year, except personal care which still experienced stagnation.
Although FMCG growth in Q4 continued recovering, the market was no longer expected to have double-digit growth, said Nguyen Huong Quynh, executive director of retail measurement services at Nielsen.
Rural areas have emerged as a new source of growth for manufacturers. Last year, FMCG sales in rural areas grew by 5.5%, mainly led by volume growth (5.5%). The rural community in Vietnam accounts for 68% of the country's 90 million people and 54% of FMCG sales come from rural areas, Quynh said.
Exporters to contribute to coffee development fund
Enterprises might have to contribute US$2 to Vietnam Coffee Development Fund for every ton of coffee exported from next year, according to a draft decision of the Prime Minister on establishment of the fund.
The fund would operate as a financial institution to support individuals, organizations, and enterprises producing, exporting and entrusted exporting of coffee across the country.
The non-profit fund would seek financial support from individuals, organizations, and enterprises to carry out development plans for coffee production, processing, and consumption in both domestic and export markets, improve the quality and competitiveness of the commodity, protect the legitimate interests of exporters in trade disputes, and support farmers and enterprises to cope with price volatility.
The fund would help buy coffee varieties and apply technology for coffee replanting, subsidize loan interest for temporary coffee storage if necessary, promote sustainable growth in the industry, expand export markets, and build a strong brand for Vietnamese coffee.
The fund would be financed by coffee exporters, possibly US$2 for every ton of coffee shipped abroad from 2017 after the ministries of agriculture-rural development and finance comment on the contribution. The payment would be collected by the customs authority of border gates for export goods and calculated into the operation cost of enterprises.
HCMC wants to develop IC sector
Authorities of HCMC will find ways to expand markets for locally made ICs this year, according to the HCMC Department of Information and Communications.
At an information technology and telecom sector meeting in HCMC last Friday, the department announced a couple of projects to develop the sector this year, including the Quang Trung software city chain and IC industry, and human resources.
Le Thai Hy, director of the department, said the city is focusing on developing the information technology and telecom sector, boosting IT application at State agencies, and supporting enterprises to develop information technology and telecom products like ICs and software.
The city has asked the Government for policy incentives to support enterprises in the information technology and telecom sector in the coming time.
Hy said although HCMC's Integrated Circuits Design Research and Education Center (ICDREC) could sell its products to customers in some provinces and cities, it still needs Government support to use locally made ICs for projects.
The city has had difficulty finding outlets for ICs, so it has held trade promotion activities and workshops to look for partners, including from abroad.
Deputy Minister of Information and Communications Phan Tam said the ministry would work to complete a legal framework for the information technology and telecom sector to help enterprises in production and business.
Firms worry about possible poultry imports from China
Vietnam's Animal Health Department has recently worked with China over the possibility of importing meat products, including poultry, from the northern neighbor, sparking concerns among domestic firms.
A meeting on veterinary cooperation and enhancement of animal disease control along the border between Vietnam and China was held in Hanoi on January 26-27. This is the fourth meeting between the animal health authorities of both sides.
Delegates at the meeting shared experiences and achievements in poultry disease control. The department said on its website that the meeting was also intended to promote trading of some animals and meat products, with China exporting chicken and one-day-old chicks to Vietnam and Vietnam exporting pigs and cows to China.
However, poultry trade cooperation with China is causing concerns as the domestic poultry sector is already grappling with cheap imported chicken, plus disease risks.
Between September 2015 and February 2016, 44 cases of avian influenza virus H7N9 infections were detected in China, ten of them reported dead.
Explaining why the department is working towards allowing poultry imports from China, the department said promoting trading of animals and animal products between the two countries would help control poultry imports.
The department said negotiations were still ongoing and that it would take time to strike an agreement.
But, Nguyen Thanh Phi Long, director of domestic livestock company Long Binh, has expressed concern over the news, saying diseases might recur and hit the fragile domestic industry.
Meanwhile, Tran Duy Khanh, vice chairman and general secretary of the Vietnam Poultry Association, said the local poultry industry is already in difficulty. According to the association, Vietnam's poultry industry can meet domestic needs.
Data of the General Statistics Office indicated domestic poultry production totaled 900,000 tons last year. But based on poultry feed consumption and production, experts have estimated the figure at more than two million tons.
Last year's poultry imports were reported at around 120,000 tons. The association said temporary poultry imports from China for ex-export might have amounted to two or three million tons, with legs, wings and byproducts making up a majority.
Khanh said how temporary imports of chicken for re-export is properly monitored and controlled proved to be a tough issue.
Vietnam's chicken can compete well with China's in terms of price, Khanh said. "Domestic poultry firms need nothing but policy transparency."
Foreign investment in agriculture still meager
The agricultural sector has remained unattractive to foreign investors, which is evident in its small proportion in total foreign direct investment (FDI) approvals.
Those FDI projects committed to the agriculture sector are small, the Ministry of Agriculture and Rural Development said at separate meetings held last week with relevant agencies in preparation for a draft decree on foreign investment in agriculture.
By end-2014, agriculture had lured 512 FDI projects worth a combined US$3.43 billion, making up 3% of the total number of FDI projects and 1.35% of total capital pledges nationwide, data of the ministry shows.
Chronic problems with infrastructure, human resources, material sources, land and production, as well as lack of policies and strategies conductive to FDI activity are to blame, according to the ministry.
Recently, a South Korean firm approached a local real estate brokerage to seek support for finding a 50-hectare area near Lien Khuong Airport in the Central Highlands province of Lam Dong for growing vegetables. This company did not come to local authorities for help as it feared local landlords would know its intention and thereby demand high land prices.
It is the case not only in Lam Dong but also many other parts of the nation. Doan Nguyen Duc, chairman of Hoang Anh Gia Lai Group, has chosen to develop sugarcane and rubber farms in neighboring Laos, instead of Vietnam, because he could secure 10,000 hectares of land for cultivation a lot easier.
As for fish, the number of firms growing and processing tra fish and shrimp, two major export earners of Vietnam, has virtually become saturated, making construction of more fish and shrimp processing factories unnecessary.
Data of the Vietnam Association of Seafood Exporters and Producers (VASEP) shows the country has 568 enterprises processing seafood for export but only13 of them are foreign-invested.
Regarding rice, the nation has opened up the market with foreign firms allowed to export the staple food since 2011 in line with its commitment to the World Trade Organization (WTO). However, under the current regulations, FDI firms can only export rice when they have warehouses and facilities able to process paddy into rice that meets export standards, said the Ministry of Planning and Investment's legislation department.
Such rules make life hard for foreign investors since a lot of local firms already have facilities for husking paddy and storing rice, according to the Vietnam Food Association (VFA).
U.S. Farm Bill yet to affect tra export, says ministry
The U.S. rule that enforces an inspection program for fish under the order Siluriformes, including tra and basa fish from Vietnam, will not affect Vietnamese tra fish exports to America this year, according to the Ministry of Agriculture and Rural Development.
The rule is to implement provisions of the 2014 Farm Bill, with effect from March 2016.
From March, an 18-month transitional implementation period for both domestic and international producers begins.
However, the U.S. said it does not mean all steps of processing tra fish in Vietnam must satisfy the requirements set out in the Farm Bill within that 18-month period, Deputy Minister Vu Van Tam said last Friday.
After 18 months, Vietnam will have to observe several basic regulations in the bill and the U.S. will consider giving Vietnamese exporters some more time to meet other conditions in accordance with their specific situations and abilities, Tam said on the sidelines of a seminar on administrative reforms in the agriculture sector.
The two countries have agreed to form a joint working group and the U.S. will send experts to Vietnam to offer help. Vietnam has also asked for technical assistance from the U.S. After doing research, Vietnam has sent questions to the U.S. and the two sides have started working on those issues, he added.
The agriculture ministry will be in charge of training domestic tra fish processing enterprises for implementing the U.S. regulations.
At the same time, tra fish processors should be aware that U.S. authorities will have stricter measures in place to manage tra fish imports into America. Therefore, they should improve production processes on their own to prepare for all possibilities.
To keep exporting tra and basa fish to the U.S. during the 18-month transitional period (from March 1 this year and August 31 next year), the National Agro-Forestry-Fisheries Quality Assurance Department sent to the U.S. prior to March 1 all legal documents on management of tra and basa fish products in Vietnam and a list of enterprises that have been and will export Siluriformes fish in the U.S.
The list comprises 45 enterprises, of which 23 have exported to the U.S. and have already secured export contracts for this year, and the rest plan to export.
The U.S. has approved all enterprises in the list and the ministry is calling for other businesses wishing to export to the U.S. this year to apply.
The ministry will review the tra fish product management system to make it more compatible with the requirements of the U.S., including revising Decree 36/2014/CP-ND on ice and moisture content in tra fish fillets.
Clarification required for contracts under major home loan program
The State Bank of Vietnam (SBV) has told commercial banks to submit reports on those credit contracts falling under the VND30-trillion home loan program amid concerns about the lack of transparency.
Certain borrowers have complained about the lack of transparency on the part of lender banks, saying they are not aware that they would have to pay a normal interest rate if their loans are disbursed after June 1.
According to the Credit Department of the central bank, the loan program has been carried out in line with the Government's Resolution 02/NQ-CP to stimulate the property market and help low-income people buy homes. The program has given a lifeline to the real estate market, which is evident in a fall in apartment inventories.
Under the program, the interest rate is 5% per annum and the term is up to 15 years. However, borrowers are surprised to know that the rate is around 10% per year for loans disbursed after June 1.
Lenders have disbursed capital in accordance with the construction progress of apartment projects. Given delays in a number of projects and unclear information from banks, many borrowers will have to pay higher interest in the coming time.
According to Clause 2, Article 2, Circular 11/2013/TT-NHNN, the SBV recapitalizes those banks lending to homebuyers joining the program. This recapitalization lasts no more than 36 months after the circular took effect on June 1, 2013, meaning lender banks can get no more funding from the central bank as from June 1 this year to lend within the program.
Clause 4, Article 4, Circular 11 dated May 15, 2013, and Clause 3, Article 1, Circular 32/2015/TT-NHNN dated November 18, 2015 of the central bank stipulate that loans disbursed before June 1, 2016 carry an interest rate of 5% per annum.
The central bank made clear the recapitalization schedule and the preferential interest rate at the start of the program. Therefore, the central bank said it would check lender banks and ask them to explain those credit contracts which borrowers describe as unclear.
According to a report of the Housing and Real Estate Market Management Department under the Ministry of Construction, the total amount of loans pledged by banks by end-January accounts for 90% of the VND30 trillion and 60% has been disbursed.
Credit guarantee funds operate inefficiently
The role of credit guarantee funds is to help small and medium enterprises (SMEs) gain access to financing sources but they have been operating inefficiently, heard a conference in HCMC last week.
Speaking at the conference on models and measures to develop guarantee funds, experts said SMEs have found it hard to take out bank loans due to the lack of assets for collateral.
Credit guarantee funds are desgined to support SMEs without assets for mortgage but with feasible production plans. However, they have proven ineffective in playing this role due to a number of reasons, including banks' distrust in them.
Over 20 credit guarantee funds have been established in provinces over the past 15 years but they have failed to back SMEs to get credit to expand production.
Tran Buu Long, deputy director of the HCMC Credit Guarantee Fund for SMEs, told the conference that the country has 27 credit guarantee funds in provinces and cities but most of them have functioned poorly.
The credit guarantee fund of the Mekong Delta city of Can Tho has been running fairly well but inappropriate policy has hindered its operations. The morale of employees at those funds has been low.
Delegates said a slew of obstacles relating to mechanism and policy have rendered credit guarantee funds helpless.
Long said benefits of businesses, banks and guarantee funds should be weighted. If enterprises do not repay loans to banks, guarantee funds would have to be held responsible though they do not enjoy any benefits. Meanwhile, lenders do not take responsibility.
Long added guarantee funds do not have money for risk provisions either.
Banks want to lend to businesses but are afraid of risks. In reality, guarantee funds have had many guarantee agreements with high risks and the number of unsecured loans offered by banks is limited.
According to a survey, enterprises only seek credit guarantees from the funds when they have no assets for collateral.
Experts said the requirements set by guarantee funds are similar to those of banks, meaning businesses must have collateral to seek guarantees.
According to Article 23 of Decision No. 58/2013/QD-TTg signed by the Prime Minister, the guaranteed party must use existing or future assets as a guarantee when they approach credit guarantee funds for assistance.
Hoang Dinh Thang, director of the HCMC Credit Guarantee Fund for SMEs, which was set up nearly 10 years ago, said few companies have sought guarantees from the fund to take out bank loans despite huge demand.
Nguyen Ngoc Hung, vice chairman of the HCMC Business Association, said the Vietnam Communist Party highlights the important role of private enterprises, which are mostly SMEs, but there has been no thorough review of how they gain access to funding sources.
He said banks still shun lending to those businesses supported by credit guarantee funds for fear of possible defaults but lending to customers with guarantees from the funds is better than lending to those without.
Hung said the central bank should consider this issue and provide guidelines for commercial banks.
He said the structure and financial capability of credit guarantee funds should be improved to make them more efficient.
Strict regulations must be relaxed while the State should add capital to credit guarantee funds and fund employees should be retrained.
Consortium in deal to build power plant
A Vietnam-foreign consortium last week signed an engineering, procurement and construction (EPC) contract to develop the expanded Vinh Tan 4 thermal power plant in the south-central coast province of Binh Thuan, the Vietnam News Agency reports.
The parties involved in the deal with Vietnam Electricity Group (EVN) are South Korea's Doosan Heavy Industry Corporation, Japan's Mitsubishi Corporation, Power Engineering Consulting Joint Stock Company 2 (PECC2) and Pacific Group JSC.
Located in the Vinh Tan Power Center in Vinh Tan Commune, Tuy Phong District, the expanded power station will have a capacity of 600MW and supply about 3.6 billion kWh for the national grid a year.
After the EPC contract is signed, the VND24 trillion (US$1.1 billion) station is expected to start construction in quarter one this year and will come online by end-2019.
The plant will be equipped with modern supercritical steam parameter technology to burn imported coal.
HCM City to host international exhibition on beauty industry
Cosmobeaute Vietnam 2016, the biggest beauty trade exhibition in the Indochina region, will return to HCM City next month, promising to create the most effective platform for the beauty industry in the region.
Held at the Saigon Exhibition and Convention Centre from April 21-23, the ninth exhibition has seen an increase in the number of exhibitors compared to previous exhibitions, with over 250 booths of 170 exhibitors from 18 countries and territories, including the US, Italy, Japan, Malaysia, Bulgaria, Singapore, Taiwan, the Republic of Korea, and Vietnam.
Speaking at the press conference in HCM City on March 14, CP Saw, founder of Cosmobeaute, said the show would feature more than 60 categories of beauty products, including makeup and cosmetics, beauty salon, spa, hair, nail, and aesthetics.
In addition to beauty workshops, exciting activities such as make-up and hairdo shows by one of the Vietnam's pioneer beauty academies, the Linh Chi Spa Beauty Academy, and live hair demos by experienced international top hair professionals from Asia Hair Master's Association will be held.
Its One2One business meeting programme will also offer exhibitors, manufacturers, suppliers, importers and trade visitors the opportunity to explore business opportunities.
The exhibition is expected to welcome 12,000 visitors.
VEF/VNA/VNS/VOV/SGT/SGGP/Dantri/VET/VIR