Japan launches career website to meet demand for talent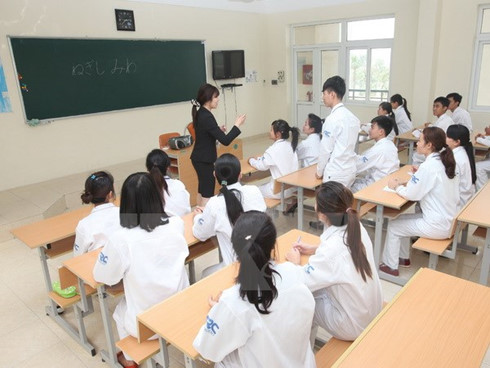 The Japanese government has announced the launch of an employment website that will enable Vietnamese job seekers to upload their CVs and start their career journey into one of Japan's many and diverse companies.
The Japan Ministry of Economy, Trade and Industry (METI) on March 20 said the website will come online this upcoming July and provide all the resources and typical information found on an employment website such as job search engine and CV writing resources.
It's part of a comprehensive effort to attract talented people of all ages to work for Japanese companies, said METI Minister Motoo Hayashi and it is part of our plan to grow our companies throughout Vietnam and Southeast Asia.
During a visit to the Vietnam Japan Institute of Technology, Mr Hayashi said "We're delighted to be announcing the employment website that is designed to connect the top industry stars of the future with our nation's companies.
Meeting focuses on preparation for upcoming NA election
Preparation for and issues related to the upcoming 14th NA and all-level People's Council elections of the 2016-2021 tenure in 25 northern provinces and cities was discussed at a meeting in Hanoi on March 22.
Hosted by the Ministry of Home Affairs, the meeting also aimed to update contents of the law on the organisation of local governments , and the law on National Assembly and People's Council elections .
According to Pham Thu Huong, Deputy Head of the Democracy & Law Section under the Vietnam Fatherland Front Central Committee, the outcomes of the second consultation meetings nationwide show that the quality of candidates from central agencies standing for the elections is improved compared to previous tenures.
The number of self-nominated candidates increased, especially those in communal levels running for communal People's Council, Huong noted.
Regarding the law on the organisation of local governments, Deputy Head of the Department of Local Government under the Ministry of Home Affairs Phan Van Hung said the law, which officially took effect on January 1, 2016, basically ensures consistency of institution, and promotes self-management and self-responsibility of local authorities.
Under the law, provincial-level authorities will assume main power, then to district-level and commune-level authorities in turn.-
Speedboat presented to Truong Sa soldiers
Bao Viet Group, on March 22, held a ceremony to hand over a speedboat worth 3.5 billion VND (1.5 million USD) to soldiers on Truong Sa (Spratly) archipelago.
Addressing the event, Chairman of the group's Board of Directors Dao Dinh Thi expressed his hope that the Truong Sa CQ 01 boat will contribute to the protection of the national sea and island sovereignty.
Last year, Bao Viet Group spent about 4 billion VND (1.74 million USD) for the programmes to support people and soldiers on Truong Sa.
The Truong Sa speedboat is a model which has the ability to glide over coral reefs, helping ease the transportation and rescue missions to the archipelago.
World Water Day a chance to brainstorm solutions
"Everyone has to save water," said Minister of Natural Resources and Environment, Nguyễn Minh Quang, yesterday at a meeting themed 'Water and Jobs' to celebrate World Water Day 2016, that took place in the northern province of Thanh Hóa.
Quang asked local authorities nationwide to provide more education to local people about the importance of water preservation given that Việt Nam is suffering the most severe drought for a century. Sustainable water management is believed to be a global common goal.
He also called upon ministries, all sectors and relevant agencies throughout the country to join hands to ensure water security towards sustainable development.
World Water Day, held every March 22, is an opportunity to learn more about water related issues, be inspired to tell others and to take action to make a difference.
Today, almost half of the world's workers - 1.5 billion people - are in water related sectors, and practically all jobs depend on water and those that ensure its safe delivery. Yet the millions of people who work with water are often not recognised or protected by basic labour rights.
The theme in 2016 — Water and Jobs — is focusing on how the quantity and quality of water can change workers' lives and livelihoods - and even transform societies and economies.
To mark World Water Day 2016, the ministry organised a range of activities including a conference to discuss the relation between water and jobs, and a photo exhibition in the province on the same theme on March 21-22.
Also on the occasion of World Water Day 2016, the Ministry of Natural Resources and Environment kicked off a project, "Strengthening management capacity of river basin environments," in Ha Noi.
Water resource management in Việt Nam is encountering numerous challenges, from river basin water pollution to severe shortages of fresh water for daily life and production in the Central and Central Highland regions.
Deputy Minister of Natural Resources and Environment, Võ Tuấn Nhân, yesterday said that water pollution was wrecking the major river basins of Đồng Nai, Nhuệ-Đáy and Cầu, disrupting the daily lives of millions of people in the country.
According to the Ministry, water pollution in river basins is caused by wastewater discharged from multiple sources, including factories, households and trade villages. The project is expected to help Việt Nam mitigate water pollution in river basins.
The three-year project, supported by the Japan International Co-operation Agency, is scheduled to be implemented in the seven provinces and cities of Bắc Ninh, Bắc Giang, Thái Nguyên, Bình Dương, Đồng Nai, Bà Rịa–Vũng Tàu and HCM City, said Nguyễn Hoàng Phương Lan, from the Institute of Environmental Science.
A representative of northern Bắc Giang Province's Ministry of Natural Resources and Environment suggested that Japanese experts assist with equipment to help the province control wastewater released into Cầu River basin.
Training courses for environmental officers and staff were also required, the representative said.
While ministries and sectors are seeking long-term solutions to these problems, the public has raised the question of whether Việt Nam could make rain artificially to rescue the Central and Central Highland regions from the severe drought.
According to experts, artificial rain was identified as one solution to save people and crops from drought. Many countries including the United States, Russia, Japan and China have successfully created artificial rain.
In response to the question, Trần Hồng Thái, deputy director of the National Centre for Hydro-meteorological Forecasting said that the idea had actually been raised many times since 1998, but that due to a lack of clear studies so far it has yet to be tried.
Thái said that to make artificial rain, more specific research on humidity, clouds and other weather conditions in the areas suffering drought were needed.
Vũ Thanh Ca, head of the International Co-operation Department under the Việt Nam Administration of Seas and Islands, and former head of the research team investigating the creation of artificial rain, said that the biggest problem now was that we lacked clouds or the materials needed for making artificial rain.
The severe drought has caused billions of đồng in losses over the two regions, and is forecast to ravage the regions until June.
Agreement signed to provide clean water, humanitarian programmes
The Việt Nam Red Cross (VNRC) and the Procter and Gamble Company (P&G) will work together on humanitarian programmes as part of a co-operation agreement signed today in Hà Nội.
"The agreement is an indication of our non-stop efforts to improve the quality of life of the Vietnamese people. We believe our co-operation will help more disadvantaged people overcome difficulties in their lives," VNRC Chairwoman Nguyễn Thị Xuân Thu said at the signing ceremony.
Under the framework of the agreement, VNRC and P&G will jointly execute various humanitarian programmes, including providing scholarships to poor students, supporting orphans and rolling out a clean water programme in disaster-hit areas of the country.
The two sides will focus on P&G's Children's Safe Drinking Water Programme, which provides clean water to thousands of children and families in drought-hit areas and those suffering from salt intrusion and water shortage.
Launched in 2004, the programme aims to bring clean water to people by providing P&G Purifier of Water packets, a water purifying technology developed by P&G and the U.S. Centres for Disease Control and Prevention. One packet can turn 10 litres of dirty, potentially deadly, water into clean, potable water within 30 minutes.
The packets are provided on a not-for-profit basis and can be used anywhere in the world, including areas affected by natural disasters.
Fire breaks out at Vietnamese ceramic firm; no casualties reported
A building material facility in northern Vietnam was engulfed in flames on Sunday, local officials said.
There were no casualties during the incident, officials in Vinh Phuc Province confirmed, citing initial reports.
Although the scale of property damage is still unknown, a number of highly flammable materials and devices were brought outside by the workers of the company, the reports revealed.
The fire occurred in Phuc Yen Commune in Vinh Phuc, a neighboring province of Hanoi, at 5:30 pm when Viglacera Thang Long, a ceramic tiles manufacturer of Hanoi-based building material firm Viglacera Corporation, burst into flames, provincial police said.
Tuoi Tre (Youth) newspaper reporters said that the incident happened at assembling section No. 2 of the factory with columns of smoke blackening nearby areas, which could be seen from locations far from the commune.
As soon as they were informed, police dispatched seven fire trucks to the site to resolve the situation, but it was not until 7:00 pm that the firefighters succeeded in actually extinguishing the fire.
The cause of the blaze is still under investigation, provincial police have said.
On the same day, a blaze broke out at noon inside Hoa An Market in Bien Hoa City, Dong Nai, a southeastern province of Vietnam, and was completely put out by local firefighters.
No casualties were found in the incident, local officials said, adding that further investigation would be conducted to find out the cause as well as the property loss.
Passenger detained at Tan Son Nhat with undeclared Yen
Vietnamese man fails to declare Yen worth $28,500 to airport customs.
Customs officers at Tan Son Nhat International Airport in Ho Chi Minh prevented more than $28,500 being taken out of the country illegally on March 21.
Officers identified a Vietnamese man who had failed to declare he was carrying 3.2 million Japanese yen ($28,549).
Customs at Tan Son Nhat has been working with related government agencies to handle the case.
Quang Ninh doctors save neonate stabbed in head
Doctors in the Northern Province of Quang Ninh have successfully performed an operation to save a 35 day old baby whose head was stabbed with a knife, said Dr. Nguyen Quoc Hung, director of Maternity-Children Hospital Quang Ninh on March 20.
The baby born on February 13, 2016 in Mong Cai Town of Quang Ninh Province was taken to the hospital on March 19. Her brain was seriously injured because the knife was stabbed on the head.
Soon surgeons carried out scan discovering the injury was bleeding and brain in the left was seriously damaged. Surgeons decided to conduct an operation.
Surgeons took out 10 ml blood clot out of the baby's brain and stopped bleeding with a special medical knife.
At present, the neonate is recovering and tests showed that her health condition is stable.
National Assembly discuss fast-tracking new airport project
The National Assembly Economic Committee has proposed the legislative body should apply a special mechanism for construction of the USD16-billion Long Thanh International Airport Project in southern Vietnam.
According to Chairman of the National Assembly Economic Committee Nguyen Van Giau, the National Assembly needs to earmark the amount of government investment for the project early so that site clearance and compensation for resettlement can be conducted before the project's feasible study is approved.
This is a huge project so this special mechanism should be used to ensure its first phase to be completed in 2023 as scheduled, Giau said. He also noted that if the current regulations are applied, the project would be unlikely to meet the deadline.
A report from Dong Nai Province showed that around 4,730 households and 26 agencies are affected by the site clearance of the project's first phase and the cost of this work is some VND11.27 trillion (USD530 million).
Dang Minh Duc, Director of the provincial Department of Natural Resources and Environment, said many local households had to move to other places for the project's site clearance, but had yet to receive any compensation.
"The special mechanism needs to be applied to ease local outrage over the sluggish project site clearance and compensation process," Duc said.
Construction of Long Thanh International Airport is scheduled to begin in 2019, and the airport is intended to become operational by 2023. The project's funding is expected to come from the state budget, official development assistance, corporate investment and public-private partnerships.
Once operational, Long Thanh International Airport will reduce congestion at Tan Son Nhat International Airport in HCM City.
Culture and Sports Week celebrates 70th anniversary of Vietnam Sports Day
The Culture and Sports Week is scheduled to take place at the Vietnam Exhibition Centre for Culture and Arts in Hanoi from March 25 to 28, as part of activities to celebrate the 70th anniversary of Vietnam Sports Day (March 27, 1946-2016).
The information was released by the organising board at a press conference held in the capital city on March 22.
The event, entitled "70 years of Vietnamese sports accompanying the country's development", aims to honour collectives, individuals and social organisations for their significant contributions to development of the national sports sector over the past 70 years; raise awareness of the importance of sports and facilitate people's participation in sports to improve their physical health.
The Culture and Sports Week will begin with a special arts programme, scheduled on the evening of March 25, which features songs praising Vietnamese sports combined with martial art and artistic gymnastics performances.
In the following days, visitors will have a chance to immerse themselves in a wide range of daily sports, cultural and musical activities, including Tai Chi and martial art performances (March 26); meetings with sports bike clubs; an Aerobics show and musical performances by Hanoi children (March 27); and an introduction to yoga (March 28).
One of the biggest highlights of the event will be the "Pride in Vietnamese Sports" programme, to be held by Vietnam Sports Newspaper on the same night as the opening ceremony.
According to Editor-in-chief Hoang Du, over 20 outstanding athletes from both high-performance and disability sports, will be honoured at the ceremony in recognition of their notable achievements in 2015, as well as their significant contributions to development of the national sports sector. The honourees are the winners of the 2015 annual poll for outstanding Vietnamese athletes and trainers, which was conducted simultaneously in Hanoi, Da Nang and Ho Chi Minh City on January 12 with the participation of 160 prestigious sports correspondents across the country.
Alongside daily activities, the exhibition section is also expected to seize from the attention of attendees. Photos, documents and artifacts will be on display at the centre providing an overview on establishment and development of Vietnam's sport sector over the past seven decades, and introducing sports achievements and movements of the country's two leading localities in sports, Hanoi and Ho Chi Minh City.
The organising board will also arrange a section showcasing photos, objects, mascots and souvenir designs relating to the 2016 Asian Beach Games (ABG-5), to be held in central Da Nang this September. Vietnam is expected to welcome about 3,000 athletes from 45 countries and territories across Asia, who will compete for 165 sets of medals in 14 events and 22 disciplines.
On the sideline of the Culture and Sports Week, the Hanoi Department of Culture and Sports will organise the Culture-Sports Day on March 26, which promises to be among the Week's important highlights.
Drought-hit central region reduces rice acreage to save water
South-central coastal and Central Highlands provinces are shifting from rice production to other crops as water levels at many hydropower reservoirs there have declined 20-50% against last year.
According to a report which the Department of Cultivation under the Ministry of Agriculture and Rural Development presented at a review meeting on rice production in the 2015-2016 winter-spring crop and the plan for the 2016 summer-autumn crop in those provinces held in Binh Thuan Province last week, regarding this year's winter-spring crop, the rice cultivation area dropped by 20,000 hectares to 292,000 hectares due to drought, thus resulting in a fall of rice output by 125,000 tons compared to the previous crop.
According to the department, the 2016 summer-autumn crop in the south-central coastal and Central Highlands provinces is seen lacking water. Therefore, this has forced these provinces to switch to other crops needing less water.
Last year, 40,000 hectares of rice could not be harvested due to the water shortage and 122,000 hectares of rice was damaged by drought in the provinces. The water shortage is predicted to worsen this year.
According to the General Department of Irrigation under the ministry, the hydropower reservoirs, which also serve agricultural production and people's daily activities, will ebb during the dry season from December to August in the south-central region.
Water levels of reservoirs in the region are 20-70% lower than their capacity this year. In particular, the reservoirs in Danang, Quang Nam and Phu Yen subsided 20-30%, Binh Dinh 35-40%, Khanh Hoa 40-50%, and Binh Thuan 65-70%.
Binh Thuan now has 21 reservoirs but four of them have stored enough water for the summer-autumn crop, seven of them could partially meet water demand, and the remainder run short of water. Therefore, the province announced a state of calamity last week. This is the second consecutive year drought has hit the province.
HCM City's boosted anti-crime efforts turning out well
Different forces and units with the Ho Chi Minh City police have handled more than 200 cases of crimes, one week after they launched a campaign to strengthen anti-crime on March 5.
The mobile police unit has dispatched more than 1,650 officers to boost crime-fighting efforts in the southern metropolis, according to a report to sum-up the first week of the campaign.
Multiple cases of robbery, illegal weapon use, and drug trafficking have been detected by the police.
For instance, at first light on March 11, a group of mobile police officers stopped a man suspected of driving a stolen motorbike in Binh Tan District to check his papers.
The young man eventually gave in as he failed to prove it was his vehicle.
On March 10, another group of mobile police on a patrol also caught two young men as carrying 14 bags of crystal meth inside their motorbike in District 11. The men were immediately arrested whereas the drugs were transferred to local police.
The criminal police unit has also sent plain clothes officers to patrols across the city to handle crimes on time.
On March 15, a video was posted on YouTube and Facebook, showing a couple of robbers hunting for motorbike drivers along Hoang Sa Street in Tan Binh District to steal their assets.
After verifying the suspects in the video in the morning, plain clothes police caught them red-handed as they were looking for victims on streets in District 5 in the afternoon.
Nguyen Hung Cuong, 20, and his accomplice Nguyen Ngoc My Linh, 30, admitted that they used to target victims as seen in the video to have money to buy drugs.
Le Dinh Long, who runs a mobile phone store in Binh Thanh District, was also arrested as he would buy the stolen assets from these robbers.
Police said they have also busted many rings that have stolen assets of many people by making up accidents with them on the streets.
A group of vigilantes in Ho Chi Minh City, thanks to reports sent totheir Facebook page, have also helped fight against may thefts and robberies, according to police.
In the year to date, the number of criminal violations in Ho Chi Minh City has dropped 15.31 percent compared to the same period last year. The number of robberies also dropped 12 percent, and burglars, down 25.06 percent.
No Zika cases found in Vietnam as of March 18
More than 200 samples collected from many localities across the nation were tested negative for Zika virus, which is worrying many countries all over the world, the General Department of Preventive Medicine announced on March 19.
This means that Vietnam had recorded no cases of Zika virus by March 18, said the agency.
The general department will continue inspection and coordination with other relevant agencies to prevent the disease from entering Vietnam.
Earlier, an anti-mosquito campaign urging each individual to adopt self-protection measures was launched by the Health Ministry.
The ministry warned women, who are pregnant or expect to enter pregnancy in the next six months, not to travel to Zika-hit countries, which are listed on the general department's website: www.vncdc.gov.vn.
People coming from these countries should keep an eye on their health for 12 days after their arrival in Vietnam. They are recommended to go to medical facilities if they begin to experience unusual symptoms.
The ministry has also set up a helpline on the virus – 0989671115.
Zika is mainly transmitted through the Aedes Aegypti mosquito, which also carries dengue fever. The virus has been linked to microcephaly, a condition that causes babies to be born with unusually small heads and, in the vast majority of cases, brain damage. Currently, there is no vaccine or specific medicine to treat Zika.
Phase 2 of Central Highlands healthcare project begins
More advanced medical equipment will be provided to 36 grass roots health centres in Central Highlands provinces this year, during the second phase of a healthcare project that will end in 2019.
Short- and long-term training courses and workshops will also be held for medical personnel.
Ten hospitals will be selected to implement the Ministry of Health's 83 quality management criteria.
The US$76.6 million project, which will get a loan worth $70 million from the Asian Development Bank, seeks to develop the healthcare system, especially in provinces with poor, ethnic minority, and other disadvantaged people.
A total of 54 commune health centres, general health clinics, and district hospitals will be upgraded.
In its first phase, 200 doctors were trained, 12 district health centres, four health education centres, and two medical vocational training schools were built and new equipment was provided to hospitals.
According to the ministry, health indices in the region remain lower than the country's average.
For instance, the rate of child mortality is double the national figure and the number of doctors per 10,000 populations is 6.8 compared to 7.8 for the nation.
Health centres at ward and commune levels suffer from a shortage of doctors.
At a three-day conference to discuss the project's implementation held on March 18 in Buôn Mê Thuột city, Minister of Health Nguyễn Thị Kim Tiến instructed nuclear and satellite hospitals in the region to allot funds and provide basic equipment for training to improve the professional capacity of doctors at grassroots levels.
She said provinces should have policies on paying allowances to midwives at village-level health centres under a Government decision.
They would provide reproductive health care and could help reduce deaths among mothers and children in the region's ethnic minority areas, she said.
She also called for allocating funds provided under the national new rural area programme to building more national-standard health centres, developing satellite hospitals and preventing epidemics.
Thao Tam wins Education First's public speech comp
Nguyễn Lâm Thảo Tâm, a grade 10 student from HCM City's Đinh Thiện Lý High School beat over 7,000 other Vietnamese students to win the Education First's (EF) public speech competition yesterday.
The competition invited young people to compete with fellow students to give a speech on the theme, "Do you believe nothing is impossible?"
Tâm's speech (in English) inspired and impressed the jury board and audience greatly, said singer Kyo York, an ambassador of many cultural and education projects in Việt Nam.
Tâm will be invited to join EF's Youth Leadership Forum in Rio de Janeiro, Brazil, in August 2016.
In EP's first contest last year, Trần Duy Kiên from Vĩnh Phúc Secondary School overcame 2,000 other students to become the only Vietnamese winner to join the Global Forum of Young Leaders held in New York last year.
VNA/VNS/VOV/SGT/SGGP/TT/TN/Dantri