Tay Ninh border gate to expand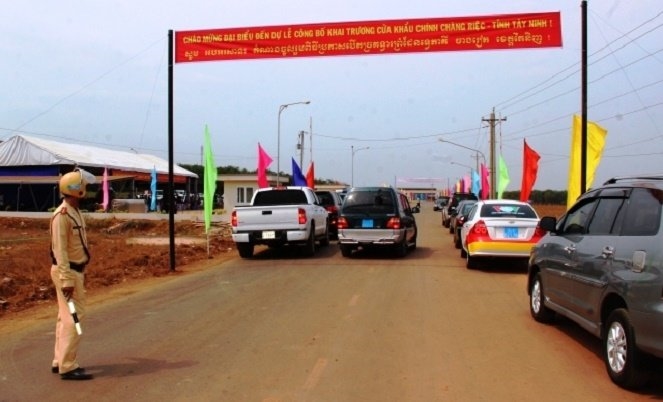 The Tay Ninh Province People's Committee has announced that the auxiliary border gate Chang Riec located in the province's Tan Bien District has been officially upgraded to a main border gate.
The Tay Ninh Province People's Committee has announced that the auxiliary border gate Chang Riec located in the province's Tan Bien District has been officially upgraded to a main border gate.
The Chang Riec is located 100 metres from Road 792 of Tan Bien and contiguous to the Đa border gate of Tbung Khmum Province's Me Mot District in Cambodia.
Its convenient location and improved infrastructure will help trade between the two countries.
Tay Ninh opened Chang Riec in 2012.
On December, 31, 2015, the Prime Minister issued Resolution 90/NQ-CP on upgrading the Chang Riec to a main border gate.
According to Tay Ninh's customs sector, the flow of goods and import-export turnover through the Chang Riec has increased in recent years. Most Vietnamese goods are agricultural products and handicrafts.
Last year, the gate has served 98,588 people and more than 71,000 vehicles, with the total import-export turnover reached US$560 million.
Tay Ninh's border line is 240 kilometres long and contiguous with three provinces of Cambodia, including Svay Rieng, Prey Veng and Tboung Khmum.
It now has two international border gates, Moc Bai and Xa Mat, two main border gates, Ka Tum and Chang Riec, and 12 auxiliary border gates.
Hanoi furthers cooperation with India
Hanoi will continue to boost its cooperation with India in investment, trade, tourism, culture and people-to-people exchanges.
Head of the Hanoi National Assembly deputy delegation Pham Quang Nghi made the statement while meeting with General Secretary of the Communist Party of India – Marxist (CPI-M) Sitaram Yechury and D.Raja, a member of the CPI National Council, as part of his working visit to India from March 25-28.
He said there is room for the two countries' Parties and States to develop their traditional friendship, and that he hopes the CPI would contribute to fostering multi-faceted collaboration.
The official also briefed the host about the outcomes of the 12 th National Congress of the Communist Party of Vietnam (CPV), socio-economic affairs in Hanoi and its cooperation with Indian states.
He thanked the CPI-M, CPI and Indian people for their valuable support to Vietnam during wartime and at present, including activities to promote solidarity and friendship between India and Vietnam – and particularly Hanoi.
Dao maturity rite recognised as intangible cultural heritage
The maturity ritual (Cap Sac) of the Dao ethnic minority group in northern Thai Nguyen province was recognised as a national intangible cultural heritage at a ceremony on March 29.
According to the local Department of Culture, Sports and Tourism, the ritual is indispensable to acknowledge the maturity of a Dao man. All Dao men must go through the ritual in order to be recognised by the community as mature enough to undertake communal positions.
The "Cap Sac" ritual falls on the lunar calendar's Eleventh, Twelfth and First months each year.
The recognition of the rite as a national intangible cultural heritage reflects the ethnic group's pride, as well as efforts by local authorities to preserve the nation's heritage.
At the ceremony, participants had a chance to enjoy the major stages of a "Cap Sac" rite, as well as Dao folk music and dances.
Contraband cigarettes seized in Hai Phong port
Customs officers in northern Hai Phong City inspected a contraband batch of 39,200 JM White cigarette packages on March 29.
The contraband weighing nearly 11 kg reached the Hai Phong port on a freighter named Lucky Merry on March 17.
Associated receipts and documents identified the sender as a foreign company and the transport agency as the Hanoi-based Minh Anh Express Co. Ltd. No information on the receiver was included.
To distract attention from Vietnam's customs body, the box was transported on a complicated route through different ports from Asia to Australia before finally entering Vietnam.
Cigarettes are a special type of good that is tightly monitored in Vietnam. The import of cigarettes must comply with a range of conditions and needs permission from the Ministry of Industry and Trade.
Gia Lai: 14,000 drought-hit households face food shortage
Drought has caused food shortages to nearly 14,000 households in the Central Highlands province of Gia Lai in the current between-crop period, about 85 percent of whom are from local ethnic minority groups.
According to the provincial Department of Labour, Invalids and Social Affairs, drought has badly affected local agricultural production, damaging thousands of hectares of winter-autumn rice.
In response to the food crisis, the provincial People's Committee has urged communal and district authorities to promptly secure food supplies for affected people.
La Pa, Chu Puh, Phu Thien and Ayunpa districts have distributed a total of 240 tonnes of rice to approximately 1,900 local households in urgent need.
The government plans to provide Gia Lai with 500 tonnes of rice to help the locality ease the situation, while the province will distribute more than 1,500 tonnes of rice to 12,500 households, who are likely to suffer food shortages in the coming months.
Vietnamese, Lao localities join hands in drug prevention
The northern mountainous province of Son La and northern Lao provinces on March 29 signed a Memorandum of Understanding (MoU) on strengthening cooperation in preventing and combating cross-border drug crimes.
The signing ceremony drew representatives from Son La province and its Lao border localities of Houaphan, Luang Prabang, Luang Namtha, Bokeo, and Oudomxai.
The MoU is aimed at improving the provinces' coordination in the fight against drugs along the shared border, with the target of eleminating drug trafficking rings and networks in the localities.
From 2009 to 2015, the SH09 project on cross-border drug prevention and combat between Son La and the Lao border provinces showed positive results.
Under the project, Vietnamese and Lao forces detected 1,894 cases involving 2,789 individuals, collecting over 351 kilogrammes of heroin, 72.7 kilogrammes of opium and 302,000 pills of methamphetamine.
American veterans visit Vietnam
Secretary-General of the Vietnam-USA Society (VUS) Bui Van Nghi has met with a delegation of American veterans and their relatives who are in Vietnam.
Speaking at the meeting in Hanoi on March 28, Nghi briefed the guests on the Vietnam Union of Friendship Organisations (VUFO) and the Vietnam-USA Society as well as their roles in enhancing the relations between the two countries' people.
The VUFO will work with American veterans to strengthen mutual understanding between the two peoples and continue efforts in healing the wounds of the war, he said.
He added Vietnam welcomes veterans and their relatives, including their children and grandchildren, to learn about the country and people, thus contributing to developing friendship and cooperation between the two countries.
On behalf of the US delegation, Paul Reed said that the visit aims to learn firsthand about Vietnam and its relations with the US as well as the aftermaths of the war in Vietnam.
During their stay in Vietnam from March 25-April 6, the American veterans plan to meet with Vietnamese veterans and Agent Orange/Dioxin victims and return wartime items to Vietnamese agencies.
ANZ-funded community project opens three more schools
Three more schools have been opened in the Mekong Delta province of Hau Giang as part of Project 3E (Educate, Enrich and Employ), an educational community initiative funded by ANZ Bank and Saigon Children's Charity (SCC).
The schools include Tra Long Kindergarten, Luong Tam Kindergarten and Tan Phu I Primary School.
The project also granted 300 scholarships to underprivileged students with outstanding academic results.
It aims to provide access to quality schooling to fight poverty, enrich people's lives and support the employment prospects of disadvantaged children and young people in Long My district, Hau Giang province.
"This project is driven by more than a financial commitment from the bank; it is funded by our staff's enthusiasm, energy and passion to make a difference", ANZ CEO Vietnam Dennis Hussey said.
"This year, we hope to build more schools, continue to provide scholarships for students in hardship and upgrade IT equipment for secondary schools", he added.
SCC Executive Director Tim Mullett noted that the new classrooms not only provide a safe and well equipped working environment for teachers and children in the district, but also help create a better, fairer start for the children and their families' future.
Since its launch in late 2013, Project 3E has had a positive impact on over 1,100 young people's lives in Vietnam and opened seven schools.
Dak Lak workshop focuses drought-prevention measures
A workshop was held in the Central Highlands province of Dak Lak on March 29 to discuss measures to prevent drought and promote sustainable development of key industrial crops in the South East and Central Highlands regions.
According to Deputy Minister of Agriculture and Rural Development Le Quoc Doanh, climate change is seriously affecting regional residents' daily activities and is taking a toll on agricultural production.
The regions' key crops of coffee, cashew nuts and peppercorns are facing an increasing risk of water shortage.
Experts say El Nino will continue to last until the middle of 2016. This is the longest El Nino spell recorded in Vietnam.
The workshop heard 40 reports from scientists, managers and representatives from localities, who shared experience in preventing drought and saving water in agriculture production.
Scientist recommended ways to develop sustainable coffee and peppercorn production in the regions.
In 2015, nearly 95,000 hectares of cultivation land in the Central Highlands were hit by drought.
This year, as many as 7,108 ha of rice in the region had to be abandoned, while 40,137 ha of coffee and 2,290 ha of peppercorns have been damaged or have reduced output due to a shortage of water .
If rain does not come in early April, the area of key crops hit by drought will expand to 167,000 ha.
Can Tho prepares for Vietnam-France cooperation conference
The Mekong Delta city of Can Tho will spare no effort to prepare for the 10 th cooperation conference between Vietnamese and French localities, which is going to take place in the city from September 12-18.
Vice Chairman of the municipal People's Committee Truong Quang Hoai Nam made the remark at a working session with the conference's organising board on March 29.
Can Tho is honoured to host the event, he said, adding that the city will do its best to ensure the conference is a success.
He noted that the conference creates a good chance for Vietnamese localities, including Can Tho, to promote their images, potential, advantages and tourism to boost socio-economic and cultural development.
It also means to improve the efficiency of cooperation between Vietnamese and French localities for sustainable development, thus driving the two countries' strategic partnership forward, he said.
Participants will discuss a number of topics such as promoting bilateral trade and supporting local authorities in regional and international integration, improving waste water treatment and encouraging the application of UN sustainable development goals on sustainable urban planning and development.
On the sidelines of the event are various activities such as the Vietnam – France cultural week, international trade fair and a trade-investment promotion seminar.
The conference between Vietnamese and French localities dates back to 1989, when Hanoi and the region of Ile-de-France set up a partnership. This form of cooperation has developed and contributed to the friendship and multifaceted cooperation between the two sides.
The conference, also known as the Vietnam – France decentralised cooperation conference, is held biennially or triennially on a rotational basis to review the cooperation effectiveness and set up collaboration directions for following years.
Vietnam 's central city of Hue and northern port city of Hai Phong hosted the conference in 2005 and 2010, respectively.
The 9 th conference was held in the city of Brest in France in June 2013, with the participation of 16 Vietnamese cities and provinces.
Works on Ghenh bridge repairs to start in early April
Works on the repair of the Ghenh bridge across the Dong Nai River in the southern province of Dong Nai will begin on April 1 and is expected to be completed on July 15.
The information was revealed at a meeting held by the Ministry of Transportation in Ho Chi Minh City on March 29 to review the tasks relating to the bridge repairs.
According to the representatives from the Vietnam Railways Corporation (VNR), the Prime Minister on March 23 agreed in principle to the allocation of 298.5 billion VND (nearly 13 million USD) for the urgent repair of the Ghenh bridge.
They said the VNR is expected to complete the upgrade of railway infrastructure in the stations of Bien Hoa, Ho Nai, and Trang Bom in Dong Nai province within the next ten days, with the aim to serve the demand of passengers.
Alongside this, the VNR has planned to transfer 50 cargo wagons and 100 passenger wagons which have been stuck in Saigon station to Trang Bom station.
Representatives from the Civil Engineering Construction Corporation 1 (Cienco 1) said that the group has mobilised four barges, two cranes, and 60 staff to implement the task of picking up the bridge beams.
On the occasion, Deputy Minister of Transportation Nguyen Ngoc Dong presented honourable certificates to Huynh Ngoc Hoang, a citizen in Bien Hoa city, and three individuals from the VNR for their contributions to the safety of a train in the Ghenh bridge accident.
The Ghenh bridge, a key bridge on the North-South railway line, collapsed at noon on March 20 after a barge crashed into its pillar, causing many people to fall into the river.
As the bridge is on the North-South railway route, railway services have been interrupted. Trains on the route now have to stop at Bien Hoa Station in Dong Nai province.
It was built more than 100 years ago and is used for both rail and vehicle transportation.
Saline intrusion-hit localities receive support
The Vietnam Red Cross on March 29 gave 1,000 low-income households affected by saline intrusion in Giong Tom district, the Mekong Delta province of Ben Tre containers and tools for storing and filtering water and chemicals for pasteurising water.
Up to now, all the 164 communes in Ben Tre have been encroached by saltwater, and locals' daily lives are suffering from a serious shortage of freshwater for their daily use.
Previously, the High Command of Military Zone 9 transported 330cu.m of freshwater to supply to poor families in Tam Hiep, Binh Thoi, Binh Thang, Phu Thuan and Vang Quoi Dong communes in Binh Dai district and An Hiep commune in Ba Tri district.
The South-West Petro Vietnam Fertilizer and Chemicals JSC (PVFCCo SW), a subsidiary of the PetroVietnam Fertiliser and Chemicals Corporation (PVFCCo) provided aid worth 80 million VND (3,600 USD) to 400 households in An Hiep and An Duc communes.
The South-East Petrovietnam Fertiliser and Chemicals JSC (PVFCCo SE), another PVFCCo subsidiary, also offered 300 gift packages totalling 230 million VND (10,250 USD) to farmers in Can Giuoc and Can Duoc districts of the Mekong Delta province of Long An, who are being hit by prolonged drought and saline intrusion.
The assistance aims to facilitate locals' effort in preventing drought and salt encroachment.
These activities are part of an aid programme worth 5 billion VND (225,000 USD) by PVFCCo and its subsidiaries to support farmers nationwide affected by saline intrusion and drought.
Sustainable agriculture transformation project in Long An launched
The People's Committee of Long An province on March 29 launched the Vietnam Sustainable Agriculture Transformation (VnSAT) project in the Mekong Delta locality.
The project, part of the World Bank's national cooperation strategy, is implemented in five Central Highlands provinces and eight Mekong Delta localities from 2015 to 2020 with a total capital of over 300 million USD, of which 230 million USD comes from the bank's preferential loans.
Its objectives are to help promote agricultural restructuring through increasing the sector's institutional capacity, renewing sustainable cultivation methods and raising the value chain for rice production in the Mekong Delta and coffee crops in the Central Highlands.
Specifically, the project will be carried out on 200,000 hectares of rice with around 140,000 Mekong Delta households using advanced technology in production. It is expected to bring an additional 40-60 million USD to the region each year.
Meanwhile, about 63,000 households in the Central Highlands will apply advanced technology in cultivation on 69,000 hectares of coffee, raising total profits by an estimated 48-50 million USD a year.
In Long An, the project will be implemented in Tan Hung, Vinh Hung, Moc Hoa and Tan Thanh districts and Kien Tuong town with an investment of 289 billion VND (13 million USD). Around 25,000 local households will be engaged in the project.
Nguyen Van Duoc, Vice Chairman of the provincial People's Committee and head of the VnSAT Long An steering board, requested the board members intensify communication on the project's purposes to encourage farmers to change their production methods in order to increase the quality and competitiveness of rice.
Youth dialogue celebrates upcoming NA election
A youth dialogue entitled "18-year-old citizens and the National Assembly election" took place in Hanoi on March 29, attracting more than 400 young constituents living in the capital city.
President of the Vietnam Fatherland Front Central Committee Nguyen Thien Nhan, who is also Vice Chairman of the National Election Council, underscored the role of young people in electing those most qualified for the legislature.
Youngsters should uphold their patriotism by choosing the most capable and moral candidates who are able enough to lead the country, he said.
Dr. Doan Huong, for her part, called on each young individual to be responsible for the nation and pay more attention to the country's socio-political issues.
First Secretary of the Ho Chi Minh Communist Youth Union (HCMCYU) Nguyen Dac Vinh hoped that participating youths will help disseminate the significance of the NA election and citizens' responsibility following the event, and gave an insight into the major contents of the Law on Election of Deputies to the NA and People's Councils, particularly regulations on criteria for candidates.
Co-hosted by the National Committee on Youth and the Hanoi municipal People's Committee, the dialogue was to celebrate the 85 th anniversary of the HCMCYU (March 26) and the election of the 14 th NA and People's Councils at all levels for the 2016-2021 tenure.
Vietnam's LGBT community inspires video contest
A clip-making contest on promoting the rights and interests of the LGBT community in Vietnam opened for submissions on March 29.
Disseminating the messages of "love without boundary" and "be true to yourself", the competition looks to discover moving and impressive clips that reflect the dreams and aspiration for love, respect and a normal life among the community. It is a chance for each individual to share his or her ideas on how to build a humane society where differences in gender are respected.
The Center for Studies and Applied Sciences in Gender, Family, Women and Adolescents (CSAGA), the US Embassy in Vietnam and the Bread for the World organisation co-oganised the contest.
All entries must be submitted in the form of a clip lasting between 5 and 7 minutes and are encouraged to include subtitles in both Vietnamese and English.
Submissions can be sent to clipcontest@csaga.org.vn or to CSAGA headquarters at the 4th floor, A9 building, Com Vong street, Dich Vong Hau ward, Cau Giay district, Hanoi.
The deadline for submissions will be May 20.
Ten awards, including one first prize and two second prizes, will be announced at a ceremony scheduled to take place on June 20.
Further information can be found on www.csage.org.vn.
Photo contest to capture the beauty of Vietnam's rivers
A photo competition on Vietnamese rivers was officially launched in Hanoi on March 29.
Under the selected themes of "history-culture", "modernisation-economic development" and "global challenges of climate change", each photographer can submit entries in three categories – single photo, collection and reportage.
The organisation board, which consists of members from the Vietnam Inland Waterways Administration, the Department of Cultural Heritage and the Vietnam Association of Photographic Artists, encourages the submissions of historical and archive materials.
All entries should be sent to cuocthianhdongsongviet2016@gmail.com , starting from April 1.
Amateur and professional photographers in Vietnam and abroad are both eligible to participate.
The contest will award one first prize, two second prizes, three third prizes and ten consolation prizes.
Meanwhile, 150 entries will be selected to be on display at an exhibition at the site of Van Mieu (Temple of Literature) – Quoc Tu Giam (the First National University). The exhibition is scheduled to run from June 28 through to July 2.
Further information can be found on vapa.org.vn and hoidisanvanhoa.vn and thegioidisan.vn.
German magazine: Vietnam to boost renewable energy use
Vietnam is planning a drastic turnaround in energy policy, focusing on renewable energy, reported klimaretter.info, a German magazine specialising in climate change and energy transition, on March 28.
The magazine noted that from now to 2020, Vietnam will raise solar power capacity to 850 megawatts ( MW) and increase wind power capacity to at least 800 MW.
Currently, the share of the two power sources plays no significant role in Vietnam , where more than 93 percent of the electricity output is produced from fossil and hydropower sources. However, the average solar radiation to produce electricity in Vietnam is about four times as large as in Germany , said the magazine.
The article also noted that Prime Minister Nguyen Tan Dung has recently launched a plan on developing a national grid, which is set to revolutionise the energy policy.
Vietnam is one of the new "tigers" in Asia , with high rate of annual economic growth, according to the article.
As in industrialised countries, economic growth brings about an increase of energy consumption. The annual energy production has increased more than tenfold from 1990 to 2014, klimaretter.info noted.
Accordingly, the greenhouse exhaust fumes per capita in Vietnam have risen to an average of 1.7 tonnes of CO2 per year.
By comparison, the figure in Germany is 9.5 tonnes.
HCM City to install 177km of power lines
HCM City's Department of Information and Communication has submitted a plan to bury power lines in 2016-17 to the People's Committee for approval.
A total of 177km of power lines and phone and televisions cables on 75 streets will be pushed below ground.
This year a total of 90km of lines and cables will be buried.
The HCM City People's Court last Wednesday sentenced Hoàng Hải Trai, 28, from HCM City, to one year of imprisonment for terrorist threats.
Trai was the director of the Beauty Lashes Co Ltd, a company that sold false eyelashes.
In April last year Trai had a unique marketing idea, he planned to use terrorism for publicity.
In May, Trai prepared a number of 50cmx50cm boxes with Arabic words outside and his company's products inside, together with an alarm clock that sounded like the timer of a bomb.
The boxes were put at different crowded places in Hà Nội and HCM City. They were soon discovered and confiscated by local authorities.
Trai was arrested on May 21 last year by the HCM City Investigation Police. City authorities said that Trai's action was dangerous and affected public security by frightening residents.
It seems unique and original ideas are not always good or profitable.
Drivers face fines for kickstand antics
Some people have criticised a new decree allowing the police to stop motorbike drivers who leave their kickstands down, which carries a fine of VNĐ2-3 million (US$80-130).
Critics said the regulation was unreasonable because many drivers forget to put their kickstands up.
Lawyer Huỳnh Phước Hiệp from the HCM City Bar Association said the regulation is targeting people who intentionally put their kickstands down while driving in order to create sparks on the road, causing public disorder and even accidents.
The regulation leaves it up to traffic police to define violators and issue proper fines. This could lead to complications and misunderstandings; for instance, if the traffic police wrongly issue a fine, it would be difficult to refund the money, he said.
Hiệp said law-making agencies should produce a document that clearly explains the regulation, such as which drivers would be fined and under which circumstances.
Associate Professor Nguyễn Hồng Thái, deputy head of the Transport Faculty under the Hà Nội University of Communications and Transport, said the regulation is reasonable if it only fines people who intentionally put their kickstands down. But it would be too harsh if it also punishes people who make a simple mistake, Thái said.
"People often remind each other to put their kickstands up if they come across someone who forgets it," Thái said. "Why don't we find ways to encourage this action?"
Others said motorbike-manufacturing firms should equip motorbikes with alarm whistles that go off when drivers forgot to put their kickstands up.
But until then, motorists will have to keep their eyes not only on the road, but also on their kickstands, lest they lose some money.
HCM City's metro lines face 'congestion' over radio frequency
The first and second metro lines of Ho Chi Minh City may not be able to operate upon completion due to problems surrounding its internal radio frequencies.
According to experts in the field, communication systems are to metro lines what the nervous system is to the human body, without them the entire metro system will be incapacitated.
Maintaining a smooth and unobstructed communication system requires a unique radio band frequency, which, as the Ho Chi Minh City Management Authority of Urban Railways (MAUR) found, has proven to be a much more complicated matter than first thought.
According to MAUR, there are currently 11 metro projects in Ho Chi Minh City, two of which have been launched and will use their own radio frequency to communicate, control, and monitor their operation.
In 2008, the Authority of Radio Frequency Management (ARFM) under the Ministry of Information and Communications (MIC) issued a document agreeing to 'reserve' the frequencies until 2013 for MAUR to use on the city's metro lines, according to the municipal Department of Information and Communications.
However, after the Law on Radio Frequencies came into effect in 2009, the 'reservation' of radio frequencies was outlawed, notwithstanding the fact that the initial reservation was set to expire in 2013.
The Vietnamese Ministry of Finance issued a circular in 2013 stipulating the fee for using a frequency, a document that did not mention anything about fees for 'reserving' frequencies.
The ARFM only agreed to 'reserve' the frequencies under the condition that MAUR pay a 'reservation' fee of VND800 million (US$35,000) per year, equivalent to the fee for actually using one.
The authorities thought this an unnecessary waste of money, given that the metro will not begin official operation until late 2020, meaning as much as VND3.2 billion (US$142,000) would have to be spent on merely 'reserving' radio frequencies.
After a period of consideration, the People's Committee of Ho Chi Minh City sent an official letter to MIC and the ARFM requesting the planning of a band frequency for the first and second metro lines.
Responding to this, the ARFM insisted on adhering to available laws and regulations, meaning MAUR would have to pay the entire fee for 'reserving' those frequencies.
The authorities, however, suggested that MAUR could wait until the trial phase of the metro lines to register for radio frequencies in order to avoid wasting money.
The solution presents another problem; there might not be enough suitable frequencies available by the time the construction of the metro lines is completed, because of the rapid rate of development in the southern metropolis.
According to the ARFM, there have been cases where other major projects failed to acquire a separate radio frequency, for a number of reasons.
Vietnamese youth and national start-up support program
Vietnam has initiated a number of programs to help young people start businesses. These programs encourage creativity and independence in doing business.
A youth start-up support program was launched by Ho Chi Minh city's Youth Union, Youth Federation, Students' Association, and Young Entrepreneurs' Association last week.
With a US$5 million fund, the program helps young entrepreneurs incubate ideas and provides them with legal advice and consultations on how to establish and develop a business. Two projects: "Smart queuing at hospitals" and "E-tickets" received US$5,000 each in funding at the launch of the program.
Doan Thien Phuc, Director of the Setech Viet company and author of the "E-tickets" project, said: "This program motivates young entrepreneurs like me. I hope there will be more start-up support programs and HCM city will be a real start-up city in the future."
HCM city's Youth Union has been designing a national start-up support program, which will be submitted to the government for consideration. A number of other provinces have followed suit.
Le Quoc Phong, Secretary of the Ho Chi Minh Youth Union and President of the Vietnam Students' Association, said: "We'll try to provide young people and students with updates on market developments, labor demand, and business requirements.
This will help them learn the skills they lack and give them job opportunities now that the ASEAN Community has been established."
Vietnam's joining of a number of free trade agreements, including the TPP, creates opportunities and challenges for Vietnam's economy and labor force.
In response, the Ho Chi Minh Youth Union and the Vietnam Students' Association are developing a number of skills and occupational training programs for young people.
Foreign arrivals to Hanoi surge
The number of foreign arrivals to Hanoi in March hit 256,000, bringing the total number of foreign tourists to the city in the first quarter to 761,000, up 17.1% and 28.7% respectively over the same periods last year, according to the Hanoi Statistics Office (HSO).
Among them, 620,000 went on holiday, up 30.7% while 111,000 came to Hanoi for business, up 6.7%.
Countries which saw a high number of visitors to Vietnam included China (85.5%), the Republic of Korea (47.9%) and Thailand (63.9%).
The HSO also reported that the number of foreign tourists to Hanoi by air was 635,000 (up 24.5%), and by sea and land was 125,000 (up 55.6%).
First 5-star resort opens in Cam Ranh bay
Cam Ranh Riviera Beach Resort & Spa has officially announced opening for operation from April 1, 2016.
This is the first 5-star resort and spa in Bai Dai (Long Beach), one of the most pristine white sandy beach in Cam Rang of the central province of Khanh Hoa.
Managed by Cam Ranh Riviera Resort Co., Ltd, the resort was started its first construction in April 2014 with 70 luxury lodge rooms and villas in the first phase of the project have been opened to receive guests in 2015. In January 2016, 156 rooms on 9-floor building have been ready for operation.
Just only a 15-minute drive from Cam Ranh international airport and a 40-minute drive to Nha Trang city centre, Cam Ranh Riviera Beach Resort & Spa spreads over an area of 10 hectares with 200 metres of coastline of Bai Dai.
Cam Ranh Riviera Beach Resort & Spa is also an ideal destination for family vacations with a range of daily activities for both adults and children such as volley ball, step aerobics, yoga, morning gymnastic, treasure of the hotel game, face painting… which are held daily on the beach, at Kid's club, at tennis court, by the poolside and in restaurants.
The resort's 226 ocean view pool villas and rooms blend contemporary style with a European-holiday concept. Allowing ample day light, the interiors feature a soothing mix of neutral and earthy tones and subtle Vietnamese touches that adorn each living space, ensuring utmost comfort and relaxation. These generously-spaced accommodations afford sweeping ocean vistas, with some offering terraces that lead to private plunge pools and sun lounges.
Set in opulent surrounds overlooking the ocean, Rinata Oasis Spa provides a haven of 10 treatment rooms and a treatment suite for rejuvenation and relaxation. Indulge yourselves in a facial or body massage using chemical-free Phytomer products and organic ingredients by well-trained therapists. Engage in the state-of-the-art fitness center or unwind with sauna, steam bath and Jacuzzi.
With a stunning ocean view, the resort's multi-purpose and well-equipped conference rooms are the ideal venues for a variety of business requirements from small conferences and meetings to large gatherings and banquets.
Country strengthens inspections to reduce labor accidents
The Department of Labor, Invalids and Social Affairs in Ho Chi Minh City yesterday announced a campaign to inspect construction sites in 2016.
As per the announcement, inspectors will carry out 100 inspections of labor safety and of employing cranes in construction sites. The inspection will in the year double compared to previous years.
At the same time, construction inspectors in 24 districts will pay visits to residents' houses which are being built. Inspectors will focus on working hours, workers' salary, labor hygiene, employment of electronic devices, personal protective equipment, cranes, scaffolding and such.
The city's campaign is part of campaign " Obeying labor regulation for safety in construction sites" launched by the Ministry of Labor, Invalids and Social Affairs, aiming to reduce the cases of construction-related work fatalities.
The Ministry's deputy chief inspector Phan Dang Tho said that inspectors in each city and province must pay visits to at least 10 construction sites or companies while inspectors in two big cities like Hanoi and Ho Chi Minh City should be over 10 inspections.
The campaign was launched because there has been lately mounting concern over the safety of construction workers in the country as the numbers of construction worker deaths and injuries have risen significantly. Construction worker deaths have reached alarming numbers with 70 accidents and over 200 deaths a year, accounting for more than 30 percent of labor-related accidents. The number of deaths in construction in HCMC is up to 65 percent.
Despite the strict safety regulations as prescribed by the government, disregard of construction worker safety by employers remains a significant concern. According to inspectors, 65 percent of construction-related work fatalities are due to improper neglectfulness and sub quality construction.
Since the beginning of the year, of 19 labor accidents in HCMC lately, 17 took place in construction sites as enterprises promoted construction in dry season leading to more likelihood of unsafe labor. Deputy Head of the Department Tran Ngoc Son said that by March, 2016, in addition to nearly 30,000 construction sites for private resident houses, the city has around 500 construction sites.
Tourism, Culture, traditional craft Week to be held
A festival honoring traditional craft of making Trang Bang District's dew-wetted rice paper will take place in Tay Ninh province on April 6-12.
The event will attract about 120 enterprises, including traditional handicraft villages, restaurants, and businesses to showcase traditional dishes, local culture and cuisine of Tay Ninh Province.
The festival includes a series of cultural activities, such as an announcement of the traditional craft of making Trang Bang District's dew-wetted rice paper that recognized as National intangible cultural heritage; food fair, trade expo, traditional art performances and folk games.
Japan funds healthcare and education projects in Vietnam
The Japanese government will provide US$344,810 in non-refundable aid for four healthcare and education projects in Vietnam.
They include two primary schools in the northern province of Hung Yen, one in the central province of Binh Dinh and a local healthcare centre in the central province of Quang Ngai.
The aid package was signed on March 28 at the Japanese embassy in Hanoi.
Envoy of the Japanese embassy Jun Yanagi said he was honoured to sign the four assistance projects on behalf of the Japanese people.
He added that a good learning environment for rural children would be the foundation for their personal development, and that basic healthcare services are essential to a healthy and happy life.
On behalf of the recipients, Chairman of Dao Duong commune in Hung Yen province Chu Minh Tinh thanked the Japanese government for their assistance and hoped the Japanese side would provide more support in the future.
First class order bestowed upon former chief of Vietnam News Agency
A ceremony was held at the Vietnam News Agency (VNA) headquarters on March 29 to confer an Independence Order, first class, on VNA former Director General Ho Tien Nghi.
The order was presented by Politburo member Pham Minh Chinh, who is also Secretary of the Party Central Committee and Head of the Committee's Organisation Commission.
Delivering a speech at the event, Chinh stated over its 70-year history, the VNA has spared no effort to accomplish all assigned political missions.
He continued to say that the growth of the agency was through the contributions of generations of leading officials including Ho Tien Nghi, whose dedication was being acknowledged by the Party and State through the order conferment.
Chinh said he hopes the VNA will continue its good work and soon become a strong multi-platform media agency.
Ho Tien Nghi, who is also a former Party Central Committee member and assistant to the Party General Secretary, expressed his appreciation toward the support he received from the Party, the State and colleagues throughout his 40 years working for the VNA.
The event gathered together VNA's leaders, reporters and editors from different periods.
Hoang Sa, Truong Sa exhibition opens on Cat Hai island
An exhibition of historical evidence proving Vietnam's sovereignty over the Hoang Sa (Paracel) and Truong Sa (Spratly) archipelagoes opened on Cat Hai islands, the northern port city of Hai Phong on March 29.
On display are numerous documents and around 100 maps in Chinese, Nom (old Vietnamese writing using Chinese characters), French and modern Vietnamese issued by Vietnamese feudal states, the French authorities in Indochina, the Saigon administration and the Socialist Republic of Vietnam.
The documents affirm Vietnam's sovereignty over these islands and reflect the country's administrative management, as well as its exercise and protection of sovereignty over the archipelagoes.
The event aims to raise the public's awareness, and encourage Vietnamese nationals to protect and affirm national territory.
The exhibition runs until April 1. All of the exhibits will be given to the city of Hai Phong.
Hanoi, Hungary boost water plant project
Chairman of the People's Committee of Hanoi Nguyen Duc Chung recently discussed the Red River-based Water Plant project with Hungarian diplomats, according to Ha Noi Moi newspaper.
At a reception on March 29 for Hungarian Ambassador to Vietnam Ory Csaba and Tombor Baslint, Chief Negotiator on the Tied Aid Credit programme under the Hungarian Ministry of Foreign Affairs and Trade, the leader of Hanoi expressed the importance of the project in improving the capital's clean water supplies.
He added that the city has prepared some basic steps to implement the project.
For his part, Tombor Baslint mentioned the agreement, which includes Hungary's 500 million EUR (541 million USD) in soft credit to be used for Vietnam 's projects, including Hanoi's Red River-based water plant. An agreement on this project was reached during Hungarian Minister of Foreign Affairs and Trade Peter Szijjarto's visit to Vietnam early this year.
He expressed his hope that the city will create favourable conditions to accelerate the implementation of the water plant project.
During the meeting, Chung and Ory Csaba said they hoped for more developments in the relations between the two capital cities of Hanoi and Budapest.
Elder people receive better healthcare
More than 2.8 million elders across the country are receiving retirement pensions and social insurance benefits, while more than 1.5 million others benefit from monthly social allowance, according to the Vietnam National Committee on Aging (VNCA).
So far, 481,619 senior citizens have been given eye examinations. Of these, 84,105 got free treatment worth 103.5 billion VND (4.6 million USD), the committee said, adding that all elders have received full allowances as scheduled.
The Vietnam Social Insurance (VSI) was requested to coordinate with the Vietnam Association for the Elderly and the Vietnam Fatherland Front Central Committee to build a plan to increase social insurance coverage among older citizens.
The trio have also to work together to promote the implementation of the Politburo's Resolution 21-NQ/TW, enhancing the Party's leadership in social insurance and health insurance between 2012 and 2020.
The VNCA proposed the Government consider providing monthly social allowances for the elderly from poor households and those between 60 and 79, as well as those 75 and older in ethnic minority groups and extremely disadvantaged areas.
According to a 2015 list from the World Bank, Vietnam has an aging population. The number of people over 65 in Vietnam is forecast to increase from 6.3 million to 18 million by 2040, accounting for 18 percent of its population.
VNA/VNS/VOV/SGT/SGGP/TT/TN/Dantri