Ministry to reduce use of antibiotics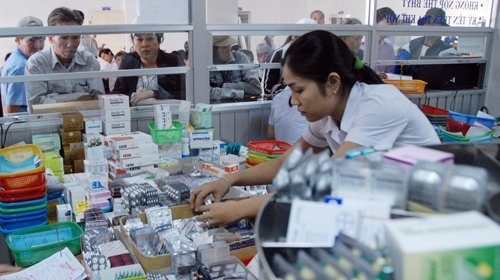 Patients receive medicines at a hospital. The health ministry has instructed hospitals nationwide to use antibiotics with more restraint in a bid to prevent growing resistance to the drugs.- Photo

baodansinh.vn
HÀ NỘI - The health ministry has instructed hospitals nationwide to use antibiotics with more restraint in a bid to prevent growing resistance to the drugs.
The move comes as most health examination and treatment facilities are starting to acknowledge the increasing bacterial resistance to many types of drugs, according to Deputy Minister Nguyễn Thị Xuyên.
A dossier providing guidance on the use of antibiotics, issued by the ministry, will be delivered to and applied in all hospitals nationwide to help reduce the inappropriate use of antibiotics, reduce their unexpected impact, improve overall healthcare quality, avoid resistance to antibiotics and reduce treatment costs for patients, she said.
The ministry required hospitals to set up a task force to supervise the use of antibiotics in hospitals and keep a close watch on drug resistance to common viruses.
Members of these task forces will also be responsible for producing and executing an annual plan for antibiotic usage management in hospitals; inspecting, supervising and applying intervention measures; and assessing and reporting the use of antibiotics and level of antibiotic resistance.
Antibiotic resistance has become a global issue, particularly in developing countries, including Việt Nam. Estimates suggest thousands of people die as a result of drug resistance each year around the world, and hundreds of billions of US dollars are spent on drug resistance treatment.
It is estimated that in half of all cases, antibiotics are prescribed for conditions caused by viruses, where they have no effect, according to Marc Sprenger, Director of the WHO's secretariat for antimicrobial resistance.
The widespread purchase and sale of antibiotics without a doctor's prescription was also blamed for the increasing resistance to the drug in Việt Nam.
According to a report released by the ministry in 2014, 90 per cent of antibiotics had been sold to people without a prescription.
The study revealed that 88 per cent of drug stores in urban areas and 91 per cent of stores in rural areas had sold antibiotics to people without a prescription. The three most popular types of antibiotics are ampicillin, cephalexin and azithromycin.
The ministry set up a National Steering Committee on Surveillance to monitor drug resistance in 2014. - VNS