Nghe An Police arrest marijuana smuggler
Police in the central Nghệ An Province said they arrested a suspect for trafficking marijuana in Thái Hoà Town yesterday morning.
The police seized 3kg of marijuana and a gun during a search of the suspect's home.
Phan Phúc Đạt, 36, was a criminal who had been under investigation for a long time in the area, the police said.
At the police station, Đạt initially said he bought the marijuana at Cầu Treo International border gate in the central Hà Tĩnh Province and then transported it to the town to sell it to drug addicts.
The gun was bought from an unidentified person for self-defence, he said to the police.
The case is being investigated further.
Quang Trị Province set to preserve war tunnel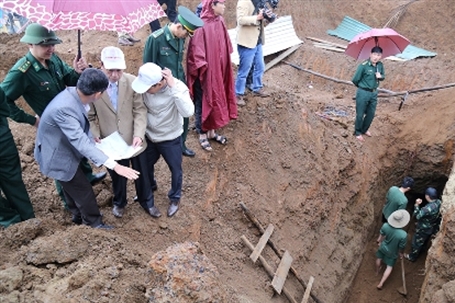 Local history: The tunnel being inspected for renovation work. - Photo dantri.com.vn
The central province of Quảng Trị will preserve a part of a war tunnel used during the American War for tourism purposes.
The Y-shaped tunnel, located in Vĩnh Linh District, is about 200m long, 1.2m high and 1m wide.
According to Hoàng Văn Đới, 69, a local resident, the tunnel's construction began in 1962 and was completed four years later. It collapsed after being hit by an American bomb in February 1968.
Local elders want a plaque to mark the historical site as well as to educate the youth about the war and the people who lost their lives in the tunnel during the bombing.
Local authorities will renovate a part of the tunnel for tourist purposes, while searching for the remains of the martyrs.
Quang Ninh to ban limestone transport
The transport, loading and unloading of limestone in Hạ Long Bay will be banned starting July 1 under the latest directive from the People's Committee of northeastern Quảng Ninh Province.
The move was made due to the local government's concerns about environmental pollution in the bay.
Under a document signed by Deputy Chief of the committee's office Nguyễn Minh Sơn, these activities will still be allowed at Hòn Nét Port in Bái Tử Long Bay.
Sơn ordered the Maritime Administration of Quảng Ninh to inform all individuals and organisations transporting and loading commodities in the bay of the decision.
The administration was required to report on the situation to the committee every three months.
Hạ Long Bay, located in the Gulf of Tonkin in Quảng Ninh Province, is abouy 165km from the Hà Nội capital. Covering an area of 43,400ha, it includes over 1,600 islands and islets. The bay was declared by UNESCO a Natural World Heritage Site for its remarkable beauty and geology.
Vinh Phuc has two more special national relic sites
A ceremony was held in the northern province of Vinh Phuc to receive certificates recognising the Tay Thien site and the Binh Son Tower as special national relic sites.
The Tay Thien site locates in Dai Dinh commune, Tam Dao district, 75km northwest Hanoi. It spans 148 hectares on the Thach Ban Mountain within the Tam Dao range.
The site is known for its ancient religious buildings, such as pagodas, temples, as well as beautiful forests, streams, waterfalls and grottoes.
It is said to be a cradle of Vietnamese Buddhism, and also a place for worshiping Mother Lang Thi Tieu, who made great contributions to national defence, peace and agricultural development during the era of the Hung Kings.
The complex received the status of national relic site in 1991. It has become one of the key tourism sites of the province.
The 11-storey Binh Son Tower is located in Binh Son village, Tam Son town, Song Lo district. Built during the Ly – Tran dynasty from the 11th to the 13th century, it originally had 15 storeys but four upper storeys were destroyed with time. This is the highest terracotta brick tower left from the Tran era.
The structure has been repaired after the toll the continuous floods in the 1960s had taken on it.
Statistics compiled during the repair show 13,200 bricks were used to build the tower. The outside were covered by square tiles decorated by various patterns.
Police asked to probe traffic accident
Deputy Prime Minister Nguyễn Xuân Phúc has asked the northern Hòa Bình Province Police to find out the cause of an accident that killed three people in Mai Châu District.
In an urgent message sent late on Monday, the deputy PM said the police should find out the cause of a collision between a coach and an oil truck yesterday afternoon on a stretch of National Highway 6, which also left 26 people injured.
The accident occurred when the oil truck was travelling from Hà Nội to Hòa Bình and the 24-seater coach was going from Điện Biên to Hà Nội. The coach was of the 'Đức Thắng' company.
Phúc asked the chief of Điện Biên Committee for Traffic Safety to investigate compliance with transportation regulations in a month by the Đức Thắng Transport Firm.[U1]
The Hải Phòng Committee for Traffic Safety was also asked to check compliance with transportation business regulations by Tân Long Petrol Joint Stock Company, the owner of the oil truck.
Respected professor, journalist dies, aged 88
Professor Lý Chánh Trung has died at the age of 88 one month after contracting pneumonia at his house in HCM City.
State officials paid tribute to Trung on Sunday afternoon.
They included Nguyễn Minh Triết, former State President; Lê Thanh Hải, former HCM City Party Committee Secretary; Đinh La Thăng, HCM City Party Committee Secretary; Nguyễn Thiện Nhân, chairman of the Central Committee of Việt Nam Fatherland Front; Huỳnh Đảm, former chairman of the Central Committee of Việt Nam Fatherland Front; and Nguyễn Thị Quyết Tâm, vice secretary of HCM City Party Committee.
Researcher Nguyễn Đình Đầu, 96, a close friend of Trung, who also joined the ceremony, expressed sadness after hearing about his death.
"We'd known each other since 1952 when Trung studied for a bachelor's degree in Belgium, then travelled to France for a PhD while I was studying in France. We met at the National Library of France. We wrote some articles together about Việt Nam during this time," he said.
"At the end of 1954, Trung returned to Sài Gòn (now HCM City), and then Trà Vinh, his hometown. I returned to Sài Gòn in 1954," he recalled.
In 1962, when they were part of a Catholic anti-war group in HCM City, they established a newspaper for parishioners, named Sống Đạo (Live Religiously). Trung was the editor-in-chief.
"Trung was an honest intellect. He was an expert in philosophy. He was also a sharp writer and reporter," he said.
After 1975, Trung was a member of the Presidium of the Central Committee of the Việt Nam Fatherland Front, vice chairman of the Committee of the Việt Nam Fatherland Front in HCM City, and deputy of the 6th, 7th and 8th National Assembly.
Lý Chánh Trung made many contributions to the National Assembly. Former Prime Minister Võ Văn Kiệt also highly appreciated Trung for his talents and contributions, according to Đầu.
Professor Trung was born in 1928 in the Cửu Long (Mekong) Delta province of Trà Vinh. He was famous abroad as a Vietnamese intellect who opposed the French colonists.
His coffin is kept at his home on 17 Công Lý Street, Bình Thọ Ward, Thủ Đức District. He will be buried at the Hoa Viên Bình Dương Cemetery today.
Bac Ninh, Thai King Institute share socio-economic growth experience
Northern Bac Ninh province and Thailand's King Prajadhipok's Institute (KPI) exchanged experience in socio-economic development during a meeting in the province on March 15.
Welcoming the visiting delegation, Permanent Vice Chairman of the province Nguyen Tien Nhuong said the meeting is a good opportunity for the two sides to learn the experience of socio-economic development from each other and increase mutual understanding that would pave the way for further cooperation.
At the meeting, the provincial authority shared experience in the locality's urban development between 1997 and 2016 with a vision towards 2050 and its process for economic transition.
The two sides discussed ways to address key challenges in shifting from agricultural to industrial economies, conserving traditional culture during the modernisation process, and developing hi-tech industry while protecting the environment.
The Thai delegation also learned firsthand about the province's investment incentives in order to consider future investment opportunities here.
On the occasion, they visited the Vietnam-Singapore Industrial Park in Tu Son, Bac Ninh.
The KPI is an independent, academic organisation that works under the supervision of Thailand's National Assembly.
Party chief makes fact-finding tour of Long An province
Party General Secretary Nguyen Phu Trong visited the Mekong Delta province of Long An on March 15 to inspect the local performance in socio-economic development, security-defence and in Party building.
Visiting Duc Hoa Dong, which was originally a remote commune with one third of its area deserted, the leader rejoiced at local industrialisation which, he said, is the right direction that has improved local infrastructure and people's living standards.
He also applauded the performance of the Dong Quang Textile Joint Stock Company based at the Hai Son Industrial Park in Duc Hoa Ha commune. The firm is currently providing jobs for over 6,000 people, mostly local residents, and contributes more than 100 billion VND (4.5 million USD) to the State budget annually.
At a working session with provincial officials, the Party chief highlighted Long An's location in the southern key economic region between the southeast region and the Mekong Delta, which is favourable for development.
The province has made breakthroughs in development, as seen in an annual economic growth rate of over 11 percent – the fastest in the Mekong Delta, along with an annual per capita income of 50.4 million VND (over 2,260 USD) – ranking third in the region. The rate of household poverty has dropped to 2.5 percent.
While maintaining the rice farming area to guarantee food security, Long An has switched to the cultivation of profitable trees like dragon fruit and lime. There has also been an increase in the proportion of processing, mechanics and electronics industries, along with a decrease in labour intensive and polluting industries.
Long An ranked seventh among the 63 provinces and cities in Vietnam and second in the Mekong Delta in terms of the provincial competitiveness index. It is now housing more than 6,700 Vietnamese businesses, 395 operational FDI projects, 28 industrial parks and 32 industrial clusters.
It has also upgraded and built a number of arterial traffic routes linking highways, national roads and waterways, facilitating the transportation of goods.
General Secretary Nguyen Phu Trong pointed out growing challenges ahead as well as the unsustainability in local economic growth. The province must not be subjective but have a good grasp and forecast of the reality.
He took the ongoing drought and saltwater intrusion as an example, which is the worst in a century and has damaged over 8,600ha of rice. Tens of thousands of hectares in Long An are predicted to be affected by the phenomena.
If precise forecasts were made, efficient responses could be taken to minimise impacts on agriculture and people's life, he stressed.
The leader told local authorities to internalise the resolution of the provincial Party organisation's congress, together with the resolution of the recent 12th National Party Congress.
The province should also continue the Party building task of consolidating a pure and strong political system, while thoroughly preparing for the approaching election of deputies to the National Assembly and all-level People's Councils, he added.
During his stay in Long An, the Party General Secretary visited Nguyen Thi Ba, who holds the titles of Vietnamese Heroic Mother and the Hero of the People's Armed Forces. She is 100 years old this year and has been a Party member for eight decades.
Top legislator talks with Ha Tinh voters ahead of NA session
National Assembly Chairman Nguyen Sinh Hung on March 15 met with constituents in the central province of Ha Tinh to inform them about the 11th session of the 13th legislature.
The even will kick off on March 21 with focus on reviewing the performance of State-run agencies and the five-year socio-economic development situation to improve policies for national development in the next five years, he said.
The NA will make important adjustments to leadership positions at State-run agencies, which will be further improved after the 14th NA election.
Laws and ordinances regarding the implementation of the Constitution – a significant political and legal basis to guarantee future national development will be bettered.
A number of important bills are expected to be considered and adopted during the 11th session, he added.
The top legislator emphasised the key tasks of 2016, including the election of deputies to the 14th National Assembly and People's Councils at all levels in the 2016-2021 tenure.
He asked all sectors, departments and localities to follow directions from the National Election Council and the Government to ensure a successful election.
Ha Tinh authorities were requested to actualise major orientations set by the provincial Party Organisation.
The NA leader also told the province to push ahead with new-style rural building, stressing that in the next decade, Ha Tinh needs to improve its transport infrastructure and irrigation systems and be prepared to cope effectively with climate change.
He called on the locality to ensure up to 70 percent of workers at industrial and economic zones are locals.
Vietnam-US relations, veterans' role in reconciliation highlighted
The Vietnam-US Society and the Veterans for Peace – US chapter organised a seminar in Hanoi on March 15, with the focus on Vietnam-US relations, the role of veterans in the reconciliation process, and issues related to war bombs and mines, and Agent Orange/dioxin.
Vice President of the Vietnam War Veterans' Association Phung Khac Dang said that although the war ended more than 40 years ago, a large amount of bombs, mines and unexploded ordnance are still left in Vietnam, while the remains of around 300,000 Vietnamese soldiers have yet to be found.
Therefore, he asked US veterans to continue encouraging others to provide information and send war remembrances to Vietnamese offices to help in the search for the remains of soldiers who died during the war.
US veterans stated that in spite of their age, they always wish to contribute to re-conciliating and healing the pains of war, and addressing war aftermaths.
Their visit aimed to learn more about Vietnam's history, land and people. They also plan to meet Vietnamese veterans, visit Agent Orange/dioxin victims and centres for the victims, and dioxin-contaminated places.
National press festival wraps up in Hanoi
The national press festival 2016 wrapped up in Hanoi after three days of ebullient activities.
Speaking at the closing ceremony, Vietnam Journalists' Association (VJA) permanent Deputy Chairman Ho Quang Loi highlighted that the event reflected the major achievements of Vietnam's press – helping to increase the role, position and prestige of the VJA in social life.
The event helped journalists from across the country meet up and exchange experience, he added.
More than 400 news agencies took part in the festival, which opened in Hanoi on March 13, showcasing 700 New Year's special editions and nearly 100 radio and television programmes on the Party's 12th congress and 30-year national reform process.
The organising board gave several awards to participating agencies based on their exhibition space, the covers of New Year's special editions, articles and TV/radio programmes.
The national press festival is expected to become an annual event.
Vietnam hopes to receive further WB assistance
Politburo member Vuong Dinh Hue has asked the World Bank to continue providing assistance and sharing experience to help Vietnam take full advantage of free trade agreements (FTAs) and cope with challenges posed by them.
Welcoming Senior Director of the World Bank Group's Global Practice on Trade and Competitiveness, Anabel Gonzales, and WB Country Director in Vietnam Victoria Kwakwa in Hanoi on March 15, Hue, who is head of the Party Central Committee's Economic Commission, spoke highly of the bank's valuable support for Vietnam's socio-economic development, including the building of the Vietnam Report 2035.
He expressed his hope that the WB will maintain its assistance for the country's implementation of its 2016-2020 socio-economic development plan and increasingly intensive international integration.
Economic restructuring, re-organisation of State-owned enterprises and banks, and reform of the growth model in a comprehensive and sustainable manner continue to be Vietnam's priorities.
Vietnam wishes to receive the WB's help in boosting sustainable poverty reduction, developing the capital market, perfecting economic institutions and adapting to climate change, as well as its facilitation of the country's access to preferential loans, Hue added.
The two WB officials spoke of Vietnam's socio-economic achievements and development potential, and the great opportunities that await during the country's intensive and extensive regional and international integration, especially when it is participating in numerous new-generation FTAs, including the Trans-Pacific Partnership (TPP) agreement.
They showed their backing for the Vietnamese Party's and Government's policies and determination to deal with challenges, especially in improving the business environment and increasing national competitiveness.
The World Bank and its member organisations will provide effective and necessary assistance for Vietnam's sustainable development, and for meeting its commitments to enjoy the full benefits of the TPP, they added.
Scholarships presented to ethnic students in Phu Yen
Students from ethnic minorities and island districts in the central province of Phu Yen, on March 15, received 100 scholarships from the Vu A Dinh Scholarship Fund and its "For beloved Hoang Sa and Truong Sa" club.
Accordingly, 50 scholarships worth 800,000 to 1 million VND (34.8 - 43.4 USD) each from the Vu A Dinh Scholarship Fund were given to outstanding ethnic minority students.
Meanwhile, the "For beloved Hoang Sa and Truong Sa" club presented 50 scholarships worth 1 million VND each to children of poor fishermen in Tuy An and Dong Hoa districts, Song Cau town and Tuy Hoa city.
Former Vice President Truong My Hoa, who is also chairwoman of the fund and club, said that the scholarships have assisted students for many years.
The scholarship fund and club will continue to give hundreds of scholarships to students in southern central provinces until March 19.
Festival honouring Quan Ho creator becomes national heritage
An annual festival dedicated to Vua Ba goddess in Viem Xa village in northern Bac Ninh province has been acknowledged as a national intangible heritage.
The event, often called Diem village festival, falls on the 6th day of the lunar year's second month. It honours Vua Ba, the creator of renowned Quan Ho (folk love duets) in the province. Locals consider the festival as an occasion to gather after a year of hard work, to sing and pray for prosperity and bumper harvests.
The festival entails a parade, ceremonies of god worshiping and statue bathing and various folk games. Quan Ho singing is performed in different locations across Viem Xa as a highlight of the day.
Legend has it that Vua Ba was the daughter of Hung King the fifth. When she reached the marriage age, her father opened a contest, where men competed against each other to take possession of a ball and the winner would marry the princess. However, Vua Ba refused the marriage arrangement. Instead, she asked the King to allow her to travel the kingdom.
When the princess and her servants left the citadel, a strong wind rose. It blew the entourage to Viem Trang hamlet, which later became Viem Xa village (unofficially known as Diem village). Back then, the place was a wilderness area occupied by reeds. Vua Ba came helping locals build their village and create a means of livelihood. She taught them cultivation and Quan Ho singing. After the princess passed away, villagers built a temple and held an annual festival to remind them of her significant contributions.
Quan Ho singing was recognised as an Intangible Cultural Heritage of Humanity by UNESCO in 2009.
Michelin star chef Gary Rhodes cooks up in Vietnam
One of the UK's most celebrated Michelin star chefs, Gary Rhodes, is in Vietnam to present UK cooking techniques and delicious dishes during a food week in Hanoi and HCM City.
Arriving Vietnam as a UK culinary ambassador, the Michelin star chef will demonstrate cooking techniques and flavours to introduce innovative cuisine from the UK.
His visit is part of the "GREAT Food & Drink" campaign launched by the UK Embassy in Hanoi and UK Trade and Investment (UKTI). It aims to show businesses and consumers the quality, heritage and creativity that make British food some of the best in the world.
While the UK is well-known as a leading financial service provider, it is not widely known for its food in Vietnam.
British food includes the well-known favourite of Scotch whisky and salmon, as well as an array of cheeses, yoghurts, fresh fruits, vegetables, cakes and biscuits.
Exotic products also have been produced in Britain as a result of modern farming techniques and scientific research. The British now grow chillies in Devon, wasabi in Dorset and sweet potatoes in Kent. And the company Cornerways from Norfolk produces tomatoes virtually year-round using the heat created from a sugar factory.
UK Culinary Ambassador Rhodes on March 13 appeared on TV show Happy Lunch on VTV6, before presenting in front of a crowd at the Hanoi's AEON Mall for a cooking demonstration where participants had a chance to sample British products.
As part of the "GREAT Food & Drink" campaign, the Hotel Sofitel Legend Metropole Hanoi hosted the Great British Bake Off in Vietnam on March 14.
On March 15 at the InterContinental Hanoi Westlake, chef Rhodes will showcase Scottish whisky.
The highlight of the week will be on March 17 in HCM City, where guests will be treated to a dinner cooked by the Rhodes and Masterchef Vietnam judge, chef and restaurateur, Pham Tuan Hai.
Some of the guests are the competition winners from an online cooking competition run through the campaign's Facebook page www.facebook.com/GREATBritaininVietnam, which has attracted over 40,000 followers.
Business focused events include a Food Safety event with VCCI in Hanoi on March 14 and a branding event in HCM City on March 18.
Vietnam police look for person behind Facebook ads of tiger, bear claws
Police in Kon Tum Province in the Central Highlands are looking for the person advertising tiger and bear claws on Facebook.
A local forest management official said the Facebook account of a person named Van Hung recently posted many photos of presumably animal claws, offering to sell them for at least VND2 million (US$90) each.
The account profile lists Kon Tum as the hometown.
News website VietNamNet said the account has been advertising the claws for months, posting hundreds of photos.
A photo advertising tiger claws on a Facebook account of an alleged Kon Tum native
One of the posts said the claws were "freshly" cut from tigers and bears.
The person left a mobile phone number and asked buyers to send money first.
A VietNamNet reporter called the number on March 11. A man, introducing himself as Hung, said he had the paws of the wild animals smuggled from Africa to Vietnam through the Laos border.
He said he then collected the claws for sale.
The ads have been removed.
Private hospitals locked in survival struggle
Two-thirds of the 180 private hospitals in Vietnam are struggling to make a profit in the face of public infirmaries being overcrowded, according to the Private Hospital Association.
While many public hospitals in the country are constantly packed with patients, private clinics are operating at only 50% to 60% of their capacity, or even as low as 20%.
There are currently 44 private hospitals in operation in Ho Chi Minh City, with four established in the last two years alone.
According to the Private Hospital Association, most private infirmaries in Vietnam were set up after the year 2000, so they have yet to build up their reputation compared to public hospitals that have existed for a long time.
The association also estimated that only one-third of these hospitals are able to make a profit, pointing out such difficulties faced by the medical facilities as capital shortage, an absence of reputation, inconvenient locations, expensive fees, unfair treatment from local authorities, and prejudice from patients.
Deputy Prime Minister Vu Duc Dam (second right) visits Hop Luc, a private hospital in Thanh Hoa Province, Vietnam, on February 27, 2016.
By law, only hospitals with 100 beds or more can apply for soft loans, while the majority of private clinics in Vietnam are operating on a small scale with fewer than 100 beds.
Private hospitals are also ineligible for ODA funds, which are only reserved for public infirmaries.
ODA financing is undertaken by the official sector to promote the economic development and welfare of developing countries.
In addition, the regulation forbidding the construction of new hospitals in downtown Ho Chi Minh City has pushed private hospitals to the city's outskirts, making them difficult to reach and unappealing to wealthy patients.
Another major problem facing private hospitals in the Southeast Asian country is the lack of quality personnel, according to Pham The Dong, vice chairman of the Private Hospital Association.
Dong added that staff members at private hospitals are mostly made up of either retired doctors, who are experienced but lack physical wellness, or fresh medical graduates, who are lacking in clinical experience.
"Doctors at public hospitals are allowed in theory to work overtime at private medical facilities, but sometimes their directors from the public institutions bar them from doing so," a private hospital's director said.
Cao Doc Lap, director of Hong Ngoc Private Hospital in Hanoi, said that public hospitals only pay half as much as private ones for fresh graduates, but instead they offer training courses abroad, which the private establishments cannot afford.
Only a very small number of private hospitals have the financial ability to send doctors overseas for professional training or invite foreign specialists to Vietnam for expertise updates, Lap said.
According to Luong Ngoc Khue, general director at the Department for Healthcare Administration under the Ministry of Health, the number of private clinics in Vietnam currently only accounts for 15% of all hospitals, while the expected ratio is one private hospital to one public infirmary.
Khue added that there are many models of combined hospitals, a form of cooperation between the public and private sectors.
Deputy Prime Minister Vu Duc Dam once offered his remarks on the issue, "Our stance is to back every policy to develop a non-public medical system…We must agree that healthcare doesn't distinguish between the public and private sectors, and is required to put patients first."
RoK tourism industry targets Vietnamese visitors
The Tourism Organization of Gyeonggi – the most populous province in the Republic of Korea (RoK) has included Vietnam in its tourism marketing strategy.
The organization said the number of Vietnamese tourists to the RoK increased by 15% last year in spite of an outbreak of the Middle East Respiratory Syndrome (MERS) in the country.
Seung Pyo Hong, CEO of Gyeonggi Tourism Organization said the body will further cooperate with the Korea Tourism Organisation (KTO) in Vietnam, low-cost airlines, and partners to promote tourism activities. He unveiled a plan to invite the media to disseminate information on RoK tourism and issue tourist coupons.
The organisation is expected to issue the Gyeonggi-do (Gyeonggi province) Coupon Book 2016 in Vietnamese to provide expla- nation for easy and convenient tourist destinations in Gyeonggi-do at cheap prices.
Gyeonggi province has also planned to join the Vietnam International Tourism Fair 2016 to be held in Hanoi in April.
Tourist attractions in Gyeonggi include cherry blossoms sites, Hwaseong Citadel in Suwon, and One Mount (Goyang) Water Park.
Lai Chau tourism-culture week to be opened
Gorgeous landscapes as well as cultural values in the northern mountainous province of Lai Chau will be highlighted to domestic and international visitors during the Tourism and Culture Week scheduled in the locality from April 29- May 2.
During the week, such famous tourist attractions as a complex of caves in the Pu Sam Cap mountain, San Thang and Gia Khau village, Sin Sui Ho communal tourism village and Da O mountain will be introduced to the travellers.
In addition to ethnic specialties, visitors will have the chance to indulge in a number of cultural rituals, including the Tu Cai festival of the Dao Dau Bang ethnic group, the betrothal ceremony of the Mong ethnic group and La Hu rainy season festival.
The week is expected to create a lasting impression on visitors while attracting investment for the provincial tourism sector.
This is also a golden opportunity for travel agents to develop new tourism products, which will make Lai Chau province become better known to holiday-makers.
Live grenade found in air cargo bound for Hanoi
Security guards at an airport in central Vietnam discovered a live hand grenade among freight aboard a flight bound for Hanoi on Tuesday, with information about its sender remaining unknown.
The green grenade looks quite new with an intact safety pin and detonator, Le Quoc Cuong, head of security at Phu Bai Airport in Thua Thien-Hue Province, told Tuoi Tre (Youth) newspaper the same day.
It was wrapped in a bag and sent to the airport by the provincial post office at around 8:30 am, in order to be shipped to Hanoi on a Vietnam Airlines flight scheduled to depart at 10:50 am, Cuong said.
Security officers discovered the explosive device during the baggage scanning process and immediately notified the province's police and military.
The Thua Thien-Hue military unit has seized the grenade for investigation.
The explosive has been transferred to the army's technical division to verify if it is lethal, Nguyen Hong Son, head of the province's Military Command, said.
In the meantime, the provincial post office said it had received the package from Dong Ha, the capital city of the neighboring province of Quang Tri, and continued forwarding it to Hanoi as per the sender's request.
The post office, however, refused to provide the personal particulars of the sender.
Local police are working to figure out who sent the package.
MARD releases food safety rankings
Hanoi and nine provinces ranked as good in food safety management in MARD's inaugural rankings, for 2015.
One city and nine provinces were good at managing food safety in 2015: Hanoi and Ba Ria Vung Tau, Binh Dinh, Dong Nai, Ha Nam, Kien Giang, Long An, Phu Tho, Son La, and Tien Giang provinces.
The rankings were compiled by the Ministry of Agriculture and Rural Development (MARD) in 2015 for the first time.
Nine provinces - Hai Duong, Thai Binh, Cao Bang, Bac Kan, Quang Nam, Quang Ngai, Gia Lai, Kom Tum, and Dak Lak - were directed by MARD to settle some problems regarding food safety.
The remaining cities and provinces around the country were said to meet requirements on food safety management.
Da Nang was the only city in the country not to be ranked, as it failed to receive the relevant MARD documents.
The rankings were based on the direction and management of food safety; advocacy, education, and communications to raise public awareness on and adherence to legal documents on food safety; inspections and the handling of violations in food safety; strengthening the management of food safety; and the creation and development of safe food supply chains.
HCMC Party Chief encourages TDT University to develop non-state model
Ho Chi Minh City Party Committee Secretary Dinh La Thang encouraged Ton Duc Thang University to develop non-state funded education modal and manage it as a business to take the initiative in making decisions on salary, bonus and scholarships, during his visit on March 14.
Dr. Le Vinh Danh, the university's principal, reported that Ton Duc Thang University was established in 1997 with nine members which have increased to 1,760 teachers and staff now.
The university has determined to apply international standards in educational activities and strive for the country's leading university in the next seven years and the world's top 500 in the next 20 years.
Secretary Dinh La Thang said he was impressive with the university's facility and administration and appreciated highly its efforts.
He proposed the Vietnam General Confederation of Labor to delegate powers of appointments to the university's management board and not to introduce other personnel into the board.
The university should build up its brand name by itself, focusing on training careers encouraged by the city and equip students with not only knowledge but also business-startup and enrichment skills, he says.
The secretary acclaimed the university's investment in health training and prompted it to further connect education and training activities with scientific institutes, research centers, businesses and tech zones to make training in association with market mechanism.
At the meeting, the university reported to the HCMC Party Chief difficulties in importing an osteoporosis meter for students' study. The meter has been kept at a port since November last year because the Ministry of Health has yet to license its import.
Afterwards Mr. Thang called Minister of Health Nguyen Thi Kim Tien and Deputy Minister Nguyen Viet Tien proposing them to check up the case.
The deputy minister then contacted Dr. Le Vinh Danh and promised to soon inspect and solve the issue.
HCMC Book Festival to take place in March
The ninth Ho Chi Minh City Book Festival is scheduled to take place at Le Van Tam Park in district 1 on March 21- 27.
The annual book festival receiving strong supports of the city's readers becomes the large scale event, aiming to develop book-reading culture.
This is a favorable chance for publishers to introduce their best books to crowded readers as well as learn about the readers' interests.
Many attractive activities will take place during a week event such as domestic and foreign book exhibition, seminars, talk show from speaker Tran Nam Dung, and exchange program with famous writers Nguyen Nhat Anh, Phan Hon Nhien and others.
10 outstanding young people given prizes for their contributions
10 good citizens were given prizes for their excellent achievements and contributions in the fields of studies, scientific researches, labor and production, enterprise management, public security and order, culture and social and charitable activities.
In a press brief held yesterday in Hanoi, the Ho Chi Minh City Communist Youth Union, Tien Phong Newspaper and the Vietnam Young Talent Support fund announced its activities to commemorate the 20th anniversary of the prize. Afterwards, the organizer gave prizes to good citizens.
Since 1996, the Communist Youth Union annually has launched this event to give prizes to excellent young people under 35 who have had great achievements in the above mentioned-fields. So far, in 20 years, the prize has honored 200 excellent young people including 172 young people dominated from young communist unions, organizations under the Communist Union, newspaper and agencies.
The prize- giving ceremony will take place on March 21 in the Friendship Culture Palace in Hanoi and lively broadcast on VTV6 on the day. In the program's framework, there will be exchange between young people on the theme" Devotion and Glowing" and trip to historical monument Hung King in the Northern province of Phu Tho and landscape Tay Thien in the Northern province of Vinh Phuc.
The meeting was presided by Le Quoc Phong, secretary of the Ho Chi Minh Communist Youth Union Central Committee.
UK's rock band to perform in Hanoi
The British rock band Hipster will perform in the "St. Patrick Rocks" concert at the American Club in Hanoi on March 18.
The Hipster has played in several major music festivals in the UK and Ireland. They have been awarded the Outstanding Artist of 2015 Award by Alive Network.
The rock band will be onstage together with the 'Comhaltas Ceoltóirí Éireann' traditonal Irish musicians from Dublin, the French band "La Belle et la Bête", Hong Kong based American musician – Michal García from The Anello, and other local rock bands and artists.
Entry ticket costs VND100, 000 - VND250, 000.
PM orders to reduce overloaded hospitals
The Prime Minister has just issued his instruction on adopting measures against the overloading in big hospitals including building more satellite medical clinics.
The instruction clearly said that one of causes of overloading in major hospitals is that not many medical institutions partake satellite hospital project. Additionally, several satellite hospitals has been well-equipped but lack of good physicians to be able to join in technique transferring program from big hospitals.
Subsequently, the PM asked the Ministry of Health and related agencies and departments to open more satellite hospitals in order to effectively reduce pressure in big hospitals. The Ministry must instruct hospitals to send good doctors to satellite hospitals to provide treatment and examination.
On the other hand, the Ministry and related agencies should not distinguish state or private hospital when converting them into satellite hospitals. Along with this, it needs to call for investment from all sectors to build more private hospitals to cooperate with public medical facilities.
Big hospital managers must adopt preferential policies for good physicians who were sent to satellite hospitals especially medical institutions in disadvantaged districts. Good doctors will take turn to work in satellite hospitals.
Customers suffer from many fuel taxes and fees
Customers are being charged for a wide range of incentive taxes and fees given to enterprises.
Taxes are main cause for Vietnam's high fuel costs. Import tax, special consumption tax, VAT and environment tax account for half of the price of fuel. Without all the taxes, the fuel price would drop to just VND7,000 per litre.
Everyone understands that the government needs a strong state budget to upgrade infrastructure and pay wages for officials and enterprises need profits for further development. But the fuel prices in Vietnam are much higher than many countries. Except for the recent decrease on March 4, most of the time, even when the world fuel dropped, local retail prices have stayed the same.
Diesel import taxes for products imported from ASEAN countries were cut to 5% in 2015 and to 0% from 2016 in accordance with ASEAN Trade in Goods Agreement. But Circular 78 issued by the Ministry of Finance and the Ministry of Industry and Trade in last May stated that the import tax for diesel and mazut is 10%. That means wholesalers import their products with low tax rates but the customers have to pay for high tax rates.
Vietnam imports an average of 400 million litres of diesel from ASEAN countries each month and the wholesalers can earn a monthly profit of VND200bn (USD9.5m). In 2014, Petrolimex reported a loss of VND8bn but in next year, it enjoyed nearly VND2trn.
The Vietnam-Korea Free Trade Agreement, which took effect in December 2015, reduced the import taxes for products from South Korea to 10%, instead of the 20% for products imported from Singapore or Malaysia. Yet the fuel, when it is sold to the customers, is not much cheaper. Customers always get the short end. For some unknown reason, the Ministry of Finance and the Ministry of Industry and Trade ignored various incentives and tax differences last year for enterprises.
On behalf of the government, Vietnam National Oil and Gas Group (PVN) promised to give USD3.5bn in incentives to the investors in the Nghi Son Refinery. PVN then proposed to add this into the prices of products that would be sold directly in front of the refinery gate. This is an unreasonable deal for customers.
It is repeatedly said that fuel prices must provide profits for the government, enterprises and benefit customers alike. The state budget has strong income, enterprises earn huge profits while customers still have to suffer from high prices.
The local retail prices only fell recently because the world fuel prices had dropped to record low. One question is left hanging is that whether enterprises will try to prevent retail prices from hiking up too fast once the world prices pick up again, as they are earning so much now thanks to many taxes and fees.
Winners of Hanoi open mathematics competition honoured
The Hanoi Department of Education and Training, in collaboration with the city's Mathematics Association, held a ceremony at Chu Van An High School in Hanoi on March 13 to honour winners of the 2016 Hanoi Open Mathematics Competition (HOMC).
The organising board presents awards to first prize winners.
The organising board presented 36 first, 104 second and 189 third prizes to the 329 most outstanding students.
Taking place on March 12-13, the 2016 HOMC drew the participation of nearly 1,000 students from 47 provinces and cities around the country.
The competition was held at three exam locations: Hanoi, Dak Lak and Dong Thap. In Hanoi, there were 706 contestants from 23 northern localities who competed in senior and junior age groups.
Initiated in 2004, HOMC has attracted a large number of students across the country. The exam questions and answers were presented in English.
The annual event aims to improve the quality of teaching and studying of mathematics in English in secondary and high schools, particularly in Hanoi.
The competition is expected to attract the participation of students from other countries in Southeast Asia.
Selected works from international artistic photo contests in Vietnam exhibited
An exhibition displaying 150 works selected from nearly 10,000 photos by artists from 31 nations and territories was opened at the Museum of the Cultures of Vietnam's Ethnic Groups in Thai Nguyen province on March 14.
The photo entries were sent to the international artistic photo contest held by the Vietnam Artistic Photographers' Association (VAPA) biennially in Vietnam last year with the sponsorship of the International Federation of Artistic Photography (FIAP) and France's Image Sans Frontiere (ISF). It is the eighth contest held in the country. The contest has become a prestigious playground, attracting professional and amateur photographers from Vietnam and abroad.
The exhibition is organised under four themes: freedom, life, women and jobs, and climactic moments. In the 2015 contest, prizes of the ISF were added to traditional prizes of VAPA and FIAP. The contest aimed to help Vietnamese photography learn from international photography and promote fine works by Vietnamese and international photographers.
The exhibition will open until March 18.
VNA/VNS/VOV/SGT/SGGP/TT/TN/Dantri