North returns cold while south remains hot
A cold front with its strong operation is moving from the Northern region to Southern region of Vietnam, announced the National Hydrology Meteorology Forecast Center.
By March 23, the cold wave is predicted to affect directly to northern east provinces including Hanoi; and then it is going to expand possibly to the northern west and the central coastal provinces.
Because of its effect and the strong operation of west wind, northern provinces will star suffering medium to heavy rains and thunderstorm on the large scale from March 23. Meanwhile, the north central and mid central provinces will see showery weather, thunderstorm, cyclone and strong wind speed. The northeast monsoon blows level 3 in the mainland.
The Gulf of Tonkin and offshore of the central region will see level 6- 9 northeast monsoon, high waves of 2- 4 meters and sea rough.
By March 24, the weather in the northern and north central provinces will become cooler.
Meanwhile, heat wave continues to threaten central highlands and southeastern regions with the highest temperature at 35- 37 degrees Celsius, even over 37 degrees Celsius in some places. The hot weather is going to last until March 24.
Activities mark International Labour Day
A myriad of activities will be held across the country to celebrate the 130th anniversary of International Labour Day (May 1, 1886), the Vietnam General Confederation of Labour (VGCL) said on March 21.
The celebration is to recognise the significant contributions of the working class to national construction and defence, while reinforcing their trust in the revolutionary cause of the Party and State.
The events will also mark the Workers' Month 2016 with the motto: trade unions accompany businesses to take better care of employees.
The significance of Decree 56 signed by President Ho Chi Minh in April 1946, which stipulates a paid holiday on the International Labour Day, will be highlighted on the occasions.
A programme will be organized to honour initiatives and good products and encourage workers to improve productivity and create high-quality products and services to develop Vietnamese brand names and export markets.
An action month for workers will be held to promote their legitimate rights and interests.
The May Day meeting is schedule to take place at the Friendship Palace in Hanoi along with an exhibition honouring outstanding workers.
Fire damages furniture workshop in Quang Nam
A fire damaged a furniture workshop in Đại Lãnh Commune in the central province's Đại Lộc District early this morning.
A fire truck and a team of firemen were sent to stamp out the fire within the hour. According to the local police, the fire spread to two neighbouring buildings, but no one was injured in the blaze.
Initial investigation showed that the fire was the result of a short circuit at the workshop. The case is being investigated further.
Early this year, a fire had destroyed a motorcycle accessories and spare-parts shop in the Điện Bàn Town in the province.
Better infrastructure for agriculture restructuring in Long Xuyen
A project will be carried out in the near future to improve infrastructure to serve agriculture restructuring in the Long Xuyen Quadrilateral, a major agricultural hub in the southwest of Vietnam.
The Long Xuyen Quadrilateral covers 490,000 hectares of land in Kien Giang and An Giang provinces and a small part of Can Tho city in the southwestern region.
A comprehensive infrastructure system created under the proposed project, prepared by the Southern Institute for Water Resources Research, is set to support local agriculture's sustainable development along with natural disaster prevention and response efforts.
To that end, the project will survey local irrigation and transport facilities, recommend construction solutions, and estimate building expenses, among others.
Scientists said existing infrastructure facilities in the area have been effective in agricultural production at one time, that helped to ensure food security. However, many of them no longer satisfy the growing agriculture restructuring demand.
Deputy Director of the institute To Van Thanh said his organisation updated and adapted the project to the current drought and saltwater intrusion in the region.
As the project requires a big amount of investment capital and relates to many ministries and sectors, more meetings will be held to thrash out and fine-tune the project before it is submitted to the Prime Minister for approval, said Nguyen Phong Quang, deputy head of the standing board of the Steering Committee for the Southwestern Region.
Vietnam, RoK join hand to increase skills for youth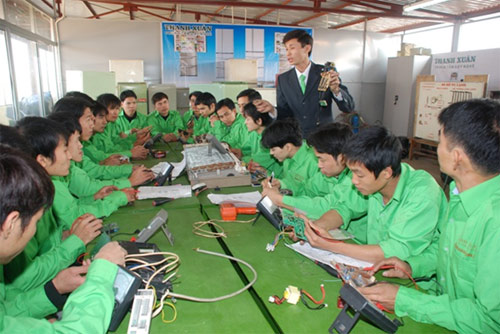 A signing ceremony of a project on increasing life skills and competence for Vietnamese youth was held in Hanoi on March 21.
The signatories were Deputy Chairman and General Secretary of the Vietnam Union of Friendship Organisations (VUFO) Don Tuan Phong and the founder of the Republic of Korea's International Youth Fellowship (IYF) Park Ock Soo.
The 150,000 USD project, funded by IYF will be implemented in Hanoi, Da Nang, and Ho Chi Minh cities over three years.
The project aims to consult and support Vietnamese youth in increasing their life skills and competence, as well as creating a healthy environment for youth to prove their ability and apply learned skills to practice.
The VUFO will create the best possible conditions for the IYF to operate in the country such as in visa assistance for international officials and the project's experts, and customs declaration assistance with goods and equipment for the implementation of approved projects.
Vietnamese women spotlighted at Argentina workshop
The role of Vietnamese women in society was the main topic of a workshop held on March 21 in Buenos Aires province, Argentina as part of activities to mark the International Day of Women (March 8).
The event, co-organised by the Argentina-Vietnam Cultural Institute (ICAV) and the Embassy of Vietnam in the South American country, saw the attendance of members of the Alfonsinista National Movement (MNA) and the United People's Movement (MUP).
The seminar opened with a short documentary featuring the participation of women in the Vietnam's resistant war against the American invaders (1954 – 1975).
ICAV President Poldi Sosa hailed the role Vietnamese women have played in Vietnam's national defence and nation building.
She cited as examples the uprisings led by Trung Sisters (Hai Ba Trung) against the Han invaders from China in 40 AD, Lady Trieu (Ba Trieu) or Trieu Thi Trinh in the 3rd centuryagainst Ngo (Wu) invaders, along with many others in the resistant wars against French colonialists and US imperialists in the 20th century.
Vietnamese women, accounting for 51 percent of the country's labour force continues contributing significantly to the comprehensive socio-economic development of the nation, particularly in agricultural production.
The rate of female deputies in the Vietnamese National Assembly is 27.3 percent and that among university graduates is 36.24 percent.
Participants discussed Vietnam's support policies for women and those on promoting gender equality, education, as well as the positive achievements in the Reform (Doi Moi) of Vietnam.
Ho Chi Minh City offers free legal consultations to residents
Everyday one lawyer will be present at the Central Citizen Reception Committee's Office in Ho Chi Minh City to provide free consultations starting from March 22.
A total of 100 lawyers have been trained for the mission.
The lawyers will help those lodging complaints or denunciations gain understanding of their cases, said Nguyen Hong Diep, Head of the Central Division for Reception of Citizens under the Government Inspectorate.
According to Do Ngoc Thinh, Vice President of the Vietnam Bar Federation , lawyers will incorporate explanations about laws and state policies in their advices.
In case they find unsuitable handling of a legal case by government agencies, the lawyers will guide citizens in how to lodge complaints to authorised agencies, Thinh noted.
Earlier, the service has been provided in Hanoi in two periods, assisting more than 1,000 people.
Hanoi: Over $12,500 raised for Truong Sa fund
About 280 million VND (12,560 USD) was raised for the "Vi Truong Sa than yeu" (For beloved Truong Sa) fund on March 21.
The fundraiser was held by the Hanoi municipal Party Committee in response to a call from the city's Fatherland Front Committee.
Workers at offices and companies under the municipal Party Committee donated a minimum of a one-day wage per person.
Deputy Secretary of the Hanoi Party Committee Dao Duc Toan said it will organise a series of activities and visits to Truong Sa island district to support soldiers and people living there.
WB evaluates environmental project in central coastal cities
A working session to evaluate the World Bank (WB)'s fact-finding trip on a substantial environmental project in central coastal cities opened in Ninh Thuan province on March 21.
The trip was conducted in the central coastal cities of Dong Hoi, Quy Nhon, Nha Trang and Phan Rang from March 1 to 21 by a WB delegation.
Delegates at the event discussed and evaluated the project's preparation, fund allocation, investment categories, environmental safety , bidding and financial management in participating cities.
WB senior expert Le Duy Hung underscored experiences in selecting drainage treatment technologies, compensation and resettlement processes, as well as fund allocation , which were drawn out in the first phase of the project.
In addition, relevant authorities and service suppliers for participating provinces and cities should effectively implement financial commitments and deploy institutional arrangement work on the local level.
Proposed components in the second phase will include hygiene infrastructure expansion, environmental facility improvement, site-clearance compensation and institutional reform support.
WB's operations and portfolio manager in Vietnam Achim Fock emphasized agreed-on requirements, including investment goals, financial resources and commitments among related parties with a view to meet project goals.
Labour inspection campaign in construction sector launched
A labour inspection campaign targeting the construction sector was launched in the northern province of Hung Yen on March 21.
The campaign is co-hosted by the Vietnam General Confederation of Labour and the Ministry of Labour, Invalids and Social Affairs (MoLISA), under the auspices of the International Labour Organisation (ILO) and the Dutch government.
It aims to promote compliance with labour regulations and criteria on working conditions and health and safety in order to reduce accidents.
It also looks to raise the awareness of employers, workers and the whole society of labour law as well as safety standards and labour hygiene in the sector, and increase the number of firms and buildings subject to inspection to at least 630 during March-November.
The inspections will focus on working time, overtime work, salary, training on labour hygiene and safety and personal protection vehicles, among others.
Last year, the construction sector accounted for 38 percent of total fatalities at work and 35 percent of reported industrial accidents. Among six major workplace accidents last year, four were recorded at construction sites.
Speaking at the launch ceremony, ILO Country Director in Vietnam Chang Hee-lee said the drive presents an opportunity for labour inspectors to strengthen their advisory role and partner with both employers and employees to achieve compliance with the law.
MoLISA Deputy Minister Pham Minh Huan said the campaign requires the involvement of the entire society, including labour inspectors, trade unions, organisations representing employers, and the mass media.
A pilot labour inspection campaign was executed last year in the textile sector in 12 cities and provinces. It discovered nearly 1,800 cases of violating salary and labour safety regulations in more than 150 textile enterprises.
The inspectors found 19 enterprises breaching labour regulations, and imposed fines amounting to nearly 600 million VND (26,890 USD).
Hanoi gives financial support to drought-hit localities
The authorities of Hanoi have decided to grant financial aid worth 19 billion VND (855,000 USD) to support the Central Highlands, south central and Mekong Delta localities hardest hit by droughts and saline intrusion.
Accordingly, the beneficiaries, including Can Tho, Bac Lieu, Khanh Hoa, Ninh Thuan, Binh Thuan, Kon Tum, Gia Lai, Dak Lak, Phu Yen, Ben Tre, Tra Vinh, Vinh Long, Kien Giang, Tien Giang, Soc Trang, Long An, Ca Mau, Dak Nong and Lam Dong, will receive 1 billion VND (45,000 USD) each.
Previously, the Bank for Investment and Development of Vietnam (BIDV) provided 23 billion VND (over 1 million USD) in support of 16 localities in the regions.
The Vietnam Red Cross Society also began sending emergency relief to residents in 11 central, Central Highlands and Mekong Delta provinces suffering from acute drought and saltwater intrusion.
At present, many localities in these regions are currently severely hit by drought and saltwater. Especially, all 13 localities in the Mekong Delta region have incurred losses caused by saline intrusion.
Hydrometeorology monitoring data in the Central Highlands, from December 2015 to February 2016, shows rainfall in the region dropped by 40 percent year on year, while water levels in almost all reservoirs fell by between 15-35 percent compared to the average level of previous years. Over 35 percent of rivers and streams and 40 percent of small lakes have become dry.
The Government has asked relevant ministries and sectors to intensify measures to prevent drought, focusing on dredging canals, and building temporary embankments to store water.
Ho Chi Minh City book fair introduces 300,000 titles
The Ho Chi Minh City book fair, the ninth of its kind, is underway in the southern metropolis on March 21-27, bringing together 172 exhibitors at home and abroad.
Nearly 300,000 titles with 30 million copies are being displayed at 710 stalls representing 12 domestic and 36 foreign publishers, along with 72 book distributors.
Also on offer are discounts up to 50 percent and other attractive promotions, exchanges with authors, and seminars to introduce the latest pieces.
Stationery, magazines, souvenirs and learning tools are also showcased.
An exhibition on books and photos about seas and islands, Ho Chi Minh City during integration and development process, e-books and reading devices also attracted crowds.
Conference reviews Central Highland gong culture preservation
Localities in the Central Highlands received praise for their efforts over the last decade to preserve and promote the cultural practices surrounding the use of gongs, which were recognised by UNESCO as an Oral Masterpiece and Intangible Cultural Heritage of Humanity in 2005.
During a conference in Kon Tum province to review the work, Deputy Minister of Culture, Sports and Tourism Dang Thi Bich Lien highlighted the region's successes, expressing her hope for more improvement in the field.
The conference heard that projects to conserve gong culture proved effective, contributing to preserving cultural diversity in specific localities and across the nation.
Training courses have been offered to instruct local children to play gongs, helping the number of gong teams in the region, including groups of young players.
A number of traditional and cultural festivals were also held every two to five years to help ethnic minorities popularise their culture.
At the event, representatives from localities shared their experiences, and measures to preserve and promote the cultural heritage.
Dak Lak province alone has spent a large amount buying sets of gongs for cultural centres in ethnic minority communities.
Gia Lai and Dak Lak devised projects to teach gong-playing in schools. Experienced players were invited to give lessons to young people.
Kon Tum has collected sets of gongs and preserved spaces for performances.
Gongs, considered the most sacred and valuable asset in every ethnic minority family in the Central Highlands, have historically been played at ethnic minority groups' traditional rituals and festivals.
Ethnic minority families in the region have 9,880 sets of gongs. There are 5,650 sets in Gia Lai and another 2,307 in Dak Lak. Most of the gongs belong to the Jarai, Bahnar, Ede and M'nong groups.
Fire rips through Viglacera Thăng Long Company building
A large fire broke out at the Viglacera Thăng Long Joint Stock Company in the northern Vĩnh Phúc Province's Phúc Yên District yesterday afternoon.
The blaze destroyed one-third of the firm's roof, which was made of composite material.
According to Vĩnh Phúc's Police Fire Prevention and Fighting Department, a fire suddenly broke out at a 12,500sq.m warehouse of the firm and spread quickly. Black smoke covered a large area surrounding the company.
As soon as the fire was reported, 10 fire engines and more than 100 firemen were sent to fight the blaze, which took two hours to extinguish.
No human casualties are reported.
Police are investigating the incident, but short circuit has been identified as the cause of the fire.
Viglacera Thăng Long is a subsidiary of the Viglacera Corporation, which manufactures and trades in ceramic walls, roofs, floor tiles and other construction materials.
Three men arrested for trafficking girls
Police in the northern mountainous Sơn La Province have arrested three people for alleged involvement in human trafficking.
Giàng A Chiu, 27, 29-year-old Giàng A Vù and 24-year-old Lờ A Khài, from the northern mountainous Yên Bái Province's Mù Cang Chải District, were arrested this morning while they were taking two girls to China.
Khài told the police they pretended to be in love with the girls and promised them a better life, while intending to take them to China and sell them there.
The police had been informed about possible human trafficking in the area and had assigned forces to conduct inspections.
The case is under further investigation.
Fire destroys forest in Nghệ An
A fire on Pu Mô Mountain in the central Nghệ An Province's Kỳ Sơn District has destroyed hundreds of hectares of forests.
The fire was stamped out yesterday after four days.
Local authorities mobilised thousands of people, including police, soldiers and the local people, to join the fire-fighting work.
A district official told Tiền Phong (Vanguard) newspaper that the fire broke out at a height of about 1,700m and the firefighters had walk five hours to reach the site.
There was 40cm to 50cm thick vegetation in the area, making it harder to extinguish the fire, he said.
Vietnamese man arrested for procuring sex workers for foreigners
Police in the southern province of Ba Ria-Vung Tau on March 21 arrested a man for allegedly brokering prostitution for foreign nationals.
Vu Van Chuong, 40, usually visited a luxury hotel in Ho Tram, the province's small beach town close to Ho Chi Minh City, to find his upscale clientele, according to the police.
Last weekend, local police caught two Vietnamese women with Australian nationals in a motel.
The women told the police they were sex workers and Chuong brokered their services.
Le Minh Man, the 42-year-old owner of the motel, was arrested.
After being questioned, Chuong confessed he usually took taxis to bring sex workers from Vung Tau City to Ho Tram.
Chuong said he had more than 10 women in the ring.
Foreign clients paid US$200-300 for each woman, who paid Chuong US$50 as brokering fees.
Use of banned chemicals out of control in Vietnam's southern pig breeding hub
Authorities in Dong Nai have almost thrown in the towel in the fight against the use of banned chemicals at pig breeding farms in the southern province, with farmers willing to pay the current fines.
Swine breeders generate large sums of money from the sale of pork, and a fine of VND15 million (US$670) seems modest to violators, who remain undeterred from feeding them the banned chemicals.
Dong Nai, whose capital Bien Hoa is some 40km northeast of Ho Chi Minh City, is home to 20,000 small pig farms and more than 1,500 major breeding centers. A farm with fewer than 100 swine in its herd is considered small-scale.
The province is regarded as the largest supplier of pork to Ho Chi Minh City and nearby locales in southern Vietnam.
Last year authorities collected 386 samples of the animal feed and urine for a check, with 12.17 percent of them, or 47 samples, eventually testing positive for salbutamol, a lean-meat agent that helps pigs or shrimp gain weight in a short time but is detrimental to human health.
Twenty-five major breeding centers were therefore subject to a VND15 million fine each, whereas a smaller center was fined VND7.5 million ($335) for the violations.
However these fines clearly did not set an example to other swine breeders in Dong Nai.
The latest inspection by local authorities on 40 pig farms in mid-March found four farms that were feeding the animals banned substances. Each of the violators was fined VND15 million.
Tran Van Quang, head of the Dong Nai animal health agency, admitted that using banned substances in pig breeding is a common practice in his province.
The official said his agency would find at least 10 percent of samples positive for banned substances in any inspection on the bigger farms, whose herds are larger than 100.
Quang added there was not enough personnel to inspect smaller farms.
According to current regulations, a farm in breach of the regulations is subject to supervision by local authorities, and is only allowed to sell its pigs again if the animals test negative for the chemicals.
But breeding centers can secretly sell their swine, and buy a new herd to replace them when officers come back to perform the tests, the province's animal health agency admitted.
The Dong Nai Husbandry Association has repeatedly encouraged its members not to use banned chemicals, but the efforts have so far been to no avail.
"Perhaps stricter punishments may help to stop the violations," the association's chairman Nguyen Tri Cong said.
Nu Skin supports "Heartbeat Vietnam"
Nu Skin Vietnam announced it will donate $60,000 to the Heartbeat Vietnam program at a press conference held at the Eastin Grand Hotel in Ho Chi Minh City on March 21.
Through the East Meets West Foundation (EMWF) and Nu Skin's Southeast Asia Children's Heart Fund (SEA CHF), Nu Skin Vietnam last year sponsored surgeries for 35 children born with heart disease, bringing the total to 70 in the past three years.
At the Nu Skin Vietnam Success Seminar 2016 the SEA CHF announced a contribution of $60,000 to the Heartbeat Vietnam program from the VinaCapital Foundation for heart surgeries for 50 children this year.
The media was told by Ms. Evita Quiambao Singson, President of Nu Skin Vietnam and Regional Vice President of Sales and New Market Development for Southeast Asia and Pacific Regions that last year the company recorded 42 per cent growth in total revenue in Vietnam against 2014, which constitutes approximately $1.6 million in tax revenue.
HCMC to build water reservoirs in suburban districts
Deputy Chairman of the Ho Chi Minh City People's Committee Le Thanh Liem yesterday discussed saltwater influx in the city and the solutions of dealing the situation.
The HCMC Department of Agriculture and Rural Development reported that this year's the salinity has reach new high level; particularly, the salinity level on Nha Be – Dong Nai River, Sai Gon River and local rivers in rural districts such as Binh Chanh, district 9 reached at 13, 67 percent on March 8- 14, an increase of 9, 04 percent compared to the same period last year.
If it doesn't rain this month the city doesn't have enough water for daily use and irrigation in the dry season.
Therefore, the Department of Agriculture and Rural Development asked the district people's committees to store fresh water and closely keep watching on water source at lakes, streams and low zones in order to ensure enough water resource for farmers in summer –autumn crop as well as their living conditions.
Besides, the local authority needs to not only instruct local residents to dig wells and repair irrigation systems, and often control rural irrigational works but also collaborate closely with Dau Tieng- Phuoc Hoa Irrigation Exploitation Company to provide mandatory watering schedule.
Department of Agriculture and Rural Development suggested the People's Committee of HCMC to direct the agricultural land districts to take necessary measures for dealing with drought and saltwater influx in this year's dry season.
With the bad weather condition, the HCMC People's Committee approved upgrading irrigational works and building new ones, such as Hoc Mon- Bac Binh Chanh irrigational system, Cu Chi Eastern canal, the water regulation reservoir Ben Muong-Lang The in Cu Chi with the aiming of keeping water for dry season.
At the working session, Mr. Le Thanh Liem required departments and agencies collaborated closely with the Ministry of Agriculture and Rural Development in providing latest information to actively cope with the climate change.
The Sai Gon Water Supply Company (Sawaco) and the HCMC Department of Transport need to set up plans as well as methods to lead fresh water directly from Dau Tieng Water Reservoir to Tan Hiep Water Plant to avoid water loss.
Authorities told to apologise to consumers in petrol price error
Nguyen Minh Phong from the Hanoi Socio-economic Development Institute has called on the government to compensate the public who have been paying high petrol prices due to lax management that led to tax difference.
Diesel import taxes for products imported from ASEAN countries were cut to 5% in 2015 and to 0% from 2016 in accordance with ASEAN Trade in Goods Agreement. But Circular 78 issued by the Ministry of Finance and the Ministry of Industry and Trade in last May stated that the import tax for diesel and mazut stood at 10%. That means wholesalers imported their products at a lower tax rate but the customers continued to pay higher tax rates.
The Korea-Vietnam Free Trade Agreement, which took effect in December 2015, reduced the import taxes for products from South Korea to 10%, instead of the 20% for products imported from Singapore or Malaysia. Yet retail prices did not reflect that change.
Economist Nguyen Minh Phong said the authorities need to calculate how much the firms have profited from the difference and recover the money. Since the money came from the public it should be used to contribute to the stabilisation fund because it will repay the money to consumers more directly than state budget. The funds will be disbursed when the world price increases to offset losses for businesses, that will not raise their domestic retail prices.
"This was a mistake by the authorities. If this money were to be contributed to the state budget, people would disagree," he said.
He went on to say this should be a big lesson to the Ministry of Industry and Trade and Ministry of Finance to deal with problem more quickly.
He said, "This is the first time we've seen such a problem but Vietnam is joining various free trade agreements with different preferential tax treatments."
Phong said the authorities owed consumers an apology, but more importantly, they should develop regulations and assign responsibility more clearly.
The murky tax difference is also why even though the basic import price is VND1,000 per litre higher than the current retail price, the Ministry of Industry and Trade and Ministry of Finance had to seek directives from the prime minister instead of allowing a price hike.
Prime Minister Nguyen Tan Dung has approved calculation of petroleum import tax based on weighted average of the tariffs, taking into account Most Favoured Nation (MFN) status and free trade agreements as the previous calculation was based on only MFN tariff.
According to Phong, the stabilisation fund is not very useful or transparent. "I have been saying that we should scrap this stabilisation fund. If we really do need one, it should be an independent energy security fund," he said.
Indian festival of color to come back to town
As one of the annual activities of the Indian Business Chamber in Vietnam (INCHAM), the HOLI festival will be organized at the Wonderland Club Garden at R11 Nguyen Van Linh Street, District 7, HCMC on March 27, from 9:00 to 14:00.
The festival of color is an ancient religious spring festival celebrated by Hindus. It was originally known as 'Holika' and celebrated on Phalgun Purnima in end-February or early March.
The event, bridging the social gap and renewing sweet relationships, has an ancient origin and celebrates the triumph of 'good' over 'bad'. It is also a festival of love and unity. On this day, people hug and wish each other 'Happy Holi'.
This year's celebration will be held on a larger scale with Indian foods and drinks, music, dance and games to entertain people in all age groups and make a day of happiness for participants.
Guardian team wins Saigon Cyclo Challenge 2016
The team of Guardian, a health and beauty products retail store chain in Vietnam, won the 16th Saigon Cyclo Challenge 2016 which took place at Celadon City residential area in Tan Phu District, HCMC on Saturday.
Nutrifort and Caravelle Saigon teams came second and third. According to the Saigon Children Charity (SCC), the organizer of the event, US$25,000 was raised to grant 2,500 scholarships for local disadvantaged kids and young people, and construct 16 more schools in Vietnam.
Great Eastern Life Vietnam grasped first prize in the cheerleading contest while the best cyclo decoration prize went to Caravelle Saigon. This year's race was attended by British Consul General Douglas Barnes, Australian Consul General Karen Lanyon and Canadian Consul General Richard Bale.
Since its inception in 2001, the Saigon Cyclo Challenge has attracted more than 21,000 participants and raised over US$720,000 to assist disadvantaged children and young people in Vietnam.
Danang police break up illegal ring producing over 120kg of weed
Police in the central Vietnamese city of Danang have swooped on an illicit ring producing over 120 kilograms of a plant-based stimulant.
Officers in Ngu Hanh Son District led by Colonel Ngo Dinh Thu, deputy chief of the local police bureau, busted the unlawful organization, which specialized in making a stimulant nicknamed 'co My,' translated as 'American weed.'
After several inspections in the locality, officers detected a group of strangers living in some tenanted houses showing suspicious signs, according to Col. Thu.
Police then realized that the group was headed by Ho Si Dien, with the assistance of Nguyen Van Hoang Duy and Nguyen Van Quang, after nearly a month tracking the suspects.
Initial investigation showed that the raw weed was transported to Danang from different provinces in northern Vietnam by train.
The illegal material was then brought to one of the suspects' house on My An 23 Street to undergo processing procedures before being distributed and consumed.
Once understanding the regular operating schedule of the ring, police raided their rented homes, catching the offenders red-handed.
Exhibits confiscated at the scene included 120 kilograms of weed, along with five kilograms of chemicals, 12 bottles of flavoring materials, and 20 bottles of alcohol used for weed processing, with total value estimated at VND4 billion (US$179,440), Col. Thu said.
The suspects claimed at the police station that the products would be distributed to wholesalers in Ho Chi Minh City and several other cities and provinces by passenger bus.
Authorities in Ngu Hanh Son District on March 18 congratulated local police officers on uncovering the major case and awarded them VND10 million (US$448.6) for their excellent performance.
Better access to eye care for people with disabilities needed
A workshop on improving access to eye care services for people with disabilities took place in Hanoi on March 18.
The event was held by the Administration of Medical Examination and Treatment, the International Agency for the Prevention of Blindness (IABP) and CBM International.
Speaking at the workshop, Head of the Administration of Medical Examination and Treatment Luong Ngoc Khue said an estimated 285 million people in the world were visually impaired. Of these, 246 million had low vision and 39 million were blind.
In Vietnam, about 1.8 percent of people over 50 are considered blind, Khue added.
It is forecast that the burden for eye care services will increase. The number of people with eye impairment will soon reach 8 to 10 million, including more than 600,000 people with blindness, he added.
Khue also said the Ministry has been developing a national strategy for the prevention of blindness that will be submitted for the Prime Minister's approval. The strategy will give priority to eye care for people with disabilities, he affirmed.
During the event, northern Thanh Hoa and Son La provinces shared their experiences enhancing eye care for those with disabilities.
People with disabilities face many difficulties every day – not just in terms of language, communication and travel, but also with access to public services like healthcare.
Delegates at the workshop stressed the need to make healthcare services more accessible to people with disabilities, and help them get equal access to other public services, including education and transportation.-
Occupational safety week urges for increased sense of responsibility
The National Week for Occupational Safety and Health – Fire and Explosion Prevention began in the northern province of Hung Yen on March 20.
At the launch, Deputy Prime Minister Vu Duc Dam said occupational safety is a fundamental right on which the State's, businesses' and labourers' rights, obligations and responsibilities are fully specified in the law.
Occupational safety and health, and fire and explosion prevention must be reinforced all year round at all places, he said.
He added that the 18th annual week was to urge workers and enterprises to improve their own sense of responsibility while asking for stringent supervision and punishments for violations.
More than 7,600 work accidents and 2,000 fires were reported in Vietnam in 2015, according to the steering board for the national week.
The incidents were attributable to employers' ignorance of safety measures and training for workers. Meanwhile, labourers themselves also violated safety standards and did not use protective equipment.
State agencies were also lax on supervision and punishments, and their responses to labour accidents were late, the steering board added.
Unemployed people in Vietnam reach 1 million at end of 2015
The number of jobless people in Vietnam reached more than one million at the end of last year, according to the latest statistics.
The Ministry of Labor, Invalids and Social Affairs said in a report on March 18 that the unemployed population topped one million in the last quarter of 2015.
In the quarter, the number of employed people reached 53.5 million out of 54.59 million people aged 15 or more, the ministry elaborated in its labor market update.
The report said that 48% of the unemployed live in the city, of which young adults make up 12%.
Unemployed young adults from 15 to 24 years of age represent more than half of the jobless population, 53%, said Doan Mau Diep, Deputy Minister of Labor, Invalids, and Social Affairs.
Nguyen Thi Lan Huong, former director of the Institute of Labor Science and Social Affairs, said that the unemployment rate in working age people decreased by 0.17 percentage points to 2.18% in the fourth quarter of last year, compared to the preceding quarter.
In Vietnam, the working age is from 15 to 60 for men and 15 to 55 for women.
However, it is a slight increase in comparison with the same quarter in 2014, Huong noted.
The unemployment rate of those graduating from junior college and those holding a university degree or higher qualifications saw a slight drop while there were signs of a rise in such a rate for people with a vocational training degree, she added.
The unemployment rate among those in the 15-24 age group was the highest during the recorded period, at 7.21%, which is three-fold the overall ratio, Huong said.
In that same age group, the rates were 20% for Associate's degree holders and nearly 21% for university graduates, according to the statistics.
Olympic Day Run launched on Ly Son island
The Ministry of Culture, Sports and Tourism (MCST) and the Quang Ngai provincial People's Committee launched the "2016 Olympic Day Run for public health" on Ly Son island district on March 20, reported Sai Gon Giai Phong newspaper.
The event drew the participation of about 1,000 students, cadres and soldiers living on the island.
On the occasion, sponsors nationwide presented gifts to the Vietnamese Heroic Mothers and disadvantaged fishermen, as well as providing sports equipment to the district.
Olympic Day Run aims to encourage people to do physical exercise regularly to stay fit and healthy.
This year, Ly Son was one of the four sites nationwide selected by the MCST to organise the event.
Bac Ninh: Japanese cherry blossom festival in full swing
Thousands of visitors flocked to the northern province of Bac Ninh to take part in a cherry blossom festival that opened on March 20 as part of a cultural exchange programme with Japan.
On display at the Kinh Bac culture centre in Bac Ninh were 1,000 cherry branches and 50 cherry trees transported from Japan.
There was a concert, with audiences thrilled by Japanese songs, drum performances and Vietnam's Quan Ho (love duets) singing.
On the opening day, Sato Misugu, President of the Wanokai International Culture Association (WICA) of Japan, said the programme reflects Japanese people's appreciation for Vietnam's support when natural disaster took its toll on the country in 2011.
He hoped events like this would contribute to fostering ties between Japan and Vietnam.
Nguyen Tien Nhuong, Vice Chairman of the provincial People's Committee, pointed to the cultural similarity between Bac Ninh and Japan.
The festival is a great chance for local residents to learn more about Japanese culture and people, he added.
Hanoi hosts cultural exchange programme with Japan
A cultural exchange programme between Hanoi and Japan opened in the capital city on March 19.
Chairman of the municipal People's Committee Nguyen Duc Chung underlined culture as a key pillar to promote cooperation, mutual understanding and trust between the two countries and peoples.
Chairman of Japan's Wanokai International Culture Association Sato Mitsugu said he hopes the cultural exchange programme will help tighten the friendship and cooperation between Japan and Vietnam, and with Hanoi in particular.
Several Japanese singers including Itsuwa Mayumi and the girl band Momoiro Cloverz and a drum club from Sagamihara high school performed at the opening ceremony.
Two hundred cherry blossom trees selected carefully from the southernmost prefecture of Okinawa were presented as gifts to Hanoi. The climate and soil in the Japanese prefecture are similar to that of the capital.
The trees will be planted at Hoa Binh Park and cared for by Japanese experts.
Visitors to the cultural event have the opportunity to admire 10,000 Japanese cherry flower branches.
They are also treated to various cultural activities such as a photo exhibitions on Vietnamese and Japanese heritage; Vietnamese folk music like "ca tru" (ceremonial singing), "chau van" (spiritual singing) and "cheo" (traditional opera); martial arts performances; and lion dances.
Two Vietnamese jailed for mugging Japanese man
Two men were sentenced to jail in southern Vietnam on March 18 after being found guilty of robbing a Japanese man of his phone last year.
Dong Van Tay, 28, received one year and nine months, and Nguyen Van Hai Em, 26, one year.
The court in An Giang Province heard that they followed Eiji Maruyama on the afternoon of October 4 from a coffee shop.
Two men at a court hearing in An Giang Province March 18 for robbing a phone from a Japanese man.
When the Japanese man was making a phone call on the street, they approached him and attempted to snatch his phone.
He managed to hold on to the phone and put it back to his pocket. But he could not stop them from taking the phone eventually.
They allegedly sold the phone for VND1.1 million (US$49).
Police arrested them the next day and returned the phone to the Japanese man.
VNA/VNS/VOV/SGT/SGGP/TT/TN/Dantri