HCM City: Demand for seasonal workers rises during upcoming holiday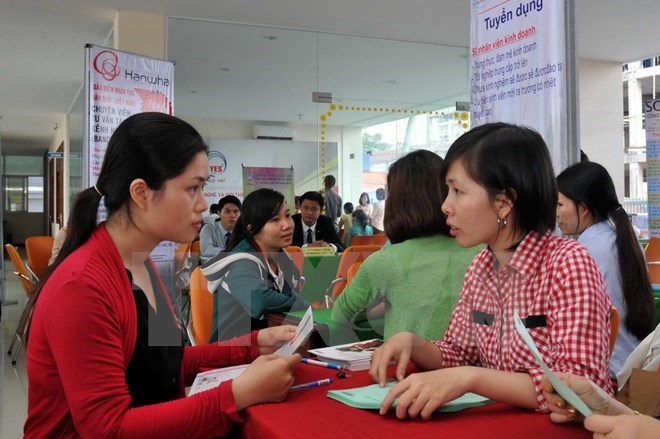 Ho Chi Minh City's enterprises and service providers need around 25,000 workers, including 5,000 temporary ones, in April, according to the city's Centre for Human Resources Forecasting and Labour Market Information.
As the national commemorative anniversary, the liberation of South Vietnam and National Reunification Day approach, demand for labour is particularly high for tourism, restaurants and hotels.
Director of the centre Tran Anh Tuan said around the second quarter of this year, the city will offer about 70,000 vacancies, mostly in marketing, sales, the service sector, logistics, export-import, IT, hospitality, accounting, garment-textiles, engineering and construction.
The need for skilled workers and staff accounts for 70 percent of total demand.
The number of job seekers in the period is also expected to rise 15 percent from the first quarter.
VUFO President conferred with Russia's Honorary Medal
The Moscow Economic and Law Institute (MELI) conferred an Honorary Medal on President of the Vietnam Union of Friendship Organisations (VUFO) Vu Xuan Hong in honour of his contributions to the Russian education and scientific cause.
Chairman of the Russia - Vietnam Friendship Association Prof. Buianov Vladimir Petrovitr conveyed his deepest thanks to President Hong for his dedication to MELI in particular and Russia in general.
VUFO President Hong expressed hope that ties between Vietnam and Russia will progress even further in the future, including joint work in education and science.
He pledged that he and the VUFO will continue in their efforts to contribute to education and science development, and the Vietnam – Russia comprehensive partnership.
VFF pledges support for charitable activities
President of the Vietnam Fatherland Front (VFF) Central Committee Nguyen Thien Nhan hosted a reception for Professor Alexander Hemprich, President of the Germany-Vietnam Medical Support Association (DEVIEMED), in Hanoi on March 25.
At the meeting, the VFF leader thanked the association's professors and doctors for their contributions to the Vietnamese health care sector over the past two decades, pledging to facilitate their charitable activities in the Southeast Asian nation.
According to Alexander Hemprich, over the past six years his association has supported the building of a jaw and face centre in the Da Nang Orthopedics and Rehabilitation Hospital.
The professor noted his hope that the VFF and the Vietnamese Ministry of Health will join hands with his association to provide more aid for disadvantaged people in not only the central city of Da Nang , but other cities and provinces across the country.
As a non-governmental organisation of Germany , DEVIEMED is staffed by leading professors, doctors and surgeons majoring in dental, jaw, facial, ear, nose and throat medicine, among others.
It aims to conduct free surgeries for underprivileged children, especially those from ethnic minority groups, born with harelips, cleft palates and other facial deformities.
At the same time, the association has helped Vietnam train health workers in these fields.
Discrimination increases HIV risk among MSM, transgender
Discrimination against men who have sex with men (MSM) and transgender women can affect their ability to get health services and increase the risk of HIV infection.
The concern was shared at a workshop on MSM and transgender citizens held by the Vietnam Administration of HIV/AIDS Control (VAAC) in Hanoi on March 25.
Speaking at the event, VAAC deputy chief Hoang Dinh Canh said MSM and transgender people are minorities who are vulnerable to negative public opinion. The workshop was held to discuss the risks of contracting HIV for these people and HIV/AIDS prevention measures.
It was recently reported that MSMs are 19 times more likely to contract HIV than the general population, while transgender women are 49 times more likely to become infected.
Despite being among the main focuses of the global HIV/AIDS control campaign, these people have not received as much support as other groups.
People have increasingly given voice to the rights of these sexual minorities. But there is still much to be done.
Reports at the workshop also stressed that it is crucial to understand the distinctive needs and vulnerability of these people. This could help promote more suitable HIV/AIDS prevention and control programmes to reach all high-risk people.-
Bac Kan – Japan's promising market
Bac Kan province should promote its image and devise more investment attraction policies to lure more Japanese businesses to the locality, said Minister at the Japanese Embassy in Vietnam Nagai Katsuro.
During his tour of the northern mountainous province on March 25, Nagai Katsuro said his embassy stands ready to work as a bridge for Japanese enterprises to invest in the province.
Japan will search for capital sources and suitable methods to provide further support for Bac Kan , Katsuro said, adding that the province should make proposals to the Japanese Embassy if it is interested in Japan 's non-refundable aid.
Deputy Minister of Agriculture and Rural Development Nguyen Xuan Cuong described Bac Kan as a promising market for Japanese investors in agriculture and forestry as the locality has forest coverage of up to 85 percent and fertile land suitable for plants that can be exported to Japan .
According to Nguyen Van Du, Secretary of the provincial Party Committee, Japan 's official development assistance (ODA) has significantly contributed to local socio-economic development.
He suggested the Japanese Embassy continue its assistance to Bac Kan under the Japan International Cooperation Agency (JICA)'s Sector Programme Loans (SPL) VII to upgrade fundamental local infrastructure.
The official also called on the Japanese side to provide more aid for the province in transport, agriculture, education, health care, environmental protection and poverty reduction.
Du also suggested the embassy encourage Japanese firms to invest in the locality, especially in such areas as forestation, wood processing, farm produce processing and preservation, support industries and tourism infrastructure development.
Since 1997, Bac Kan has established cooperative ties with 15 sponsors worldwide. JICA was its first partner.
Between 1997 and 2015, the Japanese Government funded 28 ODA programmes and projects worth nearly 325 billion VND (14.6 billion USD) in the province.
Fire-affected families in Thailand get assistance
Vietnam's representative agencies in Thailand have been delivering support to the 13 families of Vietnamese expatriates whose kiosks were ruined in a fire in Udon Thani province on March 23.
The Ministry of Foreign Affairs said on March 25 that a fire broke out in Kumphawapi town on early March 23, destroying 23 kiosks owned by 16 families, 13 of which are families of Vietnamese origin. Fortunately, no one was injured.
Shortly after being notified about the fire, staff members of the Vietnamese Embassy in Thailand, the Vietnamese Consulate General in nearby Khon Kaen city, and the Vietnamese People's Association in Udon Thani visited and offered sympathies to the 13 families.
The Consulate General also liaised with authorities of Udon Thani province and Kumphawapi district, where Kumphawapi town is located, to ask for a thourough investigation into the fire and for swift assistance to the affected people.
The Thai authorities pledged to provide maximum assistance for the families, the foreign ministry said.
As an initial help, each of the families was supported with 10,000 THB (283.6 USD) by the Udon Thani Red Cross chapter, 3,000 THB (85 USD) by Kumphawapi district's Red Cross office, and 2,000 THB (56.7 USD) by the Thai – Vietnamese business association.
Vietnam's representative agencies are closely following the investigation and working with the Vietnamese community there to help the families return to their normal lives, the ministry added.
Expressway proposed in central region
Project Management Board 6 (MPB6) has proposed building an expressway connecting National Highway 46 in the central province of Nghe An to Bai Vot in Ha Tinh province.
The road, which is nearly 20km long, will cost more than 5.5 trillion VND (244 million USD).
The project is scheduled to be rolled out in two phases: the 17m-wide road with four lanes allowing vehicles to travel at speed of 80km/h will be built during the first phase, while six standard lanes with a designed speed of 120km/h will be completed during the second phase.
If approved, the project will start in the third quarter of 2017 and be completed in three years.
HCM City leaders congratulate Catholics on Easter
Secretary of the Ho Chi Minh City Party Committee Dinh La Thang on March 25 extended greetings to local Catholic dignitaries and followers on the upcoming Easter holiday.
Visiting Archbishop of the Ho Chi Minh City Archdiocese Bui Van Doc, who is also Chairman of the Episcopal Council of the Catholic Church of Vietnam, the official briefed him on the city's socio-economic situation in 2015, as well as goals set for the time ahead.
HCM City is focusing all resources on socio-economic development and social welfare in order to become a civilised and modern city, he said, adding that a range of drastic measures have been taken to reduce crime and ensure traffic safety.
Thang noted his hope that the Archbishop and other Catholic dignitaries will contribute more to consolidating the national great unity bloc and encourage local Catholics to continue participating in patriotic movements.
For his part, Doc promised that he will encourage local Catholic followers to join efforts in building a city with a high quality of life, as well as national construction and development.
No Vietnamese injured in Belgium bomb attacks
No Vietnamese citizens were among victims at the recent bomb attacks in Brussels, Belgium, the Foreign Ministry announced on March 25.
A day following the bombing in Brussels on March 22, the Belgium Crisis Centre informed the Vietnamese embassy that no Vietnamese has been recorded in the list of the injured.
Student Do Nguyen Thao Vi was uncontactable by her family in recent days, but the embassy verified she was safe and learnt that she had been sick and it was unrelated to the attacks.
On March 23 noon, she made contact with her family in Ho Chi Minh City.
The Vietnamese embassy in Belgium will continue working closely with host authorities to update the latest information.
Seminar showcases Cuba's socio-economic model
Cuba's experiences with reform were highlighted at a seminar held by the Vietnam Academy of Social Sciences and the Cuban Embassy in Vietnam on March 25 in Hanoi.
Academy Vice Chairman Pham Van Duc spoke about the close relations between Vietnam and Cuba , and efforts made by the two countries to promote reform.
He affirmed that Cuba's experiences over the last five years are helpful for Vietnam's ongoing reform process.
The seminar marks the beginning of the cooperation programme between the academy and the embassy, Duc said.
Cuban speaker Ruvislei Gonzalez Saez briefed participants on Cuba's socio-economic model, the country's present economic situation and its preparation for new prospects.
According to Ruvislei, Cuba has suffered losses due to economic embargoes. The country decided to cut social allowances and raise the working age to 60 for women and 65 for men, aiming to deal with an aging population. Reorganisation of ministries and sectors were also promoted.
Like Vietnam , Cuba devised and took a series of measures to reform its agriculture and open the door for private companies. It also acknowledged the need for expansion of trade and monetary relations with other countries.
Human development was a key priority for Cuba in recent years, Ruvislei said, asserting his country's judicious orientations in its renewal process.
President meets outstanding youths
The Party and State consider the role played by youths important and encourage them to take a greater part in national defence, construction and development, President Truong Tan Sang said.
The leader made the statement at a March 25 meeting with 85 outstanding youths who would be honoured with the Ly Tu Trong Award by the Ho Chi Minh Communist Youth Union Central Committee (HCYUCC) at a ceremony in Hanoi later the same day.
Young people should equip themselves with more ideals in order to make greater contributions to the country, he said.
Hailing the awardees for their performance in the youth union, President Truong Tan Sang urged them to carry forward their talent and enthusiasm in studying, as well as in youth-union-related activities.
Youth union officials need to pay more heed to the building and actualisation of guidelines and resolutions in order to reap better results, he said.
The youths made a range of proposals to the President and the HCYUCC Secretariat in a bid to remove difficulties hindering youth union work.
Since its inception 11 years ago, the award honoured 886 union officials and members at different levels who have made noted achievements in all fields.
Among this year's awardees, there will be eight ethnic minority people.
The award ceremony forms part of activities to mark the 85th founding anniversary of the Ho Chi Minh Communist Youth Union (March 26).
Son La: Electricity reaches remote areas
The Son La Power Company is working to supply electricity to thousands of families residing in remote areas in the northern mountainous province of Son La.
Under a project worth 153 billion VND (6.88 million USD), 2,100 households in the two border districts of Mai Son and Song Ma have thus far connected to the grid. The project will be completed in May, expectedly providing 3,245 more households with electricity.
Other project is scheduled to continue in April to make electric power available to 2,800 households in Thuan Chau, Song Ma and Mai Son districts. With a budget of 69.5 billion VND (3.1 million USD), it is expected to finish by the year's end.
Meanwhile, the Electricity Vietnam (EVN) has approved to invest in a two-year electricity supply project that will benefit 4,800 households in Son La's Phu Yen, Bac Yen, Thuan Chau and Muong La districts. The total investment is valued at 410 billion VND (18.45 million USD).
There were 84.4 percent of villages and 86.4 percent of households across Son La connected to the national grid in 2015.
Myriad activities to be held for disabled
A conference for the disabled, orphans and sponsors nationwide is scheduled to be held on April 8 as part of activities to mark Vietnam Day for People with Disabilities (April 18).
The triennial event aims to praise disabled persons who have overcome difficulties to gain achievements in various sectors, encourage orphans in studying and their daily lives, and honour outstanding sponsors, according a press conference in Hanoi on March 24.
Nearly 240 delegates, including 212 disabled and 83 orphans, from cities and provinces across the country will gather at the event.
Within the framework of the conference, there will be an exchange programme on April 7 to heighten public awareness of issues relating to people with disabilities and raise fund for the handicapped and orphans.
In 2015, the Association for the Support of Vietnamese Handicapped and Orphans received 426 billion VND (19.1 million USD) in cash and kind from organisations and individuals at home and abroad.
As many as 2.6 million people with disabilities and orphans benefited from the fund that year.
The association plans to present 6,000 wheelchairs, 7,500 bikes, and scholarships to the disabled and orphaned in 2016, while helping improve the livelihoods of the handicapped in 50 communes, among other activities.
NA calls for Law on export-import tariffs to be passed
National Assembly deputies on March 25 called for the draft Law on Export-Import Tariffs to be adopted as soon as possible during their ongoing session in Hanoi.
They said the law will lay a legal foundation to realise commitments regulated in the Trans-Pacific Partnership as well as other existing free trade agreements (FTAs).Vietnam has so far joined 10 FTAs and other deals to cut tariffs and make the market more open.
The imposition of trade remedies were also brought to the meeting's attention.
Trade remedies are policy tools that allow governments to take action against imports that damage a domestic industry.
A number of lawmakers called for the measure to be stipulated in the law to protect domestic manufacturing and consumers.
Deputy Nguyen Ngoc Bao from the northern province of Vinh Phuc emphasised the need to consider the market landscape when taking the measure.
Earlier the same day, NA deputies discussed the revised Pharmaceutical Law, focusing on the management of medicine prices and supplementary food.
Deputy Pham Khanh Phong Lan from HCM City said measures to control medicine prices should be added to the Law, noting that price difference in some kinds of medicine were due to exclusive rights to raise prices, multiple layers of intermediaries between importers and retailers, and misconducts in prescription.
Hospitals should set medicine prices based on the price frame negotiated with the Ministry of Health and medical insurance agency, she said.
While discussing management of supplementaries and cosmetics, deputy Do Van Ve from Thai Binh province, said supplementaries were over advertised and not strictly controlled by the laws. He asked for more regulations to control supplementary food.
They also discussed the issuance of pharmaceutical practice certificates for pharmacists, saying that it was necessary to issue permanent pharmaceutical practice certificates for pharmacists so they don't have to get their certificates extended.
They stressed that it would help efforts to boost administrative reform towards transparency and simplifying administrative procedures.-
Selfhelp farmers' group raise ethnic incomes
About four years ago, Vi Thị Thanh heard about a training project designed to empower ethnic minority residents in her district, an impoverished area located in the Central Highlands province of Đắk Nông.
Thanh, 41, who is ethnic Thai, had moved to Đăk Glong District from the southeastern province of Bình Phước in 2007.
With a four-hectare farm, she began growing coffee trees in Đăk R'Măng Commune but with little experience, Thanh was able to produce only one to two tonnes of beans per hectare.
Then, in 2012, she began taking part in the Bình Phú Group, which is part of a training project in the district. She learned about coffee cultivation through field trips and training workshops.
"The trips (to see agricultural models) and workshops helped me get close to other farmers and become more confident about asking questions," Thanh said.
The farmers learned about proper nutrition for coffee trees and how to treat diseases.
"One of the most important things I learned was how to properly use chemicals to kill insects," she said.
To raise productivity, Thanh also changed to a new processing and harvesting method, and began to harvest ripe instead of unripe coffee fruit.
Productivity on Thanh's farm has doubled since 2013.
The members of her Bình Phú Group are now setting their sights on a 4C certificate, which is awarded to coffee growers who meet baseline criteria for sustainable production, processing and trading of green coffee, and who eliminate unacceptable practices.
Thanh said she was also successful in persuading members of another agricultural project, called 3EM, to provide her group with five coffee processing machines, free of charge.
"I am now more knowledgeable, and I'm proud that I have the confidence to do what I want," Thanh said.
Besides cultivating coffee, Thanh also began raising 300 chickens after learning how to protect them from disease by consulting other farmers.
She sells the chickens to a company in District 12.
All the chickens have been vaccinated, and their coop is cleaned frequently.
"My chickens are not injected with any medicine, and they've grown quickly and gained weight. The injections could affect consumers' health," Thanh said.
In November last year, she made a profit of VNĐ10 million (US$448) selling the chickens, and she is now raising 500 chickens.
Seven households in and outsite her farmers' group have followed her lead and are now raising a total of 1,800 chickens.
Mai Văn Tùng, deputy head of the district's Agricultural and Rural Development Division, said that the farmers' groups were different from other projects as the members had voluntarily set up their groups with the same interests.
The farmers share expertise and also decide when they need to seek outside help, while at the same time, check market prices on the internet and travel to other provinces to buy seedlings.
"We have seen their income increase three or four times," Tùng said.
The project, which includes 13 groups of farmers, is co-ordinated by the Đắk Glong District's Agricultural and Rural Development Division, Farmers Union and the Centre for Community Empowerment (CECEM), a capacity-building organisation based in Hà Nội.
Covering 145,000 hectares, the district, whose residents are mostly ethnic minorities, remains underdeveloped even though it has favourable weather and abundant resources.
The poverty rate is 62.65 per cent of 13,178 households, according to Lê Quang Dần, vice chairman of the district's People's Committee.
The farmer's co-operative project, which began in November 2013, will end in October this year.
"I believe these farmers' groups will continue to help develop the economy of their communes and the district," Tùng said.
Members of the farmers' groups in the district that are part of the project also provide low- or zero-interest loans for their disadvantaged members.
For instance, Nguyễn Trọng Thượng, head of the Tân Tiến co-operative group, said that they voluntarily donated money to farmers so they could till their fields and orchards on the mountain slopes.
The two most disadvantaged households in his group have received loans to raise goats.
The Bình Phú Group of which Thanh is the head has used its funds to provide loans to farmers who raise poultry and cultivate pepper.
Lan Thị Loan, a member of the Bình Phú Group, said that her income rose thanks to the loan worth VNĐ7.8 million ($347) to grow pepper.
Members of another group, Thành Công Group, have used their loans to buy coffee seedlings. Many members now have at least one hectare of coffee besides cassava and sorghum, which were their main plants in the past.
Dần, vice chairman of the district People's Committee, said: "I'm very pleased that the district's farmers have created so many initiatives to help each other and to develop the district's economy."
Career day to be held in HCM City
A career day will be held by the HCM City University of Technology on April 9 at the university's campus in Bình Thạnh District.
As of Thursday, nearly 40 enterprises had registered to join the event, providing more than 2,500 job vacancies, according to the organisation board.
The event is expected to attract nearly 100 enterprises and 20,000 local students.
EVNGenco1 releases output expectation
The Electricity Generation Corporation No 1 under the Việt Nam Electricity announced that the corporation would provide electricity throughout the year with total estimated output of more than 26 billion kWh.
Of that number, the affiliated production units accounted for around 15.9 billion kWh.
The corporation is expected to have total electricity production of 40 billion kWh by 2020. About 29.8 billion kWh will be produced by affiliated production units.
Deputy PM orders strict implementation of expressway traffic laws
Deputy Prime Minister Nguyễn Xuân Phúc has ordered strict punishment for violations affecting road safety along the Nội Bài-Lào Cai Expressway.
The order comes in the wake of recent violations of traffic rules by both drivers and pedestrians on the highway, threatening road safety.
The most common violations are of coaches illegally collecting and drop off passengers on the highway, the local people breaking barriers to cross the higahway or standing on the roadside to wait for buses, and people deliberately riding motorbikes on expressways meant only for cars.
These violations have led to a number of serious accidents on the expressway, such as the collision of two coaches, travelling in the same direction, which killed two passengers and injured 22 on a stretch in the northern Vĩnh Phúc Province late last December.
Phúc has asked the public security ministry to order the traffic police of Hà Nội, Vĩnh Phúc, Phú Thọ and Lào Cai, as well as Yên Bái, through which the highway passes, to increase inspections along the highway and to strictly punish those violating traffic rules.
The Việt Nam Expressway Corporation has been asked to work with local authorities to detect and repair highway sections that are damaged and run down, particularly barriers along the expressway. The corporation plans to install cameras along the expressway this year to ensure that people obey traffic rules.
The traffic safety committees in localities have been instructed to spread awareness to encourage the local people to comply with traffic regulations.
The 245km Nội Bài-Lào Cai Expressway, the longest of its kind in Việt Nam, opened to traffic in September 2014. Built with an investment of nearly US$1.5 billion, the expressway helps to shorten the time required to travel between Hà Nội and Lào Cai from the current seven hours to 3.5 hours, in addition to reducing the time it takes to drive from Hà Nội to Tuyên Quang and Hà Giang.
Microsoft unveils the new E² Educator award winners
Microsoft has announced the winners of the E² Educator Exchange Challenge awards.
Vietnamese educator Nguyễn Thị Hải Hà, teamed with two educators from Germany and the United States (US), earned the overall winner award for "The Multicultural Classroom" project. This is the second consecutive year that Vietnamese educators have earned prizes at the Microsoft E² Global Forum.
The winning team demonstrated exceptional innovation in their field during competitive sessions at the event. They worked with their peers to design a project using Microsoft technologies to "Hack the Classroom" to improve teaching and study in modern classes. Approximately 240 educators from 79 countries were recognised at the event.
Charity to use web donation page
Hiểu Về Trái Tim (Understanding the Heart) Fund, which funds heart surgeries for children, yesterday launched a social networking website to raise donations.
Phạm Gia Chi Bảo, an actor and the fund's chairman, speaking about the need for www.hieuvetraitim.com, said the old ways of raising donations through banks, cash, or text messages are inconvenient.
They are time-consuming and put off people who seek to donate small sums, he pointed out.
The website has tied up with three e-wallets Momo, Ngân lượng, and Webmoney to make the donation process easy.
"Many individuals solicit donations to help disadvantaged people, especially on Facebook, but many would-be donors are uncertain if their money would reach the needy," he said.
The fund is audited by KPMG.
The website has a programme called Ngôi nhà trái tim (House of Heart), which offers a forum for charity organisations, companies, the media, artists, and anyone seeking to raise money for charity.
The fund and its partners will certify the purpose and receipt of money by the intended beneficiaries.
"All donations to the fund will be made public," Bảo said.
The fund's administrators will begin a trip in August to all 63 cities and provinces to reach out to potential donors.
In 2010-15 the Hiểu Về Trái Tim Fund raised VNĐ33 billion (US$1.47 million) and funded 1,400 heart surgeries for poor children, organised the annual Mid-Autumn Festival for 16,500 children, built 47 'gratitude' houses, sponsored nutrition programmes for 1,700 disadvantaged students in remote areas, and gave scholarships to 105 students.
Laos helps VN deal with drought, salt intrusion
Laos is releasing water from its dams to the Mekong River to help Việt Nam cope with drought and salt intrusion in the Mekong Delta, the Ministry of Foreign Affairs said yesterday.
The ministry quoted Lao Minister of Energy and Mines Khammany Inthirath as saying on Wednesday that Laos will discharge around 1,136 cubmic meters of water per second to the lower Mekong River basin from March 23 to the end of May this year.
Together with the volume of water being released from dams in China and several rivers of Thailand , the total amount of extra water from the upper Mekong River flowing down to Laos , Cambodia , and Viêt Nam will be about 3,611cu.m per second.
The water is expected to arrive in the Mekong Delta in the first week of April 2016, according to the Vietnamese foreign ministry.
Robbers prey on foreign tourists in HCM City downtown: police
Police in Ho Chi Minh City's District 1 on March 25 said that foreigners are the main target of criminals and promised they will strengthen security.
Colonel Nguyen Tan Dat, the district's police chief, told a meeting on March 25 that eight out of 17 victims of robberies in the first quarter were foreigners.
"This is a big problem," Dat said, adding that foreign tourists usually left the city soon after reporting the robberies, making investigation difficult.
He suggested the city recruit more crime police officers, saying the criminal police unit "has worked effectively."
Tran The Thuan, chairman of District 1, said the militia teams, equipped with motorcycles and cameras, will patrol regularly across the district starting March 28.
Ho Chi Minh City officials apologize to Egyptian tourist Alaa Mohammad Abdu Ali Aldoh (R) over a street robbery on March 16, 2016.
At the meeting, Dat also warned about illegal taxi services. He said many drivers reportedly drove away with passengers' baggage immediately after they get off the cabs, or without giving back the change.
Earlier this month, Nguyen Thanh Phong, chairman of HCMC People's Committee, said the city are taking measures to tackle crimes, especially robberies.
Leaders of districts where robberies happen frequently will be punished, he said.
Phong also said the city is planning to set up a special police unit to protect tourists, adding the unit will be managed by the Department of Tourism and trained by the city police.
NZ support programme starts landslide development in Cao Bang
Rural communities in the northern mountainous province of Cao Bang have received decent support to keep up living standards, thanks to a practical project funded by New Zealand Aid Programme and ChildFund New Zealand.
The NZD$2.28-million (US$1.52 million) "Building Strong and Resilient Communities in Rural Cao Bang" project, operating between 2014 and 2019, provides a range of supporting mechanisms to around 1,700 local households in the province, who are mostly from poor ethnic minority communities in Tra Linh and Quang Uyen districts. The targeted neighbourhoods are situated in the far north of the country and habitually lack access to economic opportunities, as well as suffer from limited arable land areas to grow crops and vegetables.
"Our partnership with ChildFund Vietnam and ChildFund New Zealand has helped the development of certain parts of Cao Bang province," said Haike Manning, New Zealand's Ambassador to Vietnam, during his visit to the communities involved in the project during March 21-23. "The impact on locals that we can see is an increase in real income and improvement in agricultural practices."
The support programme aims to be realistic in a sense that it provides local farmers with new income generation schemes, through village credit facilities and so-called cow banks, as well as goat and pig rearing models. In addition, locals will also be sufficiently trained to improve production techniques, to farm rice, and raise livestock effectively.
Aside from these activities, the project also took on constructing irrigation canal systems, training agricultural techniques for different crops and livestock, and market-need vocational training to local youth.
"Our investment in Cao Bang is an example of New Zealand's commitment to supporting vulnerable communities across Vietnam to strengthen their ability to decide their own future, and to live to their full potential," stressed Manning.
As part of the project activities in Cao Bang, Manning handed over four cows to four families in Cao Chuong commune, Tra Linh district, which will subsequently give them a small herd to start off with and improve their earnings. The cows come from the project's cow bank, which was set up to help poor families by covering most of the upfront cost of livestock, with a flexible repayment schedule after 18 months, allowing farmers to either return the original cow or an offspring.
"By lending out up to 90 per cent of the cow value, farmers only need to cover the remainder by themselves. We then let them take responsibility, to make decisions and take action towards their investment goals, for their own benefit," shared Vuong Dinh Giap, ChildFund Vietnam's programme operations manager. "While funding may only be available in the short-term, the effect will be decidedly in the long-run, as it creates a sustainable earning scheme for the community."
"Our cows cost VND19.8 million (US$908) and will be mostly used in our farming activities," said Long Van Lang, one of the four families receiving a cow in the commune, adding that when his cow gave birth to a calf, he would return the mother to the cow bank, which will then be lent out to another family in the commune.
Similar to the cow bank, goat and pig rearing models have also proven to be effective aid to the locals, with numerous families confirming results with their growing number of healthy cattle and added value to the quality of livestock. Other families, that do not qualify under the livestock banks, have also started to borrow from local banks to buy livestock, and are following the improved rearing techniques taught through the project, turning it to their benefit.
"The idea behind the project is to build capacity and ability for the locals to forge a sustainable path on their own, for themselves, and their future as well," noted Manning.
Rice output drops about 700,000 tons in Mekong Delta
Experts from the Genreral Statistics Office of Vietnam said that Gross Domestic Product (GDP) growth showed signs of slowdown in the first quarter this year reaching 5.46 percent against the same period last year.
The rate was lower 6.12 percent last year and 5.9 percent in 2011 but still higher than that in 2012, 2013 and 2014.
The agricultural, forestry and fishery sector grew nearly 99 percent of the rate in the same period last year, making it the lowest for the last several years.
Although forestry and seafood industries posted an increase of 6.24 percent and 2.12 percent respectively, they were unable to save the sector from the growth rate of minus 2.69 percent.
Of these, rice output in the Mekong Delta reduced up to 6.2 percent from a year ago equivalent to 700,000 tons.The plant output of the winter crop in the northern region was also low.
Industry and construction reached the growth rate of 6.72 percent, services 6.13 percent--the highest for the same period since 2012.
Why so much negativity about Chinese contractors?
The public has raised concerns over news that a Chinese company has won a contract to be the pipe supplier of a major clean water project in Hanoi.
Vietnam's Vinaconex Water Supply JS Company (Viwasupco) said that Tuesday that it had awarded the ductile iron pipe supply contract for Phase II of the Song Da Water Project to Beijing-based Xinxing Co. Ltd.
Xinxing won the contract with a bid 11.8% lower than outlined in the tender, Viwasupco general director Nguyen Van Ton admitted. The developer explained that the Chinese firm's bid had actually been carefully assessed by two of the project's consultant firms, and approved by the company's board of directors.
The second phase of the project is intended to supply clean water to Son Tay, Hoa Lac, Xuan Mai, Mieu Mon and Ha Dong in the capital. The first phase of the project became infamous for repeated pipeline breaks. The latest rupture, the 17th since December 2012, occurred on December 31, 2015, causing water shortages for thousands of Hanoi residents.
Following public concerns, Deputy Prime Minister Nguyen Xuan Phuc urged Hanoi's authorities to work with with the Ministry of Construction and other agencies to inspect the project's second phase.
It is unsurprising that Vietnamese people raise doubts whenever a Chinese firm wins a bid to implement large-scale infrastructure projects in Vietnam. The reaction is because of a series of problems related their project implementation such as unsafe construction, sluggish construction place, leading to wasted funding, said National Assembly Deputy Bui Thi An.
China Railway Sixth Group as the main contractor on the Cat Linh - Ha Dong urban railway project has seen its costs rise to USD868 million compared to its original estimated bid of USD553 million.
The Vietnam Energy Association has proposed prime minister, state president and National Assembly to restrict hiring Chinese contractors.
From cement projects to electricity plants and urban railway projects which see the participation of Chinese projects have also seen slow implementation, resulting in ballooning costs. So, it is easy to understand the public worry when the Chinese company has won a bid for the second phase of the Song Da Water Project - Phase II.
Ba Na Hills Golf Club opens near Danang
The first golf course designed by former world No1 Luke Donald opened on March 25 in Vietnam.
Ba Na Hills GC, featuring 18 tour-calibre holes at the foot of a towering mountain range, is less than half an hour's drive from Danang, Vietnam's fourth largest city and gateway to three other designer courses built within the past seven years.
However, unlike the other three, Ba Na Hills GC will play away from the coast in a cooler setting typically void of wind.
"This is an important addition to one of the best new golf destinations in Asia," said Donald, who at No 89 is currently at his lowest world rankings since February 2004.
"The large rolling hills, stunning mountain backdrop and adjacent river at Ba Na Hills will provide golfers with the ideal complement to the existing courses in the area."
Stretching 7,858 yards from the championship tees, Ba Na Hills GC is the longest layout in the country and comprises a succession of undulating and sometimes small greens, making it perfectly capable of testing the world's best golfers.
"I think people are going to really be taken by the diverse mix of natural topography and vegetation out here as well," said Jack Hedges, Ba Na Hills GC's general manager.
"From the rose lily trees to the wispy redtop grass, there's an incomparable beauty to the landscape, especially with the Truong Son Mountains always looming."
Another distinct aspect of the course is its lighting system, a feature none of its competitors possess. "The entire course can be illuminated, so you can play a full round even after the sun goes down," said Hedges.
Workshop in HCMC offers free exhibit space for young new artists
A small but unique coffee shop located in downtown HCM City is attracting art lovers not only for its quality drinks but also for its exhibitions of young painters.
The owners of The Workshop work with artists to organise exhibits every month that give young artists a chance to show their work to the public.
Artist Lý Hoàng Diệp Anh, Phạm Hồng Như and Satoko Osiro have all taken part.
At The Workshop, customers can take home a work after negotiating with the dealers on the price.
Young amateur artist Phạm Thị Hồng Loan, who worked as an accountant before becoming involved in painting, has shown 24 of her works, mostly still life and portraits.
Loan began her career in 2006, but she could not find public places to display her works. Luckily, she was able to make her public debut at The Workshop this month.
"Young artists find it hard to open a showcase at professional galleries. They need a place like The Workshop to introduce their art," said Huỳnh Phú Hà, head of the Hồng Hạc WS Point, a group of young artists who often cooperate with The Workshop.
"I don't care about sales. I'm just concerned about the display," Loan said.
VNA/VNS/VOV/SGT/SGGP/TT/TN/Dantri