Government helps localities overcome difficulties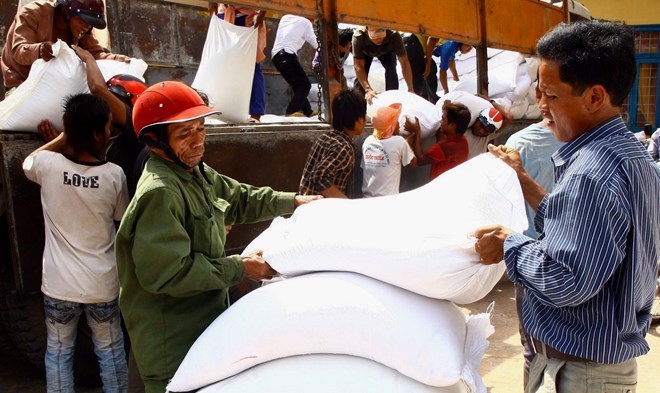 The Prime Minister directed the Ministry of Finance to provide 1,500 tonnes of rice to the northern mountainous provinces of Lang Son and Dien Bien to support needy people in the period between crops in early 2016.
Accordingly, 324 tonnes from the national reserve will be allocated to Lang Son and Dien Bien will receive 1,220 tonnes.
The PM has decided to allocate 108.8 billion VND (4.73 million USD) from the 2015 State budget for environmental issues to help 10 localities implement projects to deal with environmental pollution.
The localities receiving the financial support include the northern mountainous provinces of Ha Giang, Bac Kan, Lang Son and Phu Tho; the central provinces of Thanh Hoa, Nghe An, and Quang Tri; and Gia Lai and Kon Tum provinces in the Central Highlands region.
The fund's remaining capital of 19.5 billion VND (848,000 USD) will be transferred to the State budget's reserve.
The PM has also decided to provide additional financial support worth 60 billion VND (2.6 million USD) to help three provinces affected by storms and floods from October 31 to November 5, 2015 repair damaged infrastructure.
The beneficiaries are the central coastal provinces of Quang Nam, Quang Tri and Khanh Hoa.
Earlier, 130 billion VND (5.72 million USD) from the 2015 State budget's reserve was allocated to 10 provinces hit by storms from September to October 2015.
In the period between September and October, storms and floods left 23 people dead and missing, and damaged 94 houses, more than 15,900 hectares of rice and nearly 8,500 hectares of crops, causing economic losses of more than 1.3 trillion VND (57.2 million USD).
Drivers can send driving licence applications by post
Drivers can send applications for driving licences and receive the licences via post, instead of having to submit the applications personally as at present.
The transport ministry has approved a proposal of the Directorate for Roads of Việt Nam, according to which the Việt Nam Post Corporation will facilitate submission of driving licence applications by drivers to transport agencies and also deliver driving licences to eligible drivers.
The move aims to speed up the issuance of driving license cards, made of polyethylene terephthalate (PET), in Việt Nam. Drivers who have licences made of paper are encouraged to change to PET ones by the end of this year. The deadline for motorbike drivers with small engine capacity or owners of three-wheelers has been extended to 2020.
Six months after the deadline, those with paper licences must take a driving test again to get the PET driving licence.
Transport departments in cities and provinces have been asked to co-operate with local postal offices to provide the service relating to driving licences.
Phan Thị Thu Hiền, vice-head of the Directorate for Roads of Việt Nam, said the service would help transport agencies to save money and staff in the issue of PET licences in localities.
Overcrowding at licence sections in local transport agencies would be curbed, she said.
Moreover, it would help drivers to get PET licences more conveniently.
Việt Nam Post has set up teams that will reach remote mountainous areas to collect driving licence applications and deliver licences to the applicants at their homes.
Woman dies after being bitten by rabid dog
A rabid dog attacked seven people in Thanh Hóa Province, including a pregnant woman who later died from rabies.
The dog had been raised by the family of the dead woman, 31-year-old Nguyễn Thị Hà, in Lang Chánh Town. Last week, the animal reportedly developed strange symptoms and attacked seven people, including Hà.
Even after she had been bitten, Hà did not go to the health station to get the rabies vaccine. She developed seizures on March 21 and was rushed to hospital, but she died later.
Six others who had been bitten by the dog had already been vaccinated and are in stable condition.
Teacher livens up ancient physics experiment with Korean music
A teacher in the central province of Quang Nam has become an online star among teenage students for his video of a physics demonstration accompanied by a hit Korean song.
Phan Cong Thanh is filmed while demonstrating what is really an outdated physics apparatus, the Ruben's tube, which shows an acoustic standing wave in a tube.
But it has become a hit thanks to the music he chose to perform, the electronic dance music from the Korean hit film "Descendant of the Sun", several viewers said.
"How much the video was loved proves that we should have new ways to attract the attention of our students to science," Thanh told Thanh Nien.
The video has got tens of thousands of shares and likes within a few days.
Invented by German physicist Heinrich Rubens in 1905, the apparatus graphically shows the relationship between sound waves and sound pressure, like a primitive oscilloscope.
An overview of the Rubens' tube, according to Wikipedia.
Victim of wrongful conviction now faces coma battle
An accident has left Huynh Van Nen, who was imprisoned for 17 years because of a wrongful conviction, in a coma after he was released.
Huynh Van Nen, 53, was arrested on May 17, 1998 for the alleged killing Le Thi Bong. During the investigation, Nen was also charged with the murder of Duong Thi My which took place in March 1993. He was given a life sentence by the provincial people's court for killing Bong and six years for killing My.
Nine of his relatives were also imprisoned for the murder of My. In 2000, they were released as it was proved that Nen was not My's killer, however, he was still believed to be Bong's murderer. In 2014, the Supreme People's Procuracy were informed that Nguyen Tho could be the real killer and Nen was released on October 22.
But the rejoicing was short-lived as Nen's misfortune continued. On March 22, Nen suddenly fell off his bike and was brought to Ham Tan Hospital then transferred to HCM City's Cho Ray Hospital in a deep coma. His condition only improved after three days of intensive treatment.
The Minister of Health Nguyen Thi Kim Tien immediately contacted Nguyen Truong Son, director of Cho Ray Hospital, to ask about Nen's condition. She also asked the hospital to give both medical and financial support for him. As Nen does not have health insurance, Tien requested he should treated as though he had coverage.
She continued to ask Binh Thuan's authorities to provide support to Nen since he is a special case that needs help from both community and authorities. It is reported that Tien even stayed up that night to follow Nen's condition.
Nen's life has been surrounded by the media and hospital. In the past years, news channels and newspapers have covered his life and contributed in the struggle to clear his name from the false charge.
Nen's former teacher Nguyen Than should also be praised as he spent 15 years trying to clear the false charges. Deep gratitude should also be extended to the nurses and doctors and Nguyen Thi Kim Tien for fighting for Nen's life.
Why failing to attend meetings is more than just bad manners
HCM City leaders have criticised the heads of local agencies for their frequent absences from meetings.
On March 20, HCM City leaders held a meeting with representatives of local youth unions and outstanding young people to gather opinions and suggestions about start-ups, applied science and technology, administrative reform and quality of service provided by local government officials to the public.
However, leaders of many agencies, including the Department of Science and Technology, the Department of Agriculture and Rural Development and the Department of Internal Affairs, failed to attend in person and some agencies failed to even send representatives.
Party Secretary Dinh La Thang was upset by the absences and asked Nguyen Thanh Phong, chairman of HCM City People's Committee, to criticise these agencies. "It's an unacceptable attitude. Directors of departments don't seem like they can be bothered to turn up while the city's youth union, party secretary and the chairmen of HCM City People's Committee and People's Council have made the meeting," he said.
HCM City Party Secretary Dinh La Thang spoke at the meeting with representatives of local youth unions and outstanding young people on March 20, 2016.
Absences are nothing new in HCM City. Not long ago, Phong dismissed delegated subordinates who had turned up representing a local people's committee at a meeting on March 1 as the invitations were sent to their leaders by name. He did not accept the apologies for their lack of attendance. "I don't understand what were you doing? This meeting has been scheduled since early of the week," he said.
Illnesses or emergency leave was acceptable, but failure to attend or sending proxies instead was no longer an tolerable situation.
If ignoring invitation from the city chairman is intolerable, then ignoring meetings with youth union, party secretary and chairmen of HCM City People's Committee and People's Council is an entirely different level of disrespect being shown to both the public people and their colleagues.
And what will the young people, the future of the country, think about such absences?
Yet as the 12th Party Congress ended, the party general secretary made commitment that the officials would be respectful to the people and work for the people.
"In terms of working style, officials from localities to those at the top should be changed to become more scientific, democratic and practical," he said.
Before dealing with crime, Dinh La Thang and Nguyen Thanh Phong should restore discipline within the system.
Singaporeans hail Shakespeare's Hamlet of Vietnamese artists
The world-renowned play Hamlet by Shakespeare, which was recently performed by Vietnamese artists in Singapore, received appreciation from local audiences and international friends.
Actors from the Vietnam National Drama Theatre (NDT) performed the play in Vietnamese with original English subtitles in the Victoria Hall theatre on March 25.
After the show, a number of audiences remained to applaud the play.
Alfonso Murillo, a counselor from the Costa Rican Embassy in Singapore , said that he was interested in the performance, especially the traditional Vietnamese background music.
Meanwhile, famous Singaporean artiste Chua Soo Pong expressed his hope that Vietnam 's drama theatre will bring more plays to Singapore .
The NDT staged the play with the aim to celebrate Shakespeare's work for his 400th death commemoration.
The performance is part of the theatre's socialisation project to introduce Vietnamese art not just to local spectators, but also Vietnamese people living abroad and foreign audiences, according to theatre director Nguyen The Vinh.
Vietnam's culture featured in Cairo exhibition
Hundreds of photos highlighting regional cultural identities of Vietnam were on show at an ongoing photo exhibition in Cairo March 27-April 3.
The week-long event displays photos taken by Yusef Mazhar, member of the Egyptian Council of the Foreign Affairs, during his first visit to Vietnam last year.
The event helps visitors get an insight into cultural identities and diplomatic ties between Vietnam and Egypt.
In a speech, Vietnam Ambassador to Egypt Do Hoang Long said the Vietnam Embassy will intensify cross-cultural exchanges in Egypt to deepen mutual understanding between the two nations.
Egyptian Minister of Culture Camelia Sobhi pledged continued support for the Vietnam Embassy's cultural activities in the country.
The Vietnam Embassy and El Gouna City authorities will co-organize a water puppetry performance mid-May.
Most sewage to be treated in Ninh Binh
Most waste water in the northern province of Ninh Binh will be treated once a 416 million VND (18.7 million USD) drainage and sewage treatment plant is put into operation at the end of this year.
Covering an area of 10.8 ha, the plant is the first of its kind in the city. It has a capacity of 15,000 cubic metres a day. It is a sub-project of a master work on the national urban water supply and wastewater, implementing in 10 provinces and cities nationwide, using funds from the World Bank (WB).
Besides the plant, the project also built 25.5 km of drain pipe, which will collect rainwater and wastewater in the city; a large scale pumping system; and a 200-gas pit system to gather sewage. After being filtered, the treated water will run into the Vac and Van rivers.
Deputy Chairman of the municipal People's Committee Duong Duc Khanh said the untreated sewage settlement is a pressing issue. The project will help reduce environmental pollution in the locality.
Vietnam responds to World Meteorological Day
The Ministry of Natural Resources and Environment held a meeting in Hanoi on March 23 to mark World Meteorological Day (March 23, 1950).
Themed "Climate Knowledge for Climate Action", the United Nations day aims to call on all governments and civil organisations to share and apply meteorological knowledge to mitigate climate risks and foster sustainable development.
During the meeting, Deputy Minister Chu Pham Ngoc Hien stressed increasingly severe and complex weather patterns in Vietnam in recent years, are making the weather become drier, hotter, and generating more storms and floods.
He noted that in early 2016, while frost occurred in the north and central regions, drought and saline intrusion have been taken their toll in south and south central areas.
The National Centre for Hydro-meteorological Forecasting expects natural calamities in Vietnam will become more complex and acute moving forward.
Mekong Delta localities supported in searching fresh water
The Ministry of Natural Resources and Environment has provided maps of underground fresh water distribution for all thirteen Mekong Delta localities, aiming to facilitate their search for fresh water resources to deal with the ongoing drought.
The ministry also asked the Department of Water Resources Management and the National Centre for Water Resources Planning and Survey to give technical and personnel support, as well as equipment to aid them in their search.
The provincial departments of natural resources and environment are required to focus on drilling wells, towards ensuring a steady supply of water to regional residents, especially those living in areas hit hardest by water shortages due to the prolonged drought and saline intrusion.
The provinces of Vinh Long, Tra Vinh, Ben Tre, Kien Giang, Long An, Tien Giang, Soc Trang and Ca Mau received a grant of VND500 million (US$22,500) each for the work.
The ministry is keeping close watch on the development of El Nino and meteorological predictions to give an advanced forecast of water flow in rivers and saltwater intrusion, in order to help the stricken provinces take timely adaptation measures.
According to the National Centre for Hydro-Meteorological Forecasting, El Nino will continue to cause negative impacts in Vietnam until the middle of this year.
Average temperatures in the Mekong Delta region in the remaining months of this year's dry season will be 0.5-1.5 degrees Celsius higher than previous years, with temperatures typically between 33-37 Celcius. The rainy season is expected to arrive late, with average rainfall predicted to be 30-50 percent lower than average.
The centre said saltwater intrusion has already reached alarming rates in Ca Mau, Kien Giang, Ben Tre and Tra Vinh provinces.
Vietnam needs a strong shift to renewable energy: workshop
Vietnam can succeed in realising its green growth and climate change response strategy, if it makes a strong shift from thermal power to renewable energy, insiders said at a workshop in Hanoi on March 24.
Le Duc Chung, a member of a project by the Ministry of Planning and Investment, on strengthening capacity and institutional reform for green growth and sustainable development in Vietnam, said the energy sector is a special challenge to green growth since generating energy causes pollution and emits greenhouse gases.
Fossil fuels will continue to be the main energy generator for the foreseeable future, since they are more dependable when taking into account the development of corresponding infrastructure and technology.
New energy sources need to be developed at the same pace of an industrial revolution, he said, warning that if drastic action is not taken, energy-related CO2 emissions will double by 2050.
According to the Vietnam Sustainable Energy Alliance (VSEA), 94.1 percent of people surveyed said they want renewable energy to be used in their residential areas.
Meanwhile, policies on developing sources of electricity should pay heed to tapping into the potential of hydropower while discouraging fossil fuel demand, said Deputy Director of the Institute of Energy Nguyen Anh Tuan.
He suggested reducing the capacity and number of coal-fired plants, along with applying advanced technology at existing thermal power factories to improve their fuel efficiency and cut down emissions.
At the workshop, participants also discussed other issues pertaining to climate change and green growth.
The function was held by the Centre for Development of Community Initiative and Environment, and the VSEA's Green Innovation and Development Centre.
Quang Nam: Cua Dai bridge opens to traffic
The Cua Dai bridge spanning the Thu Bon River and a coastal road in the central province of Quang Nam were put into service on March 27 in the presence of National Assembly Chairman Nguyen Sinh Hung.
Construction of the bridge began in August 2009 at a cost of 3.45 trillion VND (155.25 million USD).
The bridge, measuring 25.5 m in width and 1.48 km in length, links Hoi An city with Duy Xuyen and Thang Binh districts.
Meanwhile, the 24.5 km coastal road runs from Duy Xuyen district to Tam Ky city. It was built at a cost of 1.44 trillion VND (64.8 million USD).
Speaking at the inauguration ceremony, NA Chairman Nguyen Sinh Hung said the bridge and the road are of special significance for local socio-economic development.
He urged Quang Nam to make full use of its advantages to boost the maritime economy, and build high-tech, environmentally friendly agricultural practices while upgrading its transport infrastructure to lure more investors.
Dinh Van Thu, Chairman of the provincial People's Committee, said the projects help shorten the route between Quang Nam's Tam Ky city and Da Nang city, and ease traffic jam on National Highway 1A.
The bridge is also expected to facilitate the use of 40,000 hectares of uncultivated land in the province's southeastern region and support another project on natural disaster adaptation, he said.
HCM City keen to build more social housing
The Department of Construction in Ho Chi Minh City sought the municipal People's Committee's approval for a proposal to build more than 2,000 additional apartments.
The apartments are part of two social housing projects, the CC1 building and the Chuong Duong Home, funded by the Construction Corporation No.1 (CC1) under the Ministry of Construction and the Chuong Duong Joint Stock Company, respectively.
The CC1 project will be built for 210 billion VND (9.45 million USD) on nearly 3,000 square metres on Nguyen Van Dung Street in Ward No. 6 in Go Vap district.
The 18-storey building is expected to offer 304 apartments ranging between 54-60 square metres each for low-income earners by December 2018.
Meanwhile, the Chuong Duong Home, worth 674 billion VND (30 million USD), includes five 13-storey buildings on 26,340 square metres in Truong Tho ward, Thu Duc district.
It will have 1,777 apartments ranging between 40-75 square metres.
According to the municipal Department of Construction, the city aims to complete three social housing projects in 2016, providing 1,491 apartments and starts construction on three other projects with 1,748 flats.
Thua Thien-Hue re-enacts ancient ceremony for peace, harvest
The central province of Thua Thien–Hue held the Le Te Xa Tac (Worshiping the Genies of Rice and Soil) ceremony on March 27, attracting a large crowd of tourists and locals.
Le Te Xa Tac was one of the most important rituals performed by kings of successive feudal dynasties every spring to pray for abundant crops and peace.
The Xa Tac Worship Platform in Hue City, which was built in 1806 under the reign of King Gia Long, the founder of the Nguyen Dynasty, was the only one of its kind remaining intact in the country, according to Phan Thanh Hai, Director of the Hue Relics Conservation Centre.
The ritual was revived in 2008 and has been held in spring every year since as part of efforts to preserve and promote traditional cultural values in modern life.
Tourism expected to boost Ly Son's development
With abundant tourism advantages, the island district of Ly Son in the central province of Quang Ngai is making the most of its strengths to promote the locality's economic development.
The island district welcomed a record 95,000 holiday-makers in 2015, a surge of 63,000 compared with 2014.
Bui Thi Quynh Van, district party committee secretary, said traditional cultural and historical elements related to sea and island sovereignty are significant aspects of the locality's tourism development goals.
The district will continue to call on local and foreign enterprises to build infrastructure for sea and island tourism development, she added.
Deputy Director of the provincial Department of Culture, Sports and Tourism Huynh Thi Phuong Hoa said tourism is an economic development goal. The province will speed up several tourism projects in 2016 from major investors including Muong Thanh, Vingroup and Saigon Tourist.
Covering about 10 square kilometres, Ly Son has four national heritage sites, 10 provincial level relics and several old houses with many diverse cultural characteristics.
The rock cliffs in locality are also considered an encyclopedia of geology and the earth's surface, which poses a great opportunity for the province to attract international experts and tourists to conduct research and visit.
Experts share experience on breast cancer treatment
More than 200 doctors and cancer specialists participated in a scientific conference on Saturday in Hà N?i to update their knowledge about new methods of treating breast cancer.
The conference was held by the Bright Future-Supportive Fund for Cancer Patients and Hoffnamm-La Roche Co Ltd.
During the conference, doctors and experts discussed and shared their experience on discovering and treating breast cancer type HER2.
HER2 (human epidermal growth factor) is a protein that can affect the growth of some cancer cells. It is found on the surface of normal breast cells. Some breast cancer cells have a very high number of HER2 receptors. The extra HER2 receptors stimulate the cancer cells to divide and grow. When there are higher levels of the HER2 protein in a breast cancer, it is called HER2 positive breast cancer.
Statistics from VVN's National Cancer Hospital show that every year it sees 12,000 new breast cancer patients, and 25 per cent of these suffered from breast cancer type HER2.
Professor Nguy?n Bá Ð?c, deputy chairman of the Vi?t Nam Association for Cancer, said that the conference would expand knowledge for doctors and experts to provide comprehensive discovery and treatment for breast cancer.
Early discovery has an important and meaningful role in cancer treatment, he said.
If the disease is discovered during the very first phase, it can be cured in more than 80 per cent of cases. However, if the cancer is discovered during the second phase, the rate of survival drops to 60 per cent. And if the disease is discovered in the third or fourth phase, treatment can only lengthen the patients' lives and reduce their pain, he said.
Doctor Trinh Thu Van, a representative from Hoffnamm-La Roche Co Ltd in Vi?t Nam, said, "Working together with the Ministry of Health over the past three years, we're very happy that more and more women are having breast cancer checks and that more enterprises are giving them support to control the disease."
Controlling breast cancer was not only directly meaningful for the patients, but also brings great socio-economic benefits to the country, she said.
Quang Tri intensifies Zika virus prevention efforts
The central province of Qu?ng Tr? has taken numerous measures to prevent the spread of the Zika virus along the border with Laos, where a case was recently discovered.
Apart from keeping track of the temperatures of travelers passing through the two border gates, officials also conduct chemical spraying of transport vehicles entering Vi?t Nam.
These actions were recommended last Tuesday after the World Health Organisation learned of an Australian visitor who tested positive for Zika after returning from Vi?t Nam.
However, the Ministry of Health has said no cases of Zika virus have been recorded in Vi?t Nam.
The La Lay international border gates welcome more than 180 visitors into Vi?t Nam per day, and officials are now conducting round-the-clock monitoring to minimise risks of infection.
Since early this year, the La Lay border gate has received 22,000 travelers entering Vi?t Nam.
Seminar sets safe food market goals
HCM City Health Department officials have urged consumers to buy products with clear origin sold at clean and hygienic trading places to ensure food safety.
Speaking at a seminar on "For a safe food market" in HCM City last Saturday, Nguy?n Th? Hu?nh Mai, deputy head of the department's Food Safety and Hygiene Division, said consumers should report to authorised agencies any selling place with unsafe products or those with unclear origin.
Mai said the use of banned chemicals and additives in animal breeding and foods and the overuse of plant protection chemicals in agricultural cultivation remained high, seriously affecting consumers' health.
In addition, poor quality products caused by improper production, preservation and transportation have also affected consumers, she said.
Nguy?n Thành Danh, deputy head of the Bình Duong Province Market Watch Department, said overlapping regulations and a shortage of human resources made it difficult to protect consumer safety.
Danh said sanctions applied to food safety violations were not strong enough to prevent violators from repeating the offence.
Consumers are still afraid to file complaints and lawsuits when their rights are violated, he said at the seminar organised by Ngu?i Tiêu Dùng (Consumers) newspaper.
Mai said the city had made efforts to ensure food safety for consumers.
Relevant authorities each day have sent staff to the city's three wholesale markets to take goods samples for testing quality.
"We have managed about 70-80 per cent of products transported from other localities to the city market," she said.
The city has also implemented a pilot programme on a food safety chain model, with more than 300 safe-food selling points, she said. But the model has met only 10-15 per cent of customer demand.
According to the Vi?t Nam Standards and Consumers Protection Association (VINASTAS), many surveys in the health sector pointed out that the number of people with cancer has increased strongly, from 69,000 cases in 2000 to 150,000 last year, and is expected to reach 200,000 cases in 2020.
VINASTAS said that according to the Vi?t Nam Cancer Association, the increase in cancer cases is believed to originate from the use of unsafe food, environmental pollution and higher longevity, with the food factor accounting for 35 per cent.
To protect consumer rights, Danh said the Government should regularly adjust the legal framework on consumer rights protection and food safety to make it more feasible and practical.
Agencies, organisations and consumer protection associations should raise awareness about protecting consumers rights as well as help consumers differentiate between genuine and fake, sub-standard and unsafe products, he said.
He said that agencies should offer intensive training for market management staff and provide them with more equipment, including quick food-test kits.
Delegates at the seminar asked the Government to impose stricter sanctions on food safety violations and strength inspection of the trade of harmful chemicals.
Annual M'Nông ceremony shared with audience
Raising a buffalo horn to his mouth, K'Mang, head of the M'Nông ethnic group's village in the central highland province of Ð?k Nông, let's out a long blast to call his villagers together. They soon gather in front of their communal house to prepare for a worship ceremony at the village's gate.
Various offerings, including rice, water, wine, two pairs of elephant and rhino horns made of wood, and a small tiger, also made of wood, are displayed on a bamboo table underneath a pole.
The village head then blends pig's blood and wine, places three pieces of pig's liver onto the same bamboo stick, and puts it next to a jar of wine. Then he carries out the worship rituals.
After the rituals, families in the village bring the blood-blended wine home to offer to the gods of their homes, who protect their homes from evil.
Also, M'Nông people organize a ceremony at the village's gate once a year at the end of the third lunar month, before the rainy season.
The customs continue throughout the entire day, in which villagers pray for gods to protect the residents, seek favourable weather and to remain free of diseases throughout the year.
Yet this time, K'Mang and his villagers are not carrying out the ritual at his village in Ð?k Nông Province, instead they are performing it at a house they built in a special village designed for all 54 ethnic groups in the country – called the Culture, Tourism Village of Vietnamese Ethnic Groups, located in the western outskirts of Hà N?i.
And their audience today is not only villagers, but also people from other ethnic groups.
Their ceremony is a highlight in the month-long programme focusing on the central highlands area to introduce the cultural heritage of eight ethnic groups from seven provinces. The groups include Gi? Triêng, Xo Ðang and Gia Lai.
"We introduced this ritual here, as it is greatly valued by the community," Tôn Th? Ng?c H?nh, deputy chairperson of Ðak Nông Province's People's Committee, told Vi?t Nam News, "Every people, every ethnic group, shares the same wishes for good health, prosperity, goodness for people, wiping away evils and bad luck."
H?nh said local authorities have assisted the M'Nông people in maintaining the ritual, so they might hand it down to future generations in the province.
Coming to the capital this time, fifteen artisans from the province display M'Nông folk toys, gongs and hand-embroidered cloth, she said.
The village hosts special programmes every month to showcase different regions and groups.
"March is a special time in the central highland, a month of growing and a season of festivals," said Nguy?n Thanh Son, director of the village's management board. "We have visited local villages to select the most typical groups with distinguished cultures, and invite them here to create a central highland atmosphere with bustling festivals. We just want to send a message of a central highland with great jungles, mountains and peoples with distinctive identities."
Son said the programme is being included among the village's plan to promote itself as a tourism destination.
"We have updated our website frequently as a channel to promote ourselves. We will further co-ordinate with travel agencies this year to build up tourism products, such as one and two-day tours with special themes for food and the folk music of different ethnic groups," he said.
"We are based on natural conditions at the village. We will exploit our existing houses on stilts for homestay accommodations. Building new hotels will be spared for investors," he added. "Presently, representatives of eight groups, including Thái, Mu?ng and Ê Ðê, live here every day and are prepared to offer tourists a close look at their lifestyles, food, music and dances, as well as traditional handicrafts."
Honouring 11 artisans at Bac Giang Quan ho folk singing festival
11 outstanding artisans who often practice and teach Quan ho folk singing in their localities have been honoured at the 4th Bac Giang Quan ho folklore singing festival.
The festival, taking place from March 23rd to 26th, honours folk singing heritage. It draw the participation of more than 600 singers from 57 villages and quarters in Viet Yen district, the northern province of Bac Giang.
19 Quan ho villages in Viet Yen district have been entered on the list of intangible cultural heritage of humanity. The district is also the locality with the most Quan ho villages in Kinh Bac region.
Quan ho Bac Ninh is a folk singing style of the Red River Delta, concentrated mainly in Kinh Bac region (provinces of Bac Ninh and Bac Giang).
This is a kind of art including music, lyrics, costumes and festivals. Quan ho Bac Ninh folk songs show a close-knit relation between male singers (lien anh) and female singers (lien chi), and are a typical cultural feature of Kinh Bac region's people.
Kids Read is coming to Hanoi
On its second year in Vietnam, "Kids Read", the award-winning reading program aimed at school children developed by the British Council and funded by HSBC was launched in Hanoi on March 25th.
The program started in 2011 in 10 Middle Eastern and North African countries and seven countries/territories in Asia.
Last year's event in Binh Duong province was a huge success, reaching 3,985 primary kids. Within one year, besides book delivery to schools, teacher training and competitions for children and teachers, four community events were organised, involving with 240 parents and 483 students. 84% of attending children found that "reading English story books is good" and "listening to English stories is fun".
In the very first year, Vietnam ranked number one among seven countries/territories in the East Asia region (including Bangladesh, Hong Kong-China, Indonesia, the Republic of Korea, Taiwan, Thailand and Vietnam) in the number of children participating in the Kids Read project. Apart from encouraging them to read and enjoy reading in English, the program also focused on teacher training to help teachers to increase their storytelling skills and integrate Kids Read activities into their current curriculum.
Ms Luong Thi Thanh Thao, teacher at Dinh Hoa primary school (Binh Duong province), said: "Before attending this project, I rarely used stories in classrooms. The teaching and learning atmosphere was not very exciting and my students were not active. Their pronunciation was also not good. Thanks to Kids Read, I have learnt to become more active, enthusiastic and confident. The project helped me to create more meaningful activities and a friendly learning atmosphere. My teaching became more effective; and I can now approach more students and help them more with their weaknesses".
This year's event will set up libraries in six primary schools and provide 216 story books to each school. The library is a resource for schools to proactively organise reading sessions for children and for teachers to embed creative reading activities in their regular teaching.
According to Cherry Gough, Director of the British Council Vietnam, "Kids Read" encourages primary students to read for pleasure both in the classroom and at home by giving them access to the very best of UK children's books.
Reading for pleasure both inside and outside the classroom is one of the best ways of developing children's English language skills.
In 2016, around 21 teachers and nearly 4,000 pupils in six primary schools in Hanoi will participate in the project with activities including teacher training; reading sessions, competitions and community events and the six schools will be equipped with over 1,200 books.
Thousands more will benefit from community activities run by HSBC volunteers such as reading and story-telling sessions and workshops for parents.
All the studies show that reading for pleasure not only impacts on reading achievement but also increases general knowledge (both from fiction and non-fiction), a better understanding of other cultures, community participation and a greater insight into human nature and decision-making as books show you other lives, and ways of behaving.
Over 82% of Central Highlands region's medical stations have doctors
Over 82% of medical stations in the Central Highlands region have doctors at work daily, the Central Highlands Steering Committee has reported.
According to the Committee, there are currently 827 public medical foundations in the region, including 31 provincial foundations, 76 district foundations and 750 communal foundations.
The rate of doctors working at communal medical stations is higher than the average rate reported across the country (78.5%).
Of which 100% of communal medical stations in Dak Lak province have doctors working, improving medical check-ups and treatment for local residents.
Over 13,400 sick-beds are available in the region, while 399 midwives have been trained to work in extremely disadvantaged areas, in ethnic minority-inhabited areas and in border areas.
New features in 2016 Cua Lo beach tourism season
This year, the authorities of Cua Lo Town in the central province of Nghe An have set a target to welcome 2.6 million tourists, earning over VND2,700 billion.
The information was released during a press meeting hosted by the Cua Lo Town People's Committee in Hanoi on March 26th.
Diverse activities will be organized during the season, including April 30th Cua Lo tourism festival, traditional boat racing, Cua Lo beach Miss contest, cuisine fair, the Republic of Korea trade show and some sporting events.
This year's new features are traditional Cua Lo seafood fair; vacuum-packed grilled mackerel; high-quality transportation services; Meetings, Incentives, Conferences, and Events (MICE) packs, and new tourism route connects Cua Lo-Vinh-Nam Dan-Do Luong-Dien Chau-Nghia Dan and Con Cuong sites.
Cua Lo has much to offer tourists in attractive destinations including Mat (Eye) island, Ngu (Fish) island, Lan Chau island, Cua Hoi eco-tourism tour, and Lo Son pagoda.
By welcoming around 2.5 million visitors, last year, tourism industry total revenue of the Town saw an increase of 30.6% compared with 2014, reached VND2,260 billion.
It is the first town in the country given Government approval to be turned into an urban seaside tourism area - allowing the town to promote its tourism brand to both domestic and foreign visitors.
Detailed information can be seen at www.cualo.vn.
Ho Chi Minh City's youth volunteers anniversary celebrated
President Truong Tan Sang attended a ceremony on March 27 in Ho Chi Minh City to mark the 40th anniversary of the municipal Youth Volunteer Force (March 28).
The event was also joined by Secretary of the municipal Party Committee Dinh La Thang and his predecessor Le Thanh Hai, representatives from ministries and sectors, local authorities, heroic mothers and thousands of youth volunteers.
Addressing the event, Chairman of the city People's Committee Nguyen Thanh Phong praised the force as "a big school" that trains local youths to serve the nation.
The Chairman hailed the great sacrifices and devotion that former youth volunteers made to contribute to the accomplishment of the international mission in Cambodia.
Over the past 40 years, the force has played a proactive role in local political and socio-economic development, the municipal leader said.
He also urged the force to work closely with relevant bodies to ensure social order and urban development.
The youth-run business should develop their youth volunteer-branded products while providing more support to local rehabilitation centres, Phong said.
During the event, participants enjoyed an art performance themed "forever the blue-coloured shirts of youth volunteers".
Book festival crowded with over a million visitors
More than a million people flocked to the seven-day book festival in Ho Chi Minh City that ended on the night of March 27.
According to the organising board, the number of visitors increased 20 percent from last year's event. In one week, they brought in more than 50 billion VND (2.25 million USD) for participating publishers and distributors, an annual rise of 30 percent.
Enterprises with leading revenue recorded after the event include Fahasa, Tiki, Vina Book, Nha Nam and Youth Publishing House.
The festival featured 710 stalls, 36 of which were run by foreign publishers. There were 30 million copies of 300,000 book titles on display.
Truong Van Hien, head of the organisation board, said the event, organised annually for the last nine years, is drawing the more and more interest from businesses in the local book industry not just for sales, but also for promotion and partnerships.
Workshop promotes Vietnam- RoK health care cooperation
A workshop was held on March 23 in Hanoi to promote bilateral cooperation and exchanges of health care products and technologies between Vietnam and the Republic of Korea (RoK).
The event was jointly organised by the Hoa Lac Hi-tech Park Management Board under the Ministry of Science and Technology and the Science and Technology Representative Office in Seoul.
Addressing the event, Deputy Minister of Science and Technology Tran Quoc Khanh said the workshop presents opportunities to forge connection and technology transfer between the two nations' businesses.
It also helps promote the domestic pharmaceutical and health care markets, as well as research and development work in the sector.
He urged Hoa Lac Hi-tech Park and the RoK's Gyeongbuk Hi-tech Park to introduce their incentives for investors in the sci-tech sector.
Jang Hyo-jun from the Gyongbuk Hi-tech Park introduced to participants the park's potential and incentives for investors.
He also highlighted several sectors that draw interest from the participating RoK enterprises, including bio-medicine, cosmetics, dentistry and rehabilitation.
Nguyen Trung Quynh from the Hoa Lac Hi-tech Park Management Board said the park aims to lure more sci-tech enterprises from the RoK, as the country is one of the biggest investors in Vietnam.
During the occasion, Vietnam's Thang Long Medical Equipment JSC and Korea's Wonbigen Company signed a memorandum of understanding on fostering bilateral cooperation and mutual support.
WB project helps more people in Quang Binh access health insurance
As many as 83.39 percent of near poor people in the central province of Quang Binh have been given funds to buy health insurance.
The money comes from a World Bank project that started in 2010 in the northern central region, including Quang Binh, at a total investment of 5.9 million USD.
It aims to facilitate access to quality health care services among near-poor people in the region, thus enhancing public health.
According to the project management team, since 2013, the project has provided some 500,000 USD worth of medical equipment to each of three district hospitals in the province.
It has also funded the development of infrastructure facilities and equipment in centres for preventive medicine in the districts of Tuyen Hoa, Quang Trach, Bo Trach, and Le Thuy, each worth 400,000 USD.
The project has also helped train medical workers and enhance the capacity of medical teachers while ensuring effective use of medical equipment.
Apart from the project's funding, the province has allocated some 30 billion VND (1.35 million USD) to develop infrastructure and equipment at local hospitals and centres for preventive medicine.
VNA/VNS/VOV/SGT/SGGP/TT/TN/Dantri