Hoi An International Food Festival opens
The Hoi An International Food Festival "Taste the World", the first of its kind, opened at An Hoi sculpture garden on March 14, attracting 12 chefs from 12 countries worldwide.
During the week-long event, the chefs will demonstrate their cooking skills at 12 local restaurants, namely Cargo club, Morning Glory, Inflame club, Mango I, Mango II, Rice Drum, Seafood Garden, Vinh Hung, Seedlings, Mangorooms, Tam Tam and Hai café.
The participating restaurants will be decorated and themed to the countries of the visiting chefs, who will prepare traditional dishes from their respective countries.
The festival, a new tourism product of Hoi An in 2016, is expected to bring the local cuisine to countries and territories worldwide, thereby popularising the city, its land and people.
The ancient city of Hoi An in the central province of Quang Nam was a renowned international trade port in the 17th century where ships from Japan, China, and European countries docked to exchange wares.
Covering 60 sq.km, Hoi An has 22.5 sq.km of agriculture and forest land and 11 sq.km of lakes and channels.
In 2012, it was shortlisted for the top ten Asian cities in the US-magazine Conde Nast's Traveler's Readers Choice Awards. The following year, the UNESCO-recognised world heritage city was chosen for the Townscape Award by the UN-Habitat Regional Office in Asia.
Hoi An food has also been honoured by prestigious magazines and websites globally, ranking sixth in TripAdvisor. Meanwhile, cooking in Hoi An was also named among the top 10 international travel experiences by Lonely Planet.
3 killed, 26 wounded as tanker truck collides with passenger bus in Vietnam
Three people were killed and 26 others injured in a fatal collision between a tanker truck and a passenger bus in the northern Vietnamese province of Hoa Binh on Monday.
The accident occurred at around 4:30 pm on the part of National Highway 6 that crosses Trung Khe Pass, where the truck carrying asphalt crashed into the bus running in the opposite direction.
The truck was en route from Hanoi to the northwestern region when its driver lost control after descending a slope, according to one witness.
All of the injured were taken to a hospital for emergency treatment, said Bui Van Thang, director of the Hoa Binh Department of Transport and head of the provincial Traffic Safety Committee.
Out of the three deceased people, two were passengers aboard the bus and one on the truck, of whom two were unable to be identified as their bodies were severely burnt, Thang added.
The vehicles burst into flames after the crash, from which smoke could be seen from a long distance, according to the Facebook page of Otofun, a Vietnamese automobile forum.
The passenger bus turned on its side due to the force of the collision, with its front part distorted and windshield broken. The passengers' belongings were thrown out of the vehicle.
Many of the injured were trapped inside the bus before being rescued by passers-by and competent agencies at about 6:00 pm.
The tanker truck had its head heavily damaged while the asphalt leaked out, covering tens of meters of the road.
Deputy Prime Minister Nguyen Xuan Phuc, chairman of the National Traffic Safety Committee, issued a document on Monday night, ordering local officials to investigate the case, identify the cause of the accident and sternly punish those responsible.
Khuat Viet Hung, vice chairman of the committee, instantly came to the scene to work with provincial authorities on a probe into the accident.
Deputy PM Phuc has also extended his condolences to the families of the victims.
Vietnam's 2015 top 10 outstanding youths to be announced
The top 10 2015 Outstanding Vietnamese Youth awards will be unveiled at a ceremony celebrating the 85th anniversary of the Ho Chi Minh Communist Youth Union (HCMCYU) on March 21, according to the youth union's central committee.
The HCMCYU awards will be presented to 10 prominent people under 35 years old who stood out in scientific research, production, business operation, defence, security and order, culture, arts, sports, social affairs and other voluntary activities in 2015.
The 10 awardees were chosen from 20 outstanding contestants, narrowed down from 172 profiles introduced by numerous organisations and agencies. The remaining 10 will receive awards for being the young promising faces of the year.
The awards have honoured nearly 200 excellent youngsters since 1996.
A forum on outstanding youths, and trips to the Hung Kings Temple Relic Site and Tay Thien tourist attraction are also scheduled.
Supreme Court reviews 10-year implementation of anti-corruption law
Chief Judge of the Supreme People's Court Truong Hoa Binh emphasised the need to strengthen Party leadership on anti-corruption work and improve court laws in order to increase the quality of judgments on corruption.
Speaking at a conference summing up the 10-year implementation of the Law on Corruption Prevention and Control, Binh said the Supreme People's Court has carried out the law and the Party's resolutions in the fight against corruption.
Considering it a complicated struggle, the court instructed lower courts to strictly follow the law.
According to a report on the implementation of the law from October 1, 2005 to September 30, 2015, courts handled 4,323 cases related to corruption with 11,081 defendants involved.
The Law on Corruption Prevention and Control was approved at the eighth sitting of the 11th National Assembly on November 29, 2005. It comprises eight chapters and 92 articles.
Revisions and supplements to the 2005 law were made in 2007 and 2012.
Child protection work boosted nationwide
The Ministry of Labour, Invalids and Social Affairs organised a workshop in Hanoi on March 14 to discuss child protection between 2016 and 2020.
According to Dang Hoa Nam, Director of the ministry's Department of Child Protection and Care, the national programme on child protection began five years ago. As a result, relevant services and personnel systems have improved.
By December 2014, Vietnam had 1,539 and 2,765 child protection consultation stations in public places and at schools, respectively. Meanwhile, 418 support centres were established.
These facilities helped local authorities collect and analyse information on child violations, which leads to better assistance, Nam noted.
He also pointed to difficulties facing the programme in the last five years. The child protection system has only been piloted in 447 out of 713 districts in 43 out of 63 cities and provinces nationwide. Most of these localities lacked resources and standards to run the system properly. Thus, their capacity to detect and prevent factors threatening local children remained low. There was also a low number of children in need of care receiving benefits. Approximately 250,000 children or under 10 percent of the needy received the state payments.
Participants said in the 2016-2020 period, the issues of child abuse and exploitation are likely to escalate due largely to rapid urbanisation.
They recommended implementing additional communication campaigns, increasing the child protection system's coverage, and facilitating access to social services.-
Quang Ninh grows indigenous plants to preserve cultural features
999 Ochna integerrima trees were planted at Hoa Hien Pagoda and its vicinity in the Yen Tu relic site, northern Quang Ninh province, on March 12.
The planting was part of a campaign to plant the species at the site, which forms parts of the Tran Dynasty relic complex.
Secretary of the provincial Party Committee Nguyen Van Doc said the cultivation of Ochna integerrima is to commemorate the Tran kings while preserving local unique cultural features.
In addition to the 999 trees planted at Hoa Hien Pagoda, Uong Bi city, the province plans to grow an additional 15 hectares of Ochna integerrima across the city.
The plant is indigenous to the neighbourhood of Yen Tu Mountain. Legend has it that the species was grown in the area by King-Monk Tran Nhan Tong (1258 – 1308) when he came here to practise Buddhism.
Yen Tu Mountain is currently providing a habitat for about 310 Ochna integerrima trees aged over a century.
To protect the flora species, Quang Ninh authorities have implemented a project on developing Ochna integerrima.
Tran Nhan Tong, the third king of the Tran dynasty, abdicated the throne when he was 35 and spent the rest of his life on Yen Tu Mountain, practising and propagating Buddhism.
He founded the first Vietnamese School of Buddhism called "Thien Tong" or "Truc Lam Yen Tu Zen" on the 1,068m-high Yen Tu Mountain. The 20,000ha site is considered the capital of Vietnamese Buddhism.
Employment draws youths' concerns
First Secretary of the Ho Chi Minh Communist Youth Union Central Committee (HCYUCC) Nguyen Dac Vinh on March 14 held an online dialogue with youths at home and abroad via the Government Portal.
About 250 questions were raised for Vinh, who is also Chairman of the National Committee on Youth of Vietnam, with more than 30 percent of them focusing on employment for young people.
A large number of youths, including new graduates, are facing difficulties in seeking jobs, the official said, citing more than 178,000 unemployed newly-graduated students in 2015 to clarify his views.
Therefore, he said, the HCYUCC has proposed the State pour more investment into centres studying the labour market, which, he said, should be forecast in an accurate and timely manner.
Encouraging the start-up spirit among students, Vinh said only 2.4 percent of Vietnamese begin their own business compared with the world's average figure of 12 percent.
The 12 th National Party Congress advocated launching a national start-up programme, he said, adding that his committee is also building similar projects and programmes for youths.
Young entrepreneurs will receive support in terms of legal affairs, business administration knowledge and loans, as well as science and technology, Vinh promised.
Scholarships presented to ethnic students in Khanh Hoa province
The Vu A Dinh Scholarship Fund and its "For beloved Hoang Sa and Truong Sa" club granted 120 scholarships to students from ethnic minorities and island districts in the central province of Khanh Hoa on March 14, each worth around 800,000 VND-1 million VND (35.88 USD- 44.85 USD).
On the same day, the club also presented 180 scholarships to children of officers and soldiers from the Naval Zone 4 and Submarine Brigade 189.
Former Vice President Truong My Hoa, who is also chairwoman of the fund and club, said that the scholarships have assisted the students for many years.
The scholarship fund and club will continue to give hundreds of scholarships to students in southern central provinces until March 19.
Established in 1999, the Vu A Dinh Scholarship Fund has presented scholarships to tens of thousands of students nationwide as well as built schools, bridges and houses for the poor.
Hanoi aims to cut energy consumption by 2-3 pct this year
Hanoi targets to cut its energy consumption by 2-3 percent this year compared to the demand forecast, in pursuit of the goal of decreasing the energy-to-GDP elasticity to 0.95 percent by 2020 from 1.48 percent last year.
It is part of the city's efforts to implement the National Target Programme on Economical and Efficient Use of Energy.
The city will promote the use of renewable and clean energy and energy-saving solutions in households and businesses, for example, bio-gas plants and solar water heaters.
Transfer of energy-efficient and green technologies will be facilitated via the 7th International Exhibition on Environment and Energy Technology (Entech Hanoi 2016) this year.
Selected local markets will be supported to apply power-saving solutions as well as eliminate the use of electricity-hungry appliances, while the local authority also plans to help enterprises in Noi Bai, Lai Xa and Truong An industrial complexes, water stations and buildings in the city reduce energy consumption.
Hanoi saved about 325 million kWh of electricity last year thanks to the National Target Programme on Economical and Efficient Use of Energy.
According to Dao Hong Thai, Director of the Energy Conservation Centre of Hanoi, local households saved 241,000 kWh of electricity via the Earth Hour campaign alone and 35 million kWh in total last year.
Additionally, the municipal Department of Industry and Trade has supported nine industrial manufacturing firms in energy audit and energy-saving solutions in which CO2 emissions were reduced by approximately 1,380 tonnes, equivalent to 5.63 billion VND in saving.
The programme has also encouraged vehicle drivers to use bio-petrol E5 and raise public awareness of the benefits of public transportation.
Youth join traffic safety efforts
Nearly 3,500 youths participated in a ceremony on March 13 to kick-start a campaign on traffic safety in Da Lat City, Lam Dong province.
The event, jointly organised by the Central Committee of the Ho Chi Minh Communist Youth Union (HCMCYU), the National Committee for Traffic Safety and the Central Highlands province is part of activities of the 2016 Youth Month.
In 2016, numerous programmes will be conducted to raise public awareness on traffic safety across the nation, including "Traffic safety at school gates", "Safe marina" and "safe train – cross road sections".
Addressing the event, HCMCYU Secretary Nguyen Phi Long, who is also President of the Vietnam Youth Federation (VYF), said each youth will help call on people to properly observe traffic rules, thus contributing to reducing traffic accidents and developing a safe society.
On the occasion, the VYF and the Honda Vietnam Company agreed to jointly conduct activities to ensure traffic safety in 2016.
As many as 1,000 helmets were presented to outstanding local youths and 15 scholarships to students whose relatives had fallen victims of traffic accidents.
Participants also joined a safe driving training session and a marathon to mark the 83rd founding anniversary of the Union (March 26).
Hanoi marks anniversary of Trung Sisters' uprising
The anniversary of the uprising of national heroines Hai Ba Trung (the Trung Sisters) in the year 40AD was marked at Hai Ba Trung Temple in Hai Ba Trung district, Hanoi on March 14.
Officials from the city and the Ministry of Culture, Sports and Tourism held an incense offering in honour of the heroic sisters at the ceremony. The event also retraced the story of the two sisters, Trung Trac and Trung Nhi during the uprising with an arts performance by the Vietnam Tuong Theatre.
Speaking at the event, officials of the district said the locality has carried out several repair and restoration works at the Hai Ba Trung relic temple complex, and at Vien Minh pagoda.
On the sixth day of the second lunar month in 40 AD, the Trung Sisters led a mass uprising against the Han invaders to reclaim national independence after more than 200 years of foreign rule.
After defeating the invaders, Trung Trac became King. Three years later, the Han army returned and defeated the Trung sisters and their army, after which the sisters killed themselves by jumping into the Hat Giang river.
The uprising has gone down in Vietnamese history as a demonstration of the nation's strength and patriotism, as well as the crucial role of Vietnamese women in national construction and defence.
Japanese locality promotes tourism in Hanoi
Representatives from Sapporo city, capital of the Japanese Hokkaido prefecture, held a tourism promotion programme in Hanoi on March 13.
The programme was held in line with an event to introduce a music video of two famous Vietnamese singers, Dong Nhi and Cao Thang, with scenes shot in the city.
The tourism products introduced at the programme included snowboarding and skiing tours, lilac (a symbolic flower of Sapporo ) and cherry blossoms festivals, and Yosakoi Soran, an energetic dancing event.
The Japanese representatives presented Sapporo 's attractive tourism destinations, such as the Okurayama Ski Jump stadium which was the site of the 1972 Sapporo Winter Olympics and the Jozankei hot spring.
They also recommend Vietnamese visitors to enjoy cherry blossoms flowering in Sapporo in May.
Sapporo , the fifth largest city in Japan , is also well-known for its beer museum, shrines, twin towers and snow festivals.
According to the city's statistics, 448 Vietnamese tourists visited Sapporo from April, 2013 to 2014.
In the 2014-2015 period, the number of Vietnamese visitors reached over 900, accounting for half of the foreign arrivals to the city.
WB report highlights digital dividends
The World Bank (WB) announced its World Development Report 2016: Digital Dividends in Hanoi on March 14.
The report underscored the need to roll out development strategies for digital technologies with broader vision than those of information and communications (IT).
It said the full benefits of the IT transformation will not be realised unless countries continue to improve their business climate, invest in people's education and health, and promote good governance.
In countries where these fundamentals are weak, digital technologies have not boosted productivity or reduced inequality. Countries that complement technology investments with broader economic reforms reap digital dividends in the form of faster growth, more jobs and better services, the report noted.
Addressing the ceremony, WB Country Director to Vietnam Victoria Kwakwa said digital technologies have spread rapidly in much of the world.
In many instances, digital technologies have boosted growth, expanded opportunities and improved service delivery, she said.
According to Kwakwa, the report suggested countries work on the "analog complements" – strengthening regulations that ensure competition among businesses, adapting workers' skills to the demands of the new economy, and by ensuring that institutions are accountable, in order to get the most out of the digital revolution.
Deputy Prime Minister Vu Duc Dam affirmed that the Vietnamese Government encourages the development of digital technologies, as evidenced through the country's favourable legal climate for digital technologies.
IT has helped people from all walks of life, especially those in far-flung areas and the poor, have more opportunities to exercise their rights to mastery, the official said.
He called on businesses to apply IT in their operation and the public to increase their access to IT in their daily lives.
IT firms, particularly, should give importance to social responsibilities in order to develop together, he said.
Ba Ria-Vung Tau launches measles-rubella vaccination campaign
The southern province of Ba Ria-Vung Tau has recently launched a campaign to give the measles–rubella vaccination to juveniles aged 16-17 in the locality.
The plan targets to inoculate about 18,700 11th and 12th grade high school students against measles and rubella.
The vaccination campaign, will be implemented from March to April.
The provincial health and education sectors are asked to focus on popularising the benifits brought by the measles-rubella campaign.
The national campaign on meases-rubella vaccination was launched in mid-September, 2014, and has so far provided injections to 19 million children from one to 14 years old or 95.7 percent of the total demographic population.
The campaign was expanded to children aged 16-17 from February 22, 2016.
Nghe An's most modern hospital to operate in 2018
Construction started on the second phase of the Huu Nghi General Hospital in central Nghe An province on March 13 in a bid to put the hospital into operation in the second quarter of 2018.
Built at a total investment of 1.3 trillion VND (58.5 million USD), the hospital will have a capacity of 600 beds and is expected to treat 1,500 patients per day.
Once operational, the hospital, the most modern of its kind in the central province, will help ease patient overloads at hospitals in Nghe An and several localities in the region.
It will also help reduce treatment costs and travel time for patients and their families, as they do not need to go to central-level hospitals.
New pipeline to provide water for island district
Authorities in this southern province will start constructing a 10km-long pipeline to supply clean water to residents in Tân Phú Đông Island District later this month.
The pipeline, which crosses the Cửu Tiểu River to reach the island district, will cost some VNĐ68 billion (about US$3 million).
The water supply stations in the district are currently out of water, so the province will use barges to provide water to the locals over the next few days.
"We will mobilise all resources to finish the project within 40 days. The locals will have access to clean water by early May," Director of Tiền Giang Water MTV Supply Ltd. Co Huỳnh Công Dũng said.
The project is expected to serve 35,000 households.
Salt water intrusion threatens HCM City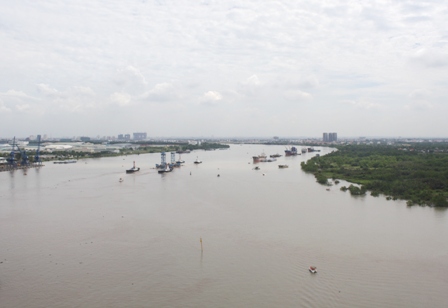 Salt water intrusion has seriously affected the Saigon River this year, posing a risk to the daily supply of water for household use in HCM City.
Bui Thanh Giang, Deputy Director of Saigon Water Corporation (Sawaco), said the salinity of Saigon and Dong Nai rivers had recently exceed permissible levels 250mg per litres at certain points of time. Meanwhile, the El Nino weather phenomenon, that brings higher temperatures and less rain, has caused serious drought in the south, including HCM City, affecting water level on the rivers. This has meant water supply plants in the city are facing bigger difficulties sourcing water.
Giang added that since early this year, Tan Hiep water supply plant had to halt pumping water from the Saigon River on many occasions, forcing Sawaco to regulate water from the city's entire system to ensure supply.
The amount of water stored in Dau Tieng Reservoir on the upper Saigon River is now estimated at 928 million cubic metres, only 76% of the lake's storage capacity. Meanwhile, the level at Tri An on the Dong Nai River is equal to 80% of that of previous years. This is a major problem and makes it more difficult to dilute salt water intruding upon the Saigon River.
"Saigon and Dong Nai rivers are forecast to face between 4 and 8 salt intrusions between now and the end of June this year, depending on tides and monsoon, Giang warned.
To improve the situation, Sawaco has proposed building reservoirs in Cu Chi District which would store water taken from Saigon River to at least ensure water for Tan Hiep water supply plant and their total capacity would be large enough to store water for three-months of use in the city, according to Giang.
"Sawaco will have to upgrade technology to deal with the increasing saltwater intrusion. The firm needs to also raise the storage capacity at its plants," Giang said.
The difference between being officious and a civil servant
There have been improvements in the attitude and behaviour of local civil servants in four districts in HCM City since a pilot programme in which Ipads were introduced in offices so the public can provide feedback on how they are treated. Phrases as "What can I do to help? Please, sir and madam," which were rarely used before can now be heard more often when they work with local people.
The HCM City Law Newspaper recently did a survey on the changes at local state offices since the staff knew they were being rated by the public.
The survey showed dramatic changes in the way they talked to people. A young female civil servant at Nguyen Thai Binh Ward People's Committee in District 1 or middle-aged male staff member at the Ben Thanh Ward People's Committee were all very helpful and kept a constant smile on their faces when talking to people who came to do paperwork.
It is amazing to hear about this!
But why amazing? Because it has been a common thought of many local state officials that they are superior to all the people they serve. They always believe that they are doing favours to ordinary people. These thoughts perhaps originated from the feudal system.
However in reality they are just people, no different from those who they are supposed to serve. Late President Ho Chi Minh used to say that state officials were civil servants. So, it's their job to serve people.
The public can be seen as customers when they visit state offices. And a customer is often right. But this basic tenant of customer services seems a rarity here.
And although the changes in HCM City bring about positive signs, many things have to be done to expand the situation.
Cold weather hits northern region
A cold front is moving from the northern provinces to central province of Thanh Hoa, causing a cold air on the large scale, reported the National Hydrology Meteorology Forecast Center on March 13.
Meanwhile, high temperature status is maintaining in provinces from Nghe An, Ha Tinh to the southern region. The central coastal region sees showery rains. The temperature in Hanoi is measured at 17- 22 degrees Celsius, and it is predicted to increase sharply at this weekend.
The areas of Ho Chi Minh City and southern provinces are suffering hot and dry climate with low moisture. The daytime temperature in Ho Chi Minh City reaches at 24- 34 degrees Celsius.
HCM City holds activities to celebrate Vietnam Movie Day
A series of cultural activities marking the 63rd anniversary of the Vietnam Movie Day (on March 15) will be held in Ho Chi Minh City by the city's Cinema Association.
Poster of the film "Thau Chin (Ho Chi Minh's nickname) in Siam"
The event aims to introduce history and development of the Vietnamese cinema industry and honor insiders who have outstanding contribution to the national movie sector.
A free screening of films, including a documentary film on the 60 years of the Vietnam's southern revolutionary movie industry; "Thau Chin (Ho Chi Minh's nickname) in Siam"; Nhung Dua Con Cua Lang (Children of the Village) that won the Silver Kite Prizes at the 19th Vietnam Film Festival ; Dan Seu Tro Ve (The Cranes Coming Back) earned the Best Cartoon prize at the 2014 Golden Kite Awards and the Silver Kite Prizes at the 19th Vietnam Film Festival , and more.
There will be a discussion about the role of artists and filmmakers in the building and developing the country.
Vietnam Movie Day is one of significant events to showcase the achievements of the local movie industry and honor outstanding contributions of artists in bringing Vietnamese films to the world. The date was chosen in honor of an ordinance signed in 1953 by the late President Ho Chi Minh to establish the country's Movie and Photography Department.
New growth model to cope with disasters
There is no basis to assume that the impacts of economic crisis and the El Nino weather pattern will become the double obsessions in Vietnam's economy like they were two decades ago because the country is on the rise, Mr. Vuong Dinh Hue, Head of the Central Economic Committee, told local media.
He made the prediction amid some public concern about history repeating. In the 1997-1998 period Vietnam suffered from the severe effects of El Nino and economic crisis at the same time. Since the end of 2014 Vietnam has again suffered from the El Nino weather pattern, which is forecast to last more than 20 months - the longest in 60 years.
Mr. Hue acknowledged that climate change has had a negative impact on many regions around the country. By February 29, he said, 13 cities and provinces in the Mekong Delta officially announced saltwater intrusion and declared drought. Ca Mau province has experienced the most damage to its rice crop, losing over 49,000 ha.
Moreover, global warming has made Vietnam's weather become unpredictable.
Under the circumstances, Vietnam has made great efforts to overcome the situation and to turn challenges in weather disasters into opportunities. Guidelines were identified in Resolution No. 24, which will drive the transformation to a new growth model.
The International Monetary Fund (IMF) has said that Vietnam's GDP growth could be 7 per cent within the next five years and it will be one of the fastest growing economies in the world. The World Bank, meanwhile, said that achieving growth of 6.68 per cent last year made Vietnam one of fastest growing economies in the region. Looking at internal and external factors, Mr. Hue believes in the resilience of the country's economy.
Traffic accidents damage about $13 million everyday
Traffic accidents cause loss of VND250-300 billion (US$11.22-13.46 million) a day in Vietnam, equivalent to 2.2-2.9 percent of the country's Gross Domestic Product, said deputy chairman of the National Traffic Safety Committee Khuat Viet Hung, citing WHO's reports on Sunday.
He made the statement at the launching ceremony of a program to raise public awareness of traffic law in the central province of Thua Thien-Hue, which attracted 2,000 attendees.
In the first two months this year, Vietnam saw 3,618 traffic accidents reducing 489 cases over the same period last year. They killed 1,590 and injured 3,367 people, up 23 and down 398 victims respectively.
On this occasion, leaders of the National Traffic Safety Committee, other agencies and businesses gave presents to families of traffic accident victims, helmets to local residents and life jackets to students who have to go to school by boat.
Vietnamese, French decentralized cooperation conference
The 10th edition of a Vietnam, France conference of decentralized cooperation will take place September 14-16 in Can Tho City, according to the press and information department of the Embassy of France in Vietnam.
The statement said French Ambassador Jean-Noel Poirier will be the keynote speaker at the event, expected to attract a visiting 200 member French delegation and in excess of 300 Vietnamese participants.
The conference will be an opportune occasion for representatives of the two countries' business communities to explore cooperation opportunities in the agriculture, tourism, education, health care, and forestry sectors.
It will also be an excellent forum for participants to address matters pertaining to social and environmental challenges facing both nations such as climate change, urban development and natural disasters.
A French-Vietnamese Culture Week, September 12-18, and Vietnam-France International Fair, September 15-17, will also be organized to coincide with the conference, said the statement.
Danang optimizes urban management through Facebook
After a tourist's Facebook complaint about service quality at a local hotel recently, Danang City's urban management office responded quickly, talking to the owner about the grievance.
That is how officials have been using the three-year-old old Facebook group, with the intention of making Danang more convenient, greener, cleaner, and more beautiful.
The public group has become an asset in keeping a green, clean, and beautiful Danang, a forum where people can post their reports on a broken lamppost, a flooded street or an illegal landfill.
Instead of sending letters of complaint, residents simply compose their messages and post on the page, from where the issues will be handled.
On average, the group receives 10-20 messages of this type every day.
Da Nang City officials work with a hotel in Son Tra District two days after a tourist accused it of cheating them on the Facebook group of the city's urban management office on March 8, 2016.
Not only locals in the city, people from Hanoi and Ho Chi Minh City, or even from overseas, have also joined in offering solutions to the city.
Members of the group have reached nearly 19,000 with more than 10 officials in charge of receiving reports and solving the reported issues.
According to Nguyen Van Duy, vice head of the city's urban management office, the benefit of managing through Facebook is people can write, take pictures and videos, so authorities can determine the issues right away and find the fastest way to resolve them.
Duy, who founded the group, said he remembers days when local residents had to call to report problems, and so would not take that initiative in every case. Thus, in a meeting three years ago, Duy suggested using social networks for urban management as a way to expedite solutions.
After the Facebook group was set up, the city's urban management office went from having only 10 staff members to now hundreds to thousands of people who join them in their mission to keep the city green, clean and beautiful.
Thanks to the group, local authorities can follow information about the city wherever they are, regardless of trips outside the city.
Nguyen Van Duy, vice head of the city's urban management office, says he can work anywhere with his smartphone.
It also helps residents see how officials are working on reported issues, motivating them to work harder.
"The reason that this Facebook page exists and develops is its effectiveness," Duy said. "The management have reacted quickly to start work whenever they receive information."
"In this way, the group has become a contribution to the community," he added.
Ngo Thanh Ha, residing in Hai Chau District's Phuoc Ninh Ward, said previously, if the sidewalk or drain in front of her house was broken, it would take her a long and complicated procedure to report and wait for authorities to come and fix.
"Sometimes it took a whole month," she recounted, saying things are different now.
Whenever she sees a poorly maintained road, drain, or lamp, she just needs to take pictures of it and post the image on Facebook, then things will be solved quickly with comments replied to by the appropriate agencies.
Pham Ngoc Minh Thu, another member of the group, said she once reported a restaurant where her friend was ripped off.
"One day later, an inspector from the Department of Culture, Sports and Tourism came to work with the restaurant, my friend got her money back and the place received a heavy fine," she recalled.
"Since the group joined forces with the office, the page has become a more multifunctional and trustworthy source," Duy said. "For example, there have been cases in which people filed reports to police, who quietly resolved the issues the next day."
"We have one thing common in our mind, that once we start working on the problems, we must settle them as fast as possible," he added. "If we know, but don't solve problems and someone gets hurt, it's our guilt."
Tran Chi Cuong, deputy director of Danang City's Department of Culture, Sports and Tourism, said he believes in the highly interactive approach of the model to receive citizens' reports.
"We have received and processed a lot of information related to tourism," he said. "As people get closer to the government, agencies like this one can also strengthen the trust of the people."
New VOV President accedes to office
Member of the Party Central Committee and Deputy Head of the Party Central Committee's Commission for Communications and Education Nguyen The Ky assumed the post of the Voice of Vietnam (VOV) President on March 14.
In a speech at a ceremony to announce the Prime Minister's decision designating Mr Ky as VOV President, Deputy Prime Minister Vu Duc Dam praised the role of the media and VOV and asked VOV to go ahead with reform towards becoming a multimedia corporation.
"I believe Mr Nguyen The Ky will help the Voice of Vietnam become a multimedia group and enhance its role in guiding the public," he said.
Youth Union First Secretary holds dialogue with young people
First Secretary of the Youth Union Nguyen Dac Vinh on March 14 held an online talk with youth union members and young people inside and outside Vietnam.
Vinh, who is also Chairman of the National Committee on Vietnamese youths, responded to several questions concerning the youth union's support for the younger generation to start up their own businesses and contribute to the nation.
"It is essential to provide the younger generation with legal assistance to help them start businesses. We also need to provide them with knowledge about business governance, economic models, and capital," he said.
At the talk which connected 10 places in Vietnam and 3 places overseas, young Vietnamese people discussed their aspirations and contributed ideas for national development.
VIB to provide financial solutions to Doan Xa Port JSC, Tien Phong Plastic JSC
Vietnam International Commercial Joint Stock Bank (VIB) on March 11 signed the comprehensive cooperation agreements with Doan Xa Port JSC and Tien Phong Plastic JSC.
Accordingly, VIB pledges to provide optimal financial solutions to facilitate these two companies' operation and business as well as to provide various preferential services and products to the companies' employees.
Also on the same day, VIB Haiphong was relocated to Tran Hung Dao Street. VIB Haiphong now has a new look and feel while continuing to deliver various banking and financial services such as deposit, lending, payment, mortgage, discount, and others with a friendly, modern transaction space following the new sales and service model of international standards. According to the bank, the new office shows its commitment to meeting financial plans of personal, corporate and institutional customers in the city.
After over 12 years of operation in Haiphong, VIB has become one of the leading commercial joint stock banks here, with more than 20,000 local customers.
According to VIB's pre-audited consolidated financial statements for 2015, VIB earned pre-tax profit of VND655 billion ($29.4 million). Lending was VND47.7 trillion ($2.14 billion), with lending growth of 25 per cent. In 2015, the bank's total assets increased by 5 per cent compared with 2014 to VND84.4 trillion ($3.8 billion).
Ho Chi Minh City cracks down on illegally parked cabs, buses in 'backpacker area'
Authorities in Ho Chi Minh City have issued new regulations for taxis and passenger buses in the 'backpacker area' of District 1, an effort to eliminate unlawful makeshift bus stops and ensure traffic order and safety.
The municipal Department of Transport has installed traffic signs prohibiting passenger buses from stopping along Pham Ngu Lao Street to wait for travelers to enter and exit.
Between 6:00 am and midnight every day, drivers of cabs and passenger buses of less than 26 seats can only park their vehicles in specific spots, which are marked with white paint, and must not wait longer than five minutes for their passengers.
Other coaches of 26 seats and over must pick up and drop off their travelers at a bus station in the nearby 23/9 Park.
The new regulations are specifically aimed at reducing the risks of traffic accidents as well as congestion in the 'backpacker area,' home to a vibrant expat community in the downtown.
everal transport companies in the southern city have taken advantage of their business license to randomly gather passengers along the street, creating multiple improvised and unlawful bus stops in the downtown area, according to the Department of Transport.
Local authorities have been working hard to deter such activity on De Tham, Nguyen Thai Binh and Le Thi Hong Gam Streets in District 1.
Officers in the city have carried out inspections and imposed penalties on 17 violators of the new regulations, handing out fines worth nearly VND45 million (US$2,018) and suspending six driver's licenses.
Traffic in the 'backpacker area' has become more stable, said Nguyen Van Thanh, an official from the Department of Transport.
Traffic police have also been patrolling for similar violations on several other city routes, Dam Thanh Pha, an inspector from the department, stated, adding that about 104 cases have been dealt with on Le Hong Phong Street in District 5 alone.
Thugs terrorize seaport on Vietnam's Phu Quoc
Residents in Phu Quoc, the largest island located in southwestern Vietnamese waters, have been living in fear since a gang of mobsters set up a 'toll booth' at one of the busiest seaports a few days after Tet, or Vietnam's Lunar New Year.
The mob's primary area of operation is the An Thoi international seaport, located in southern Phu Quoc and one of the island's busiest sites for both merchants and tourists.
According to locals living near the area, a group of 20 men appeared at An Thoi around four or five days after Tet, which began on February 8 and wrapped up a week later.
The gang marked their occupancy by erecting a barrier to block the entrance to the seaport's wharf and charging VND5,000-10,000 (US$0.22-0.45) for each entry, fishermen and tourists alike.
An attendant on board a tourist ship moored at the An Thoi international seaport said the gang charged their tourists per person although the tour operator had already paid a 'fee' they demanded in advance.
"When we asked them questions about this double 'fee,' they shouted at us and simply said we could either pay or get lost," the attendant recounted.
Nguyen Tan Thanh, 61, was another victim of the violent gang when he was going down the wharf to collect fish as usual on February 23.
"I found the 'fee' ridiculously unreasonable, so I refused to pay," Thanh recalled. "The next thing I knew was that two men jumped at me and tried to attack me. I managed to block a hit to my right hip, but was hit twice on my left shoulder."
"A friend of mine tried to intervene, but they threatened to beat him," Thanh said.
Locals said the group, led by a man named Phong, lived in an abandoned warehouse inside the international seaport and called themselves 'security guards' in charge of loading and unloading goods as well as collecting 'entry fees.'
The ring also lured all fishing boats unloading at an old seaport nearby back to the port under their 'management,' where they charged their victims many times the usual unloading fee of VND100,000-150,000 ($4.57-6.86).
"We have decided to stop working for a few days to avoid clashing with the gang, seeing how aggressive they are," the leader of a loading team at An Thoi said.
Following residents' reports, Phu Quoc police sent undercover officers to the site to observe the group's activities, and later identified 32-year-old Nguyen Thanh Phong as their leader.
According to Major Tran Huu Chuong, head of the Phu Quoc Police Office's division for investigating crimes related to public order, Phong had been hired by Nguyen Van Doan, manager of the An Thoi international seaport, since February 11 to oversee a group of security guards and loaders at the wharf.
With the employment contract in hand, Phong gathered a group of 'followers' to station at the seaport, some of them having previous criminal records.
Vuong Quoc Khanh, deputy general director of An Thoi Port JSC, told Tuoi Tre (Youth) newspaper on Thursday that his company had won the bid to operate An Thoi for 30 years, but had left it to Doan to oversee due to a lack of personnel.
Khanh said he had just taken over the position for ten days and had just heard about the gang a few days earlier.
"Doan said at a meeting with the board of directors in Ho Chi Minh City before Tet that he had employed a group of guards to reestablish order at the port. Who could have imagined such a thing would happen?" Khanh said.
Phong had been told by police officers to promise not to commit the crime in the future, while his group had been let off by their employers and disbanded.
Tuoi Tre journalists reported from the site on March 10 that the port had returned to its normal routines.
Winners of Hanoi open mathematics competition honoured
The Hanoi Department of Education and Training, in collaboration with the city's Mathematics Association, held a ceremony at Chu Van An High School in Hanoi on March 13 to honour winners of the 2016 Hanoi Open Mathematics Competition (HOMC).
The organising board presented 36 first, 104 second and 189 third prizes to the 329 most outstanding students.
Taking place on March 12-13, the 2016 HOMC drew the participation of nearly 1,000 students from 47 provinces and cities around the country.
The competition was held at three exam locations: Hanoi, Dak Lak and Dong Thap. In Hanoi, there were 706 contestants from 23 northern localities who competed in senior and junior age groups.
Initiated in 2004, HOMC has attracted a large number of students across the country. The exam questions and answers were presented in English.
The annual event aims to improve the quality of teaching and studying of mathematics in English in secondary and high schools, particularly in Hanoi.
The competition is expected to attract the participation of students from other countries in Southeast Asia.
VNA/VNS/VOV/SGT/SGGP/TT/TN/Dantri