Banks pledge VND4 trillion for fishing boat building program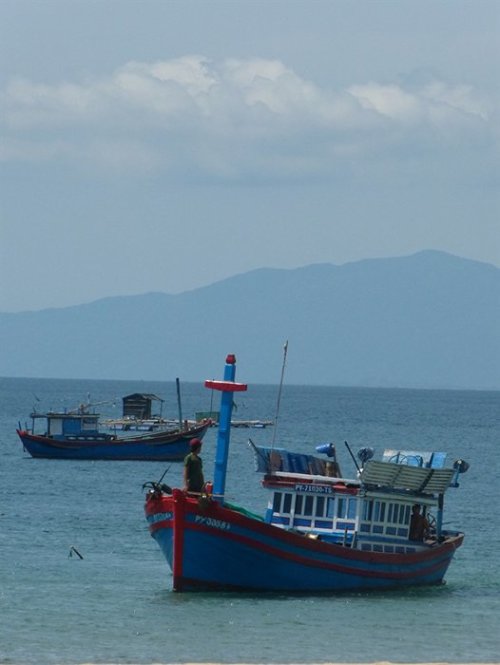 Commercial banks have agreed to lend a combined VND4 trillion (US$178.5 million) to fishermen to build 365 new fishing boats and upgrade 20 old ones, according to the State Bank of Vietnam (SBV).
The SBV said in a statement released on Monday that the loans account for 60-95% of the total needed to build and upgrade fishing vessels.
Lenders have disbursed nearly VND2 trillion more than one year after the Government issued Decree 67/2014/ND-CP backing the development of the fisheries sector, including financing fishermen to buy high-capacity, steel boats for offshore fishing and thus increase incomes.
Under the decree dated July 7, 2014, fishermen can borrow 70-95% of the amount needed to build and upgrade their boats depending on hulk and engine capacity.
The lending term lasts 11 years and interest rates range from 1% to 3% per annum.
At present, 84 new fishing boats and 12 upgraded ones have been put into use. Notably, the number of credit deals signed from June 2015 until now has increased five-fold.
At a review conference on the one-year implementation of Decree 67 held in Quang Ngai Province on Monday, banks and fishermen inked 14 credit agreements worth over VND190 billion to build 14 new fishing boats.
Meanwhile, there remain a number of problems such as value added tax on new vessels, insurance and production-consumption model, heard the conference.
To solve the problems, some delegates suggested close coordination between localities and ministries, especially ministries of agriculture-rural development, planning-investment and finance, to develop key infrastructure for fishing, sea transport and seafood processing and consumption.
3GF to discuss energy, urban development, natural resources
The 2016 Global Green Growth Forum (3GF) Summit to be held in Denmark in this June will focus on energy, urban development and natural resources, said 3GF Special Envoy Geert Aagaard Andersen.
Informing the media about the agenda at a summit in Hanoi on March 8 during his working visit to Vietnam from March 7-9, Geert stressed that the summit will scrutinise how to reduce emissions in the energy field, ways to promote sustainability in urban areas, and solutions to reduce water usage and the loss of forest areas.
He highlighted long-lasting cooperation in green growth between Vietnam and Denmark, and mentioned Vietnam's national strategy of green growth.
Through 3GF, Denmark hopes to share its experience and achievements in the field with countries participating in the forum, he stressed.
According to the special envoy, the Danish Government and 3FG member nations, along with many enterprises, are deeply concerned about ways to use energy sparingly and effectively, cleaning up agricultural land to produce cleaner farm products, reusing waste for economic development and developing renewable energy sources.
Sharing the results of his working session with representatives from the Vietnamese Ministries of Natural Resources and Environment and Construction, and the Vietnam Chamber of Commerce and Industry (VCCI), Geert said leaders of the three agencies have deep concerns about the environment and want to attend the event.
In November, Denmark's Ministry of Environment and Food and Vietnam's Ministry of Natural Resources and Environment signed a memorandum of understanding to recognise Vietnam as the eighth core member of 3GF. Vietnam is now the only ASEAN country in the forum. The other members are Denmark, the Republic of Korea (RoK), Mexico, China, Kenya, Qatar and Ethiopia.
In the 2014 3GF summit, the Vietnamese delegation played a key role in developing the initiative "Race to the Top" on creating s ustainable apparel value chains , which was piloted in Vietnam under the form of public-private cooperation.
Vietnam and Denmark established their strategic partnership in 2011 surrounding climate change, environment, energy and green growth.
The countries have initiated long-term dialogues on lowering carbon emissions and funded the National Target Programme on Energy Conservation and Efficient Use in Vietnam, aiming to reduce energy consumption in Vietnam by 5-8 percent.
Ho Chi Minh City toughens on corruption, wastefulness
Secretary of Ho Chi Minh City's Party Committee Dinh La Thang ordered drastic actions to fight corruption and wastefulness during a meeting in the city on March 8.
The committee will show its leadership when it comes to uncovering and dealing with corruption cases, in which, the responsibilities of units' leaders must be specified, he said, adding that the outcomes of the crackdown on corruption and wastefulness is a gauge of officials' moral virtue and their professional capacity.
He took the occasion to request the launch of hotlines to acquire any complaints and for submitting proposals to the committee whenever any obstacle arises.
The police, People's Procuracy and inspectors should come up with detailed plans to improve the efficiency of investigation, inspection and settlement of complaints and denouncements, while paying special attention to public feedback on misbehaviors in sensitive areas.
He also underscored the role of people-elected units, socio-political organisations, the press and the masses during the cause.
Vice Director of the municipal Police Department Phan Anh Minh said a number of corruption cases are likely to be brought to light in the foreseeable future, mostly in the fields of banking, customs, finance and land management.
Duong Ngoc Hai, Vice Director of the municipal People's Procuracy, said large-scale corruption cases are being investigated and will, in time, be prosecuted by the municipal People's Court.
System of handling complaints reviewed
A conference was held yesterday in Ha Noi to review the implementation of a co-operation programme on monitoring and improving the efficiency of solving complaints and denunciations in localities in 2015.
The programme is a co-operation between five agencies and organisations, including the Standing Committee for the Viet Nam Fatherland Front Central Committee, the Government Inspectorate, the Ministry of Justice, the Viet Nam Lawyer's Association and the Viet Nam Bar Federation.
The programme promotes the roles of the Viet Nam Fatherland Front in representing and protecting the legitimate rights and interests of citizens, promoting the supervisory functions of the Front and its member organisations, and promoting responsible management at State agencies.
The supervision teams have detected shortcomings and limitations in dealing with complaints and denunciations, and presented these at the conference.
Citizens have received help from lawyers many times thanks to the programme. However, there were still cases of prolonged complaints that have not been dealt with even after many years.
At the conference, agencies and organisations in the programme agreed to raise public awareness about the law on complaints and denunciations, and to continue to provide legal consultations for citizens this year.
The members in the programme will continue to work together to consider and make recommendations to authorities on how to resolve cases that have extended over many years. They will also continue to exchange and provide information on handling complaints and denunciations.
Speaking at the conference, President of the Viet Nam Fatherland Front Central Committee, Nguyen Thien Nhan, asked members in the programme to continue to co-ordinate closely and efficiently in promoting public awareness on the relevant laws.
The standing committee of the Fatherland Front should actively work with its members and exchange information to implement the activities in the co-ordination programme, Nhan said.
Mini instruments reduce pain, post-operative stays
Application of advanced mini techniques can reduce post-operative care and pain compared to traditional methods, doctors said at Binh Dan Hospital's biennial conference held in HCM City last Saturday.
Laparoscopic surgery is used in appendectomy, inguinal hernia repair, and for other medical problems in Vietnam.
Dr Nguyen Phu Cam Hoang of Binh Dan Hospital said that the Urology B Ward last year used the latest advanced endoscopic procedure, called mini percutaneous nephrolithotomy (PCNL), to remove kidney stones from six patients.
According to the European Association of Urology's treatment guidelines updated in 2014, PCNL is recommended as the therapy of choice for large renal calculi for certain conditions.
The PCNL therapy, however, causes significant complications such as blood loss, postoperative pain and potential renal damage because of the large instrument.
With the mini-PCNL, blood loss is reduced, and post-operative hospitals are shorter.
From April 2014 to June 2015, the hospital also provides a new approach for treatment of inguinal hernia with the totally extraperitoneal (TEP) laparoscopic procedure on 80 patients.
TEP inguinal hernia repair is an effective and safe procedure that helps reduce postoperative pain, according to research conducted by Dr Nguyen Phu Huu and colleagues of the Vietnam National University-HCM City's Faculty of Medicine in co-operation with doctors at the Binh Dan Hospital.
Inguinal hernia is common worldwide, and about five per cent of the global population has abdominal wall hernias. Of these, 75 per cent are inguinal hernias.
Laparoscopic surgery for inguinal hernia treatment, including TEP inguinal hernia repair, has been used in Vietnam since 2000.
Research reports on other advanced treatment in fields such as digestion, post-surgery and anaesthesia-recuperation were also presented at the two-day conference.
HCM City encourages full public hospital autonomy
The health sector should encourage full autonomy at public hospitals, including financial independence as well as autonomy in personnel recruitment and bids for medicine and equipment, Party Committee Secretary of HCM City, Dinh La Thang, has said.
Hospitals with financial autonomy should be responsible for conducting bids for medicine and equipment, Thang said at a meeting with leaders of the Ministry of Health on Sunday.
The city had seven public hospitals operating with financial autonomy, said Nguyen Thi Ngoc Dung, rector of Pham Ngoc Thach University of Medicine.
Hospitals with financial autonomy should be allowed to conduct their own bids for medicine and equipment instead of waiting for centralised bidding, Dung said.
Many public hospitals ran out of supplies and equipment because of the long waiting time needed for centralised bidding, she said.
Thăng also asked the health sector to take proactive steps to use the State budget as well as capital from society to develop medical infrastructure and facilities.
"Social mobilisation in the health sector will help local residents enjoy better healthcare services," Thang said.
Tang Chi Thuong, deputy director of the city's Department of Health said that major hospitals such as the Oncology Hospital, the Paediatrics Hospital No.1, the Paediatrics Hospital No.2, Hospital for Traumatology and Orthopaedics and Gia Dinh Hospital were frequently overloaded.
To reduce overloading and improve quality of health services, projects to build new hospitals and medical facilities are under or waiting for construction.
The city's Paediatrics Hospital project in Binh Chanh District which is expected to be put into operation in September will help reduce overloading at Paediatrics Hospital No.1 and Paediatrics Hospital No. 2.
The second Oncology Hospital in the city's District 9 project is expected to be completed in 2018.
However, many projects have been delayed because of complications related to site clearance, investment procedures and investors' failure to begin their projects.
The Saigon General Hospital, the new HCM City Hospital for Traumatology and Orthopaedics and general hospitals in Thu Duc, Hoc Mon and Cu Chi districts are among the delayed projects.
The city's Party Committee Secretary has asked authorities to accelerate the construction process of new hospitals to reduce overloading at major hospitals.
Obstacles faced by private investors to develop projects in the medical sector should be addressed in a timely manner, he said.
He said new contractors should be chosen if projects run behind schedule.
The Government should offer favourable conditions to encourage public-private partnerships in the health sector, said Vo Duc Chien, director of Nguyen Tri Phuong Hospital.
The social mobilisation policy would help generate resources from society to replace medical facilities which were built 40 years ago, Chien said.
Private investors would build and operate hospitals for 20 to 30 years before transferring them to the Government, Chien said.
The Government should also devise policies to ensure benefits for private investors, he added.
Many of the Government's recently issued policies had encouraged private investment in the healthcare sector, said Phan Van Bau, director of the People's Hospital 115.
Many private hospitals with modern equipment were now operating at a moderate level due to a lack of patients, while public hospitals experience overcrowding with patients, Báu said.
The health sector should offer co-operation between public and private hospitals for links and referral of patients between State and private hospitals.
Minister of Health Nguyen Thi Kim Tien said the city should have breakthrough policies on resource mobilisation to attract private investment to the health sector.
"It is necessary to mobilise capital from various resources to develop medical infrastructure and increase the number of hospital beds, including public-private partnerships, socialised capital and ODA capital," Tien said.
Fishermen get government support after attacks
Vietnamese border guards, and other law enforcement forces of the country, always support fishermen when they go fishing legally in traditional Truong Sa (Spratly) and Hoang Sa (Paracel) fisheries.
Colonel Van Ngoc Que of the central Quang Nam Province's Border Guard Command made this statement yesterday when visiting local fishermen on whom there had been an unjustified attacked by Chinese coast guards and they were forced to leave their traditional fishing ground on Vietnam's Hoang Sa (Paracel) sea area earlier this week.
All the ten fishermen were on boat No QNa 91939TS from Nui Thanh District's Tam Quang Commune.
On behalf of the provincial Border Guard Command, the Nui Thanh District's People's Committee and the Quang Nam Fishery Society, Colonel Que said that relevant authorities were working on cases of fishermen whose boats had been attacked and destroyed by Chinese forces, to have diplomatic reactions.
Que said Vietnamese authorities would protect fishermen as well as their legitimate interests on traditional Truong Sa and Hoang Sa fishing grounds.
According to Captain Vo Quang Thai, his boat was approached on Sunday by a Chinese coast guard ship when he and nine others were fishing as usual.
The captain recalled that there were 13 people from the ship, including two who could speak Vietnamese, who claimed to be Chinese police, when they approached the boat.
They confiscated all the fish they had caught and destroyed all their fishing tools as well as communications tools, Thai said.
The captain said he was told to sign a minute saying that he had violated Chinese waters but he refused.
"This is the traditional fishing ground of fishermen from Quang Nam Province as well as fishermen from other central provinces," Thai said.
The attacked boat came back on Monday.
Colonel Que said that each fisherman would receive a support of VND3 million (US$130). They promised to continue support with repairing and providing fishing tools for the fishermen.
Resort in Ba Vi asked to dismantle illegal villas
Ba Vi District authorities have ordered Dien Vien Thon resort to completely dismantle 17 villas by March 30 due to land use violations. Just days earlier, another resort was suspended for the same reason.
The villas will be taken down by force if the resort fails to meet the deadline, Ba Vi People's Committee Deputy Chairman Nguyen Binh Dan said on Monday.
The half-built villas - plus 40 completed and furnished villas in Dien Vien Thon resort - were constructed on 4.8 hectares of hilly land, of which only one hectare was granted a land use certificate. Dien Vien Thon resort is in Yen Bai Commune about an hour's drive from the centre of Hanoi.
The rest of the land was originally owned by local tea and cassava farmers. Thang Long Xanh Company bought the land to build a resort complex in 2012, Yen Bai People's Committee Deputy Chairman Nguyen Quoc Huy told Hanoimoi (New Hanoi) newspaper.
"The investor exploited agricultural land for the wrong purposes and developed the land illegally, without obtaining the necessary building permits," he said.
A total of 57 villas were up for sale at prices ranging from VND1.2 to VND1.9 billion (US$53,330-$84,440). The resort also promised legal land use certificates to potential buyers.
The investigation of the alleged violations is still ongoing, according to Dan.
Dien Vien Thon resort violations had been reported several times by Yen Bai authorities to higher authorities, including the Ba Vi People's Committee, since January last year. According to Ba Vi People's Committee Chairman Bạch Công Tiến, the inspection team's head has been sick for a long time. This delayed the authorities' official response to the Dien Vien Thon case.
Another resort named Le Mont Bavi and Spa, within Ba Vi National Park, was also suspended from building early this month for lack of an appropriate license.
Study focuses on gender disparity in society
Being confined largely to the role of caregiver severely limits women's opportunities in education, career development and social and political participation.
This has been pointed out in a study report on social determinants of gender inequality in Việt Nam, conducted by the Institute for Social Development Studies (ISDS) with support from the Australian government, Ford Foundation and Oxfam Novib.
The document is based on findings drawn from a nationally representative survey conducted from 2012 to 2015, covering 8,424 women and men aged between 18 and 65 in nine cities and provinces, which are Hanoi, HCM City, Da Nang and Thai Binh, besides Phu Tho, Lam Dong, Binh Thuan and Vinh Long, as well as Tay Ninh.
Speaking at the report's release ceremony yesterday morning on the occasion of International Women's Day, Dr Khuat Thu Hong, ISDS director, said the findings of the study explained why progress in gender equality did not keep pace with economic and social development in Vietnam.
"Many Vietnamese people, despite having high education attainments or living in cities, still have traditional attitudes regarding the roles of men and women. They continue to prefer sons over daughters and believe that women's core value lies in sacrifice for their family," she said.
According to the key findings of the research, women are more likely than men to be in groups with a lower secondary school education and lower (70.78 per cent and 60.28 per cent, respectively). Two-thirds of women, compared to one quarter of men, reported they did regular housework during their childhood.
Another fact that has been revealed is that women's caregiver role and the wide acceptance of the assumption that men are better as leaders are key barriers limiting women's abilities to engage in socio-political activities.
The research team said to address gender inequality in Vietnam, it was crucial to change traditional attitudes about the role of women; inspire women's autonomy; and encourage leadership roles for women both within and outside the family context.
Hoang Thi Ai Nhien, permanent vice-president of the Vietnam Women's Union, said in order to achieve true gender equality, the government should have policies that support women in their caring responsibilities, and encourage men to share this role. The Vietnam Women's Union wants the whole society to work together to build and maintain new and progressive norms of men and women in both private and public spheres.
Binh Phuoc continues to boost cooperation with Cambodian localities
Binh Phuoc provincial authorities on March 8 held a working session with a delegation from Cambodia's provinces of Kratie, Mondulkiri and Tbong Khmum to strengthen cooperation between the two countries' localities.
The southern locality and the Cambodian provinces will continue implementing signed memoranda of understanding (MoU), with the aim to foster links in economy, culture, security, defence and investment.
Binh Phuoc will transfer agricultural production techniques and scientific advances to help Cambodian localities develop their agricultural sector.
Doctors from the provincial Red Cross Society will also be sent to Cambodian border localities to provide free medical check-ups and medicine to poor people.
According to the provincial People's Committee, Binh Phuoc and Cambodian border provinces have signed two MoU on economic cooperation since 2014.
The province now conducts 4 investment projects worth 134 million USD in Cambodia , mainly in rubber, and cashew planting and processing.
Last year, trade between the two sides through the province's border gates reached 210 million USD, up 20.6 percent compared with 2014.
Binh Phuoc imported wood and agricultural products from Cambodia while exporting mainly construction materials, agricultural machines and consumption commodities.
Seminar discusses developing national strategy on intellectual propert
A seminar discussing new approaches to developing a national strategy on intellectual property was held in Hanoi on March 8.
Deputy Minister of Science and Technology Tran Viet Thanh said at the event that though existing as a concept in the country for over 30 years, intellectual property is yet to be fully-developed to make a significant contribution to national socio-economic development.
Le Ngoc Lam, Deputy Director General of the National Office of Intellectual Property (NOIP) under the Ministry of Science and Technology, said Vietnam is in the process of building a draft national strategy to develop an intellectual property protection system that facilitates creativity and increases value by 2030.
The draft gives priority to promoting innovation, improving the efficiency of establishing and protecting rights, and strengthening the adoption of intellectual property policy, he said.
Ye Min Than from the World Intellectual Property Organisation (WIPO) said WIPO pledges to assist Vietnam in building a strategy to achieve IP development goals, which should be incorporated into the national development framework on intellectual property with a set of relevant policies.
The event was co-hosted by the NOIP and the WIPO.
Hanoi security forces endeavour to fight drug crimes
Hanoi's police and customs forces have stepped up their fight against drug crimes since the beginning of this year as international criminal rings increase drug transport to the capital by air.
According to the Hanoi Office for Drug-related Crimes Investigation (PC47), the city's police force brought over 2,500 drug-related cases to light, arresting 3,210 people involved last year.
With so many routes used by smugglers such as roads from the northwest, northeast, northern central and southern regions, along with domestic and foreign air routes, railways and waterways, drug crimes are forecast to continue developing complicatedly in the city during 2016.
The smuggling and transport of drugs, especially methamphetamine of all kinds and in large volumes, is on the rise. Traffickers show their ever more sophisticated tricks as they collude with other crime syndicates to form trans-provincial and trans-national rings. They also trade with foreign dealers using air and postal services.
To cope with the situation, PC47 is coordinating with other forces in the city in intensifying the fight against this crime. Together with a focus on raising the efficiency and quality of crime suppression, it will closely work with the Ministry of Public Security and relevant forces like customs, post, aviation security and maritime police to prevent drugs from entering the capital by air and through postal services.
PC47 Director Colonel Nguyen Hong Ki revealed that his office will launch three or four anti-drug crackdowns this year. It will implement international cooperation in drug crime prevention under agreements signed with other countries, especially those sharing the border such as Cambodia, Laos and China, he added.
Joining police efforts in this fight, Hanoi's customs force is strengthening drug prevention and control while disseminating images of new kinds of drug, as well as traffickers' methods and tricks in order to prevent and detect drug cases promptly in the city.
To prevent drugs from entering Hanoi by air, the customs force has closely controlled all shipments to Noi Bai International Airport, said Tran Luong Bac, deputy head of the Noi Bai International Airport Border Gate Customs Sub-department.
These efforts have recently helped competent forces detect and seize 11,477 kg of cocaine transported from Argentina via the gate, he added.
Photo exhibition celebrates 65 years of Nhan Dan newspaper
An exhibition entitled "People – Photos on Old-Time Newspapers" was launched yesterday to celebrate 65 years of the first publication of Nhan Dan (People) newspaper.
The exhibition was attended by Vo Van Thuong, a member of the Politburo.
More than 21 painters and illustrators, who joined hands in creating the face of Vietnam contemporary arts, such as Dang Xuan Hoa, Hong Viet Dung, Thanh Chuong, and Le Thanh Son, in addition to Le Thiet Cuong, Nguyen Thi Hien, and Nguyen Thi Hong Phuong, also presented their works at the exhibition.
Most of the artists, who have emerged through their dedication for contributing, illustrating and beautifying the monthly Nhan Dan, had their works and unique personalities expressed in each photo, and surprised the audience.
The meticulous trio of painters such as Le Thanh Son, whose radiant and vivid style of art is adored by art lovers; Pham Luan, who usually paints pictures that exhibit warmth, and Dang Xuan Hoa, who created a big sunflower with old newspapers, created a strong impression on viewers.
Vi Kien Thanh, director of the Arts, Photography and Exhibition Department of the Ministry of Culture, Sports and Tourism, said the exhibition was a unique event replete with meaning.
"Works of art displayed here were made with cheap materials such as old newspapers but created amazing and priceless social impact. The lives from each paper, articles and old memories will be prolonged after this exhibition," Thanh added.
Northern flower festival attracts visitors with fireworks, parades
The 2016 Ban Flower Festival will commence on Sunday with a firework show at the Victory Monument in Dien Bien Phu.
The city has begun preparations for the festival with more than 300 ban flower trees on display in the city streets.
The festival is expected to attract thousands of domestic and foreign visitors. Numerous cultural activities are to be held during the festival, including a ban flower photo contest, traditional dance performances from ethnic groups, street parades, exhibitions and folk games.
The ban flower, also known as Bauhinia Variegata, is found in the northern mountains of Vietnam and blossoms during spring.
Ambassadors to tour Son Doong Cave
Ambassadors of eight countries - the US, Australia, UK, Sweden, Italy, Canada, the Czech Republic and Argentina - to Hanoi and Assistant Secretary of State Tom Malinowski have planned to join an adventurous tour of Son Doong Cave in May.
The Quang Binh provincial Department of Culture, Sports and Tourism said that the May 11-17 tour's fees will be paid by these diplomats.
Nguyen Chau A, managing director of Oxalis Adventure Tours – a Son Doong Cave tour organizer said the diplomats will prepare for the event by undergoing a rigorous training course to improve their physical fitness and caving skills.
Quang Binh provincial leaders said they hope the diplomats will contribute to promoting images of Son Doong Cave and tourism of Quang Binh and Vietnam.
Hanoi will need US$20 billion to fix its 'alarming' congestion
Hanoi will have to invest around US$20 billion expanding and upgrading its transport infrastructure in the next five years to catch up with the breakneck vehicle growth, officials said at a meeting on March 8.
Nguyen Ngoc Dong, deputy transport minister, said the capital city will need around US$1 billion a year to improve its traffic flow.
That means Hanoi has to use its foreign loans and proceeds from government bonds effectively and simplify procedures to attract more funding, he said.
Hoang Trung Hai, secretary of Hanoi's Party unit, said congestion is an "alarming" problem as the rapid surge of vehicles means new roads were overcrowded only a couple years after being opened to traffic.
Official data showed that the city now has 5.3 million motorbikes and 560,000 cars.
The number of motorbikes is set to increase 11% every year and cars, 17%. By 2020, it will have nearly one million cars and seven million motorbikes.
"People have a lot of difficulties traveling on the streets. It's not safe."
Heavy traffic in Hanoi does not only mean regular jams and crashes, but it has also been blamed as the main cause of air pollution in the city.
Khuat Viet Hung, vice chairman of the National Traffic Safety Committee, suggested that Hanoi restrict car purchases by auctioning a limited number of permits.
Hung cited statistics from healthcare agencies as saying that pollution kills around 44,000 people in Vietnam every year. The real-time air quality index on aqicn.org has kept ranking Hanoi's air quality as "unhealthy" the past days.
French pollutant analysis company ARIA Technologies in 2012 ranked Hanoi the most polluted city in Southeast Asia and among those with the worst air pollution in Asia.
PATH Vietnam wins share of global $1 million Healthcare Innovation Award
PATH Vietnam, belonging to international non-profit organisation PATH, was recently awarded $400,000 for Immreg, a system which brings immunisation records into the digital age in Vietnam.
Rather than handwriting records, which can be time-consuming and prone to error, health workers in the Mekong delta province of Ben Tre now use a computer or smart phone to monitor vaccine stocks; register pregnant women and newborns; and track what vaccines they have received.
They can also remind pregnant women and mothers via text message to get vaccinations for them and their child.
Immreg is one of four initiatives to have won a share of the third annual GSK and Save the Children Healthcare Innovation Award (HIA).
The initiative was highlighted at a roundtable discussion held yesterday with stakeholders and policy makers convened by GSK and Save the Children, to discuss the impact of the award on health innovation trends in Vietnam.
According to Nguyen Tuyet Nga, PATH Vietnam programme team leader, Immreg has cut the time it takes to generate monthly lists of children due for vaccination from one to two days to just 5-30 minutes.
Notably, rates of full immunisation in the first year of life increased from 74.3 to 77.8 per cent during a one-year pilot and the on-time vaccination rate improved between 10 to 14 per cent.
As well as recognising innovations that help reduce child deaths, this year's award adopted a special focus on strengthening health systems and recognised innovations that have been proven to help increase access to public healthcare for pregnant women, mothers and children under five.
James Strenner, general manager, GSK Vietnam said, "To bring life-saving healthcare to the most vulnerable in our communities, there is a clear need for innovative partnership and breakthrough ideas, and more importantly the sustainability and expansion capability of these innovations. As a global healthcare company, GlaxoSmithKline is delighted that this award to PATH, the largest share of the third HIA, demonstrates that Vietnam is a hub for innovation and highlights the vital work being done to help save children's lives."
GSK is one of the world's leading research-based pharmaceutical and healthcare companies.
"Immreg is an innovative intervention that has the potential to save the lives of many children and babies and is a great example of a sustainable programme that addresses critical health issues. We are very pleased that through the recognition and funding from the Healthcare Innovation Award, Immreg can be expanded and replicated to protect even more vulnerable children," said Gunnar Andersen, country director, non-profit organisation Save the Children Vietnam.
In 2013, GSK and Save the Children launched the first $1 million Healthcare Innovation Award to identify and reward innovations that have proven successful in reducing child deaths in developing countries.
The Healthcare Innovation Award is a great example of how innovation is a crucial part of the GSK and Save the Children partnership, through which the two organisations are combining their resources, voice and expertise to help save one million children's lives.
The partnership has sought to identify innovations that are making a tangible difference to children's health, and enable them to share and replicate their approach, through the award.
VNA/VNS/VOV/SGT/SGGP/TT/TN/Dantri