Angola probes death of two VN citizens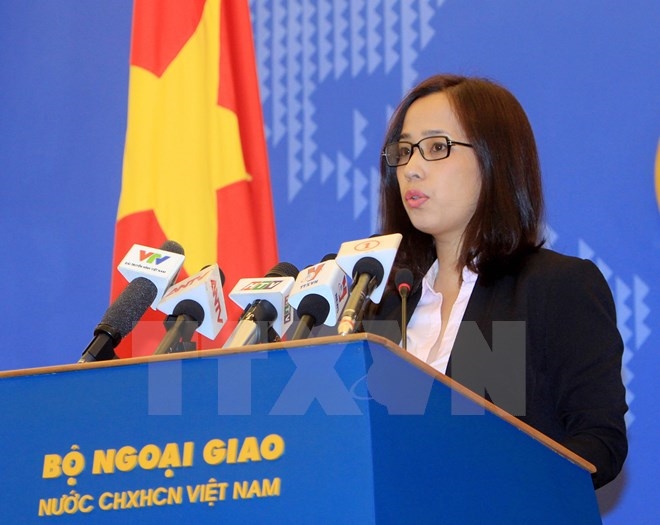 Foreign Ministry Deputy Spokesperson Phạm Thu Hằng. - Photo VNA
HÀ NỘI - Angolan relevant agencies are investigating the killing of two Vietnamese nationals in the country, Foreign Ministry Deputy Spokesperson Phạm Thu Hằng said yesterday.

According to the host's relevant agencies, Đặng Quốc Nghĩa was robbed and killed by two native employees in Luanda capital on March 3, while Nguyễn Viết Hậu was murdered in Ugie province on March 5.

Both were killed at their places of work, Hằng said.

After that, the Vietnamese Embassy in Angola immediately made contact with Angolan authorities and urged them to investigate the case, she said, adding that the suspects are being traced.

The Embassy has also closely worked with the Vietnamese community in the host society to support the bereaved families, she noted.
Rescuing fishermen in distress
Việt Nam's authorised agencies have informed the Chinese side about reports that a Vietnamese fishing boat sank in the Hoàng Sa archipelago area and seek coordination to verify information and to search for the five fishermen on board.

Responding to reporters' question on the same day, a representative of the Vietnamese Foreign Ministry's Consular Department said according to Vietnamese agencies, on the morning of March 8, a fishing boat coded KH 96440 TS of central Khánh Hòa Province with five fishermen on board sank 41 nautical miles southeast of Linh Côn Island in Việt Nam's Hòang Sa archipelago.

Shortly after being notified of the incident, the Consular Department sent a diplomatic note to the Chinese Embassy in Hà Nội, and ordered the Vietnamese Embassy in China to immediately inform and coordinate with Chinese relevant agencies to verify the information and search for the fishermen.

Vietnamese agencies are also working closely on the incident and take urgent measures to save the five fishermen, the representative added. - VNS