Project to digitise immunisation registry honoured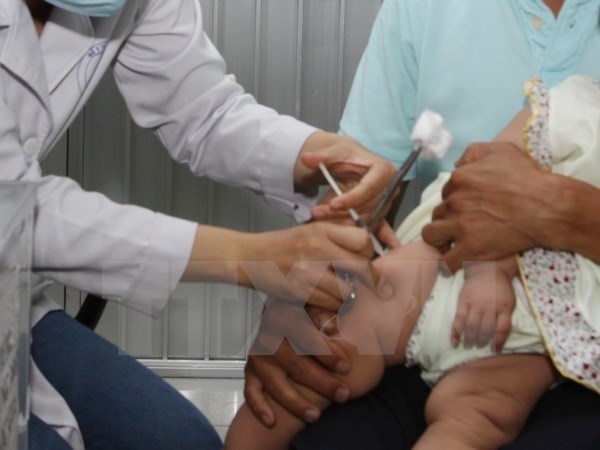 The Digital Immunisation Registry (ImmReg) initiative, initiated by PATH, an international non-profit organisation in Vietnam, received the Healthcare Innovation Award at a ceremony in Hanoi on March 8.
The 400,000-USD award was presented by GlaxoSmithKline (GSK), a UK-based pharmaceutical company, along with the US organisation Save the Children.
The project has been piloted in the Mekong Delta province of Ben Tre, where time-consuming and error-prone paper-based immunisation registries and reporting systems have long dominated.
ImmReg set up a web-based application that allows local medical staff to use computers and smart phones in managing individual immunisation records and vaccine deliveries. The system stores data of people due for vaccinations and automatically sends them reminder text messages.
Within a year, the initiative reduced the duration of listing monthly registries from two days to 30 minutes. Local immunisation rates increased 3.5 percent to 77.8 percent, while the rate of people vaccinated on schedule raised between 10 and 14 percent.
GSK representative in Vietnam James Strenner said the award acknowledges PATH's efforts in lowering child mortality in Vietnam.
Save the Children's country director in Vietnam Gunnar Andersen hoped the funding will help replicate the initiative across the country.-
Huge fire destroys workshop in Dak Lak
A huge fire has destroyed 1,000sq.m of a wood workshop of Dak Lak Forestry Stock Company in Tan An Industrial Complex in Buon Ma Thuot City.
The fire, which broke out yesterday afternoon in the workshop, quickly spread to nearby areas.
Witnesses said they heard a huge explosion when the fire broke out, and escaped from the area, doing nothing to extinguish the blaze.
The fire flared up in the sawdust warehouse and quickly spread to nearby areas, destroying several machines and causing the workshop's roof to collapse, the witnesses said.
Dak Lak Province's firefighters reached the area immediately after the fire was reported and the blaze was extinguished an hour later. The workshop contained a lot of sawdust, which caused problems in the fire-fighting work.
The blaze was still smouldering in the morning, with large plumes of smoke clearly visible. The firefighters had to continuously spray water to prevent the fire from breaking out again.
According to the initial investigation report, the cause of fire was electric short circuit.
No human casualties have been reported. But the loss of property is estimated to be huge.
HCM City to survey poverty using multi-dimensional approach
Ho Chi Minh City will conduct a poverty survey from March 10 to April 29 using the newly-adopted multi-dimensional measurement.
Deputy Director of the municipal Labour, Invalids and Social Affairs Nguyen Van Xe said a pilot survey using the measurement was carried out in four wards and communes of districts 6, 11, Tan Phu and Binh Chanh in 2015.
This census will cover 322 wards, communes and towns of all the 24 districts. The four surveyed localities will undergo additional examination to finalise the list of poverty-stricken households.
He added that households who perceive themselves as impoverished will fill in livelihood declaration forms. Information in the forms will be sorted, publicised for public feedback and corrected by April 29.
The multi-dimensional approach, taking effect from January 1, 2016, will not only be based on people's income but also on their living conditions and access to education and training, health care, employment and social insurance, and information.
Xe said under the new measurement, the city is expected to have 130,000 households under the poverty line and 80,000 others close to the line.
In terms of income, HCM City defines a person with an annual income of 21 million VND (941.85 USD) and below as low-income earners, while those earning over 21 million VND to 28 million VND (nearly 1,256 USD) per year are classified as near-poor.
There are five other social dimensions that will be measured through 11 indexes totaling 100 points.
The city divides local poor households into three groups, the official noted, delineating that group 1 includes families which have an annual per capita income of 21 million VND or lower and lack at least 40 points in social criteria.
Group 2 comprises those that have an annual per capita income of 21 million VND or lower and lack a maximum of 35 points in social criteria. Group 3 includes households with an annual per capita income of over 21 million VND and a shortage of at least 40 points in other social criteria.
The new method will help authorised agencies evaluate residents' inaccessibility to basic social necessities, and thus devise concrete measures to improve their access, Xe added.
Ha Noi to allow sand-mining auction
The Ha Noi People's Committee has announced a plan to auction sand-mining rights in 2016 in five regions of the Red River's riverbed.
The move aims to improve the management, exploitation and use of sand there, besides bringing the potential of minerals of the region into full play, attracting investment and increasing the State budget.
According to the plan, the five auction areas cover Dong Quang and Phu Chau communes in Ba Vi District, Lien Hong Commune in Dan Phuong District and Tan Hung Commune in Soc Son District.
The committee said the areas to be auctioned must be in line with the project in terms of exploration, exploitation, processing and use of minerals in the city towards 2020, adopted by the municipal People's Committee on December 30 last year.
The city's department of natural resources and environment has been asked to mark and survey the selected areas, assess the mineral potential and select the auction starting price and deposit money for each mineral mine.
The people's committees of Ba Vi, Dan Phuong and Soc Son districts are responsible for preserving status quo in the areas till they are handed over to the individuals and organisations who win the auction.
JICA chief representative receives medal
Deputy Transport Minister Nguyen Ngoc Dong has awarded a commemoration medal to JICA Chief Representative, Mutsuya Mori, for his contribution to the development of the country's transport sector.
The award ceremony took place this morning at the transport ministry's headquarters.
Dong thanked Mori and the Japan International Co-operation (JICA) office in Vietnam, as well as its headquarters in Japan, for their contribution to the development of Vietnam's transport infrastructure in terms of commitment, finance and human resources.
He said their support played a vital role in the completion of several major projects in Vietnam, such as the construction of Nhan Tan Bridge and Terminal 2 of Noi Bai international airport, as well as other projects in HCM City, Da Nang City and Quang Ngai Province.
He wished Mori success with his new position in Japan and hoped to collaborate with him in the future.
Mori, who started working in Vietnam in June 2013, will finish his term and return to Japan shortly.
For his part, Mori expressed his gratitude towards having been able to participate in every project of the ministry, and for getting the opportunity to work in 59 cities and provinces of Vietnam.
He appreciated the importance of the transport sector in the economic and social development of the country, as well as the opportunities and challenges that came with it.
He said he hoped that in two years' time, he would have the opportunity to work with Vietnam again and to continue contributing to the transport sector.
Kon Tum forest faces high fire risk
More than 100,000ha of a forest in Kon Tum Province faces a high risk of fire, Permanent Deputy Chairman of the provincial people's committee Nguyen Huu Hai said.
The forest is spread across Dak To, Ngoc Hoi, Sa Thay and Kon Ray, as well as Dak Ha and Dak Glei districts in the Central Highland province.
The province has asked workers to be on round-the-clock duty in the forest to prevent the outbreak of fire.
The workers will check people entering and leaving the forest, and guide local residents to use fire for tilling the field properly.
Nearly 5,000 people in the area have been asked to be prepared for the outbreak of fires.
Eleven teams of firemen will be on round-the-clock duty.
Kon Tum has the largest forest area in the Central Highlands, with more than 540,000ha of natural forests and nearly 57,000ha of planted forests.
Soc Trang: Reserving fresh water vital in dry season
The prompt reserving of fresh water in the Mekong Delta province of Soc Trang is of utmost importance in the coming months given the ongoing severe drought and saltwater intrusion, a local official has said.
Director of the provincial Department of Agriculture and Rural Development Luong Minh Quyet said the agriculture sector is dredging all possible canals to have water for local production.
The provincial People's Committee has recently approved a plan to cope with the issue. Accordingly, the province needs over 1.5 trillion VND (67.5 million USD) between 2016 and 2018 to reinforce breakwaters and aquatic breeding facilities.
In addition to speeding up the construction of irrigation systems and shifting to growing drought resistant crops, the province will increase the provision of water for farmers in rural areas.
According to the provincial People's Committee, the ongoing saltwater encroachment has damaged nearly 13,000 hectares of rice fields in the province.
The Mekong Delta has nearly 4 million hectares of farmland, accounting for almost 30 percent of Vietnam's total farmland area, with over 50 percent under rice.
The Ministry of Agriculture and Rural Development said that due to the impacts of El Nino, the rainy season (usually from May to October) came late and ended early in 2015. Meanwhile, the water levels of the upper Mekong River are declining quickly and have reached the lowest level in nine decades, leading to serious water shortages during the dry season (usually from November to April).
Localities asked to allocate funds for foot and mouth disease control
The Ministry of Agriculture and Rural Development has asked the People's Committees of cities and provinces nationwide to allocate funds for the early implementation of a national programme to control foot and mouth disease.
The ministry also assigned its municipal and provincial departments of agriculture and rural development to draw up detailed plans for the implementation of the programme at districts and communes and estimate the number of cattle and animals in their localities that require vaccination this year.
According to the national foot and mouth control programme, only 157 districts of 26 provinces designated as high-risk areas will receive state funding to purchase foot and mouth vaccines and organise vaccinations.
The programme will be carried out from 2016-2020 with a total funding of 823 billion VND (36.9 million USD). Of the funding, about 279 billion VND (12.5 million USD) will be funded by the state budget while 544 billion VND (24.4 million USD), or 66 percent, will be sourced from local budgets.
Hanoi security forces endeavour to fight drug crimes
Hanoi's police and customs forces have stepped up their fight against drug crimes since the beginning of this year as international criminal rings increase drug transport to the capital by air.
According to the Hanoi Office for Drug-related Crimes Investigation (PC47), the city's police force brought over 2,500 drug-related cases to light, arresting 3,210 people involved last year.
With so many routes used by smugglers such as roads from the northwest, northeast, northern central and southern regions, along with domestic and foreign air routes, railways and waterways, drug crimes are forecast to continue developing complicatedly in the city during 2016.
The smuggling and transport of drugs, especially methamphetamine of all kinds and in large volumes, is on the rise. Traffickers show their ever more sophisticated tricks as they collude with other crime syndicates to form trans-provincial and trans-national rings. They also trade with foreign dealers using air and postal services.
To cope with the situation, PC47 is coordinating with other forces in the city in intensifying the fight against this crime. Together with a focus on raising the efficiency and quality of crime suppression, it will closely work with the Ministry of Public Security and relevant forces like customs, post, aviation security and maritime police to prevent drugs from entering the capital by air and through postal services.
PC47 Director Colonel Nguyen Hong Ki revealed that his office will launch three or four anti-drug crackdowns this year. It will implement international cooperation in drug crime prevention under agreements signed with other countries, especially those sharing the border such as Cambodia, Laos and China, he added.
Joining police efforts in this fight, Hanoi's customs force is strengthening drug prevention and control while disseminating images of new kinds of drug, as well as traffickers' methods and tricks in order to prevent and detect drug cases promptly in the city.
To prevent drugs from entering Hanoi by air, the customs force has closely controlled all shipments to Noi Bai International Airport, said Tran Luong Bac, deputy head of the Noi Bai International Airport Border Gate Customs Sub-department.
These efforts have recently helped competent forces detect and seize 11,477 kg of cocaine transported from Argentina via the gate, he added.
Argentina publisher issues publication on Vietnamese women
An Argentinean publisher released a special edition highlighting the role of Vietnamese women in Vietnam's national defence and nation building on March 7.
The 8-page publication, entitled The Vietnamese Women was issued by the Cienflores Editorial, in coordination with the Argentina-Vietnam Cultural Institute (ICAV) and the Embassy of Vietnam in the South American nation to mark the International Day of Women (March 8).
It comprises an article and 21 photos, depicting vividly the participation of Vietnamese women in the resistant wars against the American invaders (1954-1975).
It also features the significant contributions Vietnamese women have made to the socio-economic development of the nation.
New urban building plan needed
Urban development statistics in Vietnam show a relatively bright picture, especially in Hanoi and HCM City. But there is already a price to pay for burgeoning development: urban social infrastructure overload.
To transform new urban areas into a sustainably developed and livable environment, mechanisms, policies and implementation must be changed.
According to many experienced urban programming experts, certain problems exist in modern urban areas: technical and social infrastructure are not synchronized while qualifications and managerial capacity are less than required. All of these problems create consequences.
Hà Nội's Department of Planning and Architecture experts have demonstrated big shortcomings in developing new urban areas in the city. Those areas were not constructed in line with each other nor with a bigger long-term vision of the whole city.
The connection between new urban areas in the north and northeastern of Red River, including Bac Thang Long, Sai Dong, Thach Ban and Dang Xa was poor, making them quite isolated from each other.
Urban areas in the western and southern of the city which have built both residential and resettlement areas are now facing overpopulation.
Investors in the majority of urban areas have developed most of the land available. New urban areas usually provide living space for as many people as possible, while land usage for traffic, trees, sports, schools, cars and parking is kept to a minimum.
These calculations have led to overpopulation. Meanwhile, connections between the city centre's infrastructure and surrounding areas were ignored or neglected.
Several projects cannot even be implemented because of failure to plan properly.
Deputy Minister of Construction Nguyen Dinh Toan, said that the role and responsibility of real estate enterprises in planning and policy making needs to be addressed. Such enterprises implement planning and policy schemes, contributing to urban area development.
A legal framework for sustainable development is needed, according to urban development experts.
Legal remedies must solve pressing issues, including poor land management, lack of comprehensive infrastructure and urban services projects, environmental pollution, and land clearance.
The government needs to support real estate investment companies in raising capital to develop new urban areas. And the government needs to enforce building standards in urban construction.
The government should also issue regulations on investment and construction management of new urban areas, to ensure implementation according to the approved plan.
A series of serious traffic accidents in recent days has caused a public panic and many people are now afraid when they go out.
To calm their nerves, many people are looking for an amulet to take with them when they go out, or are buying feng shui products to put in their car for good luck. They have become best-selling products in recent days.
On the online page, buamayman2m, a "traffic amulet" is sold at VND88,000 (US$3.9). According to the seller, a customer needs to write his or her full name and birth date on the amulet paper and pray to the God for good luck. The seller also recommended that the buyer always bring the amulet with them or hang it in their vehicle when they go out.
It is claimed the "traffic amulet" will help its owner to avoid traffic accidents. Each amulet can only be used for six to 12 months, and will only bring good luck to the owner if they trust it, said the seller.
Another online page, Mira Chan's Kitchen, is selling many kinds of amulets imported from Japan for drivers, with prices ranging between VND250,000 and VNĐ450,000 (US$11-20) each.
The shop also has special amulets for customers to use as gifts for their relatives or friends. A special "traffic amulet" selling for nearly VND5 million (US$220) includes a gilded sacred object and comes in a silk bag with the words "traffic safety" in Japanese.
Customers in Hanoi will be charged an additional 15 per cent for each amulet as the shop is located in HCM City.
The seller also guarantees that all amulets from their shop are imported from Japan.
The buyer has to pay a deposit to buy a Japanese amulet then wait three days for delivery as the shop does not have enough goods to meet demand, the seller said.
Many Vietnamese drivers hang feng shui products such as Buddha statues in their cars to pray for good luck on their journeys.
A group of five people were in a hurry to attend a funeral in a village near Hanoi.
They drove smoothly on good roads that have been recently built or upgraded thanks to a new rural development programme, and they hoped they would not be late for the funeral.
At the gate of the village, they could not recognise the way to the funeral place because the village had changed so much in recent years. A local person suggested they turn back and try another way.
They went inside the village but still could not find the place they wanted. A person from a neighbouring village guided them to go yet another way.
It took them more than an hour, but they still could not find the funeral they were looking for.
Then a friendly female farmer told them the way to go, but said it was rather far.
The group was very surprised and asked her why she was telling them to go that way.
She smiled and said that they had to go that way because they had brought a wreath in the car for the funeral.
Many people in the villages don't want to see a vehicle with a wreath going into their villages.
Vehicles with a wreath shouldn't go through villages that are not holding a funeral. Villagers believe that this could bring them bad luck.
A thief tried to rob a house in HCM City at 2pm last weekend. He saw that no one was in the house and used a saw to cut the door latch. After cutting the latch, he used a big wood stick to pry the door up. Suddenly, the iron doors collapsed on his legs and broke his ankle. He hastily tried to stand up, but could not. He had to use his stick and hop away without any stolen loot. Poor him!
Exhibition on natural disasters in Hanoi
An exhibition "Living with natural disasters – stories of women" opened on March 7 at the Vietnam Women's Museum to mark International Women's Day (March 8).
The exhibition is part of a project to raise women's ability in mitigating natural disasters and responding to climate change carried out by the UN Women in Binh Dinh, Dong Thap, Thua Thien Hue and Ca Mau provinces.
The project aims to encourage more women's participation in decision-making to deal with climate change and enhance the community's responses in preventing and mitigating natural disaster.
Nguyen Thi Bich Van, Director of the Vietnam Women's Museum said 300 photos and 200 objects feature stories about women dealing with natural disasters.
"The event gives a practical view of real stories from the women who have lost their homes, assets and livelihoods in the storm center of Vietnam's Central region. It shows that after experiencing these natural disasters, the women have now bec
HCMC praises 150 city excellent citizens
A ceremony honoring 150 typical examples in Ho Chi Minh City was held at Ben Thanh Theater on March 7.
The event was attended by Secretary of the Ho Chi Minh City Party Committee Dinh La Thang, Senior Lieutenant General and Deputy Minister of Public Security Bui Van Nam , Deputy Secretary of HCMC Party Committee Tat Thanh Cang and Chairwoman of the HCMC People's Coucil Nguyen Thi Quyet Tam.
The program called "People shining in the daily life" aims to highlight excellent citizens who have made outstanding contributions in developing and building the city as well as making the society and country to be more civilized.
Deputy Secretary of HCMC Party Committee Tat Thanh Cang expressed his deep gratitude to good people and praised their significant work.
He asked local authorities of districts in the city to cooperate with organizers, Ho Chi Minh City Police Newspaper and HCM City Television, to introduce more good people doing good things.
Nearly 22, 000 students join in English Championship 2016
The first round of English Championship 2016 was opened respectively in three cities of Vietnam including Hanoi, Da Nang and Ho Chi Minh City on March 6.
Nearly 22, 000 contestants from 1, 014 primary and secondary schools across the country registered to participate in the English language contest.
In Ho Chi Minh City, the contest took place at Quang Trung, Le Van Tam, Hoa Binh, Nguyen Thi Dinh, Hoang Van Thu, Le Van Tam secondary schools.
The English contest was organized by Vietnam Study Encouragement Society (SES), EQuest English Language Institute and VATC English Center, aiming to improve English learning as well as encourage students in studying English.
Around 155,000 residents in Mekong delta lack fresh water
Salinity has effected to the coastal provinces in the Mekong delta such as Ca Mau, Kien Giang, Ben Tre, Tra Vinh, Hau Giang, Long An, Tien Giang, and Bac Lieu. Currently, around 155,000 households comprising of 575,000 inhabitants lack fresh water.
Worse, most of water supplies in communes in the Mekong delta province of Ben Tre are affected by salinity.
Therefore, Prime Minister Nguyen Tan Dung presided a meeting in Can Tho City today about salinity penetration into Mekong delta region with the participation of related agencies and leaders of Mekong delta.
Speaking at the meeting, Minister of Agriculture and Rural Development Cao Duc Phat stressed that natural disaster is so severe that the entire machinery of state must be mobilized in implementing different measures to reduce production loss and stability for people's living.
Minister Phat said that as of March 7, nearly 139,000 hectare of rice field was damaged. Most damaged provinces include Ca Mau with 49,343 ha; Kien Giang with 34,093 ha; Bac Lieu with 11,456 ha and Ben Tre with 13,844 ha. He fretted that if drought & salinity intrusion continue developing, residents should leave around 500,000 hectare empty because of water shortage.
According to the Southern Institute Of Water Resources Research, early and prolonged salinity penetration has seen in the dry season this year; hence, the provinces should reserve fresh water from river water as streams in the Mekong River is unable to forecast as it depends on reservoirs in the upstream.
Minister Phat proposed government to soon support farmers in Mekong delta to stabilize their living. It is estimated over VND623 billion to be spent to aid inhabitants there. Additionally, each province should receive VND50 billion for building water reservoirs and supplying water for residents' daily activities.
Moreover, VND1,060 billion (US$47,562,200) was invested in construction for future drought and salinity intrusion for the period 2016-2020.
HCM City supports new business park
Chairman of the municipal People's Committee Nguyen Thanh Phong on March 7 met with Miguel Ko Kai Kwun, CEO of Ascendas-Singbridge group to discuss the "One HubSaigon complex" project in Ho Chi Minh City.
Chairman of the HCM City's People's Committee Nguyen Thanh Phong (6th from left) poses in a photo with representatives from Ascendas-Singbridge group (Photo: Sggp)
The OneHub Saigon complex costing US$130 million will be located at the Saigon Hi-Tech Park in the heart of District 9 and Thu Duc District.
The project is a joint venture between Ascendas Land Vietnam of Singapore and the UK's Saigon Bund company. It received investment license in September 2014.
The city's leader highly appreciated construction of the OneHub Saigon complex invested by Ascendas-Singbridge group. He hoped that the project will meet the demand for working, living and studying of people in the city.
The Vietnamese Government and the city People's Committee will create safe and attractive business environment for foreign investors, and help them solve all their problems, he added.
US$4.5 million to set up MiniScada system in Tam Ky and Pleiku
The Central Power Corporation under the Vietnam Electricity (EVNCPC) and Finland's ABB Oy on March 7 kicked off the projects on setting up the MiniScada/DMS system in Quang Nam province's Tam Ky city and Gia Lai province's Pleiku city.
The two projects are worth roughly US$4.5 million with the engineering-procurement-construction (EPC) contracts being implemented and completed in the second quarter of 2018.
The projects aim to build a MiniScada system for the electricity distribution grid in the two cities to collect data on the grid, monitor device status and control devices in a quick, efficient and smart manner.
Vietnamese Deputy Minister of Industry and Trade Hoang Quoc Vuong said that with the preferential loans of EUR10.5 million (US$11.5 million) from the Finland's government since 2006, the EVNCPC has set up the MiniScada systems in four cities in the central region and Central Highlands.
Vuong noted that these systems have contributed to optimising the operation of grid, reducing the risk of electrical accidents for operators and improving the reliability in power supply for customers.
He hoped that in the future, Vietnam's electricity sector would continue to receive ODA and preferential loans from the Finland's government to modernise its grid.
Minister for Foreign Trade and Development of Finland Lenita Toivakka said MiniScada projects in Pleiku and Tam Ky would use Finland's technology and know-how to increase the reliability and efficiency of electricity supply systems, helping promote economic growth and improve the living standards of the locals.
Finland has provided Vietnam with about EUR57 million (US$62.54 million) to fund 20 projects in the fields of health, environment, clean water and energy.
'Green Sunday' campaign launched in Ho Chi Minh City
The 'Green Sunday' campaign was launched at a ceremony held in Ho Chi Minh City on March 6 by the municipal Ho Chi Minh Communist Youth Union to urge young people to realise set targets on environmental protection.
The ceremony saw the presence of Politburo member and Secretary of the Ho Chi Minh City municipal Party Committee Dinh La Thang, officials and over 6,000 youth union members and young people living and studying in the city.
Speaking at the ceremony, Secretary Thang urged people to join hands in order to protect green spaces and improve the environment. Together with other officials, he dredged rubbish and water hyacinth plants to facilitate water flow in Dua and Ong Hoa canals in Thao Dien Ward, District 2 and planted 500 trees.
The campaign aims to build safe and clean environments at 48 school gates, five living quarters, 10 bus routes and 40 alleys; improve the environment of 10 waterway canals; repair power systems and water meters for 2,000 disadvantaged households; and lay telecommunication cables underground in two streets located in District 3.
After the ceremony, thousands of youth union members and young people from 24 districts started work on tasks to improve the environment, including cleaning green environments, setting up mobile recycle bins, concreting alleyways, planting trees and removing unkempt advertising panels.
The campaign is part of activities to celebrate the 85th anniversary of the establishment of the Ho Chi Minh Communist Youth Union.
Experts urge action to end mass fish kills
Massive fish die-offs in many regions across the country recently have raised a big question about how local authorities should mitigate water pollution in aquaculture breeding areas.
Last month, more than 1,000 tonnes of fish raised in cages along the Cai Vung River in the southern provinces of An Giang and Dong Thap reportedly died off.
After that, more than 20 households along La Nga River of the southern Dong Nai Province suffered losses of more than 20 tonnes of fish. The total loss was estimated to be dozens of billions of dong.
In the middle of last year, fish reportedly died en masse at least three times in the Cha Va River in the southern Ba Ria Vung Tau Province. Wastewater from a nearby aquatic product processing factory was to blame.
Local authorities got involved to find solutions to these cases, such as giving financial assistance to farmers and cleaning the polluted water areas. However, the problem cannot be addressed thoroughly if the solutions are applied only to small, individual areas, said Dr. Dang Kim Son, former head of the Institute of Policy and Strategy for Agriculture and Rural Development.
He highlighted the importance of prevention rather than reacting when it's already too late, an effort that requires the attention of both the State and farmers.
Local authorities should balance the bio-system of breeding areas and have irrigation plans for each breeding type, in addition to setting up expert inspection teams to supervise the water release of production bases, he said.
Monitoring and punishing violations remains difficult because many small-scale households and enterprises sneakily release waste, he added.
Chu Van Hai, director of analytical services and experimentation centre in HCM City, advised farmers to proactively conduct some measures to improve the aquatic environment for fish.
One measure is to provide enough oxygen to the fish by installing air pumps. Farmers should also use biological produce to improve water quality, he said.
Accidents caused by unaware motorists
A lack of awareness about traffic safety and laws is the chief reason for the high number of traffic accidents in the country, the vice chairman of the National Traffic Safety Committee has said.
"People are aware of their actions, but they deliberately violate laws because of the belief that it will not cause a traffic accident," Khuat Viet Hung said. "If it does happen, they will not be punished strictly."
He mentioned a recent accident as an example. A driver of a car lost control of his vehicle and hit and killed three people, including a six-year-old child, in Ha Noi's Long Bien District.
Hung said better management was the key to improving the situation, which kills 12,000 people every year on average.
State management of traffic has been weak, resulting in poor awareness of road users. Key factors contributing to the problem are the lack of strict law enforcement as well as bribes given by drivers to police.
"It's time to take immediate action," Hung said, adding that there was no time left to debate the matter.
Close co-operation between central and local government agencies is a vital factor for the effective operation of the Viet Nam National Safety Transport Committee, which is headed by Deputy Prime Minister Nguyen Xuan Phuc.
The number of people killed in traffic accidents each year should be cut by half in the 2016-20 period, according to Phuc.
He said that authorities must take action to educate the public and reduce the number of people driving under the influence of drugs or alcohol.
Phuc said that high-tech measures should be applied to traffic regulations as well as to the procedures of penalising violators.
For 2016 and the five-year plan from 2016 to 2020, Viet Nam has set a target to reduce by 5-10 per cent the number of accidents, fatalities and injuries.
By the end of 2020, the aim is to have 5,000 fewer cases of fatalities with traffic jams lasting no more than 30 minutes.
The Viet Nam National Safety Traffic Committee has proposed six measures to reduce traffic accidents.
It will continue to implement the Directive No 18 of the Party Central Committee Secretary on traffic safety and the Government's Decree No 88 on measures to ensure traffic safety and overcome problems of traffic jams.
It will also raise the capacity and efficiency of the State management toward transport safety and install more traffic signs on roads, railways and waterways.
The committee will also continue the restructuring of the transport sector, particularly the Ha Noi and HCM City light trains, to reduce the use of private transport.
Inspection activities and the handling of violation cases will also be strengthened.
The mass communication campaign on the issue, particularly in remote regions, will also be given more attention.
Last year, Viet Nam achieved certain successes in traffic safety.
However, there remain some weaknesses that should be dealt with in 2016, particularly in campaigns to raise people's awareness about transport safety and making transport infrastructure mesh with socio-economic development.
According to the National Traffic Safety Committee, the country saw serious decreases in the number of traffic accidents, facilities and injuries from 2012 to 2014.
Last year, the number of traffic accidents, injuries and deaths dropped 51 per cent, 60 per cent and 24 per cent, respectively, compared with four years earlier.
Bui Vien Street: A night at the Saigon's drinking town
What is a typical night at what is known as the 'drinking town' on Bui Vien Street in Ho Chi Minh City's downtown area like?
Even though it is dubbed the 'backpackers' area,' Vietnamese drinkers are not hard to be seen at this busy street, even though it is as late as two in the morning, as a Tuoi Tre (Youth) newspaper reporter observed on Saturday.
At 1:00 am, beer shops along the street were all filled with drinkers, and Bui Vien just became busier and more exciting with a mixture of sounds, from the cheering shouts as people tossed their beer, to the roars of motorbike racers.
At this 'backpacker's area,' young Vietnamese men and women were seen drinking and smoking a lot, and the period between midnight and 2:00 am is considered 'golden hours' for beer sellers.
Hoang Mai, a server at a drinking shop on Bui Vien, said foreign guests only ordered a couple bottles of beer each, so it is Vietnamese customers that she serves the most in recent years.
"They are young employed people in Saigon, who drink a lot, especially from 11:00 pm to 2:00 or 3:00 am the following day," she said.
Mai said it is not uncommon to see Vietnamese women fail to leave the store on their own as they are overdrunk.
"In the meantime, male customers tend to cause fights even over small confliction," she added.
Nguyen Hoai Nam, introducing himself as a 'real drinker,' said Bui Vienm is his must-go destination every weekend.
Nam will meet his friends from 10:00 pm, and they only leave four hours later.
"We are all stressed from work and drinking that late does not affect our work or other relationships," he explained.
"At our ages, gathering at a drinking party is the only way for get-together.
"We will fall into silence after a few minutes chatting over a coffee table, but when it comes to drinking beer overnight, we can speak anything to kill stress."
For Mai Tuan, a 21-year-old student for a Ho Chi Minh City's private university, drinking beer on Bui Vien should go with smoking shisha.
Tuan spoke to Tuoi Tre at 2:00 am, after finishing his 'routine' drinking.
"I never drink more than five bottles, but I love sitting there chatting through the night with friends," he said.
Tuan and his friends love to smoke shisha, which he said is a cheap service but can "create a relaxing atmosphere" for everyone.
Such a drinking and smoking habit is raising a few eyebrows in Vietnam, and is illustrative for a recent national report by United Nations Population Fund in Vietnam, which points out that the young Vietnamese are "unfit, smoke a lot, and consume loads of alcohol."
Thai culinary showcase at Windsor Plaza Hotel
A 10-day Thai culinary event called "Aroy Thai"kicked off in HCM City on March 4, featuring authentic cuisine and culture from Thailand.
Guests can sample an international buffet which includes authentic Thai cuisine prepared by two Thai chefs at Cafe Central An Dong on the fourth floor of the Windsor Plaza Hotel in District 5's An Duong Vuong Street until March 13.
Thai specialties, including prawn salad with sweet chili paste and lemongrass, red curry with roasted duck and fruits, spicy seafood and hot basil soup, and much more are present at the show. All of the dishes are prepared by famous Thai chefs Kaewplang Booncherd and Nusart Rattapon.
In addition to traditional Thai dances and a signature Thai massage from Windsor Spa therapists, guests will have a chance to receive free consultation and travel tips to Thailand from Thai renowned travel brands, Nature Tourist and Thai Airways, during the event.
The dinner buffet is priced starting from VND558.000++/person from Monday – Friday and VND682.000++/person on weekends.
Ao Dai festival 2016 opens in HCM City
The third edition of a festival designed to honour 'Ao dai,' the traditional long dress of Vietnamese women, officially opened on March 8 in Ho Chi Minh City.
The opening ceremony saw an impressive show of Ao dai by about 1,000 students.
The festival, themed " Ho Chi Minh City - Ao dai City", will run until March 20 with multiple activities taking place in locations throughout the city.
Among them are a parade involving students cycling to cultural and historical sites around the city to promote environmental protection, and photo exhibitions entitled "Ao dai through the ages" in museums.
An "ao dai" fair to display, exchange and trade the dress and related accessories, will also be held, along with talk shows and relevant contests.
Local residents are encouraged to wear "Ao dai" in their daily life throughout March.
Vietnamese fishing boat sunk in Hoang Sa archipelago
Five Vietnamese fishermen are drifting at sea after their fishing boat sunk in a collision with an unnamed ship in Vietnam's Hoang Sa (Paracel) archipelago on March 8.
Tran Quang Minh, Director of the Nha Trang Radio, said that at 9:50a.m, his agency was informed by a fishing boat coded KH 98299-TS that fishing boat KH 96640-TS of central Khanh Hoa province was rammed and sunk by the unnamed ship while conducting fishing activities in waters off the archipelago.
At that time, the fishermen moved to woven bamboo basket boats and are drifting at sea.
The Vietnam Maritime Communication and Electronics LLC notified the incident to search and rescue agencies, and asked boats operating around the site to support the distressed boat and its five fishermen.
Party Chief meets with Hanoi voters
Party General Secretary Nguyen Phu Trong joined National Assembly members in Hanoi in a meeting with voters from Ba Dinh, Hoan Kiem and Tay Ho districts on March 8.
Most of the voters lauded the outcomes of the last 12 th National Party Congress, saying that guidelines and policies set forth at the congress have received the consensus of the people.
However, they also voiced their concern about issues related to the signing of bilateral and multilateral agreements with foreign partners, suggesting that it is necessary to have appropriate measures in place to manage the domestic market and improve the competitiveness of Vietnamese goods.
They stressed the need to promote equitisation of State-owned enterprises, and adopt preferential policies for the private sector, especially those concerning capital and land leasing, in order to facilitate private firms' development.
More drastic measures are needed to repel corruption and wastefulness, voters said, noting that efforts should be strengthened to improve the quality of inspectors at all levels, aiming to create a breakthrough in anti-corruption.
They also voiced their opinions of the draft revised Press Law, stressing the necessity to enhance management of individual web pages, to prevent the exploitation of these sites to publish anti-State and Party progpaganda.
Along with raising the role of journalists, it needs to clearly define the responsibilities of agencies and organisations in providing information for the media, and have strict punishments for actions obstructing press activities, voters said.
The voters also worried about food safety, and the increasing prevalence of cancers.
Acknowledging voters' opinions, the Party chief said their ideas and suggestions will help NA deputies do their duties better.
In his reply related to the coming elections of the 13th NA and People's Councils at all levels , the Party Chief said he agrees with the voters on the need to select meritorious candidates.
Voters should promote democracy and responsibility to wisely choose and elect the most worthy candidates in this important political event, he stressed.
VNA/VNS/VOV/SGT/SGGP/TT/TN/Dantri